Imagine this: You had a rough day at work, and you want to cook some delicious meal to make yourself feel better. But, there is your grill acting up and not giving you the ideal textured food you want! Ugh, what a turn-off!
Of course, you could use meal delivery services while your baby has delicious meals from Yumble; nevertheless, there is nothing like the satisfaction of the smell of grilled chicken made at home!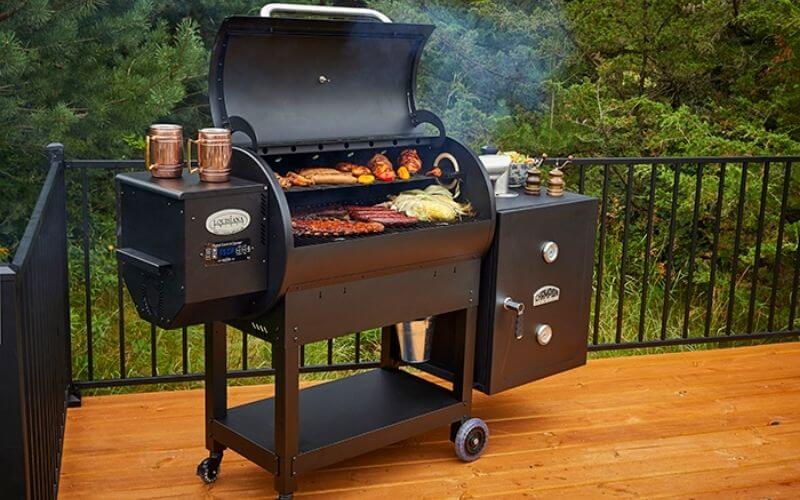 To keep you at ease throughout all your moods, we introduce to you Louisiana Pellet Grill! This grill might not look all that fancy, but it will still leave you impressed with all its fantastic features!
This Louisiana grills review talks about its best features, pros, cons and has a buying guide to help you through it all!
Want to find out if this is the one for you?
Keep reading!
Louisiana Pellet Grill Review
Louisiana 60700-LG700 Pellet Grill is a sturdy and efficient grill that gives you the best grilling experience. With its all-natural hardwood pellets, your food will have a burst of flavor to it!
This review will differ from most Louisiana pellet grill reviews because we do not focus on the technical parts. Instead, we try to bring out what benefits this grill can bring to the table.
Is It Worth the Money?
There is no denying that Louisiana 707 Pellet Grill comes at a high price. But, should you spend all that money on this? Let's find out!
Grilling Area:
The Louisiana Pellet Grill comes with 707 square inches of cooking space that accommodates enough food for many people. You can easily fit in burgers or other meals in the primary cooking area of 497 square inches. Alongside that, the upper rack of 210 square inches is excellent for grilling buns or small veggies.
But, just because it is for a large group does not mean that you cannot use it for a small group of people. Let's face it. Large grills are versatile in all ways. The only problem is that you have to grill the entire grate to cook a small amount of food.
Grates:
Louisiana conveniently coated their cast-iron grates with porcelain to make them ideal for customers. With its porcelain-coated grill grates, it efficiently spreads heat to the entire grill. Hence, every item placed on the grill cooks evenly and deliciously!
Another good part about porcelain grates is that you do not have to put too much effort into cleaning them. They do not let many leftovers stick to them, so cleaning is a breeze!
Also, make sure to get grill tongs for perfect turning overs. Basic spoons can tear apart the meat at times, and we want the whole piece of meat, right?!
Adjustable Temperature:
Coming with a Digital Control Center, you can easily adjust the heat settings from 170 to 600 degrees Fahrenheit, meaning you can perform various functions! Be it searing steaks, cooking whole chickens, or cooking turkeys, this one got your back.
Pair your protein with some delicious jasmine rice, sushi rice, or another main dish to have a fulfilling meal!
One thing is for sure that when you take out the grilled food, it will remain hot for a long time! But, if you want to eat it later, we suggest getting a warming tray to keep that way longer without hampering the taste.
Open Flame Grilling:
The part that attracts most customers is the open flame grilling. The burner has a cover that you can slide open from one side to get direct heat from there. If you touch the meat directly, the heat will give you the perfect charred food that you look for!
Nevertheless, the open flame grilling might not be everyone's cup of tea. It gives out flying ashes and gets hot, so you will not be able to stay around it for a long time. Then again, no one grills for more than two hours, so this is good to go!
What we like doing the most with this feature is smoking sausages. They come out delicious, and half of the credit goes to our handmade sausages!
Meat Probe:
To give you added control over the temperature, the Louisiana LG700 Grill has a meat probe. Attach one end of the probe to the grill and the other part inside the grill.
Once the food inside starts cooking, you can read the temperature on the LED in front and know when the grilling is done!
When using the meat probe, keep in mind is not to pull it out before it reaches the desired temp. By doing so, you will notice that it cools down quickly, and so the next time you put it in, it will start from zero giving you overcooked food. Ergo, let it enjoy the full smoking time!
Pellets:
Using only all-natural hardwood pellets, Louisiana Grills ensures the ultimate taste in food. There will not be any extra flavor in your burgers, steak, pork chops, etc., and you can enjoy the unique taste that you crave!
The hopper on this grill has a capacity of 14 lbs, and it needs to be filled from the beginning. By doing so, you can be assured that the pellets will not run out midway and assist grilling until the end!
Storage shelves:
The Louisiana Grills 60700 comes with adequate storage space for the different tools you will bring along. One shelf on the side and one on the front to have easier access to the plates and spatula.
There is a table on the bottom for added assistance in keeping pellet bags or other big substances. Safe to say that Louisiana thought about a lot of added items when making this grill!
Storage of the Grill Itself:
With 44 inches H x 39 inch W x 24 inch D, this unit is pretty big. Ergo, you will have to find proper storage space for it. The shelves are foldable, so that is a plus when storing them.
However, it does not come with a cover, which might be a problem when keeping it outside. We highly recommend buying a grill cover so that it does not easily rust. Since this grill does not have a chimney, you can put any cover over it!
Design:
The Louisiana 707 square inches Pellet Grill is not all that good-looking. It comes with a pitch-black finish and looks like any basic grill.
Albeit what it lacks in looks is that it makes up for in its attention to details. For starters, the exhaust system lets the airflow circulate in a better way. Moreover, it also aids in spreading it evenly not only along the sides but also up to the top shelf.
Next comes the very useful wheels. Since the Louisiana grill is pretty big, it would have been trouble moving it, so thank god for the four plastic wheels!
All in all, we would say that this is a pretty robust grill, and the manufacturer indeed paid attention to the small things that provide convenience.
What We Love about Louisiana Pellet Grill
Ample cooking space: Featuring a 497 square inch primary grilling area and 210 upper grilling area.
Even cooking: The porcelain crates and air vents spread heat and air evenly, giving out excellent food every time.
Perfect sear: Open flame grilling system is ideal for getting the sear we want on our steaks and burgers.
Temperature control: The meat probe and Digital Control System allow you to control how you cook each item.
Fantastic flavor: The usage of all-natural pellets brings out the real taste of the food you are having rather than the overwhelming flavor of flavored pellets.
Storage space: Has tables on the front and side for keeping plates and tools. Additionally, there is a small shelf attached to the bottom for larger items like pellet bags.

Built to last: Made of the finest, highest quality materials, all Louisiana smoker grill reviews will tell you that this one is here to stay!
Best Features:
Dimensions: 44 x 39 x 24 inches
Weight: 143 pounds
Grilling surface: 707 square inches
Hopper capacity: 14 lbs
Temperature range: 170 to 600 degrees Fahrenheit
Color: Black
Warranty: 3 years limited
More features: Digital temperature control, storages shelves, comes with a meat probe
What Could Be Improved about Louisiana 700 Pellet Grill
The temperature reads higher at times:
Sometimes, when you put the meat probe in, it shows about 40 to 50 degrees higher than the actual temperature inside. It can cause problems when trying to cook perfect meat!
Nevertheless, we noticed this happens only during super hot weather conditions. Other than that, this one stays stable and pretty accurate most of the time.
Eats a lot of pellets:
The Louisiana Pellet Grill is a pretty bulky-looking one, and given the amount of food it accommodates, it is no surprise that it uses a lot of pellets. Moreover, you have to fill the 14 lbs hopper completely with pellets to not run out in the middle.
There is no getting out of this con, and honestly, almost all the pellet grills go through this. Ergo, if you want flavor and consistency, this is one investment you have to make!
To Summarize
If you have always wanted a large grill to enhance the mood of your grilling sessions, then there is no reason not for the Louisiana Pellet Grill 700. Featuring ample cooking space, user-friendly buttons and comes with enough storage space for your convenience!
Buying the Louisiana Smoker Grill: What You Need to Know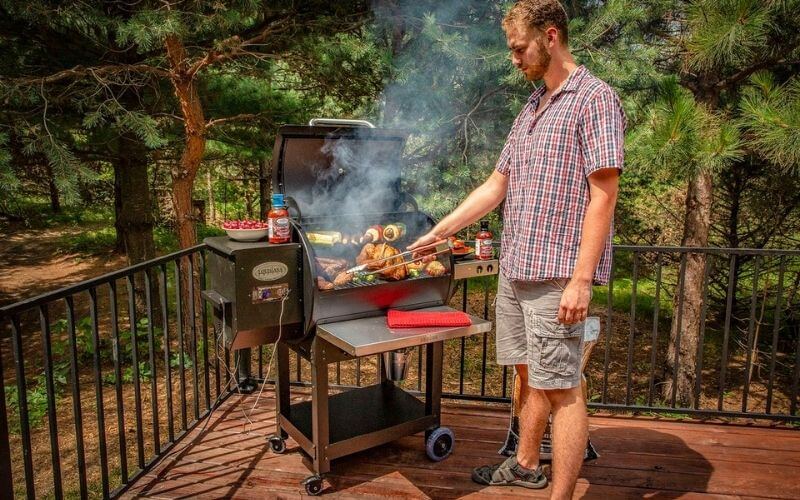 Even though you are already familiar with most specs of the Louisiana 707 Grill, we have put down a few more considerations. Once you are sure about these, you can get the best grilling experience!
Size:
By now, you know the dimensions of this Louisiana Grill. It comes with dimensions of 44 x 39 x 24 inches. Therefore, it is not only bulky, but it is pretty big as well!
And you know what that means…
It will not be a good fit for small backyards, unfortunately. For smaller patios, you could check out Yakitori grills or simply settle for a cute tabletop grill!
That being said, go for the Louisiana Grill if you are sure that you have plenty of space in your backyard and that it will not make your place look too congested!
Budget:
Given all the features and the robust build that this baby has, it is no wonder that it is priced so high. No doubt that Louisiana Pellet 700 Grill is one of the premium-priced grills that live up to its worthiness!
Hence, if you are on a budget, you could check out the Monument grills, which are not only inexpensive but also provide excellent results! In case these look unaesthetic for you, the REC TEC Grill will surely not disappoint!
Temperature Range:
Featuring a wide heat range of 170 to 600 degrees Fahrenheit, this black beauty is suitable for many activities. You can roast, cook, boil, smoke, and of course, grill with it!
Albeit, it still is not high enough to give you excellent charred food! If you are a big fan of charred meals, we suggest checking out our best char griller reviews and choosing one from there.
How to Use Louisiana Grill
Fill the pellet reservoir with natural hardwood pellets.
Set the temperature to your desired settings.
Set the probe to your preferred temperature.
Let the grill preheat for about 20 minutes or until it reaches your input settings.
Place the food on the grates.
The auger will automatically feed the pellets to the burn pot and start the process.
After finishing grilling, press down on the power button.
Wait for the grill to cool down.
Plug it off.
To be honest, the temperature settings might take a few tries to get right. But, once you have it in your field, nothing stops you from grilling like a pro!
Also, remember never to pull the plug out before the grill cools down. Like all Louisiana wood pellet grill reviews will tell you, this will only hamper the integrity of your grill!
Maintaining & Cleaning a Louisiana Grill
Cleaning a grill might sound easy. But, proper cleaning is the key to keeping it with you longer. Here are a few tips we picked out for you when cleaning your Louisiana Pellet Grill.
Before anything else, here are some basic things you should know:
Remove pellets from the hopper.
Set the temperature at 400 degrees Fahrenheit and let it burn off the remaining pellets.
Shut off the grill once it is done and let it cool down before beginning the cleaning.
Grill Grates:
Take a grill brush and scrub at the grates to get rid of any hardened bits.
Detach the grates and place them on a towel.
Use a shop vac to remove any bits that might have fallen in the grill.
Spray on the grates with a degreaser, and our favorite is the KRUD KUTTER Cleaner/ Degreaser. Click here to read a full review of it.
Keep it alone for a minute or so to let it soak in.
Rinse with water.
Scrub with a mild cleanser to get rid of the remaining degreaser.
Repeat step 6, and you are done!
After the hard parts are done:
Use a degreaser to spray and clean the interior.
Wipe down the exterior.
Perform a burn-off.
How to do a burn-off:
Gear up the grill at 350 degrees for around 20 minutes.
Use gloves and place one grate on top of the other to spray with avocado or canola oil.
Once it cools down, the oil will be sealed in the grates.
The oil here basically acts as a seasoning, and the burning off is a way to get rid of any chemicals stuck to the grill.
Where to Buy Your New Louisiana Smoker Grill
Now that you know it all, you might be wondering the fastest way to get your Louisiana grill? We got you!
Click here to get the best deal from it and start grilling for days to come!
Frequently Asked Questions
Here are the most asked questions from all Louisiana pellet grill reviews. Read on to answer any queries you may have!
01. Does the Louisiana Grill have to be Plugged in an Outlet to Ignite?
Yes! Find a 110-volt outlet and plug it in to help the grill heat its metal probe and ignite the pellets.
Although it can be lit up manually, it is useless since the pellet feed and fan convection will not run without the outlet current. The 110-volt outlet also allows the pellet auger to function properly and reach your desired temperature!
02. Does the Temperature of the Louisiana 770 Grill Vary on Different Sides?
Not always.
At times the side which is closest to the box of pellets might get warmer than the rest. Ergo, you can use this to get the ideal sear on burgers and steaks.
Nevertheless, in cold or windy conditions, the temperature can fluctuate quite a bit more than usual.
03. How Often Do I Need to Fill the Hopper?
The Louisiana Grill hopper has a capacity of 14 pounds, meaning it will not run out easily. We smoked meat, grilled burgers, and hot dogs, which lasted for quite a few hours. And no one grills for the entire day, right?!
However, keep extra pellets in case the existing one runs out. Also, you should remember to keep the capacity filled because if it runs out once, you have to pause your grilling for a while!
You might have your favorite natural pellets, but here are our top three choices:
And the Verdict
Grilling comes in all weather! There is nothing like some outdoor grilling times with your friends and family, be it summer or winter.
But, the performance of your grill can make or break this experience! Let's face it; no one wants overcooked or undercooked food, no matter how much we have.
And that is where the Louisiana Pellet Grill LG700 comes in. It allows you to grill multiple items at once, get the perfect sear with the open flame grilling, and cook all different types of food!
Additionally, it is effortless to use, easy to clean and lasts for a long time with little maintenance. Once you buy the Louisiana grill, you will have a trusty grilling companion for life!
Got more questions from our Louisiana grills review?
Feel free to leave a comment, and we will get back to you as soon as we can!