Are you someone who is struggling to lose weight or stay on track while living a busy lifestyle? For most of us not maintaining a healthy diet has less to do with motivation and more to do with meal preparations. 
It takes a lot of time and effort to plan a good nutrition dense weekly meal plan. Grocery shopping and cooking can take a lot of time. So we either end up eating salads or just giving up on the whole thing. 
In this Flexpro Meals review you will see how you can use their service to maintain a healthy lifestyle without even turning on your stove.
What is Flexpro Meals?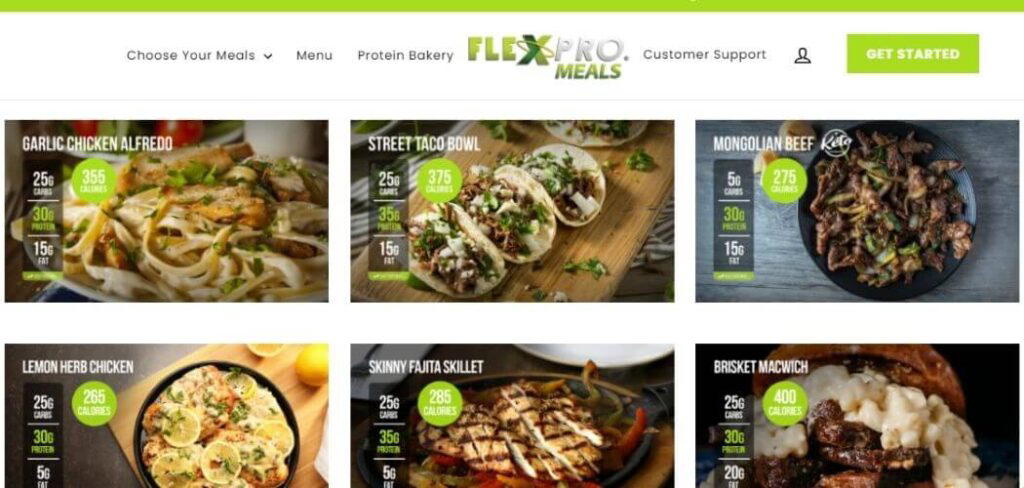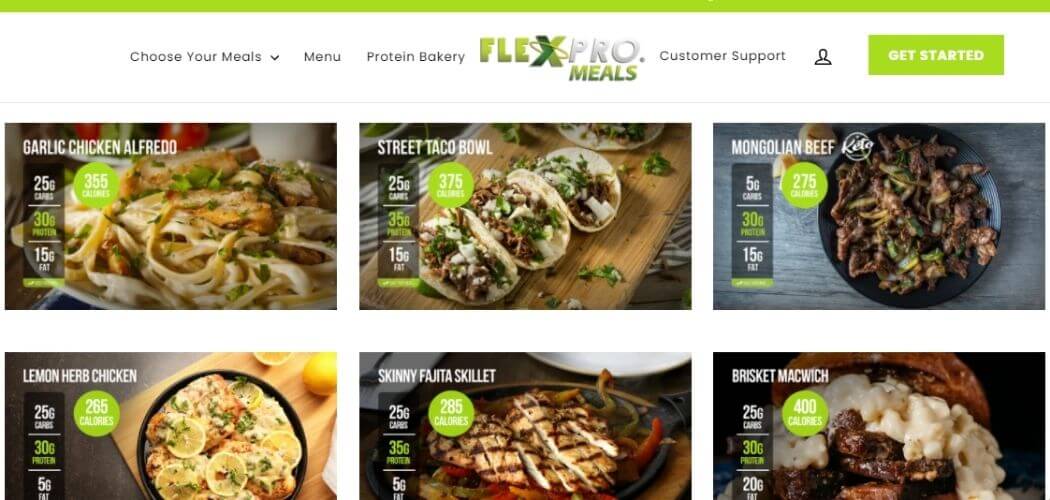 Flexpro meals is a health based meal delivery service that focuses on helping you to reach your daily nutritional goals without having to sacrifice on flavour. 
Most of the time we refer to healthy food as bland and tasteless. This is because most of us are not familiar with unique recipes from all around the world. We associate tasty food with greasy fast food options. But there are so many different cuisines and cultures of food, it'd be a shame not to explore them. 
Flexpro Meals offers all the classic dishes you love and adore with a unique twist. So you get to experience your favourite food in a very unique way. They also are really healthy and calorie focused. This means you get to enjoy delicious meals while being on a strict diet. Who said dieting has to be tough and monotonous? 
How It Works? 
Flexpro has many different meal plans ideal for a wide range of people. Their offer starts from 7 meals per week to up to 21 meals per week. 
Flexpro meals work in three simple steps:
Choose Your Meals:
Flexpro meals offer a varied range of recipes filled with unique flavour from all around the lobe. You can choose from over 20 different options ranging from most popular, low calorie and lean protein choices
Freshly Made and Delivered:
Every single dish from Flexpro is made from scratch by experienced chefs. They are then individually hand packed and delivered straight to your doorstep. The moment you open a meal you will realise how carefully they have taken care of each minor thing. 
Microwave and Enjoy!
This is the fun part. You do not have to cook or prep. All you have to do is put them in the microwave and enjoy. Each meal from Flexpro tastes so amazing that you will be surprised by each bite. 
Flexpro Meal Programs
Flexpro offers a few different meal programs suitable for a wide range of diet and food habits. There are three main types you might be interested to know:
Keto:
As ketogenic diet has become a big thing in recent years due to their numerous health benefits, Flexpro offers specially curated Keto meals for their customers. You can easily add the keto option to the subscription. 
All of their keto meals contain little to no cars with fresh and tasty meat. Every menu has a special keto logo on the side to let you know which options are keto friendly and which are not. 
Choose Your Menu: 
If you like more control over your meals plan then you can choose your own menu. This is particularly great if you do not need regular meal delivery. You can decide which days of the week you want your meals to be delivered straight to your office or home. 
This meal program is also ideal if you are new to this type of subscription service. You can try it out for once to see whether Flexpro is something you like. There are no commitments as you can cancel anytime you want. 
VIP:
Here comes the fun part of Flexpro meals. If you are struggling to stick to a diet, the VIP program is the best choice for you. This meal plan is designed to challenge you. With their mouthwatering recipes and well balanced portion sizes, VIP meal plan helps you to commit to your goal without sacrificing the flavour and taste of delicious food. 
They have 4, 8 or 12-week programs that offer special rates to male your journey more fun and enjoyable. 
How Much Does It Cost?
Flexpro is popular for their flexible weekly meal plans customisable for your needs. There is a package for everybody whether you're looking for a regular meal delivery or something you can have occasionally. 
You can choose from their different meal options each week:
7 Meals A Week: $86.93
10 Meals A Week: $114.90
15 Meals A Week: $163.60
18 Meals A Week: $189.82
21 Meals A Week: $209.29
They also have other extra options called Mario's Meal Box:
Choose 10 Meals A Week: $114.90
Choose 15 Meals A Week: $189.82
Choose 21 Meals A Week: $209.29
Flexpro has partnered with Mario Lopez to create their popular Mario's Meal Box. They match each meal order to feed the children of Boys and Girls CLub of America. SO you know your money is being used for something good. 
If you pick Mario's Meal Box, you can choose specific dishes you want. Each meals from Flexpro comes in two different portion sizes:
Fat Trimmer ( 300-400 Cals)
Lean Muscle ( 500-700 Cals)
You can pick which one you want based on your diet and goals. Lean muscle coasts a bit more than the fat trimmer option. They also have different power treats options ranging from no treats to uptop 5 boxes. 
Let's be honest, Flexpro is not cheap. Every option is a bit pricey. But to be honest, no one uses meal delivery services to save some cash. Every Delivery Services like Flexpro are dedicated to make your life easier and healthier. And this kind of customised treatment requires more than your average home cooked meals. They are not only delivering food, but also a lifestyle. 
What Makes Flexpro So Unique?
There are a few key things that make Flexpro different from other food delivery services. In this part of the Flexpro Meals review, let's check out some of those features. 
Just Heat Up and Eat:
Every single meal from Flexpro is freshly cooked by professional chefs. Each meal is designed to fill you with a variety of nutrients and vitamins. They are curated by expert nutritionists who know what you want to achieve with your food. 
The best part about this is, you do not have to do any prep work or cooking at all. You just have to open the box and heat it up in the microwave. Healthy lifestyle can not get simpler than that. 
Low Calorie Meals with Micronutrients:
All the meals from Flexpro are low calorie meaning they are designed to help you get back into shape. When we try to maintain a low calorie meals at home, we often forget some important vitamins or minerals essential for our body. 
When you rely on Flexpro to get all the essential micronutrients from, there is no more calorie counting and paranoia around food. You can simply enjoy your food without even thinking about being on a diet. 
All Natural, Whole Food Ingredients: 
Flexpro uses all natural, whole food ingredients that are free of any added preservatives or chemicals. Having whole foods regularly on your diet is an excellent way to get tons of nutrients, antioxidants and fiber. 
If you have digestive issues or long term acidity, trying Flexpro instead of store-bought meals can help reduce that problem. Having a whole food based diet can cut down on the consumption of higher-calorie items. This can help a lot of people to lose weight quicker. 
Who is It Good for? 
Flexpro was created to make healthy foods more fun and exciting for everyone. Often time dieting comes with this stigma of not being tasty or delicious attached to it. Flexpro meals are prepared to fulfil our health goals without compromising on any flavours at all. 
Flexpro is an ideal meal surface if you are:
a health obsessed
on a ketogenic diet
someone who is trying to be more careful with portion sizes
someone who is trying to cut down calories 
someone who is on a weight loss journey
Every single recipe by Flexpro is well balanced while being vibrant and creative. You get to try many different things that you might  have never thought of trying. They remove the decision fatigue from your everyday life by choosing the best ingredients and recipes for you.
The Pros:
Health-based recipes with natural and whole food ingredients
Ideal for anyone who struggles to be on a diet
Ideal for people with high blood pressure or diabetes
Highly nutritious meals with great flavour
Low calorie meals designed to keep you on track.
Different meal packages suitable for a wide range of people.
Offers keto options.
Gives a lot of discounts and promotional codes on their plans.
The Cons:
There's no detailed nutritional information available on their website. This can be a drawback for some people. 
Does not offer free shipping policies.
The Takeaway
Dieting can be very mentally and physically exhausting especially if you are someone who loves food. The old concept of sacrificing everything in order to be healthy is just not practical. Flexpro shows us how we can have fun with our meals without adding cheese on everything! 
If you lead a busy life like most of us, weekly meal prep and cooking is not a very fun way to spend the free time. In this Flexpro Meals review you have seen how you can have it all with a simple subscription. Now enjoying delicious and healthy food is just on the tip of your fingers.
More Related Meal Delivery Service: