Whether it's coal, gas, electric, or propane, Weber has ruled every type of grilling industry. When we think of a grill, we automatically think of Weber. They didn't get such a high reputation for no reason!
A lot of us campaign about Weber's high price range. Nowadays, we all are suckers for a good deal. We want the latest product within a lucrative price point. But quality and affordability do not go hand in hand.
So why are Weber grills so expensive? Well, let's figure it out together!
History of the Weber Grill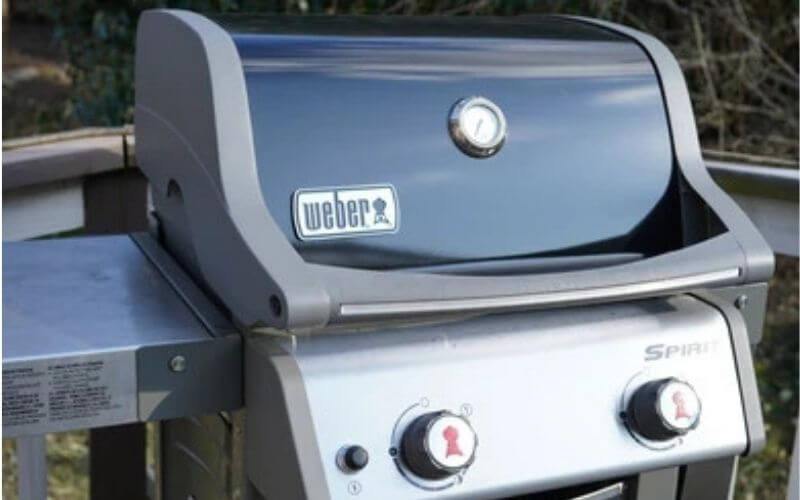 Weber is probably the most well-known barbecue brand in the world. There are some pretty solid competitors but somehow the popularity of Weber is still at its peak!
Weber started their grilling industry with a simple yet practical product: the kettle grill. There isn't a single person in America who doesn't know about this classic charcoal grill.
At that time, all grills had an open-top design that easily interfered with the cooking process. A simple breeze of wind could mess up the temperature and make the meat all ashy and dusty, or it could turn into a smoke hazard.
Grilling wasn't as fun as it is now. So in 1952, Weber created a closed lid grill design. The genius of this invention was, not only does the smoke not bother the cook, it actually coats all around the meat and adds an intense smokiness.
Flavors like that were very hard to recreate at home. This simple design changes the whole grilling industry. Weber pushed the boundaries of food technologies at that time and hasn't stopped since then.
High-Quality Materials
When you spend a few hundred bucks on something, you want it to last for a long time and to serve you well. Most of the mass-produced grills use cheap materials that rust and bend within a few years.
Weber grills are made using premium-grade stainless steel or porcelain-coated enamel. They also use cast iron for a lot of their models.
All of these materials cost more to build but creates a durable, resistant, and rust proof surface.
Weber makes sure to quality control each of their units by testing them thoroughly. Each model is tested to survive up to 15 years of use.
Another great thing about weber grills is how you can use them all year round. They are versatile and great for winter BBQs too.
Well-Engineered Design
The term backyard grill was popularised by Weber due to their convenient kettle grill model. Since the 50s, Weber has stayed as a constant for all barbecue lovers and enthusiasts. This is due to their practical and functional designs.
While most modern grills are equipped with fancy features and lights, Weber takes more of a classic approach to their design. All of their grills are extremely functional and durable yet they don't have a single unnecessary feature just for the sake of looking cool.
Weber spends a lot on their research and development team. They are constantly bringing out new models with better air circulations, better heat distribution, and better exterior.
Each upgrade is thoughtful and useful. Practicality is what people think when they think of Weber grills. No wonder they have been beating down competitors for decades.
Energy Efficiency
Weber uses cast iron grill grates which means it uses far less fuel than other types of grills. Cast iron is known to retain temperature for longer thus being very energy efficient.
Each Weber grill is designed to be energy efficient so you don't end up spending too much money.
If you are someone who loves to grill once or twice a week, those small numbers add up. So it's only logical to go for Weber grills over others.
Innovative Products
Weber grills started with innovation as they created the world's first kettle grill back in the 1950s. They have just gotten better and better at it since then. Weber is known as a pioneer in the grilling industry for its unique and user-friendly designs.
Even now, Weber successfully brings out models after models of striking new features, all with a contemporary design in mind. Even though they have remained classic in the basic design structure, they don't put themselves inside a box and lock it.
Weber understands that with changing times, people need different things. And they are willing to provide it.
For example, weber is providing an iGrill app-connected thermometer for your grills. This helps to know exactly what temperature your food is. So when you're grilling a steak, there is no fear of accidentally cooking it too well-done.
Warranties and Repair
When you are spending so much money, a warranty is something you need to have. Weber has a solid warranty system. They are so confident in their products that you get at least a 10-year long warranty on their grills.
For some models, it can be more. But that's not even a worry as most weber grills last for decades.
Weber also makes repairing super easy. Their grill parts are readily available so you can repair your broken grill at many different service centers.
You can also buy those parts and repair them yourself as they provide easy instructions too. As grills are an investment, you need to keep these things in mind. 
Are Weber Grills Worth it?
The long-lasting, high quality Weber grills are worth every penny.
When compared directly against other brands in similar quality and price ranges we find that they offer incredible value while still providing amazing grilling performance!
How Long do Weber Grills Last?
Weber grills are made to last for a long time. They use high-quality materials such as stainless steel, cast iron, porcelain-coated aluminum, etc to create a durable and resistant grilling surface. Weber grills are water-resistant so you can use them all year long. 
Frequently Asked Questions
01. Which Weber Grill is the Best for the Money?
People love Weber grills not only for their smart design and durable construction but also for the wide range of options they carry. There is something for everybody whether you are looking for a budget-friendly pick or a premium one.
Judging by the design, materials, and durability, we think the Weber Q 1400 electric grill is the best overall choice. It has all the features people love about Weber but comes at a pretty reasonable price point.
Weber Q 1400 is easy to transport and can be used anywhere with a power outlet. This compact and powerful electric grill has cast iron cooking grates which provide even heat distribution. This easy-to-use unit is perfect if you want to invest in something easy and efficient.
02. Is Weber Worth the Money?
Weber grills are definitely not the most affordable thing in the market. The price doesn't stop them from being super popular.
That's because most of us look for quality products instead of something that's cheap. Weber grills might not fall into the category of affordable but they last you for decades.
If you calculate it by cost peruse, we bet it's cheaper than other poorly made girls. You will only need to purchase one grill in your life. So spending a few extra bucks definitely pays off in the end.
03. Is Weber Better than Char Broil?
Both Weber and Char Broil are fantastic grill brands but they have different target audiences. If you are looking for something that's going to last you a long time with an excellent grilling experience, there is nothing better than Weber.
But if you are a bit short on the budget and still want a quality grill, Char Broil is the one to go to. Char Broil provides budget-friendly grills with modern features. They won't last you for decades but as long as they last, the experience will be very satisfying.
Of course, as it's a budget-friendly option, you are not going to get a premium product. For premium grills, there really isn't anything better than Weber. We recommend saving up and spending your cash on a classic Weber model.
04. How Long Do Weber Grills Last?
Weber grills are made to last for a long time. They use high-quality materials such as stainless steel, cast iron, porcelain-coated aluminum, etc to create a durable and resistant grilling surface. Weber grills are water-resistant so you can use them all year long.
With proper care and maintenance, your Weber grill can last for 12-18 years and sometimes even more.
Weber provides an excellent warranty of 15-year along with reliable customer service. So if you happen to face any issues, they will fix them for you. Weber parts are available everywhere which means, repairing is not a hassle. No wonder they are so popular!
05. Can I Leave My Weber Grill Outside?
Weber grills are made using solid premium quality materials. As most of the Weber grills are made out of stainless steel, you can leave them outside as long as there is a shed on top of it.
These grills are built to survive any weather conditions. So if you live in a humid, rainy climate or somewhere with tons of snow, Weber will be able to withstand it.
If you do not have a shed, just use a cover to place it over your grill. It will protect it from dirt, dust, and moisture. This way you can leave your grill without having to worry about it.
Epilogue
Driven by a passion for grilling the best BBQs for friends and family and to make everyone a backyard barbecue chef, Weber has been working to create revolutionary products for half a century now.
It's no surprise that Weber grills are more expensive than their competitors. They are not just giving you a grill, they are giving their customers reliability and assurance of quality.
When you don't know which grill to pick, you can blindly pick a Weber model and it will be far better than anything else on the market.