It's hard to find a yakitori grill on the market, but this is where we come in. To make it easier for you, we've rounded up the best yakitori grills we could find, plus a guide on how to make your own yakitori at home.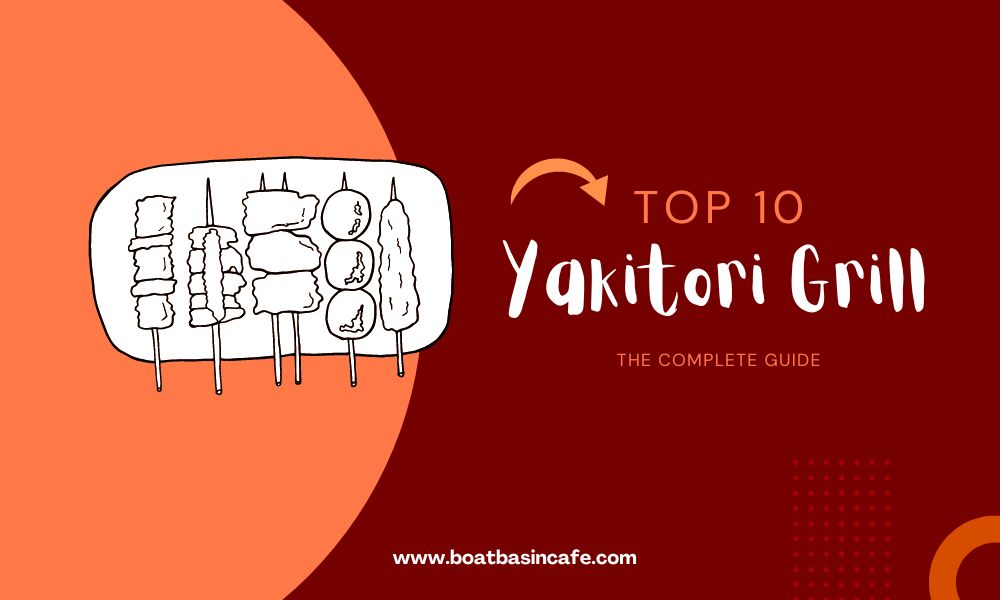 Curious on what a yakitori grill is? We've got you. There's nothing quite like eating Japanese food with your loved ones at home, and a yakitori grill is one way to make that happen!
What is a Yakitori Grill?
"Yakitori" literally translates to "grilled chicken." In this case, "yaki" is "grill," and "tori" is "chicken." In itself, however, yakitori refers to bamboo-skewered bite-sized pieces of meat. Different parts of the chicken are used, from the chicken breasts, thighs, skin, liver, and other innards.
Aside from chicken, however, beef and pork are also used.
A yakitori grill, then, is what's used to make yakitori. Traditional yakitori grills has a clay exterior, is rectangular, and is a few inches deep. As yakitori only uses bite-sized pieces, the grill itself is small, and uses charcoal as fuel.
What Makes a Yakitori Grill Different?
A Japanese yakitori grill is more compact and lightweight in comparison to other grills. As a result, your favorite yakitori meats are quick and easy to make!
Yakitori grills also make use of white charcoal, also known as binchotan charcoal. You may also known yakitori grills as binchotan grills because of this! Binchotan charcoal burns clean, and doesn't add any flavor to the meats themselves.
The Top 10 Best Yakitori Grill on the Market
Are you ready to discover the best yakitori grills on the market? Make Japanese cuisine happen at the comfort of your own home with our top ten picks below:
01 Fire Sense Yakitori Grill
Features:
Handmade with a clay exterior
Has adjustable vents
Charcoal grills are designed for tabletop use
Has a stand with handles included
With a 17″ x 10″ cooking surface area
Why You Should Get It:
This Fire Sense chrome cooking grill mixes the style of traditional yakitori grills with modern cooking design. The grill is handmade with a clay exterior, but the cooking grill itself is chrome. It has adjustable ventilation with internal charcoal grates, plus a handmade ceramic interior. Adjust the airflow anytime!
The charcoal grills are designed for tabletop use, so you can enjoy the tabletop yakitori grill experience with your family and loved ones! Though traditional yakitori is small, the 17″ x 10″ cooking surface area already allows you to put as much meat as you like on this large yakatori charcoal grill.
Innovative design meets premium quality with the Fire Sense Yakitori Grill. Don't miss out on it — get it today!
---
02 IronMaster Cast-Iron Yakitori BBQ Grills
Features:
Made with high-quality cast iron material
Has a non-stick effect, making grilling and cooking much easier
Portable yakitori grill allows grilling for up to five people
Can be used for indoor or outdoor grilling
Has 109 square inches of cooking area with the grill grate
Why You Should Get It:
Love a portable yakitori grill you can enjoy? We have the best pick for you. The IronMaster Cast-Iron Yakitori Grill boasts high-quality, cast-iron material. As a result, this yakitori grill allows the heat to adjust evenly throughout the grill grate, locking in the needed moisture and flavor of your meat.
You don't have to worry about a thing, either — this yakatori grill is pre-seasoned with 100% vegetable oil. No chemical coating, paint, lead or cadmium are involved in its cooking surface! The non-stick effect also makes it much easier to grill and cook.
Have we also mentioned that it's portable? As a portable grill, you can bring this lightweight barbecue grill anywhere at only 22 pounds. While lightweight and small, it still allows grilling for up to five people! You can use it for either indoor or outdoor grilling, too.
Add clean coals with the coal door and adjust airflow with the large-diameter vent. The two adjustable heights also allow you to customize your cooking experience! This is the best yakitori grill you can get with easy-to-assemble parts and exquisite workmanship. Buy it for yourself here.
---
03 ICECO Portable Folding Yakitori Grill
Features:
Multipurpose – made to be a four-in-one charcoal grill
Made with rust-resistant, erosion-resistant, high-strength premium stainless steel
With double-sided ventilation and a gully-designed bottom that can easily achieve high heat
Foldable and portable – bring this yakitori grill anywhere!
Two-height adjustable — perfect as a standing grill or as a tabletop yakitori grill
Why You Should Get It:
If there's any portable yakitori grill that fits everything you need, the ICECO Portable Folding Grill is definitely the one. First off, it's made with multiple purposes in mind! As a four-in-one charcoal grill, you can use it as a smoker, pizza oven, and fire pit. There's an innovative tray that can double as a grill lid any time.
While made to be portable and multi-purpose, it doesn't skimp out on quality, either! It's made with premium stainless steel, which is rust and erosion-resistant. No matter how you use this portable grill indoors or outdoors, you can be assured of safe and long-term use!
What's more — you can do your grilling at two heights, too! The standing grill can easily be turned into a tabletop grill once you adjust its height. With a cooking area of 225 square inches, you can definitely grill all the food you like, from chicken breast to vegetables.
---
04 Mueller Portable Charcoal Grill and Smoker
Features:
Comes in a unique folding design
With a surface of 166 square inches – not extremely narrow, but not too wide, either!
Made with rust-proof, durable, food-grade stainless steel
Grill plates comes with side vents and sturdy, heat-resistant frame
Portable, slim, and compact, making it a travel-friendly grill
Why You Should Get It:
Need to grill on the go? The Mueller Portable Charcoal Grill and Smoker is the one for you! It comes with foldable legs in a unique design — not only does it save space in storage, but it makes the grill itself portable, slim, and easy to travel with any time. Plus, it's quite easy to set up!
While portable and slim, this grill still has a surface area of over 166 square inches, which is a good size for any great yakitori grill. You can definitely grill your meat and vegetables all at the same time!
Even with a lot of use, this grill will stand the test of time. The sturdy food-grade stainless steel is sturdy, won't rust, and is even dishwasher-safe! Yup, you only have to pop it in the dishwasher to clean it up.
Worried about the charcoal needed in your grill? Worry no more. The Mueller Portable Charcoal Grill and Smoker features side vents with a sturdy, heat-resistant frame that gets your charcoal burning better. Achieve the flavor you need in no time!
---
05 Everdure Cube Charcoal Grill
Features:
Portable and lightweight — the grills' ideal size and weight for outdoor use
Complete with built-in heat protection
Designed with a portable, integrated storage tray, bamboo cutting board, and safety latches
Charcoal tray, fire box, and removable grill rack are easy to clean
No gas grill needed — only charcoal is enough!
Why You Should Get It:
The Everdure Cube Charcoal Grill boasts a unique design for all your grilling needs. As it comes in a cube, you wouldn't expect all of its features, but they're there nevertheless! It's designed to have a portable, integrated storage tray, bamboo cutting board, and safety latches.
Not only can you start grilling on this charcoal grill — you can also store all your food, prepare your meet and vegetables, and make sure everything stays safe and properly stored all throughout!
Plus, it has a built-in protection shield, too. You can practically grill on any other surface you would want. It's lightweight and portable, so you can bring it along just about anywhere and have delicious yakitori still!
With 115 square inches of grilling area, you have more than enough space for all your food. Grill your meat and vegetables side by side with no problem at all!
---
06 WILLBBQ Quality Portable Yakitori Grill
Features:
Comes with a durable, burn-resistant and rust-proof carbon alloy plate
Carbon alloy plate is adjustable
Has high heat resistance
Has excellent ventilation to control airflow
Has an ash outlet for easy cleaning
Why You Should Get It:
Out of the best yakitori grills we've had so far, this one definitely takes a place in the top spot! If you're looking for a large yakatori charcoal grill that will last you a long time, you don't have to look any further. This durable, quality yakitori grill is the one for you.
It's made of durable, burn-resistant and rust-proof carbon alloy plate, which is also adjustable for 8-10 centimeters. You can control temperature and airflow easily with its excellent ventilation, plus there's an ash outlet for easy cleaning. The adjustable vents make it much easier for you. You can use it for cooking outdoors, too!
For the best results in your yakitori grilling, consider the WILLBBQ. You can make the best Japanese food happen with these grills in no time!
---
07 The Bincho Grill – Yakitori Table Top Grill
Features:
Made with heavy gauge stainless steel
Has a thick aluminum insert for heat insulation, ash collection, and ease of cleaning
With two adjustable vents for airflow and heat
Has double walls for extra rigid construction
Has solid poplar handles and legs
Why You Should Get It:
The Bincho Grill is here for the best yakitori grilling on the world market! With The Bincho Grill, you're guaranteed that everything is built to last. What more could you expect out of the heavy-gauge stainless steel material? Eat everything right off the skewer with no worries at all.
Plus, there's also an aluminum insert for heat insulation, ash collection, and ease of cleaning! All you have to do is pull it out to wash. The perk? It will never rust. Clean the grill as you need to no matter what!
With two adjustable vents, you can have direct heat and temperature control going on at the same time. The double walls allow for extra rigid construction, and it also has solid polar handles and legs. The best yakitori grills were made to be sturdy, and this charcoal grill is no exception! Invest in The Bincho Grill today.
---
08 Homping Portable Charcoal Grill
Features:
Made with iron
Reduces smoke by 90%
With battery-operated fan control
With easy-light ignition
Comes with a carrying case and a grill safety tool
Why You Should Get It:
Want something portable and can be used indoors? The Homping Portable Grill is the one for you! It retains heat quite well and is supported by an internal fan. The best part is that the stainless steel grates make it non-stick, so the sear is left on the meats.
Grilling is also made easy with the easy-light ignition and battery-operated fan control. And speaking of the fan — it practically reduces the smoke to nothing once in use. If you feel like grilling indoors or just don't like smoke when you do start to grill, the Homping Portable Grill is the one for you.
Every removable part can go straight into the dishwasher, making this unit a breeze to clean. It also comes with a carrying case and grill safety tool, too! You only need a few briquettes to get this grill started as well. What are you waiting for? Get the Homping Yakitori Grill today!
---
09 Elite Gourmet Tabletop Electric Grill
Features:
With a 14″ grilling surface for all the meats, fishes, and veggies you can think of
Circular heating makes it possible for you to heat things up evenly
Everything is detachable and dishwasher-safe
Has a convenient, adjustable thermostat
Comes with a domed glass lid and removable drip tray
Why You Should Get It:
Want an outdoor cookout in the comfort of your own home? The Elite Gourmet Electric Grill makes it possible! Make the best yakitori with its convenient circular heating — you can be guaranteed for each piece of food to achieve a well-done state. It helps to have indirect grilling as an option with this electric grill as well!
After you're all done with your grilling, you don't have to worry about clean-up! Everything is detachable and dishwasher-safe. When you're cooking, you can adjust the temperature to your liking with the adjustable thermostat. Unlike with a gas grill, you don't have to worry about spatters of grease with the domed glass lid.
Plus, there's also a removable drip tray included for your convenience. You can disassemble everything easily.
Explore endless possibilities with the best yakitori grills — with the Elite Gourmet sitting on top of the list.
---
10 Fire Sense Black Notebook Yakitori Grill
Features:
Stands at thirteen inches high
Portable and comes with a charcoal and grill rack
Sturdy with the high heat resistant steel
Slim, lightweight, and easy to store
Why You Should Get It:
Looking for the best portable, compact grill you can travel around with anywhere, anytime? Look no further. The Fire Sense Black Notebook Yakitori Grill answers all your needs! At thirteen inches high, it's the perfect grill you can bring along to any occasion — unlike a conventional gas grill you have to fire up.
With Fire Sense, you're sure that the materials are built to last. It's sturdy, with high heat resistant steel, and is slim, lightweight, and easy to store. You can definitely make space for this Fire Sense unit in your pantry!
So, if portability is on your top priorities in selecting a yakitori grill, this one's for you.
What to Look For in a Yakitori Grill
Size
Yakitori grills are typically smaller than most, but when buying your very own grills, you want enough cooking area for all your food! When looking into a yakitori or bincho grill, try to estimate the size that you'll be cooking for — and how much you'll be cooking in the first place.
Most yakitori grills have the size of their cooking area stated in their features, so make sure you take a look before committing to anything.
Price for Value
You don't want to go for something cheap that breaks easily! Or worse, something expensive that breaks easily, too. You want something in the perfect middle: the price is just right and you know you paid for quality. To discern this, take a look at the material used. Which brings us to our next deciding factor…
Material
Most yakitori grills, when traditionally made, are out of clay. However, conventional and modern yakitori grills you might find on the world market involve heavy gauge stainless steel, a ceramic interior, wire mesh, a wooden base, ceramic coating, and may even be chrome-plated.
Whatever you choose, make sure it's sturdy and durable. You want something food-grade if you're going for stainless steel, for example, and one that doesn't rust or corrode in time. Ultimately, you want something that lasts!
Tabletop Grill VS Foldable Grill
Yakitori grills are quite small, but that doesn't mean you should sacrifice functionality! Many yakitori grills might come in tabletop form or with foldable legs. It's up to you to choose which kind of yakitori grill you want for yourself.
As a middle-ground, you might want to look into height-adjustable yakitori grills. These yakitori grills can transform from your typical grill to a tabletop grill in no time! There are also those that have foldable legs and are already a tabletop grill in the first place. Look into these options and see which one is the best for you.
Indoor VS Outdoor
You don't want to accidentally bring an indoor grill for outdoor use! That's why it's best to invest in one or the other first. Think about where you're going to do a Japanese-style party or where you would usually do your grilling in the first place. Would it be indoors or outdoors?
That one question will make you ponder and invest in the right product. Outdoor grills are made to stand general wear and tear that the weather and other elements may provide!
How to Use a Yakitori Grill
Prepare Your Coals
Prepare coals just enough to cover the bottom of the grill of your choosing with the coals. Remember to use just enough to cover — any more and there will be excessive heat and flame.
Lighting the Coals
We recommend using a chimney starter for this one! Light the end of the chimney starter and light your coals before spreading it on the bottom of the grill.
When grilling, use the vents to adjust the airflow and heat. Remember: more airflow generates more heat. So if you want a higher temperature, open the vents wider, and close it when you need to control the temperature more.
Cooling Off
Use an extinguishing pot to cool off your coals. Don't pour water onto your barbecue grill after yakitori grilling to cool it off — you actually risk breaking your grill, its charcoal grate, and everything in between!
Tips on Using a Yakitori Grill
Use the Right Skewers
Yes, there's such a thing as the "right" skewers when it comes to yakitori grilling! While you can use any regular skewer for yakitori, having the right ones can help while you're grilling. These skewers are called teppo gushi, and are tapered to a flat end. As a result, it's much easier to rotate the yakitori as you cook it.
And speaking of using the right skewers, make sure you soak your skewers before you grill! It helps them not burn too fast during the actual grilling process.
Don't Leave Too Much Space When You Grill
In other words, it's best to crowd the skewer. If you leave too much space between the skewers when you grill, the chicken pieces will dry out! You want your chicken juicy and moist to the taste. Tighter spaces mean juicier chicken.
Another tip? Season as you cook, instead of seasoning when you begin — and only then! When you season as you cook your yakitori, you give more depth and flavor to your chicken pieces.
Make Sure the Heat is Consistent
You don't want to cook your yakitori over too high or low heat. No, a middle ground with medium heat is best! Temperature control is important — you want your yakitori to have an even doneness all around.
How to Make Yakitori
What You Need:
Bamboo skewers for grilling
Your chosen meat and vegetables
Soy sauce
Mirin
Sake
Sugar
Water and salt
Yuzu
Your charcoal grill and coals
Step #1: Soak the wOoden Skewers
Soak the wooden skewers before anything else first! When you soak them in water, you prevent them from burning too fast over the grills. It'll make it easier for you.
Step #2: Cut Your Meats
If you're using chicken thighs, make sure you cut them in 2×2 bite-sized pieces. The same goes for any other chicken part you may use — 1 1/2 inch pieces to 2×2 pieces typically work the best. The chicken skin, meanwhile, should be cut in long strips.
Clean vegetables first before skewering them as well. Make sure everything's in bite-sized pieces before you start grilling!
Step #3: Make the Sauce
Tare is the popular yakitori sauce used when people eat yakitori. To make tare, combine the soy sauce, mirin, sake, and sugar in a small pot over medium-high heat. Bring it to a boil before letting it simmer for ten to fifteen minutes. You want it to reduce to a thick sauce!
Step #4: Heat the Coals
It's best if you use a chimney starter for a Japanese yakitori grill. If you're using binchotan charcoal instead of lump charcoal, you know that you've heated the coals properly once the coals are all covered in white ash. If you're using lump charcoal, there's no need to look for the white ash to happen! Arrange the coals in your grill after.
Step #5: Manage Your Grilling
Now you can start grilling! Ideally, you should never leave your food unattended while grilling. Even the best yakitori grill will have some hot spots, and you want your meat to be done evenly. Flip the skewers every now and then to secure doneness on both sides.
Step #6: Season Your Meat
Before taking them off the coals, make sure you season your meat with some salt as you flip them. It's also a good idea to start basting them with tare at this point!
Step #7: Cool Off the Coals
Put your grilled yakitori in a separate container and start cooling off your coals. You can reuse the rest of the binchotan later. Now, congratulations is in order — you've made some yakitori!
Can I Use Other Chicken Parts for Yakitori?
Definitely! Yes, you can use other chicken parts for yakitori. You can use chicken breasts, tenders, skin, wings, tails, cartilage, hearts, livers, and even gizzards. We used chicken thighs for this recipe, but it's completely up to you how you'd like to prepare and cook your yakitori!
Can I Use Other Meats for Yakitori?
Sure! Even Japanese-style restaurants offer a change in pace from time to time. You can go for pork, Korean BBQ, and even beef.
Where Can I Find Yakitori in Japan?
This famous skewered grilled chicken can usually be found at an izakaya, or Japanese-style pubs. Yakitori restaurants also exist! Yakitori is typically paired with beer — and a good time. If you're looking to replicate the way Japanese people enjoy their yakitori, make sure you throw a barbecue party while you're at it!
What Else Can I Season Yakitori With?
You can season yakitori with white pepper and salt, tare, or togarashi and lemon. We covered how to make tare above, but togarashi is quite different! It's made of nori, sesame seeds, sansho, red chili pepper, and ground ginger.
Frequently Asked Questions
What is special about yakitori grill?
Charcoal grills like the yakitori grill are typically flatter on the bottoms and sides. Unlike traditional North American grills, it's a compact grill that aims to accommodate bincho-tan charcoal. There should be enough depth to stack at least two layers of coals, and the material itself should be made of diatomaceous earth.
What kind of charcoal do you use for yakitori?
For a yakitori grill, you typically use binchotan charcoal! It's also known as white charcoal, and is an alternative to charcoal briquettes. It's a type of charcoal that has a high, pure carbon content, to the point where its completely odorless. To best enjoy your yakitori, this is the best charcoal you can get!
How do you use a yakitori charcoal grill?
A yakitori charcoal grill is just like any other charcoal grill! Simply load up the coal before putting on the grates. Light the coals and start grilling your chicken – or other meat and food if you're up to it.