These days, fitness enthusiasts like you and us, simply cannot imagine living on starch heavy processed and fast food. With the pandemic at play, frequent dining out isn't a feasible option either.
Besides, let's face it, recurring take-outs, and eating out regularly take a significant toll on our finances. We can easily avoid this expenditure by turning to a convenient meal delivery service. 
Prepared meal delivery services take the burden of grocery shopping, planning, and cooking meals away from our plate.
Specially curated fitness meal services are a step ahead. These have turned into an increasingly popular lifestyle with so many people benefiting from their healthful meal plans.
Eating healthy and staying fit is a no brainer with the right meal subscription. And if you are looking for just that, there's a fat chance you have heard of Snap Kitchen and My Fit Foods.
We tested and tasted these two to create this all-inclusive Snap Kitchen Vs My Fit Foods review just so you know which one is a better match for you.
What's the wait for, then? Let the feast begin!
Snap Kitchen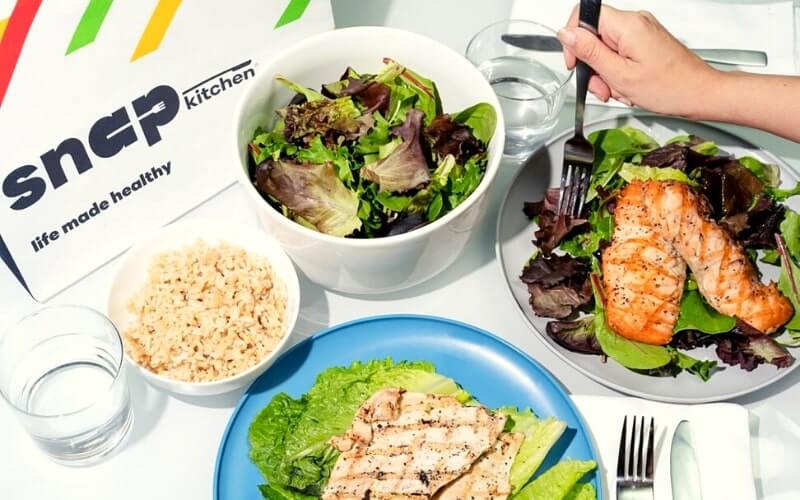 Taste the Feel-good Life:
Snap Kitchen has been delivering oven-ready healthful meals for a decade now.
Martin Berson, the person behind Snap Kitchen started this venture in Austin, Texas with one goal in mind: making tasty and convenient real meals available to busy bees.
The company has stuck to its commitment and is growing by leaps and bounds every passing day.
How Snap Kitchen Works:
Snap Kitchen is a weekly prepared meal delivery subscription.
They serve you six meals a day: breakfast, lunch, morning and evening snacks, dinner, and beverages. You can also opt for the larger 12 meals/day plan or customize according to your convenience.
The delivery is made to your doorstep by FedEx, but if you are a local of Austin, Dallas, Houston, or Philadelphia, you can choose to pick your meals from local store delivery.
Get started by visiting their website.
Once you are done browsing the appealing menu, Snap Kitchen asks you to build your own meal plan by choosing your preferred delivery method, number of meals you want, and your calorie goals.
There are three calorie categories: 1200 calories/day, 1500 calories/day, and 1800 calories/day.
Snap Kitchen caters to all your dietary preferences by 9 diverse meal plans and you also get to decide whether you want meals for 3 days, 5 days, or the entire week.
Meal Deals:
Snap Kitchen meal plans are Dietician-designed and Chef-prepared to fuel a tasty yet healthy lifestyle.
These have a high protein and low carb content. The snacks are super-energizing and great for pre and post-workout cravings.
All meals are microwavable. Ergo, there's no prepping, no cooking, and no pots and pans in the sink involved.
The 9 meal plans offered by Snap Kitchen are:
Low Carb:
Meal plan with only 30% carbs, a lot of protein, and good fat. This is highly recommended if you are looking to shed some extra pounds.
Balance:
Clean healthy meals from a variety of cuisines. A must pick if you are looking to feed the entire family.
Vegetarian:
One of the best meal plans for vegetarians out there. These plant-based meals are nutrient-dense, sufficient to fulfill your macro and micronutrient needs.
Whole30:
This is the best plan for those who want to detox and turn their dietary habit around. You won't have inflammatory food like soy and sugar on your plate.
High Protein:
This is tailored for athletes, sportsmen, and fitness junkies. These high protein meals keep your body and soul in perfect shape.
Keto:
Ketogenic lifestyle is the new vogue, but many meal services still lack a keto menu. Fortunately, Snap Kitchen doesn't. This plan is for the keto-followers out there.
Paleo:
This is a complete paleolithic diet. Paleo lovers don't need to look anywhere else.
Custom:
The custom meal plan lets you design your menu. Pick your own meals, Snap Kitchen will deliver.
The all-embracing meal plans aren't the only strong suits of Snap Kitchen. The quality of the ingredients is top-notch as well.
Beef is 100% grass-fed, hormones, and antibiotics free. The meals come freshly prepared and are devoid of artificial sweeteners.
User Convenience and Flexibility:
Subscription with Snap Kitchen is highly flexible. You can skip meals or cancel without a hurdle. Just make sure you let them know 4 days before.
The menu caters to all sorts of dietary needs. The Custom meal plan option adds to user convenience by allowing you complete control over what you want to eat.
Preparing the delivered meals is effortless. These come prepared, so you won't need to lift a pan.
The busiest bees can simply microwave the dishes. However, if you have a few more minutes to spare, get them done in the oven to enhance the taste and flavor.
Food arrives fresh in cooler bags, the containers are BPA free and the box is compostable. Hence, your Snap Kitchen delivery is as eco-friendly as it can get.
Delivery and Customer Service is satisfactory.
Taste:
Snap Kitchen knows culinary arts.
Individual meals are packed with healthy Omega fats and antioxidants and never cross the 500 calorie demarcation. Even then, the meals are surprisingly satisfying.
The high protein content brings you satiety before you can over-indulge. The portion size is adequate.
We believe you will never turn to unhealthy junk food once you have tasted Snap Kitchen.
Delivery Zones:
One thing about both our contenders is that they don't serve all over the Continental US.
The service is operational in various locations across more than a dozen cities.
To know whether your area is covered, check the "Locations" section on their website.
Affordability:
Snap Kitchen subscription is reasonably priced. The 6 meal deal will cost you around $67 a week and the 12 meal deal will cost around $115.
This is a bit pricier than a week-long fast-food diet but a lot more beneficial for your body.
My Fit Foods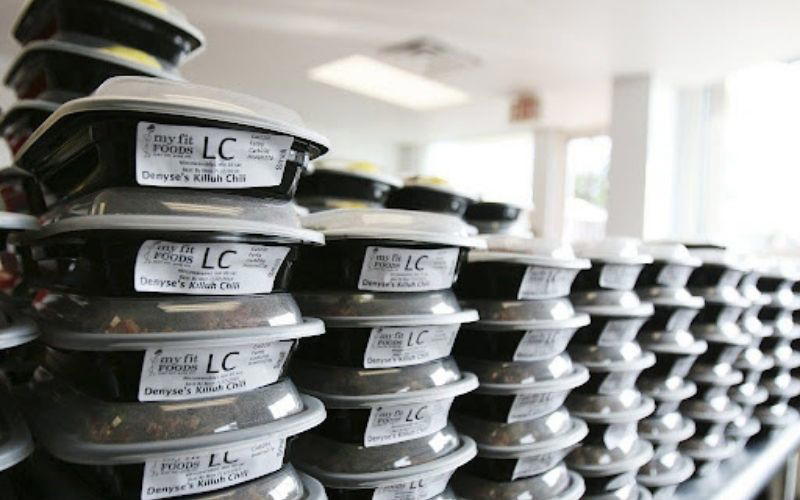 Eat Fit – Live Fit:
My Fit Foods came into being in Houston, Texas, when a former Marine and Personal Trainer Mario Mendias realized that many of his clients failed to reach their fitness goals because they did not have enough time to prepare healthy meals.
This prepared meal delivery service with an attractive 21 Day Challenge Meal Deal has been serving ever since.
How 'My Fit Foods' Works:
There are three My Fit Foods meal sizes: small, medium, and large.
These are packed in black boxes with transparent lids. All meals arrive fresh, are never frozen and always microwave-ready for home and office.
You can find them in your local grocery if you prefer to grab and go. But for your personalized orders, you have to subscribe and pre-order online. You can pick your parcel from stores or your gym the next day.
To know if your gym is connected to My Fit Foods, you can check their Website.
Meal Deals:
My Fit Foods meals cover 4 domains- breakfast, lunch, dinner, and snacks. So rest assured, you are covered for the whole day.
Meals are dietician curated and the menu has infographics with indicators like "Gluten-Free" and "Low Glycemic Carb".
You either pick what you like from the menu or join their Fit Club and enroll in the 21 Day Challenge.
Joining the Fit Club allows you to enjoy all meals at a 20% lesser price.
The 21 Day Challenge is the loadstone of My Fit Foods. It has turned the lives of their Customers around towards a fit and healthier lifestyle.
Once you subscribe, your meals are specially designed after a free consultation with a Nutritionist. Then, all you have to do is stick to their prescribed plan for the next 21 days and rediscover yourself.
User Convenience and Flexibility:
You may have already noticed that the modus operandi of My Fit Foods is a tad different. However, this doesn't make it less convenient for the users.
For starters, the meals are conveniently packed, so that you can carry them around everywhere including the workplace. To make them plate-ready, all you need is a microwave nearby.
Secondly, their meals save tons of your time. Invest 90 seconds four times a day to heat up your meals. That's the only commitment they ask from you.
Also, they design meals to cover your dietary needs all day long. There are options like small snacks, and pizza, so you won't need to look anywhere else for food.
In case you are wondering what a pizza menu is doing on a health food delivery service, let us tell you, the pizza of My Fit Foods is gluten-free and crafted with low glycemic ingredients.
My Fit Foods also offers consultation by a Nutritionist once you join their Fit Club. This definitely earns a point on our book as the service is complimentary.
When it comes to flexibility, My Fit Foods walks the extra mile by offering a 30-day trial run on their Fit Club.
Subscription doesn't have any strings attached, you can cancel anytime.
Taste:
The taste is surprisingly great. Who says health and taste do not go hand in hand?
Everything is portion controlled and prepared fresh. You may not get a gourmet fine dining experience, but you will surely enjoy yummy meals without going through the trouble of cooking.
If you are a prey to unhealthy food habits, you are in for a healthful reset. That too, without compromising the taste.
Delivery Zones:
It would have been great if the service of My Fit Foods was available everywhere. Unfortunately, that isn't the case, yet.
Their storefronts are located in:
Portland
Beaverton
Lake Oswego and
Denver
The details and hours are elaborated on their website.
Affordability:
My Fit Foods wins the race when it comes to affordability. Their meals are cheap. Moreover, Fit Club members get to enjoy an exclusive $10/week privilege.
This is cheaper than dining out, take-outs, and processed food. Moreover, it is less time consuming than preparing meals at home.
Keeping the meal price aside, My Fit Foods saves your money by providing a complimentary session with a Nutrition expert, which is worth $150.
Snap Kitchen vs My Fit Foods: Final Thoughts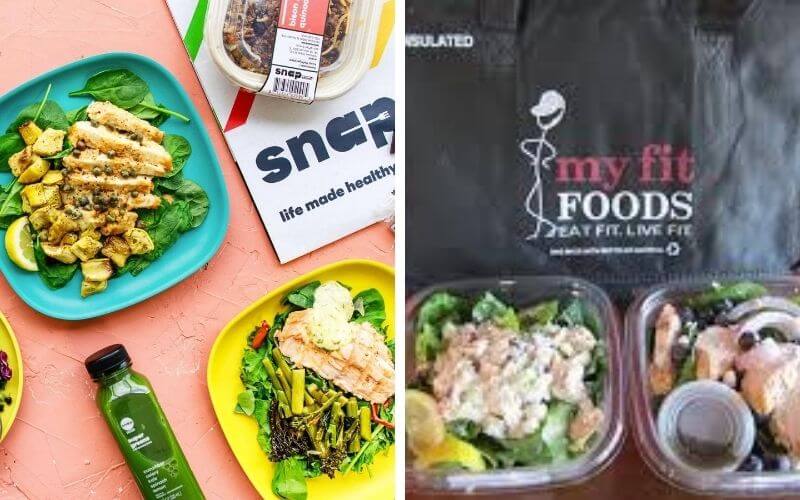 Snap Kitchen and My Fit Foods have the most vital thing in common- both prepare health-foods and serve fitness enthusiasts.
However, that's about the only thing we found common between our contenders.
Everything else, including their menu, packaging, deals, and mode of delivery is different.
Snap Kitchen gets the upper hand in three domains:
The versatility of their menu,
The scope for customization, and
Their mode of delivery.
With 9 all-accommodating meal plans, Snap Kitchen reigns supreme when it comes to the menu.
It satisfies picky ones like us as well by offering complete customization with their Custom meal deal.
We like their delivery better because it comes straight to your doorstep.
My Fit Foods gets the thumbs up when it comes to:
Affordability
User convenience, and
Flexibility
It offers the best deal at the minimum price point. User convenience is enhanced with easy-to-carry microwavable boxes.
The meals are tailored for your body, and keeping your calorie intake at check is a cakewalk. Flexibility is also a strong suit of My Fit Foods.
Both the services will serve you tasty, satiable meals and meticulously design your diet for you.
Overall satisfaction is guaranteed to consumers of both the services, but when it comes to Snap Kitchen Vs My Fit Foods head-to-head duel, our vote goes to Snap Kitchen with its reasonable price, doorstep delivery, and versatility. This truly, is a complete deal for your entire family.
However, if you are always 'on-the-go' we highly recommend My Fit Foods and its amazing 21 Day challenge for you.
In the end, it's more about which suits your lifestyle better, and we hope that by now you know the answer.
What's the wait for then? Take your pick, subscribe and munch away!
Recommended Editor: