In 2016 alone, one out of every four Americans subscribed to a meal kit delivery service.
At that time, the concept of pre-portioned meal kit delivery was just about 4 years old.
Today, it's evident that it wasn't a passing fancy. Even this unpredictable 2020 has seen its popularity grow.
And why shouldn't it?
It hits the right chord with so many of us who don't like to take the burden of planning meals and doing grocery shopping but don't want to live on take-outs either.
Picky people like us want the best with the least effort. For that, merely turning into any meal delivery service is not enough.
We need the most out of our investment. And that is where names of Industry Giants such as Hello Fresh and Blue Apron pop up.
We figured that you may find yourself torn between these two choices. Ergo, we decided to settle this mano a mano!
Enter this Hello Fresh vs. Blue Apron duel and decide for yourself which deserves a spot inside your kitchen, and your heart of course.
A Bit of Background Check
The New York based meal kit delivery service Blue Apron entered the market in 2012 and played a huge role in popularizing this genre of service.
Blue Apron is considered a pioneer in this field but many of us don't know that Hello Fresh was already in operation a year earlier.
Hello Fresh started serving the people of Berlin in 2011 and later expanded its reach to several countries including the UK, Australia, Netherlands, and of course the US. By 2014 the company was delivering 1 million meals a month.
Today, both the companies are celebrated for their innovative menu, quality ingredients, and prompt service. This makes choosing between these two quite a challenge indeed!
So, What's for Dinner?
Hello Fresh is a weekly meal subscription that serves under 4 different meal plans: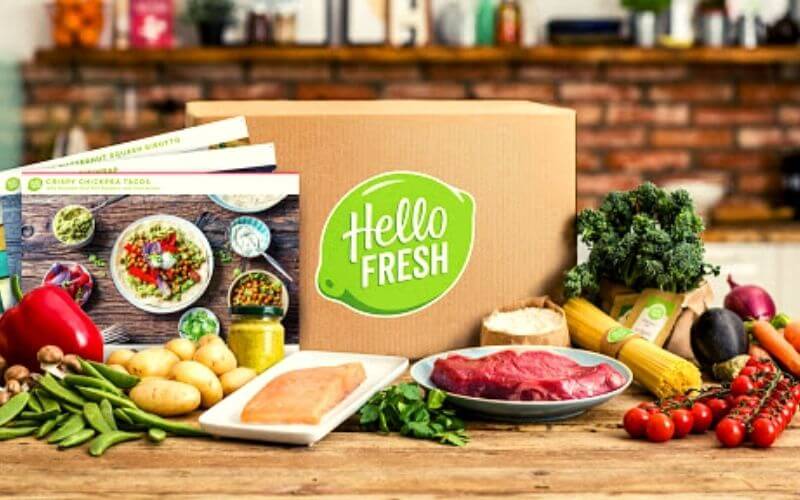 Meat and Veggies
Veggie
Family Friendly
Low Calorie
Their weekly menu boasts 20+ recipes for you to choose from.
Although there aren't specific diet plans such as keto and paleo, it accommodates vegetarians with their Veggie plan and fitness junkies with their Low-Calorie plan.
For all members of the family alike they offer the Family Friendly and the Meat and Veggies deal.
Their meals are nutritionally balanced with unique flavor profiles. The most interesting part is, all their meal options include breakfast.
Blue Apron, on the other hand, has 3 meal plans with an optional wine pairing: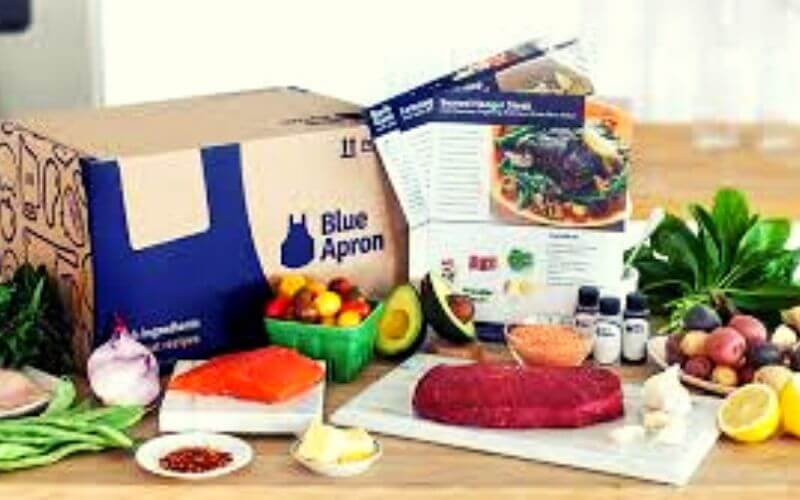 Signature
Vegetarian
Vegetarian for 4
Here again, people with specific dietary preferences are not catered to. However, you can rest assured that their meals are meticulously planned for the health-conscious.
Designed by Blue Apron's Culinary Team, most of these recipes are low-calorie and Weight Watchers approved. Sometimes they bring guest chefs over to craft specialty dishes.
Our Verdict:
We think both Hello Fresh and Blue Apron stand at a level ground here. None cater to people on a special diet but make sure their recipes are overall healthy.
It's a tie.
How Does My Subscription Work?
The first step to subscribing begins at their website. Simply follow the instructions on their Webpage.
You have to choose your plan and select the delivery day of the week, to begin with.
Hello Fresh lets you pick between 2 to 6 meals a week for 2 to 4 people. Menus are published weekly. You get the liberty of pre-selecting your meals a week beforehand.
You can postpone their service whenever you need a break or cancel your subscription altogether. Hello Fresh doesn't ask for any commitment from your end.
Blue Apron has a beautifully designed user-friendly website. Browsing through the meal plans and getting on board is a cakewalk.
You get to view Blue Apron's menu for the following week. Pick 2 to 4 meals with a wine pairing if you like.
Here again, commitment is given and not taken. The meal plans are flexible and you can choose to take a break or walk out altogether whenever you want.
Our Verdict:
It's a tie again. Phew!
What's inside the Box?
A weekly box of Hello Fresh contains everything you need to cook your meals.
Once you open the recyclable cardboard box, you'll find the fresh produce such as veggies and leafy greens at the top.
Heavier items are placed in the middle. Frozen ingredients such as meat and fish are placed at the bottom.
The box also carries concise recipe cards. The ingredients are color-coded.
Blue Apron delivers 2-4 meal kits preserved with ice packs inside recyclable insulated boxes.
Therefore, during transit and even after a few hours of delivery, they stay in pristine condition. However, we advise you to refrigerate them as soon as you can.
The recipe cards are more elaborate with organized stepwise instructions.
Our Verdict:
We couldn't find any major difference so we decided to focus on the subtleties.
Hello Fresh gets our thumbs up. Their color-coded ingredients are a lifesaver. You could simply shove them inside your refrigerator and bring them out according to their color codes when it's time to cook.
Am I Assured Quality Ingredients?
Both of our contenders deliver food of the utmost quality.
Hello Fresh claims that its suppliers stick to the USDA Inspection Guidelines.
They source meat from domestic producers and do on-site inspections now and then.
Teaming up with more than 100 family-run farms, fisheries, and ranches, Blue Apron ensures that all their ingredients are organic and non-GMO.
With Blue Apron, only the premium ingredients make it into your kitchen.
On the rare occasion that one or two ingredients don't arrive fresh, let them know. They'll cover you with their 'Freshness Guarantee' scheme.
Our Verdict:
While both of our contenders are dedicated to quality, we think Blue Apron walks the extra mile with its 'Freshness Guarantee' scheme. Claps!
Hello Fresh vs. Blue Apron: Who Offers More Convenience?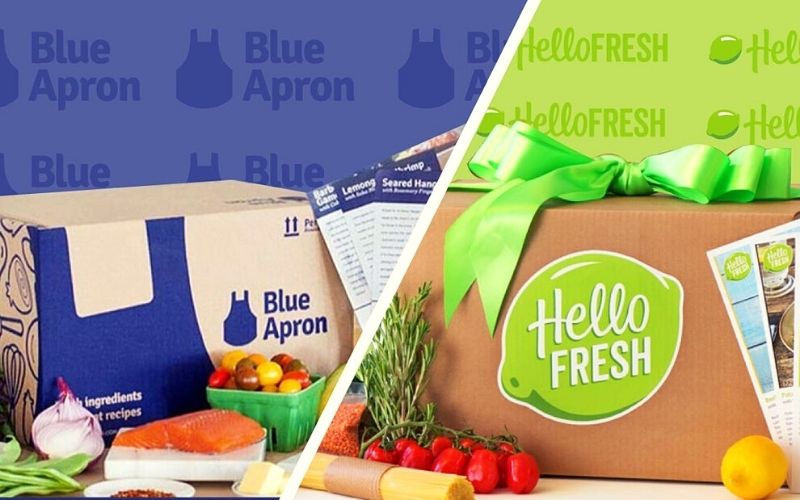 For starters, the Website of Hello Fresh is not user-friendly. But that's the only inconvenience we spotted so far.
The meals are perfect for new chefs and busy bees. They require one or two utensils and take 30-40 minutes tops to prepare.
Hello Fresh supplies everything except only the basics like salt and cooking oil.
The recipe cards are super easy to follow and the recipes themselves unchallenging.
Moreover, several thoughtful features such as color-coded packaging and vacuum-sealed containers add to customer convenience.
Delivery arrives on time and the Customer Service is smooth.
The website of Blue Apron is easy to navigate. The menu is tagged with handy infographics stating which meal is Weight Watchers approved, which is Low-calorie, Diabetic-friendly, etc.
The recipes on the other hand are more creative and hence more demanding.
Blue Apron recipes are engineered to bring out the chef in you. A lot of prep work is involved and a lot of pots and pans are going to end up in the sink.
Even then, working with Blue Apron can be a true pleasure, especially for the ones who find delight in gastronomy.
The recipe cards are detailed and the instructions are clear.
Here again, reports of misdeliveries are close to nil. When it comes to Customer Service, many users believe that no one can outshine the Support Team of Blue Apron.
Our Verdict:
Hello Fresh has a greater appeal here with its easy-to-cook, one or two pan quick dishes.
Who Tops in Taste?
Our contenders target two different taste profiles.
Hello Fresh meals are all simple traditional dishes with a gentle zesty retouch.
These ever-changing recipes are full of all sorts of pleasant flavors. We were surprised to realize how easily these tasty meals are made.
The instructions are clear. The prep time is negligible and cooking time generally doesn't exceed 30 minutes.
Even then, we must admit that Hello Fresh doesn't appeal to the gourmands out there. These are simple meals, not gourmet delicacies.
If you are looking for gourmet dishes, you must turn to Blue Apron.
They always try to slip in one or more off-beat ingredients that enhance the taste of your meals immensely.
The majority of Blue Apron recipes are inspired by Mediterranean cuisine and they mold you into a creative food enthusiast.
All these come at a price though. You'll have to invest a significant prep time. On the upside, the company has taken note of this and are coming up with simpler one-pan dishes recently.
Gourmet delicacies they must be, but they are a bit veggie deficient compared to the ones by Hello Fresh.
Also, if you continue dining with Blue Apron for a long time, you'll feel that the taste of the dishes has lost that element of surprise.
Our Verdict:
Hello Fresh and Blue Apron target completely different taste preferences. Although, strictly speaking, Blue Apron wins this round.
Do They Serve in My Area?
Hello Fresh serves all states of the Continental US except Alaska and Hawaii. They are working to extend their service to the remaining two states as well.
Blue Apron delivers all over the US. Only the delivery options may slightly vary depending on your area.
Which is Friendlier to My Wallet?
The cost of Hello Fresh meals for two starts from $ 8.99 per meal. Shipping is absolutely free when you take three or more meals a week.
The minimum price of Blue Apron meals is a dollar more than its contender and begins at $9.99 a week. Shipping is free.
But these are chef-designed meals, remember? The quality and proportion of Blue Apron ingredients add up to the price and at any day, it is more affordable than other meal kit services in operation.
Our Verdict:
Both the services are reasonably priced but Hello Fresh is more affordable.
Hello Fresh vs. Blue Apron: The Final Head to Head
Lost in all the information? Here's a concise head to head comparison of Hello Fresh and Blue Apron:
| | |
| --- | --- |
| Hello Fresh | Blue Apron |
| Affordable | Reasonably priced |
| High quality, fresh supplies | Non-GMO, Organic ingredients with a freshness guarantee |
| Sourced from farmers who adhere to USDA guidelines | Sourced from trusted sustainable farms |
| Tasty meals | Gourmet delicacies |
| All meals contain breakfast | You choose what you want to have |
| They Send eggs! | They send eggs as well! |
| No wine pairing option | Wine pairing option available |
| The meal plans aren't that flexible | Limited flexibility |
| Doesn't cater to special diet plans like keto and paleo | Doesn't cater to special diet plans like keto and paleo |
| The website could be friendlier | Website is friendly enough |
| Prep time is negligible | A lot of prep time is required and sauces aren't pre-made |
| Pause subscription or unsubscribe any time | Pause subscription or unsubscribe any time |
The Bottomline
Testing and tasting two of the largest meal kit delivery services in the US is pure pleasure, but coming up with the final verdict is not easy.
In the course of our Hello Fresh vs. Blue Apron duel, we realized that which one is more worthy of your subscription largely depends on your taste preference and lifestyle.
Hello Fresh is ideal for the busy bees out there who don't have time to prepare different sauces and clean several utensils afterward. The meals are guaranteed to satisfy your taste buds.
Blue Apron dishes are more flavorful and designed for gourmet lovers. They require more dedication but you will find it fun to work with. The dishes are worth every penny and every minute of your effort.
As we promised in the beginning, we'll settle this mano a mano and let you decide for yourself who is more worthy to join your kitchen.
So, which food subscription are you going for? Let us know.
Ciao!