Most of us want to be a good home cook. It's either intimidation or work pressure or both that makes us not want to put effort into it. 
My grandma used to say, if you don't cook well, you don't eat well. Now living in the 21st century, in the busy metropolitan life, we all can agree we are not the healthiest bunch of people. 
For people like us, there is this amazing thing called a meal kit delivery service which basically delivers all the necessary ingredients for a dish straight to your home. Super convenient, right?
In this review we will see two of these services side by side — Home Chef vs. Hello Fresh — to find the best option for yummy, mouthwatering recipes. 
Quick Summary
Home Chef:
Delivery Area: 48 States
Average Price: $9.96
Shipping Fee: Free
Best For: Weekly recipes for ametuer to pro cooks with dietary preferences. 
Hello Fresh: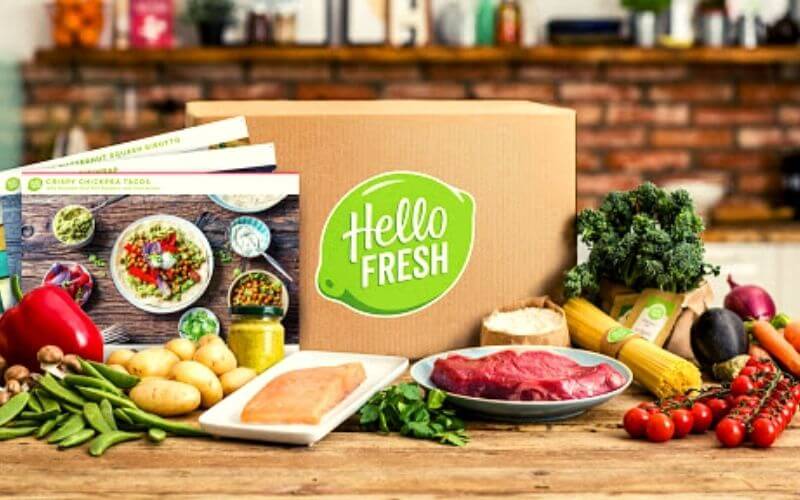 Delivery Area: 48 States
Average Price: $8.24 
Best For: Flexible meal plans with budget family options. 
Why Do You Need Something Like Hello Fresh or Home Chef?
Both Home Chef and Hello Fresh are well known companies that deliver fresh, premium ingredients with recipes straight to your doorstep. A lot of people think this is an unnecessary thing to have. This does not explain why these companies are growing so fast and so well though.
This is because of the convenience it brings. Having a meal kit allows you to try new recipes, have fun with them and experiment with a variety of new ingredients. You do not have to worry about finding the right recipe or shopping through the aisles of grocery stores for the right seasoning. 
You just make an order and wait for the kit to be delivered. The recipes are always quick and easy to make. This means you do not have to survive on fast food while working long shifts. Who says you have to sacrifice good food for work? You can have both with a meal kit service like Home Chef vs. Hello Fresh.  
Home Chef vs Hello Fresh: Our Comparison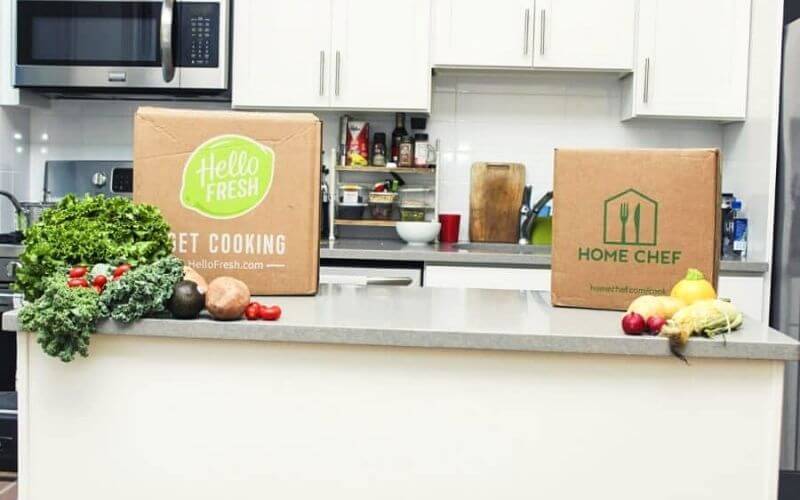 Even though Home Chef and HelloFresh both are amazing at what they do, there are certain differences that separates them from one another. They both are really great options however, you can keep reading to know which one is ideal for you.  
Price Difference:
As Home Chef and Hello Fresh are both relatively similar companies, their price does not vary too much. This makes it harder to decide on one. Even though their price range falls in the same category, the way they set their menu is very different. 
Home Chef currently has a fixed price of $9.95 per servings. Their five minute lunches cost around $7.99 per serving. Their price per serving does not change with the volume or number of servings you buy. This means you don't get any discount for placing a bigger order.
Hello Fresh prices vary based on the meal plan you choose, the serving number and size. They have different meal plans that cost different based on the ingredients and volume. 
For example, their classic plan ( Meat and Veggies) costs $7.49 – $8.99 per serving. A box for three people will cost you $6.99 per serving. This means you get a discount if you buy larger serving sizes. This is particularly great for larger families. 
Meal Options:
Home Chef has a reputation for their large, diverse menu. They try many different ingredients and recipes which means you will never get bored by trying the same thing over and over again. 
Currently they have 14 dinner options and three lunch options every week. Each dinner comes with one premium meal option and a 'customise it' feature that lets you switch out one type of meat for another. They also have two veggie, gluten-free and nut-free options per menu each week. 
Hello Fresh has a huge menu that offers up to 19 meals per week. Every week they set their menus catering to many different types of people including dietary restrictions and lifestyle choices. You can pick any meals from their weekly meal plan ranging from family-friendly options to low-calorie ones. They even have pescatarian options available. 
Nutritional Value:
When it comes to nutritions, both Home Chef and Hello Fresh win without any competition. All the meals are designed to be rich in fiber, protein and minerals to give your body the necessary boost. You get fresh vegetables, carbs, lean meat, various types of seeds and nuts in your everyday meal. 
Even though both companies have different calorie count and portion sizes, they are always conscious to give you the best possible option.

Both companies provide low-calorie options for anyone who is trying to lose weight. These low calorie meals are very carefully crafted to provide all the necessary vitamins and minerals. 
Recipes and Taste:
In terms of the quality and diversity of the recipes, Home Chef easily wins this round. This is due to their unique and delicious dishes designed to be easy for anyone cooking at home. 
Most meal prep companies try to only include easy recipes. This means you hardly get a chance to try something with complex layers of flavors. Home Chef however, does not do this. 
They do not underestimate the cooking skill of their customers nor do they try to over complicate simple things. With their foolproof recipes anyone can make restaurant style dishes within 40 minutes.
Hello Fresh makes meal prep an afterthought. They provide pre cut veggies and measure each ingredient with utmost care. They focus a lot on the convenience and quickness of cooking.

Each of their recipes can be made under 30 minutes. Let's not even mention how good the meals taste. They all are scrumptious. 
Ingredients Quality:
Home Chef always uses fresh and healthy ingredients for their meals. You will always find fresh, colorful vegetables and high quality meat on their packages. They however, are not a fully organic brand.

Homechef tries to source as many local ingredients as possible but due to the volume of ingredients they need, it is not always possible. 
Homechef has partnered with premium food supplies like World Wide Farms, Paysan Breton butter and Sea to table for fresh herbs, dairy and sustainably sourced sea foods. 
Hello Fresh works very hard towards creating a sustainable brand. They claim to have a 25% lower carbon footprint than store-bought groceries. They use a streamlined supply chain which reduces greenhouse gas emissions. 
HelloFresh believes in responsible ingredient sourcing. This is actually a big part of their branding.

They try to source their own supply by visiting supplier facilities in person. They also believe in efficient distribution of each ingredient. 
Packaging:
Packaging is a symbol of the brand and their standard. Home Chef puts a lot of effort into packaging and maintenance of each ingredient. They use separate bags for each item so that they don't get mixed up in the journey. 
The way they pack the items, it is quite impossible to get any damaged parcel. The packages are meant to save fridge to table times.

However, their packaging is not very environmentally friendly. They use a lot of non biodegradable materials to provide proper insulation. This is a bummer. 
Hello Fresh on the other hand provides pre-cut vegetables and meat. For some recipes you do not have to prepare anything at all. This reduces unnecessary food waste. You get exactly the amount you need. 
They have smarter packaging systems to make things more sustainable and healthy. They are always testing new packaging materials to find the most environmentally-conscious one. This is a process that will take time to achieve but it is nice to see a brand working so hard toward a healthy planet.

What Makes These Companies Stand out?
Now that we have discussed all the major aspects of Home Chef and HelloFresh, you might have noticed they are quite similar in terms of structure and function. Both of these companies have one singular goal of making your life easier with some delicious food.
Home Chef:
Pros:
There are breakfast options with no additional price. You can enjoy a fresh smoothie in the morning with some sweet seasonal fruits. 
They have their own meal kit since 2018. You can find them in Kroger-owned grocery stores. 
Easy to switch plans with simple cancellation. 
They have refunds in case you do not get what you asked for. 
Customisable meal options where you can swipe the meat for something else.
Premium meal option within budget. 
Cons:
Not a sustainable brand. They use too much plastic in their packaging.
Hello Fresh:
Pros:
Delicious, and quick to cook meals.
Comes in pre-cut and prepared condition to reduce wastage. 
Ethically sourced fresh ingredients.
They have 25% less carbon footprint than average grocery stores. 
Easy to follow recipes with simple instructions. 
More affordable than Home Chef for larger servings or family packs. 
Cons:
The recipes are not quite as daring or versatile compared to Home Chef.
Conclusion
While Hello Fresh meals are quick and easy, Home Chef meals are unique and simple. Both of these are wonderful meal kit options for anyone who is interested in home cooked meals. You get the luxury of enjoying hand cooked food while saving tons of time and energy on meal prep and grocery shopping. Whichever you choose, you are going to have a great experience and get to enjoy some delicious flavors.