Are you tired of dragging loads of bags from the supermarket to your car?
Or do you just want to sit back while someone else stands in the long queue of checkout lines?
If you relate to any of those, then FreshDirect and Peapod are bound to have your attention. Allowing us to sit back and relax while grocery shopping, these two companies have our hearts!  
Today, I tell you about their features, pros, and cons, and help you settle your dilemma on which one to go for.
The world has shifted to the online world and it is high time you do as well!
Ready for it? Let's get started!
A Snippet of FreshDirect and Peapod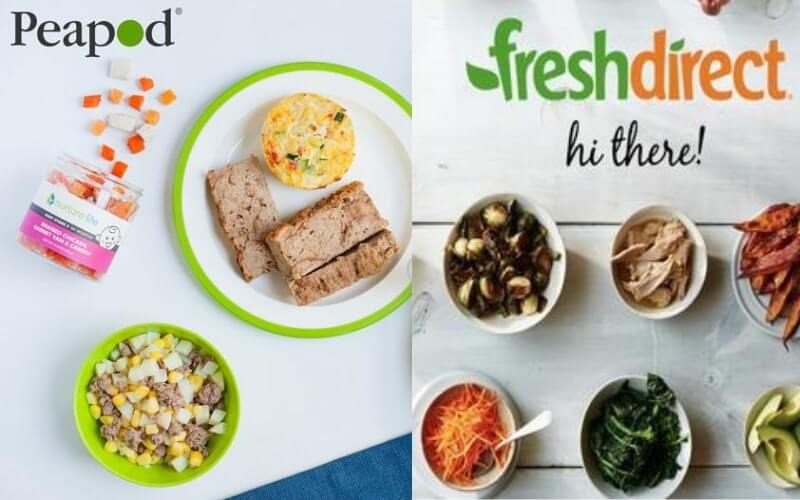 Before I start comparing, many of you might not even know what each of these companies stand for. This section here is a brief introduction for you. For those of you who know, you could always skip to the comparison!
FreshDirect Online Grocery Shopping: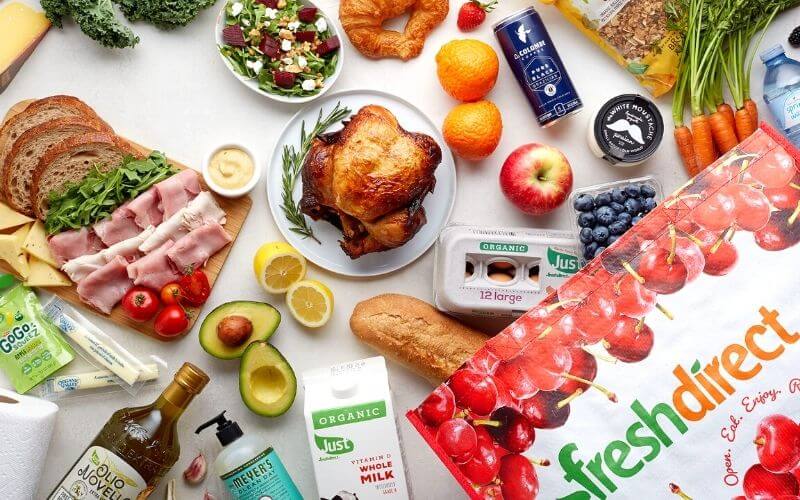 Having been around for 15 years, FreshDirect is a name New Yorkers are familiar with. From local to organic, FreshDirect Home Grocery Delivery is known to provide its customers with the freshest of fruits and vegetables.
For the super busy people in the city, the website also offers custom prepared groceries and meals. Additionally, it also keeps both domestic and foreign wines, because what is grocery shopping without wine?!
Peapod Online Grocery Shopping: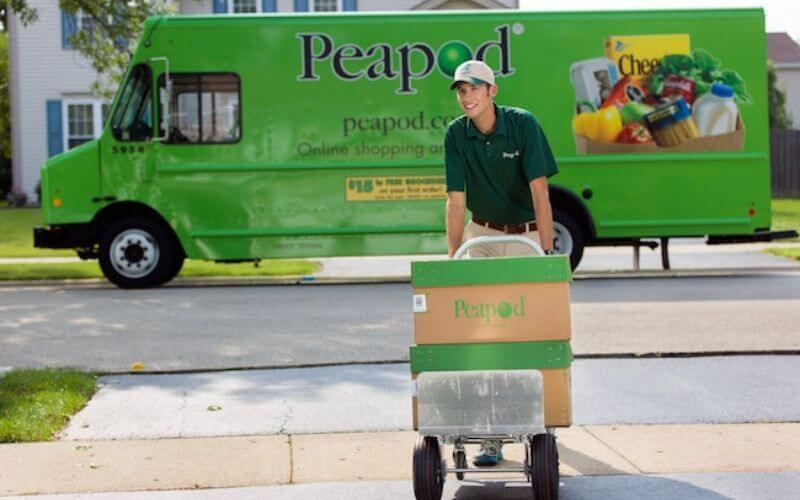 While FreshDirect keeps the high-end goods in stock, Peapod focuses on meeting the needs of every income group. Their website offers all the items that you will normally find in the mass market, but you can choose without having to push through a crowd.
The site also allows customers to sort items dependent on dietary needs, for example, dairy-free, gluten-free, fat-free, and low calorie. This feature makes it user-friendly for customers and gives you a fast shopping experience.
Choices, Choices, Choices…
Grocery shopping is an essential routine for many people. However, scrolling through stores can be tiring, and hence, having the benefit of looking through all these options while sitting at home is a bonus!
Speaking of options, both FreshDirect and Peapod come with varieties of goodies for you. Let's start with FreshDirect that brings out-of-the-box choices for you. Famous and niche brands like Pillsbury, Stonyfield Organic, and Boar's Head are all just a click away with FreshDirect.
That being said, it is not like they target high-end consumers only. They also have dairy, eggs, meat, and other necessary items straight from the source. Search what you need on the website and you get it!
On the other hand, Peapod brings to you your favorite and mass-market brands all in one site. Along with those, the company also offers its in-house brand, which is a must-try for me! With the wide range of organic goods and seasonal curations, Peapod will steal your heart!
How to Order?
Once you are done signing up for the websites, it is time to start ordering from your grocery list. Do not worry because signing up is not hard at all. All you need to do is find the signup option and follow the instructions that follow.
Both of them work in a similar manner. Browse through the list of products, add the ones you want to the car, and pay with your cart to have them delivered! Placing an order before 8 p.m. guarantees a next-day delivery.
The best part about Peapod is that you can schedule delivery times. Select your items and the preferred day and date, to have them delivered at that exact time. Track the order with the real-time update on the website!
The Goods and the Bads
Both FreshDirect and Peapod might work similarly, but they have their own set of pros and cons. Let's head directly into them!
What I Love about FreshDirect:
One-stop-shop for fresh green produces: Having established connections with local farms, FreshDirect gives you the freshest fruits and vegetables. I even noticed that some of their items last up to 7 days and that is something you do not get with physical grocery shops.
Same day delivery service: When you need to get hold of your ingredients immediately, FreshDirect will save your day by giving same-day delivery. However, for now, this service is limited to a few areas.
Reorder button: If you are an old customer, you can simply scroll through your previous orders and reorder the same items as you did before.
Superior delivery: FreshDirect does not simply hand you plastic bags; they pack your ingredients in cardboard boxes. I am no expert in this but I believe this might be one of the secrets to the fantastic quality of their products.
Single click shopping: Need ingredients for a particular recipe? Type that in and add all the items needed for it with only one click!
Effective browsing and amazing deals: Although the website might look clustered at first, you will quickly find the one-click options that make your browsing easier. There are separate sections for new products and top-rated ones, along with saving options. They offer coupons for selected seasonal products and even Amazon does not have that yet!
What Could Be Improved about FreshDirect:
No option for small quantities: Since this company is mainly for bulk grocery shopping, you cannot purchase only one or two products from them. However, the minimum quantity is three which is not a lot if you think about it.
Does not offer personalized homepage: Whether you are a registered customer or not, you will use all the items on your homepage and not only the ones you were previously interested in. Nevertheless, the search option does a good job when it comes to viewing your preferred ingredients.
What I Love about Peapod:
Viewing substitutes: When browsing for an item, you will see the substitutes for that item as well. This is a very helpful option when your selected ingredient is unavailable.
Meal kits: Peapod displays a range of meal kits in front of you along with the ingredients in them. Letting you view the number of people it serves, you can easily decide whether you want it or not. Besides, for the more unknown recipes, they give you how-to instructions.
Order genius: For someone who orders the same ingredients, again and again, this one was a real time saver. With this, you can easily fill up your cart with the ingredients you order most frequently.
Customization: To come back to the items you liked, Peapod has a "Favorites" button. Whenever you want to save an ingredient, tap on that button, and have it at your fingertips the next time.
Delivery and pick-up at your convenience: This one is my most favorite option because this allows you to get your ordered items whenever you have enough free time. For the pick-up option, you need to visit the local Stop & Shop.
Effective browsing: Unlike FreshDirect, Peapod has a more organized website. All the categories are right in front of you and are adaptable to both mobile and desktop users.
Request unavailable items: If you do not find your favorite items in stock, you can request Peapod for that and they will bring it for you if possible.
What Could Be Improved about Peapod:
Does not offer same-day delivery: Contrary to FreshDirect, Peapod does not have an option for same-day delivery. However, you can still schedule delivery ahead of time.
The website is not as informative: While FreshDirect gives details under each of its products, Peapod does not seem to have any such option. This is only a problem if you are ordering an unknown ingredient from them.
The Winner?
For me, the clear winner is FreshDirect. I feel that the same-day delivery, fresh fruits and veggies, and the detailed website are aspects that draw me towards it. With FreshDirect there is guaranteed customer satisfaction and their array of branded items are surely a plus!
However, Peapod is also quite appealing for users who need the traditional grocery items delivered. Their features of scheduled delivery, user-friendly website, and easy browsing are amongst the best ones!
Honestly, both websites might look similar but their catering comes differently. Each has its own selected customer base and you just have to try them out to know if you like it!
What is the Next Step?
If you are still confused about where to get started, let me give you a direction.
Head on to the websites below:
Sign up and start browsing! I am hopeful that you will find both their services useful no matter what grocery items you are looking for.
Got questions?
Leave a comment below!
More Related Topics: