With the demand for more convenient cooking amid the busy lifestyle, there's no wonder that meal delivery services are the hype nowadays. These services deliver frozen meals right to your doorstep. The meals are easy to prepare plus they're developed to fit every dietary lifestyle.
Snap Kitchen is one of the best meal delivery services in the industry. They offer dietitian-curated plans to fit every diet lifestyle, like keto and paleo. If you're still on the fence about getting a Snap Kitchen meal, here's a Snap Kitchen review which might help you decide.
About Snap Kitchen
Snap Kitchen is a prepared meal delivery service that offers healthy meals and snacks. The meals are created fresh every day and the portions are controlled to meet your daily dietary needs. All meals are curated by a dietitian and prepared by a chef.
Snap Kitchen has been in the meal delivery service since 2010 in Austin, Texas. It was established by Martin Berson with the goal of delivering tasty and convenient real food to busy people. The service covers 33 locations within Texas and Philadelphia, and ships meals within 38 states of the United States.
This meal delivery service offers a wide variety of menu from beverages to desserts and ready-made meals. All these meals are healthy and they're under 500 calories so you'll surely love this service if you're looking after your weight.
What's On The Menu
Snap Kitchen offers a wide variety of menu including breakfast, lunch/dinner, salads/soups, components, small bites, snacks, drinks, sweets, and pantry. Currently, they have nine meal plans including a customized option to create your own meals.
Here are the details of each meal plan.
Low Carb:
The Low Carb Plan is ideal for those who want to lose or maintain weight. Every meal usually consists of 30% protein, 30% carbohydrates, and 40% fat. As you can see, it's focused on protein and healthy fat so you'll feel full and satisfied while losing those extra pounds.
Example meals: chicken chile, chicken piccata, chicken tenders with turnip mash.
Balance:
If you want to eat clean, wholesome meals without letting go of ingredients, the Balance Plan might be perfect for you. You can select from different cuisines to improve general health and wellness. My favorite balanced meals are breakfast platter, butter chicken on broccoli rice, and chicken butternut macaroni.
Vegetarian:
The Vegetarian Plan is ideal for those who want to follow a plant-focused diet. This plan includes nutrient-dense vegetables, plant protein, and healthy fats. My favorite vegetarian meals are banana pancakes, cauliflower satay bowl, and roasted veggies with cucumber tahini.
Whole30:
If you want to have a healthy habit reset, then the Whole30 Plan might suit your needs. This meal plan removes inflammatory foods, like soy, sugar, and grains for 30 days. The most popular Whole30 meals are naked beef, romesco chicken, and naked salmon.
High Protein:
The High Protein Plan is perfect for athletes or anyone who wants to enhance or maintain their physique. This plan contains high protein, high healthy fat, and moderate carbohydrates to fuel your energy before and after a workout. The most famous High Protein meals are chicken piccata, chimichurri beef, and chicken with teriyaki sauce.
Keto-Friendly:
Snap Kitchen also offers a keto-friendly plan for those who follow the ketogenic lifestyle. This plan is low in carbohydrates to help you lose weight and improve blood sugar. It follows the carbohydrate restriction of 30 grams of net carbs daily.
Example meals under the Keto-Friendly Plan are beef & veggie scramble, grilled chicken thigh, and romesco chicken.
Paleo:
The Paleo Plan follows the Paleolithic diet of whole foods. This plan is free of grains, legumes, soy, and dairy to help you improve your digestion and promote better sleep. If you want to change your diet and reduce inflammation, the Paleo Plan is perfect for you.
Examples of the Paleo Plan meals are banana pancakes, chicken piccata, and grass-fed beef lasagna.
Total Custom:
The Total Custom option is perfect for those who want to choose their own favorite dishes from the full menu. Select only the dishes that suit your taste preferences. You can go vegetarian, Paleo, or Keto anytime you want.
How Does Snap Kitchen Works
Getting started with Snap Kitchen is very easy. Here are the steps you can follow:
Browse The Meals:
You have two options here- you can browse its wide menu or select from various dietary lifestyles- low carb, vegetarian, balance, whole30, high protein, keto-friendly, and paleo. As mentioned above, the menu includes breakfast, snacks, and drinks.
Build Your Plan:
Choose the delivery method, plan size, meals included, and calorie goals.
The delivery method includes three options: local store delivery, pickup in store, and fedex shipping. The local store delivery and pickup options are available for Austin, Dallas, Houston, and Philadelphia only. Fedex shipping is available in all or parts of 28 states within the US.
For pickup, you have to choose the plan size for 3 days, 5 days, or 7 days. In your plan, you have six meal options: breakfast, lunch, am snack, pm snack, dinner, and drinks. The calorie goal allows you to choose three options: 1200 calories, 1500 calories, and 1800 calories.
Customize Menu:
Once you've made your plan, you can customize the menu to suit your taste preference or nutritional needs. You can remove the current meal plan or change/add your favorite meals. After that, you can proceed to checkout.
Wait For Delivery Or Pickup:
Once you've made your order, wait for the meals to be delivered to your home or pick up. Local customers from any of the 33 locations within Philadelphia and Texas can have their meals delivered or picked up. If you're living outside the local markets, you can get the meal plans shipped to your address.
The meals that you'll receive are portioned and packaged in containers. All you need to do is heat them in the microwave or the oven before serving. Use the microwave if you're in a rush or opt for the oven for best flavor.
Can you cancel, skip, or reschedule orders?
Yes, you can cancel, skip, or reschedule your order the day of your pickup or local delivery. For shipping customers, you have a maximum of four days to cancel, skip, or reschedule your order before shipping.
Pricing And Packaging: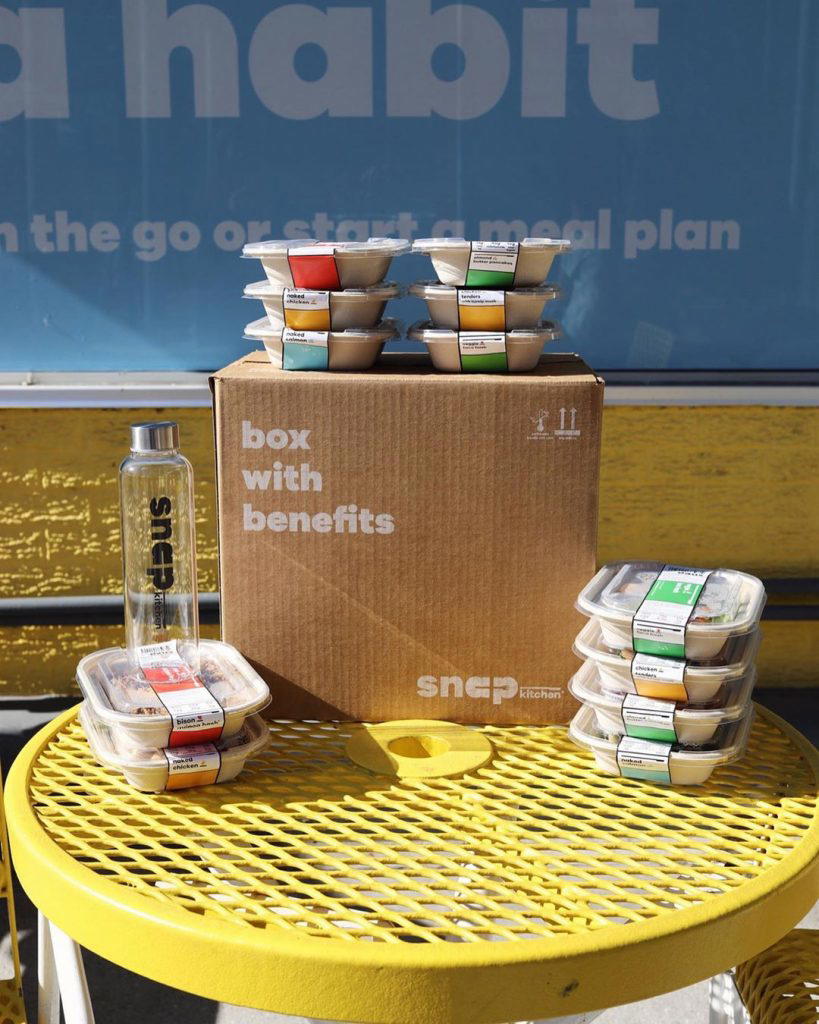 The average cost of every meal is $9.58 to $11.67. The 12- meal plan costs roughly $114.99 per week. The 6-meal plan costs around $69.99 per week. Compared to fast food chains, the price is just a bit more.
The price of the breakfast meals range between $3.99 to $7.99. Lunch and dinner cost from $6.99 to $11.99, which is a bit more pricey.
The meals arrive in cooler bags to maintain their freshness. The packaging is compostable so waste isn't a problem. However, you need to deal with a lot of containers. Good thing the containers are BPA-free and reusable so they don't get piled up in your garbage can.
How To Prepare And Store
You have two options here- use the microwave or oven. The microwave is recommended when you're in a hurry. The oven is recommended when you want to achieve the best flavor.
Different entrees require different times to prepare. For example, almond butter cakes need 35-45 seconds in the microwave or 9-10 minutes at 350 degrees Fahrenheit in the oven. Loosen the lid if you use the microwave or transfer the food to an oven-safe dish if you want to use the oven.
The meals are always delivered fresh so they can last in the fridge for up to 4-6 days. Salads, on the other hand, need to be consumed within two days. Prepared meals can stay up to one month in the freezer.
How's The Taste?
The taste is surprisingly good. Of course, there are some dishes that taste better than the others but the portion sizes are good. Every meal is rich in protein and healthy fats so they help you feel satiated with less calories.
My favorites so far are the shrimp & cauliflower grits, sweet potato veggie benedict, baked chicken, and almond-crusted chicken nuggets with ranch. The texture of the shrimp & cauliflower grits wasn't similar to grits but the taste was perfect. I like the runny eggs on the sweet potato veggie benedict when you reheat it.
The naked chicken is packed with flavor and the roasted cauliflower side dish has a nice spicy kick. I'm not really into ranch dressing but the almond-crusted chicken nuggets that come with it come with a hint of fresh herbs. On their snack section, my favorites are the kale chips because they're very crunchy.
What I Like About Snap Kitchen
Easy To Order:
Snap Kitchen has made it easy to select your meals and customize your plan. You can see all the meals arranged in different categories, like breakfast, small bites, and lunch & dinner. If you have a particular dietary preference, you shop from a variety of dietitian-curated plans.
They use color coding labels to make it easier for you to select the entrees.Yellow is for poultry, red is for meat, blue is for seafood, and green is for vegetarian.
Reasonable Price:
The price is fairly reasonable at Snap Kitchen. The average price per meal is $9.58 in a 12-meal box. If you get a 6-meal box, the price every meal is $11.67.
Looking at that price, you can say that it costs a bit more than McDonalds. But considering the nutrients you'll get, it's all worth it.
Diverse Menu:
Snap Kitchen is one of the few meal delivery services that I know that offer a lot of meal plans to fit  each diet preference. You have keto, paleo, vegetarian, balance, whole30, low carb, and high protein. Another good thing is you can even choose from a full menu to customize your plan.
I give high importance to variety because it's easy to get bored with meal delivery services. As much as you want convenience, you don't want to taste the same food every week. You want to enjoy a wide variety of food options.
Quick Response:
Another thing that makes me love Snap Kitchen is its responsiveness. Every time one of your orders isn't available, they'll text to inform you about the issue. Fortunately, Snap Kitchen offers a list of options for great substitutions.
Fresh Ingredients:
The ingredients play a vital role in the quality of the food. Snap Kitchen uses the best ingredients to make sure that they taste good. They use 100% grass-fed beef to deliver more CLA, omega 3, and antioxidants. The meals are free of hormones, antibiotics, artificial sweeteners, and gluten.
Customization Options:
I like that Snap Kitchen offers you a wide range of customization options so you'll have total freedom in your meal plan. You can build your own plan to suit your various needs. Be vegetarian the first day and become a paleo follower the next.
Snap Kitchen even allows you to order with or without a subscription. You can choose the number of meals you want to be delivered weekly or set the desired calories. Best of all, you can cancel the subscription anytime.
What I Didn't Like
Delivers In Limited Areas
Snap Kitchen only delivers within Philadelphia and Texas areas. For states outside these two states, you can use Fedex to ship the meals right to your doorsteps. The service is fortunately planning to widen their coverage.
Unfortunately, shipping costs aren't free. The 6 and 12 meal boxes charge $12.99 for shipping via FedEx. If you want to offset the shipping fee, order $25-$125 meal plans every week so you can enjoy a 5% discount.
Snap Kitchen FAQ
 How often does Snap Kitchen change the menu?
They change their menu every 4-8 weeks. At this period, some items will be removed from your meal subscription. The good thing is they'll inform you regarding the changes in the menu ahead of time so you can make the necessary changes in your selected meal plan.
When does Snap Kitchen deliver?
They deliver on Tuesday, Thursday, or Saturday per week. You can make your orders on Sunday and have them delivered on Tuesday. If you don't want to wait for your first shipment for weeks, you can choose the Direct ship on their website and iOS app.
How do I cancel my Snap Kitchen subscription?
You can select the options provided in the App to cancel or stop your subscription plan. Another way is to contact them at [email protected].
The Verdict
Snap Kitchen is a worthy subscription because they offer a variety of nutritious meals. As expected from a prepared meal delivery service, Snap Kitchen offers speed and convenience. You don't have to worry about making meals in your busy schedule ever again.
Will I order again? Definitely, because I want to follow a low-calorie diet for my new fitness goal. Don't get me wrong, I still love to cook but the fact that you can get a tasty, nutritious meal right in your doorsteps is quite spectacular.
More Related Topics: