What's stopping you from eating healthy? For many people, it is the lack of time. Getting fresh, organic groceries and prepping meals takes a good chunk of time, energy, and imagination.
And if you're vegan or vegetarian, meal prep becomes even harder. That's where Sakara Life comes in. This plant-based meal delivery service brings healthy, interesting, and delicious food right to your doorstep. And in my Sakara Life review, I'm going to take a close at this all-natural food, 100% vegan delivery service, and see what it's all about.
Most diets are all about restriction and dare I say, deprivation. But the owners of Sakara believe in nourishing the body with fresh, unprocessed food. Unlike a juice cleanse, or a paleo diet you don't have to give up certain foods or skip meals.
I was super intrigued when I found out many Victoria's Secret Angels used and loved this meal delivery service. So, without further ado, here's what Sakara Life is all about.
What Does Sakara Have to Offer?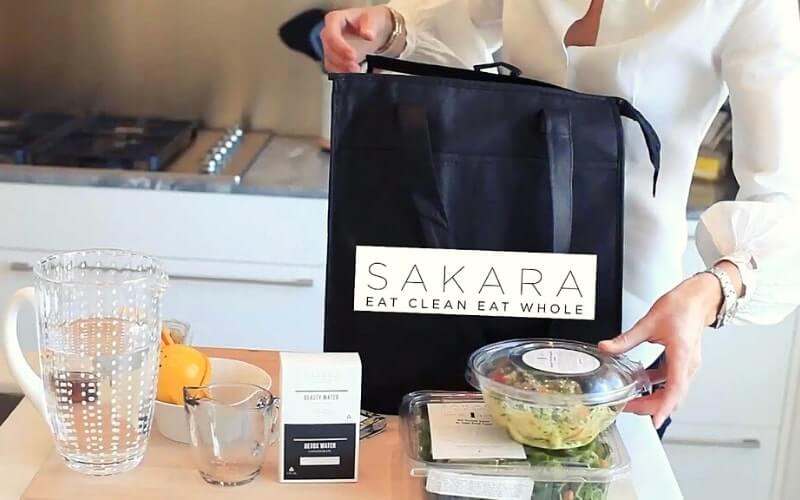 Here are just a few of the things Sakara promises to bring to your table.
Excellent Nutrition:
Sakara Life crafts menus with a variety of grains and greens that fulfill all your nutritional requirements, giving you all the vitamins, minerals, and proteins your body needs. It combines the latest in the science of nutrition along with traditional healing and nourishing wisdom to nurture the body and the spirit.
Variety:
One of the most common complaints about vegan dishes is that everything tastes the same. Eating salads and oatmeal every day gets boring real fast and not everyone has hours that they can spend cooking elaborate vegan-friendly meals.
But Sakara uses classically trained chefs to create a variety of meals that are a pleasure to the senses. The meals are colorful and stimulate the taste buds and are, well…interesting.
Also, their menu changes from week to week so you won't get bored. Also, their meals are inspired by 'global flavors' so you can indulge in dishes from all over the world!
The Freshest Ingredients Out There:
If you're put off by the astronomically high prices, this is your explanation. To ensure the ideal nutrition, Sakara gets the freshest and tastiest produce on the regular. They get their supplies from organic and trusted farms.
Moreover, Sakara believes in sustainable and environment-friendly farming. This is why they source all their produce from suppliers with organic and sustainable agricultural practices. Because of this, their meals are pricier, but look at it this way: it's better for your health and the planet!
Snacks and Extras:
Like I said earlier, the Sakara Life isn't about depriving yourself of the little things like snacks and munchies throughout the day. They have a Clean Boutique that offers a variety of snacks and supplements that taste yummy and help you feel your best.
For example, they have a Popcorn Trio with three flavors (Sweet, Salty, and Cheezy) that you can nibble on during your movie night without feeling like you're indulging because it is completely clean and nutrient-packed! They also have Energy Bars, healthy chips, and Beauty Chocolates, as well as different types of granola.
Besides these, there are also specific products for detoxing or beauty. These include detox teas, metabolism powders, probiotic formula, and even 'beauty drops' you can add to your water that helps your skin and body thrive!
Some of these snacks are included if you subscribe to full meal packages, but you can order them separately as well.
A Closer Look at Sakara Life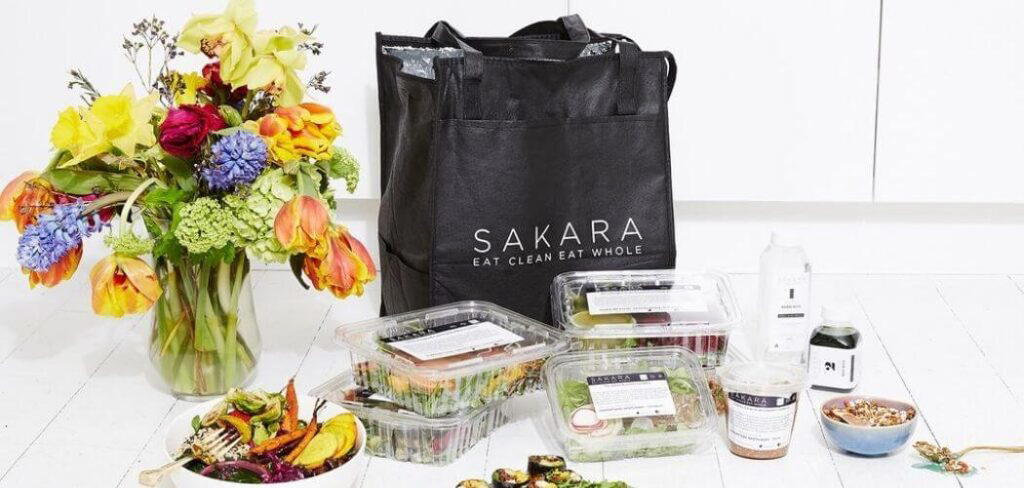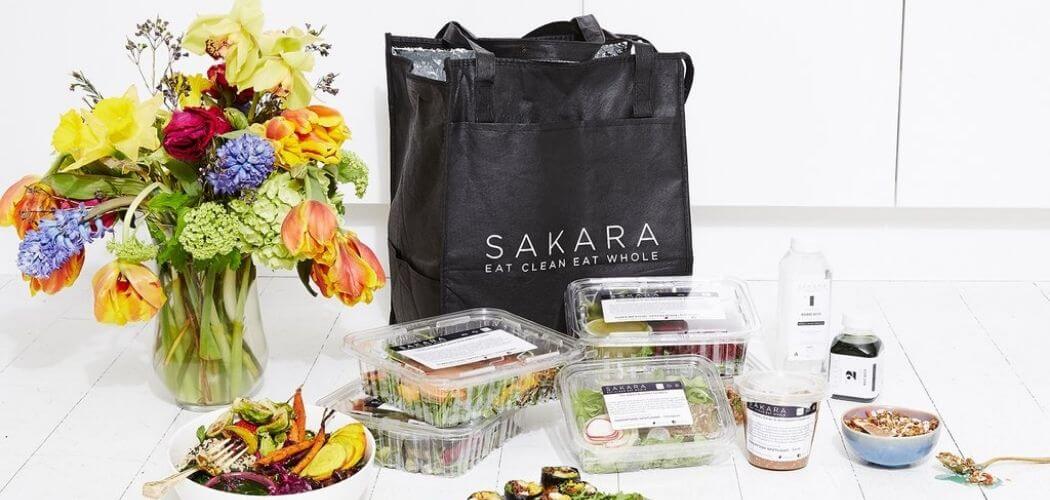 Now that you know what Sakara brings to your table, let's take a closer look at their services.
Meal Programs:
At the moment, Sakara Life has 3 meal programs, a Signature Program (Level I), a Detox Program (Level II), and a bridal program.
All three feature meals that have optional heating, are spicy and flavorful and contain nuts and soy. However, you can customize your meal plans based on allergies and food sensitivity.
Signature Program:
This program is aimed at people who want a cleaner and healthier diet. It focuses on the power of food as medicine and will heal you within.
The plan can transform your body within a week and does so by reducing bloat, giving you an energy boost, and increasing your focus. Furthermore, it improves digestion, helps you lose weight, and gives you clearer skin.
If you subscribe to the program, you will get the following:
Ready-to-eat meals at a customized frequency (3 or 5 meals a week)
Daily tea and additional supplements
1, 2, or 3 meals a day–you get to choose!
Materials and access to holistic health coaching
Detox Program:
Want to purify aka detox your body inside out, but hate the idea of a juice cleanse? This meal plan gives you whole, healthy foods that give you enough nutrients to thrive without leaving you feeling full.
This Level II program is wonderful for your body because it is all about consuming the healthiest, most nutritious foods out there. The meals on this program are all plant-based and gluten-free and contain no refined sugar or dairy by-products.
You can get rid of years' worth of toxic build-up, reduce inflammation, and reset your metabolism by using this powerful plant-based diet that is crammed with nature's goodness. With this diet, you will lose extra weight, banish the bloat, improve skin clarity, and have more energy.
It will cleanse your body and give your digestive system a break. You will also burn stored fats thanks to the broths in this meal plan and restore your gut bacteria because of the probiotic-rich foods.
Here's what this program will give you:
5-day whole-food organic cleanse
3 meals a day
Detox water drops, Digestive tea, coconut kefir, and extra supplements every day
Regular check-ins from a health coach
Bridal Meal Program:
Tying the knot? If you want to look and feel your best for your special day, this program is meant for you. It helps you lose weight, get rid of any bloat, and pamper yourself before your big day. You don't need to suffer through crash diets or intermittent fasting to look fabulous!
Here's what the bridal meal program involves:
4 weeks of clean, healthy, and ready-made meals
3 meals a day, 5 days a week
Daily tea, snacks, and supplements
Health coaching
Beautifying gifts and goodies from Dr. Barbara Sturm and others
Exclusive gifts for you and your party
Sakara's 9 Pillars of Nutrition:
Sakara Life ascribes to 9 tenets of nutrition which is what drives their meal programs and inspires their colorful and healthy menu. What are they?
No Calorie Counting:
For Sakara, food is about nutrition and energy, not calories. Restricting yourself from calories can mean depriving yourself of nutrient-rich foods that are better for your body in the long run. On top of that, counting calories is stressful and makes your body miserable and crave more.
Water-Based Foods are Awesome:
Sakara is a strong believer in the idea that we should eat our water, besides drinking it. Hydration is the best thing you can do for water, and a lot of times when we think we're hungry, our body craves water.
Because of this, their menu is laden with fruits and veggies that have lots of water in them. Love things like watermelon, cucumbers, lettuce, and fresh berries? Sakara has them in loads of their meals. They contain lots of water, vitamins, and minerals.
These foods will keep your digestive system in good shape, help issues like cystic acne, and strengthen your immune system. And best of all, this will curb hunger and stop you from snacking on sugary or salty junk.
Healthy Fats:
While many diets will have you run from the word 'fat', this one embraces the right kinds of fat. Good fatty acids are needed to stay healthy. I'm talking about the fats found in olive oil, nuts, and things like avocado.
Remember our brains are made of fat, and eating the right sort of fat means you're feeding your brain!
Plant-Based Proteins:
Lots of vegan diets fail because they fail to give you the protein your body requires. Ditching proteins makes you tired and lethargic and proteins are needed for healthy muscles, skin, nails, hair, and muscles.
And for that, Sakara includes plenty of protein-rich sources in their meals. Plant proteins in foods like chickpeas, lentils, nuts, and beans are necessary for a healthy and balanced diet.
Green is Good:
Although we grew up hating the idea of eating our greens, they are awesome for our health because they are chock full of vitamins and fiber. Also, there are countless more ways to consume greens than just salads and Sakara takes full advantage of that.
Color Your Meals:
Nutritionists everywhere recommend a colorful plate, full of vibrant greens, reds, yellows, and everything in between. Eating a colorful meal thrice a day ensures you are getting all the nutrients, antioxidants, minerals, and vitamins your body needs.
Nutrient Density:
Eat foods that are packed with nutrients, especially foods where smaller portions have loads of nutrients. These foods are known as superfoods; for instance, chia seeds, spirulina, and goji berries. They also give you a huge boost in vitamins and minerals that are great for your body.
Sulfur Rich Plants:
You may have laughed at or wrinkled your nose at cruciferous vegetables like daikon radishes or cauliflower, but these vegetables are amazing for you. Although these sulfur-rich veggies stink, they help create glutathione, a powerful antioxidant, and detoxifier.
And for this reason, your meals from Sakara will contain 2-4 cups of sulfurous veggies a day. They will give you supple skin, great hair, and strong nails, so I'd say they are worth it.
Body Intelligence:
Sakara believes in listening to your body and giving it what it wants. And to listen to your body's intuition, we must nourish it well. According to them, 'food is information' and what we feed ourselves can either heal us or create imbalances.
Because of this, Sakara pays attention to the quality of food you put: healthy, nutrient-rich, clean, and organic meals that help your body function better.
So Why Give Sakara a Try?
If you're on the fence about giving this kind of lifestyle a try, here's why you should give it a try.
It is very convenient thanks to the ready made meals.
The food is sustainably farmed, healthy, and organic.
The packaging is recycled.
You can customize your meal plans based on your location.
There are lots of people who found it made them healthier.
There is a one-time program for people who want to try it out.
You will learn a lot about your body and a healthier lifestyle.
In a Nutshell
While the Sakara Life is no doubt expensive, I think it is an amazing idea that encourages us to focus on good, clean eating and focusing on what we put into our bodies instead of obsessing over calories and starving ourselves.
The meal programs are flexible and come in a stunning variety that will please all your senses and make sure you don't get bored. Best of all, they include snacks and chocolates that let you treat yourself without overindulging.
You can easily customize your meal plan to your preferred frequency and number of meals. You can also choose to exclude dishes with ingredients that contain allergens.
This Sakara Life review was meant to go into this meal delivery service and what it did. Finding out more about them was a fascinating look at food and changed the way I looked at food and diets. I'm not sure about you, but I am dying to try out their Bliss Bowl and pink Summer Granola!
More Related Topic:
Best meal kit delivery services out there is Sun Basket