The drastic change in our lifestyle in the past few days made us rule out certain things that we took for granted previously.
For instance, during the recent times of social distancing, things like grocery shopping or frequent take-outs aren't that frequent anymore. Comparatively newer options, such as meal kit subscription services have taken over and are booming more than ever.
Reaching the decision of getting aboard one of these weekly food subscription services is easy. The tricky part is choosing the right one from the myriad of choices out there.
With so many attractive websites offering delicious yet easy to prepare meals, how do you know which one is the best food subscription box for you?
You do your homework.
Right?
After doing much digging, if you landed with two names, one with the color blue and the other with the color green, chances are, you are having a hard time picking one.
Let us do the 'i's and cross the 't's for you with this head to head comparison of Blue Apron and Green Chef, two giants taking long strides in the world of meal delivery service.
A Short History of Our Contenders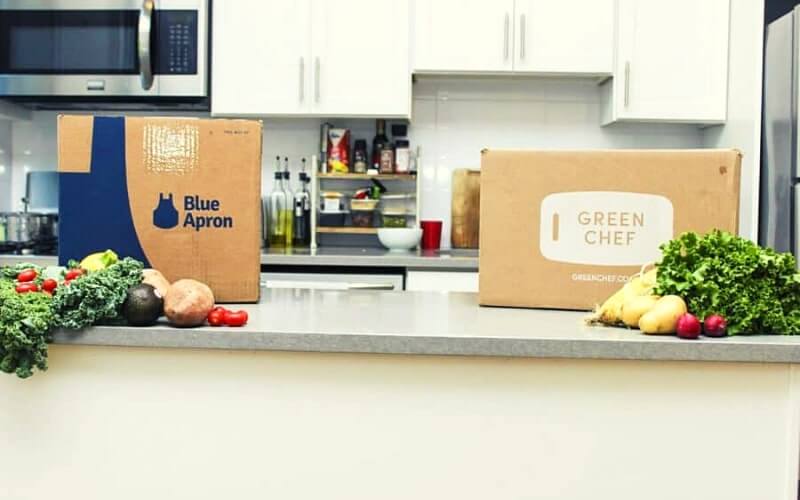 Blue Apron and Green Chef are both meal-kit delivery services operating across the US.
A meal kit generally comprises pre-portioned ingredients and stepwise recipes with all the instructions you need to turn those ingredients into complete meals.
This concept was popularized by Blue Apron when it launched its business in 2012. Based in New York, the company has been serving ever since and the customer base continues to grow.
Green Chef came into the picture much later but quickly achieved groundbreaking success in delivering all-organic meals. The Denver based company was later acquired by Hello Fresh, but the menus and services of Green Chef remain unaltered.
Now that we have introduced our contenders in the shortest possible way, it's time to weigh them on some basic scales and see what they have to offer.
So, What's on the Plate?
Inside a weekly box, Blue Apron provides two to four appropriately portioned healthy meal kits along with their recipes.
There are three meal plans to choose from. The Signature and Vegetarian plans are for two people while the Vegetarian for Four is for a four-member family. You can add a wine pairing to your box.
They don't accommodate specific dietary preferences such as keto and paleo, but their meals are always healthy. Most of their recipes are low calorie and Weight Watchers approved.
The ingredients supplied by Blue Apron are non-GMO and come from sustainable sources. They are of premium quality and have a reputation for arriving fresh.
The recipes are designed by Blue Apron's very own culinary team. Occasionally, they invite guest chefs over to produce some specialty dishes. The cooking directions are concise and easy to follow.
Green Chef, on the other hand, is more versatile when it comes to accommodating specific dietary needs. Keto, Paleo, Plant-Powered, Balanced Living, and Family Plan are the five diverse meal plans offered by Green Chef.
Once you get on board they will send you weekly, bi-weekly, or monthly home delivery of meals, depending on what you prefer. Every week you can take a minimum of two and a maximum of four meal kits.
The pre-measured ingredients are all-organic, non-GMO, pesticide-free, hormones, and steroid free. The recipes are quick and easy.
Verdict:
When it comes to accommodating various dietary preferences, Green Chef is a clear winner.
Even then it goes without saying that the recipes and ingredients provided by both the services are premium quality, and there isn't a winning or a losing party here.
How does it Work?
Subscribing to both these meal kit services is easy.
Both Blue Apron and Green Chef have user-friendly websites. All you gotta do is follow some simple instructions on their webpage, and your at-home meal delivery will be on its way.
Once you are a Blue Apron subscriber, you will get to view the Blue Apron menu a week beforehand so that you can choose your meals for the following week.
Do the choosing and your box arrives at your doorstep soon afterward. Unpack your box of Blue Apron goodies, follow the cooking instructions, and enjoy premium quality gourmet meals.
If you decide to give Green Chef a try, you'll have to set up an account first. Next, they will ask you to pick a preferred delivery day. Once you have got these trifles sorted out, you get to pick a plan.
However, Green Chef provides limited flexibility here. You can only choose meals in your subscribed diet plan.
If you like something on any of the other Green Chef menus, you'll need to change your plan altogether in order to taste it. There is absolutely no gliding among meal plans and that can prove bothersome.
Verdict:
Blue Apron is the winner here.
Who Tops in Convenience?
Let's start with the recipes.
Green Chef recipes are easier to cook. Ingredients are accurately proportioned and prepped. The sauces are pre-made so you don't need to prepare them. Cooking time rarely crosses 30 minutes.
Moreover, the ingredients are color-coded. This means you can store them in the refrigerator and completely forget about them.
When it's time to cook, all you have to do is match the color of the ingredients with the color of your recipe card, and start cooking right away.
Most Green Chef reviews agree on the point that Green Chef is one of the most convenient meal delivery services currently in the business.
Blue Apron recipes, however, are more creative and require more prep work. They are designed to bring out the chef in you. You are going to enjoy cooking with Blue Apron if you like being in the kitchen.
Cooking a Blue Apron meal kit requires a bit more dedication and a lot more pots and pans.
In contrast, if you need fast cooking with a minimum effort from your end, Green Chef is more suited to your taste.
It's worth mentioning that Blue Apron seems to have taken notice of this and are coming up with simpler, one-pan dishes recently. Kudos to their goodwill, but even then, Green Chef wins our hearts, at least for now.
Navigating through both websites is uncomplicated. A quick look at the menu will give you a good idea of how it works.
Infographics on the Blue Apron menu tell you which one is diabetes-friendly, health-conscious, Weight Watchers (WW) approved, and so on. Whereas, the ones on the Green Chef menu tell you which one is 'heart smart', 'gluten-free', and 'Chef's Favorite.'
Now let's talk about the service.
Both services are known for their fast and efficient delivery and reports of misdeliveries are rare.
On the occasions when you will need to approach the Customer Service, expect more from Blue Apron, though. Green Chef has good Customer Care, but it isn't even close to what the Blue Apron team is doing.
Verdict:
Even then, Green Chef takes the trophy here.
Who Tops in Taste?
Blue Apron's culinary team will slip one or two off-beat, rather unusual ingredients to even the most usual recipes. This is the precise feature that sets the taste and flavor profile of Blue Apron meals apart.
Although we noticed that they are a bit starch heavy and veggie deficient, Blue Apron meals still are quite healthful. Inspired by the Mediterranean diet, these meals taste incredible.
Who says health and taste cannot go hand in hand?
Green Chef meals, on the other hand, taste okay. Packed with a generous portion of vegetables, lean meat and whole grains, the flavor profile of these meals is similar to Middle Eastern cuisine.
These are healthful, no-fuss meals, but not necessarily the best treats for your taste buds.
Verdict:
Blue Apron wins this round, obviously.
Where do they Serve?
Blue Apron's meal kit delivery is available across the US. Delivery options may slightly differ from one area to another.
Green Chef serves across the continental US except for Alaska, Hawaii, and certain parts of Louisiana.
Verdict:
Winner?
That depends on where you live!
Affordability
The price range of Blue Apron starts from around $7.49 per serving. Shipping is free. The cost adds up to the contents of the weekly boxes and we think Blue Apron is reasonably priced.
Green Chef is closer to the expensive side of the spectrum. The price range per serving differs according to your chosen plan. The minimum is $10.99 excluding shipping, handling, and sales taxes.
Yes, you've read it right. They charge for shipping.
Verdict:
Blue Apron is friendlier to your wallet than many Blue Apron competitors including Green Chef.
Strengths and Weaknesses
Any service is bound to have a set of strengths and a set of weaknesses. Our contenders aren't different.
We have jotted down the pros and cons of both the Blue team and the Green team so that you get a clear perception of what you are looking at.
Blue Apron: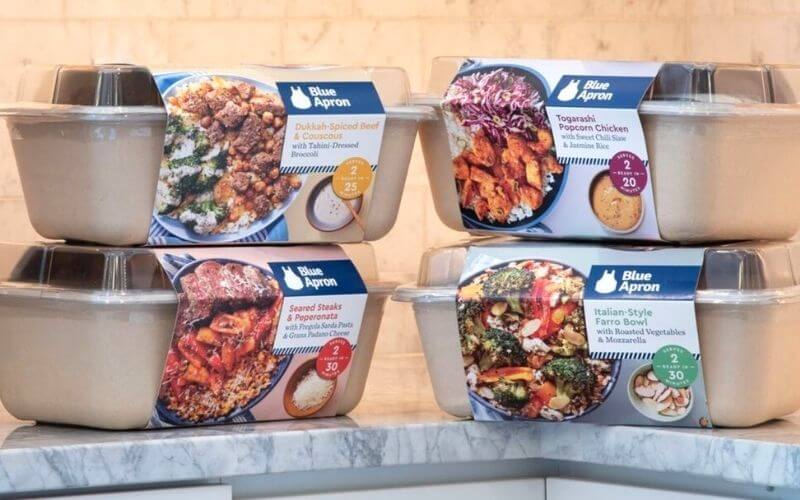 Yay!
Reasonably priced.
Food tastes great
All meals are healthy.
Diabetes-friendly meals are available.
Most meals are Weight Watchers approved.
Appropriate serving sizes.
Ingredients are responsibly sourced.
non-GMO ingredients.
Pre-measured specialty ingredients.
Quick one-pan dishes are available.
Great protein portions.
A long menu for fish lovers.
Meat is preserved with recyclable ice packs.
You can add a wine pairing to your chosen meals.
You can skip weeks, change your plan, or unsubscribe without any difficulty.
Extremely helpful Customer Service.
Nay…
Lots of prep work involved.
Sauces don't come pre-made.
Some recipes take longer to cook than that stated.
The meals are slightly veggie deficient.
Green Chef: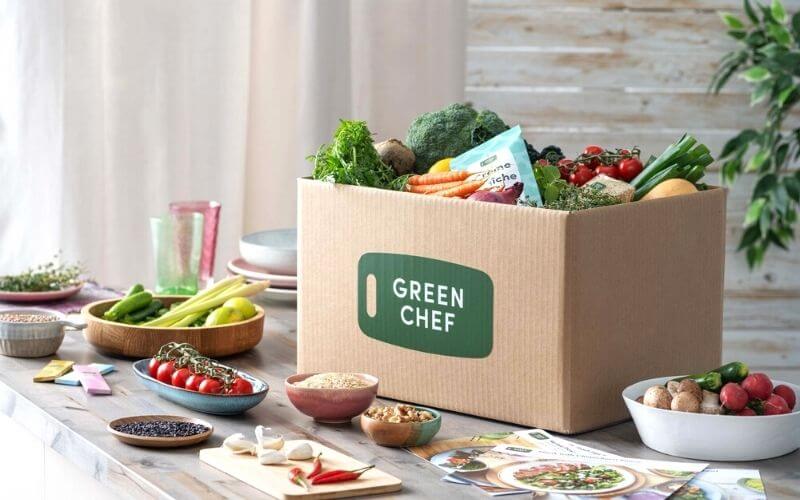 Yay!
Nay…
Expensive.
Shipping isn't free.
The taste profile is good but not awesome.
Little to no room for customization.
Who is Blue Apron Best for?
Blue Apron is best for the health-conscious souls who love doing some creative cooking and don't mind some extra efforts in the kitchen and some extra pots and pans on the sink.
If you are looking for some Ratatouille moments during these homebound days, Blue Apron may be the best food delivery service for you.
It is also cheaper than its contender, so more suitable for those on a budget.
Who is Green Chef Best For?
Green Chef is best for anyone who is on a specific diet but doesn't have the time to plan and prepare the meals.
If effortlessly healthful eating is what you are looking for, look no further.
EndNote
"To eat is a necessity but to eat intelligently is an art."
There is no doubt that both the meal delivery services we compared here agree with Mr. La Rochefoucauld wholeheartedly.
After all, both Blue Apron and Green Chef are committed to ensuring that the healthiest and most innovative food boxes reach our doorsteps every single week.
But no matter how similar they are in their promise, their modus operandi are polar opposites, so are their fan base.
If you still find yourself torn between Blue Apron or Green Chef, let us offer a sorting hat.
Ask yourself, which popular food quote do you relate to the most, and you'll get your house!
Quote for the Green House:
" Eat Clean,
Drink Water,
Stay Active,
Be Healthy."
Quote for the Blue House:
"A recipe has no soul. You as the cook must bring soul to the recipe."
Found your match?
Great!
More Related Topic: