In this busy life, it's so hard to prepare dinners from scratch. You need to visit the grocery store to pick the ingredients, prepare them for cooking, and wish that they taste good. Fortunately, you can skip the constant trips in the grocery store and cut the preparation time with meal kit delivery services.
A meal kit delivery service is truly a life charger because you don't have to plan the meals every day and go to the grocery store to pick the ingredients. This type of service will do all the job for you. One of the best meal kit delivery services out there is Sun Basket.
Let's learn about the menu, pricing, and ordering process in this Sun Basket review below.
About Sun Basket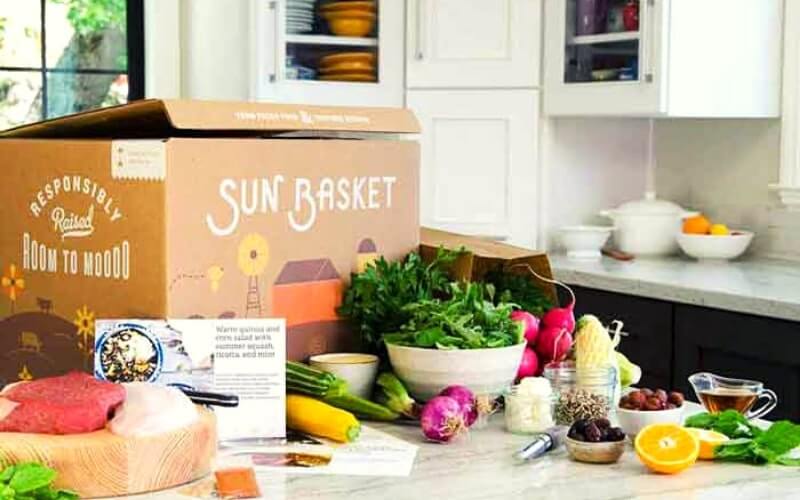 Sun Basket is a meal kit delivery service that targets the busy people who want to eat a healthier diet.They offer special meal plans for different diet preferences, like paleo, vegetarian, and gluten-free. They ship to most areas in the United States, except for Alaska, Hawaii, and some parts of Montana, New Mexico, and North Dakota.
All ingredients are clean and free of antibiotics, hormones, gluten, soy, dairly, or refined sugar. The proteins are sourced from responsibly raised meats and wild-caught seafood. They create their own sauces to improve the flavors and establish a signature taste.
The price can go between $10.99 to $12.99 per serving, which is reasonable for its quality of ingredients. The shipping fee is around $7.99 but you can waive it on your first order. The exact price may rely on two things- the number of recipes per shipment and the meal plan you select.
The Pros:
Clean and organic ingredients.
Sturdy packaging.
Offers a wide range of meal plans.
Allows customization of your order.
New dinner meals per week.
Creates own signature sauces for unique flavors.
The Cons:
Oven-ready meals are a bit disappointing.
Lack visual instructions.
What's On The Menu?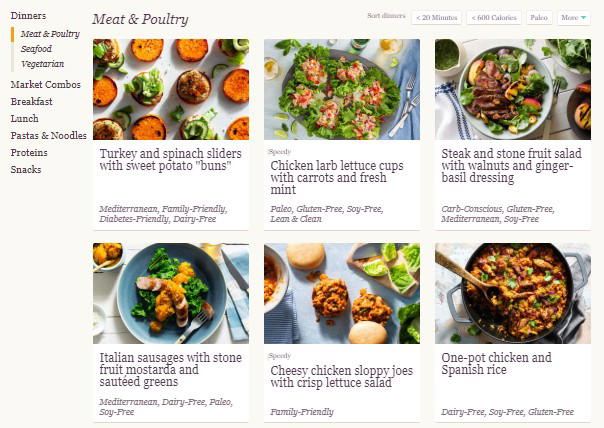 The Sun Basket menu covers everything from breakfast to dinner plus snacks and proteins on the side. Except for dinner and protein, every week offers the same menu.
Looking at their menu, we can say that all meals are healthy and well-planned. They have foods that are Paleo, gluten-free, dairy-free, soy-free, diabetes friendly, and vegan. No matter what your dietary preference is, Sun Basket got you covered.
Here's a more detailed look on the different foods that you can find on their menu:
01. Dinners:
The dinner menu changes every week and is quite a variety with the presence of meat, seafood, and vegetables. For that particular week, our favorite entree is the Sausage-Broccoli Frittata With Green Salad And Red Pepper Vinaigrette (oh that's a mouthful!) under the meat & poultry category. For seafood, they offer Burmese Salmon Salad With Lemongrass And Bell Pepper. Their vegetarian dinner menu includes Crispy Tempeh Pita Pockets With Greens And Tomato-Onion Jam which actually tastes divine.
The dinner entrees are a complete meal- you'll get your protein, carbohydrates, and vegetables. For example, the Butter Chicken With Basmati Rice Pilaf is made of grilled chicken breasts spiced up with fresh cilantro and served on top of rice mixed with vegetables.
02. Breakfast:
The breakfast menu is filled with your favorite morning pick-me-ups like eggs, yogurt, oatmeal & granola, bars & bites, breads & spreads, juices & shots, and smoothies & drinks.
Eggs: The eggs are available in two fluffy-sous-vide bites. They come with three flavors: spinach and feta, bacon and swiss cheese, and broccoli and parmesan. Our favorite is the bacon and swiss flavored egg bites because bacon never disappoints.
Yogurt: There are variants of yogurt available in the Sun Basket menu. We love the Organic Natural Coconut Yogurt because it tastes rich and has the right amount of tang. If you like berries, the Organic Mixed Berry Coconut Yogurt might satisfy your craving. For probiotics benefits, the Organic Dairy-Free Strawberry Cultured Coconut Yogurt Drink might be a perfect choice.
Oatmeal & Granola: Whether you want an easy breakfast, or a whole snack, the oatmeals and granola offered by Sun Basket are perhaps the best. The Overnight Oats Vanilla Bean are made with dairy-free almond milk and Indonesian vanilla to give a satisfying breakfast anytime. For those on the go, you can grab the Oatmeal Cup which is available in four flavors – toasted coconut + cassia cinnamon, roasted almond + himalayan pink salt, roasted hazelnut + Dominican cacao, and blueberry + maple. The Sunrise Paleo Cranberry-Almond Gluten-Free Granola is perfect to top on salads and yogurt while the Paleo Granola with Hu Chocolate are great for breakfast or late night cravings.
Bars & Bites: Do you ever wish to have some healthy bars to satisfy your sweet cravings anywhere you go? Well, look no more because Sun Basket offers a lot of nutritious bars on their menu from oat bars to seed bars and protein bars. All these bars are made from real ingredients and fortified with antioxidants.
Breads & Spreads: For bread lovers, you can start your day with Sun Basket's bread and spreads. There are two types of breads, the morning rounds and the sourdough half-loaf. The morning rounds are  a healthier alternative to muffins because they're made of whole grain and raisins. The sourdough loaf is gluten-free and tastes better when toasted.
        For the spreads, you can choose between the Granola Butter and the Vegan Butter. We  
        like to spread the Granola Butter on toast or spread on green apple slices. The Vegan
        Butter is made from fermented cashew cream that tastes great with your favorite
        morning toast.
Juices & Shots: Aside from meals, Sun Basket also offers beverages. These juices and shots are organic, vegan, and contain no added sugar. The cold-pressed juices are available in five flavors: Chard Knock Life, Tropical Roots, Apple Bottom Greens, Berry Bonds, and Golden State Blood Orange.
        Whether you want a power shot to defeat illnesses or just need a good pick-me-up, the
        juice shots will get you covered. They're available in four flavors: Feel Mo' Betta, Golden
        Hawaiian Turmeric, Spicy Green Energy, andBelly Boost. Again, these shots are cold-
        Pressed in tiny batches to provide optimum flavor.
Smoothies & Drinks: Sun Basket offers a wide range of drinks from coffee to smoothie and cacao protein drink. The cold brew coffee tastes so rich without the extra sugar. The Hella Berry smoothie isn't too sweet and gives a nice hint of berries on the flavor. If you want to improve your digestive health, the Remedy Organics Cacao Essentials Prebiotic Protein Drink might be a great choice.
        The Simplified Superfoods Super Smoothie Mix allows you to get the flavor and texture
        of smoothies to your drink. It's made of collagen peptides, flax, and chia to give more
        nutrients to your beverage.
03. Lunch:
For Lunch, Sun Basket offers a variety of dishes including soups, bowls, tortillas, and cooked proteins. The menu offers everything from chicken to fish and ramen bowls. To be more specific, here are the different lunch options in the menu.
Soups & Broths: These are the classic comfort food to heal your soul when you're feeling tired or sickly. The soups are very satisfying and you can use them to top your rice bowl or consume as is. They're a mix of vegetables, like melon seed, tomato, and brown-eyed peas.
        The broths are a perfect choice for snacks or warm savory beverages. They're available
        in six flavors- miso, coconut lime chicken bone, pho beef bone, turmeric chicken bone,
tomato Thai basil, carrot ginger, and Shiitake beef bone. For a refreshing meal, you can   serve some cold Tomato Gazpacho or Beet Gazpacho.
Bowls: Meal time is made easy with these lunch bowls from Sun Basket. These bowls are packaged in a humble cup and offer a variety of vegetables and rice/noodles. We love them because they're made of nutritious, whole gains plus fresh herbs to make a filling and energy-boosting meal with no preparation.
Tortillas & Breads: If you want something to use for your sandwich wraps and pizzas, these flatbreads are a great option. The pita is perfect to fill for your favorite seasonal vegetables and savory meat while the garlic naan gives joy to those who love the garlicky taste. Serve the gluten-free almond tortillas with your favorite fillings and try toasting the sourdough bread to make a quick satisfying lunch.
Cooked Proteins: Sun Basket also offers a menu for the meat lovers. The cooked proteins include grilled chicken breasts, grilled salmon fillets, smoked salmon, and baby back ribs. All these meats are made from responsibly raised animals with  no hormones and antibiotics. If we have to pick a favorite, we pick the baby back ribs because they're so tender and the barbecue sauce is just to die for.
04. Pastas & Noodles:
Sun Basket also offers pastas and noodles in their menu. They're usually vegetarian and contain no extra sugar. They even offer a gluten-free penne to those who are allergic to gluten. The sauces are usually Paleo and vegan to fit the preference of health-conscious people while the bowls are dairy-free.
Fresh Pastas: There are six fresh pastas in the Sun Basket menu. The Fresh Spinach Linguine complements well with melted butter and Parmesan cheese. The Ricotta and Broccoli Rabe Ravioli is made of an extra fancy durum flour pasta and whole milk ricotta cheese and broccoli rabe filling. For those who love lobsters, the Lobster Ravioli is perfect with its whole milk ricotta cheese plus lobster filling.
        The Asiago Cheese Tortellini allows you to enjoy a cheesy filling between two soft
Sheets of fresh pasta. The Burrata Ravioli makes a quick, tasty dinner while the Fresh
Gluten-Free Penne can hold more sauce.
Sauces: The menu offers four types of sauces- Fresh Arrabbiata sauce, Fresh Sweet Basil pesto, Marinara sauce, and Rose sauce. The Fresh Arrabbiata sauce is kind of spicy and goes well with ravioli. The Fresh Sweet Basil Pesto tastes great with freshly ground basil leaves, fresh garlic, and Parmesan cheese.
        Nothing is more Italian than the Marinara sauce which can be used for pizza, pasta, and
        Almost everything. If you like something more unique, you can try the Rose sauce which
        Resemble the color of rose wine. You can use this sauce to any type of pasta.
Bowls: There are two noodle bowl options under the Sun Basket menu. The Spicy Miso Ramen Bowl has a nice punch with its right addition of spicy chili paste to the chicken broth and ramen noodles. For curry lovers, the Green Curry Noodle Bowl might be a nice choice with its great combination of vegetables and rich green curry sauce.
05. Proteins:
Sun Basket offers a wide variety of proteins on their menu from meat to plant based. All meats are sustainably sourced and responsibly raised to provide only the best. They contain no antibiotics, hormones, and sugar.
Prepared Meat & Fish: There are nine entrees under the prepared meat and fish menu including the Applewood Bacon-Wrapped Beef Filet, Garlic-Marinated Top Sirloin Steaks, and Jumbo Lump Crab Cakes. We love the chicken breasts offered in Sun Basket because they're perfectly seasoned to give a delicious dinner.
Seafood: Sun Basket offers 12 seafood options on their menu ranging from halibuts to scallops and shrimps. All these seafood are wild-caught meaning that they're outsourced from the wild rather than bred from captivity. Our favorite is the Wild Skin-On Snapper Fillets because they taste better when basted with teriyaki sauce.
Poultry: There are 11 poultry dishes in the Sun Basket menu including Organic Chicken Wings, Organic Boneless Skinless Chicken Breasts, and Lemon-Pepper Boneless Skinless Chicken Breasts. We love the skinless chicken breast strips because they make a nice addition to your stir-fry dishes. The Ground Turkey forms into nice patties for a healthy burger or cook for a taco filling.
        For vegan enthusiasts, you can try their Plant-Based Chick*n Pieces which taste like
        chicken but made of plant-based ingredients. The Organic Italian Chicken Meatballs
        are nicely seasoned with herbs to make a flavorful impact on pasta and red sauce or
        served together with roasted vegetables.
Beef & Lamb: There are 12 different entrees under the menu of Sun Basket and one of them is the Applewood Bacon-Wrapped Beef Filet Mignons which is known for its buttery texture. The Short Rib-Chuck Smash Burger Patties are made of 80% lean and 20% fat to give a succulent flavor. We love the Top Sirloin Steak Strips because they contain just the proper amount of marbling to give a nice flavor.
        If you want to make meatballs or any taco filling, you can use the Ground Beef which is
        free of hormones and antibiotics. Ground Lamb taste great when grilled or crumbled on
        top of pizzas. If you want to be fancy, you can get luxurious with the Organic Filet
        Mignons.
Pork & Sausage: The menu contains eight pork and sausage entrees, including pork blade steaks, pork strips, and Italian pork sausage. The pork blade steaks, which are cut from the shoulder, taste great when grilled or broiled with your favorite rub. The pork strips are convenient to use for stir-fries, burritos, and filling for sandwiches.
        Together with ground beef, the Italian pork sausage suits best for meat sauce. You can
        also make them into small meatballs to add for pastas and soups. The baby back ribs
        that are slathered in barbecue sauce work best as a quick appetizer or game-day fare.
Plant Based: Sun Basket offers four sources of plant-based proteins- chick*n pieces, tofu nuggets, firm tofu, and braised tofu. We're surprised that the Plant-Based Chick*n Pieces taste exactly like chicken even if they're made of plant-based ingredients, like soy protein-concentrate, sunflower oil, and spices. The Organic Chinese 5-Spice Tofu Nuggets packs a bold cinnamon flavor with hints of star anise and Sichuan peppercorns.
        The Organic Firm Tofu is made fresh daily with soy milk. If you want to improve any tofu
        recipe, you can use the Organic Braised Tofu which is blended with a sweet and savory
        flavor of Chinese 5-spices.
06. Snacks:
When you think about snacks, you always expect them to be processed and high calories. The good news is that the snacks found on the Sun Basket are healthy. Some are made of vegetables and contain no sugar.
Veggies Snacks: There are four veggie snacks found on the menu- Organic Baby Rainbow Carrots, Organic Grape Tomatoes, Organic Snap Peas, and Organic Sweet Mini Peppers. The baby rainbow carrots pair well with the smoky romesco and muhammara dips. You can pop the grape tomatoes like candy and enjoy a juicy, tart flavor.
        The snap peas are so crunchy that you can hear them loudly in every bite. They're
        perfect as a stand-alone snack or as a great companion for Greek feta dips. We
        adore the sweet mini peppers because they're crispy and pairs well with avocado
        hummus.
Nuts & Seeds: It's so healthy to munch with the nuts and seeds of Sun Basket. There are three options to choose from- Marcona Almonds, Roasted Indonesian Cashews, and Mexican Hot Chocolate Walnuts. The Marcona Almonds are salted for taste and boast a creamy texture because of their high fat content.
        The Roasted Indonesian Cashews can be very addicting with their sweet and spicy
        flavor. If you want something sweet, try the Mexican Hot Chocolate Walnuts which are
        Slow-roasted with Dutch cocoa powder and organic sugar.
Crackers & Crisps: These are four crackers and crisps found on this menu- the Paleo Sea Salt Crackers, Organic Lentil Crackers, Organic Grain-Free Tortilla Chips, and Parmesan Cheese Crisps. The sea salt crackers use almond, whole cassava, and coconut flour to give a paleo crunchy goodness. The lentil crackers are blended with turmeric to give powerful medicinal benefits.
        If you're looking for a crunchy, salty snack, the tortilla chips are your best solution. These
        chips are made of coconut flour and added with Himalayan sea salt for flavor. When
        you're tired with potato chips, you can try the Parmesan cheese crisps.
Bars & Bites: There are a lot of bars and bites available on the menu of Sun Basket. They have everything from oat bars to seedbars, cacao-nectar bars, protein bars, cookies, fruit jerkies, and peanut butter bites. All of them are healthy because they contain no dairy, sugar, soy, gluten, and GMO.
Sweet Treats: Their sweet treats include granola clusters, cacao-nectar bars, chocolate bars, cookies, almond brittle, peanut butter bites, and salted caramel chocolate dessert pot. We like the simple dark chocolate bars because they contain only cacao, cocoa butter, and coconut sugar. If you like something crispy, you can try the quinoa chocolate bars.
        They also offer nuts covered in chocolate, like cashews, almonds, and walnuts. If you
        like to satisfy your sweet tooth craving, you can never go wrong with the Salted
        Caramel Chocolate Dessert Pot made with coconut cream and dark chocolate.
Jerky & Savory: For those who are looking for a savory treat, the Teriyaki beef jerky and the beef and pork stick minis might be perfect for you. The Teriyaki beef jerky is seasoned well with no additional nitrates and preservatives. The beef and pork stick minis are a healthy source of real meat protein.
How It Works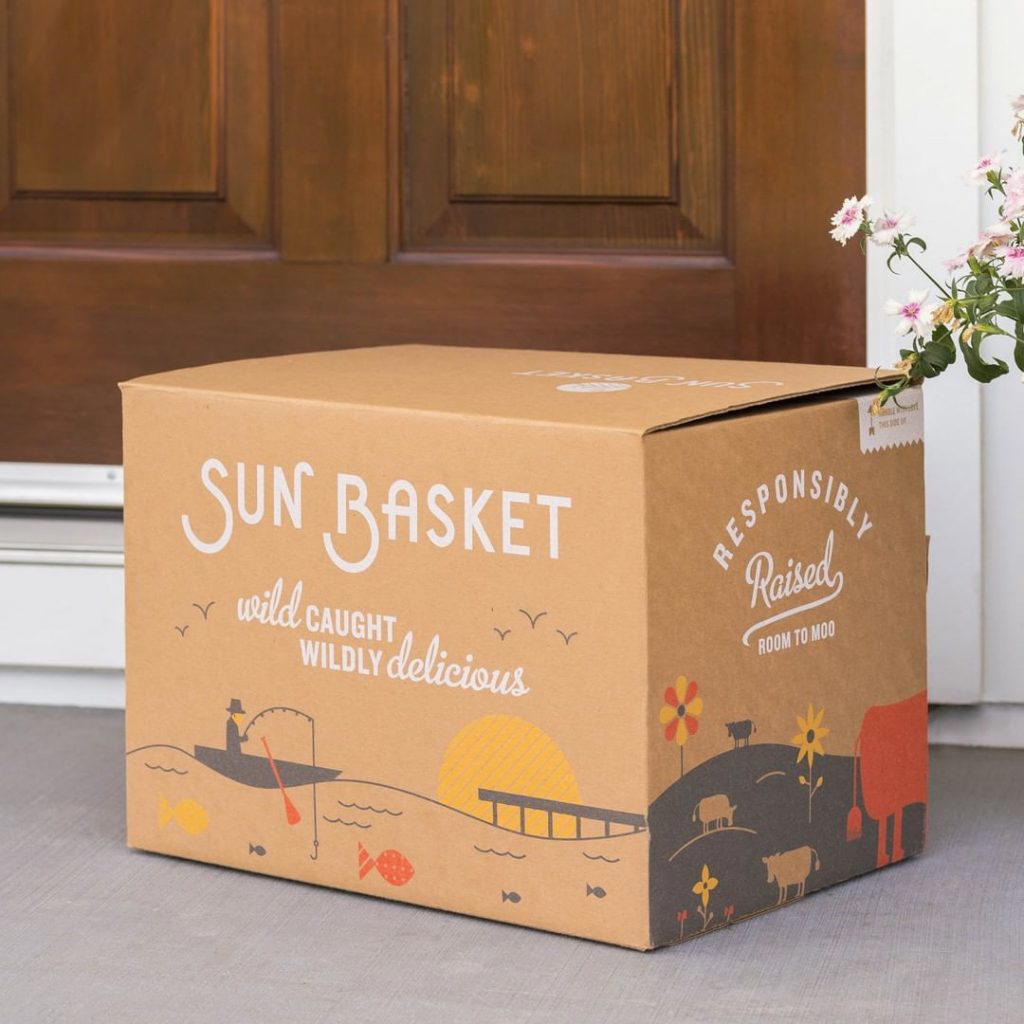 Ordering your meal from Sun Basket is very easy. First, you need to register then set-up your subscription. You need to customize the number of servings (2 or 4 people), number of recipes per week (2 recipes at $12.99/ serving, 3 recipes at $11.99/ serving, or 4 recipes at $10.99/ serving), meal preference, and first delivery week.
Here are other steps you need to follow.
Choose From The Menu:
The first thing that you need to do is to choose two or more dinners from the menu that week. Every dinner is available in two or four servings. Dinners begin at $10.00 per serving, which is quite reasonable given its excellent quality.
Create Your Meal Plan:
Some of us follow a specific diet preference and the good news is that Sun Basket allows you to do just that. You can tell the chef what kind of healthy you want and they'll make dinner recommendations or you can also customize from the full menu.
Here are the 10 different meal plans you can choose:
Paleo: This meal plan is high in protein and fiber. It's rich in omega-3s sourced from nuts, seeds, and olives. It's free of dairy, gluten, grains, soy, and corn. This is perfect for anyone who wants to eat unprocessed, whole foods.
Carb-Conscious: If you're a weight watcher, you can choose the Carb-Conscious meal plan. This meal plan contains 25-35 grams net carbs or less per serving with lots of protein. Net carbs refers to the forms of carbs that have an effect on your blood sugar levels.
Gluten-Free: If you have a certain gluten sensitivity, the gluten-free meal plan might be perfect for you. This meal plan is abundant of nutrient-rich organic produce, seafood, meat, and gluten-free products. Gluten-free foods aren't essentially healthier than other foods, but you may end up eating less processed food when eliminating gluten from your diet.
Lean & Clean: This meal plan was made for those who want to manage their weight with tasty, quick recipes that are rich with lean proteins, good fats, and organic ingredients. Every recipe contains less than 600 calories and only uses whole, unprocessed ingredients. When you're eating clean, you can maintain a healthy lifestyle.
Diabetes-Friendly: If you have diabetes, you can still enjoy delicious food in Sun Basket. You don't have to eliminate carbs in your diet because eating the right amount can make a large difference in managing your blood sugar. Even if you're not diagnosed with diabetes, you can still follow this diet to maintain a healthy weight.
Vegetarian: This meal plan contains no meat or seafood. It's abundant with plant-based protein sources, like legumes, nuts, and vegetables. Unlike veganism which totally eliminates any animal products, a vegetarian diet still allows certain animal products, like eggs and dairy.
Pescatarian: A pescatarian diet is simply a vegetarian diet plus seafood. In the Sun Basket meal plan, the pescatarian diet includes a variety of vegetables and seafood dishes per week. It also includes cheese and eggs.
Mediterranean: The Mediterranean meal plan is virtually good for anyone because you can select from a wide range of whole foods, fresh fruits, vegetables, proteins, and good fats. It's the easiest diet to follow because of less restrictions. Since this diet meal plan is abundant in fiber and good fats, it can help you lose weight as you reduce the intake of calories.
Chef's Choice: For less guesswork, you can choose the Chef's Choice meal plan to enjoy the best selections from their 14+ recipe menu per week. It celebrates international cuisines to satisfy the global palate. You can expect to experience new recipes each week as you explore new flavors.
Quick and Easy: The Quick and Easy meal plan is suitable for busy people who want a quick meal on the table. This meal plan promises to offer recipes that can be done in less than 20 minutes. Of course, they're made with the highest-quality of ingredients to deliver healthy living.
Add More Meals:
After selecting your dinner or meal plan, you can proceed in adding more meals like breakfast and lunch in your basket. There are so many meal items offered in the Sun Basket menu so filling your basket might overwhelm you. Remember to choose meals that you really needed.
Unbox And Enjoy:
Once your check out, you can expect your order to arrive on your schedule. The order will arrive in a cold-packed right to your doorstep. Follow the easy cooking or heating instructions to fully enjoy the meal.
Of course, you can skip a week or cancel your subscription anytime.
How To Prepare, Store, And Enjoy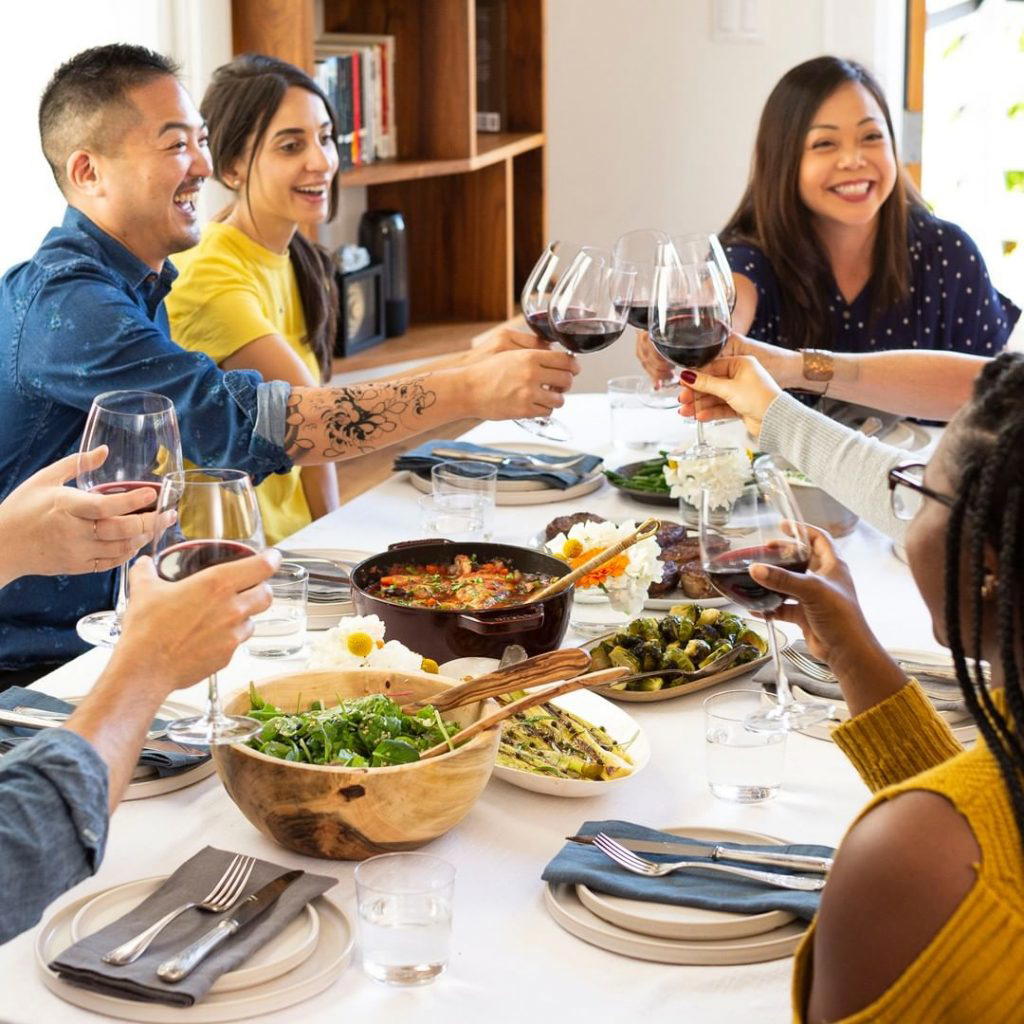 The meals offered by Sun Basket are easy to prepare. All you need is just a few minutes and you can have a quick meal anytime. Here are some detailed instructions:
Dinners:
For dinners, the meals will arrive in a bag filled with organic ingredients. One bag serves two people and two bags serve four people. The preparation and cooking time may vary for each meal.
For example, the Sausage-Broccoli Frittata With Green Salad and Red Pepper Vinaigrette requires 20 minutes while Chipotle Turkey Chili With Cucumber-Sumac Salad requires 30-45 minutes to prepare. Keep in mind that you need to wash and cut the ingredients before cooking.
Breakfast:
All the breakfast items in Sun Basket are ready to eat. Particularly, the Overnight Oats include a handy spoon under the lid so you can enjoy them anywhere you go. The Sunrise Paleo Cranberry-Almond Gluten-Free Granola can be sprinkled on top of your yogurt, salads, or ice cream to make a hearty breakfast.
The Granola Butter is ideal to spread on green apple slices and toast. You can even mix it into smoothies for a more nutritious taste. The creamy flavor of the Organic Vegan Butter can be used to spread on your morning toast.
Lunch:
The lunch offerings of Sun Basket are good to go. You can enjoy the soup as it is or use it as a stew base. For the broth cups, you can enjoy it as a warm savory drink or snack. The gazpachos are very refreshing when served cold.
The rice cups are fully cooked so you only need to mix together and enjoy. If you want the bowls to be extra hot, you can reheat them in the microwave for about three minutes. These cups come with a spork so you can eat them conveniently on-the-go.
Enjoy the traditional pita with some vegetables and savory meat to make a delicious sandwich wrap. As for the almond tortillas, heat them in the microwave or a skillet and serve with vegetables, cheese, and meat. Try toasting the sourdough bread to enjoy a quick lunch.
The cooked proteins are fully cooked so you only need to reheat them before serving. For the boneless skinless chicken breasts, heat them in the pan with 1-2 teaspoon of oil for 2-3 minutes per side. You can also heat them in the oven for 10 minutes at 375 degrees Fahrenheit.
Heat the grilled salmon fillets in an oiled frying pan over medium-high heat for 1-2 minutes per side. As for the baby back ribs, heat them on the grill or oven to 350 degrees Fahrenheit. Caramelize the barbecue sauce and remove from heat when the sauce gets slightly thickened.
Pastas And Noodles:
The fresh spinach linguine goes well with Parmesa and melted butter. The Ricotta and Broccoli Rabe Ravioli is a fresh pasta best consumed within five days. Refrigerate or freeze the Lobster Ravioli upon receipt and use within seven days.
For the Asiago Cheese Tortellini, simply boil and season as you like before serving. Refrigerate upon receipt and use within one week. Use the Burrata Ravioli within five days and boil them before topping with your favorite Talluto's sauce.
As for the sauces, refrigerate or freeze them upon arrival and use within 30 days. The Fresh Arrabbiata sauce goes well with fresh pasta and ravioli. The Marinara Sauce can be used on pizza and pasta while the Rose sauce can be used on every type of pasta.
Proteins:
All prepared meat and seafood should be consumed within five days or three days of receipt, respectively. Cooking instructions may vary but most of the time, you can cook the prepared meat and fish on the stovetop and grill. Cook the Applewood Bacon-Wrapped Beef Filet Mignons quickly to preserve the tenderness and don't forget to sear the bacon around the edges.
The Garlic-Marinated Top Sirloin Cap Steaks have been marinated with the garlic sauce so they're ready to be cooked on the grill for 3-4 minutes per side. As for the Jumbo Lump Crab Cakes, quickly sear both sides in a pan and pour a remoulade sauce on top. You can grill, sear, or roast the Wild Alaskan Skin-On Salmon Fillets to enjoy their rich flavor.
Snacks:
The snacks are ready to eat so you can pop them anytime you feel hungry. You can serve the Organic Baby Rainbow Carrots with the smoky romesco and muhammara dips. The Organic Grape Tomatoes taste great with the creamier dips, like skordalia lima bean while the Organic Snap Peas pairs well with more robust dips, like muhammara and Greek feta.
The Bottom Line:
Yes, Sun Basket is worth a try because they offer a wide range of meal options that can satisfy your meticulous palate and improve your wellbeing. This meal kit service provides entrees for different dietary preferences with less effort and cooking time. The meals may either come fully cooked or fresh to ramp up your cooking skills.
Although shipping isn't free, the meals cost just a few dollars. This meal kit delivery service is perfect for those who want to eat healthy or follow a certain diet preference, like paleo and vegetarian. However, you might want to look elsewhere if you want to bargain shop for ingredients.