It can be hard to come up with a new meal plan every day, especially if you're busy. If you like to enjoy a restaurant-quality cuisine in a pinch, then Home Bistro might be your best gourmet solution. Home Bistro is a prepared meal delivery service that sends ready-made meals to your doorstep.
The beauty of Home Bistro is that it offers fast delivery nationwide in the United States. Payments are secure and the checkout process is easy. On top of that, you get friendly customer service and delicious gourmet meals anytime.
An Overview About Home Bistro
Home Bistro is a prepared meal delivery service established in 2014. It delivers Mediterranean-inspired gourmet food straight to your home. Every meal is made of real ingredients and prepared by a Certified Executive Chef.
The meals come frozen but it doesn't mean that their freshness and quality are at jeopardy. To prepare, simply boil the meals in their bags for perfect reheating. Each product comes with particular heating instructions but the process usually takes 10 minutes or less.
While some companies ask you to commit to regular monthly shipments, Home Bistro absolutely won't. Home Bistro allows you to reorder at any time, and as little or many you'd want. Every meal is designed to serve one adult.
What's On The Menu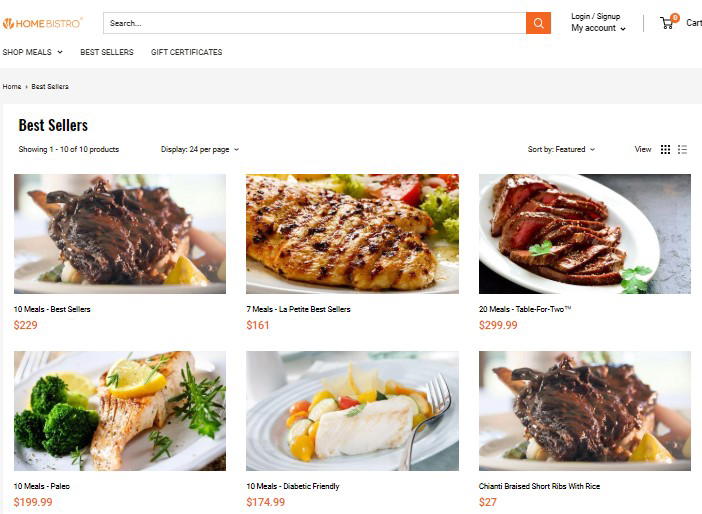 Home Bistro divides their menu into five different categories for easy selection. Such categories are Individual Meals, Meal Combos, Dietary Preference, SUPERBowls, and Chef's Choice. For better understanding, let's delve into each category below.
01. Individual Meals:
We're surprised to see the variety in this meal category. You have many options from vegetarian to seafood and meat. Each entree comes with a side dish to promote balanced eating for every meal.
There are currently 37 entrees available in this category and the bestsellers are:
Chianti Braised Short Ribs with Rice: This slow-cooked dish is a great source of protein, phosphorus, and potassium. We like how the meat falls off from the bones and the honey roasted carrots that bring a sweet flavor to the dish. As for the rice, it's cooked with vegetable stock to bring more flavor and nutrients.
Mediterranean Chicken with Orange Honey Sauce: You might think that this dish is bland because it's made of chicken breast. To our delight, the chicken is seasoned well and tasted extraordinary with the orange honey sauce. The side dish that accompanies this meal is the Israeli couscous made with chicken stock and honey roasted carrots.
Lemon-Caper Piccata Steak with Gratin: This steak is made from beef that's seared into perfection. It's served with invigorating artichoke-lemon butter sauce and roasted garlic marble potatoes.
02. Meal Combos:
If you want to do a one-time order, you can select from the Meal Combo category. The combos can contain as much as 20 meals per set to feed your craving for the whole week. Fortunately, there's a combo for every diet preference, including diabetic friendly, paleo, and vegetarian.
Currently, there are 17 items under the Meal Combos category. The bestsellers are:
10 Meals- Best Sellers: This combo is a group of best seller meals that are rated five stars by customers. The 10 meals include Mediterranean Chicken with Orange Honey Sauce, Pecorino Romano Turkey Kabob, and Peri Peri Pork Tenderloin with Orzo and Broccoli. If you want to taste the best meals offered by Home Bistro, this meal combo is perfect for you.
7 Meals- La Petite Best Sellers: This meal combo is a great combination of chicken, beef, pork, and seafood. It includes Mediterranean Chicken with Artichoke Sauce, Chianti Braised Short Ribs with Vegetables, and Roasted Harissa Shrimp with Gratin.
20 Meals- Table-For-Two: This package includes four free meals which brings the total to 20. The entrees are great for lunch and dinner. Every meal is portion for one, so there's no problem if your partner wants fish and you want steak.
03. Dietary Preference:
Home Bistro also offers meals to suit six dietary preferences: paleo, vegetarian, heart healthy, diabetic friendly, Mediterranean, and body shred. All packages contain 10 meals, except for Body Shred which only includes six meals.
The best sellers of the Dietary Preference category are:
10 Meals- Paleo: This package uses locally sourced all-natural ingredients. Every meal contains 700 calories and 800mg of sodium. It contains no gluten and processed sugar to serve you only whole, unprocessed foods.
10 Meals- Heart Healthy: This meal set consists of meals that are good for the heart. It includes Tunisian Shrimp with Harissa Sauce, Spicy White Bean Turkey Chili SUPERBowl, and Mushroom Bolognese Pappardelle SUPERBowl.
10 Meals- Vegetarian: This package consists mainly of vegetable-based meals. We personally love the Zesty Tofu Vegetarian Feast because it contains a tasty selection of vegetables. Another vegetarian entree that we liked is the Moroccan Ratatouille which is packed with flavor.
04. SUPERBowls
Home Bistro offers two super bowls for lunch to satisfy your gourmet meal cravings- the 7 SUPER Lunch Bowls and the 14 SUPER Lunch Bowls.
The 7 SUPER Lunch Bowls includes Chicken Sausage and Vegetable Stir Fry SUPERBowl, Lentil Herbed Baguette SUPERBowl, and Mushroom Bolognese Pappardelle SUPERBowl. The 14 SUPER Lunch Bowls adds seven more entrees into the package including Spicy White Bean Turkey Chili SUPERBowl and Udon Red Miso Superbowl.
05. Chef's Choice:
If you have no time to choose the meals yourself, you can give the burden to the chef of Home Bistro. The Chef's Choice plan offers a variety of meals every week. The plan is available in four options: 5 Meals, 7 Meals, 10 Meals, and 14 Meals.
Pricing:
The price range of Individual Meals is between $14 to $28.99. The Moroccan Ratatouille is the cheapest while the Spanish Cod with Mediterranean Tapenade is the most expensive.
The Meal Combos are expensive because they consist of about 6-20 entrees for every combo. The most affordable meal combo is the 6 Meal Mini-Max Pack which costs around $101.99. The most expensive one is the Table For Two Dinner Collection which costs $322.
For Dietary Preferences, the price can range from $104 to $184.99. The 6 Meals- Body Shred package is the cheapest while the 10 Meals- Mediterranean is the most expensive.
SUPERBowls cost between $85.99 to $149.99. As for the Chef's Choice plan, the price ranges from $104.99 to $219.99.
How To Order
You can order your favorite meals from the website of Home Bistro. If you're worried about security, you can email support@homebistro.com to help you use the modern encryption methods.
You'll need to make an account on the website to make the checkout and reorder easier. If you order online, here are the things that you need to do after you hit the Order Now button.
01. Shop Meals By Category:
The first thing that you need to do is to choose the type of meals you want to order. Choose Dietary Preferences if you follow a specific diet. Chef's Choice is great if you want more variety.
For big time lunches, choose SUPERBowls. Meal Combos are a selection of best sellers and other types of meals. Individual Meals are ideal for single orders.
02. Select Entrees And Customize:
Now, choose your desired entrees and determine the quantity you want. This is the same with all categories except for Chef's Choice. Under Chef's Choice, you have to decide about the meat profile whether you want to eat everything, no red meat, no pork, no seafood, or vegetarian.
You also need to decide whether you want to order the Chef's Choice for a one-time purchase or subscribe. Delivery can be done every 1, 2, 3, or 4 weeks. Of course, you can modify or cancel the subscription anytime.
Once done, hit the Add to cart button.
03. Checkout:
In the checkout page, you'll be given the chance to see the whole orders in your cart. You can modify the quantities or remove the order at this point. You can also include a gift certificate in your order.
Once you finalized your order and completed the checkout procedure, you'll see a page telling you that your checkout is complete and an order number. An email will be sent immediately to acknowledge the order that you have placed.
Packaging And Delivery
The meals come flash frozen meaning it's frozen quickly to prevent the formation of ice crystals. They're packaged in insulated boxes to keep them cold and fresh during the delivery. The specially made boxes prevent the food from getting spoiled before it arrives on your doorstep.
Dry ice is what makes the temperature of the box cold. It may melt before the box arrives at your home, but don't worry about the loss in quality. According to Home Bistro, you can still safely store the meals in the freezer if they're still "refrigerator cold" to the touch.
Now, for the delivery, Home Bistro delivers to each state in the United States except for Alaska and Hawaii. FedEx will handle all the shipping and you don't have to be at home to receive the package because no signature will be required. The packages can be left at your door on the scheduled date for delivery so be sure to check thoroughly.
Keep in mind that individual orders can only be shipped to one address. You can't use two different addresses for individual orders. If you like your order to be shipped overnight for free, purchase more than $149.99.
How To Prepare
The meal preparation is quite simple. You need to reheat the frozen meals in their bags. It takes less than 10 minutes to reheat the frozen meals. Every product comes with particular heating instructions so make sure to read them before you start anything.
You can reheat the meals in a pot of boiling water or straight into the microwave. No need to season the food because it already comes pre-seasoned.
If you don't like to prepare the meals just yet, store them in the freezer without worrying about the loss of quality. The meals may come with the dry ice melted but don't worry you can still store them in the freezer as long as they feel "refrigerator cold" to the touch.
What We Like About Home Bistro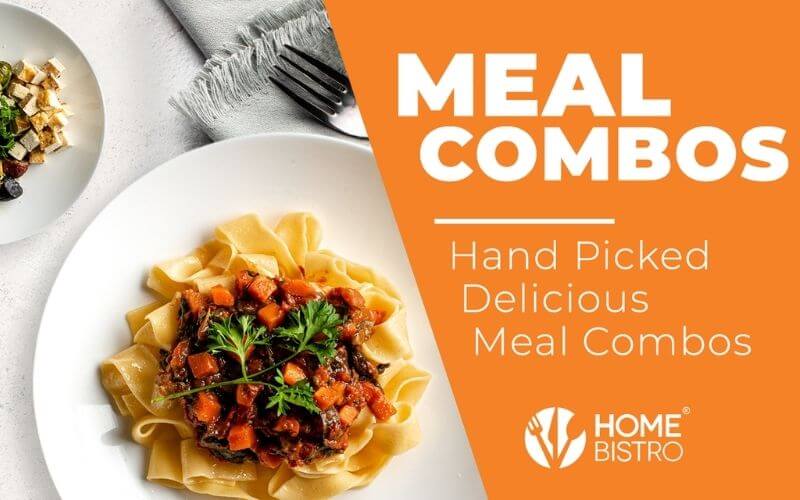 Top-Quality Ingredients:
The taste of their food is top-quality maybe because they're prepared by a chef. The ingredients used are fresh to make sure that the quality remains superior.
For example, the chickens they used are 100% USDA- verified Pure Air-Chilled meaning that no water is added to the meat. The chickens are grown with no antibiotics, and other growth stimulants. Every cut is deboned and shred by hand to give a better texture and flavor to the meat.
The other types of meat, like pork and beef, are also free of antibiotics and steroids. The livestock are raised in a ranch and only fed with vegetables. The pure quality of the meat gives a high-quality flavor to the meat-based meals.
A Variety Of Options:
Whether you love seafood or meat, Home Bistro has everything in their menu. They even offer meals for special dietary needs, like vegetarian, paleo, and heart-friendly. Each meal comes with a nice side dish to complement the flavor of the main dish and satisfy your palate.
We like that Home Bistro offers a great mix of exotic meals and luxurious dishes. Some
Of the best meals are the Hangar Steak with Romesco Sauce and Lemon-Caper Piccata
Steak with Gratin. You can even find some gluten-free meals on the menu.
Nationwide Delivery:
Home Bistro delivers nationwide in the United States, except for Hawaii and Alaska. All orders are shipped via FedEx straight to your door. You can expect your orders to arrive within 1-3 business days after you place your order.
No Commitments:
One of the best things about Home Bistro is that they don't lock you in a regular monthly subscription. You have the freedom to order anytime you want and enjoy a variety of meal options. If you like to subscribe to a meal plan, you sure can under the Chef's Choice category.
Easy To Prepare:
Home Bistro meals are so easy to prepare. You don't need to add spices or seasonings to the food. All you need is 10 minutes or less to reheat the food in the microwave or boil it in the bag.
Large Portion Sizes:
Another good thing about Home Bistro is that it offers generous portion sizes. Compared to other prepared meal delivery services, the portion sizes are quite substantial. You can get really satisfied with one serving alone.
What We Didn't Like
Expensive: The meals can be pricey in Home Bistro. The price range is between $14 to $322. A subscription to their meal plans will minimize the costs and you can get a discount for your first use.
No Refund Policy: When making your orders, make sure that they're as accurate as possible because Home Bistro won't refund you for any mistakes. It would have been perfect if they offer a sort of satisfaction guarantee to their products. But looking at their competitors, refund policy is seldom offered.
FAQ – Frequently Asked Questions
Can I cancel my subscription anytime?
Yes, you can cancel your subscription any time. The beauty of Home Bistro is there are no contracts or commitments to lock you in a regular monthly shipment. You can reorder anytime in any quantity after giving their premium meals and services a chance.
Can Home Bistro deliver to a P.O. box?
Unfortunately, Home Bistro can't ship to P.O. boxes. They deliver to the address via FedEx straight to your door. Even if you're not at home, the package will still be delivered to your address with no signature needed.
Do I need to be home to receive my order?
No. All the orders shipped by FedEx are labeled as "Driver Release: meaning that the order will be sent to you or the recipient address without needing a signature. Packages can be placed outside your door, so make sure to check on the day of your scheduled delivery. If you're sending the package to someone else, inform the recipient that a gift will sent to them.
Can I make Home Bistro a gift?
Yes, you can. Food is always a nice gift choice for any occasion. You can give it to your parents during Father's Day and Mother's Day. Food gifts are also great to be sent for new homeowners, new parents, and those recovering from an illness or injury. These meals also make innovative corporate gifts, as well.
Does Home Bistro offer gift certificates?
Yes, Home Bistro sells gift certificates. You can buy them on their website here. To
send the gift certificate, follow these instructions:
01. Click the dropdown menu and choose the desired amount on the gift certificate
02. Click the "Gift Instantly" button just under the "Add to Cart" button
03. Fill out the form and click "Done"
04. Checkout to input payment details
Gift cards are sent by email and include directions to redeem at checkout. There's no extra cost in processing the gift cards.
Gift certificates bought after March 2, 2018 can be redeemed straight on their website at the checkout. If you bought or received the gift certificates before March 2, 2018, email support@homebistro,com to redeem them and request a new gift certificate number.
How will I know that the order has been received by Home Bistro?
Right after you place your order online, the last page will tell you that your checkout is complete. Immediately, you'll receive an email confirmation of your order.
Bottom Line
Home Bistro is perfect for busy people who like to enjoy restaurant-style gourmet meals quickly. They have a lot of meals to choose from and they serve many types of dietary needs, like paleo and heart-friendly. The preparation is simple as you can heat them in the microwave in less than 10 minutes or so.
The price may keep you from purchasing, but Home Bistro's restaurant-quality gourmet meals are worth giving a try. The meals are made of locally-sourced fresh ingredients that are well-seasoned for goodness. The taste is at par with restaurant gourmet foods making them one of the best prepared meal delivery services that you should consider for your healthy diet.
More Related Topic: