Get portobello mushroom vegan recipes that will make your life easier, and more delicious, and help you get all the nutrients you need without any meat or dairy!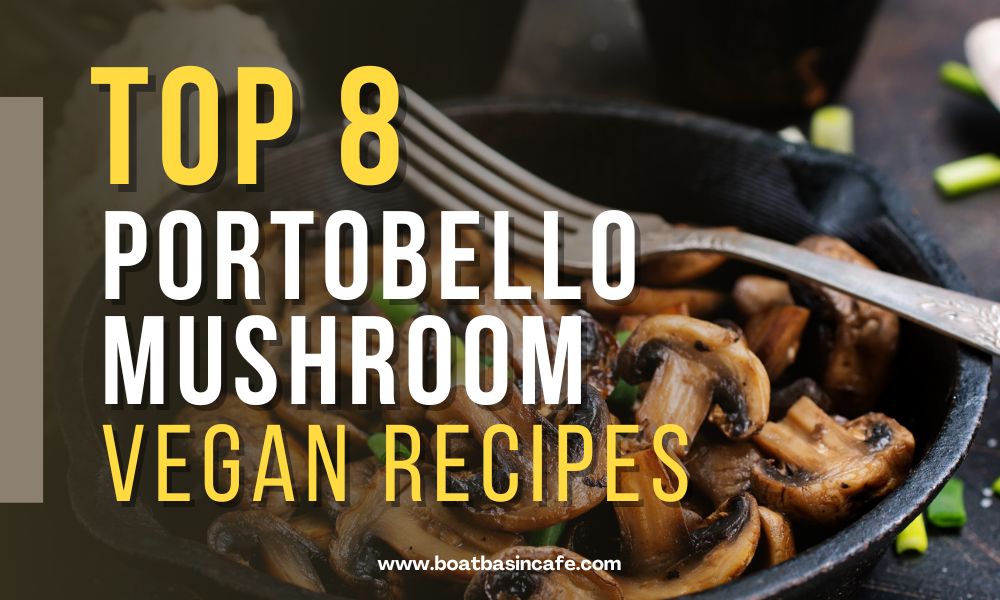 Button mushrooms were all the rage in our kitchen until I discovered portobello mushrooms.
Portobello mushrooms, also known as portabellas, have a meatier and less spongy texture than button mushrooms and have a robust flavor.
I love having them stuffed, roasted, broiled, and grilled due to their size.
And since I'm a vegan, portobello mushrooms are my most accessible go-to ingredient.
From a juicy vegan portobello mushroom steak to a simple gluten free vegan mushroom curry, in this post, we will cover all recipes that are portobello mushroom vegan.
Let's get started!
What Are Portobello Mushrooms?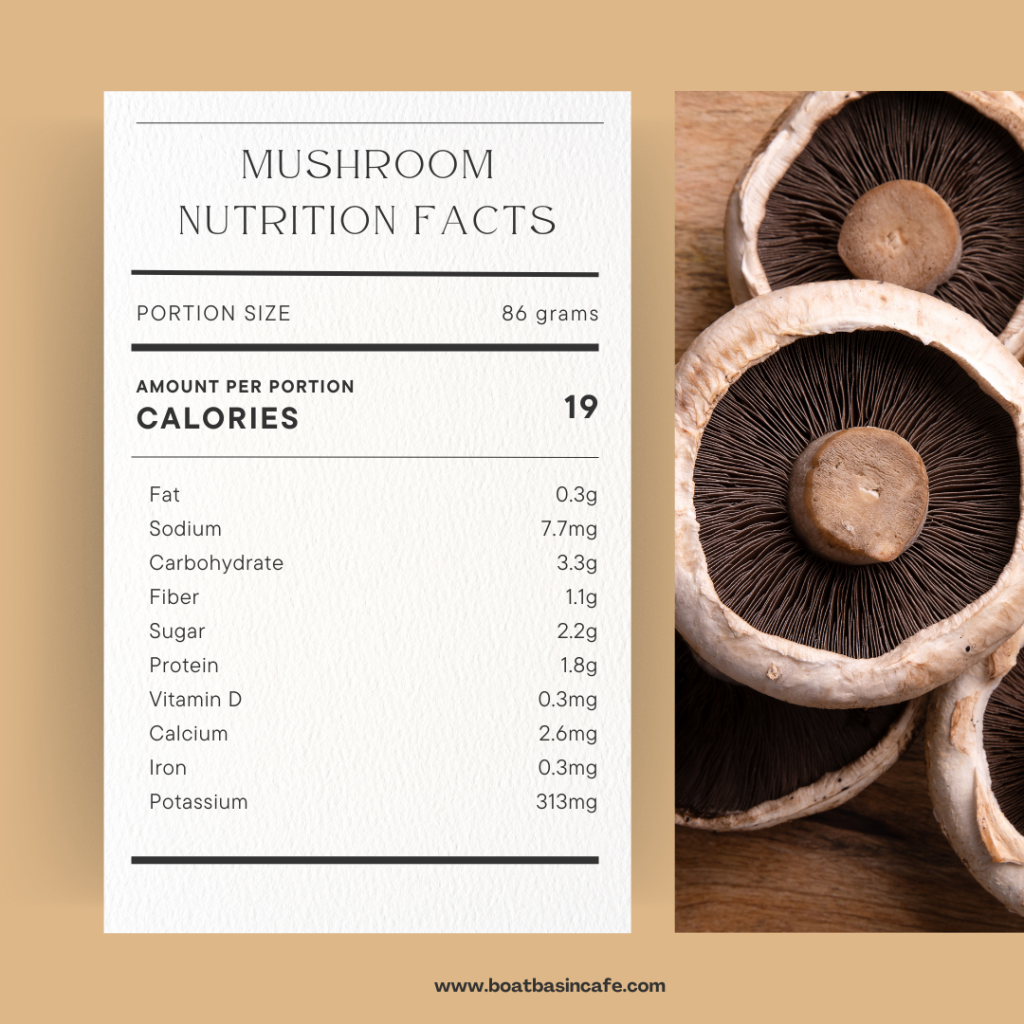 With their large, umbrella-shaped caps, portobello mushrooms are the edible fungus Agaricus bisporus, which also comprises button mushrooms and cremini mushrooms, which mature into portobello mushrooms.
The least mature stage of the species is represented by button mushrooms, followed by the intermediate stage of cremini, and the largest, darkest-brown stage, is represented by portobello mushrooms.
What Does A Portabella Mushroom Taste Like?
The umami flavor profile of portobello mushrooms is one of the rich, earthy, meaty, and brothy notes.
Glutamate, an amino acid naturally found in mushrooms and other foods like parmesan cheese and anchovies, is the source of the umami flavor.
The umami flavor of portobello mushrooms is more potent because the flavors are concentrated when the mushrooms ripen and lose water content.
Its meaty texture and deep, meaty flavor make it an especially adequate meat substitute.
Vegetarian Recipes With Portobello Mushrooms
Be it a vegetarian or portabella mushroom recipes vegan, you will surely find something you will like from our list of recipes.
Converting vegetarian to gluten free and vegan portobello mushroom recipes is just a matter of using substitutes that don't have dairy or grains in them.
For example, use cheese made from almond or soy milk.
All the recipes are versatile and you can substitute many of the ingredients with others to suit your taste buds.
If a recipe calls for Balsamic vinegar or white wine vinegar, you can use these substitutes to make an equally delicious recipe.
01 Portobello Mushroom Steaks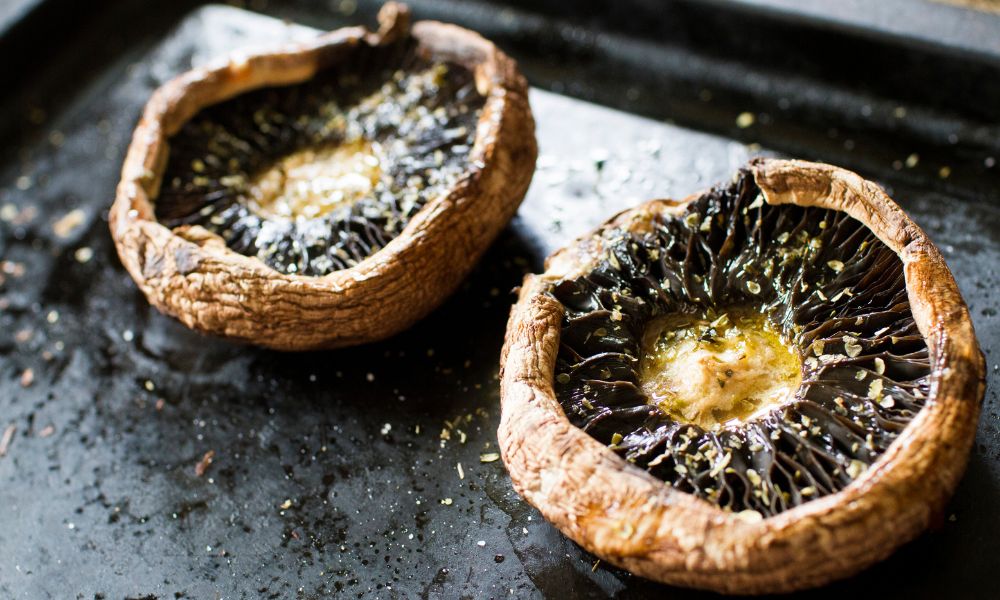 This gluten free and vegan portobello mushroom steak recipe is the juiciest and meatiest out there.
It's healthy and easy to make, and you can serve it as a main dish or a side.
I love to have this as a main dish but if you're serving it to your vegetarian friends, just serve it with pasta, potatoes, some grilled or sauteed veggies, or rice.
Ingredients:
4 large portobello mushrooms with stems removed and cleaned
1 teaspoon garlic powder
¾ teaspoon smoked paprika powder
½ teaspoon coconut sugar
2 tablespoons Balsamic vinegar
6 tablespoons low-sodium gluten free tamari or if you're okay with gluten, use soy sauce
Step-by-Step Directions:
Step 1: Preheat your oven to 400°F (204°C). If you're not sure, find out how long to preheat oven to 400°F.
Step 2: Clean the portobello mushrooms with a quick rinse and follow up by drying them with a damp towel, making sure all the dirt has been wiped off.
Step 3: After chopping off the stems, place them with the gill side up on a baking dish lined with foil so that it can catch all the drip and make cleaning up easier.
If you prefer not to have the portobello mushrooms come in direct contact with the aluminum foil, place a piece of parchment paper in between the foil and the mushrooms.
Pro Tip: Don't throw away the stems as they can be used with other vegetable stalks to make a vegetable broth or stock.
Step 4: Make a marinade with the ingredients mentioned above and pour about a quarter of the marinade over the undersides of the portobello mushrooms and set aside for 10 to 15 minutes.
Step 5: Turn the mushroom steaks over, score the tops using a knife, and pour the rest of the marinade over them or use a brush to rub it in.
Step 6: Bake the portobello mushrooms in the oven for about 15 minutes.
Step 7: Turn them over, add some of the mushroom marinade from the baking dish, and bake the marinated mushrooms for another 15 minutes.
Step 8: Remove from the oven and allow a standing time of 10 minutes so that the portobello mushroom steaks can absorb all the juice.
02 Stuffed Portobellos With Cheese And Spinach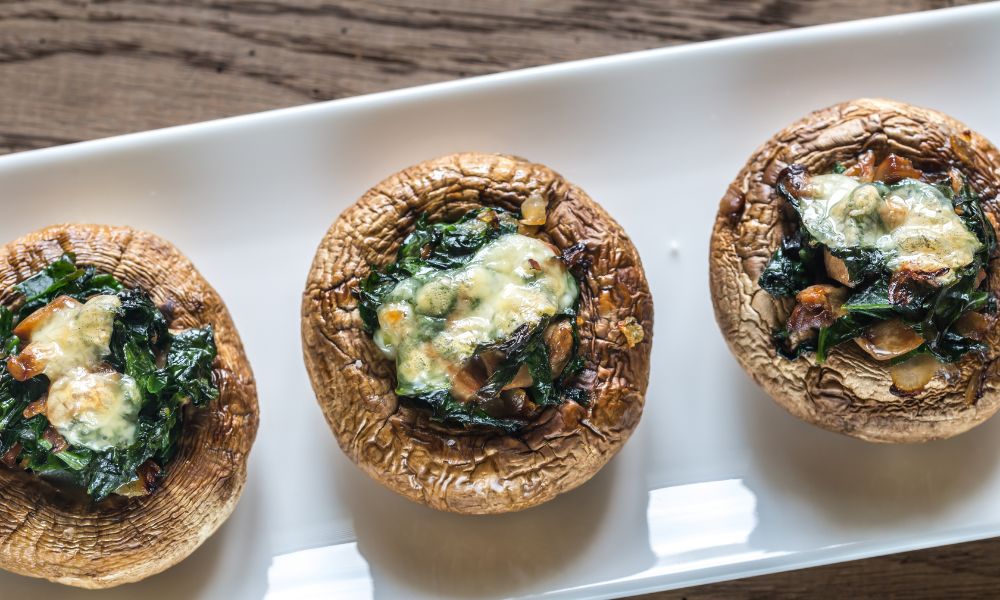 In this stuffed portobello mushroom recipe, we load the roasted portobello mushroom caps with ricotta, spinach, and Parmesan cheese, the ingredients of a vegetarian lasagna filling.
If you can only get smaller portobello caps, purchase one or two extra and split the filling among all the caps.
The recipe works best with really large portobello caps.
Serve these stuffed portobello mushrooms with whole-wheat dinner rolls, a tossed salad, and spaghetti with marinara sauce for a complete meal.
Ingredients:
4 pieces of large portobello mushroom caps
¼ teaspoon each of salt and pepper
½ cup of grated Parmesan cheese, divided
1 cup of ricotta cheese
1 cup fresh spinach, finely chopped
¾ cup marinara sauce
2 tablespoons kalamata olives, finely chopped
½ teaspoon Italian seasoning
Step-by-Step Method:
Step 1: Set oven to 450°F (232°C) and spray cooking oil on a baking sheet with a rim.
Step 2: Place the mushroom caps on the preheated pan, gill-side up.
Add 1/8 teaspoon each of salt and pepper.
Roast for 20 to 25 minutes, or until tender.
Step 3: In a medium bowl, combine the ricotta, spinach, 1/4 cup Parmesan, olives, Italian seasoning, and the rest of the 1/8 teaspoon pepper.
Put the marinara sauce in a small bowl, cover it, and heat on high in the microwave for 30 seconds to 1½ minutes, depending on the package directions.
Step 4: Pour away any liquid that has collected in the caps of the mushrooms after they are tender.
Gill-side up, put the caps back in the pan.
The remaining sauce should be covered to stay warm after spooning 1 tablespoon into each cap.
Fill each cap with a good 1/3 cup of ricotta, then top with the remaining 1/4 cup of Parmesan. Bake for about 10 minutes, or until heated.
Use the remaining marinara sauce to serve.
Pro Tip: Turn this into a vegan portobello recipe by using vegan ricotta and vegan Parmesan.
03 Vegan Stuffed Portobello Mushrooms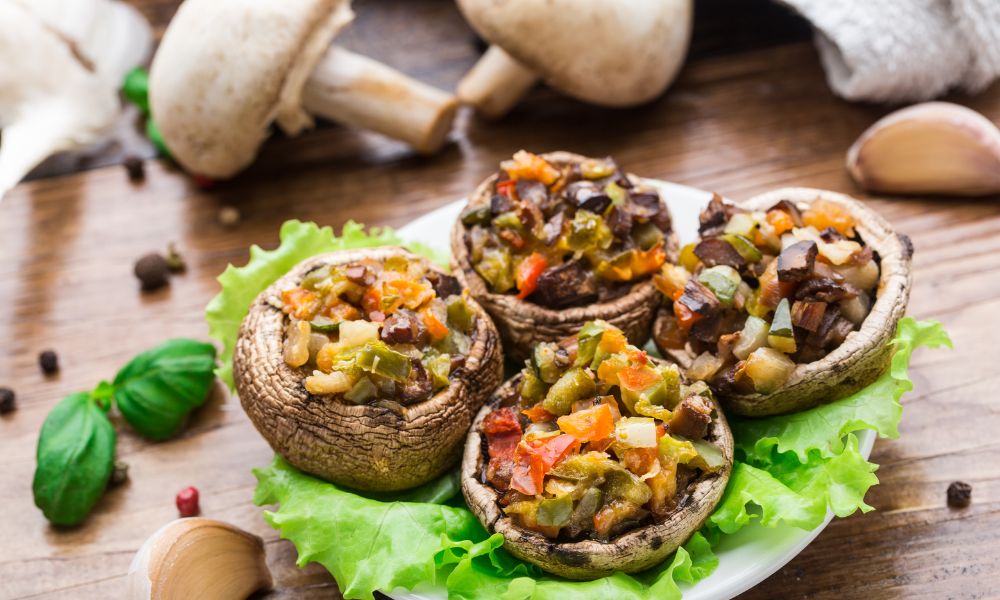 A few basic spices and veggies make these roasted portobello mushrooms full of flavor and nutrients.
They are also gluten free and if you're a vegan like me, just perfect.
Serve it as an appetizer or side dish and it's bound to be a crowd-pleaser.
The best thing about this stuffed portobello mushroom recipe is that you can make it ahead by preparing the veggie filling and baking it right before you serve your guests.
Ingredients:
8 large portobello mushrooms, cleaned and stems removed (if you want)
½ teaspoon salt
½ teaspoon smoked paprika powder
½ teaspoon dried oregano
2 tablespoons olive oil
1 cup fresh spinach
½ cup fresh or frozen corn
1 zucchini, diced into ½-inch pieces
1 small onion, diced
3 garlic cloves, freshly grated or minced
1 cup cooked quinoa or you can skip this if you want to make this stuffed portobello mushrooms recipe low in carbs
Step-by-Step Method:
Step 1: The oven should be preheated to 375°F (190°C).
Using parchment paper, line a large baking pan.
Step 2: Snap the Portobello mushroom stems off at the base to remove them.
If you'd like, you can cut the stems and add them to step 4 of this recipe.
Sprinkle salt and pepper on the insides of the portobello mushrooms lightly.
At this point, bake the portobello mushrooms for 3 to 5 minutes (if they are quite large) by placing them upside down on a lined baking pan.
Step 3: In a large skillet over medium heat, cook the diced onion and pepper in the olive oil for 5 to 10 minutes, or until soft.
Add the minced garlic and cook until fragrant for a few minutes.
Step 4: Add the diced zucchini and cook it until tender.
Sauté the zucchini and portobello mushroom stems if you're using them until they become tender.
After adding the corn and fresh spinach, sauté for 2 minutes or until the spinach shrinks and becomes soft.
Remove from the flame.
Step 5: Now is the time to add salt, smoked paprika, dried oregano, and cooked quinoa.
Stir everything together, then taste it to see if extra salt is necessary.
Place aside.
Step 6: Turn the Portobello caps upside down, then divide the filling among the 8 caps.
Bake the Portobello mushrooms for 5 minutes, or until they are tender and cooked to your preference.
Serve warm and top with vegan Parmesan or fresh parsley.
Notes About This Recipe
Portobello mushrooms:
You can include the stems in the filling if your portobello mushrooms still have them.
Simply cut them off at the root, dice them, and then include them with the sliced zucchini in step 4.
The stems of portobello mushrooms are edible and equally nourishing as the caps themselves.
While preparing the veggie filling, you should pre-bake the portobello mushrooms for three to five minutes if they are especially large.
But take care not to cook them all the way through.
To prevent the mushrooms from becoming soggy while baking, flip the caps upside down on the baking sheet (like an umbrella).
Spinach:
You can add more fresh spinach if you want as cooked spinach reduces in amount.
You may also use frozen spinach; simply thaw it, squeeze out as much excess liquid as you can, and mix it in with the cooked vegetables.
No sautéing is necessary.
Substitutes:
Instead of zucchini, you might substitute sliced yellow squash.
Use what you have in the kitchen — omit the corn, double the quinoa, add some frozen peas, or use bell peppers of a different color!
04 Portobello Mushrooms Stuffed With Chickpeas And Veggies
There's no end to the variations of the stuffing you can mix and match to make your own version of stuffed vegan portobello mushrooms. 
This stuffed portobello mushroom recipe comes full circle with minerals and vitamins from the veggies and protein and carbs from the chickpeas.
On top, it's gluten free and vegan.
Even your meat-eating friends will be impressed by how good these mushrooms are!
Serve this dish as a light main with a salad on the side, or as an appetizer.
These portobello mushrooms are not only great to eat but also look pretty when you serve them and will perk up any dinner table on any occasion.
Ingredients:
5 portobello mushrooms
1 tablespoon of any neutral cooking oil like olive oil or avocado oil
110 grams of diced onion; choose one small or medium size of onion
1 medium size pepper
1 teaspoon garlic powder
1 teaspoon onion powder
Freshly ground black pepper, chili powder, and salt to taste
2 garlic cloves
175 grams of drained and rinsed chickpeas
40 grams or ⅓ cup of chopped walnuts
1 heaped tablespoon of tomato paste
1 tablespoon soy sauce or tamari for a gluten free version
4 tablespoons non-dairy milk
½ tablespoon balsamic vinegar
Vegan cheese as per taste
Fresh herbs for garnishing
Step-by-Step Directions:
Step 1: Preheat your oven to 360°F (180°C) and line a baking dish with parchment paper.
Step 2: Using a damp towel, clean the portobello mushrooms, trim the stems, chop them, and set them aside.
Step 3: In a bowl, add the chickpeas and mash them with a fork.
Step 4: In a large skillet on medium heat, add oil and once it's heated, add the pepper, onion, and all the spices and stir for 3 to 4 minutes so that everything combines well.
Step 5: To the skillet, add the chopped walnuts, garlic, and mashed chickpeas.
Step 6: In a mixing bowl, combine the tamari or soy sauce, balsamic vinegar, non-dairy milk, and tomato paste.
Stir to combine well.
Step 7: Stir in the chopped mushroom stems and cook for a few minutes to bring out the full flavor of the portobello mushrooms.
Step 8: Remove the skillet from the stovetop.
Step 9: Arrange the portobello mushrooms in the lined baking dish and spoon out the filling to cover completely.
Step 10: Bake for 10 minutes then sprinkle with vegan cheese and bake for another 10 minutes.
Step 11: Garnish with fresh herbs and serve.
Notes About This Recipe:
Chickpeas: Instead of canned chickpeas, if you have dried chickpeas, you can soak them overnight and boil them the next day until they become tender.
Walnuts: You can substitute the walnuts for a nut-free version with pine nuts or sunflower seeds. Just dry roast them to extract the full flavor before adding them to the filling.
Vegetables: Instead of pepper, you can use other veggies like frozen or fresh spinach, corn, peas, diced carrots, cauliflower rice, and others.
Spices: For a smoky flavor, use smoked paprika powder.
Or, if you want to have a more South Asian flavor, you can add ground cumin and coriander.
Make-Ahead:
Prepare the stuffed mushrooms with chickpeas and vegetables as a make-ahead, cover them in cling wrap, and refrigerate them in an airtight container for up to two days.
You can bake them chilled for an additional two minutes just before serving.
Alternatively, you can freeze the portobello mushrooms with the stuffing.
Just put them on a tray, freeze them, take them out, and transfer them to an airtight container.
Put them away in the freezer and they can be stored for up to three months.
05 Mushroom Chickpea Curry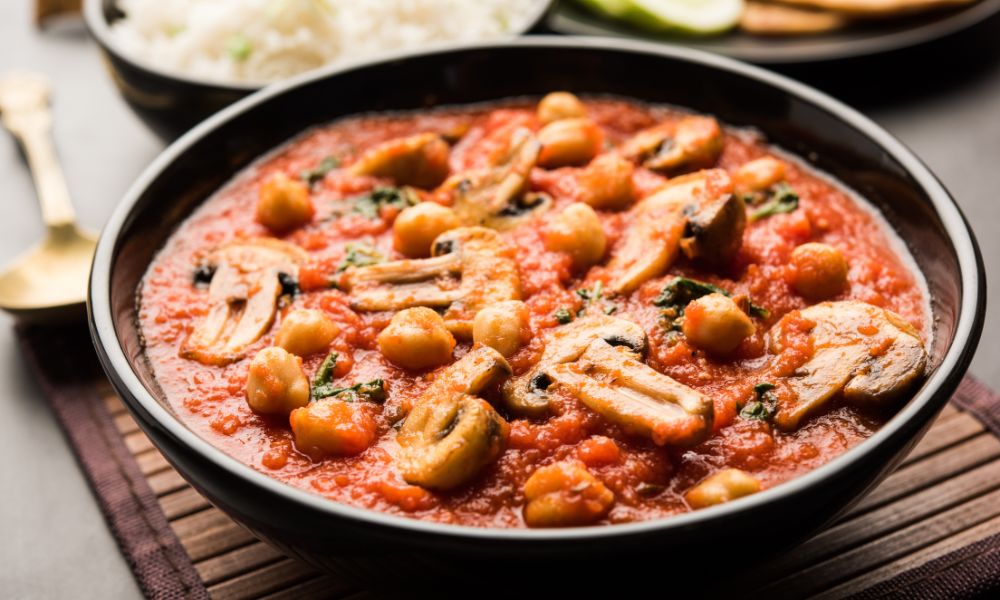 Portobello mushrooms and chickpea curry are my favorite fall and winter warmer.
A bowl of this vegan portobello curry will warm your mind, body, and soul like no other.
Not only is this recipe easy to make but it's also gluten free and naturally vegan.
That's why you can serve it to your guests also who follow a strictly vegan diet.
Speaking of which, on a side note, you may want to find out the top 20 high protein vegan breakfast ideas to start your day on the right note.
Without any further rambling, let's get on to the recipe.
Ingredients For The Spice Blend:
1 teaspoon sea salt
1 teaspoon turmeric powder
1 teaspoon coriander powder
1½ teaspoons cumin powder
2 teaspoons garam masala
1½ teaspoons mild chili powder
Ingredients For The Curry:
8 portobello mushrooms
2 tablespoons vegetable oil or olive oil
One large onion, finely chopped
5 garlic cloves, crushed or minced
1 tablespoon finely grated fresh ginger
400 grams or 14 oz drained and rinsed cooked chickpeas
1 tablespoon tomato paste
½ cup tomato passata or 3 chopped large tomatoes or chopped or crushed canned tomatoes
2 cups of baby spinach
1 cup vegetable stock
1 cup coconut milk
1 to 2 tablespoons vegan butter
Step-by-Step Instructions:
Step 1: Clean the portobello mushrooms with a damp cloth and trim the stems.
Step 2: Cut the portobello mushroom caps into thick slices.
Step 3: The onion should be sautéed in a skillet with vegetable oil or olive oil over low to medium heat for 5 minutes, or until tender.
Stir in the spice mixture before adding the garlic and ginger and leave to simmer until fragrant.
Step 4: Add the portobello mushrooms and chickpeas and stir to coat them properly in the fragrant spice blend.
Step 5: Add the coconut milk, vegetable stock, tomato paste, and tomato passata or its sub.
Step 6: Turn the flame on high to bring to a boil the mushroom chickpea curry.
Then turn it down low and allow it to simmer for 40 minutes until the sauce becomes thick.
Step 7: Turn off the stove and remove the pot.
Add the vegan butter and the spinach. 
The fresh spinach should wilt after 5 minutes.
Your delicious portobello mushroom chickpea curry is now ready to serve with pita bread or steamed rice.
06 Vegan Mushroom Gyros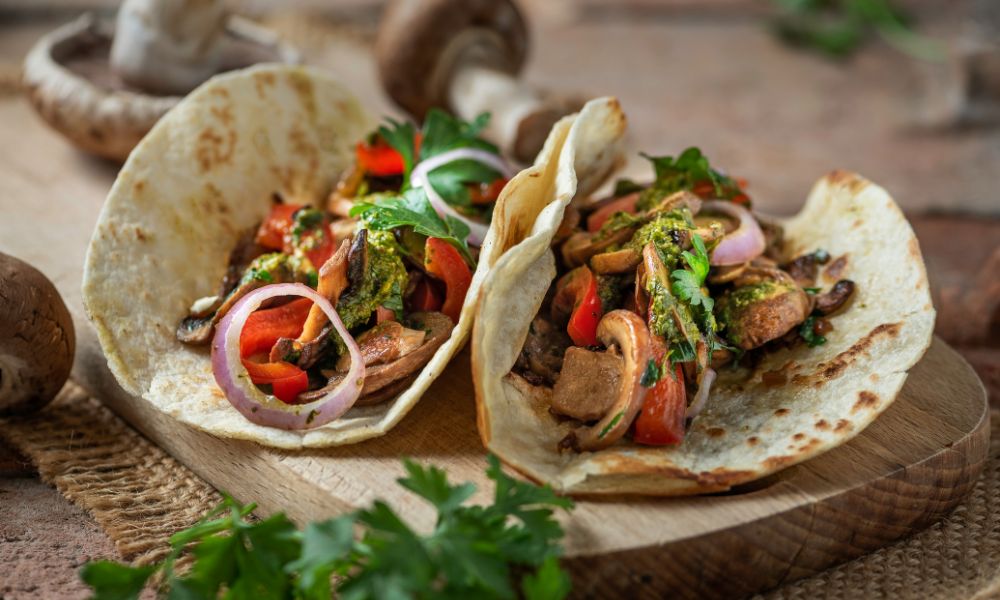 Greek kebabs, or gyros, are often made with lamb, beef, or chicken that has been roasted on a vertical rotisserie spit and is then packed inside pita bread with salad and tzatziki sauce.
In place of the meat in this recipe, the flavorful marinated mushrooms give the meal a meaty feel.
Vegan Worcestershire sauce gives the mushrooms an umami taste, and thyme, cumin, and cinnamon add more flavor to the dish.
So, this recipe is divided into three parts – the pita bread, the mushrooms, and the tzatziki sauce.
Only if you're brave enough to make everything from scratch should you attempt this recipe.
Otherwise, you can always buy store-bought tzatziki sauce and pita bread. 
But that, my friend, won't give you the same satisfaction and flavor as making your own.
Ingredients For The Pita Bread:
500 grams of white bread flour
14 grams yeast
2 teaspoons sugar
1 teaspoon of sea salt flakes
3 tablespoons of extra virgin olive oil
300 milliliters of warm water
Ingredients For The Portobello Mushrooms:
4 to 6 portobello mushrooms
3 cloves of crushed garlic
1 sliced onion
Sea salt and black pepper to taste
1 teaspoon ground cumin
½ teaspoon cinnamon powder
1 teaspoon dried oregano
2 teaspoons of paprika powder
1 teaspoon thyme
1 tablespoon olive oil
1 teaspoon liquid smoke
1 tablespoon lemon juice
1 tablespoon of vegan Worcestershire sauce
Ingredients For The Tzatziki Sauce:
300 grams of non-dairy yogurt
Half a cucumber grated coarsely and drained
1 tablespoon of lemon juice
1 teaspoon sugar
Sea salt and black pepper to taste
1 tablespoon of fresh dill chopped finely
1 tablespoon fresh mint chopped finely
1 clove of garlic, crushed
You will also need the following fresh vegetables as fillings in the gyros:
Sliced cucumber
Shredded iceberg lettuce
Fresh green chilies sliced finely
Red onion sliced finely
Pickled red cabbage
Chopped coriander and dillIf you can't find dill, you can always use any of the best substitutes for dill.
Step-by-Step Directions:
Step 1: Combine flour, sugar, salt, and yeast in a large bowl to make the pita bread.
Step 2: Add the warm water and olive oil gradually as you mix with your hands.
Step 3: Knead the dough for a few minutes with your hands.
Step 4: Put some oil on the counter and knead the dough on this surface for 6 to 8 minutes until the dough becomes soft and non-sticky.
Step 5: Coat all around with some oil, place in a bowl, cover, and leave for an hour in a warm place to rise.
Step 6: Slice the portobello mushrooms into ¼-inch thick slices.
Step 7: Mix in all the marinade mix, coat all the mushrooms well, and refrigerate until it's time to cook them.
Step 8: To make the tzatziki sauce, combine the sea salt, garlic, and cucumber and spread this mixture on a plate lined with a couple of layers of tissue paper to absorb the moisture.
Step 9: In a bowl, combine the rest of the tzatziki ingredients.
Step 10: Now add the cucumber mixed with garlic and sea salt into the bowl and mix well.
Step 11: Check the seasoning, adjust as per taste, and refrigerate.
Step 12: When the dough has risen, knock the air out of it before transferring it to a floured surface.
Make 8 equal balls of dough and roll each one as thinly as you can, leaving it to rest for a few minutes.
Step 13: On high flame, heat a large frying pan.
Add some oil to one side of a pita with a brush and put that side on the hot pan.
Step 14: Leave to cook until the bread begins to puff up and bubbles develop.
Once dark scorch marks have emerged on the underside, turn the pita after brushing the uncooked side with oil.
Step 15: When both sides have browned, remove from the pan and set aside covered by a kitchen towel to keep the pita warm.
Step 16: Heat another pan and add a drizzle of oil.
Add the mushrooms and their marinade, stirring quickly while being mindful not to break the slices.
Step 17: Remove the mushrooms from the pan once they have browned and the marinade has been completely absorbed.
Step 18: When it's time to serve, arrange your own wraps using the pitas, cooked portobello mushrooms, salads, and tzatziki on a serving plate.
07 Portobello Mushroom Pita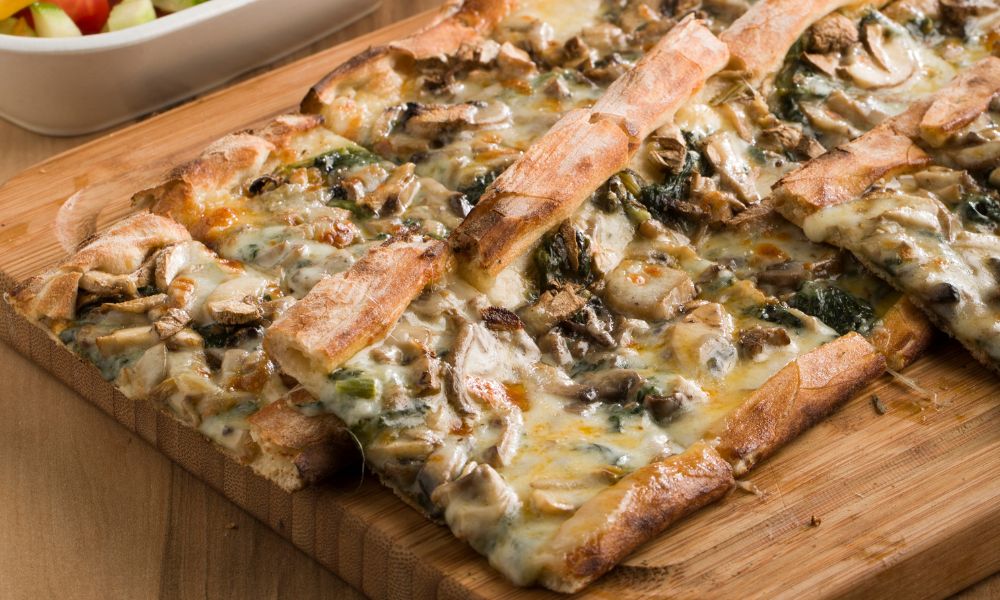 If the previous recipe seems too time-consuming, you can cut to the chase and make easy portobello mushroom pita in a jiffy.
The simple 3-step process is quick – takes less than 30 minutes – but the stuffed mushrooms are full of meaty and umami flavors.
Perfect for a busy weekday or after a long day at work when you don't want to spend a lot of time in the kitchen but would like to have something delicious.
For a vegan version, just order some vegan pita bread, vegan mayonnaise (I love Hellman's), and any other ingredients you need to make the filling.
Ingredients:
About ¾ pounds or 4 portobello mushrooms
4 large whole wheat pita bread
½ cup regular light or vegan mayonnaise
1 clove of finely chopped garlic
¼ teaspoon salt
¼ cup Parmesan cheese, grated
2 tablespoons fresh basil leaves, chopped or you can sub with 1 teaspoon of crushed, dried basil leaves
2 red onions cut into ¼-inch thick round slices
1 medium-sized tomato, thinly sliced
Lettuce leaves
Step-by-Step Method:
Step 1: Combine mayonnaise, salt, garlic, basil, and cheese in a bowl and set aside.
Step 2: If you want, season the mushroom caps and onions with salt and freshly ground black pepper.
Grill or broil the portobello mushroom caps and onions for 8 minutes, or until tender, flipping once.
Step 3: Arrange the pita bread on a serving plate.
Spread half of the mayonnaise mixture on the pita bread and top with portobello mushrooms, tomato, onions, and lettuce leaves.
Then drizzle with the rest of the mayonnaise mix.
08 Portobello Steaks With Avocado Chimichurri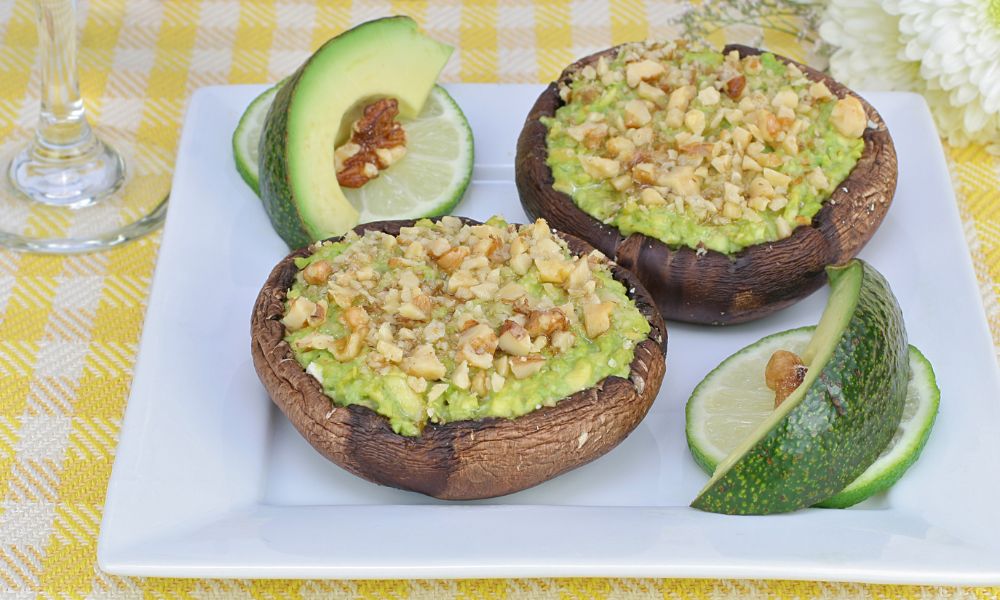 This roasted portobello mushroom in a saucy marinade with avocado chimichurri will make you forget all about beef burgers.
It's an easy, 30-minute recipe that you can whip up in a short time and surprise your friends and family.
And if you're wondering what chimichurri is, well, it's a strong sauce with origins in Argentina and Uruguay.
It usually contains parsley, garlic, olive oil, vinegar, oregano, and red pepper flakes.
You can add other seasonings too and use chimichurri either as a condiment for chicken, fish, or roasted beef steak, or you can use it as a marinade.
In this recipe for serving three people, we will use chimichurri as a condiment.
Ingredients For Chimichurri:
1½ cups parsley, finely chopped
2 to 3 cloves of garlic, minced
1 medium shallot, minced
¼ teaspoon red pepper flake
2 tablespoons olive oil
2 tablespoons lemon juice or red or white vinegar
½ teaspoon sea salt
½ teaspoon black pepper
1 ripe, small-sized avocado
Ingredients For Roasted Portobello Mushroom Steaks:
3 large portobello mushrooms
3 tablespoons balsamic vinegar
2 tablespoons olive oil
¼ teaspoon smoked paprika powder
½ teaspoon ground cumin
½ teaspoon black pepper
3 cloves of minced garlic
1 tablespoon steak sauce (use a vegan option if you want)
Step-by-Step Method:
Step 1: Clean the portobello mushrooms with a quick rinse and use a damp towel to dry and remove any dirt.
Step 2: In a shallow baking dish, place the portobello mushrooms.
Step 3: Combine together the balsamic vinegar, olive oil, cumin, black pepper, paprika, garlic, and steak sauce in a small mixing bowl.
If necessary, taste and adjust the seasonings.
Step 4: Using a pastry brush, coat each side of the mushrooms with sauce.
Marinate each side for 5 minutes.
Step 5: Make the chimichurri by combining parsley, garlic, shallot, red pepper flakes, olive oil, lemon juice, salt, and pepper in a medium mixing bowl.
Taste the dish and make any necessary flavor adjustments by adding additional salt, lemon juice, or red pepper flakes as desired.
Toss in the avocado and set it aside.
Step 6: Heat a grill or a skillet to medium heat.
Cook each marinated portobello mushroom for two to three minutes on each side, or until deeply browned and caramelized.
To add more flavor when cooking, brush on any leftover marinade.
Step 7: Plate the portobello mushroom steaks and top with avocado chimichurri.
Portobello mushroom is not really a vegetable, but a type of fungi.
Mushrooms don't have roots, leaves, or seeds and therefore, cannot be in the same category as a true vegetable.
FAQs
Should I Remove Gills From Portobello Mushrooms?
Although a portobello mushroom's gills can be eaten, most people choose to remove them as they can give your dish a murky appearance, which can be a turn-off.
Some people say that the gills taste bitter.
Others remove the gills in order to get rid of any dirt or debris that might be under them.
Is Portobello Mushroom Good For Weight Loss?
Portobello mushrooms are a nutritious addition to any diet since they offer a lot of important nutrients while being low in calories. 
This is especially true if you substitute them for meat, which is higher in calories, fat, and cholesterol, therefore, making portobello mushrooms good for weight loss.
Should I Wash Portobello Mushrooms?
Yes, it would be best if you washed portobello mushrooms, especially under the cap where the gills can hide dirt.
What Is The Difference Between A Portobello And A Portabella?
There is no difference between a portobello and a portabella mushroom.