So many people (cough, non-vegans) just assume vegan breakfast means a butterless toast with a black cup of coffee. The reality couldn't be far from it.
There are so many amazing high protein vegetarian breakfast recipes that are not only super easy to prepare but can be made beforehand. Plus they are absolutely scrumptious and mouth-watering. 
We thought why not combine our all-time favorite recipes in one place for everyone to enjoy. Food is meant to be shared. 
There is nothing better than a good, hearty breakfast in the morning. So we are starting with the 20 best high protein vegan breakfast recipes for you to try at home.  
20 Best High Protein Vegan Breakfast Ideas 
01. Vegan Breakfast Quesadilla: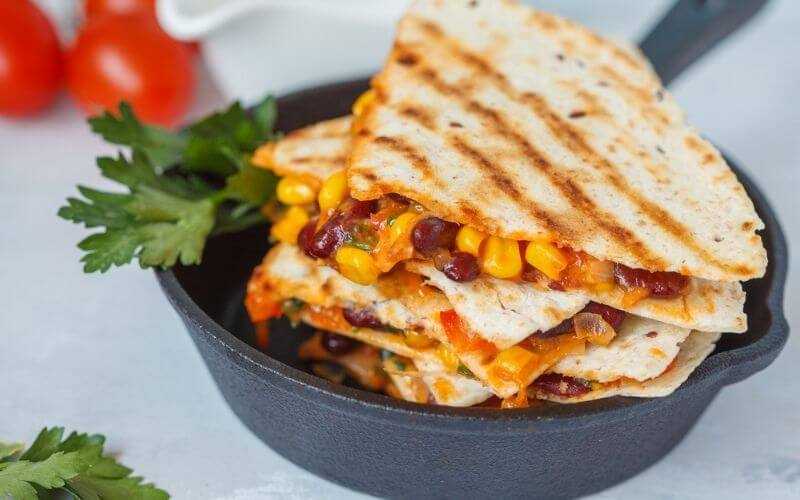 Vegan breakfast quesadilla is a great way to have a simple yet delicious dish in the morning. You get loads of protein from the tofu. 
The scramble tofu is made using a ton of spices that just transform this dish. This veg protein breakfast will keep you full till lunch! 
To make a vegan quesadilla you will need:
Medium-firm tofu
Sweet corns 
Onions 
Turmeric powder
Smoked paprika
Garlic powder
Ground black pepper
Ground cumin
Chili powder 
Sea salt. 
The rest is super easy. Make scrambled tofu using the seasonings and then wrap it up in a quesadilla with some vegan cheese. We love to drizzle some Sriracha sauce on top. And your filling vegan quesadilla is ready to consume!
02. Peanut Butter Chia Bars: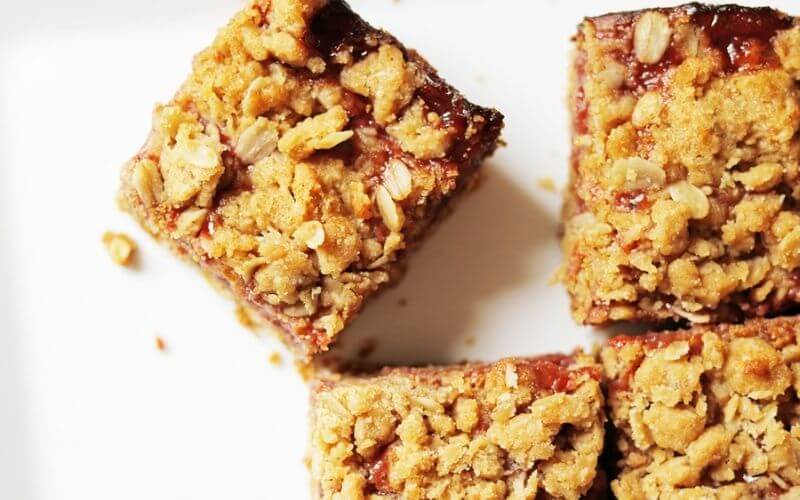 Honestly, this recipe takes only 5 minutes of work to make. It's one of those breakfast items that you can prepare in batches beforehand and enjoy throughout the week. Who says healthy vegetarian breakfast takes a lot of effort? 
To make peanut butter chia bars you will need:
Chocolate powder
Chia seeds
Peanut butter
Water
Vanilla extract
Honey
Chopped almonds
All you have to do is mix these ingredients in a bowl and press them hard to flatten the top. Then using a sharp knife, cut up the bars while it sits inside the container. 
Then let them rest in the freezer for half an hour. And your breakfast is ready! You can make the bars as thick or thin as your choice. Serve them with a drizzle of peanut butter.
03. Root Vegetable Pancakes: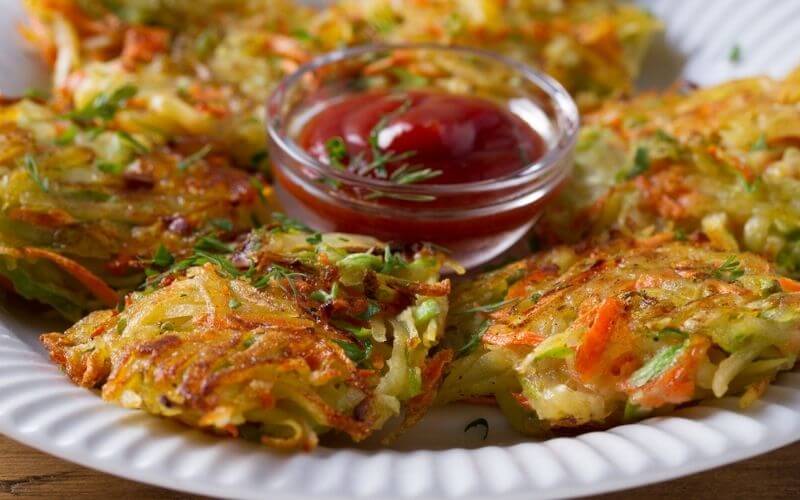 These root vegetable pancakes add a twist to a classic breakfast dish by making it savory and spicy. Well, you can moderate the spice to your preference, of course!
Here's what you need to make some delish root veggie pancakes:
A pack of mixed root veggies
Onion
Chia seed egg
Sea salt
Garlic
Parsley
Chives
Cumin
Chilli powder
Mix the ingredients together and make pancakes on a non-stick frying pan. Let the pancakes cook for five minutes on each side. 
Then top them off with some vegan mayo. This recipe tastes very good and super healthy too! 
04. Vegan Tofu Egg Salad on Toast: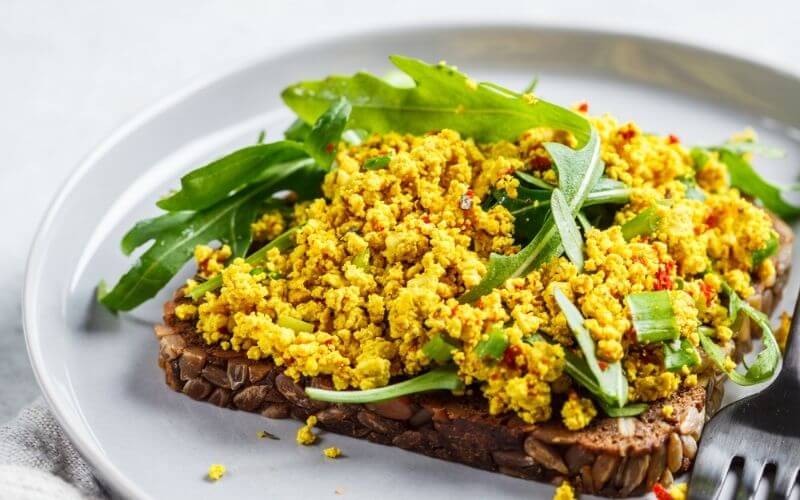 If you miss the simplicity of having some leftover egg salad on toast in the morning, try making vegan tofu egg salad. It has the same texture and looks like an egg salad with a high protein content to give you enough strength. 
Here's what you need to make vegan tofu egg salad:
Medium-firm tofu
Vegan mayonnaise
Nutritional yeast
Yellow mustard
Chopped green onions
Turmeric powder
Salt and pepper
Rock salt
Mix all the ingredients into a large bowl and then add some salt and pepper. Don't forget the rock salt as it smells just like eggs! We don't know what but it just makes the whole experience much more pleasurable. 
You can keep this salad in the freezer for two-three days. So it's a good meal prep recipe for busy weekends. 
05. Super Tasty Berry Bowl: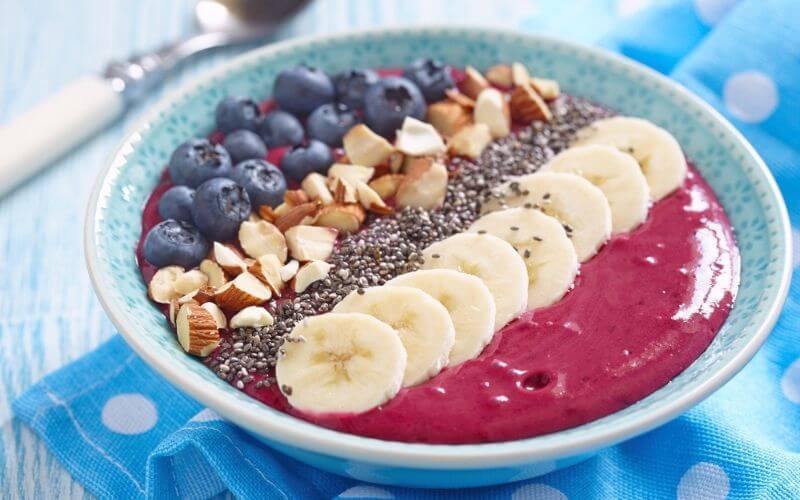 You can find many versions of this on the internet. And all of them are absolutely delicious to eat. If you just mix up some fruit in a bowl it will still taste good. 
So you understand how easy this one really is to make. Make this one for your loved ones and they will be delighted. 
To make a simple tasty berry bowl you will need:
For the toppings:
Homemade crunchy granola
Strawberries
Blueberries
Peanut butter
Coconut flakes
For the Smoothie:
Frozen banana
Frozen berries
Almond milk
Peanut butter
Ice cubes
Pitted dates
Blend the smoothie ingredients to make a gorgeous colorful smoothie. Then pour it into a bowl. Add the toppings in your desired way and then enjoy! 
You can use any fruits or toppings that are available around you. Use seasonal fruit to always have a fresh taste. 
06. Vegan Breakfast Burrito: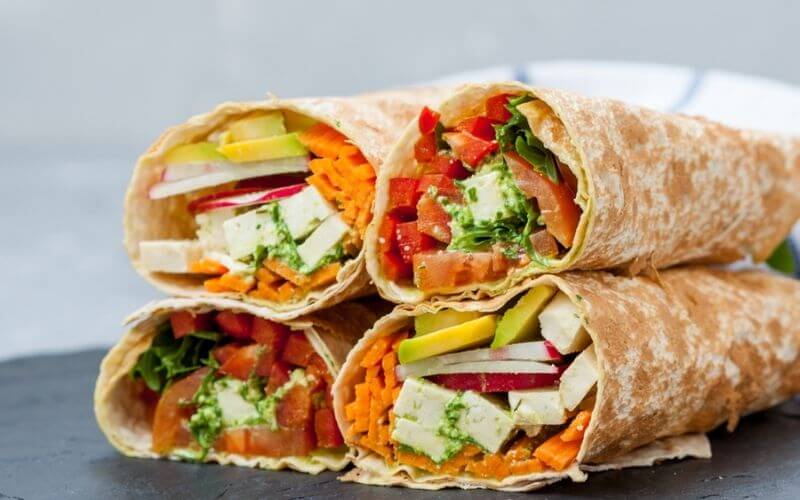 Breakfast burritos make everyone happy. They are easy to carry around and simple to make. Vegan burritos are jam-packed with necessary nutrients that help to increase your stamina for the day. This is a great high protein vegetarian breakfast.
Here's what you need to make a simple vegan burrito:
Extra-firm scrambled tofu
Roasted bell pepper
Roasted potatoes
Hummus 
Enchilada sauce
Roasted cashew nuts
Spicy salsa
Nutritional yeast
Lime juice
Sea salt
Make the scrambled tofu using the seasoning we mentioned in the earlier scrambled tofu recipe. We actually prefer this one over normal burritos any day as it does not require any brands and rice. 
You can obviously add them if you want. But we think that would be too heavy for a breakfast. 
Roast some of your favorite veggies like bell pepper and potatoes. Then add a generous layer of hummus to the tortilla. Then start layering all the aforementioned ingredients. 
Nutritional yells help to give a hint of cheesiness to the burrito. Then wrap it up and enjoy!
07. Roasted Potatoes Breakfast Tacos: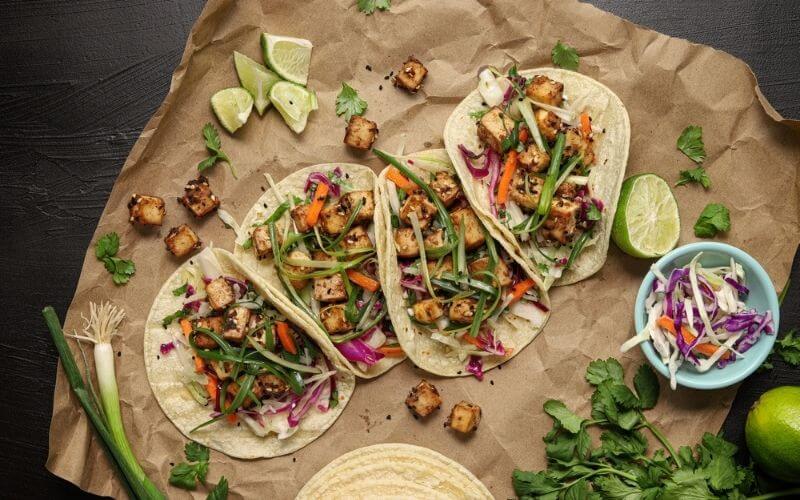 If you are vegan, exploring the Mexican cuisine will help you add many unique flavors and recipes to your diet. They have hundreds of different versions of each dish. Our personal favourite is a classic breakfast tacos to enjoy on the go. 
Here's what you need to make roasted potatoes breakfast tacos:
Roasted potatoes
Scrambled chickpeas
Garlic powder
Fresh rosemary
Salt and pepper
Turmeric
Onion
Garam masala powder
Baby spinach
Purple cabbage
Cook your boiled and scrambled chickpeas in a bit of olive oil and some onion. Add garam masala powder, turmeric, garlic powder, and salt. Cook it until it looks golden brown. 
Then heat up some corn tortillas and add roasted potatoes, scrambled chickpeas, onion, fresh rosemary, spinach, and purple cabbage. Serve it with some hot sriracha and enjoy it with your friends and family. 
Both the potato and chickpeas can be made beforehand so you actually don't have to do much work in the morning. It's a great recipe for Sunday brunch. 
08. Vegan French Toast: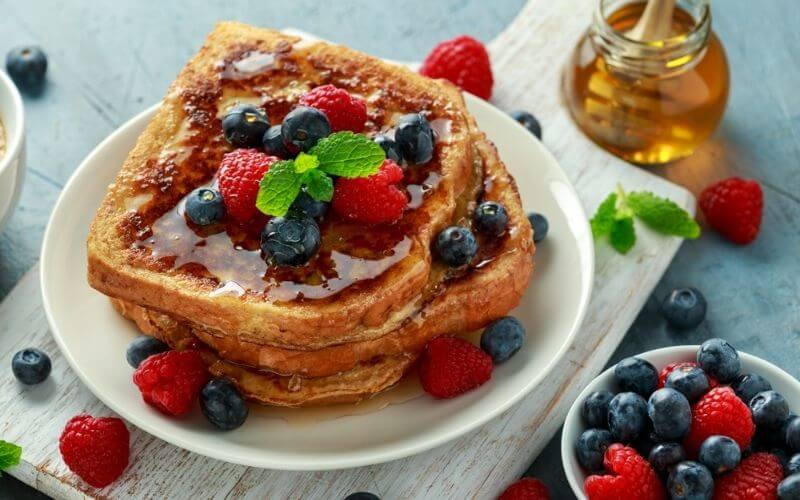 Who doesn't love french toast? It's nourishing, rich, delicious, and finger-licking good! But when it comes to vegan options, people give up too soon. This is a great veg protein breakfast for the sweet lovers. 
We have found a great vegan French toast recipe that only takes 10 minutes to make. Here's what you need for that:
Chia seeds egg
Maple syrup
Almond milk
Cinnamon powder
Vanilla extract
Thick bread slices
This one is pretty self-explanatory. Soak up the chia seeds in almond milk for 10 minutes to make a chia egg. Then add maple syrup, vanilla extract, and cinnamon to it. 
Combine it all together and soak your bread in it. Put the bread in a hot pan and cook for 3-4 minutes on each side until it looks golden brown. You can use vegan butter to fry your french toast. 
09. Tempeh Sausage Gravy and Biscuit: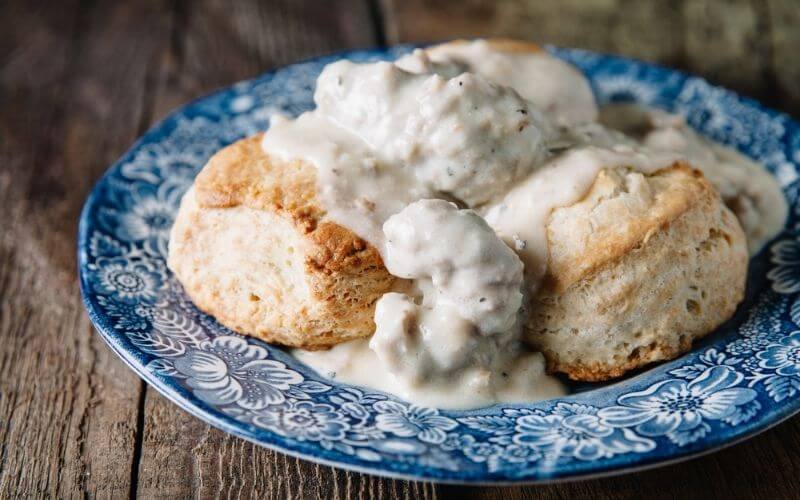 If you have gotten bored with all the typical protein breakfast ideas, try this one. Vegan gravy and biscuits are very wholesome and filling to enjoy on a lazy Sunday morning. There is nothing better than freshly made biscuits with tempeh sausage gravy.
Here's what you need to make it:
For the Sausage:
A pack of tempeh
Vegetable stock
Garlic powder
Onion powder
Dried sage
Dried thyme
Soy sauce
Nutmeg
Salt and pepper
Chilli flakes
For the Gravy:
Vegan butter
All-purpose flour
Almond milk
Salt and pepper
Making it is pretty easy. Crumble up the tempeh and add them to a pan along with the seasonings. Then boil it for 10-15 minutes until the tempeh absorbs all the delicious veggie stock and flavors. 
Then mix in the flour and let it cook for a minute. After it has thickened up a bit, add your preferred non-dairy milk. 
We chose almond milk for its rich taste. Let it simmer for five minutes then serve the gravy with your favorite store-bought vegan biscuits.  
We chose store-bought biscuits over homemade ones because not all of us have time to make it from scratch.
10. Chocolate Protein Smoothie with Spinach: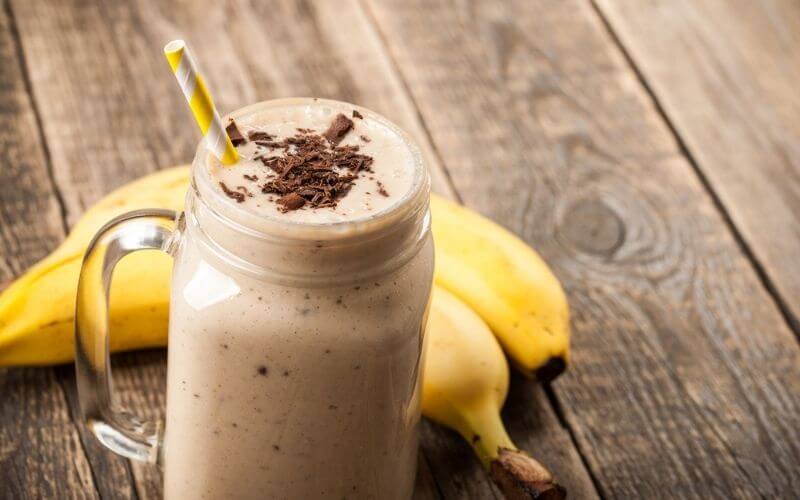 We all love a rich chocolate smoothie in the morning. It's so creamy and heavy yet so comforting and filling. Making them is quite easy too. 
We have picked a banana chocolate spinach smoothie for this one. Trust us, you won't be able to taste the spinach in it. On top of that, it's one of the quickest protein breakfast ideas for when you are on the go!
Here's what you need to make it:
Frozen banana
Unsweetened almond milk
Dark cocoa powder
Vanilla extract
Cinnamon powder
Protein powder
Add all the ingredients to your blender and add ice. You might not need too much ice as we are using frozen bananas. Blend until everything is combined into one smooth paste. It's super easy! 
11. Homemade Crunchy Granola: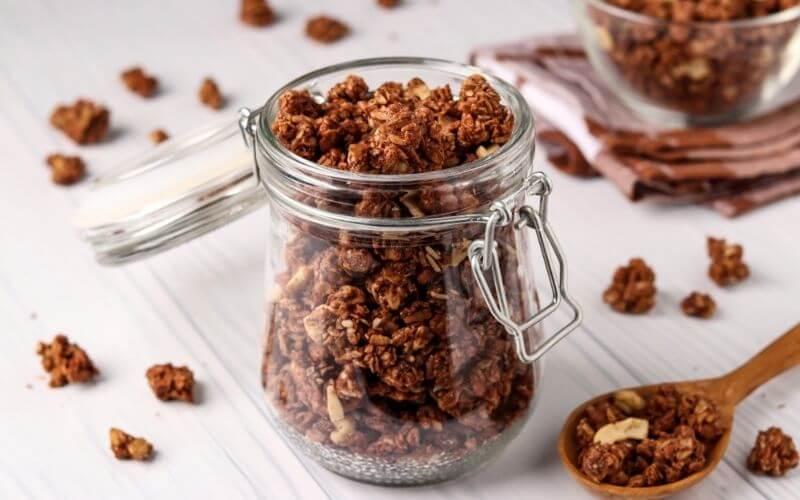 Granolas are a staple breakfast item in most homes. But we thought of adding something to this usual boring breakfast food. Why not make them crunchy which you can prepare in your oven within 10 minutes?
Here's what you need to do that:
Rolled oats
Sesame seeds
Sunflower seeds
Pumpkin seeds
Sliced almonds
Chopped walnuts
Maple syrup
Cinnamon powder
Your preferred dried fruits
Chocolate chips
All you have to do is combine the oats and the seeds into a large mixing bowl. Then add the syrup and cinnamon and stir until everything is well combined. 
Then preheat your oven to 275°F and roast the oats and seeds for 30 minutes. Make sure to stir them up in intervals. 
Bake until it looks golden brown. When the granola properly cools down, add the dried fruits and nuts to it. You can add chocolate chips for extra flavor too. Store them in a  glass container. 
12. Chickpea Flour Pancakes: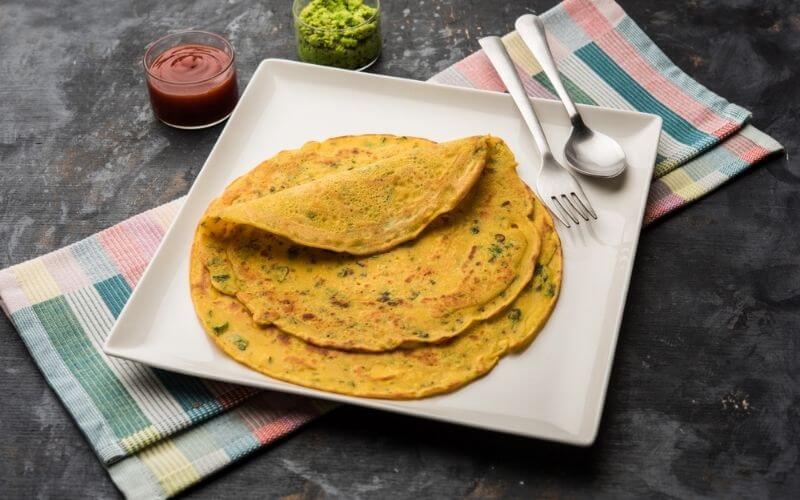 Among all the pancake recipes, this one is something you definitely never tried before. This is an Indian recipe which is originally known as "besan chilla". 
Chickpea flour is a very popular ingredient in south asian and middle eastwern cuisine. It Is gluten-free and rich in nutrients. This is a great vegan protein breakfast dish to make very quickly. 
Here's what you need to make it:
Chickpea flour
Turmeric
Cayenne pepper
Cumin seeds
Chopped red onions
Chopped chilli
Chopped cilantro 
Salt
Mix all the ingredients with water and create a batter just like pancakes. It should be lump-free and smooth. Then drizzle some oil in a nonstick pan and pour half a cup of batter. 
Move it around to spread it into a thin layer. Then cook it on both sides for 3- minutes until it's golden brown. Then serve with some ketchup or homemade chutney!
13. Punjabi Aloo Beans Recipe:
We have another Indian breakfast dish that can be eaten with bread or tortilla. Aloo Beans Sabji is a very common item in every Indian household. 
Here's what you need to make it:
Chopped fresh beans
Sliced potatoes
Turmeric powder
Red chilli powder
Garam masala powder
Dry mango powder
Oil
Salt 
Add some oil to a hot pan and put the potatoes in it. Saute the potatoes for 4-5 minutes and then add your beans. Add turmeric, red chilli powder, and salt to it. Saute both veggies for 7-8 minutes on low flame until they are cooked. 
Then add dry mango powder and garam masala to it. Stir it for a few minutes and serve with some warm tortillas. We promise you, your mouth will water the moment you add the dry mango powder. The aroma fills up the entire house. 
14. Cumin Roasted Potatoes (Jeera Aloo):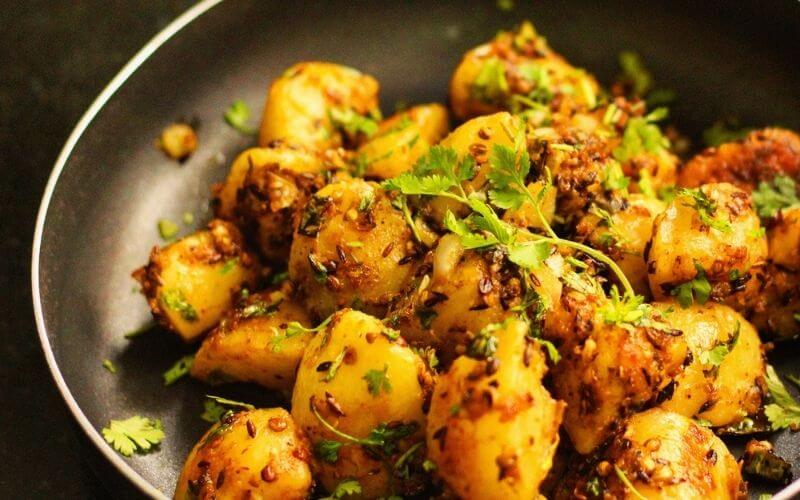 If you are a vegan, Indian cuisine is something you have to explore more and more. They are the best cuisine for vegan and vegetarian eaters. This one is another Indian quick and simple recipe.
Here's what you need to make Indian classic jeera aloo:
Preparation:
Cubed potatoes
Vegetable oil/ ghee
Chopped ginger
Chopped chilli
Hing
Dried mango powder
Dried fenugreek leaves
Coriander leaves
Salt
For Jeera Aloo:
Cumin seeds
Turmeric
Red chilli powder
Coriander powder
Cumin powder
To make cumin roasted potatoes, you first have to boil them. Do not over boil. After they are done, cut them into bite-size cubes. 
Then on a hot pan pour some oil and cumin seeds. Then add ginger and chili to the sputtering seeds and saute for 30seconds. Add hing, turmeric, red chilli powder, cumin powder, coriander powder, and dried mango powder to it. 
Then crush some fenugreek leaves and add them to the mixture. Saute for 2 minutes on low flame. Then add the potatoes to this. Toss them around until all the spices are combined. 
Add a splash of water and cover the pan with a lid.  Cook for 2-3 minutes. And your deliciously aromatic jeera aloo is ready to enjoy!
This vegan protein breakfast will keep you coming back for more for sure!
15. Vegan Banana Pancakes: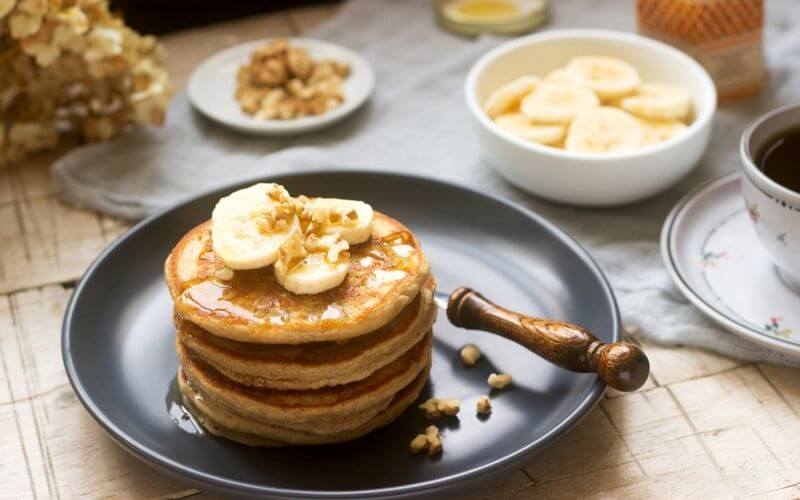 We love a good banana pancake as everyone from kids to the elderly loves them. They are quick and wholesome to eat. 
Here's what you need to make them:
All-purpose flour
Sugar
Baking powder
Salt
Cinnamon
Large ripe banana
Coconut oil
Almond milk
Vanilla extract
Bring out a large mixing bowl and combine all the dry ingredients together. Then mash a  banana and add it to the dry ingredients. Add almond milk, coconut oil, vanilla extract, and mix until there are no lumps. 
The rest is pretty self-explanatory. Add some oil to a pan and pour pancake batter into it. Flip the pancakes when one side is golden brown. 
Then serve with your favorite fruits and maple syrup. It's so good!
16. Cashew Chocolate Milkshake: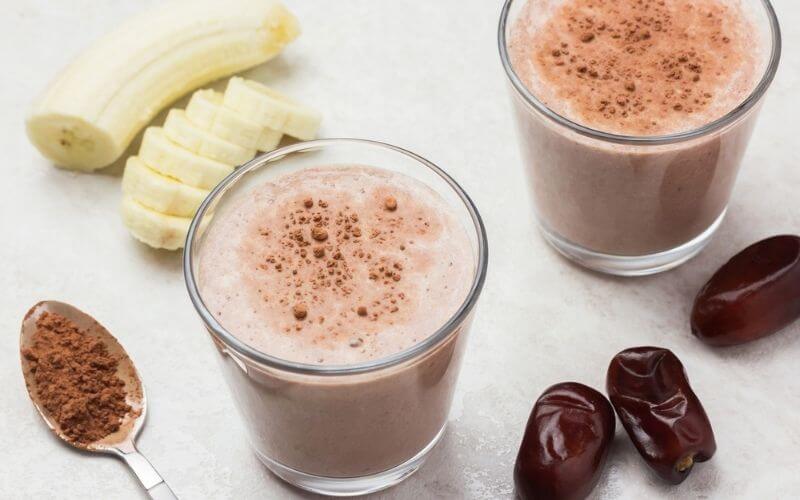 You can call it both a dessert and a breakfast, we don't mind. It's rich in protein and great for you. Who says healthy food has to be all bland and boring?
Here's what you need to make a vegan protein breakfast cashew chocolate milkshake:
Frozen bananas
Unsweetened cashew milk
Dates 
Cacao powder
Blend these three things until it becomes frothy and creamy. You can add chocolate chips to it to make it extra chocolaty too. But we like the simplicity of just three ingredients for it. 
17. Apple Pie Chia Pudding: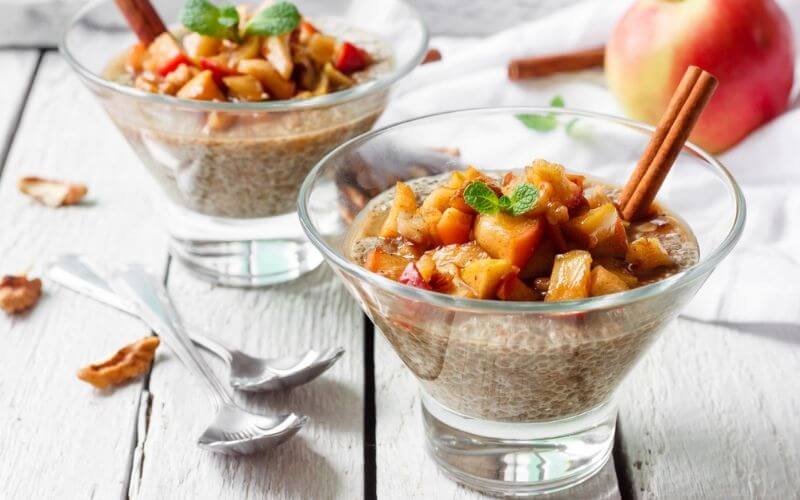 If you have time the night before, you can prepare this for your next day's breakfast in a few minutes. Then the moment you wake up, a scrumptious breakfast waits for you. 
We just love the idea of an overnight pudding. It saves so much time and hassles in the morning. Also its a super healthy vegetarian breakfast option. 
So here's what you ended to make it:
Chia seeds
Brown sugar
Maple syrup
Cinnamon
Grated apple
Graham crackers crumble
All you have to do is mix the milk with all the ingredients except the last two. Then whist until everything is thoroughly combined. Set aside and whisk again after 10 minutes. Then add the grated apple to it.  
After that, let it sit in the fridge for a few hours or overnight. You can set them up into glass containers for better presentation. We like to do it in a small bowl. Who has so much time? 
The pudding will be ready within a few hours. Then crumble some graham crackers and sprinkle them on top. This way you will get graham crackers on each bite. 
18. High Protein Vegan Bagel Sandwich: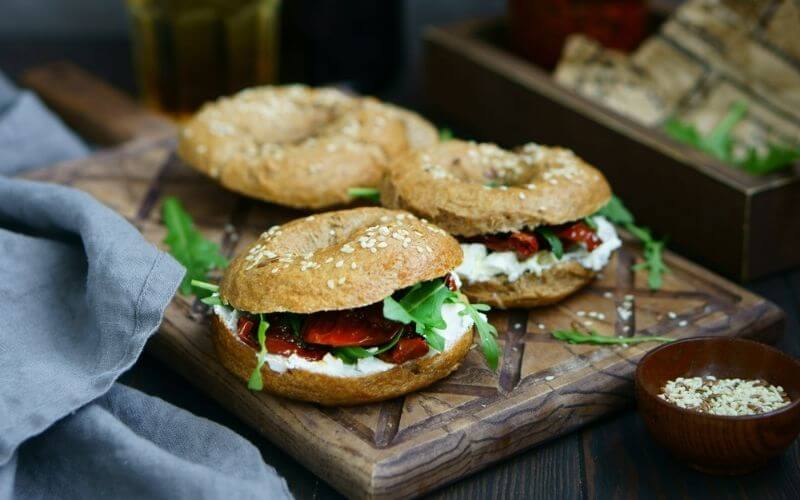 If we could, we would have this sandwich every single morning. It's comforting and filling. And it only takes 10 minutes to make!
Here's what you ended to make this:
Bagels
Black olives
Vegan cream cheese
Basil
Sun-dried tomatoes
Sprouts 
Toast your bagels until they are light golden brown on the outside. Then start building your masterpiece by layering each item on top of another. 
Use the cream cheese as a spread and then add your tomates olives, basil and sprouts. You can add vegan bacon for extra crispiness. You can also swipe the cream cheese for hummus. Learn more about 10 best cream cheese alternatives.
19. Morning Quinoa with Beans: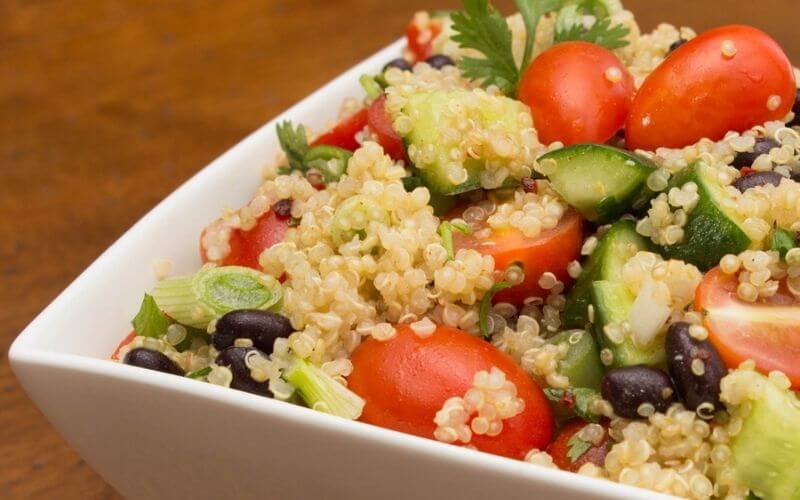 We don't feel like doing too much work in the morning. That's why quinoa is such a good idea. It only takes one pan to make.
Here's what you need to make vegan quinoa:
Black beans
Diced bell pepper
Diced tomatoes
Minced garlic 
Minced jalapeno
Cooked corn
Chilli powder
Cumin powder
Vegetable broth
Quinoa
Salt
Chopped cilantro
Lime juice
Add garlic, jalapeno to hot oil and cook for a minute. Then add all the other ingredients into the pan and stir to combine them together. Reduce the flame and cook for 20 minutes. 
Stir occasionally before serving, add lime juice and cilantro to it. And there you go! Your morning Quinoa is ready!
20. Indian Potato-Tomato Stir Fry: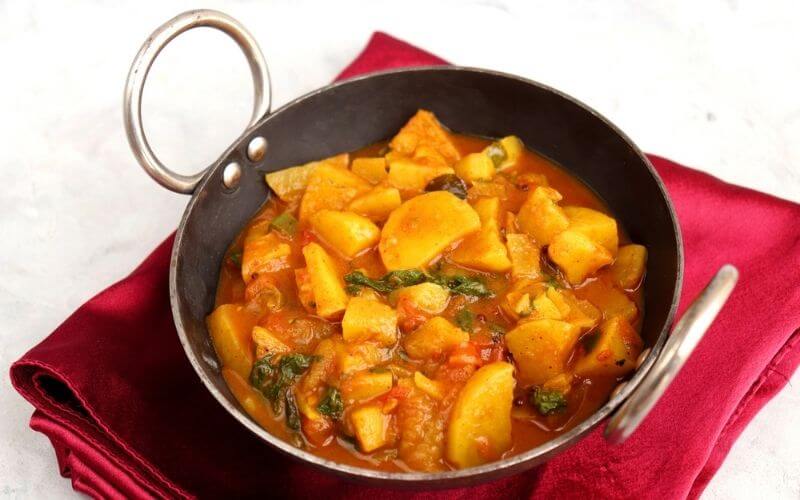 We just had to end with another quick and easy Indian dish. It's called "Aloo-Tamatar ki Sabji" which literally means potato tomato stir fry. 
So here's what you need to make it:
Medium sized potato
Tomatoes
Cumin seeds
Red chilli powder
Salt and pepper
Water
Vegetable oil/ ghee
Chopped cilantro
Rock salt
Boil the potatoes with rock salt until 90% is done. Then peel them and cut them into cubes. 
Add oil to a pan and beat the cumin seeds to fry for 30 seconds. They will start to sizzle. Add the chopped tomato and cook until they become soft. Add chili powder, black pepper and salt. Stir and mix them well.
Then add your potatoes to the mixture and cover with a lid on low flames. Cook for 7-8 minutes until the gravy thickens a bit. Mash a few potatoes with a spoon to mix with the gravy. Then add chopped cilantro on top and serve with warm tortillas. 
You can use this to make Indian-style breakfast burtons too!
Frequently Asked Questions (FAQs)
01. What is a Good Source of Protein for Breakfast besides Eggs?
We associate high-protein breakfast with eggs and bacon. But when you're on a plant-based diet, both of those things are not for you. A lot of people including omnivores and vegetarians don't like the smell of eggs in the morning. 
So what to eat instead? Well, it turns out that plant source has some really good protein-jammed options too. 
Peanut butter, almond milk, protein bars, chia seeds, dried fruits, nut butter are some of the richest sources of plant-based protein. You can incorporate them very easily into your everyday diet.  
02. What Should Vegans Eat for Breakfast?
The vegan diet is high in fiber but low in protein. This can have an adverse effect in the long run. This is why all nutritionists recommend going for a high-calorie and high-protein breakfast. 
This helps to give you enough strength to start the day. If you don't get enough protein, you will be hungry and snack in between meals. This is why people tend to gain so much weight. 
A protein-high breakfast helps to repair and build our body tissues which give us enough fuel to function properly. So a high-protein breakfast is the way to go.
03. What is a High Protein Breakfast for Vegetarians?
Scrambled eggs with buttered toast, quinoa breakfast bowl, smoothie bowls, oatmeal with peanut butter and chia seeds are some of the popular vegetarian breakfast items. 
Unlike vegans, vegetarians eat eggs and milk so their high protein breakfast is not really that different from a carnivore diet.
04. What Do Vegan Bodybuilders Eat for Breakfast?
Vegan bodybuilders eat a high protein breakfast including protein powder and smoothie. There are many different types of breakfast routines for bodybuilders. 
A basic breakfast for a vegan bodybuilder can be banana pancakes, with peanut butter and berries. Then a rich smoothie with soy milk, banana, peanut butter, protein powder, and cashews. 
05. Can Vegans Eat Eggs?
All vegans avoid all types of meat-based products and food. This includes eggs too. 
Technically, a vegan who eats eggs isn't a true vegan. They are known as ovo-vegetarians. Vegetarians tend to consume eggs and dairy but not meat. 
There are some vegans who eat eggs if they are produced from an ethical farm. Honestly, there are many different types. It's not a cult so everyone can adjust to the lifestyle whichever way they want. 
06. Are Oats High in Protein?
Oats are a good source of protein for a vegan diet. It contains around 11-17% of quality protein which is just what you need in the morning. 
As oats are super absorbent, you can pair them with almond milk, some peanut butter, berries, yogurt, and bananas to have a rich high-protein, and nutritional breakfast. It's so easy and quick to make as well!
07. Can Vegans Eat Bread?
All basic bread, by default, is vegan. So of course vegans can eat bread. Certain bred types contain butter, eggs, or honey to enhance the texture and taste. As those items are plant-based, vegans do not eat them 
08. How Do Vegans Get Enough Protein from Their Diet?
There are many great plant-based protein sources available. One of the constant struggles for all vegans is to maintain the daily protein intake. It's so easy for a meat-eater as a simple egg is enough for half a day of protein intake. 
Even though meat and fish are great sources of protein, there are some amazing vegan options too! Vegans get their proteins mainly from these items:
Peanut butter
Almonds and cashew nuts
Tofu
Lentils
Chickpeas
Nutritional yeast
The list can go on and on. Honestly, there are so many amazing options. You can easily reach your daily protein intake.
09. How Can I Eat 50 Grams of Protein a Day?
Protein is very important if you want to maintain a healthy and strong body. But a lot of us often do not care enough to eat it. You can easily eat 50 grams of protein a day. 
Start off with an egg in the morning. Eggs are a great source of protein. For lunch have some grilled fish with roasted vegetables. 
Dinner can be a simple pasta dish with some grated cheese on top. And voila, your daily protein intake has been reached!
10. How Do Vegans Lose Weight Fast?
As vegan diets are rich in fiber, they don't get hungry all the time. Most diets fail because we are constantly hungry. 
If you eat high-fiber food, your stomach will be full for a longer period of time. So with reduced craving, comes reduced food consumption. This results in quick weight loss. 
Vegans also do not eat as much processed food as an omnivore. Processed food contains a lot of sugar and fat. So you might be gaining weight without realizing it!
11. Can You Lose Belly Fat on a Vegan Diet?
Yes, you can. Vegan diet consists of all plant-based items. Vegetables and fruits are just not very high in fat. So you can lose weight by following a proper and healthy vegan lifestyle. 
Vegan diet is more about nutrient consumption than calorie count. As plant-based foods are naturally not high in calories, you can eat a lot and still not gain significant weight. 
The upside to that is, losing weight is comparatively easier in a vegan lifestyle. But if you are trying to gain weight, it's going to be just as tough. 
12. What are the 5 Foods That Burn Belly Fat?
You might think eating and losing weight are totally contradictory to each other. But the truth is, certain foods help to lose weight if you incorporate them into your daily diet. 
They are delicious and enjoyable so you won't even feel like you are trying to limit yourself. The five most effective food at burning belly fat includes:
Yogurt
Green tea
Bananas
Avocados
Citrus fruits

Tomatoes, apples, and kiwi are also great at burning belly fat. They are good at controlling your cholesterol and blood sugar levels too! 
To Close
There are so many fun things you can make for breakfast. And it doesn't even take that long! Hopefully, you found some good high protein vegan breakfast ideas from our list. 
Our goal was to help you brainstorm and see the possibilities of tasty vegan diets. Let us know which one was your favorite!