What if I told you there was a dish that feels rich, yet light and healthy? A dish that is versatile with lots of depth and flavor? A dish that you can have for breakfast, lunch, dinner, or as a snack? As an appetizer or a main?
Nope, I'm not dreaming. I'm talking about hummus. And in this article, you are going to learn about all the things you can pair with hummus to elevate the dish from something simple to much more.
Besides that, we're also going to talk about ways to revitalize a basic hummus recipe and give it fun and exciting twists. So if you want to find out what to eat with hummus, keep reading and become a master at this elegant and well-loved dish!
What is Hummus?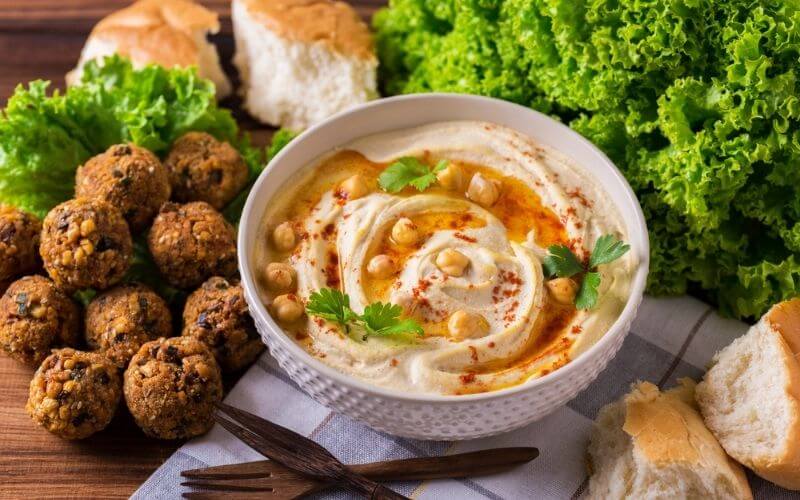 It's funny, but people who are used to eating takeout often ask, 'Is hummus a vegetable?' Many people don't really know what finished dishes are made of. So an introduction to hummus is long overdue. You won't be wondering 'What is hummus food?' after you go through this section.
Hummus is a very old recipe, originating from the Middle East. It is basically a pureed dip, made from chickpeas, and is meant to be eaten with bread. Does hummus have protein? Yes, because chickpeas are a great source of plant-based protein.
Hummus meals are typically made by mashing chickpeas with an acid and olive to form a thick puree that is a rich and creamy dip. In North America, recipes using hummus often add a vegetable or two for added flavor, and you can also find 'layered hummus' dishes as well.
How to eat hummus? Like we mentioned before, it is traditionally eaten with a variety of Middle Eastern flatbread like a pita. People also enjoy eating it with rotis or naan. 
The best chips for hummus are bagel chips, French onion chips, and even crackers. There are lots of other things that pair well with hummus (more on this later!)
Modern renditions have led to different hummus types. You can find hummus made of beans, avocados, and many people even consider Muhammara (roasted walnut and red pepper dip) to be a variant of hummus.
Basic Hummus Recipe
If you want to make classic hummus, this recipe will bring out all the authentic flavors.
What You Need:
3 cups of chickpeas
1/3 cup of tahini
1-2 cloves of garlic
Juice from 1 lemon
Salt to taste
Extra virgin olive oil
Garnish like ground cumin, paprika, or parsley
Instructions:
Make sure your chickpeas are well cooked. Simmer your canned chickpeas (this will only take a few minutes!) If you are using dried chickpeas, soak them overnight and then simmer for 2 hours until well done and soft.

For an extra smooth dip, peel your chickpeas. If you like your hummus rustic, you can leave the peels on.

Add the chickpeas to your food processor. Run it until the chickpeas form a thick, almost powdery paste.

At this point, add the rest of your ingredients except the EVOO. Blend them all together for another 4 minutes. If the paste is too thick, drizzle in a little hot water. Your hummus should have a creamy consistency.

Taste for salt and add extra seasoning if needed.

Serve your hummus in a large bowl. Pour a generous amount of olive oil and garnish with a little cumin or paprika and add a few sprigs of parsley to add color to the completed dish.
What Should I Eat with Hummus?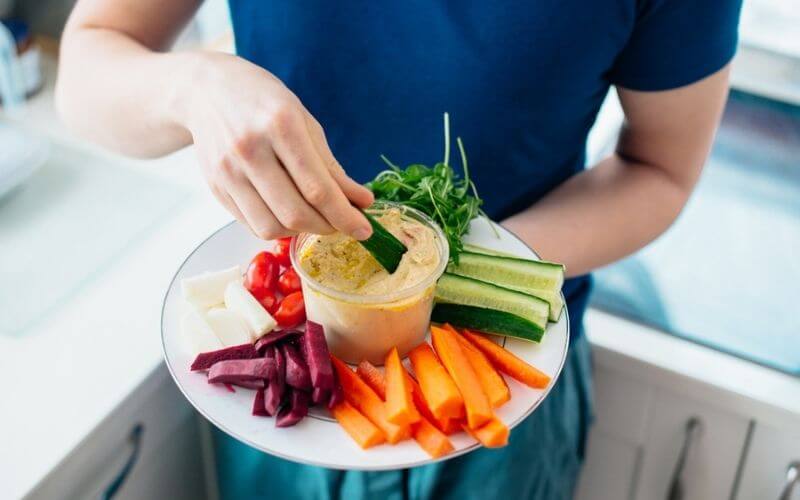 If you're bored of pita bread, you might be wondering what other things to eat with hummus that taste good. What goes with hummus? What's good with hummus? 
The answer is almost everything. Here are the highlights that you can never go wrong with.
01. Use It as a Spread:
The creamy texture and flavor make hummus a perfect add-on to bread. You can use it as a spread on toast for a healthy and filling breakfast. Or, you can use it as a substitute for mayonnaise or to replace mustard in your sandwiches.
It might sound a bit odd, but hummus pairs really well with lunch meats. It is also an easy way to make an easy hummus lunch that isn't boring.
02. As a Salad Dressing:
Plain oil and vinegar dressing get boring soon. Instead, blend some hummus with olive oil, vinegar, and the seasoning of your choice. Voila, you now have a rich and creamy salad dressing that feels luxurious but is quite healthy in reality.
You can also add some hummus to your bowl of kale or chard as an alternative to olive oil. This adds body and won't make your leafy greens soggy and unappetizing.
03. Pair It with Fruit:
Hummus has a mild enough flavor that makes it suitable for both sweet and savory flavors. You can add a little hummus to fruit bowls. It works particularly well with dates, dried apricots, sliced apples and pears, and even with berries.
04. Make Healthy Pasta Sauce:
Lots of healthy pasta recipes use boiled and blended cauliflower to make a thick sauce. Instead, sauté your hummus in some olive oil and thin it out with some pasta water to make a rich, yet low-calorie pasta sauce. Add your boiled pasta and parmesan cheese and you have pasta that won't taste like remorse.
05. Add It to Baked Goods:
Sounds strange, but adding hummus to baked goods makes them softer and richer. Add a spoon or two to replace the fat in things like brownies, carrot cake, or banana bread. 
It adds moisture to cakes and dense breads as well as an earthiness which makes them more complex. The umami also brings out caramel and chocolate really well.
06. As a Chip Dip:
If you want something easy to answer the question of what to serve with hummus, chips are always a safe option. Next time you host a watch party, add hummus to your array of dips. 
You can make chips from stale flatbreads, nachos, regular potato chips, as well as things like crackers, crispy endives, and even fried sweet potatoes.
07. As a Veggie Dip:
Anyone on a diet will know that veggies and hummus are a match made in heaven. Vegetables are the number one among healthy things to dip in hummus. The best veggies to dip in hummus are crunchy things like cucumber, celery sticks, carrots, and even sugar snaps.
If you are into eating well, hummus can also be paired with things like broccoli, grilled asparagus, and radish shavings.
08. In Mashed Potatoes:
I am always on the lookout for ways to jazz up mashed potatoes without adding a pound of butter or heavy cream. One of the best hummus uses is adding creaminess and richness without any extra fat. Add half a cup of hummus to your mashed potatoes for texture and flavor.
09. Add It to Veggie or Buddha Bowls:
If you run out of ideas for what to dip in hummus, use it in Buddha or vegetable bowls. Load up your bowls with slices of vegetables, the protein of your choice, something like quinoa or brown rice, and finish off with a big dollop of hummus. You can also add it to rice-and-meat bowls for added flavor and a creamy texture.
10. Add It to Eggs:
You can use hummus as a filling in folded omelets and deviled eggs. You can also use a spoon or two to finish off scrambled eggs and make them even creamier. If you are vegan, you can instead add it to a tofu scramble.
Variants of the Classic Hummus
Traditional hummus is great, but you might sometimes want to change things up. Here are a few recipes that follow the process of making hummus but with different ingredients.
Red Lentil Hummus:
Red lentils are used instead of chickpeas and add roasted carrots and peanuts for lots of extra flavors. This protein-rich dip is brightly colored and tastes great with a variety of flatbreads.
Beet and Yoghurt Hummus:
Swap chickpeas for beats and you will have a beautiful and eye-catching dip for bread and other vegetables. If you don't like the taste of beets, a combination of Greek yogurt, tahini, olive oil, and lemon juice will transform the vegetable into a creamy lush spread.
Smoky Sweet Potato Dip:
Roasted sweet potatoes make for a smoky and sweet hummus that pairs well with heavy meaty dishes. It is also pretty spicy, thanks to the addition of ground coriander, cumin, chipotle peppers, and chili powder.
Roasted Butternut Squash Hummus:
Roasted butternut squash gives this hummus a rich, velvety texture. Seasoned with just a little chili powder and garnished with sesame, it is mild and ideal for spreading on toast and adding to veggie bowls.
Got More Questions?
Here you will find answers to questions people have about things to pair with hummus.
01. Is Hummus Healthy?
Hummus contains good fats and proteins, so it is a pretty healthy option for all diets.
02. What is Traditionally Served with Hummus?
Hummus is generally eaten with fresh pita, a simple cucumber and tomato salad, and even falafel.
03. What are the Best Seasonings to Add to Hummus?
Spices like cumin, coriander, cayenne, and paprika are good ways to add heat and flavor to your hummus.
04. Can I Refrigerate Hummus?
This dip lasts much longer when stored in a tightly sealed container and kept in the fridge.
05. Can I Eat Hummus with Rice?
A deconstructed rice bowl made of rice, a simple salad, and grilled meat goes wonderfully well with a great big mound of hummus.
06. Does Hummus Have Fiber?
Hummus is a great source of fiber, containing 6 grams of fiber for every 100 grams, which is 24% of the daily recommendation for adults.
07. Does Hummus Have Dairy?
Hummus doesn't have any dairy and gets its creaminess from olive oil and tahini.
To Pack Up
No matter how you like it, it is hard to think of a more versatile meal than hummus. I mean, you can even make chocolate hummus to use as a dip for graham crackers and strawberries. 
It is so flexible and forgiving, you won't be left wondering what to eat with hummus. With all that being said, what do you want to eat your hummus with?