Reheating pulled pork can be a problem. You've made a lot for everybody, and you have leftovers you've got to freeze. But what happens after, when you need to reheat pulled pork and serve it again?
This is where we come in. From the different methods of reheating pulled pork to what recipes you can do with reheated pulled pork, we've got you covered. Let's begin!
What is Pulled Pork?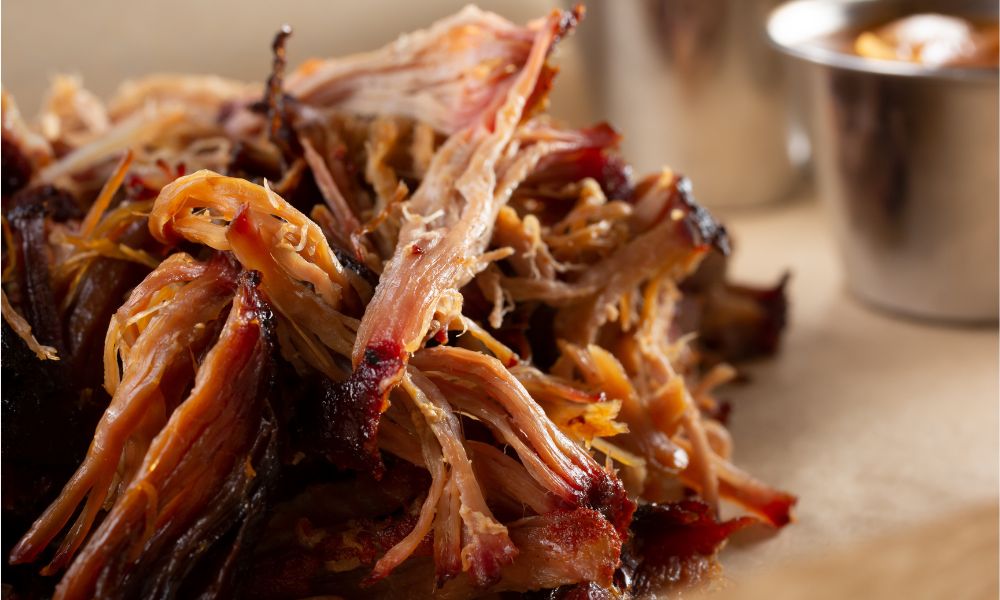 Pulled pork is a popular American barbecue dish most commonly found in the South. The barbecued pork shoulder or pork butt is slow-cooked over wood, before being shredded and mixed with homemade sauce.
If you can't make pulled pork over wood, you can also use a slow cooker, crock pot, oven, or pressure cooker. Using a pressure cooker can speed things up by making the usual 12-hour cooking time be cut down sixty to ninety minutes.
If you haven't experienced this dish yet, you're missing out!
However, if you're on this page, you probably have experienced the wonders of pulled pork — and are now wondering how to keep it warm.
How to Keep Pulled Pork Warm
To keep this dish warm, you can use the following methods:
Keep in a buffet server
Reheat using a microwave
Reheat using a stove
Reheat sous-vide style
Reheat using an oven
Reheating using a grill or crock pot
We dive into how you can keep and heat up pulled pork below. Let's dive in!
How to Store Pulled Pork After Cooking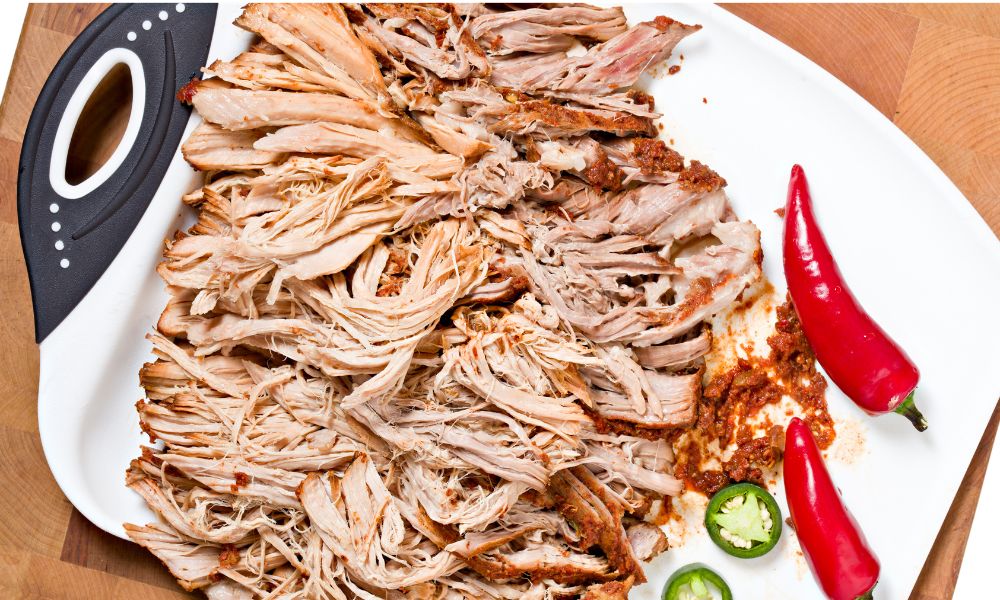 Yay, you've got leftover pulled pork in your hands! Now that you've had your fill, it's time to consider where you could possibly put your pulled pork.
Of course, the fridge is the best method — and for many people, the only option. Refrigerating leftover pulled pork is quite straightforward. You just have to make sure you lock in the flavor.
To make sure the flavor is still present with leftovers, put them in sealed plastic bags or plastic containers.
If you're thinking of having the leftover pulled pork around for longer, you may consider putting it in the freezer. For this, a vacuum-sealed bag or a sealable plastic freezer bag is ideal. If you must freeze it, you should also make sure to wrap the meat in plastic or aluminum foil to keep it around for longer.
In either one of those methods, you have to make sure to compress all the air out to avoid possible spoilage and loss of flavor in your pulled pork leftovers.
How to Reheat Pulled Pork
Okay, so you've had your pulled pork in the fridge for a while now. Now, you want to eat it and share it with your family. How do you reheat pulled pork properly?
There are multiple methods to reheating pulled pork. When you reheat, you don't want the moisture or the flavor to be gone forever! Here are some of our trusty reheated pulled pork methods:
Sous-Vide Style or Hot Water Bath Style
What You Will Need:
Plastic wrap or Ziploc bag
Before you can reheat pulled pork sous-vide style, you should already have the shredded pork in a plastic bag with vacuum-sealing.
You can either use a vacuum sealer or vacuum-seal it on your own to be able to reheat it sous-vide.
How to Do Vacuum-Sealing
To seal it on your own, simply fill a large stock pot with boiling water. Place the pulled pork – or whatever food you need frozen – into a plastic bag. Compress as much air as you can out of the plastic bag.
Close the bag, but leave a little corner unopened as you vacuum-seal it. Slowly lower the bag into the boiling water until you reach the little corner, then close it all the way. This is a way of storing pulled pork that will help it freeze and thaw out properly!
When you lift the plastic bag of pulled pork, the plastic should have molded itself onto the food. If there's still leftover air, try to redo the same method.
Reheating Sous-Vide Style
Okay, so now how do you reheat leftover pulled pork with the sous-vide method?
It's easy. The reheating process takes place as soon as you heat up the water to 170 degrees Fahrenheit. Dip the watertight plastic bag into the pot. Leave it there for at least forty-five minutes so the pulled pork takes in all the indirect heat.
Take out the bag and let it sit for a few minutes before taking the pulled pork out. You'll be amazed to find out that the moisture and flavor has stuck around while it was in the plastic wrap!
Using the Microwave Method
What You Will Need:
Microwave-safe dish
Leftover juices or apple juice
For reheating meat with a microwave, you have to make sure you have a microwave-safe dish first. That's where you're going to place and reheat your pulled pork!
After you have your dish, you put your leftover pork in it. It's best if you have a BPA-free microwave container or even a Pyrex baking dish.
There's only one problem with reheating pulled pork in the microwave: it can dry out quickly. To keep the meat moist, reheat pulled pork with added preferred sauce. It can be the leftover sauce you have for the pulled pork, your own homemade marinade, or even a little apple juice.
Next, set up the right temperature for the direct heat to hit the baking dish. For leftover meat like pulled pork, 165 degrees Fahrenheit should be enough. You need around five to ten minutes until the pulled pork reaches an internal temperature that's good enough to eat!
Congratulations, you've successfully reheated meat in your microwave!
Using a Charcoal Grill
What You Will Need:
Grill
Charcoal
Aluminum foil
BBQ sauce
It might not seem obvious, but you can also use the direct heat from the grill to heat up the pulled pork.
The first step requires you to thaw out your pulled pork. Make sure it's soft to touch! Leave frozen pulled pork at the counter or pop the pulled pork in the microwave to get it to defrost a little.
Next, you're going to have to do a two-zone method. This means separating your grill into two zones: a cool and hot zone. The hot zone has the charcoal and open flames ready to reheat pulled pork.
After you have two zone ready, you can wrap your leftover shredded pork in foil. As you do this, prepare some barbecue sauce with water. Grilling can dry out the entirety of the meat, and you want the leftover juices to stay within the meat.
As much as possible, you want the grill to reach 170 degrees, and later, you want the meat to reach an internal temperature of 165 degrees Fahrenheit. For this, you want to use a meat thermometer.
Leave the cooked pulled pork wrapped in aluminum foil on the cool side. Once the hot side reaches 170 degrees, conduction will allow indirect heat to reach the cooked pulled pork where it is.
Then, you can pull the pulled pork over to the hot zone and let the direct heat side reach the pork. Grill the pork up to 30 minutes before serving. Now you have an added smoky flavor, too!
Using the Crock Pot
What You Will Need:
Apple juice
BBQ sauce
Steaming basket
Reheating food in a crock pot or slow cooker is also easy. Just spread out the pulled pork on steaming basket as you get started! Add the juice or barbecue sauce to keep it as moist as possible.
Using the Oven Method
What You Will Need:
Baking dish
Leftover juices and apple juice
BBQ sauce
None of the other reheating methods can compared to the oven method, which is the best way to reheat your pulled pork.
As you preheat your oven at the warm setting — at 250 degrees Fahrenheit — prepare a baking dish with the pulled pork. Ideally, you have leftover juices, more sauce, or even some apple juice to help in retaining moisture as you reheat pulled pork. You don't want to eat dry meat!
The goal is to have reheated meat that comes out as if they were freshly cooked.
In oven-reheating pulled pork, you bake it until it reaches a certain internal temperature. For this one, it's 165 degrees!
Mix the pork together with the juices, which will keep the pulled pork moist. Add more BBQ sauce after the reheating process, and serve!
Cooking with Reheated Pulled Pork: Top Three Recipes
Pulled Pork Tacos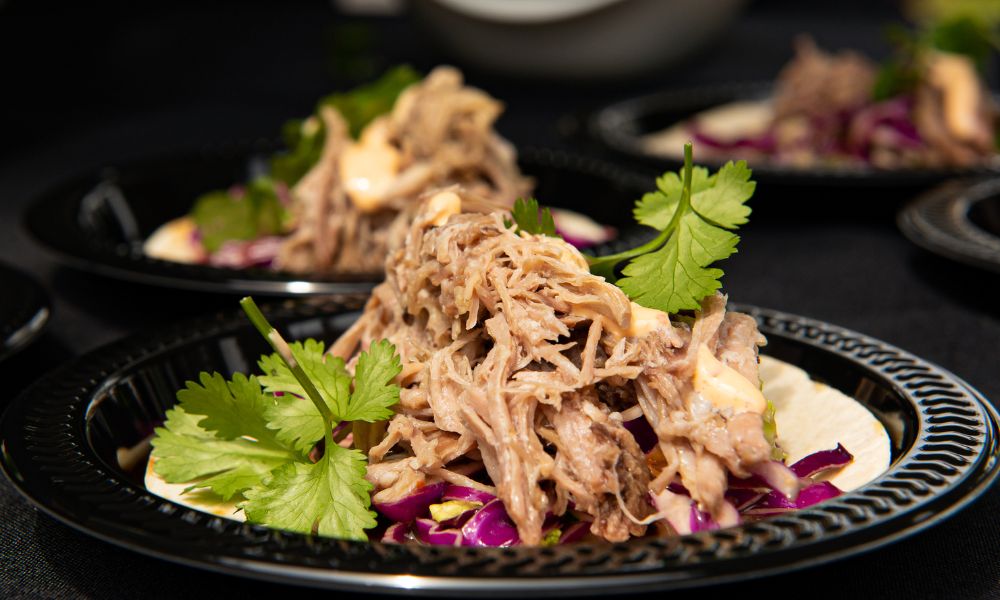 When you reheat pulled pork, add the following:
A cup of prepared salsa
Chipotle chili and adobo sauce
Mix them all together in a crock pot to combine. Coat the pulled pork with some sauce.
Prepare the tortillas. Warm them up before you put in the mixture of pulled pork into the tortillas for ideal serving! You can put your desired garnishes, too.
Pulled Pork Sweet Potato Hash
For this recipe, you just have to use a single skillet! To make pulled pork sweet potato hash, you need the following:
Sweet potatoes
Red onions
Olive oil
Eggs
Salt and pepper
Fresh herbs
You need an oven for this recipe! Preheat it to 425 degrees F. As it preheats, dice the sweet potatoes. It should be enough to cut them into 1/2 inch pieces — the smaller they are, the better, as they will be cooked much quicker.
Dice the red onion. Add some olive oil to the sweet potatoes and stir it in. Cook the sweet potatoes in a cast-iron skillet over medium heat for ten to fifteen minutes.
Add the red onion, season with salt and pepper, then add the pulled pork. Mix it all in together!
Once it's all heated together, make four small holes or indentations before cracking an egg into each hole. Season with salt and pepper.
Now, you can transfer the pan into the preheated oven. You can cook it for around five to seven minutes before garnishing everything with fresh herbs.
Pulled Pork Chili
To make pulled pork chili, you need the following:
Brown sugar
Garlic powder
Salt
Pepper
Chili powder
Cumin
Cayenne pepper
Beef broth
Tomato sauce
Diced tomatoes
Chili beans
Hot sauce
It's going to be a long cooking time for this chili — around 8 to 10 hours! Cook it on low heat. Stir the chili well as your shred the pork with two forks, then serve it right away!
How to Cook Pulled Pork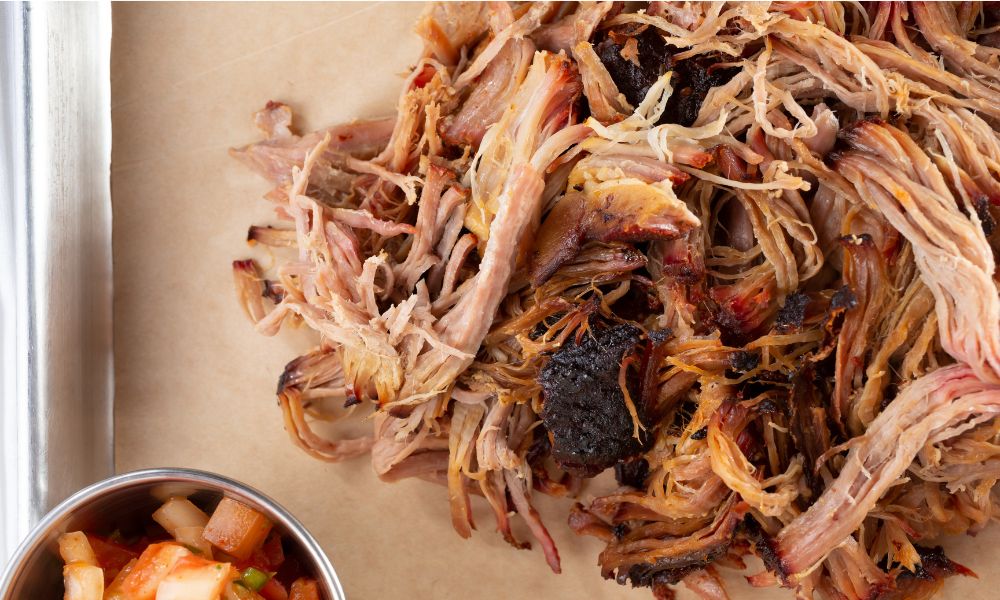 Okay, so now you know how reheating leftover pulled pork works. But how do you cook pulled pork in the first place?
We're here to guide you through the cooking process!
What You Will Need:
Pork shoulder or pork butt
Oil
Sugar
Chili powder
Onion powder
Garlic powder
Cumin
Kosher salt
Black pepper
12 ounces of Coke
Barbecue sauce
The Steps You Need to Cook Pulled Pork
Trim the excess fat
Cut the fat off the meat and then divide it into four pieces.
Prepare the spices
Combine the chili, onion, garlic, cumin, salt, pepper, and sugar in a bowl. Rub it all over the pork you just cut!
Sear the pulled pork
This is an optional step, but you can opt to this to make sure your pulled pork gets cooked! Add two tablespoons of oil into a Dutch oven pot or pan over medium-high heat. Sear the meat for a few seconds on all sides.
Using the oven:
First, you have to preheat the oven. Around 300 degrees F should work fine.
Next, take the Coke and pour it into the Dutch oven. Put the pork in the oven, too. Cover the Dutch oven with a lid and let it cook for up to three hours. After you remove the lid, cook the pulled pork for an additional 1 to 2 hours.
The pork should be tender enough to shred with a fork. Congrats, you've made pulled pork!
Using the slow cooker method:
Another way to make pulled pork is through a slow cooker. Simply put the pork in the slow cooker and pour Coke around it. Cover it and cook the pork on low heat for eight hours, or on high heat for four to five hours.
Using the instant pot method:
Place the pork in an instant pot and pour Coke. For 70 minutes, you can cook the pork butt for manual or high heat. Let the pot release pressure for around fifteen minutes before shredding the meat inside.
Once the meat reaches an internal temperature of around 165 degrees, it should be good!
How Much Pulled Pork Do You Need?
Around four pounds of pulled pork is enough for a dinner! You can adjust the ingredients with the amount of pulled pork you used.
Why Use Coke?
The Coke allows you to have sweetness in your dish, and at the same time, tenderizes the meat. If you don't want to use Coke, you can use root beer or apple cider vinegar and apple juice.
Precautions in Cooking and Reheating Pulled Pork
Avoid freezer burn on food
Freezer burn is common, and you don't want it to happen to your food!
When this happens, a layer of ice forms across the surface of the food. Now, the layer of ice will melt and the food will be completely edible, but the moisture escapes from the food as well. As a result, you have dryer, tasteless food in your hands.
To avoid it, we recommend performing a couple of precautions. First, you have to set your freezer to the right temperature. Make sure your freezer isn't over-filled — or under-filled — to get the right temperature.
Use heat-proof gloves
When handling a baking pan or putting pork in the oven, use heat-proofed gloves in handling these items will help you out a lot! Handling food carefully is a must, especially if you're looking for the best way to reheat and cook food.
If you don't you risk burning and scarring quite easily.
Always Keep Pulled Pork Moist
When you reheat smoked pulled pork, especially when it comes from the freezer, it can be dried out. To keep the pulled pork moist, you can use juice, leftover pork juices, and different marinades and sauces.
Use a Meat Thermometer
When you reheat pulled pork, it's important that you use a meat thermometer. You can also use it during cooking so you're assured that the temperature levels are balanced and optimal! Ideally, 165 to 170 degrees F is good enough for both the cooking and reheating process.
Frequently Asked Questions
What is the best way to reheat pulled pork?
You can reheat pulled pork in the oven for the best results! You have more control over the reheating process and it can come out juicier, too.
How do you keep pulled pork warm for hours?
You can use an oven, crock pot, sous-vide, grill, or microwave to keep your pulled pork warm. However, if you really want to reheat your pulled pork for hours, we recommend using a buffet server like this one.
How long can pulled pork stay warm in a crockpot?
It'll take around an hour for pulled pork to stay warm in a crock pot.
How do you reheat pulled pork and keep it moist?
When you want to reheat pulled pork and keep it moist, you should use different juices or sauces. Pop the pork in the oven and add sauce or marinade before mixing it together!