Do you work long hours and have no time to squeeze in a run to the supermarket? Or are you a student with no room, time, or money to buy fresh produce in bulk?
The solution seems obvious: stick to frozen meals or order in. But that can get boring pretty fast. HelloFresh offers you a welcome alternative. This meal-delivery service sends you fresh and healthy ingredients along with a recipe you can follow to prepare a tasty home-cooked meal.
I found the concept very intriguing so I decided to dig deeper and find out more. This HelloFresh review will look at how HelloFresh works, what makes it different, and why you should give it a try.
Who is HelloFresh Meant for?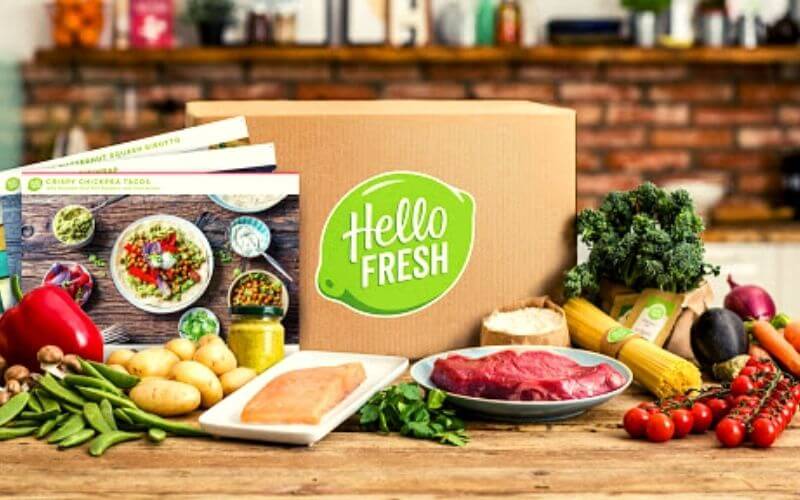 Anyone can sign up for HelloFresh meal plans, but some people will find it more helpful than others. Here are the groups that will find HelloFresh especially useful.
Vegetarians:
Tracking down vegetarian ingredients can be a pain and frozen vegetarian meals usually taste terrible. On the other hand, HelloFresh has a huge range of vegetarian options and recipes that taste good and are nutritionally balanced. These meals can also help you be more aware of all the vegetarian recipes and meals out there.
People Who Want to Learn How to Cook:
Interested in cooking but not sure where to start? Since HelloFresh provides you with the recipes and ingredients, it takes away a lot of the guesswork and speculation that new cooks face.
Also, there are 3 levels of recipes with Level 1 being the simplest recipes and Level 3 being the most advanced, so you can easily choose your meals based on how well you can cook. That being said, Level 1 is perfect for beginners who want a no-fuss meal.
People Who Want to Improve Their Cooking:
Tired of being a novice cook? Want to level up? Level 2 and 3 meals are a little more complex and are a good way to get used to cooking more 'advanced' dishes. While these meals are a bit more complicated, they aren't too challenging and are very doable.
People with Just a Bit of Time:
Many people find the process of cooking therapeutic; a way to unwind after a long day. Others just really prefer the taste of homemade meals over frozen dinners or takeout. Either way, these people usually have enough time to cook, but not enough time to plan a whole meal, buy the ingredients, and prepare them from scratch.
Since HelloFresh delivers the ingredients to your doorstep, this cuts down on a lot of time. Similarly, some of the ingredients are fully or partially prepared, saving you even more time.
Anyone Looking for Convenience:
Ordering from a restaurant can get old fast. But if you want a similar kind of convenience, HelloFresh is your next best bet. Since the ingredients are delivered garden-fresh and crisp, all you need to do is toss them into your fridge or freezer. When you're ready to eat, just take them out and start cooking. Sounds pretty simple, right?
Why HelloFresh is Better for the Environment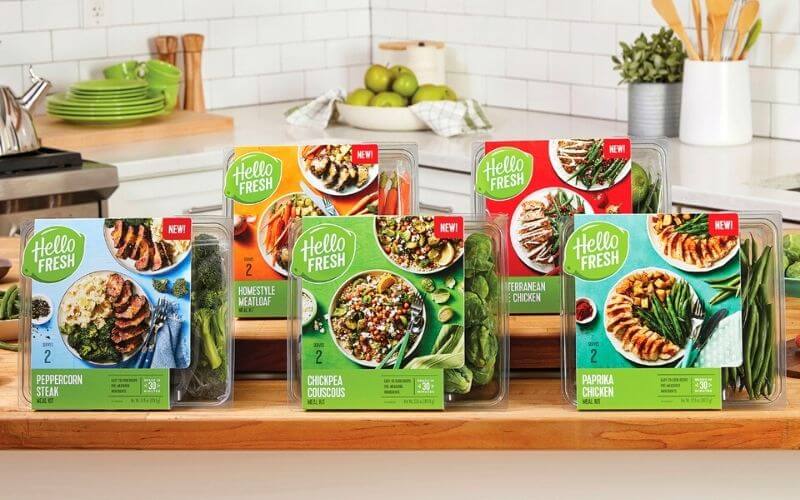 Speedy and convenient cooking isn't the only thing HelloFresh brings to your table. This meal-delivery service also helps you consume more sustainably. Here's how it helps the planet.
It Produces Less Waste:
Grocery stores and franchises are notorious for their wastage. A lot of fresh produce is thrown away or goes bad in these stores. HelloFresh considers producing less food waste a central mantra in their business.
How do they do this? For starters, they portion out the amount of ingredients you need for a meal. This means you won't have any leftovers to discard– and there's less prep for you! Moreover, HelloFresh has a much shorter and streamlined supply chain which reduces the chances of the food going bad or being wasted.
Because of the careful portioning of ingredients and the quicker and more streamlined distribution method, using HelloFresh can reduce your food waste by up to 25%!
It Has a Smaller Carbon Footprint:
Meal kits like HelloFresh have a much smaller impact on the environment when compared to grocery stores and restaurants. This is largely due to the shorter supply chain, minimal wastage, and efficient delivery system.
But there's more! HelloFresh has partnered up with TerraPass, which allows them to offset 100% of their carbon emissions. This includes every level of activity at HelloFresh, from the corporate level to the delivery of your meal kit!
Ethical Ingredient Sourcing:
HelloFresh believes in tracking down their ingredients responsibly. Every step of the ingredient's journeys, from the source to your doorstep is traced and examined. This makes sure the entire recipe is environmentally friendly and ethically produced.
It Uses Smart Packaging:
Instead of using large amounts of wrapping and boxes, HelloFresh uses minimal packaging and boxes that can be recycled. Furthermore, they are always testing new materials to make sure that their packaging is as sustainable as possible.
Meal Plans and Kits:
HelloFresh is amazing because you get to choose the meals that are delivered to your home. There is no guesswork involved, and HelloFresh doesn't randomly select meals from a menu every week.
As a result, you won't have to worry about dealing with meals that you don't like. The fact that you can choose meals that sound good to you from a menu makes HelloFresh stand out from many other meal delivery services.
HelloFresh Meal Plans:
There are two meal plans that HelloFresh is offering at the moment.
Meal Plans for 2 People: This option lets you order for two people every week. This is great if you live with just one other person, or you live alone and would like to get your recipes and ingredients in bulk. With this meal plan, you can choose between getting 3, 4, or 5 meals per week.
Meal Plans for 4 People: This option is best if you want to order meals for a family. The 4-person plan delivers meal kits with enough servings to feed 4 people. You can choose to get either 2 or 3 recipes a week with this plan.
Meal Kit Choices:
Like I mentioned earlier, you can choose the kind of meals you want with HelloFresh. There are 4 main preferences you can select and each area of preference allows you to choose specific meals from up to 20 options on the menu.
Each meal kit comes with a recipe that tells you how to cook the dish, along with the time each meal takes to prepare. On average, the lower level dishes take anywhere from 12 or 20 minutes to cook, while Level 3 dishes can take up to 45 minutes to prepare and serve.
Let's check out some of the menu, shall we?
Meat and Veggies Menu:
This menu contains meals that contain both meat and vegetables. The most popular meals from the menu are the Sweet Chili Pork Bowls with bell pepper and peanuts, served over rice. Besides looking and tasting amazing, it involves quick preparation and easy cleanup.
Other meals you can try out from the lineup include:
Country Chicken & Honey Butter Biscuits— with a side of fresh and crispy coleslaw.
Sweet Heat Shrimp Tempura Bowls– served spicy with sesame-roasted broccoli and pickles.
Cheesy Beef Tostadas – with long green pepper, tomato salsa, and hot sauce crema.
Orecchiette Pork Sausage Bolognese– with parsley and Parmesan cheese.
Veggie Menu:
This menu is meant for vegetarians. While it doesn't have any meat or fish, the recipes here do include ingredients that are derived from animals. People just love the Black Bean & Poblano Quesadillas that are served with salsa Fresca and thick, creamy guacamole.
But that's not all this menu has to offer. Here are a few more tantalizing dishes you worth trying out:
Pasta Parmesan– with zucchini, Tuscan herbs, and tangy marinara.
Greek Goddess Bulgur Bowls–with roasted chickpeas, harissa hummus, and cucumber feta salad.
Garlic Herb Tortellini – with roasted tomato and zucchini.
Roasted Vegetable Paella – with garlic aioli.
Family-Friendly Menu:
The meals on this menu have been designed by professionals so that everyone can enjoy them. Even the fussiest little picky eaters will polish off a plate without any complaints. Whether you need a quick family meal in just 20 minutes, or you want a lavish and delicious dinner, these recipes will have your back!
They include:
Butter-Basted Chicken– with candied-bacon, brussels sprouts, and mashed potatoes.
Penne Limone with Chicken– with zucchini, toasted garlic, and basil.
Southwest Chicken Sausage & Rice Skillet– with salsa Fresca and smoky red pepper crema.
Gouda Pork Burgers – with caramelized Sriracha onion and potato wedges.
Calorie-Smart Menu:
Maybe you're looking to lose some weight. Maybe you just want to eat healthier. Either way, the meals on HelloFresh's Calorie-Smart menu are tasty, light, and filling.
The cherry on top? They don't take ages to prepare and you won't need to count calories or sweat over portion sizes. Take a quick peek at some of these meals right here:
Wasabi Zinger Salmon– served over Jasmine rice with green beans.
Mushroom Ravioli with Kale and Walnuts– in a brown butter crème fraîche sauce.
Creamy Chive Chicken– served with lemony rice and Dijon apple salad.
Balsamic Pork with Figs– and a side of roasted green beans and rosemary-infused potatoes.
How Does Ordering from HelloFresh Work?
Ordering from HelloFresh is pretty simple. There's no long procedure to subscribe and you don't have to jump through a million hoops just to get your food delivered to your door. Here's how it works.
Pick your preferred plan: Select the meal plan that fits your dietary needs and lifestyle.
Register your account: Create your account with your name and email address.
Provide your address: Finish setting up your account by providing your contact details.
Checkout: If you're satisfied with the meal plan and menu for the week, checkout with your cart.
Check future meals: You can also choose the meals you want from the following week's menu.
Meal delivery: Every week you will get your meals from HelloFresh delivered. Along with easy to follow, step-by-step instructions, the ingredients are also fresh and pre-measured.
Cook and serve: Once you start cooking, you'll be done in no time at all. Your meal will be done, piping hot, and ready to serve with minimal prep before and easy cleanup later. And no matter what meal you choose, it will taste fresh and delicious!
So Why Choose HelloFresh?
If the simplicity and convenience aren't enough to convince you to give HelloFresh a try, perhaps these reasons will sway you:
The meals are tasty and designed by professional chefs.
There are hundreds of rave reviews about the meal delivery service and the taste/quality of the meals.
It is easy to create an account and set up your weekly subscription.
Recipes are quick and easy to follow.
You can easily skip a week or even cancel your subscription with no trouble.
Stress-free and convenient cooking removes the need to hit the grocery store.
Huge range of meals that cater to different dietary needs.
Affordable and saves you money in the long run.
Sustainable and environment-friendly with less wastage and recyclable packaging.
Summing Up:
Meal delivery services that let you choose the exact meal you want are rather rare, especially ones that deliver fresh ingredients to your home without flash freezing. But this HelloFresh review made me realize that this brand is unique; their meals are innovative and delicious, their practices are good for the planet, and they aren't overly expensive.
In other words, HelloFresh is a gem among food delivery services and they make cooking convenient and much more enjoyable. You can push aside those frozen TV dinners and replace them with wholesome home-made meals.
HelloFresh deserves all the love it gets. Give them a shot; your dinner table will feel like a cozier and happier place!
More Related Meal Delivery Services: