Are you a workaholic? A go-getter who cannot manage the time to eat, let alone prepare your meals?
It's time to put a stopper to your skipped meals and bring nutrition onboard your hectic schedule.
You have probably heard of Soylent, the chic meal replacement subscription service that has taken the Silicon Valley by storm.
These innovative meal replacement drinks and energy bars claim to be packed with the full spectrum of nutrients we need. Soylent drinks are engineered to replace any meal and meet your nutritional needs on the go. 
Ever since its launch, Soylent has both been showered with praise and met a lot of skepticism. 
Those who root for Soylent view this new generation quick meal as the most effective solution to a busy lifestyle and a remedy for the problems with our planet such as over-population and greenhouse emission. 
On the other hand, cultural critics view this grab and go meal replacement as an end to our age-old habits like eating together and chewing food!
With all these theories at play, we gulped Soylent to answer your most important question- Is Soylent subscription worth it?
Let's find out with this all-inclusive Soylent review.
Soylent's SciFi Story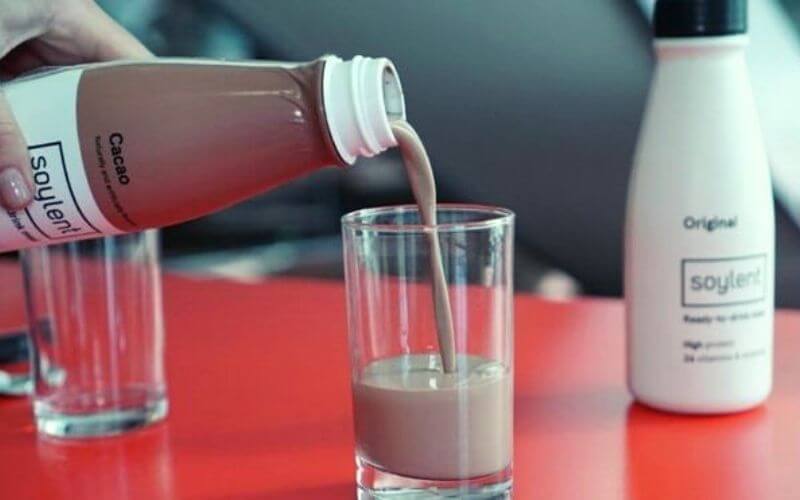 Named after a term coined in a fictional novel, Soylent is a total food replacement that aims to be the next generation of food for humans. 
In Harry Harrison's 1966 Novel 'Make Room! Make Room!' soylent is described as food made of soy and lentils. It was then depicted in a movie named "Soylent Green" where the issue of food shortage and overpopulation saw a dramatic representation. 
Highly inspired by this and bothered by the fact that preparing and eating food is a 'time-consuming hassle' for live wires like him, software engineer Rob Rhinehart set out to solve this problem. 
The result is a food subscription service that has snatched the attention of the world, both offline and online. After succeeding to become the most crowdfunded projects ever accomplished, Soylent went to production in 2014.
This SciFi turned reality has been serving people ever since with its follower community growing every passing day.
Soylent Products at a Glance
Soylent Drinks:
Twist, drink, and enjoy! And your dietary needs are covered. The deal with Soylent drinks is that simple.
These are nutrient-dense and are available in various flavors including creamy chocolate, banana, vanilla, and strawberry. 
If flavorings don't attract you, you can try Soylent Original. We, on the other hand, fell for the Cacao. It's not the yummiest drink ever, but it sure tastes better than its siblings. 
Soylent Cafe drinks are also quite popular and are available in three forms- Cafe Vanilla, Cafe Mocha, and Cafe Chai.
If you are new to Soylent, it's best that you pick their variety pack and taste all their variants. This way, you'll know which one suits your taste the most.
Soylent Powder:
Soylent powder enables you to nourish your body with nutrients equivalent to a complete meal. That too, in less time than it takes to boil water. 
All you need to do is scoop, shake, and gulp it down on the go.
These powders are available in two flavor profiles- Original and our favorite, Cacao.
Soylent Stacked:
Formulated with 39 essential nutrients and 15g of plant proteins, Soylent Stacked is one of the most complete energy drinks you'll find in the market these days. 
In addition, it is enriched with nootropics to help your brain function better. 
Again, this variety of Soylent is available in many flavors, but the Stacked Chocolate is the most celebrated so far. 
Soylent Squared:
This is the only Soylent that you get to chew. 
This 100-calorie on-the-go energy bar contains 36 essential nutrients, 5g of plant proteins, and probiotics for a good gut and health. 
These mini-meals are available in two flavors- chocolate brownie and citrus berry. You can also try the sampler 9 pack and the variety pack.
What is Soylent Made of?
Soylent premixed beverages and powders are made of plant-based ingredients. 
Each drink provides about 400 calories of energy and completely meets your macronutrient needs. 
Soylent covers about 20% of your micronutrient requirement. So, if you are planning on an exclusive week or month on Soylent alone, we suggest you take additional supplements for your micros. 
Each serving of Soylent contains a significant proportion of dietary fiber that benefits your gut health and makes you feel full and satiated. 
Soylent ingredients are a little off-beat, as they don't really sound like food. But don't get worked up on this. These formulations are legit and FDA approved.
Even then, if you want to know what you are paying for, these are the major ones among 31 basic ingredients of Soylent:
Oat Flour
Maltodextrin
Rice protein
Canola Oil
Fiber
Potassium gluconate
Sodium
Iron
Zinc and
Chloride
Other specific ingredients such as vitamins, nootropics, and probiotics are also used to enrich their products. 
Is Soylent Sufficient to Fuel Your Life?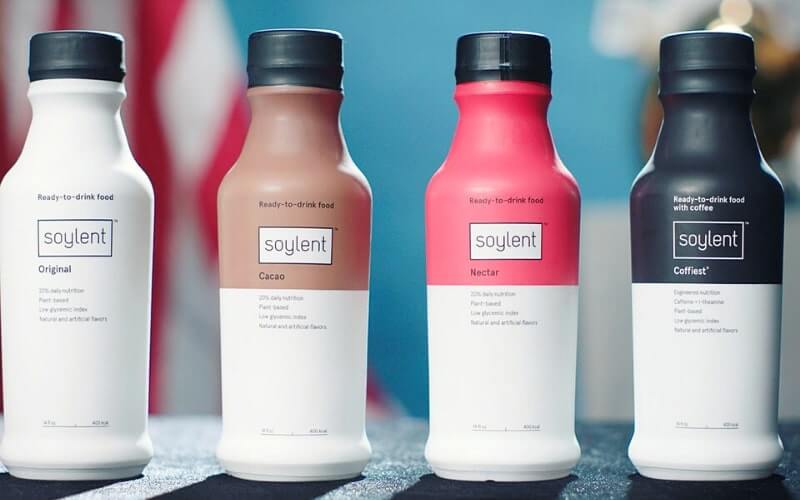 Technically, yes. Ideally, no!
Soylent is a vegan meal and every serving of pre-made drink or shakes supplies about one-fifth of your daily dietary needs. 
These contain abundant amounts of protein and fats. However, these fats are 'good fats' and devoid of cholesterol. 
The carbohydrates content is relatively low and most carbs are dietary fibers. A wide array of vitamins and minerals are also packed inside a Soylent bottle.  
An article published in The Atlantic states that Soylent is healthier and more nutrient-dense than the average North American diet.
Many Influencers have tried living on Soylent alone for a week or a month to produce honest Soylent reviews.  They survived, so we guess, Soylent is, in fact, capable of fuelling us.
Having said that, we think living on Soylent alone is probably not a great idea in the long run. Nutritionists and Gastroenterologists advice against it. 
Soy and maltodextrin, the pivotal components of soylent are known to be irritable for some people's gut. 
Besides, we still think that completely removing traditional food from our plate needs some getting used to. 
We, therefore, replaced some of our meals with Soylent every day. The meals that we generally tend to skip, that is. 
Within a week, we did notice a positive change in our lifestyle. 
We were not over-indulging after intermittent periods of starvation, our mealtimes became more 'regular', and we felt more energetic. 
Moreover, we were relieved of the constant headache of looking for food at times when our work demanded our undivided attention. 
How Soylent Subscription Works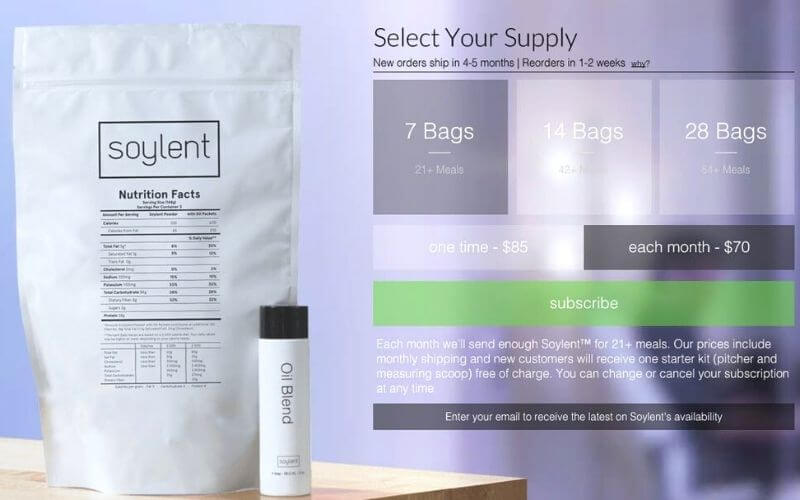 You can either buy Soylent on a one-time basis or sign up for their monthly subscription. 
Subscribing to Soylent is easy.
Everything from the Website to your doorstep is as quick and convenient as it can get. When it comes to service, this meal replacement company earns full points on our book.
Signing Up:
The first step, like any meal delivery service, is signing up. You can get started by visiting their website. 
Choose the Soylent product/products you want and let them know how many bottles or packs you want in your crate. 
Pick a preferred date of delivery. You will get your Soylent goodies efficiently delivered to your doorsteps on that date.  
Shipping is free.
Gulping Down:
Drink up your Soylent according to your convenience. Soylent has a long shelf life and doesn't need refrigeration until a pack has been opened. 
So you can take your time and use Soylent to refuel whenever you require to. 
Swapping Products in Your Crate:
Soylent subscription is highly flexible and does not demand that you stick to one plan. 
Every month you can swap products in your crate, add more products, or remove some. You also get to customize the number of bottles you want depending on your previous month's consumption. 
You are delivered what you ask for. Nothing more, nothing less.
Pausing or Canceling Subscription:
In case you find yourself away on a vacation or simply realize that the crate that arrived last month is still sufficiently loaded, you can pause your subscription without any fuss. 
Pausing Soylent subscription is allowed for as long as 8 weeks. That's long enough to finish up your previous crate.
Canceling Soylent Subscription altogether is a no-brainer as well. You can cancel anytime you want, no questions asked.
Is Soylent Tasty?
Not delicious; not too bland either. 
Soylent drinks are more of an acquired taste and are way better than many plant-based health drinks out there.
The first product in line demanded some improvisation in terms of taste. Soylent then took up the challenge of coming up with new flavors now and then. 
Flavors such as nectar and mint chocolate are fine enough for your taste buds but it's better not to expect delicacies here. 
Is Soylent Affordable?
Soylent is affordable. The cost varies depending on whether you are a subscriber or not.
The drinks cost about $2.69 to $3.25 per bottle and the powder costa from just over $1.50 per serving to just under $2.70. A few months ago, the price of their 7-pack powder dropped to $1.50/meal for the subscribers.
So, as you can see, the subscribers get to enjoy Soylent at the lowest price. 
SoylentForGood: What is Soylent Doing for the Planet?
Fears of an unsustainable planet have been the driving force behind the Soylent initiative. Hence, Soylent always walks the extra mile when it comes to doing good for mother Earth.
Soylenteers claim that turning to Soylent benefits our environment in several ways: 
It is sourced from plant protein and unlike livestock, this emits less carbon dioxide into the environment. Thus, a soylent diet decreases your contribution to global warming. 
Year-long shelf life means that food wastage is cut down to almost zero.
Less water is needed to produce Soylent, hence less water is wasted.
However, the policy that earns our praise is their #SoylentForGood project. 
As a part of this initiative, the company has so far donated 3 million meals to the homeless and needy through different food banks and organizations. 
Claps.
Pros of Soylent:
There are numerous great things about Soylent. We jotted these down:
Soylent is a quick solution to your regularly irregular and skipped meals.
Complete nutrition in a bottle.
Zero sugar.
High in good fats and proteins.
High in dietary fiber
Takes the burden of planning every meal away from your plate
Bridges the nutritional gap that busy life brings
Affordable
Eco friendly
Cons of Soylent:
Nothing is perfect. Soylent isn't an exception. Here are the cons that e noticed:
It contains more fat than your body needs.
How 'healthy' Soylent is a debated issue.
Ingredients like soy and maltodextrin are not equally tolerated by everybody.
Not ideal for weight loss.
Cultural critics claim that it can take the habit of communal meal times away from us.
Our Final Thoughts
After gulping down numerous bottles for this Soylent review, we found ourselves in the middle ground. 
We liked Soylent but could not relate to the Soylenteers who preach that ditching all meals for Soylent is the right thing to do. 
We didn't find ourselves among the haters either. Frankly speaking, there isn't any reason not to appreciate Soylent for its great work. 
Soylent beverages, powders, and energy bars are a great way to bridge the nutritional gap that we Millennials suffer due to workload and irregular lifestyle. 
It is a lifesaver for many of us who would have skipped meals or settled for a granola bar without it. 
Soylent has successfully managed to pack all our dietary requirements in one bottle and redefined the concept of grab and go nutrition.
Moreover, affordable pricing, top-notch service, and a high degree of flexibility earn it a spot among the top meal subscription services in 2020.
To answer your question, Soylent Subscription is worth every penny. And if you are thinking of giving it a go, don't wait up!
Grab a Soylent, and go!
More Related Meal Delivery Services: