Today, I'm going to give you an update on the battle of Sun Basket vs Purple Carrot.
These two meal delivery services have rapidly taken their places in the hearts of healthy eaters. With their fantastic meal plans, they cater to everyone but in a healthy way.
I do not touch up on any deeper insights here. Rather, I stuck to my experience with them and how each one left me impressed.
Trying both of them, I've picked out the different plans of them both and jotted them down for you. What you can do is go through each and figure out what works best for you!
Enough of blabbering, let's get started!
Sun Basket vs. Purple Carrot: A Brief Introduction
Sun Basket lets you work on your own preferences and mix and match the ingredients. With their immense number of recipes, you can choose any amount to match the number of people to feed. Their priority with this type of service is to bring a diverse organic menu at your doorstep!
Purple Carrot also works to bring healthy food to you, but they are only plant-based. They have specialized meal kits for both vegans and non-vegans. After taking a look at their meal plans, anyone would start having a liking for plant-based food!
Which Meal Plan to Choose?
There's really no right way to go when choosing either meal plan because they are made for different audiences. Let's kickstart with Sun Basket that offers a variety in their meal plans for both vegans and non-vegans.
Coming with two menus, namely the Classic and Family, Sun Basket has options for everyone. The Classic menu presents you with two or three recipes per week to feed two to four people at max. While the Family menu features three to four recipes per week, for four people at one go.
Purple Carrot did not slack off with their meal plans as well and comes with three varieties of it. The first two are known as High Protein and Quick-and-easy, which are exactly what the names state. While the Chef's Choice is for people who want a more elite dining experience with the best gourmet plant recipes!
For the more active individuals or athletes, Purple Carrot offers its special TB12 Performance Plan. With high-protein meals that are both soy and gluten-free, this meal increases the metabolism rate!
Is There Only One Kind of Cuisine?
Most people tend to think that healthy foods do not have many varieties or flavor distinctions, but you'll not go towards that thinking once you see what these two have to offer!
Be it soy-free, dairy-free, or lean and clean meal, Sun Basket has got you covered in every basket. All you have to do is search for your favorite plans and get to satisfy your stomach!
Sun Basket claims to take their inspiration from the Thai, Italian, Vietnamese, Mediterranean, American, and Mexican cuisines, so you already know you're in for a treat!
Within half an hour of placing an order, the meal will be ready to serve. If you want to cook them by yourselves without the hassle you can choose from their easy-prep or one-pot recipes. Along with the dinner meal, they give you the option of getting 5-minute salads, signature sauces and dips, and veggie snacks available as add-ons.
Meanwhile, on the other side, Purple Carrot doesn't only keep you full only during dinner but also in breakfast and lunch. Although it comes with three meal plans, the company offers you with Moroccan, Chinese, Italian, and Spanish cuisines within those.
Here's the best part…
They don't only contain leafy greens! These meals come with veggie stews, grain bowls, quesadillas, pastas, and even risottos. Talk about switching to a vegan lifestyle!
A Snippet of the Nutritional Value in the Meals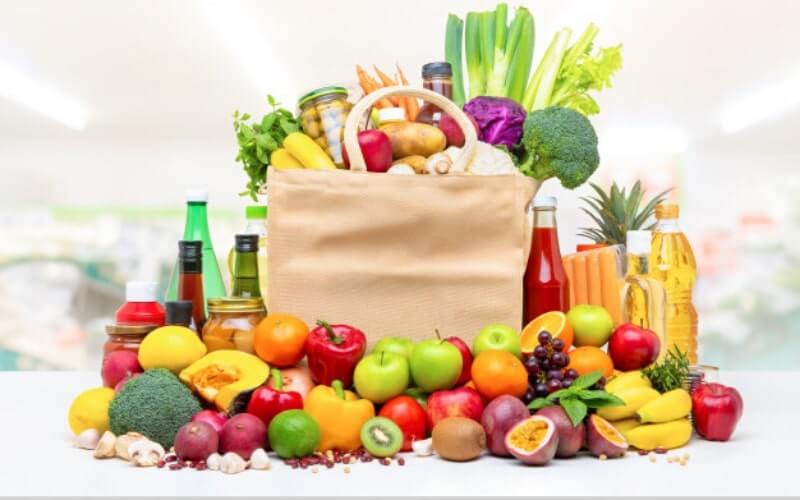 I didn't go on a full research of the nutritional value of both, but I do have a rough estimate for you. Sun Basket should, on average, have a calorie 550 to 800 per meal, making it a good deal for most adults. All of these are tested by their in-house nutritionist and consumers have loved them!
Balanced with just the right amount of healthy fats, lean proteins, and complex carbohydrates, Purple Carrot has the same number of average calories per meal. They don't mention anything about getting these tested professionally but so far, I'm satisfied with them!
What about Quality?
The ingredients I received from both the companies were topnotch. Nevertheless, only one amongst them was transparent about the source of their ingredients.
And that one is…
Sun Basket!
According to their claim, all their items are sourced from sustainable farming lands. The network of fishermen, farmers, and fresh produce growers are all trusted by them and tick to responsible and eco-friendly methods of farming.
On the other hand, Purple Carrot is yet to reveal the sources of their ingredients. Even then, almost all the food I received from them was in excellent condition. However, you can occasionally find one or two vegetables that rot within two days even after being kept in the refrigerator.
Where Do I Sign Up?!
If all the healthy talk so far has inspired you to try out the websites, then here are some quick steps on how to sign up for each.
Signing Up for Sun Basket:
Select the type of plan: Classic or Family.
Click on get started and you will be redirected to the signup page.
Enter the necessary information to create your account.
And you're ready to start ordering and making payments.
To Cancel:
Customer Service: The first method we recommend to cancel your order is to contact the customer service and get familiarized with the process. They will direct you on how to do that and trust me, they are patient!
Online: If you're not too keen on contacting customer service, hover to the FAQ section on their website. Once there, click on the link under "manage weekly deliveries", and fill out the wanted information to get started with the cancellation process.
Signing Up for Purple Carrot:
Go to the website and look out for the signup option at the top right corner.
Enter email and password or simply sign in with Facebook to create your account.
That's all you have to do to start ordering.
To Cancel:
Go to your account settings.
Click on the change link option.
Over there you can either cancel your current delivery or the subscription.
Quick Look at the Pros and Cons
Before making your final choice, here are some more pointers than I thought will be helpful.
What I like about Them:
| | |
| --- | --- |
| Sun Basket | Purple Carrot |
| Gives more variety that kids can enjoy as well. | Shows that plants can be tasty as well. |
| Recipes are given for the full week in the form of recipe cards that makes it more helpful and fun. | Provides varieties like pasta and quesadillas that suit everyone's tastes. |
| Children's involvement in the Family plan is a good addition. | Offers recipes for dinner, lunch, and breakfast. |
| Fast delivery | Easy to use. |
What Could be Improved:
| | |
| --- | --- |
| Sun Basket | Purple Carrot |
| Cancellation of subscription and delivery should be easier. | Cost per is a little higher than expected. |
| Provides only dinner meal plans. | Does not provide any information on where their ingredients come from. |
Final Winner
For me, Sun Basket takes away the trophy in this battle. I'm someone who cannot eat plant-based meals every day, and Sun Basket keeps my request along with making them healthy as well.
I can choose from a variety of meal plans and get fast delivery from them! Above all, I know that my ingredients are fresh and come from eco-friendly sources.
However, if you are a vegan, then Purple Carrot might just be your new favorite! With their innovative leafy pasta inspired by multiple cuisines, they are bound to sway a vegetarian off his/her feet!
What Now?
Head to their websites:
And get signed up to have healthy recipes and meals delivered at your doorstep! Both of them deliver the food inside recyclable cardboard boxes and take proper care of the items inside.
With Sun Basket, you only have to pay a fee of $6.99 for shipping. Nevertheless, as a gift to you, the delivery charge is excluded from the first box! Unfortunately, they don't deliver to Hawaii, Alaska, Montana, and some parts of New Mexico.
When it comes to a delivery charge, Purple Carrot takes the edge because they have absolutely zero shipping costs for you. Unlike Sun Basket, Purple Carrot provides their service all across the continental United States.
Did I Miss Anything?
Now let's hear from you:
Which one of the two are you going to try?
Or maybe you have some better alternatives?
Either way, let me know with a comment below!
More Related Meal Delivery Service Review: