When was the last time you cooked a full meal and actually enjoyed it? I for one prefer watching YouTube videos of people cooking rather than doing it myself. And most of the time I end up creating a catastrophe and need to order some fast food so I can make myself feel better.
And while pizzas, burgers, and wings feel like happiness, they don't nourish your body. So how can one get healthy, homely meals that they don't have to cook from scratch?
Well, Fresh N Lean gives you an easy way out. And in this Fresh N Lean review, we'll see if they deliver on their promises.
What Does Fresh N Lean Want to Do?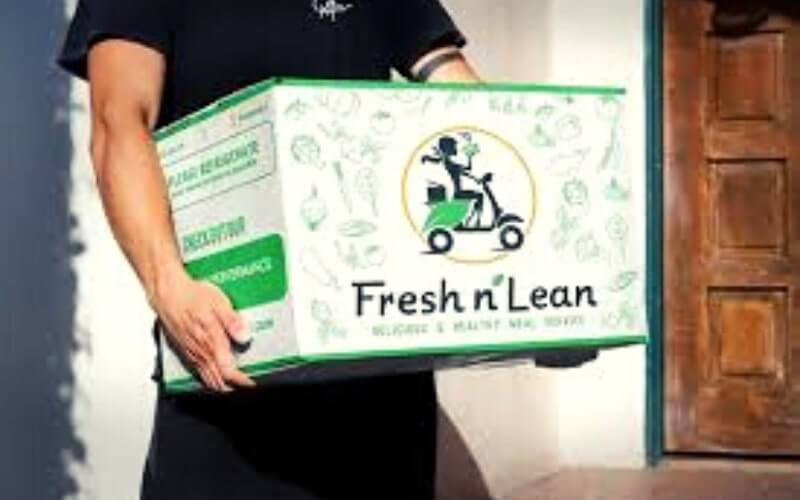 Fresh N Lean is a meal delivery service that factors inconvenience and cost to provide you with weekly meals that are low-calorie and ready to eat.
If you're trying to eat healthier; for instance, starting a low-carb or paleo diet, making meals from scratch is difficult. Shopping around for ingredients, storing them correctly, making sure they don't spoil, and then cooking and meal prepping can take a toll on busy people. And this can convince you to go back to ordering takeout and sliding back into unhealthy food habits.
So how does Fresh N Lean help you out in this area?
Provides You with Healthy Pre-cooked Meals:
This service will deliver meals that can last you for a week straight to your doorstep. On top of that, these aren't anything like your conventional frozen supermarket meals. Instead, they are low in calories, dense in nutrients, and made from the freshest ingredients possible.
These meals support gut health and reduce digestive issues. They are rich in vitamins and chock-full of antioxidants. Moreover, all the meals from Fresh N Lean are gluten-free and can accommodate people with celiac disease or gluten allergies.
Also, all the ingredients are organic and GMO-free. This ensures you are consuming the freshest and best foods.
Gives You Tasty and Ready-Made Meals:
Fresh N Lean's meals are pre-cooked and ready to eat. All you have to do is heat them up in your microwave for 2-3 minutes and that's it! Your meals are ready to eat.
This is especially convenient for people working double shifts, tired students, and new parents. You can use the time saved to keep working, catch up on chores, or to get some badly needed sleep. Not only is there no preparation involved, clean up afterward is minimal and almost nonexistent!
Chooses Your Meals for You:
Are you one of those people who have trouble choosing dishes from a menu? Well, in that case, you will definitely like Fresh N Lean because they set up their menus randomly and change them around every week. This means they have new menus every week, so your palate won't get bored either.
Customizes According to Your Taste:
Although the items on the menu are selected at random, you can still choose to omit allergens like nuts and cilantro from your meals. Besides this, you can choose what kind of meal you want, whether it is keto, paleo, or low carb. Moreover, you have the option of completely removing certain entrees if you don't like them-like choosing to avoid all sorts of seafood entrees.
Along with customization, you can also pick lots of sides and snacks to go with your meals.
Healthy and Nutritious Food:
At the bottom line, Fresh N Lean just wants to give you easy access to good and wholesome food. Besides using fresh and organic ingredients, they also keep their meals healthy. This means most of the meals are low carb and keto/paleo-friendly.
Also, the meals have lower sodium content and use fewer trans fats. Each meal has a 300-500 calorie range, so they are ideal for people who want to cut down on their calories and/or lose weight. They are also great if you are into sports and athletics and need a diet high in proteins.
Fresh N Lean: What Meal Plans Do They Have to Offer?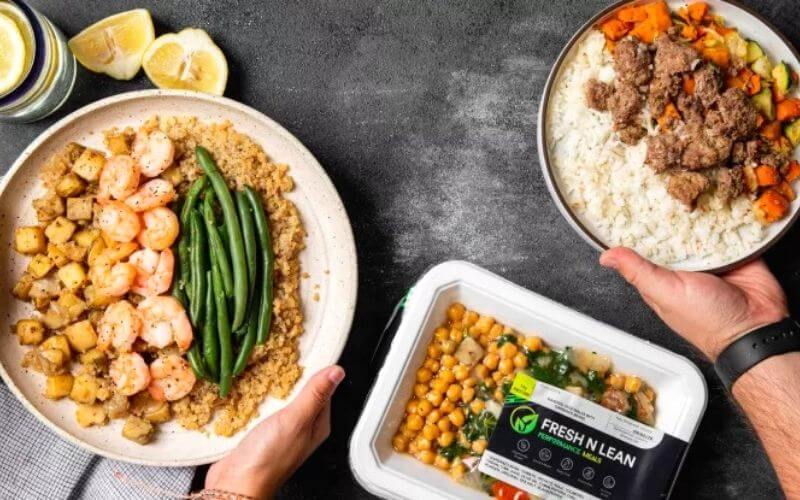 This meal-delivery service has a wide range of meal plans that accommodate different diets.
One thing that all these different plans have in common is that the meals are all made from scratch using fresh and organic ingredients. Also, they are all nutrient-dense, and gluten-free are never frozen. This makes sure they are fresh and taste like home-cooked meals.
Here are the different meal plans and who they are meant for:
Protein+ Meals:
This meal plan is perfect for athletes, trekkers, and anyone who likes to hit the gym on the regular. It delivers macro meals where each serving has a whopping 177% premium protein content from grass-fed sources.
These meals have just 39% carbs and 60% fat and 3 meals on this plan will give you 1500 calories a day which is the average macro intake recommended by the FDA.
These meals are healthy and packed with nutrients without being bland or boring. You can easily enjoy succulent steaks, fresh fish, and veggies while indulging in yummy chocolate almond butter treats for a dessert.
Keto Meals:
Want to cut the carbs and eat cleaner? The Fresh N Lean Keto meal plans will provide you with premium protein from sources that were well fed and healthy with no hormones or antibiotics added to their diets.
The meals also have clean fats only and just 15% carbohydrates. They contain sustainably sourced meat, fresh seafood, and organic dairy. Whether you like your meat roasted, baked, sautéed, or braised, it will find its way to your plate fresh and delicious!
There are both entrees for breakfast, lunch, and dinner, as well as snacks you can nibble on when you get hungry throughout the day.
Paleo Meals:
Want to keep things natural and stick to an old school sort of diet? These Paleo-friendly meals are focused on providing you with whole foods and grains including grass feed and premium proteins. It is still a relatively low-carb diet with just 21% carbs in the plan.
These meals keep everything authentic, just the way nature intended. Besides being gluten-free, the paleo meals are also free soy and grains. It uses natural sugars like honey to sweeten your meals, as well as natural spices to season them.
You will wholesome meals like juicy red and white meat, ocean-fresh fish, and vibrant colorful veggies. Fancy dessert? Their light cranberry oatmeal will indulge your sweet tooth while keeping you rooted in nature.
Standard Vegan Meals:
So you've decided to completely cut out meat and animal by-products. Fresh N Lean supports your dietary choices and gives you a seasonal menu full of organic vegetables, grains, and legumes.
Because they are picked and prepared at their freshest, the fruits and vegetables are just crammed with antioxidants and vitamins that give your immune system a boost. These meals are filling and hearty, such as apple cinnamon oatmeal for breakfast and herb roasted vegetables for lunch or dinner.
There is also an assortment of snacks like nuts and vegan muffins on the menu as well.
Low-Carb Vegan Meals:
Some people find ordinary vegan meals to be heavy on the carbs. If you feel stuffed after having too many grains, these low carb options will make you feel light and energetic. And these meals cut both the meat and the carbs without making a dent in the flavor profile of their dishes.
The meals are also dietician-approved so they make sure you get all the nutrients you need. However, they do recommend getting additional Vitamin B12 supplements, as well as supplements for Vitamin D.
The dishes in these menus lean towards vegetables. You can expect to find things like mixed veggie curries, roasted sweet potatoes, sautéed or steamed greens, and salads with different dressings.
How to Fix Up a Plate of Fresh N Lean
Once your food is delivered the rest is easier than you can imagine. Your meals arrive fresh in an insulated box. Just unpack the food and refrigerate them. For the freshest results, keep the meals you plan on eating later in the freezer.
When it's time to eat, take your food out of the fridge and heat it up for 2-3 minutes in the microwave.
That's basically it. Repeat the process for snacks when you want something for your elevenses. Your subscription will make sure the meals are delivered to your door regularly.
How Does the Fresh N Lean Subscription Work?
Confused about your meal plan and how the whole subscription thing works? I'll walk you through it. It won't take long before you get the hang of it.
Choose the meal that suits your lifestyle and dietary choices.
Then, subscribe to the weekly plan of your choice. You can easily modify these plans. Just let Fresh N Lean know how many meals you want and for how many days per week.
Customize your meals. Let them know what you are allergic to and which dish or ingredient you dislike. You can exclude up to 3 ingredients this way.
There is also an a la carte menu from which you can order specific dishes.
You can add a single meal plan or even two plans for families.
Meals are delivered every Friday. Heat and enjoy your meal!
You can pause, change, or cancel your meal plans any time you need to. But that's not all. Fresh N Lean offers free shipping and you can even have your meals delivered to your office or gym. This kind of convenience and flexibility is seriously impressive.
What Makes Fresh N Lean So Great?
I found Fresh N Lean pretty intriguing and was impressed by all the different diets they catered to. Besides that, this meal delivery service is great for athletes and anyone looking to lose weight and get in shape.
These are the features that make them worth trying out.
Easy to sign up for a meal plan.
Lots of different types of meal plans.
Meals are low calorie while remaining nutrient-dense.
Ingredients are fresh, clean, and locally sourced.
The meal plans are pretty affordable.
It is very convenient and meals take only 3 minutes to prepare.
You can cancel your meal plans whenever you want.
There is an a la carte menu for ordering individual dishes.
There's a lot of variety among the dishes and you don't have to choose the meals.
Menus are updated every week.
Final Thoughts
It isn't every day that we find meal services that cater to healthy diets like paleo or keto. And when they do, the meal portions are often very small and nutritionally lacking.
This can lead to feelings of hunger throughout the day which in turn makes you more irritable and prone to snacking. In the long run, you can even end up with symptoms of malnutrition. But as this Fresh N Lean review shows us, it is possible to balance necessary nutrients with a low-calorie diet.
Fresh N Lean was fascinating to me because they are keen to make healthy eating a convenient choice for everyone, instead of a privilege for a few. Their meals and philosophy have this great sense of balance: between healthy, tasty, convenient, and affordable. And when all is said and done, they make it much easier to forget about groceries and just eat healthier.
More Related Meal Delivery Service: