Thinking about trying more vegetables but the thought of it makes you crave something greasy? Are you trying to be more health conscious with your food habit recently? Or are you simply looking for some delicious vegan meal options?
Whatever the reason is, Purple Carrot is something you should definitely check out. Why? We for starters, they deliver a wide range of finger-licking vegan recipes straight to your home!
In this Purple Carrot review we will explore the ins and outs of one of the most popular vegan meal services.
What Exactly is Purple Carrot?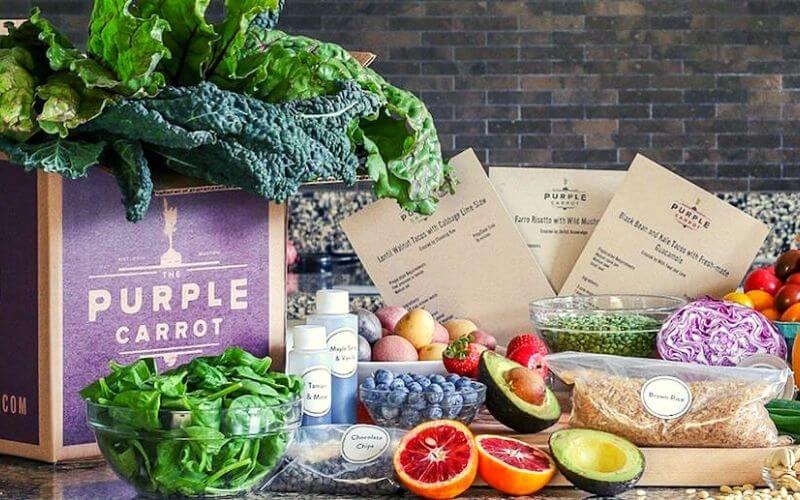 Purple carrot is a plant based meal service that focuses on incorporating more greens to your diet. Just like every other meal delivery service, Purple Carrot sends delicious recipes with all the ingredients straight to your doorstep.
The best thing about Purple Carrot is their positive attitude towards both vegan and carnivorous diet. They do not try to convince you to be a vegan. Instead their goal is to encourage people to eat more plants.
Most vegan meal services cater to only vegetarian or vegans. Purple Carrot thinks everyone should get a good taste of plant-based diet to discover how mouth-watering they can be. Their ultimate vision is to help you fall in love with all kinds of vegetables and leafy plants.
Purple carrot believes we all consume too much processed food and sugar. This has become such a cultural and global problem that now people have permanent heart and kidney issues more than ever before!
They want you to get to a healthy state without compromising on taste and flavour. All of their recipes are delicious and quick to make.
How It Works?
Purple Carrot offers three different meal plans:
Chef's Choice
Quick & Easy
High Protein
Each of these meal plans includes 3 dinners for 2 people. These three meal plans are carefully curated by qualified nutritionists, chefs and dieticians to help you get the maximum for your health.
They are flexible in the sense that you can add on extra meals anytime you want. They offer different breakfast and lunch extras. If you are someone who is looking for tasty breakfast bows, green smoothies and salads, Purple Carrot is a great option.
How Much Does It Cost?
Here comes the big question. The cost of a subscription service is the make or break point. Some meal services are overpriced and impractical to add to your regular lifestyle.
Purple Carrot meal delivery service offers three plans for $72 per week. If you break that down it means $12 per plate. This is definitely more expensive than buying your own groceries but far less expensive than eating outside.
Also it saves a lot of time and planning. You get to enjoy home cooked meals without any additional hasses or cooking experience.
If you have a larger family you can try their family pack with six serving plans. Each portion starts from $7.99. You get two recipes each week with an additional option to add extra lunch or breakfast items.
Purple Carrot offers 25% on your first purchase. This is an excellent deal to try and see whether you like it or not.
What Do You Get in the Box?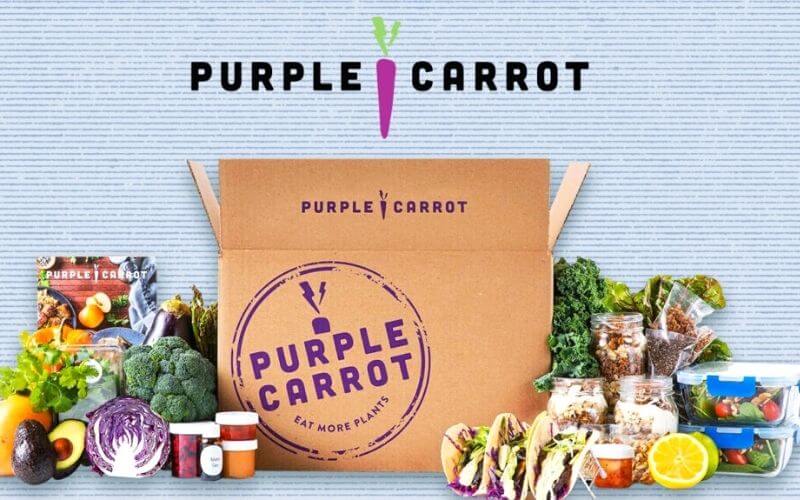 Inside each Purple Carrot box you get a few things:
Individually Labeled Bags
Pre-Portioned Ingredients
Recipe Cards
Even in the packaging, you will notice how Purple Carrot try their best to be sustainable and ethical. In their website, they dedicate a good amount of effort to show you how to recycle the box and other packaging materials.
You will immediately notice how fresh, supple and juicy each vegetable looks. The greens always look like they have been freshly picked out of the garden minutes before packaging. If you decide to cook them one or two days later, you will notice they still hotels their shape and color.
If you do not like the portion sizes of most meal services, you are going to be pleasantly surprised at how much Purple box gives you in one box. You get a lot more ingredients that you might be expecting. They even have an option on the website for leftovers. You get your money's worth with this package.
Is Purple Carrot a Healthy Choice?
Yes, without a shadow of doubt! Purple Carrot uses organic plants that helps you get the necessary daily fiber and nutrition with each meal. They do not advertise to make everyone vegan. They are pro-plant, not anti-animal.
Purple Carrot believes if we want to change our food habit and lifestyle, we need to start small. They understand it is not realistic for all of us to convert to a plant based diet. Instead what they promote is a healthy food habit with more plants.
If you are someone who does not eat a lot of greens because you find them tasteless, Purple Carrot was designed for you. They offer many delicious plant-based meals that will make you fall in love with carrots, leafy vegetables and greens.
What Makes Purple Carrot So Unique?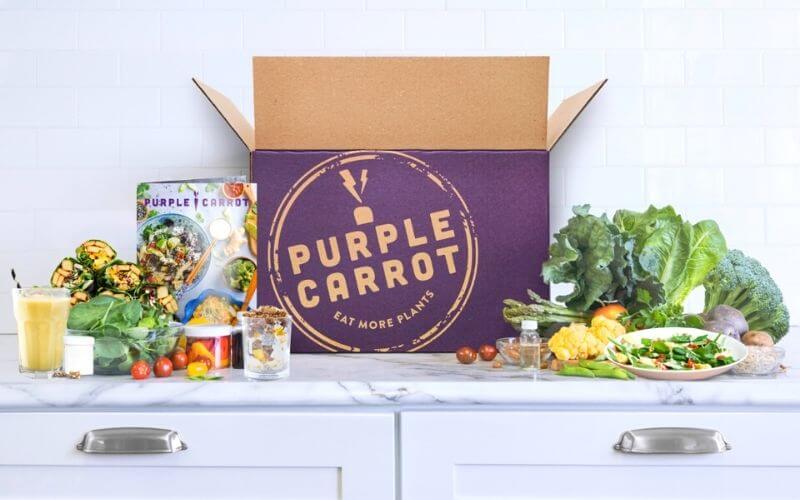 Unlike other overhyped meal subscription services, Purple Carrot does have some special quirks that makes them stand out.
Purple Carrot offers some obvious things such as different dietary restrictions like gluten-free, high protein or quick and easy options for you. It also has some unique advantages over traditional home-cooking.
Delicious Recipes, Zero Monotony:
If you do not like plant based meals, chances are you never tried a good recipe. If your idea of vegan recipe is confined by kale smoothies and caesar salads, you are going to be surprised by Purple Carrot.
Purple Carrot offers a wide variety of recipes straight to your doorsteps. You get to try unknown and yummy meals every single time. As there are more recipe options, you do not get bored by them.
Quick Recipes, Full Vegan:
One of the key reasons why people love Purple Carrot is because of their quick and easy recipes. It takes around 20-30 minutes to cook a two person meal. Each box comes with pre-measured ingredients and clear directions.
If you could get full vegan, healthy meals with a yummy mouthwatering taste, why won't you have them everyday? You do not have to be a vegan to appreciate these tasty meals.
Customisable Plans, Less Prep Work:
Our generation is not interested in cooking anymore due to the hassle it brings. From meal planning to budgeting to grocery shopping and then finally cooking, we lose the interest to enjoy a hearty meal.
Purple Carrot solves this problem by reducing the prep work and customisable meal plans. You can just come back from work and make your own food within 15-20 minutes. You can't find such healthy homemade food anywhere without spending a fortune each month
Who is It Good for?
Purple Carrot was created to make plant based meals more fun and accessible to everybody without the vegan stigma attached to it.
Purple Carrot is an ideal meal service if you are:
a vegan
a vegetarian
someone who is interested in veganism.
someone with a strict diet plan due to health issues.
someone who is interested to incorporate more fibers into their diet.
Each recipe by Purple Carrot is well balanced in terms of flavour and nutrients. You do not just get a plant based meal, you get something that is vibrant, creative and unexpected.
You get to try different vegetables and ingredients that you never even thought about trying before. It helps you experiment and push boundaries in the kitchen.
If you are an experimental cook but can not find time to try new things, Purple carrot is a great option for you.
The Pros:
Vegan recipes with mostly organic ingredients.
Ideal for anyone who is intimidated by veganism. This is a great start or transition point.
Ideal for people with long term diseases like diabetes or higher blood pressure.
Each meal is nutritionally balanced with great flavour.
Unique recipes that you won't think of making at home.
The recipes are very detailed with pictures and directions. Makes cooking easy and tension free.
Offers breakfast and lunch options and even family packs.
The Cons:
They can be quite expensive if you are used to grocery shopping. But compared to other meal services, they offer a reasonable price with a larger portion than average.
The Takeaway:
Purple carrot is a great start for anyone who has no idea where to start with a plant based diet. You get eclectic recipes with unexpected but delicious flavours within a reasonable price per meal.
Planning vegan meals is not an easy task. You need to do a lot of research and grocery shopping to get all the necessary nutrients and vitamins needed for your body. So to have a meal service like Purple Carrot can come in handy.
For those of us who are addicted to greasy, fast food items, Purple Carrot can reignite your excitement around healthy eating habits.
In this Purple Carrot review you have discovered how plant based food does not have to be boring or tasteless. You can get the best of both worlds through this meal delivery service.
More Related Topics: