If you are looking for a snack that is quick and easy to make, you can't go wrong with frozen chicken nuggets! The word 'healthy' is not often paired with fried chicken nuggets. However, if you make these frozen treats in the air fryer, the nuggets will turn out both healthy and tasty!
Deep frying anything on the stove is not only difficult but also messy and dangerous. The oil splatters are hard to clean and can end up burning your skin.
And let's not forget how they usually either come out completely burnt, uncooked on the inside, or an unholy mixture of both.
This is why air fryers are a necessity for fried food lovers. You get healthier snacks with the least hassle. So without further ado, let's look at how to make the crispiest and juiciest frozen chicken nuggets with an air fryer.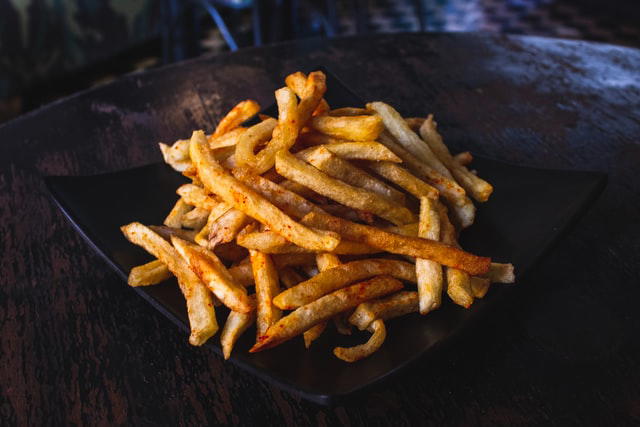 The Process of Cooking Chicken Nuggets in Air Fryer
How to cook frozen chicken nuggets in an air fryer? If you love frozen fried food, you may be tempted to invest in a dedicated deep fryer. A deep fryer helps make the process of frying frozen food easier and you always get better results. But if you are interested in keeping your diet healthy, an air fryer will always be the best option.
The process of cooking chicken nuggets in an air fryer is fast and so simple that even your children can use it! Try the following steps for making delicious air fryer frozen chicken nuggets:
Apply a light layer of oil into the detachable food basket of the air fryer. Do not use aerosol cooking spray as they have chemicals that can damage the insides of your machine.
Add a single layer of frozen chicken nuggets. Make sure the nuggets are spaced out. Adding too many will give you poor results.
You don't need to add oil to an air fryer. However, if you want to give the nuggets a drizzle of olive oil, sesame oil, or butter, you can.
Set your temperature at 400°F, and "fry" for 6 minutes. After 6 minutes, you can choose to flip them over. Cook for another 6 or until they are done.
These air fryer chicken nuggets can be super hot, so you must be careful while taking them out. Use a tong to remove them from the basket one at a time.
Additional Tips for Making Chicken Nuggets in the Air Fryer
Some people are so scared of air fryers that they would rather cook their frozen chicken nuggets in an oven. While you will get decent results if you do it right, nothing can beat air fryers in terms of health and convenience.
If you are still afraid to use this fast and handy machine, these additional tips can make it easier for you:
Most people don't know that you need to preheat your air fryer. Set the desired temperature and preheat for four to five minutes to get the best results!
Consider applying a light layer of oil at the bottom of the air fryer food basket to avoid the food getting stuck to it.
Do not use an aerosol cooking oil spray as they have chemicals that can damage the inside of the air fryer. Use an oil mister-type bottle for a light spritz.
Space out the frozen chicken nuggets so that they don't get stuck to each other when they are cooking.
Don't defrost your chicken nuggets before placing them in the machine. Pull them apart if they are stuck together and add them as is.
Air fryers have a notorious reputation for drying out food and making it rubbery. The moisture that is frozen to the chicken nuggets will help keep it moist on the inside and crispy on the outside!
You can flip them over halfway through if that makes you feel better. However, it is unnecessary.
Can you cook chicken nuggets and fries together in the air fryer? You absolutely can! Potatoes take a longer time to fry, so add them five to six minutes ahead of the chicken. Make sure you space them out so that everything cooks evenly.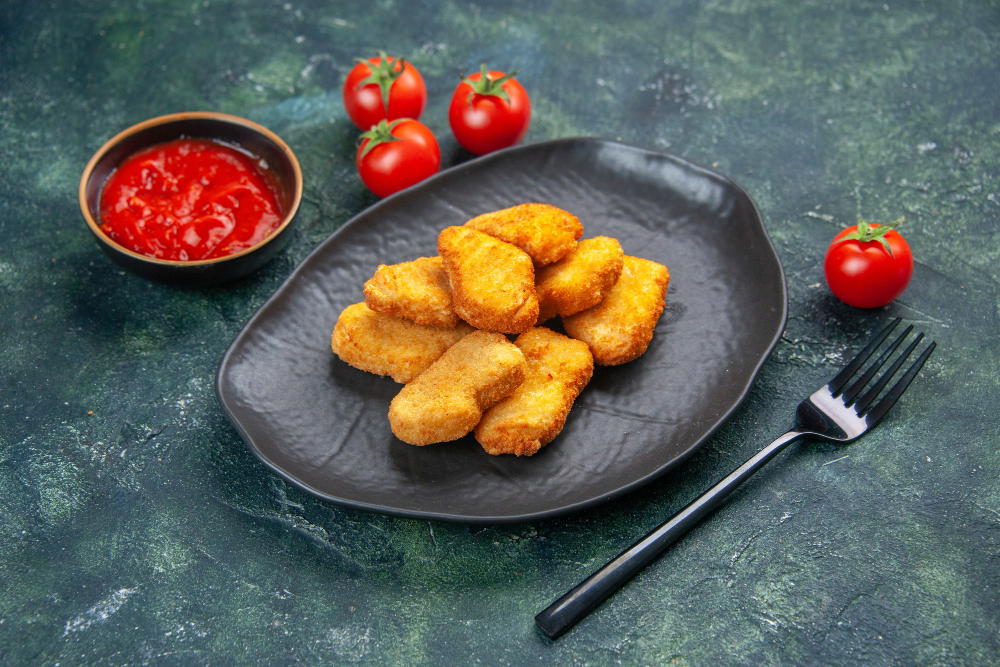 How Long to Put Frozen Chicken Nuggets in the Air Fryer
If you were wondering how long to cook frozen chicken nuggets in an air fryer, you will be surprised to know that you can do so in under 15 minutes. This is almost as fast as making a pot of drip coffee!
Fry the nuggets in the air fryer at 400 degrees Fahrenheit for around 10 to 12 minutes. If you are using vegan chicken nuggets, only cook them for six to eight minutes. Remember that it's plant-based (not starches like potatoes!) items take a shorter time to cook!
How to Make Your Air Fryer Chicken Nuggets Extra Crispy
An air fryer uses hot air to make fried food crispy. A minute or two extra in the air fryer will give your fried food a crispier skin.
The dual power of hot air and oil can also help you make your frozen chicken nuggets extra crispy. So spray a light layer of oil on the frozen nuggets and cook at them for a few minutes longer to get that crispy golden skin.
How to Reheat Chicken Nuggets in the Air Fryer
You made a batch of chicken nuggets that you couldn't finish and now they have gotten all cold, soggy, and tasteless. But, don't worry. You can easily reheat the chicken nuggets in your air fryer!
Preheat the air fryer to 350 degrees then add your chicken nuggets, making sure not to stack them on top of one another. Lay them out in a single layer on the food basket and leave some space between them. Cook for four to five minutes and eat them while still hot as you don't want to let them get cold again!
What Sauces and Dips to Serve with Your Air Fried Chicken Nuggets
Chicken nuggets pair well with almost any type of sauce, so you can eat it with any of your favorite dips. Here are a few sauces and dips that work well with air fryer frozen chicken nuggets.
Honey Mustard Sauce
Looking for something simple and easy to serve as a dipping sauce with your air fryer chicken nuggets? Whip up a dipping honey mustard sauce with four simple ingredients! Take a cup of mayo, salt to taste, one teaspoon of mustard, and a generous drizzle of honey. Mix them, and you will get your honey mustard sauce.
Indian Tamarind Chutney
Want something sweet, tangy, spicy, and simply exotic for your chicken nugget dip? Try making tamarind chutney, a local favorite dipping sauce that pairs well with fried food like samosas and pakoras.
Throw the ingredients in a fast blender and give them a mix, and you will have an exotic dip ready within seconds!
Ingredients:
Tamarind pulp or paste
Jaggery powder or maple syrup
Cumin powder
Ginger powder
Red chili powder
Black salt
Coriander paste (optional)
Green chili paste (optional)
Salt
Sriracha or Sweet Chili Sauce
The Thais have some of the best dipping sauces on the planet. If you want a sweet and spicy sauce for your chicken nuggets, try having it with their sweet chili sauce.
However, if you want a punch of heat that is tart yet not sweet, sriracha sauce is your best bet. You can also mix up sriracha with mayo to make a fusion dip that will tone down the extremeness of sriracha. This sauce also pairs well with grilled delights, so try serving it at your next barbecue party.
Bottom Line
Now that you know how to make frozen chicken nuggets in an air fryer, you don't have to worry about the hassle of making frozen food on the stovetop again!