Craving lobster tails but not sure what to serve with them? We have rounded up a list of good old side dishes that match the delicate taste of lobster tails. From traditional options, family-size side dishes to quick and easy ones, we have got you covered for a delicious home-cooked dinner menu.
We all love the sweet and rich taste of lobster tails that we often only treat ourselves with on special occasions. They are not at all time-consuming whether you prefer them grilled, steamed, or baked in a rich butter sauce.
However you decide to prepare it, somehow it's always a winning dish. Most times we like to take it up a notch by adding a side dish to it. So we have prepared a list for you to prepare a full-fledged dinner course at home. What to serve with lobster tails should not be a problem anymore!
Honestly, it doesn't take a lot to turn around your chef game at home. The key is to find a lobster side dish that complements the richness of lobster tails. To make it easier, always choose something that goes well with all of your family members. Let's go straight into some of the best side dish options for your dinner feast.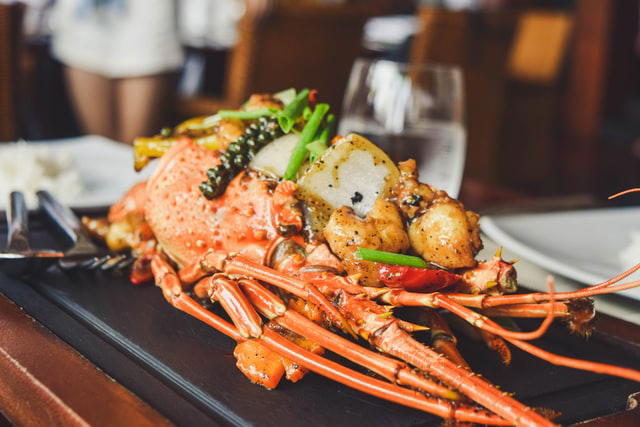 Mouthwatering Side Dishes
Lobster is a great source of protein—which makes it very healthy. And who doesn't love seafood? Kids also love to get their hands dirty while enjoying their meals—a rare moment when everybody is happy! Family meals are the best way to bond, and a great home-cooked meal just makes it more memorable. Keep reading for some ideas to celebrate your family mealtimes with these yummy side dishes.
Traditional
Here are some good old traditional side dishes that have always won hearts at the dinner table.
1. Butter
Lobster and butter are a match made in heaven. They compliment each other wonderfully. Butters creamy texture works well to bring out the sweetness in lobsters. This is the most traditional and simplest way to serve lobster tails.
However, you don't have to stick to basic butter. You can use Thermidor butter to enhance the overall taste of your dish. To prepare Thermidor butter, you need to gather the following ingredients: dry white wine, butter, tarragon, parsley, paprika, and shallot. Boil the dry wine and shallot together and bring it to simmer. Add the rest of the ingredients and give it a good whip to get a nice sauce.
Pour the sauce over the cooked lobster tail. You don't have to stop here—you can throw the pan in the oven for a quick grill. Let the butter sink into the lobster, and within a few minutes, you'll notice that the butter has started to change its color to brown. Take it out.
Another way to serve it is with clarified butter—butter without water and milk proteins. In other words, it is pure butterfat. To make this at home, you have to use a saucepan to melt the butter. Bring it to a gentle boil. You'll notice the foamy milk proteins are at the bottom of the pan.
The water in the butter would also have evaporated by now. Grab a cheesecloth to pour the butter. If you don't have a cheesecloth, you can use a coffee or tea strainer. After draining the excess liquid in the butter, you'll be left with sweet, golden clarified butter to enjoy with your lobster tails. Yum!
2. Veggie Fries
French fries are always the best side dish. They can be enjoyed with anything and everything. You can pair your lobster tails with other kinds of fries, tater tots, or garlic toast. If you are feeling more health-conscious, then you can opt for healthier options, like zucchini fries, pumpkin fries, or kale chips. We'll be sharing one of our popular zucchini fries recipes with you.
You need breadcrumbs, eggs, Parmesan cheese (grated), and zucchini. Make zucchini strips but cut thin slices. Dip them into whisked eggs. Put aside the breadcrumb and cheese mixture. The rule is to dip it in the eggs and then the dry ingredient mixture. Throw it in the oven for 20 minutes. You can do the same for kale, pumpkin, or carrot chips. Take them out when they are brown and crispy.
3. Potato Salad
Potato salad with lobster dinner always saves the day! It's hearty and warm and tastes perfect with lobster tails any time of the year. To make a potato salad, you need dijon mustard, boiled potato, lemon zest, minced shallot, celery, honey, pepper, and olive oil. You can serve it hot or cold.
Family Meals
Here are some of the family-size side dishes to feed the entire family with love.
1. Mac and Cheese
The safest choice is always mac and cheese, especially if you have little humans to feed. It is loved by most people as an individual dish. As a side dish, it does justice to the delicate taste of lobster tails for sure. Keep it simple.
You can either make it from scratch at home or just go with the store-bought ones. Classic mac and cheese require milk, flour, butter, cheddar cheese, and some macaroni. Just throw everything together, bring it to boil, and season it. You could also add the lobster meat to the mac and cheese for the kids. Win-win really!
2. Pasta Salad
A pasta salad can be an excellent complement to lobster tails. If you have hungry monsters at home who love to have big meals, this is a great choice. You'll need pasta, some veggies, and a nice salad dressing. You can toss in red and green bell peppers, apples, minced garlic, pepper, lemon juice, mustard, and some dressing and voila! Your pasta salad is ready!
Simple and nice! If you have a lot of people to feed and you don't have a lot of time, then steamed white rice is what you need to pick. It makes the meal filling, is easy to cook, and has that additional carb factor. You could add some butter to the rice to bring out the best qualities of the lobster tail. This one is always a winner!
Easy and Quick Sides Dishes
Among the many options of side dishes for lobster tails, we have prepared a separate "easy and quick" list for you to choose for your red lobster side dishes. Now if this isn't helpful, then we don't know what is! Jokes apart – the following side dishes can be prepared if you have time constraints, and work great every single time!
1. Coleslaw
This is a classic one, and it goes with almost everything! It is light, fresh, crunchy, sweet, and salty, all in one. You'll need cabbage, carrots, additional veggies (optional), lemon, oil, sugar, salt, mayo, and pepper for this to come together. Or if this is a hassle for you, just buy the store-bought coleslaw dressing. Give it a nice toss and store it in the fridge for a few hours. The flavors will start to come together. Take it out just before dinner.
2. Corn on the Cob
Do you want to hear a joke? If lobster and butter got together, corn on the cob would be their child. This is because corn on the cob and lobster have so much in common in terms of taste. Just like lobster, corn is sweet and loves butter and seasoning. Do you see where we're going with this?
Corn on the cob is extremely easy to prepare. You can boil it in salted water for three to five minutes. You can also microwave it. You can also throw it on the grill for that smokey flavor. Brush it up with some butter, and it's ready. You can go all out with the seasoning too—you can add paprika for the heat and kick. You can squeeze some lemon juice to balance the richness of the butter.
3. Bread
Easiest one out there! Just pick up a nice, fresh loaf from the supermarket on your way. You might choose a baguette to make it fancier. Other options are ciabatta, sourdough, or just plain dinner rolls. Pop the bread in the oven to make sure it's nice and warm. You can add spreads and dips for the bread to be enjoyed with lobster tails.
Lobster Tail Recipe
There are plenty of recipes out there on the Internet. There are many different varieties of each recipe, ranging from a luxury restaurant-style baked lobster tail to a grilled lobster tail menu. We have chosen the simplest one for you to cook a nice and delicious lobster tail at home.
Ingredients
This ingredient list serves 2 people, so make changes to it accordingly.
8 oz lobster tail (225 g), 2 tails
3 tablespoons butter, melted
1 teaspoon salt
1 teaspoon black pepper
1 teaspoon garlic powder
1 teaspoon paprika
1 teaspoon fresh parsley, chopped
1 teaspoon lemon juice
2 wedges lemon, to serve
broccoli, cooked, to serve
Prepping Time
It should take about 10-15 minutes to prepare the ingredients and another 20 minutes for it to be cooked in the oven for a total of 30-35 minutes.
Cooking
Get clean scissors to cut the lobster along the middle to the top of the shell. Try to do a straight line. Don't cut to the end of the tail.
With a spoon, scoop out the meat from both sides of the shell.
Gently press both sides of the shell together. Place the meat over the seam in between the two shells.
Prepare your oven by preheating it to 450°F (230°C).
Place the lobster tails on a baking sheet.
Use a small bowl to mix the ingredients for the sauce. Add butter, salt, garlic powder, paprika, pepper, lemon juice and parsley. Take a brush to spread the mixture evenly on the lobster meat.
Bake for 12-15 minutes for the lobster to be fully cooked. Don't overcook it as the texture of lobster meat can become rubbery.
Squeeze out lemon juice on top of the cooked lobster tail.
Enjoy!
Conclusion
You are probably intrigued to try out all of these side dishes to enjoy with your lobster tails. Well, not a bad idea! These mouthwatering dishes are worth it. Just last-minute tips before you go and cook up a storm. Bigger isn't better, and lobster meat is tastier if the lobsters are young and smaller in size. Bon appetit!