Pregnancy and the arrival of a new baby is supposed to be one of the most joyous times of a woman's life. But often, new mothers are left exhausted between feedings, endless cycles of laundry, and trying to heal their bodies.
In the middle of all this, meal times involve a tasteless microwave dinner or takeout from the nearest (and often unhealthiest) burger joint or Thai restaurant. And the cycle of exhaustion continues, because you aren't providing your body with the things it needs.
Instead, why not give a meal delivery service for new moms a try? These companies provide ready-to-eat or quick-cooking meals that will have a nutritious lunch/dinner ready in under 15 minutes!
This article will introduce 3 meal delivery services for expecting or postpartum moms, so you can decide which one is suited for your needs. With meals sorted out for the week, you can focus on self-care or bonding with your baby!
Why Choose a Meal Delivery Service for New Moms?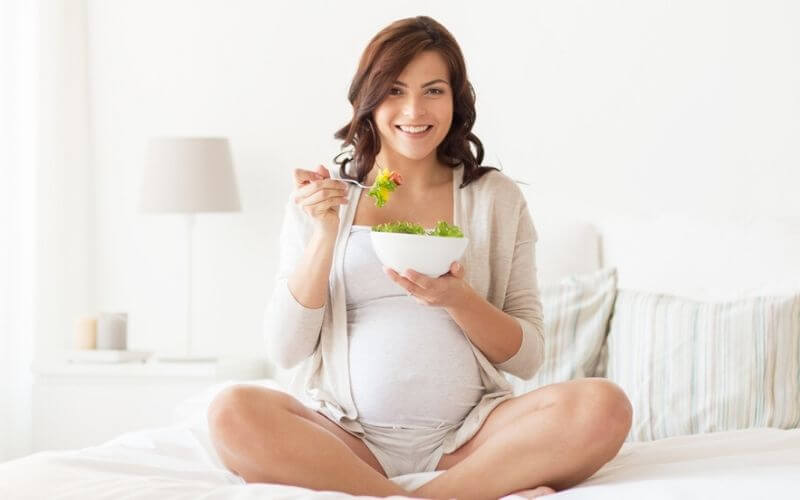 Groceries, storage, meal planning, and cooking are a whole process. Meal delivery for new parents gets rid of all this mess. Instead, they provide you with meals or fresh ingredients plus recipes.
You either heat a meal in our microwave, or throw everything into a pan, and voila! Your meal is ready without all the work and prep.
But convenience isn't the only benefit. A meal service for new moms also contains balanced nutrients and enough macros to fuel your hectic schedule. New moms need plenty of carbs and proteins to repair their bodies, and breastfeeding moms need even more.
You also have access to different meal plans that suit your needs. Maybe you want to eat normally. Maybe you're trying to lose weight and get your pre-pregnancy body back. Chances are, there's a healthy meal plan for you.
More importantly, these services free up a lot of time that would be spent getting groceries or cooking. You can use this time to do other chores, work out, or nap with your baby.
With all that being said, let's look at what food delivery for new parents has to offer.
Services Delivering Prepared Meals for New Parents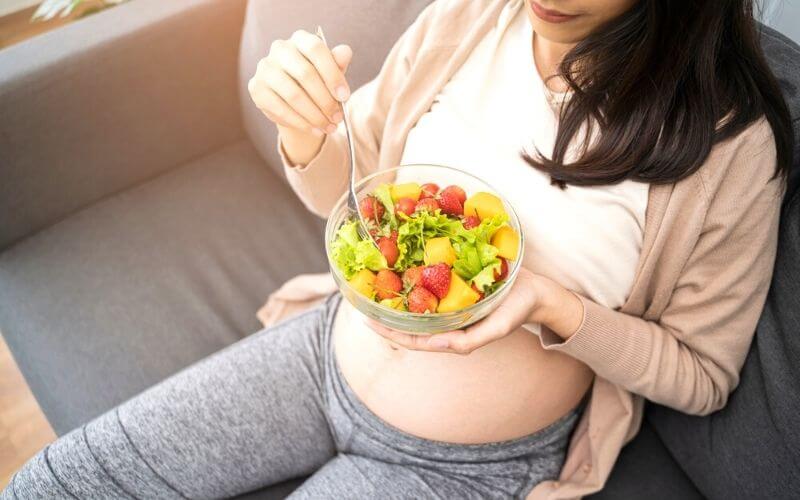 These are just a few meal delivery services that are helpful for new or expecting parents.
Gobble [For Quick Weeknight Dinners]:
Dinner time is always a pain in the neck, and doubly so for new parents. Whether you're working or on maternal/paternal leave, dinner is chaotic. You've used up all your energy during the day and you're in no mood to cook. 
Instead of cracking open a pack of ramen, why not try Gobble's dinner kits? Signing up takes minutes; all you need to do is choose your meals from the menu. The food is prepped by chefs, so all you need to do is cook the meal following the recipe card.
And just like that, dinner will be ready in 15 minutes max, without all those dirty dishes. You can skip a week or more when needed or even cancel the service whenever you want.
Meal Plans:
Depending on your dietary needs and personal preferences, you can choose between two meal plans. Regardless of your choice, your dinners will arrive once a week in secure packaging. Your Gobble box will also come with recipe cards for each meal, nutrition information, and ice packs to keep the ingredients fresh.
Classic: These contain hearty meals that nourish your body and soul and are ready in no time at all. They have a good balance of carbohydrates, fats, and proteins sourced from chicken, seafood, and pork. Meals are also loaded with colorful leafy green veggies and flavorful sauces.

You can expect to see meals like lemon gnocchi with cheese and herbs, Cheesy baked pastels with lentils, and chicken marsala with broccoli and mushrooms.
Lean and Clean: If you're looking to undo some of the damage done by takeout dinners, this plan is for you. It features easy-to-cook healthy meals, crammed with lean proteins and healthy fats. Each meal has an average of 600 calories, and there are no grains or refined sugar.

The meals are still tasty and made from carefully sourced ingredients that have been carefully prepared and are ready to cook. You will still feel fulfilled and energetic with these lighter meals, without all the extra calories!
Other Perks:
Gobble lets you choose dinners for 2 or 4 people, so it is a good option if you have young kids. The menu is diverse, which makes it useful when dealing with picky eaters. Also, the meals are customizable, and you can season food to your taste as you cook.
If you have allergies, the meal kits can eliminate dairy, soy, nuts, and gluten-containing ingredients, and pack them separately in a kit. You can select up to 4 recipes per week, so it covers weeknight meals.
Gobble also has a range of gift cards you give to other expecting mothers or just busy people who don't have the time or energy to cook a meal from scratch.
All Gobble meals cost the same and the price is pretty affordable when considering the quality of the ingredients, the convenience of the meals, as well as their excellent variety and taste.
Whether you want a pregnant meal delivery or are a tired new mom, Gobble certainly won't let you down!
Freshly [Ready to Eat Meals]:
If you want to get the cooking out of the way altogether, Freshly is the postpartum food delivery service for you. They deliver fully prepared, ready-to-eat meals that taste good and are rich in healthy nutrients.
With Freshly, you can choose to get 4, 6, 8, 10, or 12 meals a week sent to your home. These meals come in individual portions so they are great for first-time parents. The meals arrive, ready to eat and you can freeze the meals you plan on eating later in the week.
These meals can be heated up in a microwave, but this can mess up the flavors and textures. Instead, try to heat them in a non-stick skillet or oven. Either way, your meal will be ready in just 3 minutes!
Menu:
Freshly features several classic comfort foods, as well as exciting Asian and Mexican dishes that guarantee to keep you interested in your food.
Crafted Classics: These contain classic Freshly dishes that are homely and comforting. Dishes include mac and cheese, turkey chili bowls, stroganoff. These timeless dishes are rich and filling and are some of the people's all-time favorites.
Signature Collection: Consisting of Freshly core meals, they are fancy without being too indulgent. Hearty stews, thick paella, and luxurious steaks are some of the meals you can select from this menu.
FreshlyFit: If you're trying to eat healthier, Freshly has something for you too. This postpartum meal delivery service has dishes that are low-cal without skipping any essential nutrients you need. They have no carbs and instead include things like cauliflower rice, paleo pulled pork, lean meats, and lots of veggies.
Takeout Twists: Looking for a lighter version of your favorite takeout meals? The hoisin chicken,  tandoori, teriyaki bowls have the same great taste without all the sugar and MSG.
PurelyPlant: There are three vegan meals in their plan. While this isn't enough for vegans, it is a good option for those who want to gradually shift to more plant-based meals. These dishes are pretty tempting, with a colorful plant-based burger served with a sweet-sticky carrot jam and sauteed summer vegetables.

The Indian chickpea bowl features hearty curry, basmati rice, and veggies. There is also a deconstructed vegan burrito with salsa and a plant crumble.
Other Perks:
If you want more food or extra sides, you can also order extra proteins like meatballs, steak, and chicken breasts. You can also order extra portions of mains like mashed potatoes, cauliflower rice, and mac & cheese.
Freshly meals can be customized to fit gluten-free, keto, and low-carb diets. As far as price goes, they are pricier than home-cooked meals but way cheaper than takeout. The plans are also more affordable compared to other meal delivery services.
The ingredients are sourced with consideration and the meals are made with less sugar and fewer processed ingredients. I also liked how they sneak lots of vegetables into each dish, so you consume healthier meals without really thinking about it.
If you refer a friend and they sign up, you earn $30 dollars. You can also give someone a Freshly plan as a gift. Just choose their location as your shipping address, and Freshly will deliver the meals you've selected.
Find out more about Freshly in this detailed review.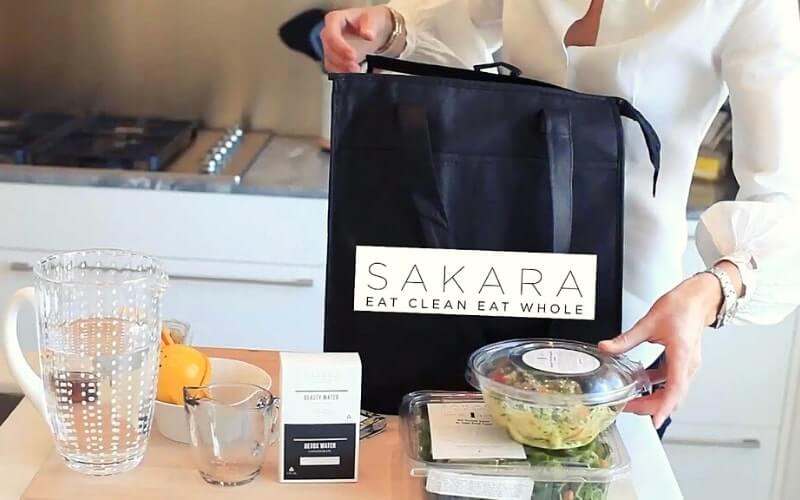 Pregnancy meal delivery services focus on nourishment, but many new moms want something to help them slim down after childbirth. Many look for ways to care for themselves in a way that isn't fussy or time-consuming.
Sakara Life offers you a two-for-one deal. These meals are vegan (another plus point for many) and are the definition of healthy. They contain no sugar or empty calories and use the very best ingredients. The food is beautiful and will make you feel like you're at a trendy spa/health resort.
You can select whether you want 2 or 3 meals a day, whether you want food for 2, 3, or 5 days each week. If you want to test out the service, choose to get meals for one, two or, four weeks, or subscribe to keep getting meals.
Programs:
There are 3 programs that you can select from. However, unlike the other meal delivery services, you can't select the dishes individually.
All dishes are plant-based, organic, non-GMO, gluten-free, and contain no dairy or refined sugar. They are freshly packed and ready to be eaten, although heating the curries and soups is a good idea.
Signature: This is the best option for new mothers as it is nutritionally designed to give you all the things you need. The meals are mostly salads, fresh fruit, soups, and vegan bowls crammed with nuts and legumes.

There are also lots of dishes inspired by Middle Eastern dishes, Japanese noodle bowls, and Asian curries. For breakfast, you get things like fresh fruit, berry spreads, and whole-grain nut breads.

The assortment of bright and flavorful sauces and light dressings keep meals exciting. Unlike typical vegan meals, these taste amazing and make you feel better as you eat.

While giving you an energy boost, the Signature program helps you lose weight, gets rid of bloating, and helps clear out your skin.
Detox: If you're further along the line and have weaned your little one, the Detox program might be what you need to bounce back into shape. This diet cleanses you from the inside by eliminating inflammatory foods while encouraging your body to burn unwanted fat.

These meals include a blend of whole foods and light soups, together with detox drinks, digestive teas, and supplements that keep you feeling on top of things.

You can learn more about Sakara Life's programs here.
Other Perks:
Sakara is more than just a meal service—it's a whole lifestyle. The gorgeous meals will make you feel special and are a great form of self-care. Besides that, you can order healthy snacks like dark chocolate and popcorn.
The brand also sells energy, metabolism, beauty, and detox bars for you to munch on between meals. The metabolism powder is great if you are trying to reduce bloating and other tummy issues.
Last but not the least, the detox and beauty water drops can be added to your water or tea to make sure you are getting all the minerals needed. At the same time, they strengthen hair and nails and keep your skin healthy.
Sakara's philosophy also goes against calorie-counting, so you can relax and eat these healthy meals without crunching numbers. The meals for the day are pretty balanced, so you end up with a hearty curry for lunch and a light salad for dinner.
The dishes are extremely colorful, chock-full of water and healthy fats. The ingredients are sustainably sourced, from ethically harvested produce.
At the end of the day, Sakara is quite pricey compared to other meal delivery plans, but with all its benefits, the price is justifiable. And after all, as a new mom, you deserve to treat yourself to these amazing meals.
Other Meal Delivery Programs for Mothers
The adults aren't the only ones who need a meal delivery service. If you're a first-time mom, introducing your baby to other food can be scary and exciting. Why not make sure they are sampling the very best food out there?
Little Spoon delivers homemade baby food using top-notch fruits and veggies. You can introduce your baby to the best pureed foods, without any GMO produce or preservatives. Also, there are also lots of options available, so your child won't get bored.
Yumi happens to be another great meal delivery service for moms with young babies. It sends homemade baby food to your door every week. These meals range from pureed single foods to bite-sized meals for older babies.
These services are a great way to introduce babies to different flavors and textures. Best of all, they are all-natural and contain none of the suspicious ingredients found in canned baby food.
Frequently Asked Questions
Still have questions about meal delivery services for new mothers? Find your answers here!
01. Can I Refrigerate My Meal Kits?
Yes, you can store your meal kits in the fridge for a few days. Anything you plan on eating after 3 days should go in the freezer.
02. What Nutrients Should Meals for Mothers Contain?
Your meals should have lots of lean proteins, healthy fats, and vegetables. You should also make sure they have enough vitamins and minerals.
03. How Long Do Yumi Jars Stay Fresh?
You can refrigerate Yumi jars for 7 days, and they will remain safe to heat.
04. Can I Lose Weight With Sakara Meals?
Sakara meals help shed unwanted fat and water weight, so you will lose weight if you stick to their plan for some time.
05. Can I Stay Healthy on a Vegan Diet as a New Mother?
Yes, there are plenty of expecting and new mothers who are on a vegan or plant-based diet. The important thing to remember is that you need to consume lots of beans, nuts, and lentils to make sure you are getting enough proteins. You should also take supplements to make sure you are getting the recommended dose of vitamins and minerals.
The Bottomline Is…
There are countless resources to help new mothers and pregnant women get the meals they need without all the work. Whether you opt for a meal delivery service for new moms mentioned above or choose something like FreshDirect, make sure you are getting enough to eat.
Either way, you'll have some extra time you can use to snuggle your baby, get back to your hobbies, or get a few of the endless chores out of the way. Best of all, you can catch up on some sleep, which makes these meal plans absolutely worth it.