Every mama's life revolves around one constant, yet unpredictable concept.
Feeding their children.
And it goes without saying, mealtimes are wild. This is especially true if you have started introducing new foods to your baby. One day they love pureed carrots and the next day they're spitting it up all over the smart new bib you got them.
Babies can be a handful and feeding them is like art. Or a carefully controlled science experiment.
But many mothers don't have the option of prepping, packing, and storing baby meals from scratch. And that's why Little Spoon offers to take this burden off your back. In this Little Spoon review, I'm going to look at what makes this baby food delivery system so special.
Whether you're a new mom going back to work, or an exhausted mama with other kids and an endless list of chores, or just someone who wants a break from making baby food, this one's for you.
What Does Little Spoon Do?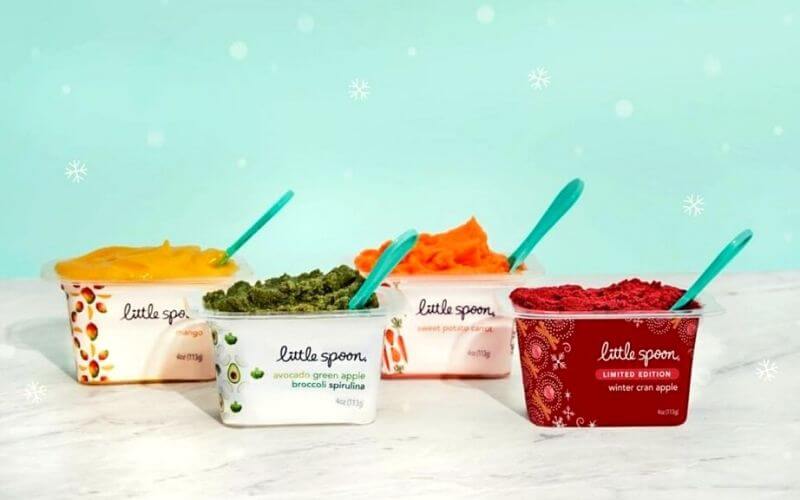 To put it simply, Little Spoon is a home-made baby food delivery service that has weekly subscriptions. In other words, it delivers organic and healthy food right to your doorstep.
These meals have over a hundred different organic and nutritious ingredients that will keep your child healthy and well-fed. Also, there are plenty of options available so your baby won't get bored with repetitive, similar-tasting meals.
Why is Little Spoon Good for Babies?
What makes Little Spoon different from the rows of baby food at your local grocery? To begin with, Little Spoon meals aren't mass-produced and packed with preservatives to keep them edible for longer. But that isn't all! Little Spoon meals are also:
Contain no artificial preservatives
Do not undergo extreme heat processing
Contain no GMOs (genetically modified organisms)
Contain no added sugars or flavoring.
Contain no additional additives
Store-bought baby food is usually heavily processed, crammed with additives that improve flavor and keep it from going stale. More importantly, these little cans of food are old. For all you know, the food has been sitting in a dusty grocery warehouse for longer than your child has been alive!
On the other hand, Little Spoon baby food is high-quality, fresh, and organic. There are no harmful chemicals and the food is produced and packed on-demand and delivered fresh and full of vitamins right into your waiting arms.
How Does Their Food Stay Fresh?
So if Little Spoon doesn't use chemicals, preservatives, or heat processing, how does the food stay fresh and safe to eat?
Cold Pasteurization:
Little Spoon's baby is packaged in high-pressure processing. The method uses cold pasteurization which kills microbes, fungal spores, and other living contaminants. However, unlike high heat processing, this method doesn't destroy the vitamins and antioxidants in the food.
Safe Packaging Material:
The food is packaged into safe and recyclable packaging. Moreover, the packaging is free from dangerous compounds like phthalates and BPA. Because they are recyclable, you can easily throw the packaging into your recycling bin with no guilt.
What Meals Does Little Spoon Offer?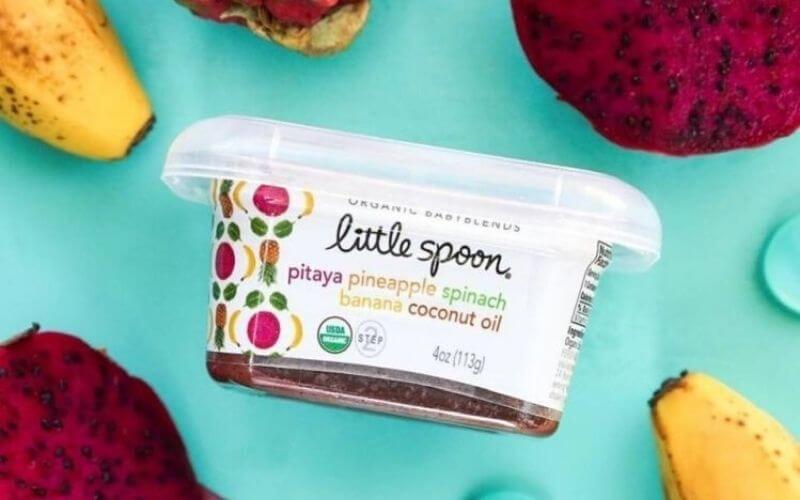 Little Spoon has a rotating menu of meals for babies made from 100+ organic, nutritious, and healthy ingredients. And Little Spoon offers both blended or pureed baby food, as well as booster or supplements to help your little one grow.
BabyBlends:
These are fresh and organic purees made from organic fruits and veggies. Whether you want something simple and easy for your baby's first bites of food, or something more advanced, these blends will have something that your baby will love!
Choosing the Right Blend:
Choosing meals from the menu is extremely easy. You can choose meals by texture (smooth to very textured) or ingredients (carrots, pears, or sweet potatoes). You can even select meals based on health benefits (eye, bone, or brain health).
If you're not sure what to pick for your child, there's also a quiz that can help you determine what your baby needs. Little Spoon can also tailor your menu as your child grows. And if you're not sure if your baby will like the meals you've chosen, start with simple flavors and smooth textures like plain mango or apple.
As your child grows and starts trying new things, you can slowly introduce meals like Quinoa Raspberry Date with Coconut Oil, Vanilla, and Wheat Germ Oil.
Seasonal Blends:
There are also seasonal blends, like Strawberry Basil Beet Pear Chia, or Just Peachy. Worried about your tiny picky eater? Try the Carrot Mango Banana Chia blend which baby will be sure to love!
The add-ins like hemp, kale, coconut milk, seed oils, and even turmeric add depth and dimension to the flavors and have lots of health benefits.
100+ Ingredients:
What your child eats determines how well and fast they grow. That's why the first two years of your baby's life should be filled with a variety of foods and nutrients. Little Spoon includes over a hundred organic ingredients in their purees. The BabyBlends will provide your child with nutrients such as Vitamins C and D, calcium, and beta-carotene. There are also things like protein, iron, and fiber–all the things your child needs to grow and thrive.
Because there are no artificial preservatives, the BabyBlends don't have an indefinite shelf life. They are safe to eat for 14 days when kept in the fridge and up to 48 hours after opening each package.
Boosters
These boosters can be added to your baby's meals and keep children healthy, happy, and growing well. The boosters contain vitamins and natural remedies with clean and powerful formulations. They keep your baby's immune system strong and healthy, prevent colds and sniffles, improves digestion, and helps make up for gaps in nutrition.
Here's why these boosters are a great choice for your baby.
Clean Formula:
These boosters have all-natural formulas without any shady chemicals or medications. Instead, they contain carefully sourced vitamins and minerals along with probiotics and organic, GMO-free fruit and vegetable extracts.
Perfectly Portioned:
They are very easy to use because they are carefully portioned. Each sachet contains a concentrated dose of nutrients for your baby's needs. To use, all you need to do is mix one stick into your baby's food.
Made by Experts:
These boosters have been designed by leading experts and professionals in pediatric nutrition and food science. As a result, they are safe, healthy, efficient, and very high quality.
Natural Remedies:
There are two kinds of natural remedies. One is for fighting colds and contains zinc, Vitamin C and E, prebiotics, and elderberry that gives the immune system a big boost.
The other aids digestion and prevents constipation. This one contains probiotics, prebiotics, and prunes that keep the gut health in good shape.
Vitamins and Probiotics:
These probiotics are meant to keep your baby strong and healthy. The first one is meant to improve gut health and has Lactobacillus rhamnosus that supports both gastro health and the immune system.
Moreover, the 'Wiz Kid' pack is specifically meant for brain development. This one has iron, omega-3-DHA, Vitamin D, and spinach to boost brain development and cognitive function.
These boosters are great because they contain no artificial flavors, preservatives, corn syrup, or gelatin that might mess with your child's health or digestion.
How Do Subscriptions Work?
Setting up a subscription with Little Spoon is extremely easy. All you need to do is sign up with your email. Then, provide details like your name, whether you're a new parent or expecting, your child's name, and zip code.
Setting up a Meal Plan:
You will also have to give information about your baby's age and whether they have started eating solid food, pureed foods, finger foods, or a combination of the two. Moreover, you will have to include the child's eating habits; like whether they are a picky or adventurous eater, or whether they are used to eating homemade or store-bought food.
More importantly, you must provide details about your child's allergies, if they have any. You can also specify if your child eats meat or not. Then choose the meal plan you want. You can choose between 1, 2, or 3 meals per day for a week. After that, just checkout by providing payment details and your address.
You can also order individual meals for a trial session, or to supplement your baby's regular meals. Also, you have full control and can choose all the meals for your child. This makes Little Spoon different from other meal delivery services, as it removes the element of any unpleasant surprise.
Furthermore, you can pause or cancel your subscription whenever you want. All in all, the entire process is simple and convenient for mothers everywhere.
Delivery:
The meals are delivered once a week. All Little Spoon packages are sent in boxes with ice packs that keep the food nice and fresh. Because of this, you don't need to worry about missing the delivery; the package will stay fresh on your doorstep even when you're outside.
The ice packs are both reusable and recyclable. You can toss them in the freezer to use them again. Or, just snip off a corner and tip out the water into your sink and recycle the empty pack.
Who is Little Spoon Suitable for?
Not sure if Little Spoon will be a good fit for you? These people will find Little Spoon baby meals helpful:
Mothers trying to introduce pureed food to young babies.
Busy moms with no time to make and store pureed food at home.
Mothers who have to work or travel and spend time away from home.
Anyone who wants a healthier alternative to store-bought baby food.
Parents who want to supplement their children's meals with a little extra something.
Parents with fussy little eaters.
People who want to gift young parents something that will make their lives much easier.
Extra Support
Finding this whole parenting thing difficult? Becoming a parent isn't always easy or pleasant. Most parents are sleep deprived, anxious, and unsure of what to do. Most of the time, they want a nap. But also, they need someone to talk to or to simply listen.
And if you need someone to talk to, Little Spoon is there to listen. You can call or text them for support, or if you need a shoulder to cry on.
Why Choose Little Spoon for Your Baby?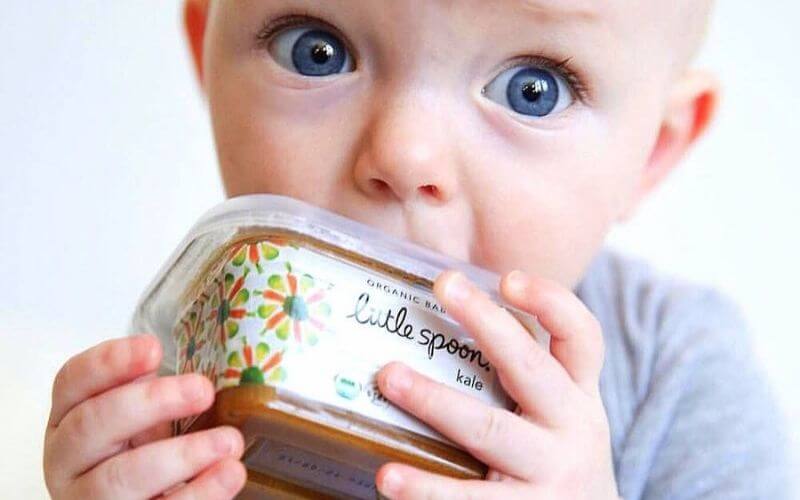 Still unsure about Little Spoon and whether it's the right fit for you and your child? This might change your mind.
Here's why Little Spoon deserves a chance at your table:
It has no preservatives, additives, or added flavoring.
The food is organic and GMO-free.
The packaging process is safe and uses cold pasteurization.
There are lots of flavors of food to choose from, as well as textures.
You can select meals based on their health benefits.
You can choose the meals and meal plans based on your child's needs and preferences.
Subscriptions are easy to start, pause, and cancel.
The blends and boosters are full of nutrients and goodness.
The meals are healthy, wholesome, and good for your child.
The blends and packaging are sustainable for the planet/environment.
Subscriptions are affordable and reasonably priced.
In a Nutshell
You might be wondering, is Little Spoon worth all the hype?
The answer is YES! And I hope this Little Spoon review proves that. This meal-delivery company makes life easier for parents everywhere. The meals they provide nurture and nourish your baby's growing body and brain, boosting their growth and cognitive development.
The subscriptions make it easier for parents– whether you're a working parent with limited time or an exhausted stay-at-home parent with kids and endless chores. Little Spoon takes over feeding your child and making sure they are well-nourished, giving you time to take care of everything else on your plate. Start your subscription today and watch your baby grow!
More Related Meals Delivery Services: