It's happened. You've decided to get into bodybuilding.
Whether you want to make it a career thing, a hobby, or a path to a healthier body, bodybuilding is a dramatic change in lifestyle. Bodybuilders give up things like smoking, drugs, and unhealthy food, replacing them with lean meals, weightlifting, regular workouts, and lots of sleep.
The shift in lifestyle can be stressful for many, especially cooking and eating healthy dishes. Many people who are more used to sugary, carb-heavy processed meals do not know how to buy and prepare healthy ingredients.
But what if you didn't have to? Meal delivery services provide ready-to-eat meals that are light, healthy, and packed with all the good stuff. You just have to heat and serve! There are countless meal delivery options for different dietary needs: vegans, keto, diabetic-friendly. 
So why not choose a bodybuilding meal prep delivery plan? This article goes into 3 fitness meal delivery services: Mighty Macros, Muscle Meals 2 Go, and Trifecta. You'll be able to pick the plan that works best for you and sign up right away!
You may also like: Diet to Go vs Bistro MD
Mighty Macros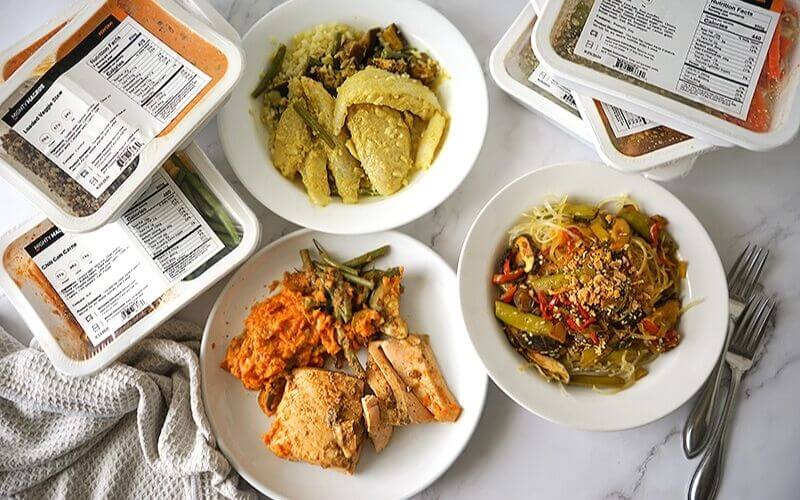 When it comes to premade bodybuilding meals, many people complain about bland food without much variety. Might Macros flips the switch and provides meals that take you across the globe, from flavorful Panang curries to Jalapeno Chimichurri Chicken.
These meals have been designed by dieticians and chefs who use the freshest, locally sourced meals to create a culinary experience that you are minutes away from savoring. While most dishes are meant to be heated in a microwave, you can also use your oven or stove.
Meal Plans:
Mighty Macros comes with 4 different meal plans that are suited to your fitness goals or dietary preferences. Each plan can be customized to accommodate Paleo, Keto, Nut-Free, Gluten-free, Dairy-free, and free from specific allergens.
Weight-Loss:
This is a good baseline for those wanting to shed unwanted pounds and fat. The meals in this plan contain 350 calories and are low in carbs. You will see quick results and will be able to watch your waistline melt away.
Sculpt:
Want to turn that belly fat into muscle? These high-protein, low-carb meals will help you lose weight and tone your body, gaining muscle mass in the long run.
Perform:
If you are focusing on exercises like cardio and weightlifting, you need a high-calorie diet with lots of proteins and carbs. These meals are packed with rice, fish, and meat that will fuel your workouts and give you the stamina and power you need.
Gain:
Maybe you aren't looking to lose weight. Perhaps you need to gain weight on your bodybuilding journey. If you're out of ideas for meal prep ideas for muscle gain, sign up for this carb-heavy plan. The calories and protein will have you gaining muscle mass in no time!
Might Macros: Why They're Worth It
This brand provides the best bodybuilding meals delivered to your door. Besides tasting great, these meals are rich in protein and feature lots of fish and lean meats. More importantly, the ingredients are top-quality: fresh, with no added sugar, MSG, or processed additives.
They are also great for portion control-small enough to be healthy, large enough to keep you full so you won't crave snacks between meals. 
Signing up for this bodybuilding food delivery is super easy. Just provide your location and payment information, select a meal plan, and choose the number of meals you want to be delivered per week. These range from 7 meals a week to 24 meals a week.
These fitness and ready meals come in a box with secure, insulated packaging and are kept cool with ice packs. Even if you aren't home during delivery, your food will stay fresh until you return.
Compared to other fitness meal prep companies, Mighty Macros is cheaper, making it a more affordable option for beginner bodybuilders.
Muscle Meals 2 Go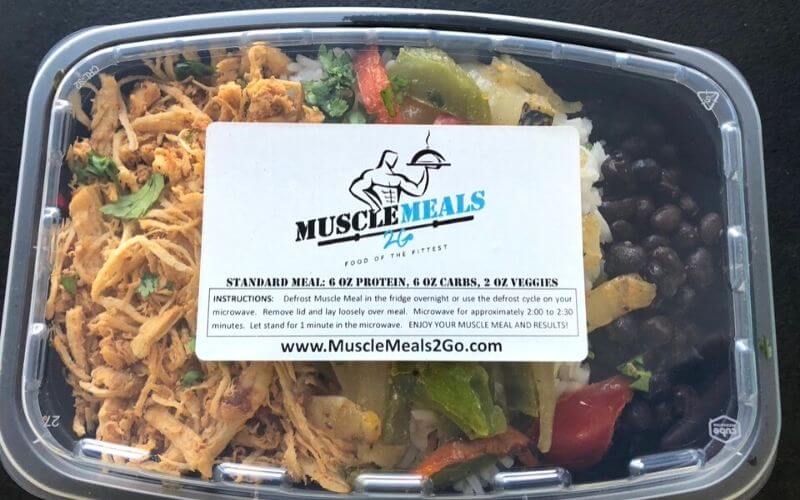 Meal prep for muscle gain is a real chore, but Muscle Meals 2 Go makes things easier. There are two ways to select your meal plan: by meal or by your fitness goals. At the same time, you can select meal plans that are vegan and Paleo.
As far as bodybuilding meals delivered to your door, Muscle Meals 2 Go offers the most variety and flexibility in terms of meals.
Meal Plans:
Here's a quick peek at some of the more popular meal plans and goal-oriented programs that you can choose.
Classic:
This is the standard plan that those with no special dietary requirements select. You can choose your meal size depending on whether you want to gain or lose weight, as well as the level of physical activity.
Also, bodybuilder meals recipes are balanced with the right amounts of fish/meat, carbs, and veggies. Best of all, you can choose your protein size depending on your bodybuilding goal; whether you want to stay fit, lose weight, or build muscles.
Keto:
The keto meals are meant for low-carb diets and contain lots of healthy fats and balanced proteins. This plan is ideal for those wanting to lose weight quickly by restricting their carbohydrate intake.
These meals contain no sugar or grains, instead, these meals focus on meats and veggies for a nutrient-dense diet.
Vegan:
Who says you can't be a bodybuilder with a vegan diet? The plant-based meals in this plan contain lots of protein and fiber. Besides being healthy for your heart, you can lose fat and gain muscles with these meals.
Other Meals:
Besides meal plans, you can also order snacks, XL meals, and breakfasts. There is also an a la carte menu, where you can buy ingredients by the pound and prep at home. Want bodybuilding turkey chili, but it's not in the week's meal plan? Order some ground turkey and make it yourself!
Similarly, organic and chemical-free wild rice, fusilli pasta, and protein muffins are a great way to curate your own bodybuilder lunch box. And if you want a treat, the keto cheesecake bites, chocolate PB bombs, and light parfaits are tasty and guilt-free.
Muscle Meals 2 Go: Why They're Worth It
One of the biggest advantages of this meal service is that, unlike many other fitness meal prep companies, they don't have an auto-ship option. This means there is nothing to cancel so you can quit any time.
However, it can be annoying to sit down and re-order each week. But it does allow you to customize your weekly meals depending on your mood and cravings.
Because it isn't a subscription service, you need to log in, choose your meal plan, add it to your cart and select a convenient delivery date. The food is prepared fresh and shipped to you in a box, with your meals in a tray.
These meals are meant to be heated in a microwave, but an oven makes them taste better. What sets Muscle Meals 2 Go apart is that the taste and texture are exactly the same as a freshly prepared home-cooked meal! 
Their plans are also relatively affordable. Whether you want to lose weight, stay fit while training, or bulk up, Muscle Meals 2 Go will help you reach your goals.
Trifecta Nutrition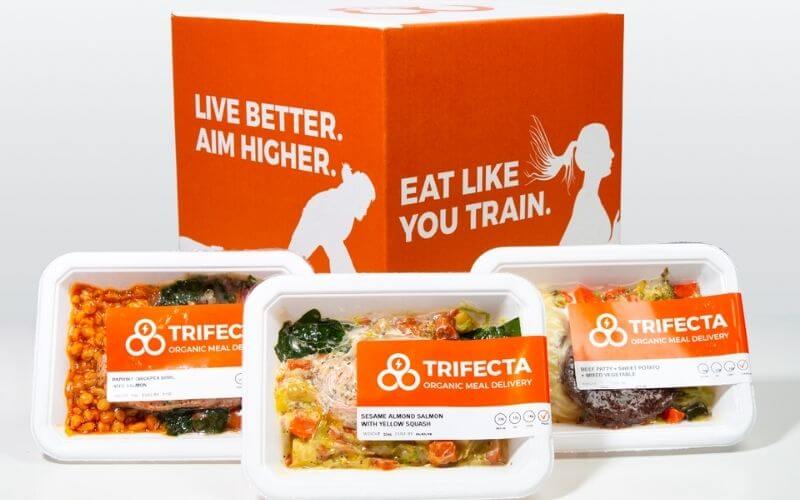 Bodybuilder dinner recipes can be boring and repetitive. Trifecta offers prepared meals that make mealtimes quick and convenient. If you aren't sure which meal plan is right for you, their website has a quiz that can get you started.
Whether you want workout meals delivered to your home, or you just want to eat healthier, Trifecta is a solid option. You can choose between the 3 meals of the day and whether you want meals for 5 or 7 days.
Meal Plans:
Trifecta Nutrition uses organic, sustainably sourced ingredients that are good for your body, the environment, and local farmers. They have a rotating menu, so your taste buds won't ever get bored!
Clean Meal:
These organic meals are lovingly prepared without extra salt and sugars, devoid of empty calories. These clean meals are great for both those wanting to lose weight, as well as those who want to gain muscle mass.
Made from wholesome ingredients, you won't find any processed ingredients, preservatives, and artificial flavor enhancers. Instead, the meals consist of lean proteins like white meat and fish, whole grains, legumes, fruits, and vegetables.
Paleo:
Paleo dishes can be difficult to source and get boring pretty fast. However, this plan makes paleolithic dieting a walk in the park.
Besides no sugars, chemicals, and processed ingredients, these meals are free from gluten, dairy, soy, and legumes. Instead, you get the best of a hunter-gatherer diet; fresh fruits and vegetables, ethically sourced meat, and fresh seafood.
Keto:
Keto meals are a great way to lose lots of weight quickly. Each meal in this plan averages a net of 9g of carbohydrates and 35g of protein. All the meals are gluten-free and free from carbs, yet will leave you feeling satisfied.
At the same time, you will get a lot of healthy fats sourced from nuts, high-fat meats, plant-based oils, and nutritionally dense vegetables.
Vegan:
A vegan powerlifting meal plan seems a bit unusual, but Trifecta's vegan meals will provide you with everything you need to bulk up and lift those weights. They contain lots of plant-based proteins including nuts, seeds, legumes, and grains.
A well-balanced vegan meal will balance out the proteins with carbs and healthy fats. Each meal has around 425 calories. Everyone wins; your body stays fit and healthy, and you contribute to fewer carbon emissions.
Vegetarian:
A plant-based diet is one of the easiest ways to get fit. Balancing fats and proteins, and containing enough carbs to fuel your workouts, the organic fruits, veggies, and grains make for a wholesome, healthy meal.
Although these meals are meatless, you will get your required proteins from things like beans, chickpeas, whole grains, and things like tofu, and ethically sourced eggs. These meals are also dairy-free, so if you're lactose-intolerant, this is a win for you!
Other Offerings:
Besides ready-to-eat meals, Trifecta Nutrition offers other dietary ingredients that will help you maintain a healthy diet. Want a bodybuilders food prep meal made easy? The meal prep option delivers ingredients like proteins/veggies/carbs so you can quickly make dishes yourself.
You can get things like shredded chicken, bison flanks, and fish fillets that you can season and cook the way you want. You can also get portions of veggies like asparagus, broccoli, and portobello mushrooms.
There is also a meal prep kit for families and multi-person households. Since the meals come in bulk, they cost less and save you some money. The Meat Lover's meal kit is also a great option for bodybuilders looking to gain muscle mass through a protein-dense diet.
Furthermore, you can get cooked items that you can use to build your own meals. Unlike many other meal delivery services, you can get more 'exotic' proteins like elk and venison along with the more traditional turkey, chicken, and seafood options.
If you don't like meat but crave a juicy burger, they also deliver Beyond Meat patties. You won't even know that it isn't real meat!
Trifecta Nutrition: Why They're Worth It
This brand is high on sustainably sourced ingredients. As a result, the produce is organic and freshly picked, the meat, fish, and eggs are from humanely raised animals.
Besides this, they offer plans to fit a number of different dietary options like vegan, keto, and paleo. If you are looking for snacks to munch on between meals, they have spiced nuts, and a delectably rich cinnamon walnut bread.
Whether you want to lose weight, gain weight, or maintain the weight you're at, Trifecta has a meal plan for you. You can even switch things up and use their meal prep kits to cook dinner once in a while if you don't feel like eating something pre-made.
Signing up for a meal plan is easy, and Trifecta offers free shipping with their meals. You can cancel anytime you want to!
Because of the high-quality ingredients and unusual protein offerings, this meal plan delivery can be a little more expensive compared to Mighty Macros and Muscle Meals 2 Go. However, the price is well worth it, considering the fresh ingredients and tasty meals.
What Your Bodybuilding Meal Delivery Service Should Offer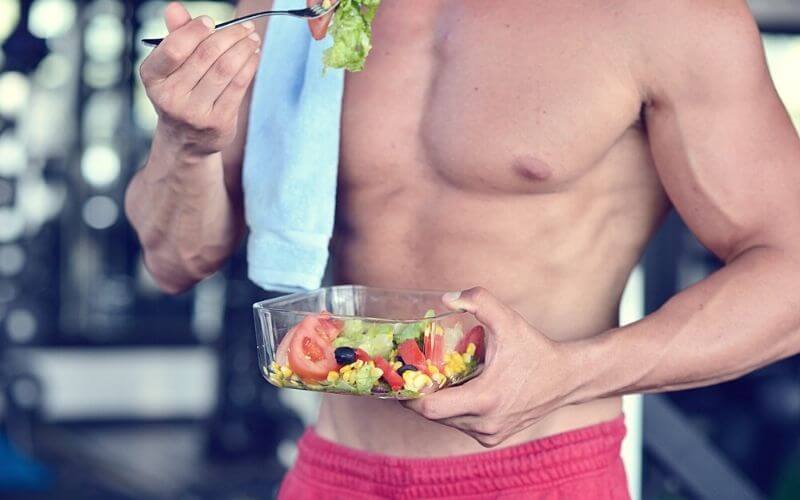 Regardless of the meal delivery program, you sign up for, meal services for bodybuilders should have the following features:
High protein and high carb meals that will keep you fueled during workouts.
Filling meals that will help you avoid snacking and sneaking in empty calories.
Natural ingredients that are free from refined sugars, processed ingredients, and additives.
Calorie-dense meals that build muscle mass instead of fat.
Flexible meal plans for dietary choices like Keto, Paleo, and plant-based diets.
Still Have Questions?
Here you will find answers to questions people often have about bodybuilding meal prep delivery services.
01. What Kind of Meal Prep Plans Can I Find for Bodybuilding?
There are two main kinds of meal delivery services. The first kind provides ingredients and recipes that you can then cook yourself. The second (and more convenient option) are premade meals that you just need to heat and serve.
02. Are These Pre-Made Meals Seasoned?
Yes. While low in salt, many of these meals are seasoned with healthy spices like cumin, turmeric, nutmeg, and cinnamon are used to flavor the food. A selection of healthy oils like olive, almond, avocado, and coconut are used in cooking and are loaded with antioxidants.
03. Can I Add Extra Spices and Seasonings to These Meals?
It is recommended that you don't add things like salt, sugar, and MSG to your precooked meals. Instead, season with things like garlic powder, black pepper, Italian, or Cajun seasoning.
04. Which Meal Delivery Service is Best for Vegans?
Muscle Meals 2 Go and Trifecta Nutrition offer vegan meals that are pre-cooked and ready to eat.
05. What are Some Other Meal Delivery Services for Building Muscle Mass?
Meal prep delivery services like Snap Kitchen and My Fit Foods, Territory Foods, and Factor 75 are great options for people looking to lose weight, gain muscle, or stay at a healthy weight while they undergo intensive workouts.
In a Nutshell
When you think about it, meal prep services take out the hardest part of staying on a healthy diet; buying and cooking healthy ingredients and turning them into a tasty dish. And doing it over and over again. But a bodybuilding meal prep delivery takes care of all that so you can focus on working out and gaining muscle mass.
Whether you choose Mighty Macros or Trifecta Nutrition (or something else altogether), it is important to go for a plan that will provide you with filling, high-calorie meals that are packed with proteins, carbs, and nutrients. Either way, watch your belly fat dissolve and your muscles build up in no time.