If you think hosting a party = too much cooking hassle, think again! With these top 20 easy food for party ideas, you're sure to whip up the most delectable finger foods that your guests won't stop drooling over!
We have listed a phenomenal mix of tantalizing appetizers, creamy dips, sweet treats, and even healthy vegetarian easy finger foods for parties so that you can floor your friends and family on any occasion.
Let's get the party started!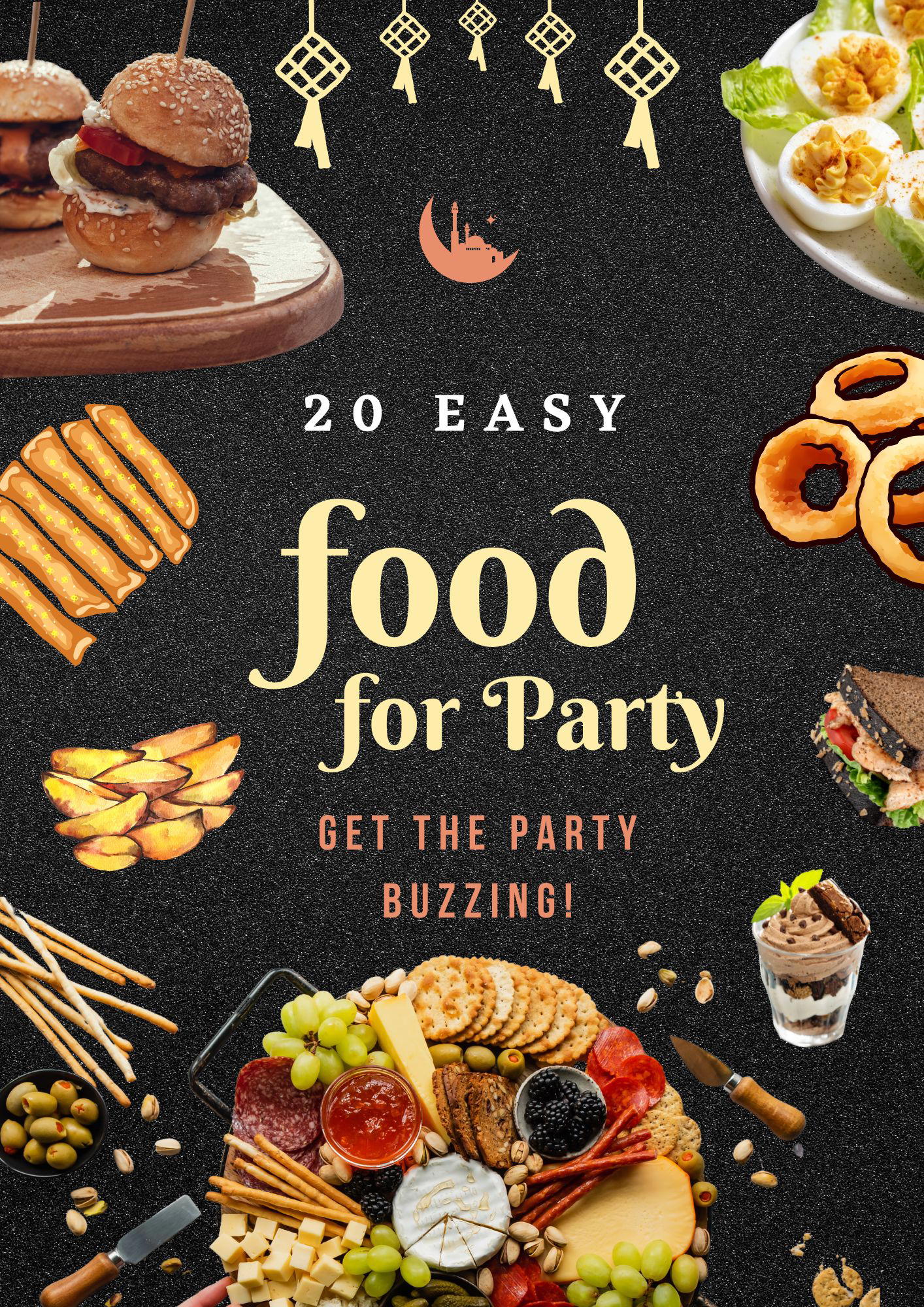 Appetizers and Snacks
The best easy finger foods for a party are appetizers and snacks. Make these in bite sizes and stick toothpicks on them so your guests find them to pick up and munch on.
01 Mini Sausage Rolls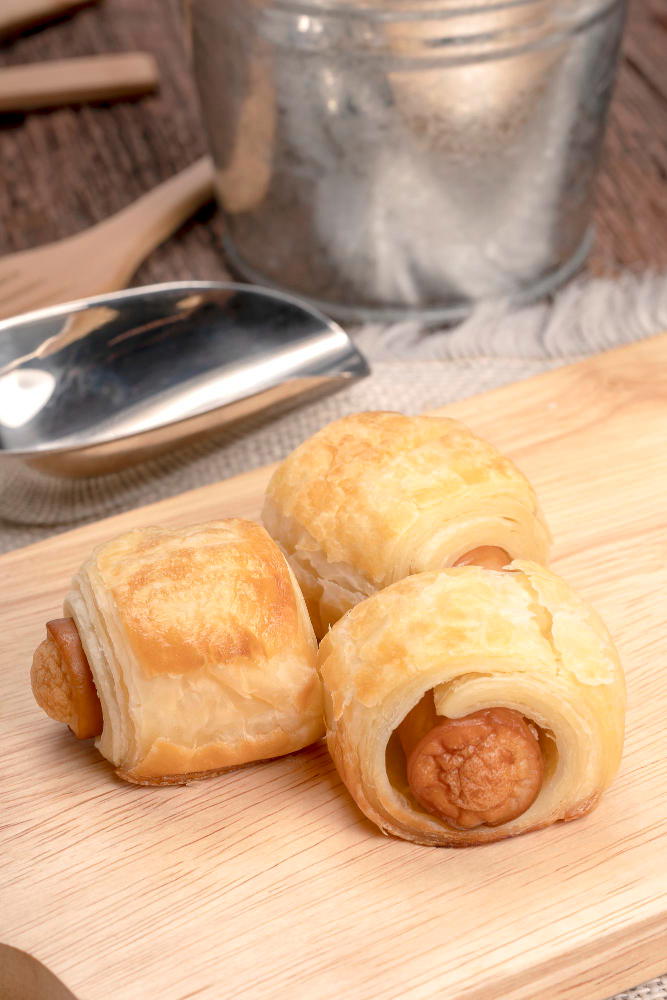 Sausage rolls or pigs in a blanket are one of the most favorite party foods ever.
With each bite, the flaky golden pastry baked to perfection meets the soft, warm sausage meat – a "meating" made in heaven. Bet you won't stop at one!
Tip: Make sure you have loads of ketchup to dip your mini sausage rolls in.
---
02 Chicken Tenders Italian Style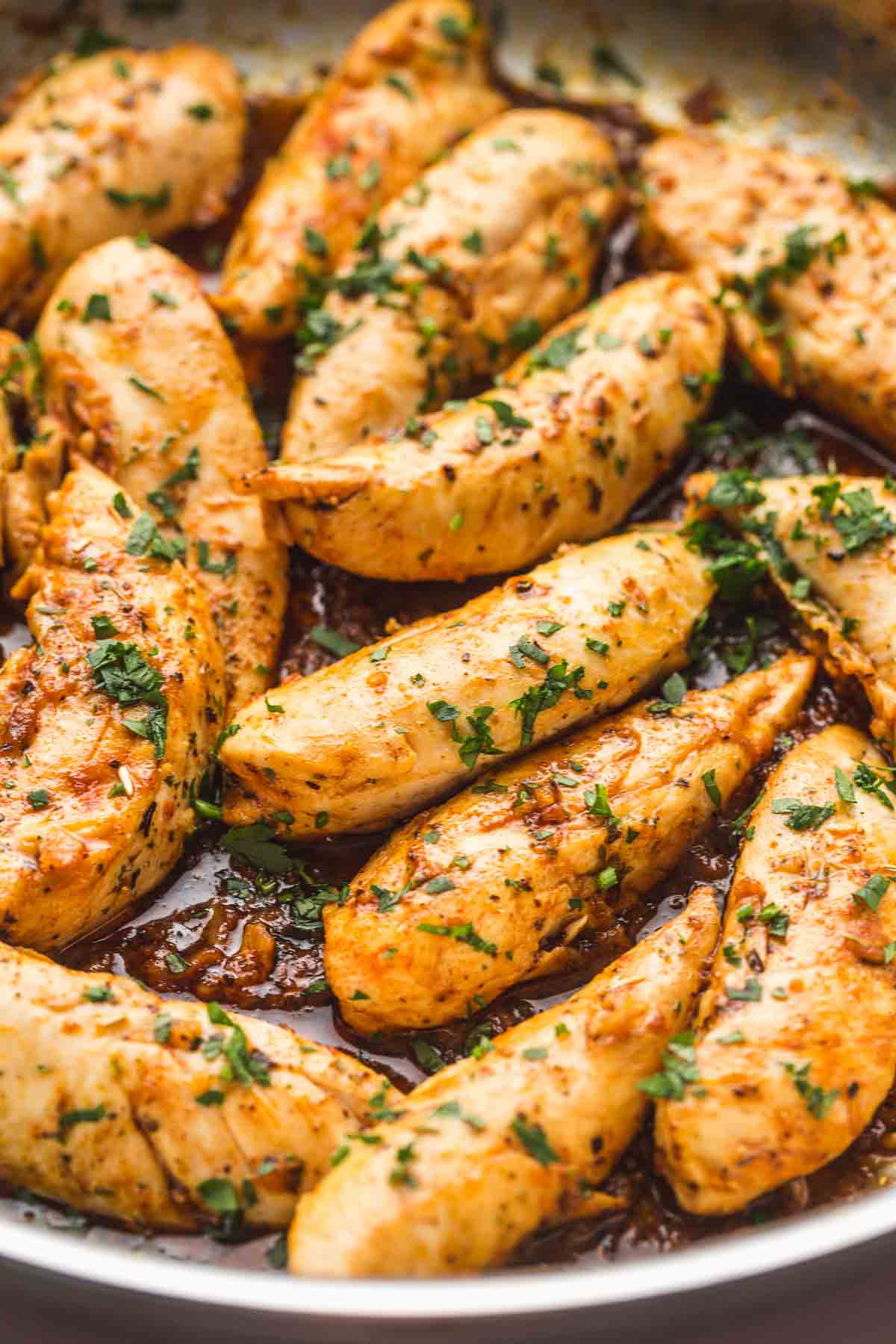 There are chicken tenders and then there are chicken tenders Italian style.
This recipe stands apart from others by using olive oil, plenty of garlic, and Italian seasoning.
You can't miss the warm and buttery flavor complemented by the subtle hint of herbs that make these chicken tenders truly one-of-a-kind.
Go for a baked version to save time if you're looking for easy food for a party of 20.
---
03 Deviled Eggs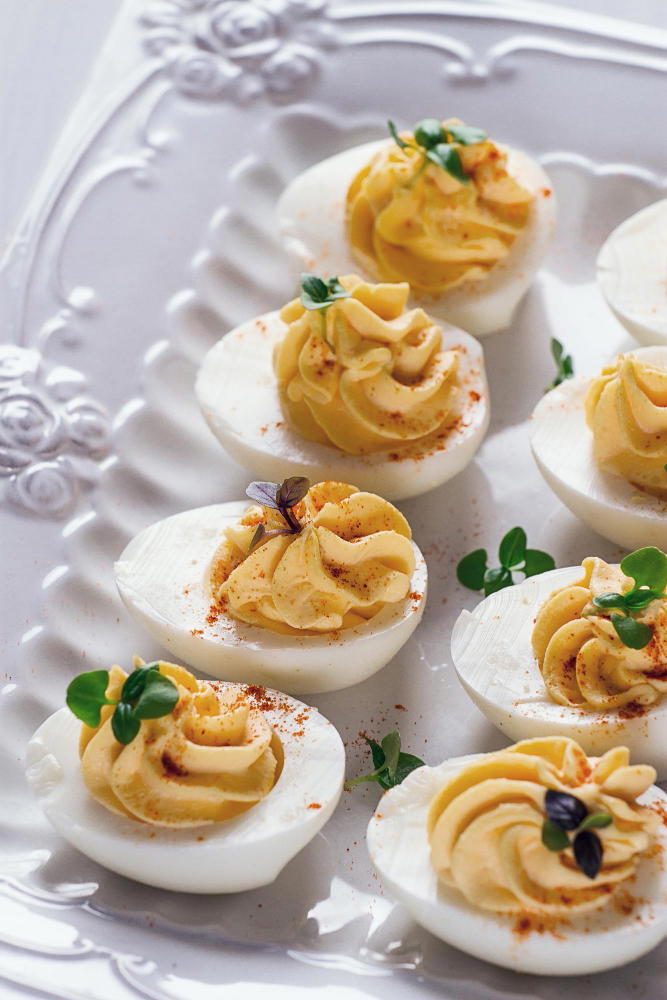 With only a few simple ingredients, deviled eggs are easy to make and nutritious too with all the goodness of boiled eggs.
They're not only great to eat but are also a visual delight – bright, sunny yellow against white.
Serve them on a blue platter to create a contrast and catch the eye of your guests.
Instead of sprinkling paprika powder on top, try bringing variations with smoked paprika or chaat masala powder (available in Asian aisles in stores) or even Herbs de Provence seasoning.
---
04 Cheese Sticks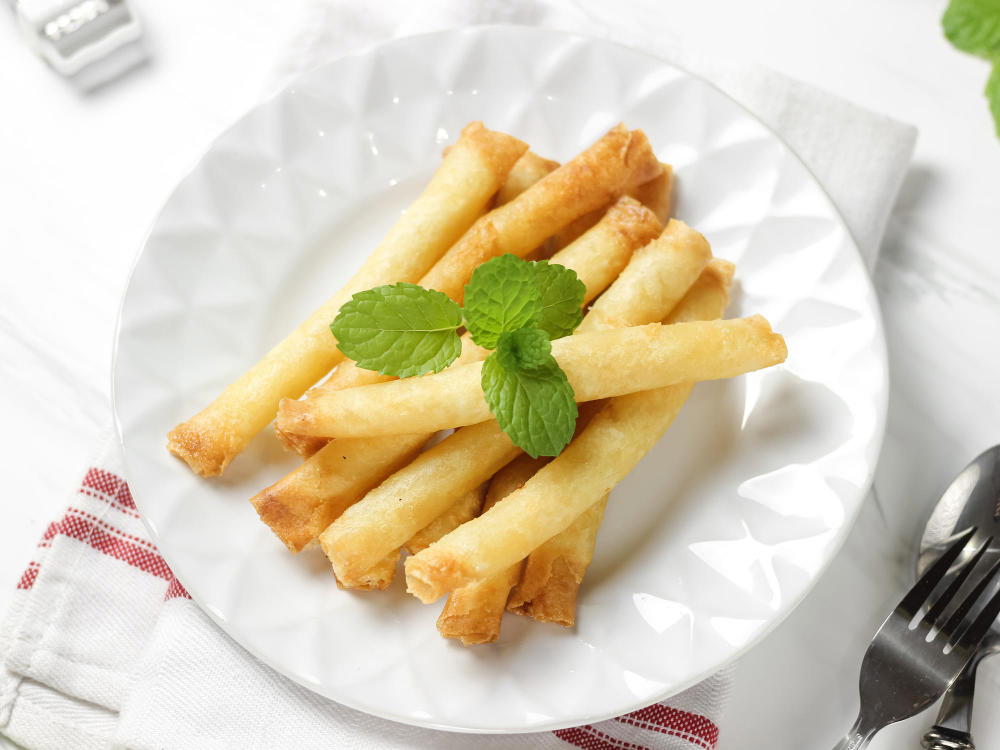 Another easy delicious party food that's definitely a crowd pleaser is cheese sticks or Mozarella sticks.
Who doesn't love the gooey cheese oozing from inside these sticks in each bite!
A platter of Mozarella sticks is sure to disappear within minutes of serving so make sure you make enough.
Cheese sticks are also easy food for birthday party as most kids love cheese.
If you are looking for easy food for party of 40 or more, bake or air-fry cheese sticks to save time. Plus, you'll get a healthier platter of cheese sticks as deep frying uses a lot of oil.
---
05 Sliders
Sliders are mini versions of cheeseburgers and their size makes them appealing, easy to grab, and undoubtedly an easy food for parties buffet.
The beefy, cheesy notes with just the right moisture in the bun without being soggy are sure to be a major hit with everyone, especially kids.
So, next time you're thinking of easy food for birthday party, think sliders!
---
06 Baked Potato Skins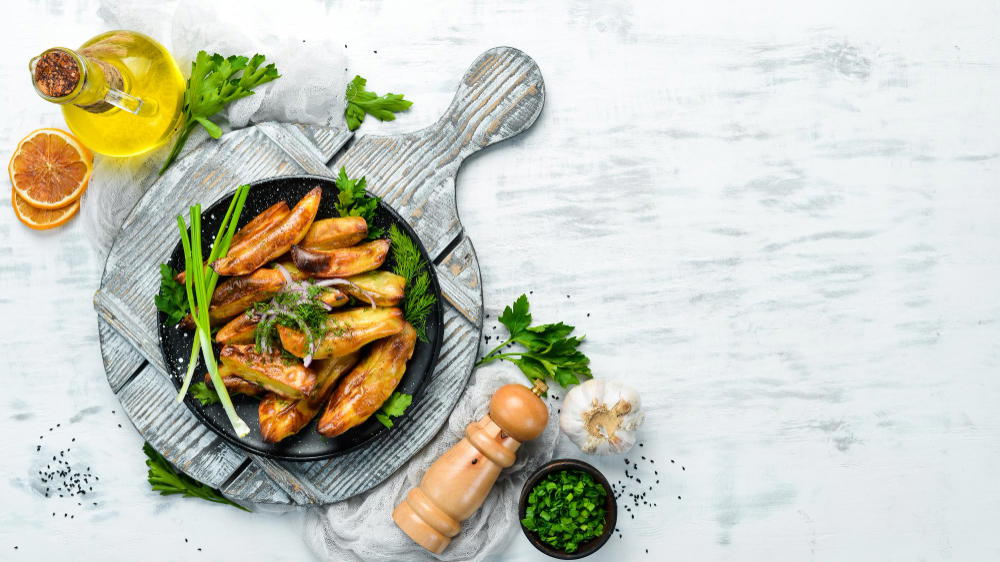 When you're planning some easy food for party of 40, don't leave out these crispy baked potato skins from your list!
These potato skins are easy to bake and when topped with bacon bits, chopped green onions, and sour cream, they become the ultimate party food that guests can't keep their fingers away from!
Give your potato skins a twist in taste by adding other toppings like blue cheese and fried onions.
Tip: Use Russet potatoes as these are large and their skin is tough enough to handle the fork pricks.
---
07 Sandwiches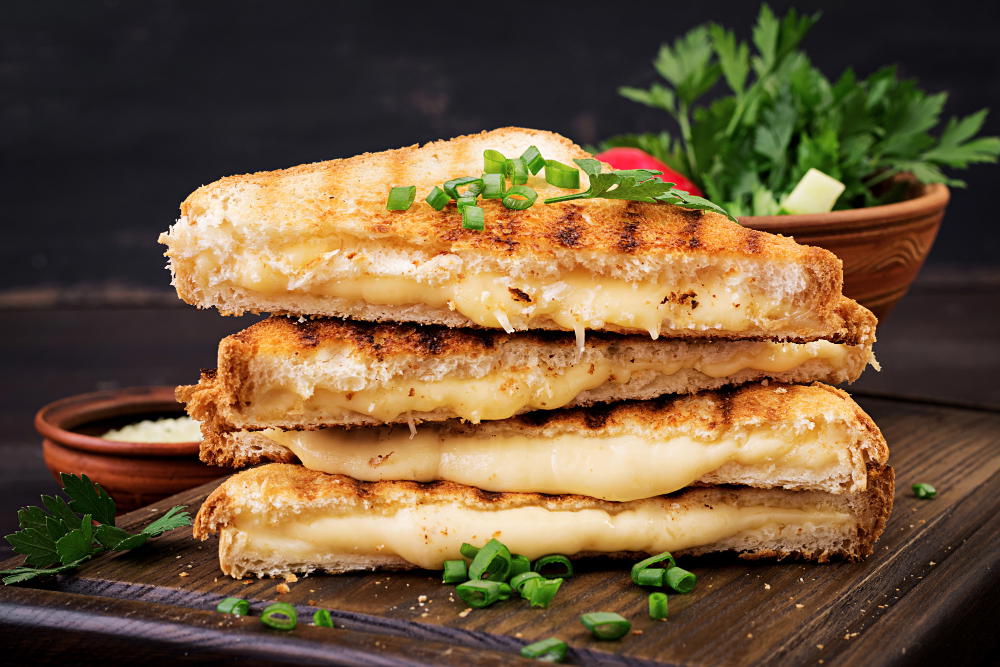 Now you can't go wrong with sandwiches! These are tried and tested snacks that both adults and kids love.
So, whether you're getting together with friends on a game night or just want to make your kid's birthday a memorable one, sandwiches are it!
The best thing about sandwiches is that you can create endless variations by switching up the sandwich fillings.
While mashed boiled eggs, mayonnaise, salt, and pepper can be a basic filling, you can turn things up a notch higher with chicken spread or shredded hunter beef, or even a refreshing chicken salad filling.
As easy party food ideas, sandwiches are the best bet. Create mini sandwiches by cutting them up into smaller squares and triangles.
Add a toothpick to each mini sandwich for an easy grab-and-go!
---
Dips
No party is complete without bowls of potato or tortilla or corn chips or nachos. These make easy party food by themselves but are much better with creamy or tangy dips.
For a different take on chips, try papadums. Instead of frying these, get an oil-free healthy version. Warm each disc for 15 – 30 seconds in the microwave oven to get flavorful, roasted, and crispy papadums.
---
08 Tomato Salsa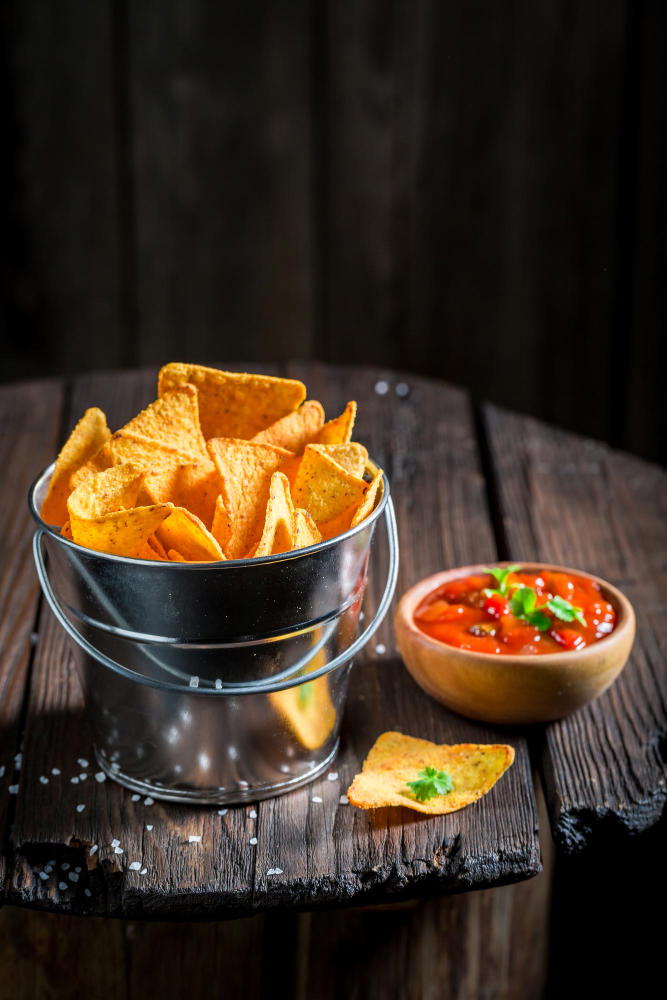 An evergreen accompaniment to nachos and tortilla chips, tomato salsa is healthy and has a tangy note to it to tickle your tastebud.
If you're hosting a gathering in summer, tomato salsa is the perfect dip to refresh the palate.
Your guests can have it even without chips – as a salad or with steak and baked potatoes.
---
09 Honey Mustard Dipping Sauce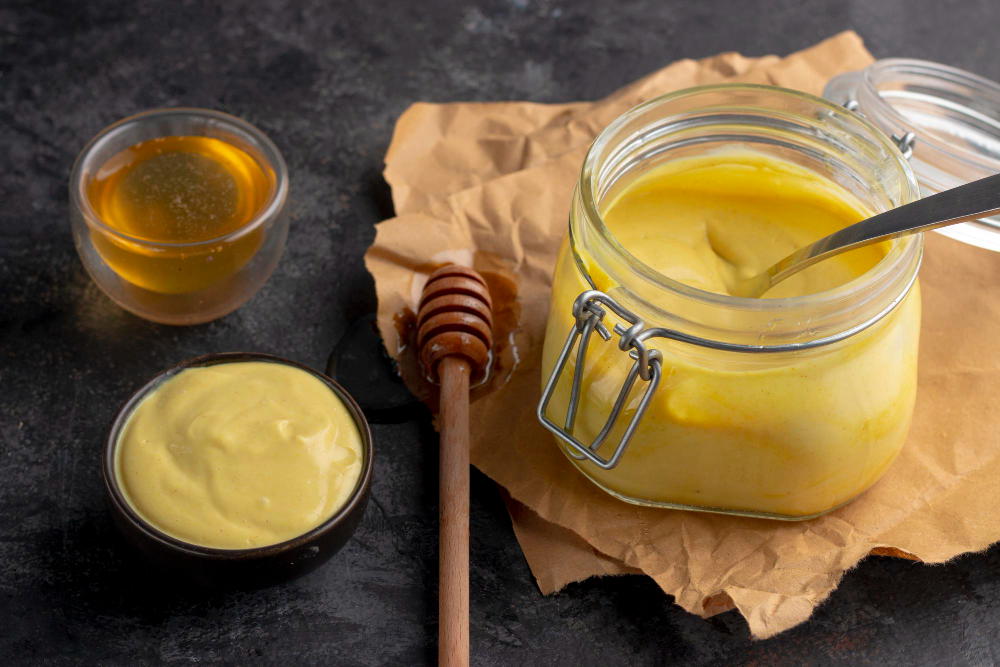 Dip your chicken tenders or French fries or cheese sticks in a creamy honey mustard dipping sauce to revel in a burst of sweet and tangy flavors.
The slightly pungent mustard flavor is nicely set off by the sticky sweet flavor of honey to create a smooth concoction that enhances the taste of any food you want to dip into this sauce.
---
10 Hummus
For a bit of Mediterranean flare, add hummus as a dip for Mozarella sticks, garlic bread, nachos, or any savory finger food.
The nutty and earthy notes of mashed chickpeas, garlic, and tahini are given a bit of an edge by adding lemon juice.
The soft, creamy, and fluffy hummus is best served with pita bread.
If you have done other types of dips to death, try hummus to serve with easy finger foods for parties.
---
Sweet Treats
What's a party without sweet treats to nibble on? After all those dips and sausage rolls and whatnot, your guests will definitely crave something sweet.
11 Fruit Trifle Shots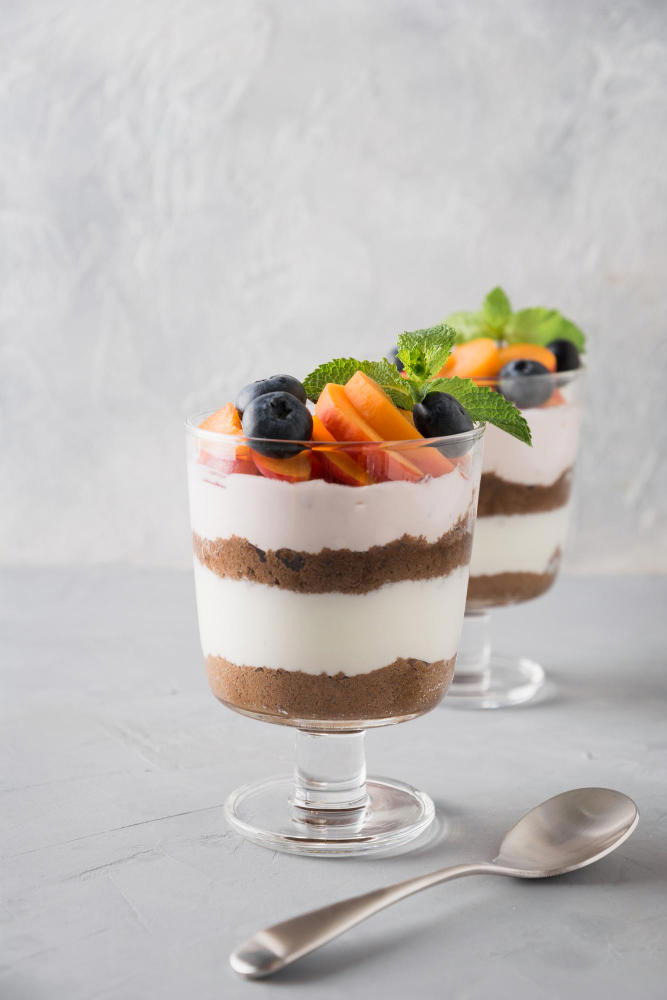 This is one of the easiest foods for parties as it needs just layering cake, custard, jelly, cream, and mixed fruits.
Usually, this is arranged in a large bowl, but for the convenience of your guests, use shot glasses for individual servings.
The layers of sponge cake broken by colorful jelly and mixed fruits layers will add dollops of oomph to your spread.
When the crunch of sweet and fresh fruits meets layers of soft cake, jelly, and creamy custard, your guests will thank you to no end.
---
12 Tiramisu Cups
One of the easiest no-cook finger foods for parties, tiramisu served in individual cups will bowl the crowd over.
With every spoonful, you'll be welcomed by a whiff of cocoa powder, followed by layers of spongy and creamy affair.
The sweet and subtle notes of coffee and the liqueur in the tiramisu are going to be a sure hit with coffee lovers who want a nutty or smoky aroma in their desserts.
---
13 Granola Parfait Shots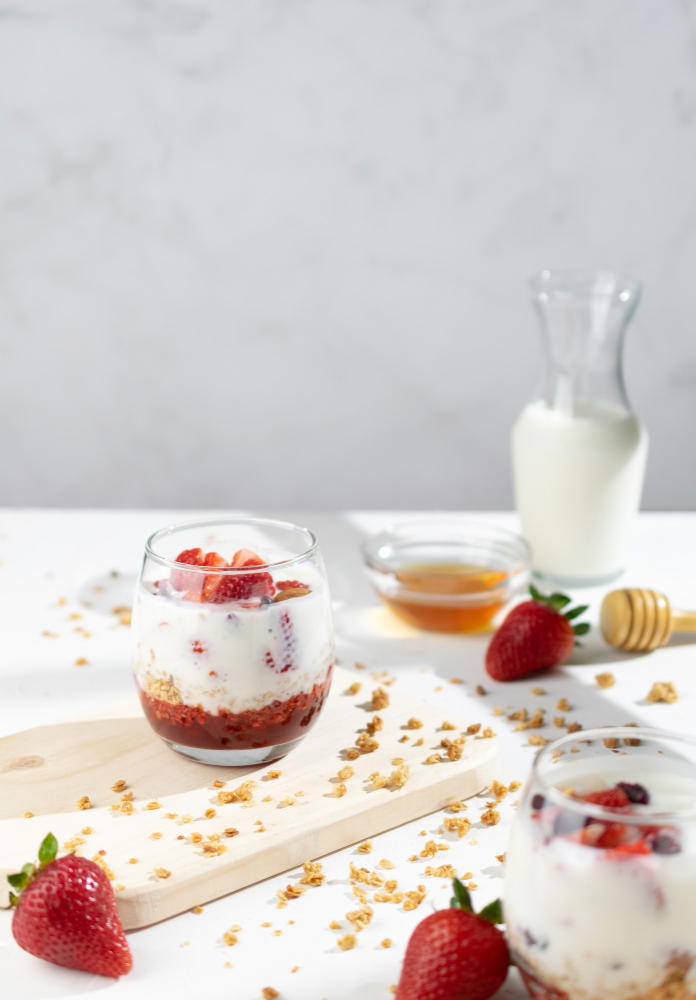 This is hands-down one of the healthiest and easy food for party that your calorie-conscious friends will reach for.
The crunchy layers of oats, nuts, and seeds mix effortlessly with the yogurt and bits of both dry and fresh fruit for an unforgettable texture and taste.
With a drizzle of honey, these granola parfait shots are the perfect ending on a sweet note to a summer evening with friends and family.
---
14 Mini Cheesecakes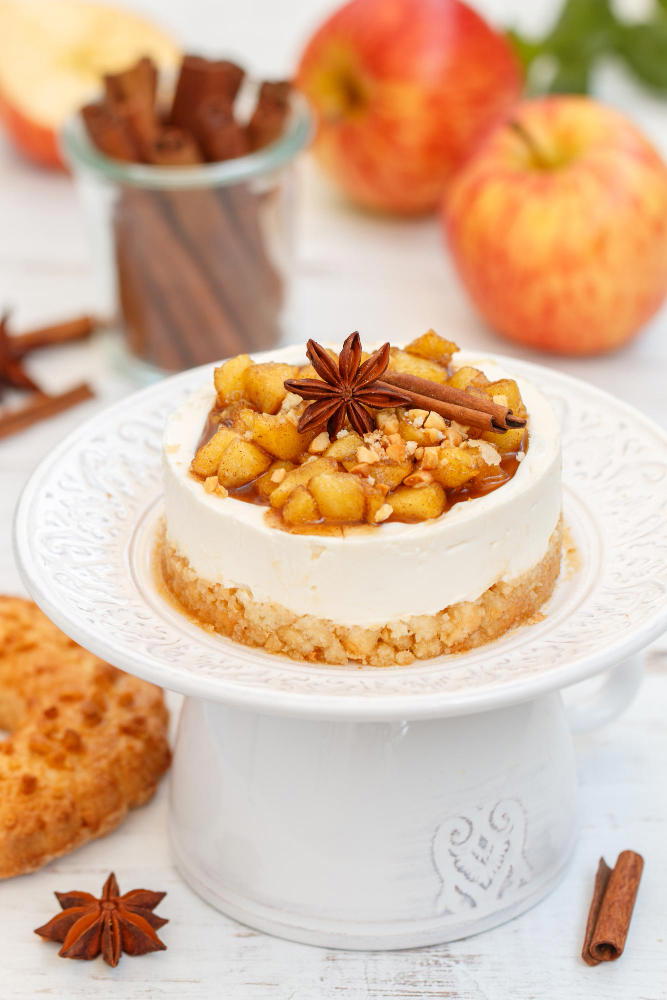 If you're hunting high and low for easy party food ideas, a popular one among people of all ages is mini cheesecakes.
Plus, the great thing about cheesecakes is that you can be so creative with the toppings.
With the basic taste and flavor of Graham crackers and cheese filling, you can create various flavors using different toppings.
Whether your guests love chocolate or berries or jam toppings, you can cater to their individual preferences with these mini cheesecakes.
---
15 Cake Pops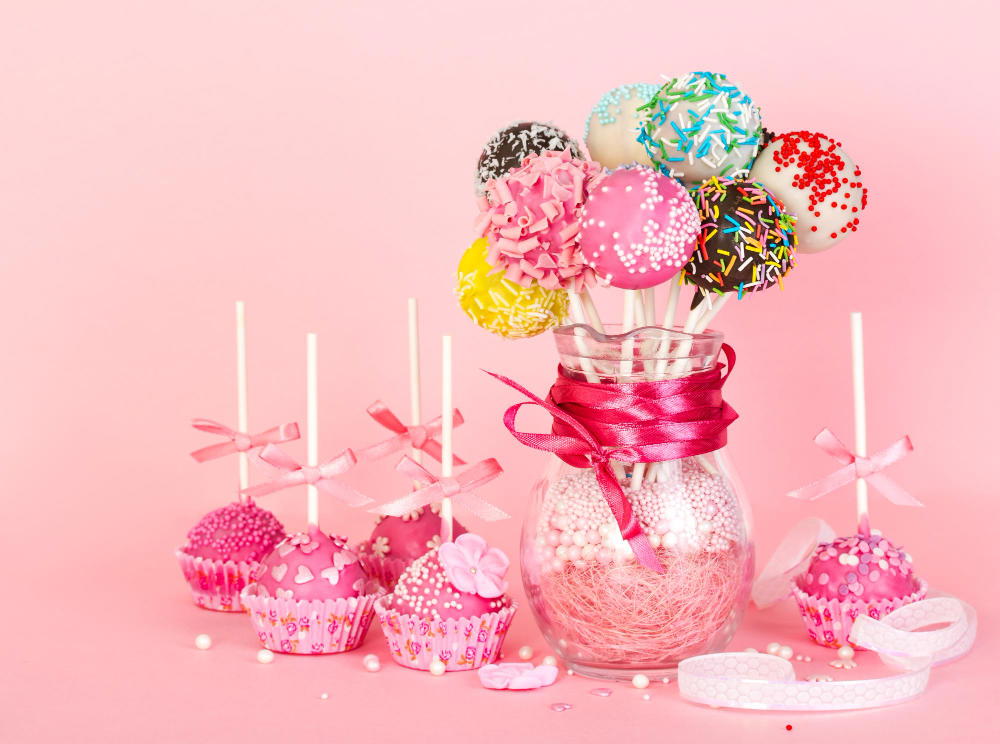 Easy party food for a crowd of kids at a birthday party is a colorful bouquet of cake pops.
Plain old cake with frosting dipped in white or milk chocolate melt never tasted better!
Roll them in sprinkles to create luscious cake lollipops for those with the sweetest tooth.
---
Vegetarian Easy Finger Foods For Parties
With people around the world getting more conscious about eating meat and the effects it has on our planet, small wonder that many of your friends and family have turned vegetarian and opt for fake meat.
Not to disappoint them at your next get-together, we have thrown in some vegetarian easy party food ideas below.
Source: www.rd.com
---
16 Mixed Vegetable Fritters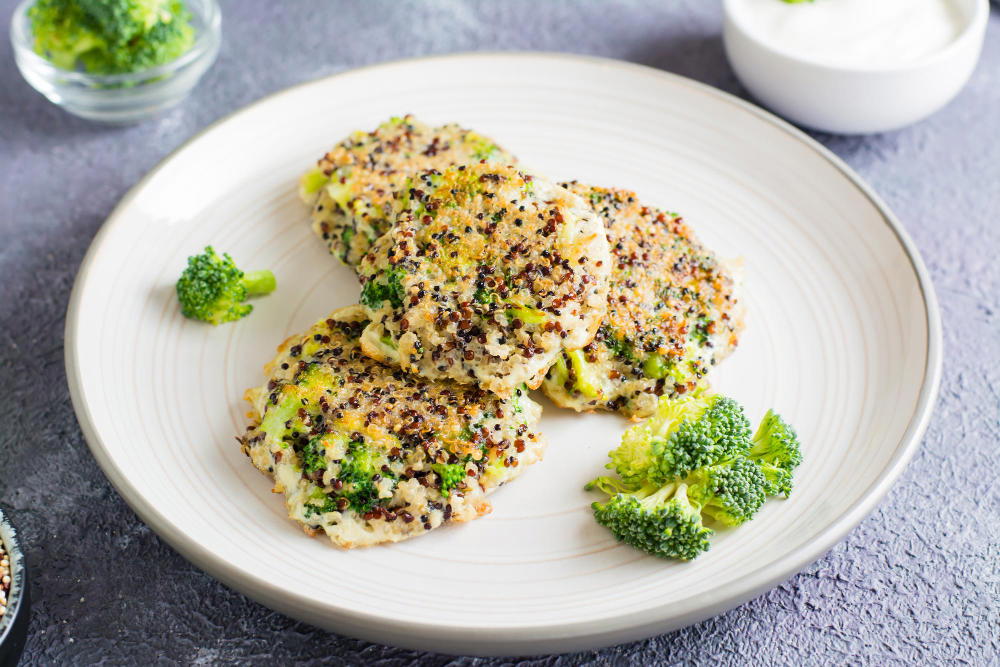 When we say fritters, we think of deep-frying. But that need not be the case.
You can make the mixed vegetable dough and bake them or even air-fry them for a healthy version.
Thanks to the spices, the taste will remain the same.
These baked vegetable fritters are crunchy on the outside and soft on the inside. Even your meat-loving friends won't be able to help themselves from munching on a few!
---
17 French Toast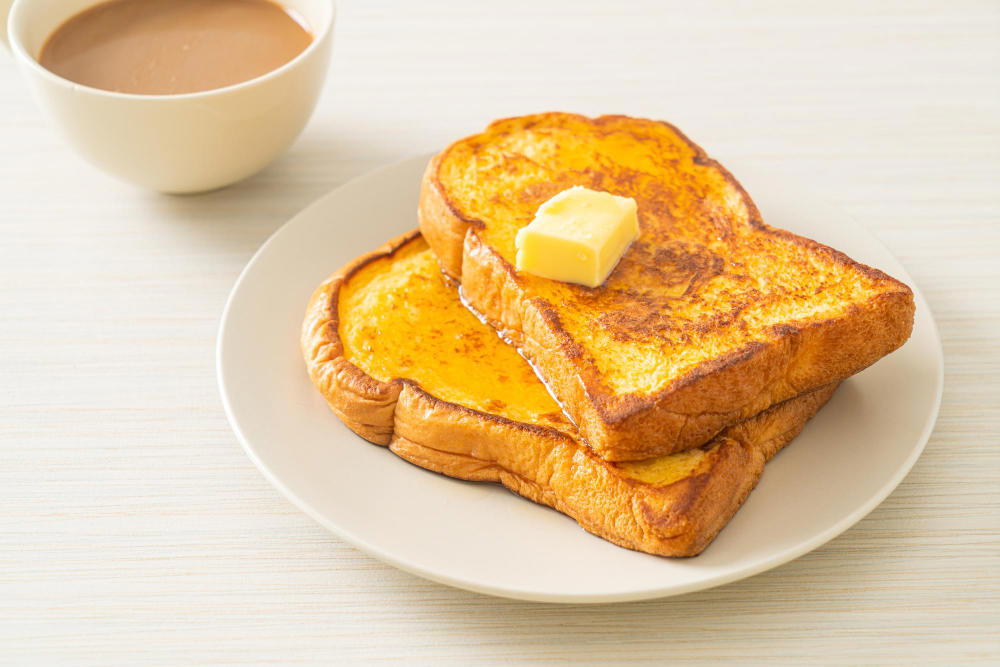 Fun Fact: French toast is not really French and in fact, traces its history back to ancient Rome!
Just use simple ingredients – eggs, milk, bread – that are always in the kitchen to make French toast for your vegetarian guests.
Cut them into neat little squares and put a toothpick on each before you serve them.
The warmth of eggs and milk with the sweetness of sugar and cinnamon powder make French toast the perfect comfort food as well as easy party food.
---
18 Onion Rings
Onions are full of nutrients and it helps to have these as appetizers.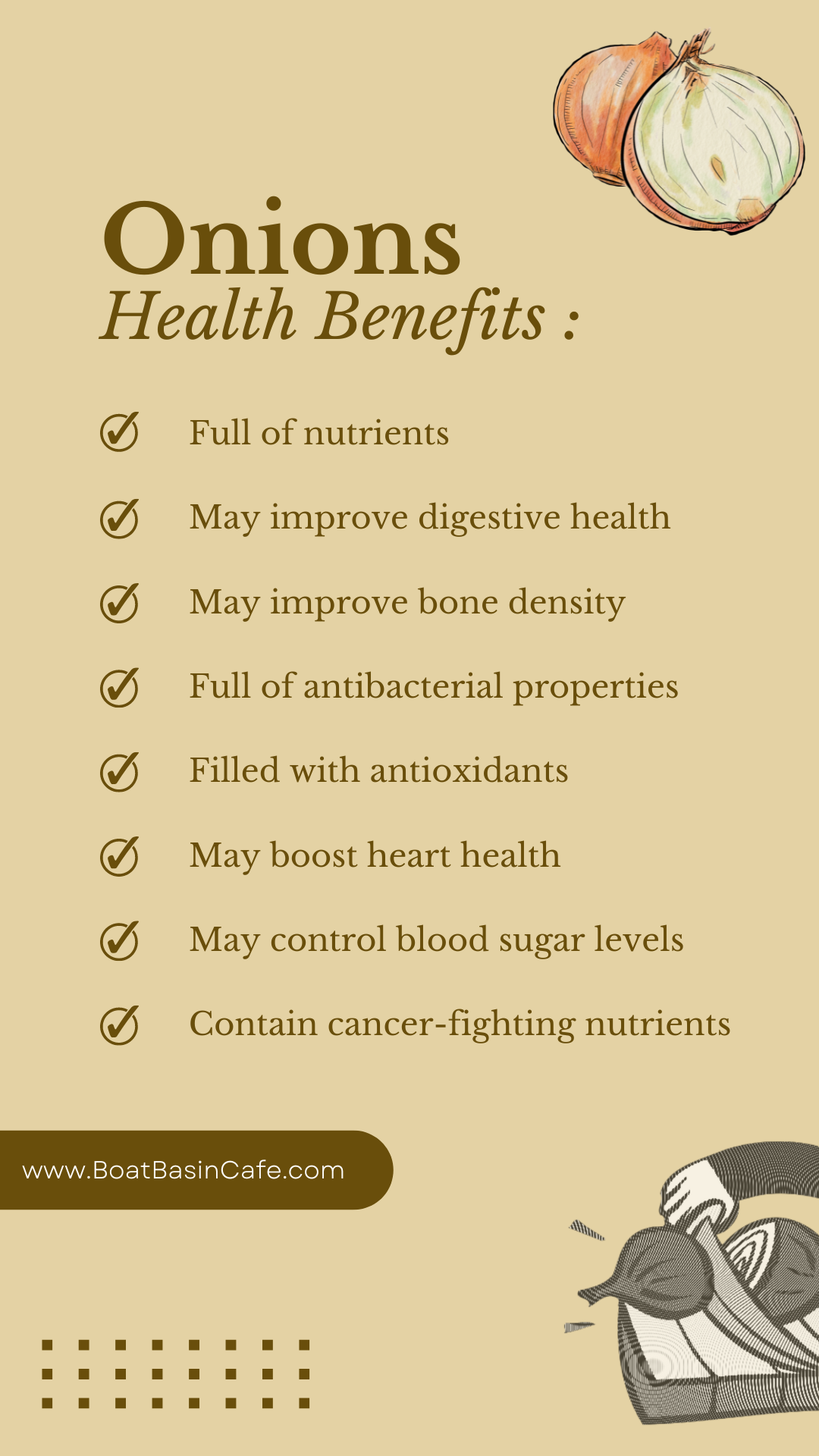 Plus, when they are in the form of onion rings with a crusty and flavorful outside and a soft inside, chances are they're going to disappear from the table soon!
If you're more health-conscious, then go for an air fryer version of these onion rings.
---
19 Grilled Balsamic Mushrooms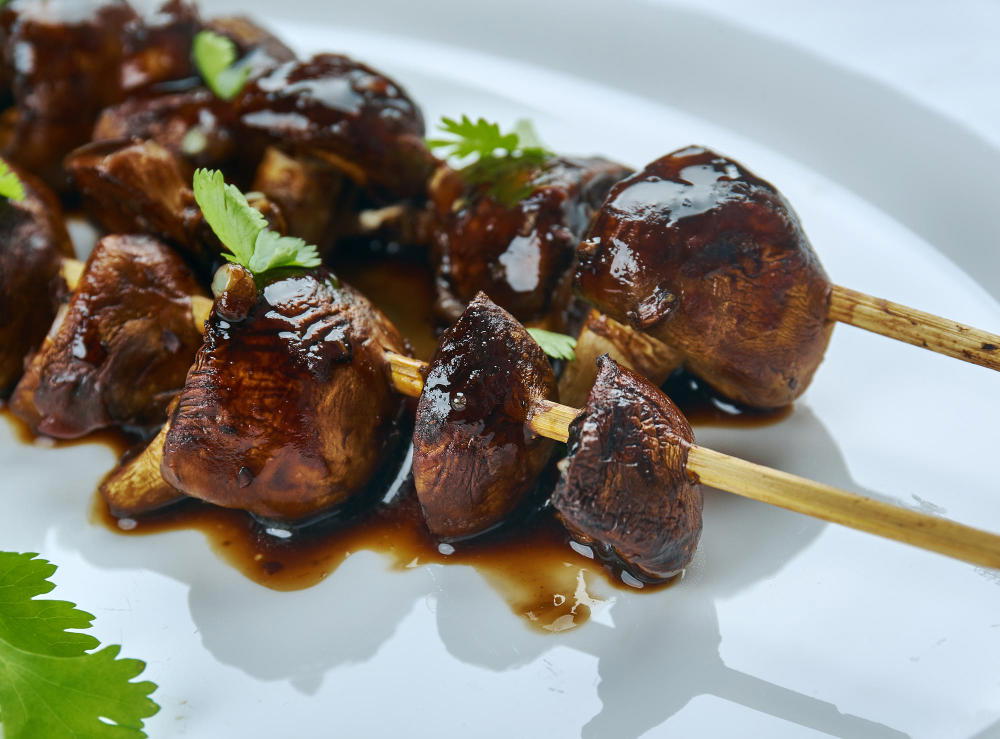 Mushrooms are a universal favorite party food. I don't know anyone who doesn't care for these fungi that have a spongy texture and an earthy, meaty flavor.
And when these are drenched in Balsamic vinegar or any other vinegar substitute before being grilled, the flavors go north.
Soft and succulent grilled mushrooms will definitely be a party popper.
Last but not least, if you're totally out of steam but still want some easy party food for a crowd, nothing beats a charcuterie board.
---
20 Charcuterie Board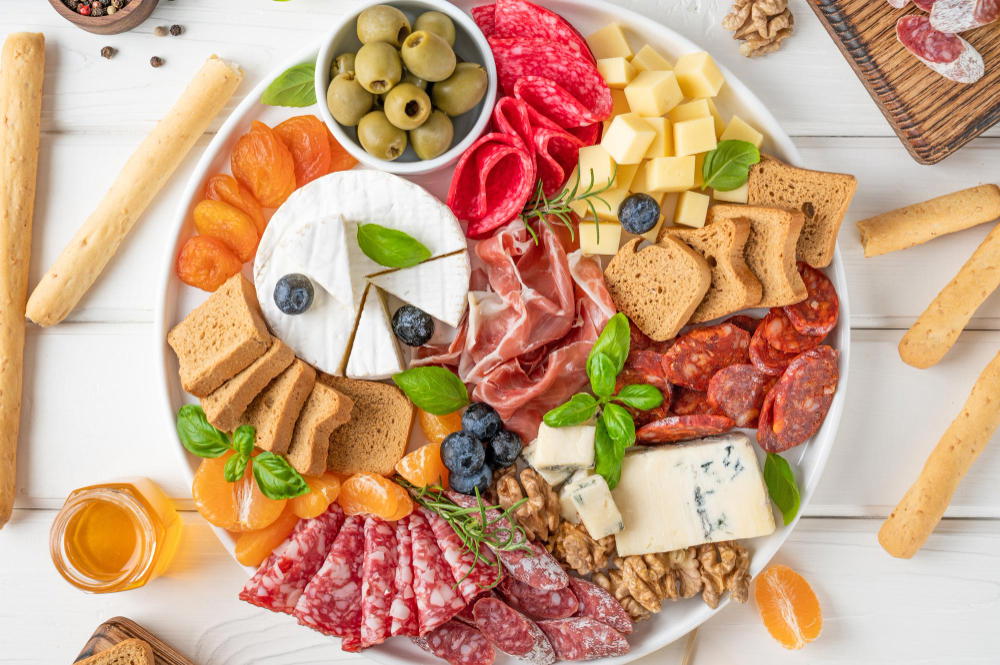 This is another no-cook finger foods for parties option as you just need to arrange cheese, cured meats, crackers, jam, pickles, fruit, nuts, etc. on a platter.
Create wonders with the versatility and flexibility that a charcuterie board offers. It's a visual and culinary treat that everyone appreciates.
Experiment with vegan and vegetarian options if you want to stay away from meat.
---
FAQs
What's the best party food?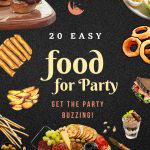 The best party food includes an array of choices like sweet, savory, and dips. 
A charcuterie board also makes the best party food as you can place anything and everything on the board that your guests can mix and match. 
What food should I serve at a party?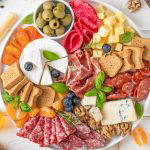 You should serve a mix of sweet and savory finger foods at a party so that your guests can pick and choose as they will. 
With more people avoiding meat these days, it's better if you serve some vegetarian options too like vegetable burgers, onion rings, potato toast, etc. 
What is the most popular party snack?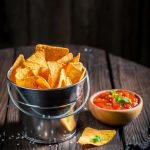 There is no single most popular party snack. It all depends on whether your guests are kids, teenagers, or adults and if they're health-conscious or not. 
Having said that, some popular party snacks include pigs in a blanket, quiches, brownies, cake pops, dips, sliders, etc. 
What's good finger food for party?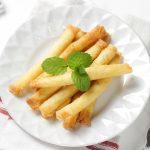 Good finger food for party should be bite-sized, no-mess food like mini sausage rolls, nachos, cake pops, sandwiches, and others. 
Final Thoughts
A party isn't one with plenty of nibbles for your meat-eating and vegetarian buddies.
To have a successful game night or a backyard barbecue party, these 20 easy food for party ideas will come in handy. Remember that you need to keep some food warm for a party as they won't taste great if they get cold.
With enough finger foods recipes shared here, you'll soon be a pro at throwing parties!