Is your Hamilton Beach FlexBrew leaking? Or do you have a Hamilton Beach BrewStation slow dispensing when you're already late for work? 
No matter what your favorite BrewStation coffee maker models, it can be quite disappointing when they start acting up.
You might think it's time to retire your coffeemaker and get a new one, but that's not always the case. There are a few key fixes that you can use for Hamilton Beach BrewStation troubleshooting right at home!
If you're on the verge of giving up, give this article a read-maybe the solution was right at your fingertips all along.
Hamilton Beach Coffee Maker Troubleshooting
This section will look at the different issues that can potentially show up in your coffee maker. These tips will work for most Hamilton Beach coffee machines, so if you require Hamilton Beach 48464 Troubleshooting or any other model, this will help you out.
Hamilton Beach Coffee Maker Won't Turn On:
If your unit simply won't turn on, this can be the result of two issues. First, there may be a power outage or a faulty socket. Make sure the outlet you plug your coffee maker into is properly functional and there are no issues with the power.
On the other hand, if your socket is functional and there's no power outage, the plug or power cord may have some issues. If the cord is frayed or torn, or the plug is broken, you will need to replace them.
The Unit Cannot Brew Coffee:
In case your Hamilton Beach coffee maker won't brew, there's a good chance that mineral deposits have blocked the innermost pipes of the unit. Descale and clean your BrewStation or Hamilton Beach coffee machine thoroughly before brewing a fresh pot of coffee.
This can help you if you aren't sure how to clean a Hamilton Beach BrewStation (or any other coffee maker!)
Meanwhile, another reason for a Hamilton Beach coffee maker not pumping water or Hamilton Beach FlexBrew water not coming out is an empty water tank. In many cases, Hamilton Beach BrewStation problems can be solved by emptying out and refilling the tank.
Most of the time, the reservoir is empty or almost empty. In that case, fill it up properly and start brewing again.
Coffee Maker Leaks Coffee:
If your unit leaks coffee all over the place during brewing, it can result in quite a mess. Sometimes it can even when your BrewStation isn't even in use! 
This can happen because there are coffee grounds trapped in the coffee maker. Check the unit for trapped grounds and clean accordingly.
Sometimes your Hamilton Beach coffee filter may have collapsed, causing these leaks. Use high-quality paper coffee filters to avoid this from happening. In other cases, the brew basket may not be set in the right place.
Poor Tasting Coffee:
Nasty coffee is a sign of your Hamilton Beach FlexBrew not working. This is most often a result of a dirty coffee maker. 
If you are facing Hamilton Beach FlexBrew Single-Serve problems or Hamilton Beach FlexBrew Single-Serve clogged aftermath, cleaning it out will solve the issue.
However, your coffee will also taste off if the water quality is poor. Use filtered water if you think your tap water is on the funky side.
If your coffee is ground too finely, it may leak through the filter and make your coffee taste gritty, so make sure your coffee grounds have the right consistency. You can also set your coffee maker to 'Automatic Drip Grind' to circumvent poorly brewed coffee.
BrewStation Dispenses and Brews Very Slowly:
This could be because your coffee maker's settings are jumbled or a clogged brew tank screen. Check the mode you're using to brew because the "1-4 Cups" and "Bold" modes brew coffee more slowly.
If these modes are on, press the "Brew Mode" button until there are no lights on. A Hamilton Beach BrewStation clean reset or Hamilton Beach BrewStation clean light reset can also help fix a slow brewer. 
Hamilton Beach programmable coffee maker instructions are pretty simple and will show you how to do this.
But if the settings aren't the cause, then the screen at the bottom of the brew tank might be clogged. Cleaning the screen with an old toothbrush or dishcloth will remove buildup and fix the slow brewing.
Hamilton Beach Brews Weak Coffee:
If your coffee maker has all the right settings and is clean, but your coffee still tastes stale or weak, you may have an issue with your grounds. Most of the time the reason behind this is that there is not enough ground coffee in the basket.
If your BrewFlex or BrewStation uses coffee pods, any little change can alter the strength. You have to make sure that the pods are centered in the basket if there is one for brewing. 
And of course, you must ensure that the single-serve brew function is selected, as anything else water your coffee down!
Error Codes:
The Hamilton Beach FlexBrew error message or Hamilton Beach coffee maker error codes is a sign that something is wrong and needs to be fixed. For instance, the ERR code generally means there is something wrong with the reservoir and it is empty or clogged.
Hamilton Beach Coffee Maker Maintenance Tips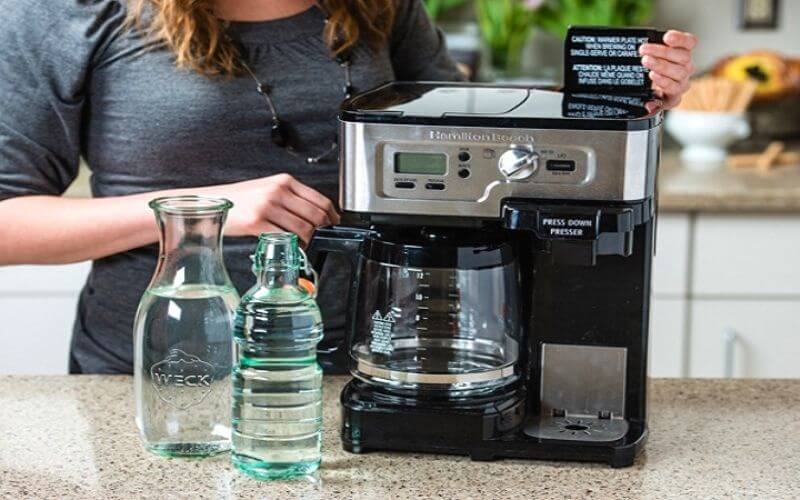 These tips will help keep your coffee maker in good shape and prevent any issues that require troubleshooting.
Clean your coffee maker frequently, and make sure you decalcify or descale your Hamilton Beach unit often.
Use cold water to brew your coffee, as using lukewarm water can affect the taste of your finished brew.

Using the best possible ground coffee. Brew with a quality brand of coffee beans and ditch the pre-ground stuff, and use a coffee grinder to do so from scratch. It is also important to use the right amount of grounds with the right consistency.

Your brewer should be paired with strong and high-end coffee filters. While paper filters prevent bitterness, permanent filters result in a stronger and richer brew.

Replace damaged parts of your coffee maker, as this can wreck your entire unit in the long run. Hamilton Beach replacement coffee pots are pretty easy to find, as are Hamilton Beach percolator parts, so you won't have to look too hard for them.
Frequently Asked Questions
Below you will find answers to questions people tend to have about Hamilton Beach troubleshooting.
01. Why is My Hamilton Beach Coffee Maker Taking So Long to Brew?
The most common reason for this issue is a clogged coffee maker. Descale and clean your coffee maker by running a solution of equal parts water and white vinegar through a brew cycle will help.
02. Can I Add Milk to My BrewFlex Unit?
You shouldn't add milk to any coffee maker as this will damage your appliance. Instead, you should only add water to the tank of your coffee maker and add milk to the brewed coffee afterward.
03. How Can I Clean My Coffee Maker's Needle?
Unplug the coffee maker and let it cool.

Remove the gray needle holder in the lid by rotating the arrow from the locked icon to the unlocked icon.

Unwind a small paper clip. Push the tip of the bent paper clip through the hole of the piercing needle and up the shaft of the piercing needle to make sure the coffee grounds have been removed.

Rinse gently to remove any tray grounds.

Insert the tab between the lock icon and unlock icon to replace the needle holder and turn it to the right to lock it in place.
04. Can I Empty My FlexBrew's Water Tank?
Yes, it is possible to purge all the water from this coffee maker's tank. To do so, put in a 14-oz. mug or carafe under the dispensing spout.
Press either the BREW REG or BREW BOLD button and hold it down for 3 seconds to empty all water from the coffee maker tank. During this purging, a white brew indicator light will flash on the machine. This light will turn off once the coffeemaker is empty.
05. What Can I Do to Fix a Leaking Hamilton Beach Water Tank?
Leaks happen due to a buildup or blockage in the tank seal. Invert the brew tank, holding it upside down over a sink, then hold down the dispensing valve at the bottom of the tank, flushing with water for about 30 seconds.
Conclusion 
As you can see, fixing up issues in your Hamilton Beach coffee maker is much easier than it seems. These Hamilton Beach BrewStation troubleshooting methods will help you identify problem areas and how to correct them in no time at all.
So the next time your Hamilton Beach unit starts behaving strangely, you will be able to discover what is wrong with it without having to call an expert. And this means an issue sorted out much more quickly, and can settle down with your cup of joe with the least amount of fuss possible.
More Related Articles: