Learn how to make breakfast without eggs for a quick and healthy meal idea that's full of nutrition, flavor, and taste that your entire family will love.
When it comes to breakfast ideas, there are plenty of possibilities that don't require eggs.
Whether you're allergic to eggs or don't like them or have run out of fresh eggs, you can have a hearty no eggs breakfast that will keep you going.
All you need is a bit of imagination. You can create both sweet and savory breakfast recipes without eggs using oatmeal, yogurt, cereal, waffles, and pancakes.
Whatever you choose, make sure that it is nutritious and gives you the energy to start your day. My favorite is anything with oats, which keeps me fuller for longer.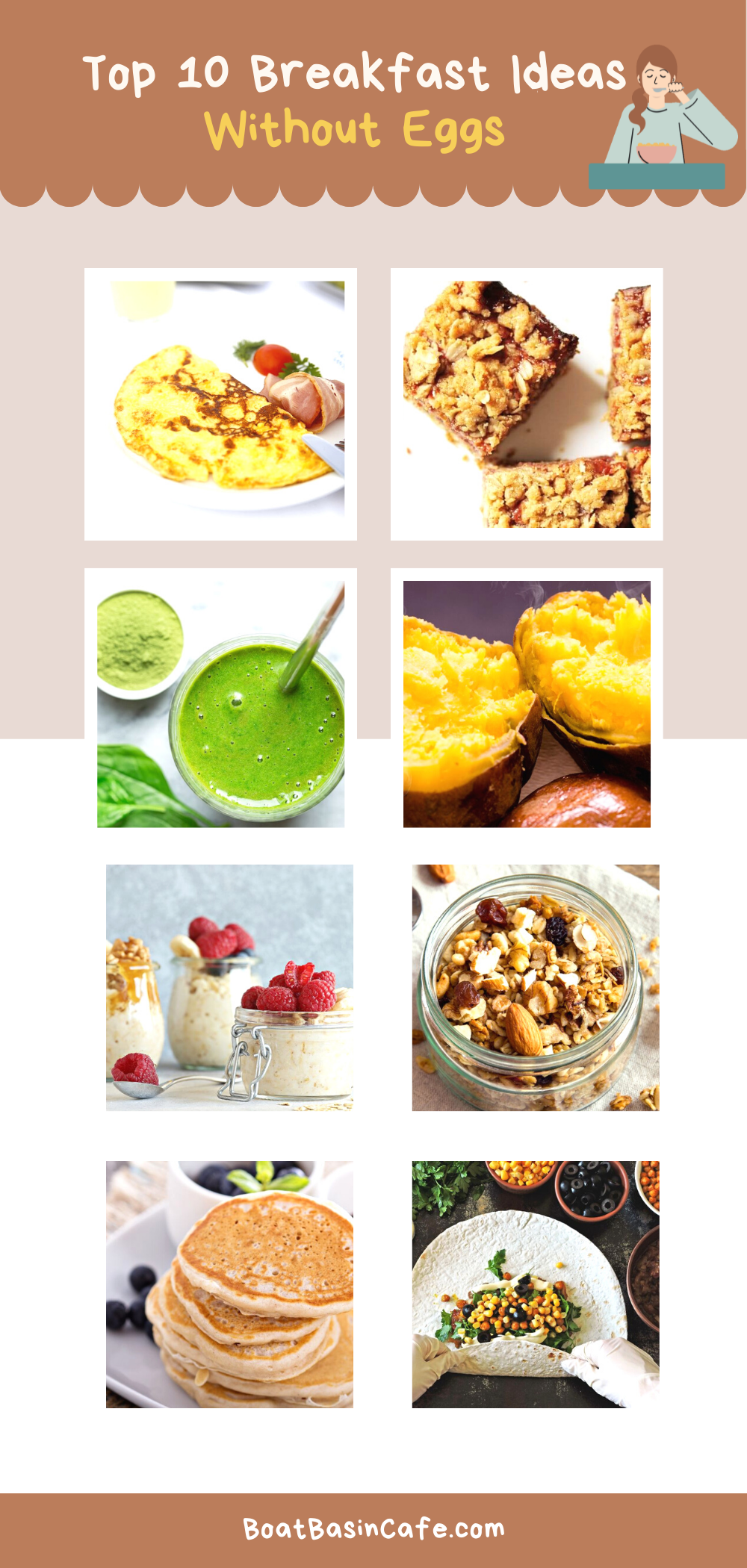 01 Overnight Oats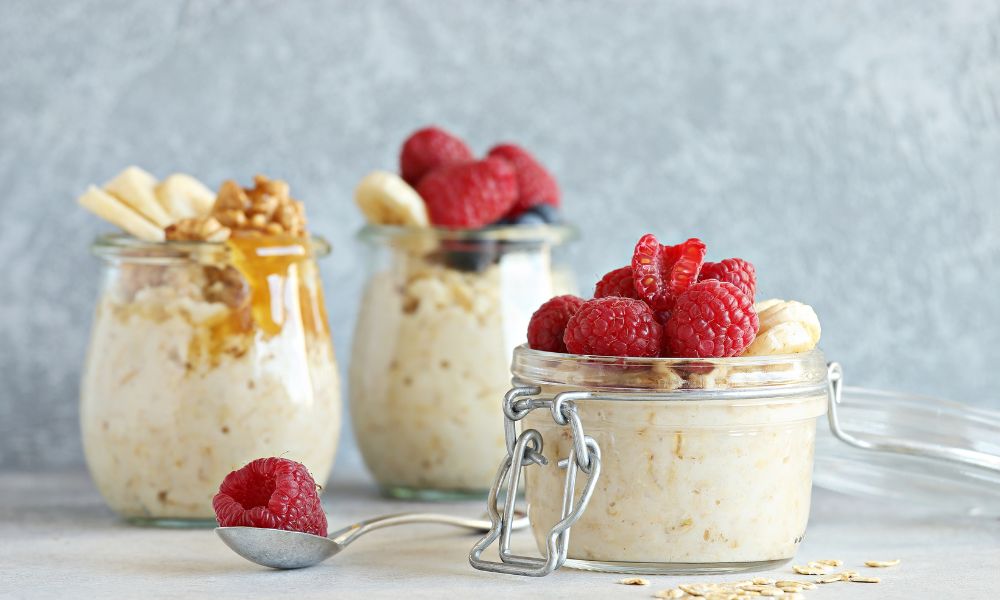 Overnight oats are one of the easiest and most popular healthy breakfast ideas without the use of eggs or bread. They are highly customizable and can be packed with nutrients, making them a fantastic way to start your day.
Oats are gluten-free and full of nutrients.
Just put oats and milk in a jar before you call it a day and add toppings according to your choice – a handful of your favorite berries like raspberries, blueberries, and strawberries. Or add chopped dried fruit and nuts and chia seeds.
You can make thousands of combinations with overnight oats to create your own eggless delicious breakfast ideas.
👩‍🍳How to Prepare: Before you hit the hay at night, fill a jar with oats and your choice of plant-based milk. You can then add toppings to your liking. These might include fresh berries like raspberries, blueberries, and strawberries, chopped dried fruit and nuts, or chia seeds. Pop your jar into the fridge and by morning, your breakfast is ready to eat! If you want to switch things up, [check out our varied list of overnight oat combos for inspiration](hyperlink here).
---
02 Power-Packed Healthy Smoothies
Smoothies are a versatile breakfast option that you can whip up in a few minutes. They're excellent for busy mornings and provide a solid dose of nutrients.
Green Machine:

Ingredients: 1 medium banana, 1/2 an apple, 2 cups of spinach or kale, 2 cups of pineapple chunks, and a teaspoon of chia seeds.
Instructions: Blend all these ingredients together and enjoy a refreshing, nutrient-rich green smoothie.

Peanut Butter Banana Bliss:

Ingredients: 1 banana, 1-2 tablespoons of peanut butter, 1 teaspoon of vanilla extract, 1 cup of almond or cashew milk, and optional flax seeds or chia seeds.
Instructions: Blend all these ingredients together and satisfy your cravings with this sweet, creamy delight.
---
03 Herbed Tofu Scramble: A Vegan Delicacy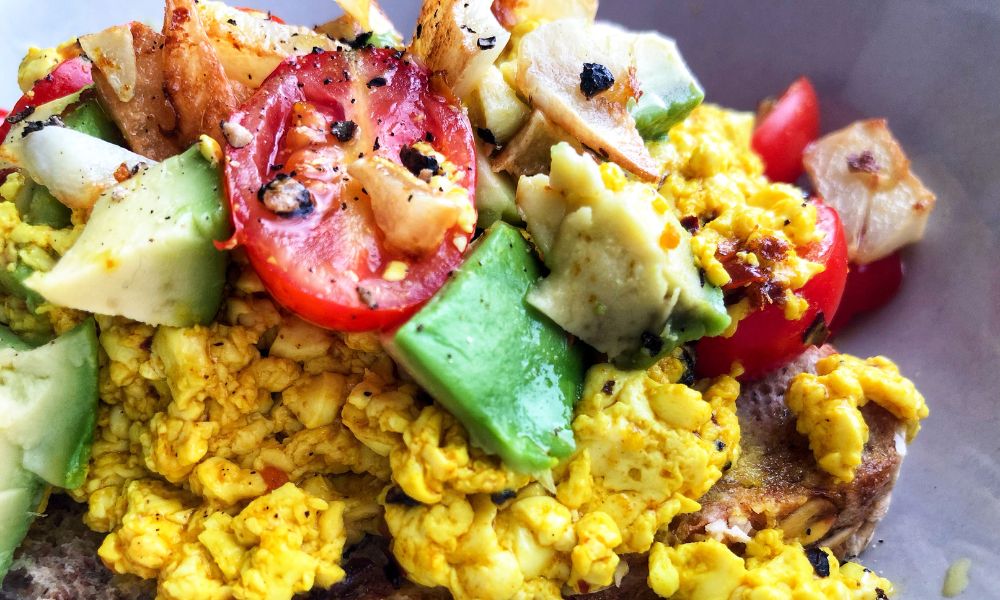 Finding egg-free and vegan breakfast ideas can be tricky. However, a delicious and filling option is the scrambled tofu – a great alternative to scrambled eggs and a wonderful source of plant-based protein.
It's one of the savory breakfast ideas without eggs that you can make quickly and it's going to be one of the filling breakfast recipes too, I promise.
And the great news is that it also doubles as one of the brunch recipes without eggs.
Blend or whisk ¼ cup of nutritional yeast, a tablespoon of garlic powder, half a teaspoon of turmeric, one teaspoon each of sea salt and pepper, ½ cube of no-chicken bouillon cube, and one cup of water until there are no lumps.
In a skillet, heat a tablespoon of coconut oil over medium heat. Add one small chopped onion and sauté until translucent. Crumble two packs of firm, drained tofu into the pan and cook for about 3 minutes. Add the blended or whisked mixture into the pan and cook without stirring for 4 minutes.
Continue cooking for another 5 to 8 minutes, stirring occasionally until all the liquid has dried.
Top with 2 chopped green onions, a tablespoon of finely chopped fresh dill or its substitute, a cup of fresh spinach, and any everyday seasoning.
Remove from heat after about 3 minutes and garnish with chopped fresh coriander leaves or dill.
---
04 Chickpea Omelet: A Hearty Breakfast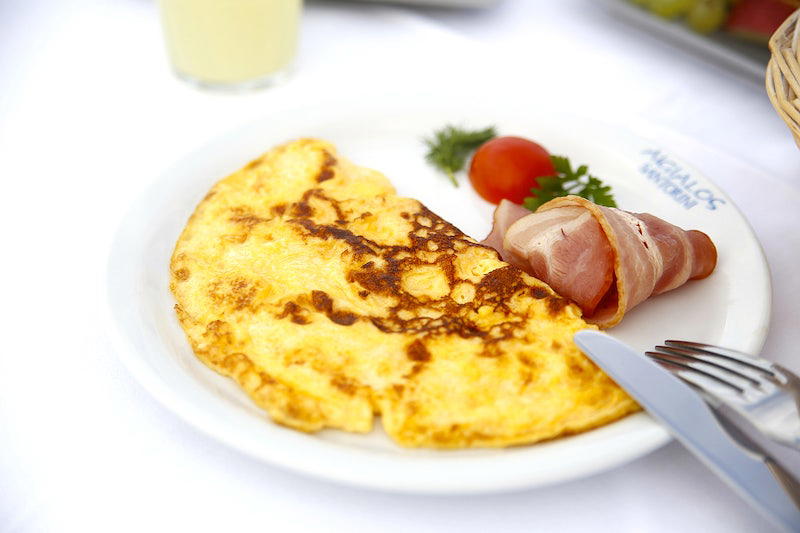 Chickpea omelets are a great option for a hot breakfast on a cold day. Using chickpea flour as the base, this recipe is wholesome and bursting with flavor.
Or, it could be one of your healthy breakfast recipes. Don't worry about cooking chickpeas or mashing them as this recipe uses chickpea powder.
One of the easy breakfast recipes without eggs, all you need is chickpea flour, ¼ cup of chopped veggies for every omelet, nutritional yeast, some oil, vegan cheese, salt, and water.
Mix chickpea flour with water and stir until smooth to get the egg-like base.
Sauté the veggies in oil, add to the chickpea batter, and simply proceed as you would with the omelet. Add the cheese before folding.
One of the many easy breakfast ideas no eggs!
---
05 Eggless Pancakes and Waffles: Sweet Indulgence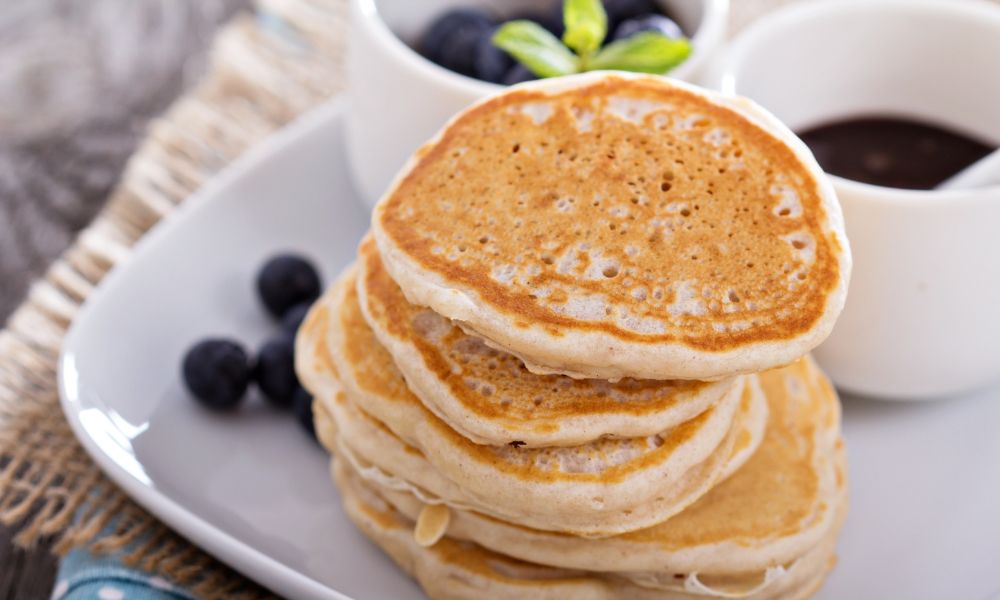 Who doesn't love pancakes and waffles for breakfast? With a few tweaks, you can prepare these breakfast classics without using any eggs. The resultant eggless pancakes and waffles are just as fluffy and delicious.
To make vegan waffles, combine 1½ cups of bread flour, ½ teaspoon of baking soda, ½ tablespoon of baking powder, 1 tablespoon of granulated sugar, ½ teaspoon of Cream of Tartar, and ¼ teaspoon of sea salt and set aside.
In another bowl, combine ¾ cup of almond milk, 3 tablespoons of apple sauce, ¼ cup of carbonated water, and 1 teaspoon of vanilla extract.
Add the wet ingredients to the dry ingredients until well combined. Pour the required amount of batter into your waffle maker and cook according to the instructions.
Or make eggless pancakes by pouring the same batter into a hot skillet on low heat.
Top waffles with maple syrup drizzle and fruits that you like. This also makes one of the best brunch recipes without eggs.
---
06 Toasted Sweet Potatoes: A Vitamin-packed Breakfast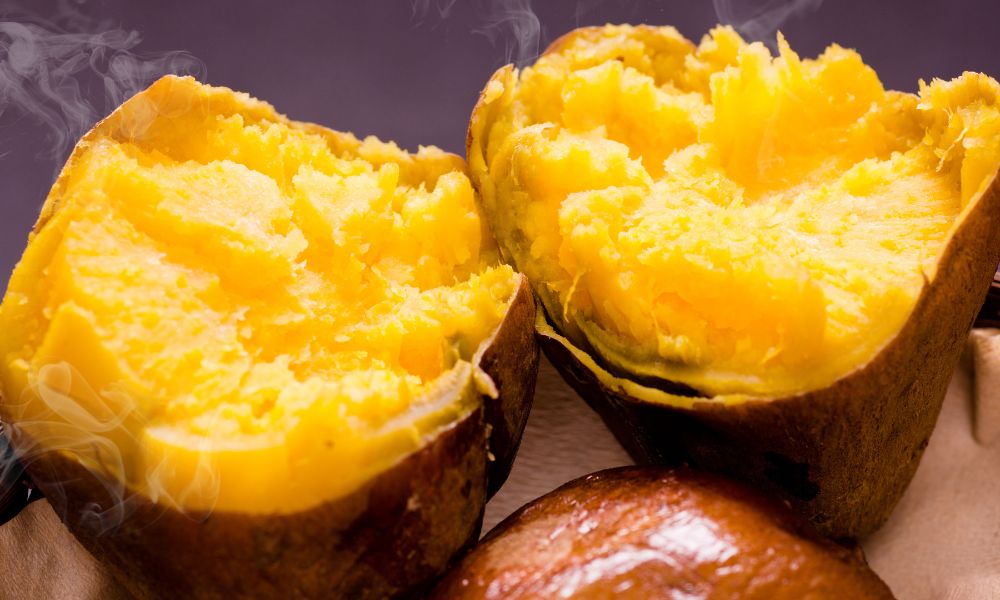 Sweet potatoes make a nutritious and delicious egg-free breakfast option. They're packed with vital vitamins and can be made sweet or savory to your preference.
Highly versatile, you can add your favorite toppings to make it sweet or savory.
Just cut the potatoes into ¼-inch thick slices and toast them in one of the top 10 best toaster ovens. Shredded cheese can be an option if you're craving something savory or for a sweet treat, you can always grab some PBJ and smother them on the sweet potato toast.
---
07 Dairy-Free Breakfast Burritos: An Exciting Twist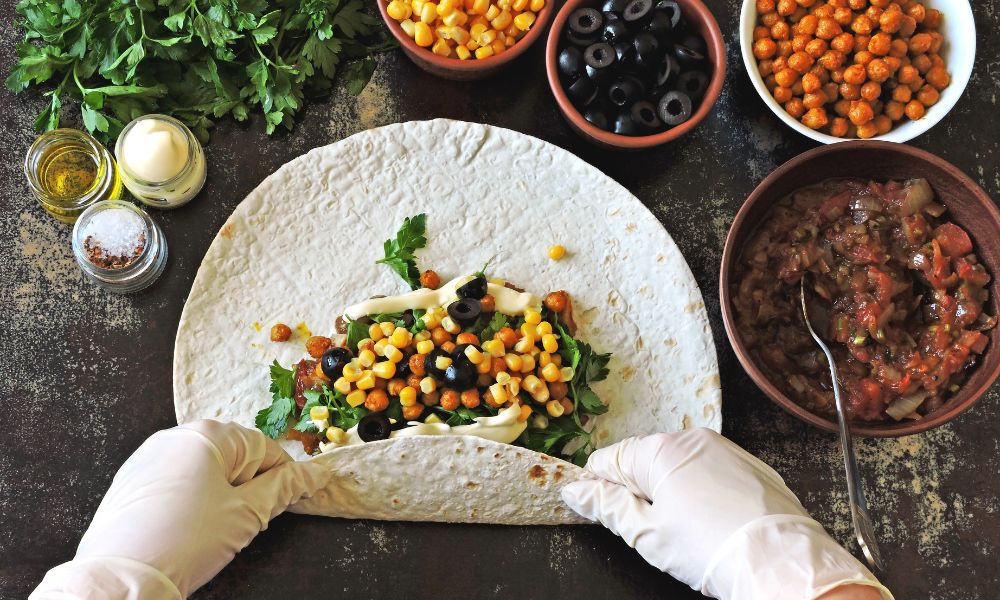 Who said burritos were just for lunch or dinner? Breakfast burritos without eggs are filling, flavorful, and packed with essential nutrients. Follow our detailed recipe to prepare your homemade breakfast burrito.
Take 4 jalapeno peppers, wash and dry them, then place them in a pan on medium-high heat. Cook each side for 3 to 5 minutes until they get a char. Then remove from the pan, chop, and set aside.
Make a herbed tofu scramble (recipe above).
Take a can of black beans, drain, and put in a saucepan over medium-high heat. Add taco seasoning and mash with a fork so that half of the black beans are mashed. Keep warm.
Cook tortillas according to package instructions.
Now build the breakfast burritos by placing the tortilla on a dry skillet over medium heat. Add some vegan cheese, two tablespoons of beans, avocado slices, tofu scramble, salsa, chopped jalapenos, cilantro, and a hot sauce if you like. Then roll up the burritos and toast both sides.
---
08 Homemade Granola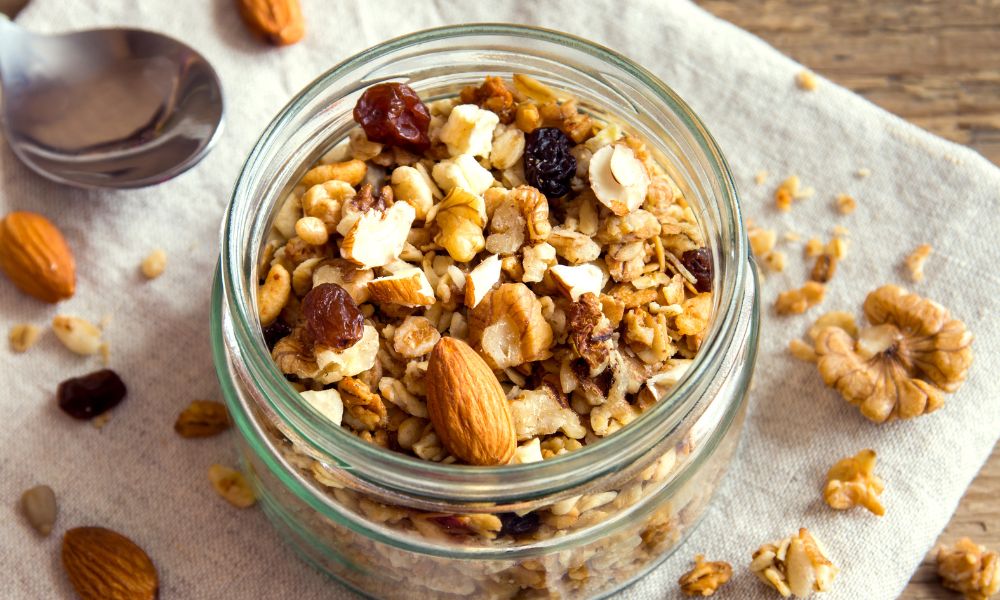 Homemade granola is an easy, healthy, and delicious breakfast option that will provide quick energy to start your day. It's packed with healthy fats and proteins, thanks to abundant nuts and seeds.
Protein packed with nuts and seeds, homemade granola will give you a shot of morning energy to face the day.
To make this butter pecan homemade granola, preheat your oven to 325°F (163°C). Then mix 2½ cups of oats, ¾ cup chopped pecans, a cup of shredded coconut, a teaspoon of ground cinnamon, and ¼ cup of brown sugar in a bowl.
In a saucepan, melt ¼ cup of butter. Once melted, remove from the heat and add ½ cup maple syrup, ¼ teaspoon salt, and 1 teaspoon vanilla extract. Pour this over the oats mixture and combine well.
Spread the mixture on a lined baking sheet, and bake in the oven for 30 minutes or until golden brown. Stir it every 10 minutes. Once it's cooled down, store it in a mason jar.
---
09 No-Bake Granola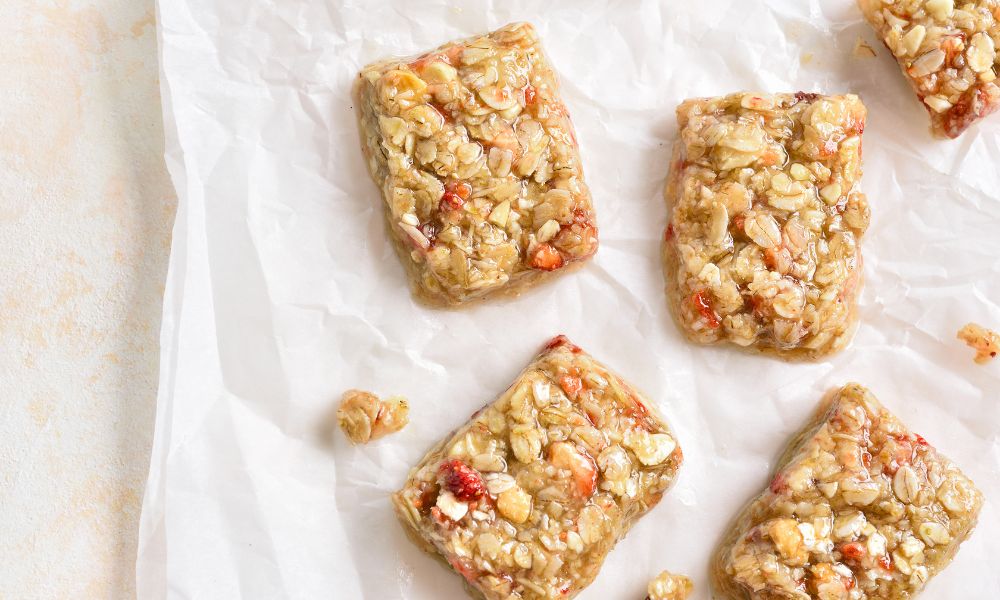 No-bake granola bars are an excellent breakfast option for those mornings when you're in a rush. These easy-to-make bars can be stored in bulk for quick meal-prep.
Prepare an 8-inch lined baking pan.
Over a medium flame cook 1 cup of almond butter, ¼ cup of maple syrup, ½ teaspoon cinnamon powder, and ¼ teaspoon salt for 30 seconds or until smooth.
Pour this mixture over the cereals and oats, combine, and place in the prepared baking tray. Press to form a tight layer and chill for 30 minutes before cutting into bars.
---
10 Biscuits and Gravy Casserole: The Hearty Breakfast
No-bake granola bars are an excellent breakfast option for those mornings when you're in a rush. These easy-to-make bars can be stored in bulk for quick meal-prep.
To make this weekend brunch or breakfast, start by preheating your oven to 400°F (204°C). Then spray some cooking oil along the sides and bottom of a casserole dish.
Take a can of Grande biscuits, cut them, arrange them at the bottom of the dish, and bake for 10 minutes.
Crumble and cook 1 pound of breakfast sausage over medium heat. Add 3 tablespoons of flour to the cooked sausage and mix. Now add 2¼ cups of milk, 1 teaspoon of black pepper, and ½ teaspoon of salt and bring the mixture to a boil.
Pour the gravy over the biscuits in the pan, cut the second can of Grande biscuits to layer on top of the gravy, and bake for 10 minutes. Cover with foil and bake for another 15 minutes.
FAQs
What Are Some Breakfast Ideas Without Eggs Or Oatmeal?
Some eggless breakfast recipes without oatmeal are breakfast burritos, eggless pancakes and waffles, scrambled tofu, and toasted sweet potatoes. 
What Are Good Breakfast Ideas Without Eggs Or Bread?
Good eggless breakfast ideas without bread include breakfast burritos, chickpea omelets, homemade granola bars, and smoothies. 
What Are Some Of The Breakfast Ideas Without Eggs Or Milk Products?
Some of the eggless breakfast ideas without milk products are toasted sweet potatoes, homemade granola, breakfast burritos, and smoothies.