Sick of eggs for breakfast? Eggs are versatile and you can cook them in many ways for a nutrient-packed meal. 
But if you are sick of eggs, vegan, or allergic, it can be difficult to come up with breakfast ideas without eggs. In fact, you might be tempted to skip the meal altogether.
But hold that thought.
No matter how old you are, breakfast is the most substantial meal of the day. Also, you need something to keep you powered up until lunch. It is very possible to make breakfast without eggs and we'll show you how. 
We've compiled 20 dishes that are alternative to eggs for breakfast. With so many options, you'll never be stumped on what to have for breakfast!
Without further ado, let's unveil our favorite no egg breakfast recipes:
You may also like: High protein vegan breakfast ideas
20 Best Egg-Free Breakfast Ideas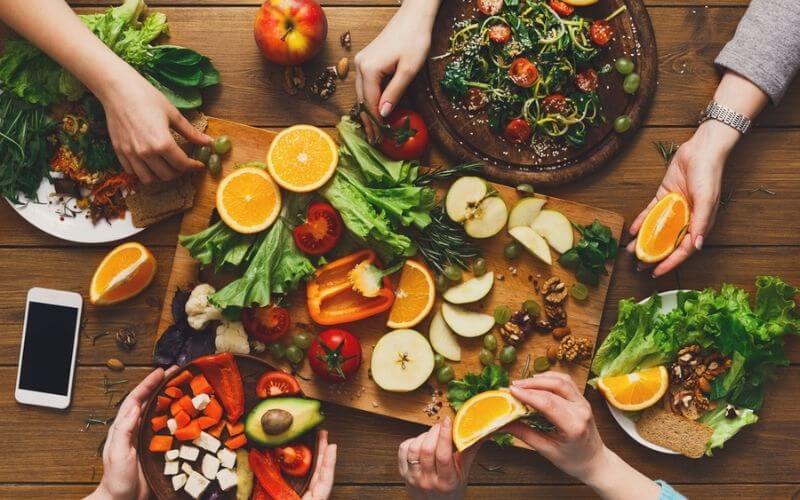 01. Toast:
This first no egg breakfast may sound lackluster but think about it. Toast is one of the most common breakfasts around the world and for good reason too. It is simple, tasty, filling, and most importantly, customizable.
You can toast your bread with some butter for some simple, comforting, and wholesome breakfast goodness. You can use a host of spreads on your toast: jam, peanut butter, a drizzle of honey, Nutella, marmite, or a combination of them all. Or you can give your meal a millennial twist and add thinly sliced avocados over your toast!
02. Cereal:
Starting your day with cereal may seem juvenile but it really isn't. This is a quick and convenient breakfast for when you're in a hurry and is pretty healthy too, as long as you stay away from the sugary ones. If you're all out of eggless breakfast ideas, give your childhood box of Cheerios another try.
03. Smoothie Bowls:
These are super trendy on Instagram right now and are great in terms of versatility. But that's not all. These make for the prettiest breakfasts ever! You can customize them with non-dairy milk, and the fruit or sweetener of your choice
The idea is simple: You blend a smoothie with milk and fruit (mango/pineapple, banana/strawberry, blueberry/plum are some classic ones). You can add things like nut butter, honey, maple syrup, and even spinach. Oats and chia seeds are also used to bulk it up.
Pour the smoothie into a bowl and top with whatever you want; fresh or freeze-dried fruit, nuts and seeds, Greek yogurt, and shredded coconut are just a few options. You can make endless variations and they all look and taste amazing.
04. Hash Browns:
Vegan hash browns are a great savory breakfast without eggs. They are also pretty filling, so you won't be itching for a snack two hours later. If you aren't vegan, you can butter for a richer taste.
The process is simple as you just shred potatoes with a food processor or grater. Rinse the potatoes 2-3 times to get rid of the starch and drain well.
Then mix with thinly sliced onions, a little flour, and the seasoning of your choice. Heat up a skillet and fry in round or square patties until they are golden brown and crispy. Served with some tomato sauce with coffee on the side, they make for a hearty breakfast.
You can also prepare the hash browns, form them into patties, and freeze them in a large batch for the week.
05. Indian Flatbreads:
If you're all out of breakfast ideas, Indian breakfasts will keep you fed for months. Parathas, Rotis, and dosas are all pretty fast and easy to make. They are also very economical and filling, and you can save leftovers for dinner.
These unleavened flatbreads all pair well with curries, so you can pair them with any Indian takeout that you couldn't finish last night. 
However, if you want a more authentic South Asian breakfast experience, pair them with spiced fried potatoes, or mixed veggie stir-fry seasoned with turmeric, red chili powder, cumin, and coriander seeds.
If you want a challenge, try something like Appam or idli, as these fluffy clouds are the perfect vehicle for spicy chutneys and spreads.
06. Eggless Muffins:
Who doesn't get excited about the thought of cake for breakfast? These delicious easy breakfast ideas without eggs are indulgent, sweet, and great with a latte or iced coffee. You can substitute eggs with flaxseed, apple sauce, or buttermilk, for a perfectly soft and delicate result.
You can also customize a batch to your taste. Divide the batter in your muffin tin, and top with blueberries, cinnamon-sugar coated apple slices, chocolate chips, or walnuts. If you make extras, you can store them at room temperature for 3-4 days.
If you want to meal prep, you can store them in the fridge for up to a week. You can even freeze them for 3 months!
07. Buddha Bowls:
If you want a filling healthy breakfast without eggs, these are your best bet. Buddha bowls are generally vegetarian or vegan and are full of healthy and nutrient-rich ingredients. Best of all, you can customize your bowls and combine ingredients for endless variations.
They usually have a base of brown rice or quinoa, with a plant-based protein on top. The toppings include things like roasted vegetables, fresh greens, some kind of dressing, and nuts or seeds sprinkled over the bowl at the end.
Buddha bowls are usually cold, but some use a warm base. Tofu, chickpeas, edamame, and beans are commonly included as the protein source, with spinach and bean sprouts, chard, or kale as the fresh ingredients. The possibilities are endless, and really, you can use whatever you want.
08. Foul Mudammas:
With a fava bean base, this Middle-Eastern breakfast will wake all your senses. Pronounced fool mudammas, it is crammed with flavors and the creamy texture adds to the decadence. Also, it isn't spicy, so you can make it for kids too!
It's pretty simple too; just stew some canned fava beans seasoned with salt and ground cumin and then mash or blend them until it is thick and lush. Dressing it up is all up to you. It can be as simple as a squeeze of lemon juice. Or a dash of paprika.
You can also crush some chili peppers and garlic and mix them with olive oil. Pour over and mix with your foul. The toppings can be customized after loading the beans into your bowl. Diced tomatoes, parsley, coriander, onions, or olives.
This meal is best paired with warm pita bread. You can also include hummus or tahini as a side, or add baba ghanoush to turn it into a real Egyptian feast!
09. Banana Bread:
I've met exactly one person who hates banana bread, so needless to say this will make for a beloved breakfast. As far as healthy breakfast ideas without eggs go, this one requires very little extra thought.
Simply substitute the eggs with applesauce or extra bananas. You can also incorporate a tiny pinch of cinnamon or nutmeg to add flavor and warmth. Sprinkle a liberal handful of chocolate chips into the batter if you're feeling fancy.
You can also add fresh or dried fruits to jazz up plain banana bread. Blueberries are always a safe bet, but you can experiment with raspberries, cherries, and even cranberries. Walnuts or pecans are also a good add-in and pair well with bananas.
10. Breakfast Tacos:
This yummy healthy breakfast doesn't need scrambled eggs to make it work. Roasted sweet potatoes, butternut squash, pumpkin, tofu, and shiitake mushrooms work just as well. To make it healthier you can bulk your taco with tomatoes, spinach, or kale.
From then on, it's all fun─ pile on guacamole, salsa, cilantro, and chili sauce, or pico de gallo. Sour cream and cheese can also make it taste more like a conventional taco. You can also include things like tomatillo salsa, avocados, or poblano peppers. Don't forget the obligatory squeeze of lime juice at the end!
11. Khichdi:
This South Asian dish is the ultimate among vegetarian breakfast ideas, no eggs included. It is filling, comforting, and can be eaten with curries and stored for lunch and dinner. It's also a good way to use up all the vegetables in your fridge.
Made with rice and lentils, this hearty dish is spiced with ginger and turmeric which gives it the signature flavors. Traditionally cauliflower, potatoes, carrots, and peas are used, but you can add things like broccoli, zucchini, and cabbage.
Best served with sweet or spicy chutneys, this dish will have you pining away for it for the rest of the day. You can also serve it with crispy papads or cool raita.
12. Avocado Boats:
For a high protein breakfast with no eggs, these make a good choice. They are healthy and come together in minutes, so you can quickly whip them up during weekdays.
The avocados serve as the base for your protein, so you can use whatever you want. The most common option is sushi-grade tuna marinated in some soy and sesame oil. However, you can also poach, sauté, or grill your diced tuna. Shrimp also works well.
You can use poached or pan-fried chicken breasts seasoned with pepper and red chili flakes. Then you can add things like tomatoes or cucumbers to balance out any harsh flavors. Lastly, top with sesame seeds for some crunch.
13. Oatmeal:
You can never go wrong with the classic breakfast dish. Oatmeal may seem plain, but this humble ingredient can be combined with lots of things and prepared in a myriad of ways.
Want to keep things simple? Cook your oatmeal in the milk of your choice, sweeten with maple or honey and serve with sliced fruit on top. Or cook them in broth and add to stir-fried and seasoned veggies to give it a savory twist.
Don't like cooking in the morning? Try one of the thousands of overnight oats recipes available online. For a weekend breakfast, bake your oatmeal with peanut butter. You can even make a base with oats, butter, and milk with pumpkin spice and top with pumpkin puree for an ersatz pie.
14. Nihari:
This stew is a breakfast of champions. Made by slow cooking the shank of beef, lamb, or mutton, it includes a special spice mix that elevates all the flavors and makes for a meal you won't forget anytime soon.
Originally meant for royalty, the stew is silky smooth and simmered for hours until the meat is falling off the bone. The marrow in the bones enriches the stew and the flour added thickens it beautifully. Served in bowls with whole bones, it is garnished with cilantro, julienned ginger, and fresh lime.
This dish makes for a great weekend project and is a great pick for adventurous eaters. Paired with naan, serve this grand stew with a thick chai to feel like a king.
15. Breakfast Cookies:
If you're one of those people who dislike heavy breakfasts, cookies are among the best easy breakfast foods. You can stick to classic eggless cookie recipes, like chocolate chip cookies, or something that is truly healthy like oat-cranberry-nut cookies.
If you're too lazy to bake, there are also no-bake cookies made from quick oats, peanut butter, and raisins. These cookies generally use things like nut butter, maple syrup, or honey as a binder instead of eggs.
Because of this you can easily add things like sunflower seeds, sesame, and nuts in any ratio and get soft and chewy cookies. Some recipes use things like almond flour instead of oats too. Perfect with tea or coffee, and you get to incorporate lots of fiber in your diet.
16. Chickpea Omelets:
If you're vegan or on a diet, you might just be craving a nice, thick omelet. If you're dismayed by the lack of breakfast ideas with no eggs that have no substitute for omelets, this is going to change. You might even prefer it to traditional omelets.
The only unconventional ingredient you need here is chickpea flour. Make a batter by mixing it with milk, a little vinegar, turmeric, garlic, and onion powder. Season with salt and pepper and add a little baking soda, as this combined with the vinegar to 'lighten' the batter.
The rest is up to you. You can add vegetables like tomatoes, bell peppers, or broccoli as they pair well with the batter. But any quick-cooking vegetable works. You can also add shredded cheese. The fry like a regular omelet, until golden and slightly crispy.
17. Granola:
This is a good easy breakfast recipe if you don't have much time in the morning. You can make a big batch over the weekend and pack it in little Tupperware boxes or mason jars. Then just take it with you on your way out the door!
All you need to do is mix all the ingredients ─ seeds, nuts, dried fruit, and the grain of your choice if you want to include that. Add melted coconut oil, nut butter, honey, or maple syrup, and season with salt and cinnamon. Spread it out on a baking sheet and bake in a preheated oven at 300F for 25 minutes or until golden brown and crispy.
The best thing about it is that it is much healthier than the store-bought stuff. You can also customize it to be gluten-free or paleo-friendly.
18. Congee:
Congee or Chinese breakfast porridge is another filling and soothing meal that feels like a self-care routine. It is thick and creamy and much healthier than you'd expect a carb-heavy meal to be.
The idea behind congee is simple: cook the rice in lots of water or broth or stock until it is very soft and mushy; almost like a rice pudding. Sauté ginger and garlic in some oil until fragrant. 
You can then add things like dried shrimp and scallops if you want to go the traditional route, but chicken and shiitake mushrooms work just as well.
After the protein is cooked, add it to the rice. Then, top it with whatever you want. Fried shallots, chili oil, and sesame oil are just options, as are scallions and fried dough sticks.
19. Paleo Waffles:
Waffles are the ultimate 'fun' breakfast, and you can have these carb and egg-free waffles guilt-free. With blueberries or chocolate chips added in, these yummy waffles will make the perfect weekend breakfast with maple syrup drizzled on top and a big pot of coffee.
Instead of eggs, this recipe uses mashed bananas and almond butter to give the batter its texture. Instead of butter, coconut oil is used, which also improves the flavor of the final product. Lastly, almond or coconut flour is used instead of all-purpose flour.
Combine all the ingredients, add your berries or chocolate chips and pour the batter into your waffle maker. The waffles will be crispy and beautifully browned, and you won't miss the eggs at all!
20. Veggie Skillet:
This breakfast is easy as you just toss all the ingredients into your skillet and wait until it's ready. You can include or ditch the meat depending on your dietary choices. You can also heat leftovers as it tastes better the next day!
Heat some oil in your skillet and cook the sausage or bacon if you're including meat. Otherwise, sauté some minced garlic until fragrant and then cook diced potatoes until they are softened. Then, add the vegetables of your choice.
Bell peppers are a great choice, as are carrots and tomatoes. You can also add kale, chard, and spinach. Seasoning with salt, oregano, and pepper, it is a pretty simple meal. Lemon juice, dill, or parsley also add lots of flavors.
Still Got Questions?
Here you'll find answers to questions we get asked the most about breakfast ideas without eggs.
01. What Can I Have for Breakfast without Eggs?
Meals like toast, porridge, oatmeal, and cereal are easy and quick meals without eggs. You can also try dishes heavily based on fruits and dairy like fruit salads and smoothie bowls.
02. What to Eat When I Don't Like Eggs?
You can substitute eggs for applesauce or mashed bananas. You can also experiment with vegan recipes that don't call for eggs at all.
03. What Can I Eat Instead of Eggs for Protein?
Things like tofu, tuna, salmon, beans and legumes, and meat all contain protein that are good alternatives to eggs.
04. What Can I Make for Breakfast without Cooking?
Smoothies, smoothie bowls, shakes, and fruit salads are all meals that are made without cooking. Cereal and overnight oats also do not require cooking.
05. What are Good Substitutes for Eggs?
Applesauce, mashed bananas, flaxseed, and silken tofu are great replacements for eggs. If you are in a pinch, baking soda and vinegar also work as egg substitutes when baking.
06. Which is the Healthiest- Eggs, Peanut Butter, or Oatmeal?
In terms of calories, eggs are healthier than oatmeal. Peanut butter contains more unsaturated fats, making them healthier than eggs.
07. Which Protein Can I Have for Breakfast?
Things like peanut butter, yogurt, sausages, cottage cheese, beans, and milk are good protein-heavy meals you can have for breakfast if you are trying to avoid eggs.
Final Takeaway
Breakfast doesn't have to be boring, just because you've banished fried eggs from your menu. These breakfast ideas without eggs are just the beginning, as you can use them as a base to discover even more eggless meals. 
Your palate will love the flavors and textures in these recipes and you'll be considering seconds every morning!