Trying to eat healthier but failing? Or have you been trying to attempt to convince a loved one to start eating fish and veggies?
Many people balk at the idea of eating fish as they don't like the taste. The fishy taste is off-putting but did you know not all fish have that nasty taste? If you start someone off with delicate and great-tasting fish, you can get rid of the reluctance people have towards them.
One such example is the swai fish. This flaky fish has a light taste that pairs well with a whole host of spices, condiments, and sauces. 
If you've never heard of it before, or aren't sure how to prep this fish, we're going to give you a whole stack of swai recipes so that you will know how to cook swai in pretty much every way possible.
Whether you want to bake a swai fillet, pan-fried swai, or braise it in a delectable sauce, we have you covered with these easy swai recipes!
What is Swai Fish?
Swai is a fish with white flesh and a neutral, mild flavor. The flesh has a firm texture, but it is still tender and moist and is quite flaky once cooked. Because of its neutral taste, it takes on other flavors rather easily.
This fish can be found in Asia and is farmed in Vietnam extensively. They are then exported to North America. It is considered a healthy dietary option as it provides you with lean protein and healthy fats.
It is rich in omega-3 fatty acids which is necessary for healthy skin, hair, and nails. This fat is also needed for a healthy heart and circulation. A 4-ounce serving of swai will give you the following:
70 calories
15 grams of protein
1.5 grams of fat
11miligrams of omega-3 fats
45 grams of cholesterol
0 grams of carbohydrates
Because of its protein and fat content, as well as the fact that it has no carbs, it is a good option for people trying to lose weight. There are lots of healthy swai fish recipes that are keto-friendly and suitable for low-carb diets.
Swai is also known as 'basa'. If you cannot find swai, you can use tilapia as a substitute. Tra, Vietnamese catfish, panga, and cream dory are other species that are similar to swai and can be used instead.
How to Bake Swai: The Best Way to Cook Swai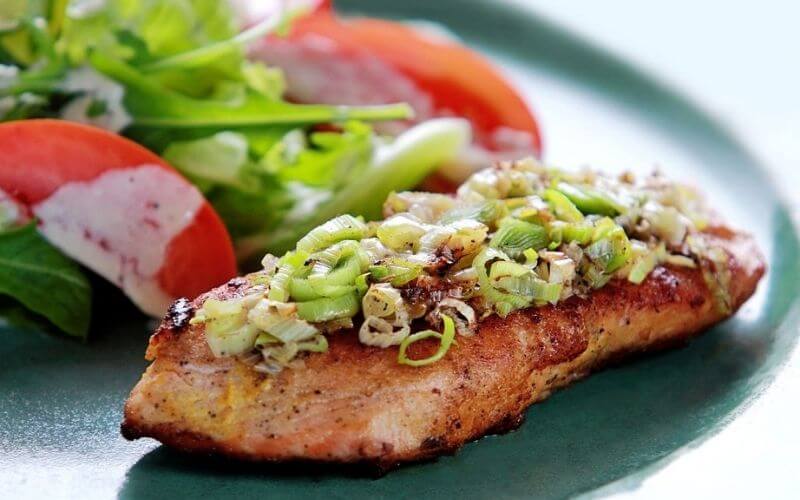 Looking for the easiest and healthiest way to cook swai? Baking swai fillets in a delicate and bright sauce is a great option as it tastes great and won't add extra calories to the dish. Learning how to cook swai fish in the oven will give you the easiest weeknight dinner without any fuss.
This is how to bake swai fish with light lemony notes and a gorgeous sauce!
What You Need:
6 Swai fish fillets
2 tablespoons butter
1 tablespoon of lemon juice or from half a lemon
2 finely minced cloves of garlic
1/2 teaspoon salt
¼ teaspoon of black pepper or to taste
2 tablespoons of finely diced parsley
1 teaspoon of paprika for mild heat and color
Optional: White wine vinegar
Directions:
Preheat your oven to 375F.

In a small saucepan, melt the butter and add the minced garlic.

Once the garlic starts to get fragrant, add your lemon juice and vinegar, and mix to combine and stir for a minute before taking off the heat.

Place the swai fillets on the baking pan. Sprinkle the salt, pepper, and paprika.

Pour the butter sauce over the fish fillets. Top off with half of your parsley.

Bake at 375F for 10-15 minutes, or until the swai is fully cooked and is soft and flakey. Garnish with the remaining diced parsley.

Voila! Your lemon-butter fish is ready! You can also make broiled swai by turning on your broiler for the last 3-4 minutes of cooking, giving the fish an evenly browned top.
How to Grill Swai Fish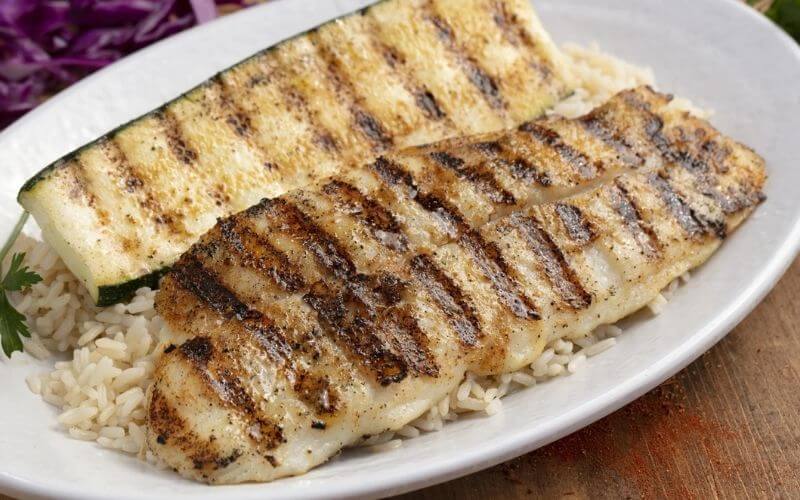 There are loads of grilled swai fish recipes out there, but this is one of the easiest and fail-proof ones!
What You Need:
4 swai fillets
1-2 spoons of olive oil
BBQ rub/spice mix of your choice
Salt and pepper to taste
Slices of lemon
Directions:
Preheat the grill to medium or about 500F.

Brush the swai fillets on both sides with olive oil.

Sprinkle salt, pepper, and your choice of spices on both sides of the fillets. You can also marinate the fish in these spices, along with a blend of ginger-garlic paste.

Place the fillets on the preheated grill and cook for about 5 minutes.

Then flip over the fillets and cook for another 2-3 minutes. Do not overcook as this can make the fish tough and chewy.

 Once they reach an internal temperature of 145F, your grilled swai is ready.

Remove from the grill and serve over slices of lemon.
How to Fry Swai Fish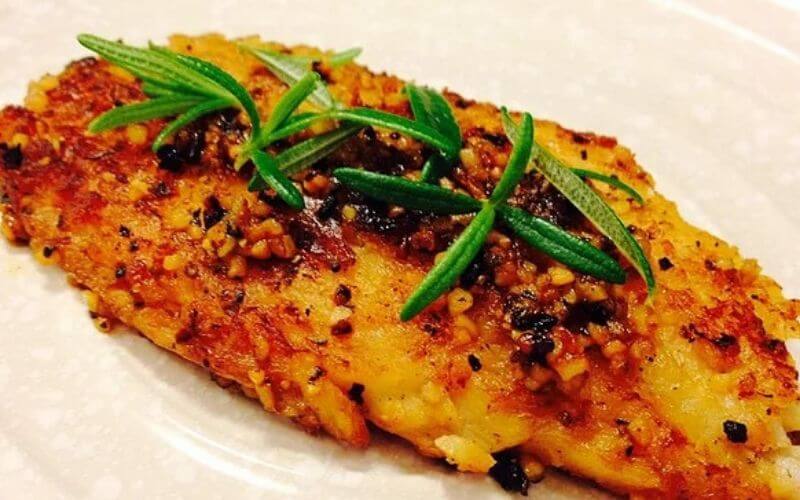 Fried swai is delicious and comes together in minutes. We will show you how to make pan-fried fish filet from swai.
What You Need:
1 lb. swai fish
Salt to taste
Freshly ground black pepper
1/2 tablespoon of olive oil
2 tablespoons melted unsalted butter
1/4 cup dry white wine
1 tablespoon lemon juice and its zest
1 teaspoon chopped Italian parsley
Directions:
Clean the swai fillets with cold water. Pat dry with paper towels.

Season both sides of the fish with salt and ground black pepper. Sprinkle the lemon zest across the fillets.

Heat a skillet or stainless-steel pan on medium-high heat. Add the vegetable oil and wait for it to heat up.

Pan-fry the fillets for about 1-2 minutes on each side. Gently flip the fish over and fry the other side until both sides are golden brown with slightly crispy edges.

Remove them from the pan onto the serving dish.

In the same pan, heat the melted butter, then add the white wine and lemon juice. Add a pinch of salt and some ground pepper.

When the sauce starts bubbling, turn off the heat. Drizzle the sauce onto the fried swai fish, then garnish with parsley and lemon and serve immediately.
This lemon pepper swai takes 10 minutes from start to finish. You can use this recipe to make pan-seared tilapia with lemon butter sauce as well; using less pepper and increasing the amounts of lemon juice.
How to Braise Swai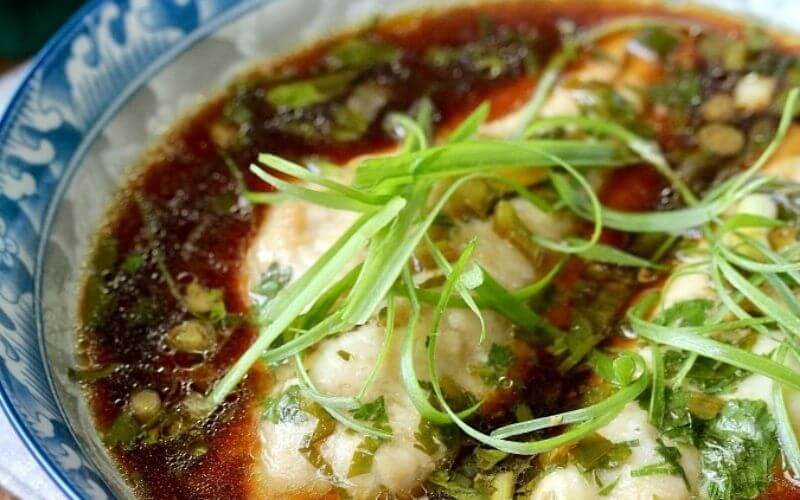 Want an authentic Vietnamese recipe for swai? It's a lot easier than it sounds!
What You Need:
1lb of cleaned swai fillets
2 tablespoons of vegetable oil
4-5 cloves of garlic
Half a large onion
1 tsp salt
½ tablespoon fish sauce
1/2 teaspoon of soy sauce
½ cup of water
½ cup of coconut water
1 sliced chili
Freshly ground black pepper to taste
Sliced green onion and red chili pepper for garnish
Directions:
Add oil to a pan, warm it up, and sauté garlic on medium heat until lightly browned.

Layer the onion on top, then place the cleaned fish fillets on top with enough space between them.

Add the seasoning sauces, chili, and cooking liquids, and turn the heat to high until everything starts boiling.

Lower the heat and simmer for around 20 minutes. Add more seasoning if necessary.

Gently turn the fillets of fish over and simmer for the last 10 minutes with the lid partially covered. Spoon the sauce of the pieces of fish and make sure they don't burn.

Add green onion during the last 2 minutes to soften and top with sliced chilis. You can top off with a final squeeze of lemon (optional).
Swai vs. Tilapia
We talked a little about how tilapia is a good substitute for swai, but here's how they are different.
Tilapia is a Cichlid fish species, originating from Africa, while Swai is a South-East Asian variant of catfish. Although you can use tilapia, catfish is more similar to swai. 
In terms of flavor, we have to say that swai has a more pleasant taste and absorbs more of the sauces and spices. On the other hand, tilapia is much blander
Swai Cooking Tips
These tips will help you make great swai dishes every time!
Do not overcook your fish as this can make them rubbery.
Seasoning with lemon, salt, and pepper in addition to other spices/herbs will remove any traces of the fishy smell.
Clean your fillets under running water with plenty of salt.
Marinating swai in things like soy, turmeric, and crushed ginger improves flavor dramatically.
Pairing swai with vegetables like asparagus and tomatoes is a great idea!
Dipping the fillets in a batter and deep-frying is a great DIY fish and chips base.
More Questions?
Below you'll find answers to questions we get asked frequently about cooking swai.
01. What Kind of Fish is Swai?
Swai is a variant of catfish and has white flesh with little smell.
02. How Long to Bake Swai for the Best Results?
Cooking swai in the oven should take no longer than 10-15 minutes to avoid overcooking. This will prevent your fish from burning or going rubbery.
03. How to Bake Swai Fish in Foil?
Lay out a length of foil on your baking shit and place your seasoned fillets on top. Wrap the foil around them tightly and bake at 350F for 20 minutes.
04. Is Swai Fish Healthy?
Swai is a healthy meal option as it contains lots of protein and fat and no carbohydrates.
05. Is It Safe to Eat Swai Fish?
As swai is extensively farmed, the fish can contain chemicals and antibiotics. This results in water pollution and for some people, causes health concerns. For this reason, avoid factory-farmed swai and get your fish from a reputable source.
Closing Thoughts
If you're trying to consume more protein, knowing how to cook swai can give you lots of healthy options. Swai is inexpensive you can buy in bulk to eat every week. 
Whether you want to cook your swai in a soy-based sauce to eat with a rice bowl, or you want to grill some up to enjoy with fire-roasted tomatoes and pasta, this fish makes for a filling and hearty meal. 
So what's stopping you from buying a couple of fillets and giving one of these recipes a try?