Have you run out of potato flour? Need it urgently for a recipe? If you are confused about what to use as a substitute without ruining the flavor or texture, you are in the right place. 
You would be surprised to know there are many different options to use. In fact, we have gathered what we believe to be the 10 best potato flour substitutes that will make your recipes just as good and mouthful. 
Keep in mind that potato flour adds a certain flavor profile to every dish that can not be replaced with anything else. However, we have some options that are pretty similar at providing the same texture.
It may sound a bit confusing but let us clear it out for you. To do that, let's take a look at what potato flour really is
You may also like: queso fresco substitute
What is Potato Flour?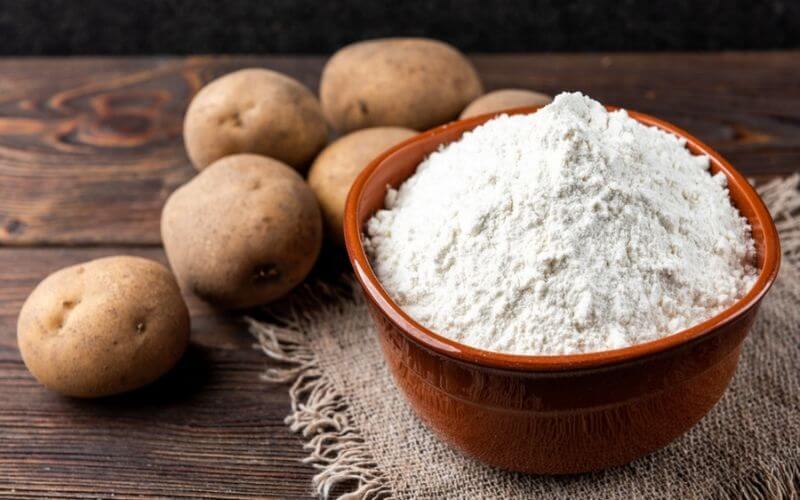 Potato flour is a fine-textured flour that's made out of whole peeled potatoes. So they smell and taste just like potatoes and add that comforting, earthy taste to any dish. 
Potatoes are sliced, dried, and then crushed into a fine powder to make potato flours. It's not the same as potato stretch which has no taste whatsoever. 
Potato flour is high in nutritional value and has a very beautiful, earthy taste. The taste is not very overpowering so you can add it to many different dishes and get the benefits and flavor of potatoes. 
This is a very versatile kitchen ingredient that can be used to make delicious curry, gravy, bad, and pastry. 
If you bake a lot, you might have noticed almost all baking recipes require using a little bit of potato flour. 
So if you're in the middle of cooking and looking for a quick potato starch flour substitute, we have gathered the top 10 potato flour alternatives that work very similar to the original one. 
Top 10 Best Substitutes for Potato Flour
01. Mashed Potatoes: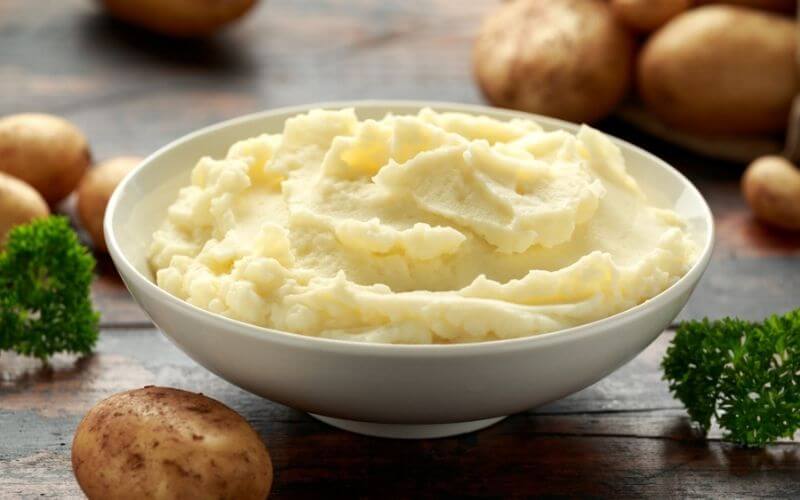 Best for:
Baking and making soft bread, stews, gravy, soups. 
Not Recommended for:
If you want your bread to rise a lot.
Overview:
If you are looking for a potato flour substitute for baking, mashed potatoes are the most convenient alternative. 
Most bread recipes require using potato flour to add extra moisture and softness. But potato flour is not a very common ingredient in most pantries. If you want a quick alternative that would provide the same flavor and texture then mashed potatoes are the best choice. 
One downfall of mashed potatoes is finding the right water ratio. If you add too much water, your bread will become sticky, and too little water can make it very hard. 
The main difference between mashed potatoes and potato flour is the moisture level. Potato flour has no moisture as it's a dry ingredient. Mashed potatoes on the other hand are filled with water.
Boiling potatoes can make them either overcooked or undercooked. This is like playing poker as you never know how it's going to turn out. 
You can substitute mashed potatoes for potato flour but it needs to be done with careful measures. 
To do it, you need to substitute ¾ cups of mashed potatoes for every 1/4 cup of potato flour. You also have to reduce the liquid amount in your recipe by 40-60%. This part you have to eyeball and check. There's no way to give an exact measurement. 
We do not love this the most, but this potato starch flour substitute is definitely the easiest one for everybody. 
Amazon Product Recommendations:
It is fairly easy to make mashed potatoes from scratch. Who are we kidding, it's a hassle! 
So it's very convenient to have a pack of instant mash at the cupboard. We really enjoy the Edward & Sons Organic Mashed Potatoes because it's fluffy and comforting. 
02. Cornstarch: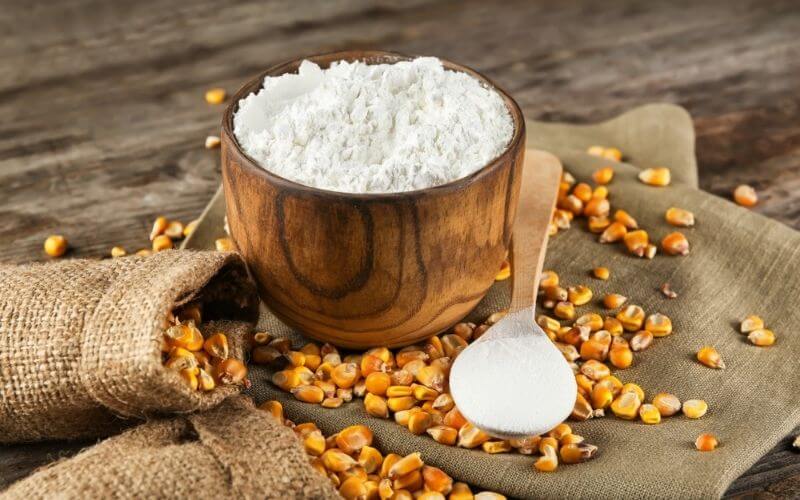 Best for:
Sauces, Chinese dishes, desserts, baking.
Not Recommended for:
For replacing potato flavor
Overview:
Cornstarch is the closest you will get to recreating the texture of rice flour on certain dishes. Of yours, it does not contain the delicious earthy flavors of potato flour, but it does work very similarly. 
Cornstarch is made from the endosperm of corn. It is a gluten-free option that's gotten very popular to use for baking in recent years. 
Potato flour contains starch, which helps to hold moisture to any dish. This is why bread feels softer when you add potato flour to it. 
Cornstarch does the same thing and retains the moisture level for a longer period of time. So your bread won't go stale after a few days. 
Actually, there's not much difference between these two ingredients apart from the flavor. Cornstarch has zero flavors thus it does not add anything to the dish. 
It can, however, be used to make thick sauces, glazing, soup, gravy, and much more. Chinese dishes use cornstarch all the time to thicken a stir fry before serving.
Amazon Product Recommendations:
We all have a jar of Argo 100% Pure Corn Starch at home. It's reliable, easy and useful. 
But if you are looking for an alternative, try the Rumford Non-Gmo Corn Starch. It's certified vegan. Gluten-free and kosher. 
03. Arrowroot Powder: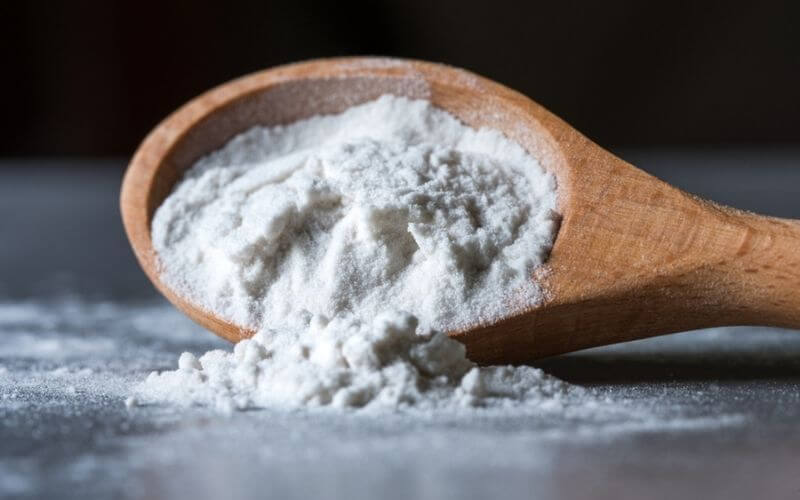 Best for:
Acidic gravy and sauces, desserts, baked goods, pizza, pastry.
Not Recommended for:
Using as a flavor enhancer.
Overview:
Arrowroot aka Maranta Arundinacea is a native plant in Indonesia. Arrowroot powder is a root flour which is filled with scratch. This gluten-free flour is made from arrowroot. 
Even though it is an excellent cornstarch and all-purpose flour alternative, not many people know about arrowroot flour. 
What we found is how similar it is to potato flour in terms of being a thickening agent. You can use this to make your sauces glossy and less acidic. 
This is a gluten-free product that is great for making pastry items. You can make yummy pizza and pies using arrowroot powder. As it blends very easily with other flour, you can swap it with potato flour and the result will be the same. 
Arrowroot flour does not have an intense flavor but it does have an earthy aroma to it. It goes very well for sweet baked items. 
Here are some key health benefits of arrowroot powder/flour:
Arrowroot is very easy to digest. So it's ideal for cooking dishes for children and the elderly. 
Arrowroot has a high protein content compared to potatoes and yams. 
It has vitamin B9 which is proven to help during pregnancy and DNA formation.
Consuming arrowroot powder during pregnancy can help to avoid birth defects and even cancer. 
It is high in iron, potassium, and phosphorus. 
Arrowroot powder helps with weight loss due to its high starch level. It slows digestion and keeps us full for longer. 
Rich in fiber and starch, arrowroot powder helps with digestive problems. 
This is a good source of probiotics that can help to boost the immune system. 
Amazon Product Recommendations:
There are some really good brands that make organic arrowroot powder. We love the Pride of India arrowroot ground due to it being sourced ethically from India. 
So you know you are getting the best of the best. It's also 100% vegan which is always an added bonus.
04. Tapioca Flour: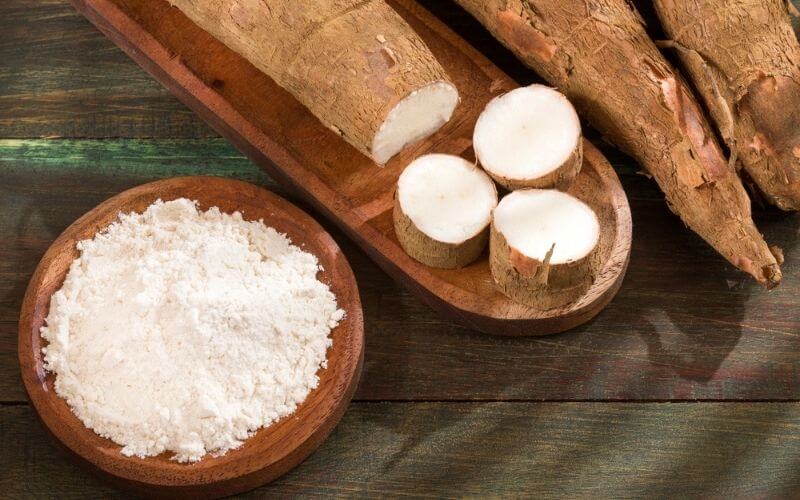 Best for:
Gluten-free alternative, baking, stews, and sauces. Adds texture. 
Not Recommended for:
Flavor enhancing. 
Overview:
Tapioca flour is made out of the roots of tapioca plants. Its other name is cassava roots. This plant is widely used for a lot of different food items. You can find tapioca plants in all parts of the world. 
If you think you have never tried tapioca flour before, where do you think boba tea comes from? The pearls in boba tea are made from tapioca flour. It's very chewy with a slight, sweet, earthy aroma to it. 
Tapioca flour is a good substitute for potato flour especially because it has a good amount of starch. So you can use tapioca flour to thicken up any stews, gravy, or curry. 
Tapioca flour has high water-absorbing properties, just like potato flour. This means using in small quantities to make bread can result in a very stable dough. Some call tapioca flour "the purest starch" in the world. 
It is gluten-free so you can use tapioca flour if you are on a no-gluten diet. If you ever see a bakery that sells gluten-free bread and dessert, know that those are made using tapioca flour.t the sweet taste of tapioca blends really well in desert items. 
Tapioca flour comes in a fine, powdered form. It is high in carbohydrates and contains zero sugar. So it fonts a lot of different diets like paleo, vegan, etc. 
As it's a nut-free flour, you can use it if you have any nut allergies. This is also a great sweet potato flour substitute. 
Here are some health benefits of using tapioca flour:
Tapioca flour contains calcium which helps with bone strength that can prevent osteoporosis. 
The iron in tapioca is a very essential mineral for our body's oxygen transportation. 
As tapioca flour has zero saturated fat, it's good for your heart and arteries. 
Diabetic patients should add tapioca flour to their diet. It helps with lowering insulin resistance. 
If you are looking for a gluten-free option to cope with celiac disease, this flour is a great pick. It is simple to digest so you don't get any reaction from it. 
If you have digestive issues like Irritable Bowel Syndrome, try replacing your potato flour with tapioca. It won't irritate your body.
As tapioca has zero fat and cholesterol, it is good for people who are trying to lose weight. It is also low in sodium.
Amazon Product Recommendations:
Be careful while buying tapioca flour as some of them contain sugar and other enhancers. We like the Organic Tapioca Flour because it is sourced from Thailand. This one is starchy and sweet without any added sugar.
Another good one is Bob's Red Mill Tapioca Flour is another good option. We like this one because it's a very fine powder. So perfect for baking. 
05. Quinoa Flour: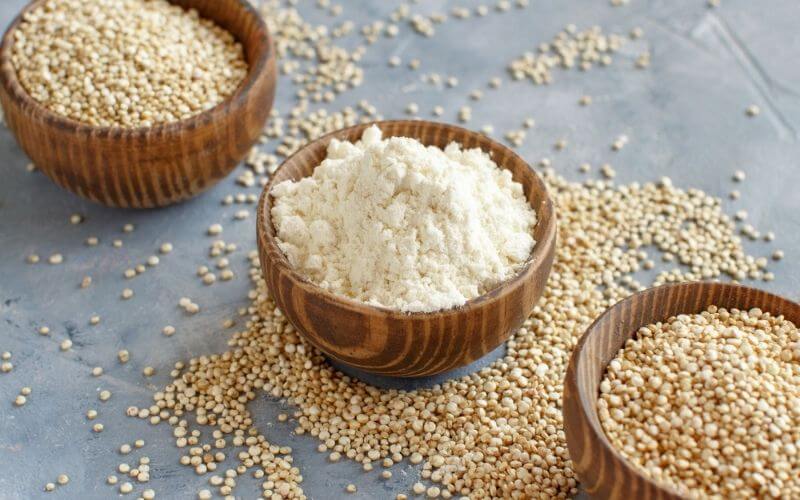 Best for:
Gluten-free baking, soups, as protein powder. 
Not Recommended for:
If you are replicating the flavor of potatoes. Quinoa has a strong, bold flavor. 
Overview:
Quinoa flour is another gluten-free potato flour substitute. It is a great thickening agent. 
Quinoa is known as one of the most popular health foods in the world. There are only a few plant-based items that get such a reputation. 
Quinoa flour is made by grinding up quinoa seeds into a fine powder. It's used for vegan and gluten-free baking a lot. The best thing about quinoa flour is how high its protein content is. So if you are on a high protein vegan diet, this is an excellent option to try. 
One thing that people don't enjoy about quinoa flour is its taste. It tastes a little bitter and has a bold flavor profile; it has a grass-like, earthy aftertaste which can sometimes overpower recipes. So quinoa flour should be used in moderation. 
If you are just using it to thicken a gravy or to add structure to your bread, then you don't have to worry about the taste. Toasted quinoa tastes very good and there are many brands that sell them.
Quinoa flour is excellent in various baked goods like scones, cakes, pancakes, and bread. Pair it up with some almond grounds and your cake will taste divine. 
Some of the key health benefits of quinoa flour includes:
Quinoa is one of those rare ingredients that contains all nine essential amino acids!
It is gluten-free and high in protein. So if you're on a high-protein breakfast diet, we recommend you to add this to the pantry. 
Quinoa contains a plant antioxidant called flavonoids which have been shown to be of great health benefits. 
It contains quercetin which is an anti-inflammatory, anti-viral, and anti-cancer nutrient. 
Quinoa is also shown to be a great natural anti-depressant in animals. 
Quinoa has one of the highest-fiber content of all types of grains. It has 10-16 grams of fiber per 100 grams. This is twice the amount than most grains. 
Quinoa is very high in protein. It has 8 grams of protein per cup. This is an excellent source for a plant-based diet. 
It has a low glycemic index which helps immensely with combating high blood sugar levels. For diabetic patients, this should be a staple in their diet. 
The high level of antioxidants in quinoa flour helps to fight off free radicals that cause cancer in our cells. 
Overall, we see no reason why you shouldn't substitute potato flour with quinoa flour.  
Amazon Product Recommendations: 
A lot of quinoa flours contain wheat flour which is not gluten-free. yourhealthstore Premium Quinoa Flour is a great option because it contains no wheat. 
This one is not bitter either. The pleasant aroma with light flavor helps to combine this with a wide range of recipes. 
06. Rice Flour: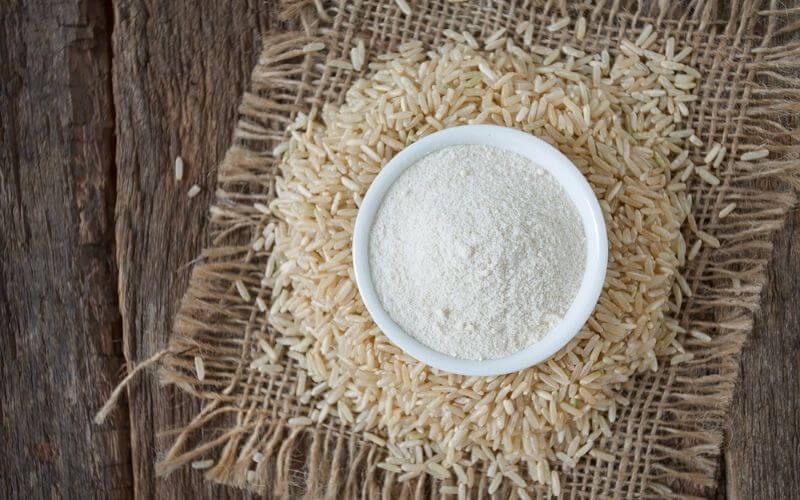 Best for:
Baking, thickening agent.
Not Recommended for:
Using as a standalone flour needs to be mixed with other flours. 
Overview:
Rice flour is a widespread household ingredient, so it's an easy substitute for most of us. As it's readily available, we think it's one of the most convenient potato flour substitutes. 
Rice flour is made from rice so it has a high scratch level. But unlike other flours on our list, this one is very dense and heavy. So if you make your baked items with too much rice flour, they won't rise up and form a good shape.
A lot of bakers like to mix rice flours with other ingredients to make it less dense. The upside of using rice flour for bread and other baked goods is the texture. Your bread will have a very enjoyable, chewy texture.  
If you are looking for a gluten-free substitute for general baking, this is a very easy one to pick.
Here are some key health benefits of rice flour:
Rice flour is rich in vitamin B. Especially if you use brown rice, which has much higher levels of B vitamins. 
Rice flour is a good source of fiber which helps with digestion. 
As rice flour is high in fiber, you won't get hungry very easily. This helps to maintain a diet if you are trying to lose weight. 
Replacing rice flour with potato flour can help to maintain the blood sugar level. We know that potatoes are not good for type-2 diabetic patients. 
Rice flour is totally gluten-free. So if you have celiac disease, this is a very good substitute for you. 
Choline is a very useful nutrient that many of us are not aware of. Rice flour has that. It helps to transport your cholesterol and triglycerides from the liver to different parts of the body. This actually improves your gut health. 
Amazon Product Recommendations:
For a basic, affordable pack Thai Rice Flour is a pretty good option. If you are looking for a brown rice option, Bob's Red Mill Gluten Free Brown Rice Flour is the best for that. 
It is gluten-free and batches tested to have the best quality non-GMO choice. It has a mild, nutty flavor that goes really well with muffins and pancakes.  
07. All-Purpose Flour: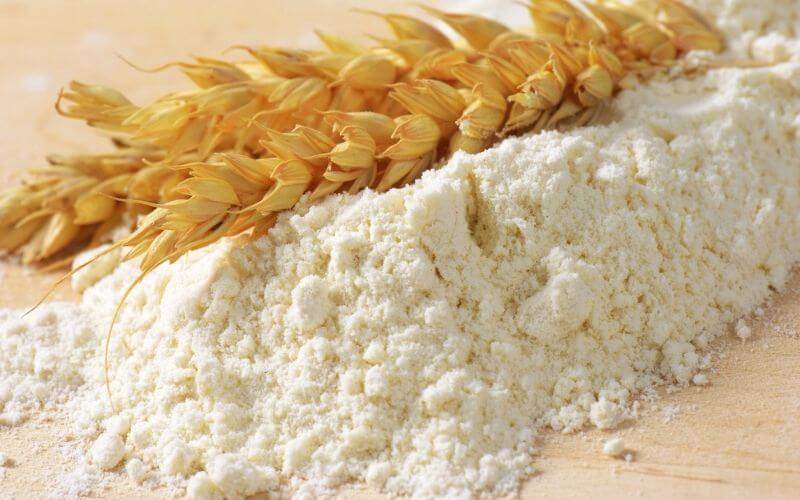 Best for:
Baking goods.
Not Recommended for:
Sauces, glazing. 
Overview:
If you're in a rush, you can easily swap all-purpose flour for potato flour in most recipes. This one is not gluten-free so keep that in mind if you are gluten intolerant. 
All-purpose flour can change the texture of your bread and other baked goods. It does not provide the same type of chewiness. The break can become a bit denser. 
You can use all-purpose flour as a thickener as well. But to do that, you have to let the flour cook for a while. Otherwise, you will be able to taste the graininess in the gravy. Uncooked all-purpose flour leaves a powdery texture. 
For sauces, we don't recommend using this. We all enjoy the glossiness and thickness of a beautifully made sauce. 
But when you use all-purpose flour, the sauce does not get that glossiness. It does thicken up but you won't be getting that shiny finish. 
Amazon Product Recommendations:
With all-purpose flour, you don't have to think too much about which brand to go to. They all are pretty much the same. It's good to pick an organic option as they don't have any bad additives. 
We like using King Arthur because they sell unbleached, organic products. Bob's Red Mill is another good brand to use for baking. Their all-purpose flour is very fine and smooth. 
08. Wheat Flour: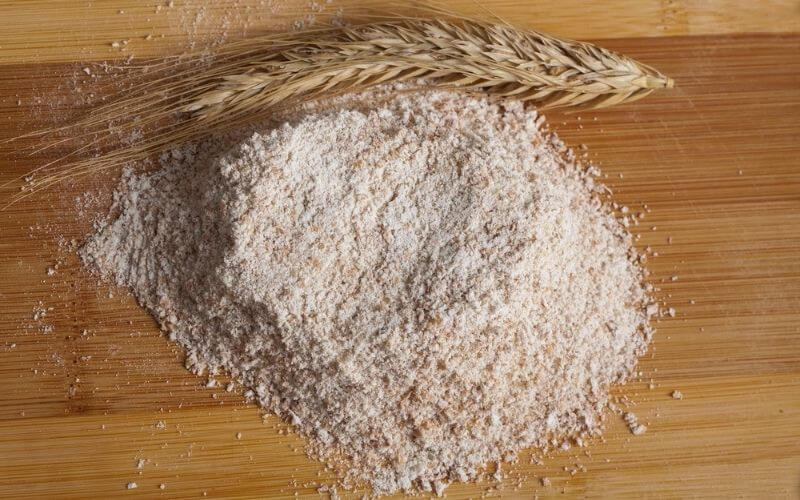 Best for:
Bread and baked goods.
Not Recommended for:
For gluten-sensitive people, not for gravy, sauces.
Overview:
Even though it's not the best at baking, wheat flour is a good quick substitute if you don't have any potato flour around. 
The thing that potato flour is known for is its ability to hold onto moisture. Wheat flour does not do that. It will help to raise the bread but the moisture will slowly go away within a few days. 
If you have no plans to store the bread or baked goods for a longer period of time, wheat flour is a good potato flour substitute. 
It does not have that distinctive potato flavor we all love. So if you're looking for the same flavor profile, wheat flour is not the one to go for.
Here are some key health benefits of using wheat flour:
Wheat flour contains a lot of antioxidants like alkylresorcinols and lignans. 
Whole wheat flour is rich in insoluble fiber which feeds the beneficial gut bacterias.
Whole wheat flour has been used in all cases to reduce the risk of colon cancer. 
Enriched wheat flour is a great source of niacin, calcium, iron, thiamine, and vitamin B6.
You can find a lot of helpful minerals in wheat flour including selenium, phosphorus, folate, manganese, and copper. 
Amazon Product Recommendations:
If you are to buy wheat flour, only go for the whole wheat options like the King Arthur Whole Wheat Organic. For more nutrients, the One Degree Whole Wheat Flour is excellent as it are made from sprouted wheat. 
09. Potato Flakes: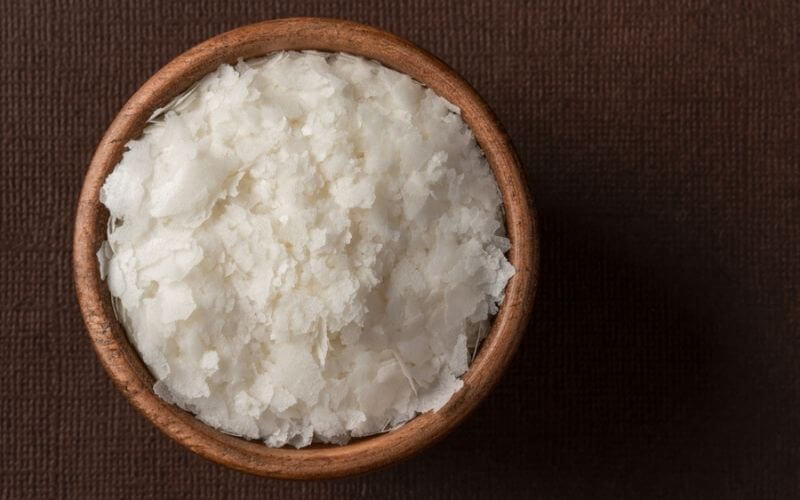 Best for:
Everything that potato flours can do.
Not Recommended for:
None! 
Overview:
If you can not find potato flour but have some potato flakes lying around, you can use that. It's essentially the same thing. If you use the right measurements, they are interchangeable. 
Potato flakes are just the rougher ground version of potato flour. They are not as smooth and fine. These are used to add texture to different dishes. 
You can not simply use them straight out of the package. To use potato flakes as a substitute, use your grinder to grind them into a fine powder. And voila! Now you have potato flour. 
Some potato flakes need to be dissolved in water for them to be used in recipes. These are called instant mashed potatoes. If you have those, you can use them as a substitute of potato flour too. 
But keep in mind, as these instant mashed potatoes have water in them, your baking recipe might need some alteration to maintain the proper moisture level on your dough.
Amazon Product Recommendations:
Bob's Red Mill Instant Potato Flakes is the one we like to go for. This one is vegan and kosher with zero additives or preservatives. 
All you have to do is pour some water and heat it up in the microwave. So the hassle of blending is nonexistent. It only needs 2-3 minutes to be ready.
10. Coconut Flour: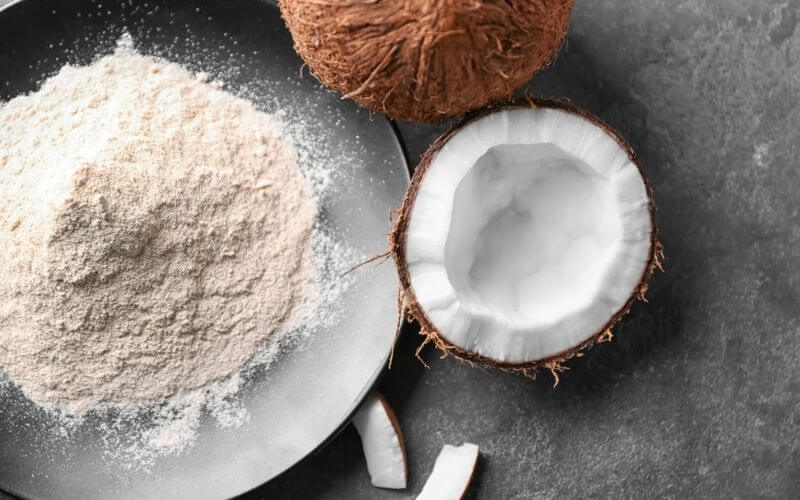 Best for:
Baking, desserts, pastry, cakes. 
Not Recommended for:
People who don't like the taste/smell of coconut. 
Overview:
When we first heard of coconut flour, we thought it was a made-up product. Well, guess what, it's very real and absolutely delicious!
Whether you are looking for a potato flour substitute or not, we encourage you to try coconut flour for baked recipes. Your mind will be blown away!
You can pretty much imagine how it tastes like. The sweet, tropical aroma of coconut will fill up your whole home. It adds depth and a punch to any item you make. We particularly love coconut flour for dessert items. 
Coconut flour has a mild, sweet taste. It's like a milder version of eating coconut flakes. If you like the taste of coconut, this one is made for you. It's super absorbent so you don't need to add a lot. This makes it a great sweet potato flour substitute. 
As the flavor is very distinct, a little can go a long way. Use it as a natural sweetener for bread recipes. Even though it's a simple ingredient, anything we have made so far with coconut flour feels like an indulgent treat!
Did we mention it's gluten-free as well? It is rich in fiber and MCTs so if you have a high blood sugar level, this is an excellent option. Coconut flour promotes heart health and helps to digest food better. So it's healthier too! Learn more about coconut milk alternatives
Some of the key health benefits of coconut flour include:
It is a gluten-free flour so people with celiac disease can happily use it. 
It is rich in fiber and MCTs which promote healthy blood sugar level
The fiber helps to digest food better thus increasing your gut health.
As it contains a lot of fiber and good fat, you won't feel hungry easily. This helps to lose weight in the long run. 
Coconut flour is the highest in carbohydrates and lowest in fat among all the gluten-free flour options.
Amazon Product Recommendations:
Even though it's a very niche product, there are some good brands that make excellent coconut flour. We like the Arrowhead Mills Organic Coconut Flour because they are always consistent in quality. 
Another organic one we like to use for baking is Coconut Secret Raw Coconut Flour. This one is made from raw coconut in the Philippines which gives them a distinctive sweet nuance and nutty aroma. This goes really well with desserts and pastry. 
Potato Flour vs. Potato Starch
A lot of us just assume potato flour and potato scratch are the same things. Well let us tell you, they are not. There is a difference between potato starch and potato flour. 
Potato flour is made from whole peeled potatoes. They are sliced, dried, and then crushed to give you a delicious, powder version of a whole potato. 
Potato scratch on the other hand is made from the water the potatoes are washed in. When you wash potatoes in clean water, you will notice the water turning white. These are the scratches that are coming out of the potatoes.
Scratch helps to maintain the moisture level which keeps the potatoes fresh for a long period of time. When you add starch to other dishes, it does the same thing. 
Potato scratch is a very useful ingredient that is used in a wide number of dishes. Chinese cuisine, specifically, is a master at this. 
They use potatoes and cornstarch for almost all their stir-fry dishes. The starch adds thickness to an otherwise watery gravy. 
As potato flour is made from full potatoes, they contain a lot of fiber, flavors, and protein. They look beige compared to potato scratch, which looks striking white. 
The usage of both ingredients is different too. Potato scratch does not contain any flavors in them. So you can not use them to enhance the taste of anything. 
Both of these ingredients are very great at what they do. But it's important to know the difference. 
Otherwise, you'll end up using potato starch as a substitute for potato flour in a recipe. If you use the same amount thinking it does not matter, the food is going to turn out to be a disaster. 
Frequently Asked Questions (FAQs)
Below are the questions we mostly get asked about potato flour:
01. What Does Potato Flour do in Baking?
Potato flour is used in baking to make many different types of bread and desserts. The flavors of potatoes enhance the overall taste of the bread and make them very comforting to eat. 
Potato flour contains scratch which helps to make the bread very soft to the touch. As the scratch helps to retain a lot of moisture and water, your bread won't go stale after a few days. 
It will stay fresh and bouncy for longer. So potato flour lengthens the shelf life of bread. 
When you combine potato flour with all-purpose flour and yeast, the dough becomes very easy to shape and control. This can be very helpful if you are a beginner at baking. 
02. How Can I Make Potato Flour at Home?
As intimidating as it might sound, making potato flour is actually super easy to do. It takes a long time but you won't have to do any manual work on it. 
To make potato flour, you can follow these steps:
Start by peeling two large-sized potatoes and making thin chips out of them using a mandolin. 
Use the smallest setting on the mandolin to make the potato pieces as thin as possible. 
Lay the pieces on a tray and put them aside somewhere with direct, strong sunlight. 
Flip the potatoes after an hour to let them dry from both sides. Do this stem a few times.
If you live in a hot, dry climate, you will notice the potatoes are totally dry and crispy within 3-4 hours. For more humid areas, it can take longer. 
When the potatoes are totally dry with no moisture in them, crush them using your hand and then grind them into a fine powder using a grinder. You can also use a blender but the flour won't come out super fine. 
And voila! Your potato flour is ready for cooking and baking!
03. Is Sweet Potato Flour the Same as Potato Flour? 
Sweet potato flour and potato flour are very much alike but not the same. As they are made from sweet potatoes, they will have a higher percentage of sugar. 
For this reason, many bakers like to use sweet potato flour in their dessert and sweet bread recipes. It works as a natural sweetener with high nutritional value. You can use it as a thickening agent as well as it contains starch too. 
Sweet potato flour is a versatile ingredient with a high amount of carbohydrates, calories, iron, and vitamin. On top of that, it's totally gluten-free. So if you are gluten intolerant, you can substitute this for all-purpose flour in your baking. 
04. Is Potato Flour the Same as Potato Starch?
No, they are not. Even though both of these ingredients are made from whole potatoes, potato flour and potato starch are very different from each other. 
Potato flours are made from dried, crushed, and ground potatoes. It contains all the same flavors, taste, and nutrition as whole potatoes. 
Potato scratch on the country is just pure scratch, it has no taste or flavor as worse as an ingredient to thicken gravy and soup dishes. Potato scratch also contains no nutritional benefits.
05. Can Potato Flour Replace Corn Starch?
Cornstarch is used to thicken different dishes and to use as a binder in soups. You can easily substitute both potato flour and potato scratch for this. 
Potato flour contains a good amount of scratch that will help to thicken any sauces. It also makes them smoother and tastier. 
If you are making fried food, adding a spoon of potato flour can make them crispier. We love using potato four for fried chicken recipes. Koren fried chicken recipes always contain some kind of potato-based ingredients, mainly potato scratch. 
So potato flour can definitely replace cornstarch. We personally think potato stretch is the better substitute. 
06. Which is Better Cornstarch or Potato Starch?
When it comes to performance, both cornstarch and potato scratch work the same way. They work as a thickening agent for dishes and make fried food more crispy. 
However, cornstarch is higher in calories and carbohydrates than potato scratch. So this is a good substitute for those who are cutting on their calorie intake. If you're trying to minimize your carb intake, potato scratch is the better option for you. 
Potato scratch contains a few nutrients which make it better for your health. It is also gluten-free which is great if you are gluten intolerant.  
07. What is Potato Flour Good for?
Potato flour is a great ingredient and often underrated in most kitchens. Some of us don't even know about it. But if you can use potato flour the right way, there is no going back. It's incredibly flavorful and delicious to eat. 
You can use potato flour to make a wide variety of things. For instance, potato flour waffles taste super delicious and hearty. You can use this as a standalone ingredient or use it as a taste enhancer in gravy, curry, and other broth-based recipes. 
We love using potato flour to make super soft and bouncy bread. It enhances the shelf life of normal yeast bread and makes them taste premium. Honestly, there are so many uses of this simple panty essential. 
08. Can I Use Rice Flour instead of Potato Flour?
As we have mentioned earlier, you can use rice flour instead of potato flour in certain recipes. But to do that, you will have to mix it with some potato starch. 
The ratio is pretty simple. Just mix a 1:1 quantity of each ingredient and use it in any dish you want. The result will be very close to the original recipe. 
09. Can I Use Coconut Flour instead of Potato Flour?
If you are looking for a gluten-free alternative to potato flour, coconut flour is a great option to pick. It adds a beautiful aroma to the dish and works pretty similarly for baking recipes. 
We would suggest not using as much flour as you normally would. Start off slowly and add as you go. This will help you to find the best water to flour ratio. 
10. Why is Potato Starch Bad for You?
This is not entirely true. Anything in moderation is not bad at all. Potato scratch is no exception to that rule. In fact, it is much healthier than using cornstarch. 
Potato scratch has a lower amount of calories and carbohydrates than cornstarch. This is great if you're on a strict diet. 
If you are someone who has diabetes or high blood pressure, we would recommend not using potato starch. Potatoes are not ideal for diabetic patients. They can create a spike in blood sugar levels. 
If you have a chronic digestive problem, potato scratch is not ideal for you either. So consult your doctor if you have any serious medical conditions. 
11. Is Potato Starch Healthier Than Flour?
Potato starch has no added nutrition or benefits compared to potato flour. In fact, potato flour is high in carbohydrates and fiber so it's better for your body and digestion. If you have to use one or the other, we recommend using potato flour. 
Judgement
Now that you have plenty of options to pick and choose from, hopefully, you will have a fun time making delicious bread, cakes, and gravy. 
Which one was your favorite? Let us know in the comments!