There is nothing more refreshing than having a glass of freshly squeezed orange juice to start your day with. Stores are filled with processed fruit juices that cause great harm to our health.
Luckily, things have started to change as more and more people are becoming health conscious. Some are choosing to go fully organic and some vegan.
Whichever lifestyle anyone is picking, they all can agree on the fact that homemade orange juice is unbeatable. The only question that remains is, which types of oranges are the best for juicing?
Some Fun Facts
The first orange originated in Southeast Asia in ancient times. Oranges are a man-made fruit!
There are more than 600 types of oranges!
It is actually a hybrid made from Pomelo and Mandarin.
Around 85% of all oranges are produced for juice!
Orange peels are a great slug repellent!
Why Does My Orange Juice Taste Bitter?
If you are having a hard time with your homemade orange juice because they end up tasting bitter, you need to know about something called Limonene.
Limonene is a phytonutrient that is great for your body. It can fight against cancer as it has cell growth-inhibiting properties. It has been studied for its anti-inflammatory, antioxidant, and heart-disease fighting properties as well. It is truly a miracle component!
The higher the limonene, the bitter it tastes. But here is the twist, freshly squeezed orange juice does not taste bitter as the limonene takes a while to form.
So the best thing to do is to drink your orange juice as fast as you can! Or you can just buy oranges with a lower amount of limonene in it.
You will be deprived of all the health benefits but your orange juice will stay sweet for a long time. It's totally up to you!
List of the Best Types of Oranges for Juicing
You would be surprised to know how many different varieties of oranges are out there! Each of them has their own quirks and advantages.
We have gathered some of the most popular oranges used by millions all over the world for juicing. Some are native to certain parts of the globe.
01. Valencia Oranges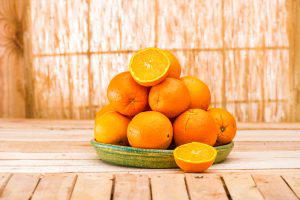 These oranges are named after Valencia city in Spain. This region produces so many oranges that it attracted the name "The Orchard of Spain"!
Valencia oranges are the most popular oranges in the world due to their extremely sweet taste and bright colored juice.
All the commercial orange juices are made from Valencia oranges. As they are so well-loved by everyone, you will easily find them in the supermarkets.
Pros:
Extremely sweet and juicy.
Easily available.
Many health benefits.
Cons:
Not available off-season.
02. Navel Oranges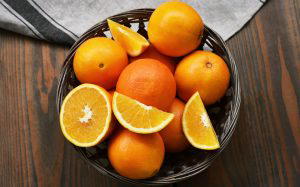 Navel oranges are the most common household oranges due to their larger size and zero seeds. They are easy to identify due to their navel-like appearance at the bottom of the fruit.
People love it because it's seedless, sweet, and cheap.
What most people don't realize is that navel oranges are great for providing protection against heart disease, cancer, and diabetes! It also helps to improve blood pressure, immunity, and overall health.
Pros:
Ideal for people with high blood pressure and diabetes.
Available throughout the year.
Very sweet and fragrant.
Cons:
High limonene content causes bitterness.
03. Blood Oranges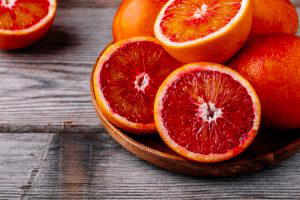 Just like the name suggests, blood oranges are popular for their deep reddish blood-like color inside. They have this distinct red color due to a substance called anthocyanin. It is rich in antioxidants and vitamin C.
Blood oranges are sweet and juicy, perfect for juicing in the mornings! It is also less acidic which means you can make a big batch and keep it in the freezer for later use.
Pros:
Rich in antioxidants.
Sweet and tangy.
Great for skin and hair.
Cons:
Not available everywhere in the world.
04. Satsuma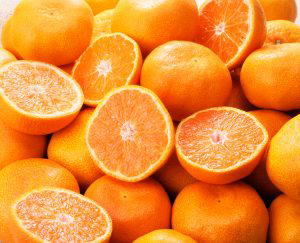 If you are someone who does not like pulp in their orange juice, you are going to love this one! Falling under the family of mandarin oranges, Satsuma is popular for its mildly sweet, juicy texture and little to no pulp!
Satsuma helps to improve your digestive health due to its rich soluble fiber. It also keeps the cholesterol level under control!
Pros:
Improves digestive health.
It tastes sweet and contains soluble fiber.
Easy to peel and eat.
Cons:
Only cultivated in California and the Gulf Coast. So they are hard to come by.
05. Tangelo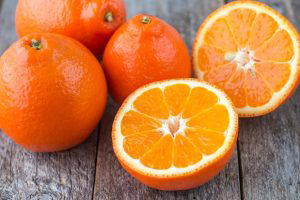 Tangelo is a cross-breed between mandarin and pomelo. This means it has the health benefits of two different types of oranges!
Tangelo is rich in vitamin A as well as nutrients like potassium, calcium, and magnesium. They are very good for your teeth and bone health.
Pros:
A great source of vitamin C
Rich in nutrients.
Less acidic than other oranges.
Cons:
Not available everywhere due to short season time.
What Can You Do with the Leftover Peels?
As we all are trying to be sustainable with our food to help the environment, it is a great idea to use the leftover orange peels instead of tossing them into a bin.
You will discover there are tons of ways you can make the most of your oranges if you start to try some of them out. Here are some of our favorites:
Jest up your meals with the leftover peels for a tangy fresh hit! You can make an orange.
You can make candles with orange peels. It can be a fun DIY project with your family members.
Make candied orange peels! Seriously, you have to try this one. This is so delicious with full of vibrant flavours! You can also use it as a garnish on so many different desserts. Kids love it which is a plus!
Make orange peels infused olive oil for veggies and salads.
Simply make tea out of it! It's so easy and good for your health. Did I mention it tastes absolutely heavenly?
So, Which One Should You Pick?
All the oranges we have mentioned in this article are great for juicing. It is totally up to you to decide which one is best suited for your lifestyle.
No matter what you pick, we can promise that you will feel awakened, energetic, and happy after each glass of fresh juice!
Honestly. I need to have one now!