Ran out of mushrooms? Here are 24 great substitutes for mushrooms that will make your soup or pasta delicious without spoiling the taste or texture of your dish.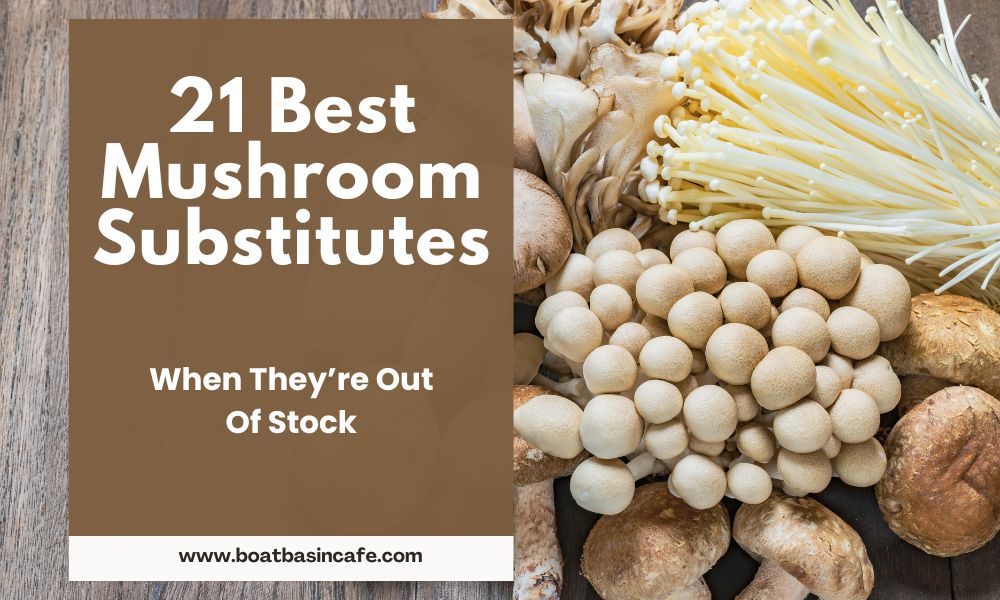 Who doesn't like mushrooms' warm, earthy flavor in a soulful pasta plate or a comforting bowl of cream of mushroom soup? My son doesn't! (Groan). That's why I've had to come up with a great list of what to use as a substitute for mushrooms in a recipe so that the whole family enjoys my cooking without missing the flavor or texture of mushrooms. 
That said, not all mushrooms substitute is quite the same in terms of flavor and texture. While one mushroom replacement can be good for soup, like potatoes, another mushroom sub like eggplants will change the taste of the soup altogether. So, you should be careful while choosing your mushroom substitutes.
What Is A Good Substitute for Mushrooms in a Recipe?
Mushrooms are full of nutrients and are healthy for us. They feature in many recipes like veggie burgers, pizza, pasta, noodles, stir-fries, soups and stews, beef stroganoff, chicken marsala, and beef Wellington. When I go to an Italian restaurant, I always order an appetizer of mushrooms stir-fried in minced garlic and olive oil. So, yes, mushrooms are potent enough to stand on their own.
However, if you or a family member is allergic to certain mushrooms, or you may not like the taste, or you may find you have run out of them when you are about to start cooking, you could use an alternative for mushrooms.
Mushroom Substitutes For Taste And Flavor
As I already mentioned, not all mushroom alternatives are fit for all recipes. If you are looking for a substitution for mushrooms to emulate the umami taste and flavor of mushrooms but not the meaty texture, then you can use any substitute for mushrooms in your recipe from the following.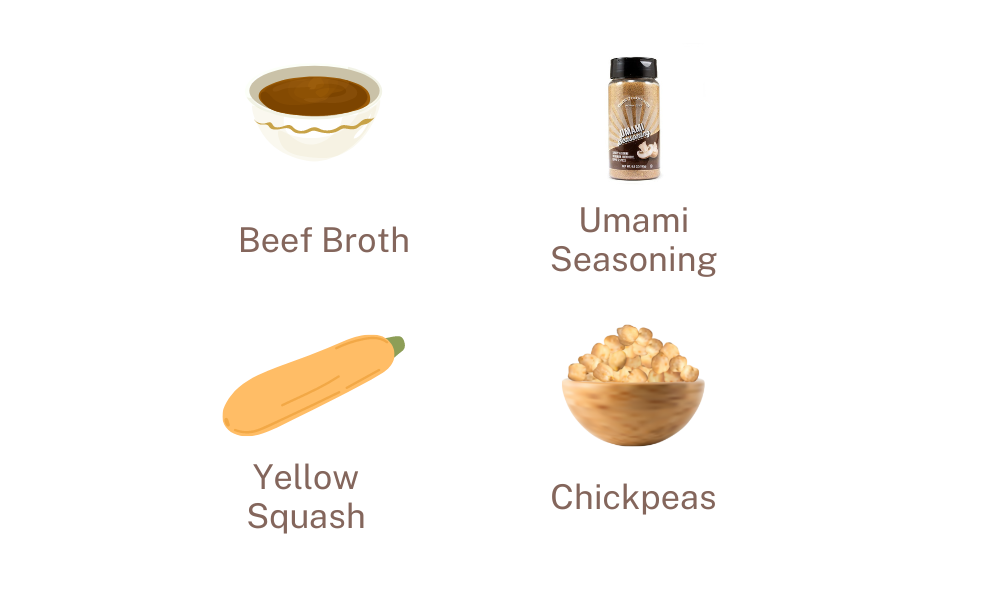 01 Beef Broth
There's a reason why you can use a mushroom substitute for meat and vice versa. Both mushroom and beef share the same flavor profile – umami, earthy, and savory. Beef and bones that are slow-cooked in water with salt, pepper, and some whole spices (but don't overdo the spices as that would kill the natural meat flavor) add the same mushroomy flavor to your dish if you don't want to use mushrooms.
So, if you're wondering what can substitute for mushroom soup, try beef broth. Besides, you can use beef broth instead of mushrooms in other soups and sauces.
02 Umami Seasoning
An umami seasoning like this could be the perfect substitute for mushrooms if you want to add an umami or savory taste and flavor to your dish. This type of umami seasoning has powdered mushrooms as one of the ingredients, so it's no surprise that you get the taste from it although the texture will be obviously missing.
You can use the umami seasoning in gravy, sauces, and soups and it can fill in perfectly as a substitute for porcini mushrooms for dishes that need a stronger flavor. In fact, I reach out for umami seasoning as a substitute for cream of mushroom soup when I don't have the time to slice fresh mushrooms and simmer them.
03 Yellow Squash
What can I substitute for mushrooms in a recipe like stew, soup, or savory porridge? One of the best substitutes for mushrooms is yellow squash. Although the two have no resemblance in their appearance, yellow squash is surprisingly similar to the flavor of mushrooms. The inside of the yellow squash is firm and therefore you should cut it into cubes and cook it until they are tender. A bonus of using yellow squash as a substitute for mushrooms is their bright yellow color which can perk up any dish.
04 Chickpeas
Chickpeas belong to the legume family and are full of proteins. They are also called garbanzo beans. Due to their bland flavor, chickpeas can take on any flavor they are cooked in, much like mushrooms. Hence, what substitute for mushrooms list includes chickpeas. Raw chickpeas need to be soaked overnight in water and then boiled for an hour the next day before making a curry or adding to another dish.
However, you can use canned chickpeas as they make a good mushroom sub in soups and stews for an earthy flavor. I use boiled and blended chickpeas to thicken a soup and give it a heavy texture.
Mushroom Substitutes For Texture
If you are thinking what can I substitute for mushrooms in a recipe for texture, you have several options for your soup, sauces, casserole, or stir-fries. Remember that these mushroom substitutes won't lend the same umami flair but will give you almost the same or similar texture.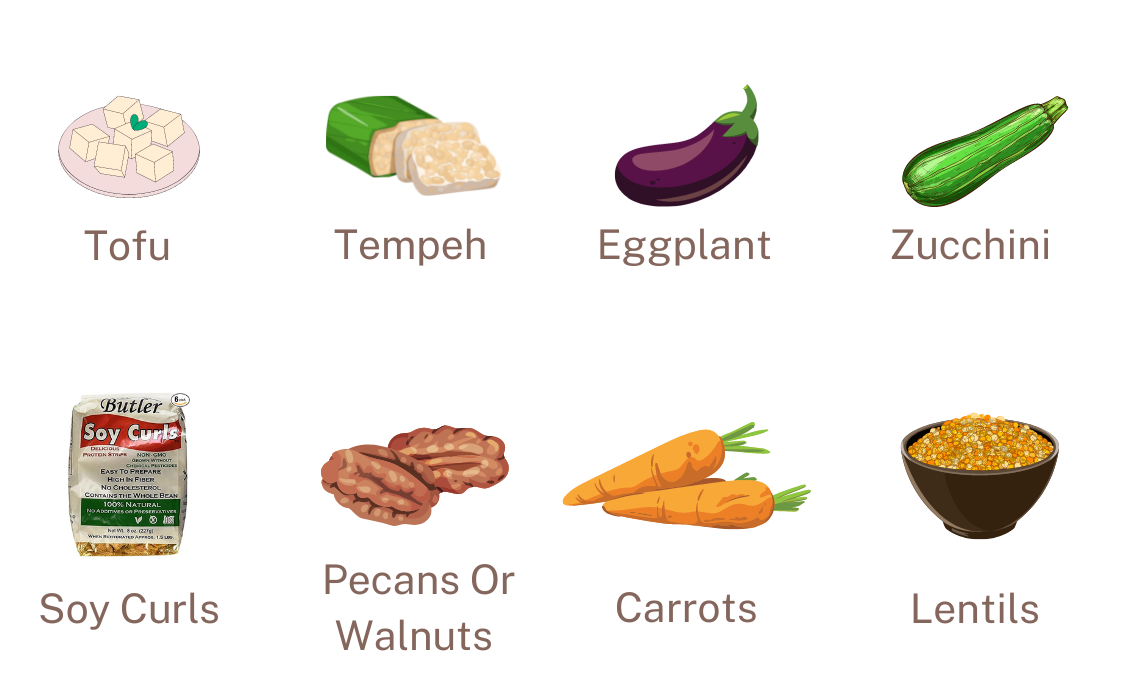 05 Tofu
Tofu is a popular addition to many East Asian cuisines. You can add cubes of tofu to stir-fried vegetables and make them more "meaty" and chewy. Those who are vegetarians look for their protein source from the tofu as it's made from soybeans that have a high protein content. In terms of taste, tofu is mild and bland and it absorbs the flavors of whatever ingredients it's cooked in.
A word of caution though: tofu is very soft and breaks easily, thus it won't withstand long cooking times. That's why it's best to use tofu in dishes that are cooked fast on a high flame, like stir-fries. Choose a firm tofu block like this if you want to use it instead of mushrooms in casseroles and other recipes. However, avoid using it in soups and stews.
💡Pro Tip: Wrap the tofu block in a kitchen towel and place a heavy lid or pan on it to take the water out. Then season the tofu and lightly fry it – to prevent it from breaking – until it forms a light golden-brown crust before adding tofu cubes to a dish (for example, pilaf rice or noodles).
06 Tempeh
Tempeh is made from fermented soybeans but the difference with tofu is that tempeh is firm, has a meat-like texture, and has a nutty flavor. You can make a mince or crumble of tempeh and use it instead of ground beef if you didn't know how long does ground beef last in the fridge and found it off just when you were about to use it. Tempeh is a good substitute for mushrooms, especially in stir-fry recipes and casseroles, and is good for both vegans and vegetarians as a source of protein.
Owing to the firmer body of the tempeh, you can use it in soups and sauces easily to replace mushrooms. For the same reason, tempeh can withstand high cooking temperatures without crumbling down. If you're making a sandwich or burger, thin slices of tempeh can take the place of mushrooms.
07 Eggplant
Eggplant is one of my favorite vegetables and I can make it in so many ways – fried eggplant slices topped with Greek yogurt or a simple stir fry with potatoes and onions. I'm just careful not to overcook eggplants as they release water and become mushy very easily. Though eggplants have a similar texture to mushrooms, they have a distinct taste, making them unsuitable as a mushroom substitute in soups and stews.
Instead, use eggplants as a mushroom alternative in casseroles and in the duxelles for making beef Wellington. Just peel off the skin before using eggplants to mimic the texture of mushrooms in recipes.
💡Pro Tip: Soak eggplant slices or cubes in water after peeling to prevent them from darkening.
08 Zucchini
Zucchini belongs to the squash family and is great as a substitute for mushrooms, thanks to its soft texture. As it has no particular flavor, zucchini has the advantage of absorbing the flavors of whatever it's cooked with. However, as it has a high water content, cook it with caution. Chopped, sliced, or diced, use zucchini as a mushroom replacement in stir-fry and pasta recipes. It's not recommended to use zucchini in casseroles and dishes where you don't want a lot of water making the dish soggy.
09 Soy Curls
It's common to find soy curls or soy nuggets or soy chunks in Asian stores. You can also order them online. As you can guess by the name, soy nuggets are made from soybeans. More specifically, soy chunks are made from defatted flour which is a by-product of soybean oil extraction. You can use soy chunks as mushroom substitutes as they have a similar texture. The good thing is that soy chunks don't have a flavor of their own so you can use them in any dish like casseroles, curries, and stir-fries. Another plus is that soy nuggets are firm. You just need to soak them in warm water to soften them and then squeeze out the water before you cook or fry them.
10 Pecans Or Walnuts
Another great sub for mushrooms is nuts (pecan or walnuts). I was as surprised as you are when I found this out! However, there is a bit of prep work that you need to do when replacing mushrooms with nuts. Soak the pecans or walnuts overnight and blend them the next day. It makes a great mushroom alternative in vegetarian patties for burgers. Besides, you can add blended nuts to soups and sauces. It not only thickens the soup or sauce but also adds an earthy flavor.
11 Carrots
Similar to the eggplant, you can use pureed carrots as a mushroom alternative in the duxelles for beef Wellington in a 1:1 ratio. Although the flavor or texture of carrots has zero similarity to that of mushrooms, pureed carrots can replace the texture. Similarly, you can use carrots in soups, stews, and stir-fries as a replacement for mushrooms in terms of adding bulk, rather than trying to get the same flavor or texture.
12 Lentils
There are many types and colors of lentils and you can use them to substitute for mushrooms in stir-fries, soups, and stews. The green and brown varieties are the best substitutes for mushrooms as they don't lose their shape and won't make your dish soggy. The orange type of lentil gets soft quite easily and you may want to use its blended version to thicken curries, soups, and sauces. However, you need to use lentils to mushrooms in a 1:4 ratio. Using them in equal parts will make your dish pretty heavy.
Mushrooms As Substitutes For Mushrooms
Some of the most common mushrooms we use in various cuisines include portobello, button, and shiitake mushrooms. What happens when you don't any of these handy and you are about to host a group of homies? Surprise, surprise! Mushrooms can be good substitutes for mushrooms as well. How? Well, read on to find out!
13 Portobello Mushroom Substitutes
I tend to reach out for any mushroom in the pantry when I'm cooking but did you know that some mushrooms are better as meat substitutes than others? Take portobello mushrooms.  They have a meaty texture and – thanks to their large size – can be grilled, stuffed, or used in any meat dish you want like a casserole, lasagna, or a burger. If you're a vegan, try out any dish from the 8 portobello mushroom vegan recipes. And, if you don't have portobello mushrooms in the pantry, you can substitute them with tempeh, eggplant, or seitan, which is derived from wheat protein (gluten) and comes incredibly close to the texture of meat. 
According to Harvard research, those with a high intake of wheat protein are likely to reduce their chances of getting heart disease, stroke, and Type II diabetes while keeping the gut healthy. However, these don't apply to those with celiac disease or gluten intolerance and they should steer clear from any mushroom substitute that has been derived from grains.
14 Shiitake Mushroom Substitutes
It was my turn to make an Asian dinner for my book club friends and just when I thought I had everything to start cooking, I realized I didn't have shiitake mushrooms, a staple ingredient in stir-fries, ramen, and even salads. The smoky and earthy flavor of shiitake mushrooms lends a meaty texture and umami flavor to any dish. Try frying vegetables with shiitake mushrooms and onions to serve as a side dish. Or top a salad with boiled and sliced shiitake mushrooms for a full vegetarian meal.
But when you have run out of shiitake mushrooms, you can use mushroom alternatives like portobello, cremini, oyster, or chanterelle mushrooms. If you want a non-mushroom substitute, you can use caramelized onions, tempeh, or tofu that comes close to the nutty and earthy flavor of shiitake mushrooms and also take on the same texture.
15 Button Mushroom Alternatives
Button mushrooms are the most common mushrooms that we eat either fresh or from a can. These button mushrooms are featured in pasta, quiches, pizza, omelets, stir-fries, sauces, soups, and a wide range of other dishes. The mild flavor of button mushrooms is also great to add to vegetarian dishes and salads. Slice them up carefully as they tend to slip. You should cook button mushrooms for a bit longer so that you can get rid of their high water content and have a more meaty texture. To substitute button mushrooms, use white, shiitake, portobello, cremini, or oyster mushrooms. Any of these can be paired with spinach to make a quiche. If you don't have these in the pantry, use umami seasoning to make omelets or sprinkle over the pizza before putting it in the oven. For a meatless broth, add umami seasoning to vegetable stock.
16 Canned Mushrooms
Some of the most common mushrooms we use in various cuisines include portobello, button, and shiitake mushrooms. What happens when you don't any of these handy and you are about to host a group of homies? Surprise, surprise! Mushrooms can be good substitutes for mushrooms as well. How? Well, read on to find out!
💡Pro Tip: Store any leftover canned mushrooms in the same liquid and in an airtight container in the refrigerator.
17 Dried Mushrooms
A packet of dried mushrooms can come to the rescue when you have run out of both fresh and canned mushrooms. Just soak the mushrooms in warm water for 15 to 30 minutes and drain them. However, dried mushrooms tend to have a stronger flavor and chewier texture. Therefore, use half the amount the recipe calls for. For example, if the recipe calls for 2 cups of mushrooms, use 1 cup of dried mushrooms as a substitute. You can always tweak the mushroom subs and add more or less according to your taste.
How To Substitute For Mushrooms When They Are Not The Main Ingredient?
A lot of times mushrooms are more of a topping or condiment rather than the mainstay of the dish. For example, mushrooms are added to pasta, as a pizza topping, as part of stuffing, or as an additional vegetable to a vegetarian stir-fry. In such cases, it's easier to use a substitute for mushrooms with a wide range of other vegetables. Here's a handy list.
18 Olives
You can use pitted black or green olives in pasta or pizza as they have the same soft texture as mushrooms. The flavor is also earthy like mushrooms but there's one key difference – olives are quite salty. That's why, start by using ⅓ of the number of mushrooms in your recipe and dial it up as you go until the taste is just what you like. Use olive halves or thin slices as toppings. You can add them whole and stir them into a soup or stew.
19 Caramelized Onions
Use caramelized onions as a substitute for mushrooms in recipes like casseroles, as pizza toppings, and even as an addition to stews. Caramelized onions have a sweet taste and umami flavor and they also come close to mushrooms as far as texture is concerned. Whether you choose white, yellow, or red onions, once they are caramelized, they lose all pungency. It's best to use mushrooms to caramelized onions in a 1:1 ratio.
💡Pro Tip: Take more raw onions than required as they will reduce in amount once they have been caramelized.
20 Potatoes
Whether it's a beef stroganoff or chicken marsala or a plain vegetable soup, potatoes are great substitutes for mushrooms. Use them in a 1:2 ratio or half the number of potatoes to replace the required number of mushrooms. Potatoes can absorb the flavor from the spiced liquid they are cooked in, much like mushrooms. For the flavor closest to mushrooms, leave the potatoes unpeeled. Potatoes also work well in baked casseroles and stir-fried recipes.
21 Leeks 
The slightly crunchy texture and the sweet taste of leeks are similar to onions, making them good mushroom alternatives. Use them raw as a pasta garnish or in salads. Cooked leeks lend an earthy flavor to pizzas, soups, stews, and chicken marsala. When using leeks in baked recipes like pizza or chicken marsala, use them in equal parts but when adding them to a stir-fried recipe, use half the amount. Instead of leeks, you can also use green onions or spring onions to replace mushrooms in baked and fried recipes or as a garnish.
22 Sun-Dried Tomatoes
I wouldn't say sun-dried tomatoes are similar to the taste of mushrooms. But when they have been rehydrated either by adding to your dish being cooked or sitting for a few minutes in a bowl of warm water, their texture is similar to mushrooms. Expect to have a bolder, tangy taste from sun-dried tomatoes. It's great as a replacement for mushrooms in pasta and pizza.
23 Artichoke Hearts
If you like the taste of vinegar, then use artichoke hearts marinated in vinegar as a substitute for mushrooms in pizza and pasta. Both their earthy flavor and soft texture mimic that of mushrooms. However, if you're not a fan of the sour taste of vinegar, choose artichoke in brine like this. At all costs, avoid artichokes marinated in oil as it will change the flavor profile of your dish and make it oily and heavy.
24 Miso 
If you've ever had miso soup, you know that miso has a mild, earthy flavor and features big time in Japanese cuisine. It's a thick paste made from fermented soybeans, salt, koji (a type of mold), and a grain like barley or rice. You can give miso a shot instead of mushrooms as it comes pretty close to the flavor profile. Of course, it can't emulate the chewy texture of mushrooms. So, you might use it in soups, stews, and sauces instead of in stir-fried and baked recipes.
What To Substitute For Mushrooms In Beef Stroganoff?
Substitutes for mushrooms in beef stroganoff include unpeeled potatoes, squash, pearl onion, and zucchini. Use pearl onions and zucchini in equal parts as substitutes for mushrooms. If you are using potatoes or squash, use half the amount as these starchy vegetables may turn your dish heavy if used in equal parts.
What To Substitute For Mushrooms In Chicken Marsala?
Unpeeled potatoes, carrots, leeks, and pearl onions are the best substitutes for mushrooms in chicken marsala. Use carrots, leeks, and pearl onions in a 1:1 ratio but when using potatoes, use potatoes to mushrooms in a 1:2 ratio.
How To Substitute Mushrooms For Meat?
To substitute mushrooms for meat, you can do it either partially or all the way. Replace the meat by half to a quarter amount with mushrooms in dishes that use a large quantity of meat, for example, a beef casserole. If you want a vegetarian version of a meat dish, replace the full meat quantity with mushrooms. For example, instead of making hamburgers with beef, replace them with mushrooms to make veggie burgers.
FAQs
What Is A Good Substitute For Mushrooms In Cooking?
It depends on the flavor or texture you are trying to mimic. A good mushroom substitute for textures can be tofu, tempeh, carrots, lentils, zucchini, or eggplant. For emulating the flavor of mushrooms, try umami seasoning, beef broth, chickpeas, or yellow squash. 
Can You Substitute Mushrooms For Meat?
Yes, you can substitute mushrooms for meat. 
What Can Be Substituted For Cream Of Mushroom Soup?
Cream of mushroom soup can be substituted with cream of broccoli, cream of potato, cream of chicken, heavy cream, cream cheese, and cream of celery. 
What Is The Substitute For Cremini Mushrooms?
Button mushrooms and portobello mushrooms are the top substitutes for cremini mushrooms. Try one of these 8 portobello vegan recipes if you don't have cremini mushrooms at hand.