Cumin is a pretty potent spice that is found in many different kinds of cooking. However, if you don't make curries or chili very often, you may not always have cumin in your spice rack. Cumin is one spice that you can't skip, as your dish will clearly taste like something crucial is missing.
But you can't grab the nearest spice on hand and use it instead of cumin. After all, using ground sesame or oregano won't give the flavor you are looking for. So, what is a good substitute for cumin?
Have no fear, however─ this article has rounded up several seasonings and spices that you can substitute for cumin. Whether you are making an Indian curry or trying out Tex-Mex recipes at home, these spices will have you covered.
If you want to learn more about cumin substitutes and upgrade your cooking game, keep reading and find out more!
Find out substitute for potato flour here!
What is Cumin?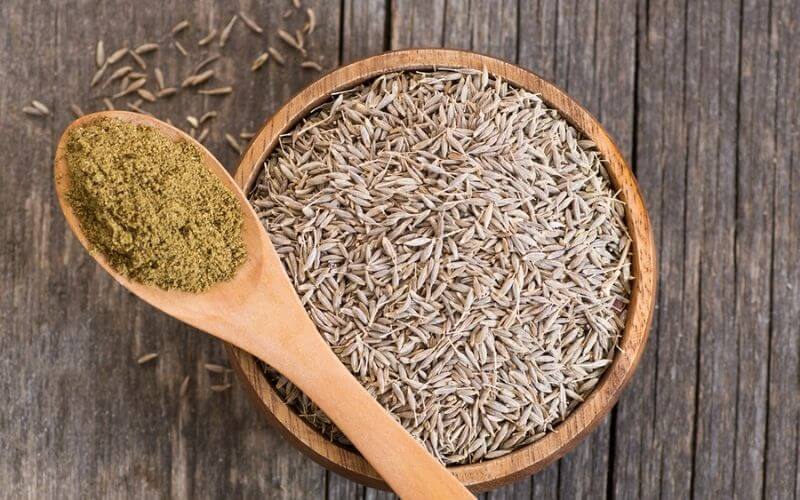 Cumin is a spice made from the dried seeds of the Cuminum cyminum plant. This plant is from the parsley family, although cumin tastes quite different from both fresh and dried cumin. The spice is used extensively in Indian, East-Asian, Middle Eastern, North African, and Latin American cooking.
It is an old spice and has been used in Mesopotamia, ancient Egypt, and other early civilizations. The Egyptians used it both for cooking, and even as a preserving agent during the mummifying process! Cumin is also mentioned in the Old and New Testaments.
Cooking with cumin generally involves using whole seeds or crushing them into a fine powder. The most commonly sold variety of cumin looks yellow-brown. However, you may also find green or white cumin, as well as black cumin (also known as Shahi Jeera in Indian cooking).
Cumin has a warm, earthy flavor that adds a lot of depth and complexity to your dishes. It also gives curries and other dishes a rich, dark color. The powder also has a tangy, musky scent that infuses well into a variety of foods.
The spice works well in stews, curries, marinades, as well as in salad dressings, as a topping or garnish, and even in dips like hummus. Cumin is also a primary spice in many spice blends across various cuisines like garam masala and adobo seasoning mixes.
To amplify the flavor of cumin, the whole seeds are dry roasted in a dry pan over low heat until fragrant. You can then use the seeds as is, or grind them to a powder using a spice grinder or mortar and pestle.
Top 10 Spices You Can Use as a Cumin Substitute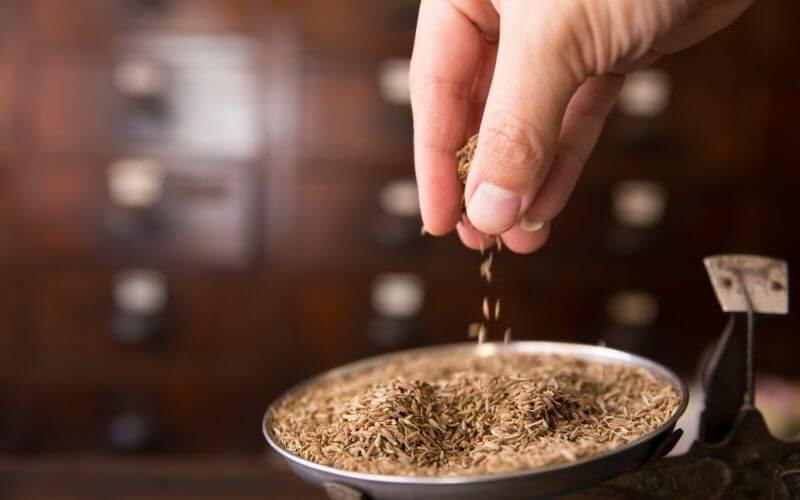 Now, let's get to the point of this article. If you are looking for a cumin replacement, these alternatives will give your dishes a similar flavor profile. 
However, each substitute works best for different kinds of cooking, so I will outline which dishes they are most suited for.
01. Coriander:
A very common substitute for cumin powder is coriander. It is a pretty versatile spice and is made from the seeds of the coriander plant. Like cumin, coriander is related to the parsley family. 
As a result, the spice shares the same warmth and earthy flavor of cumin, as well as its rich, dark color. You can use the spice in either its whole form or powder as an alternative for cumin.
Although the flavor of coriander is quite similar to cumin, it lacks a lot of heat and spiciness. You can make up for this by adding a little more of other seasonings like cayenne or turmeric or even red chili flakes. 
However, coriander has a mild warmth and a lemony-earthiness that matches the flavor profile well, especially if the whole seeds are toasted.
If you want to use coriander as a substitute in a curry, use the same amount as mentioned for cumin in the recipe. Taste for seasoning, and if you find that you want more heat, add a pinch or two of cayenne.
Best for: Indian and other Asian curries and marinades, Middle-Eastern dishes
Not Recommended for: Tex-Mex and Latin American recipes
Product Recommendations: McCormick Culinary Ground Coriander and Anthony's Organic Coriander Seeds
02. Caraway Seeds:
Caraway is another close cousin of cumin, just like coriander. Carraway is also a member of the parsley family and the seeds look very similar to those of cumin. These factors make it a good replacement for cumin.
Like cumin, caraway seeds have an earthy, slightly warm flavor. These seeds also have a slight hint of anise to them. They work particularly well in dishes like curry that use a small number of whole cumin seeds to temper hot oil. 
However, you can also powder caraway seeds and use them in recipes that use ground cumin.
Caraway seeds are typically used in things like potato salads and rye bread. You may also find them in some Indian or Middle-Eastern spice blends. 
Like coriander, it is milder than cumin. So you might have to add cayenne or pepper flakes to make up for the heat and spice.
As a rule of thumb, use whole caraway seeds to replace cumin seeds. Similarly, use the powdered version instead of ground cumin.
Best for: Indian and Middle-Eastern cooking, in salads and dips
Not Recommended for: Marinades and Latin American recipes
Product Recommendations: The Spice Way Caraway Seeds Whole and Marshalls Creek Spices Ground Caraway
03. Curry Powder:
Curry powder is used in a lot of Western versions of Indian dishes. It is a spice blend containing things like turmeric, ground coriander, cayenne, and things like cinnamon, and mustard. Almost all curry powders contain cumin as well, so you can use it as a replacement.
Different curry powders contain different ratios of spices and many also include spices and herbs like ground fennel, black pepper, and even ginger. This means that your dish will have a more balanced and complex flavor, as well as sweet and earthy notes.
However, curry powder will make the end product as the turmeric can make it more of a yellow than a brown. Because there is a whole mix of potent spices in curry powder, you should use half the amount of cumin mentioned in the recipe, and add more later if needed.
If the dish in question is meant to have a simple one-note earthy flavor instead of something spicier and more complex, avoid spice blends and stick to the single spices mentioned here.
Best for: Indian and East-Asian recipes, curries, and marinades
Not Recommended for: Middle Eastern and Latin American dishes.
Product Recommendations: Simply Organic Curry Powder and McCormick Curry Powder
04. Garam Masala:
While curry powder is more commonly used in the West, garam masala is a staple in South Asian dishes. Added to yogurt to make a flavorful marinade, or sautéed with aromatics in curries, it is a spice blend that adds oodles of depth and warmth to meat and vegetable dishes.
Garam masala contains a mix of ground cumin, black pepper, bay leaves, coriander, cloves, cinnamon, and cardamon. It has a color similar to cumin and has a rich and earthy flavor. Some blends even add things like nutmeg, mace, and star anise; all of which impart sweet, citrusy notes.
In many curries, garam masala is added at the end of cooking, along with a little butter (regular or clarified), to give the dish a fresh and warm aroma. Like curry powder, garam masala might be a little too potent, so start by adding the amount of cumin called for in the recipe, and more later.
Pro-Tip: If your recipe mentions some of the other ingredients included in curry powder or garam masala, avoid adding them, as this can double the total spices used and throw off the taste.
Best for: Indian and some South African dishes
Not Recommended for: East-Asian, Latin American, and most Middle Eastern recipes
Product Recommendations: Morton & Bassett Garam Masala and McCormick Gourmet Garam Masala Blend
05. Taco Seasoning:
Cumin is a primary component of this spice blend. If you thought that taco seasoning could only be used in making tacos, think twice. 
You can use it to make fajitas, add it to ground beef, and even in marinades, and use it in chili. That's not all, you can even experiment with it by adding it to chicken to make a sort of fusion shawarma!
Along with cumin, taco seasoning also has paprika, oregano, garlic powder, onion powder, crushed chili flakes, as well as salt and pepper. Because of this, you might have to decrease or even omit the salt mentioned in the recipe. Taste for seasoning, and add more if required.
As a rule of thumb, avoid using taco seasoning in Indian cooking, as well as North-African and East-Asian dishes. These flavors will also clash with most Middle-Eastern cuisines as well.
It will also give your finished product a reddish color, thanks to the paprika and crushed red pepper flakes. This spice works great with marinades, as a dry rub on meats for grilling or roasting, as well as pan-fried chicken, shrimp, and mixed vegetables.
Best for: Tex-Mex and Latin American dishes
Not Recommended for: Asian, Middle-Eastern, and African cuisines
Product Recommendations: McCormick Premium Taco Seasoning and Old El Paso Taco Mild Seasoning Mix
06. Paprika:
Paprika is a major component in taco seasoning and has a warm, spicy, and earthy flavor. It has less heat than ground cumin but has a smokiness that comes close to the depth and complexity of the spice.
The vibrant red will color your food, but most people don't have a problem with this, as the red makes it more appealing. Paprika lacks the citrusy angle that cumin brings so I'd suggest adding a bit of lemon zest while cooking. You can also add a bit of ground coriander to round things up, flavor-wise.
If you are looking for substitutes for ground cumin that is super versatile and goes with almost anything, this is your best bet. Paprika works well in marinades, dry rubs, salad dressings, dips, as well as stews and curries.
Another advantage of this spice is that there's a good chance that you already have it. Almost every household will have a bottle of paprika somewhere on their spice rack, so you can easily use it as a cumin alternative.
Best for: Indian, Middle-Eastern, North-African, and Latin American cooking
Not Recommended for: East Asian and West-African recipes
Product Recommendations: Simply Organic Ground Paprika and McCormick Gourmet Paprika
07. Fennel Seeds:
Another cumin alternative spice that is pretty unconventional is fennel seeds. However, fennel seeds are related to parsley, just like cumin, cumin, and caraway seeds. If you are really desperate and need to replace cumin seeds, you can use fennel seeds instead.
Fennel seeds aren't as earthy or spicy as cumin. Moreover, they also have a certain anise undertone and licorice flavor that cumin lacks. 
As a result, your dish will be a little different from what you expect. The lack of warmth can also be made up for by adding crushed pepper.
They are best used in recipes that call for whole cumin seeds. Fennel seeds are very fragrant and add a certain crunch to many dishes. You can also dry roast fennel seeds in a dry pan to boost their flavor and then grind them to replace ground cumin.
Fenugreek is best used in recipes that use a small or moderate amount of cumin. You can use them in curries, dry rubs, or as a topping in many dishes.
Best for: Indian, Middle-Eastern, and some African cuisines
Not Recommended for: Latin American and East Asian recipes
Product Recommendations: The Spice Way Fennel Seed and Pride of India Organic Ground Fennel Seed
08. Chili Powder:
Wondering what you can use in place of cumin that will barely change the flavor of what you are cooking? The answer is almost always some kind of spice blend or mix. Chili powder is one of many spice blends that contain a good proportion of cumin.
It is similar to taco seasoning but contains a larger amount of paprika, ground pepper, and cayenne pepper, with varying amounts of oregano and onion, and garlic powder. This means you can use them in tacos, burritos, refried beans, chili, carne asada, and fajitas.
Because of all the cayenne and paprika, your finished dish will turn out more red than the nutty brown of cumin, but that isn't generally a problem.
You can also use chili powder in certain marinades as well, as long as they are added in small amounts. Also, if your recipe includes cayenne, chili flakes, and other ingredients that add lots of heat or spice, skip them. Your dish may turn out too spicy, and you can always add more afterward.
Best for: South-Western and Latin American cooking
Not Recommended for: Indian and Middle-Eastern dishes
Product Recommendations: McCormick Gourmet Collection Chili Powder and Simply Organic Chili Powder
09. Fenugreek Seeds:
If you just don't like the earthy, slightly bitter taste of cumin, a spice with a very different flavor profile might come in handy. Not sure what to use instead of cumin to add extra depth? Give fenugreek seeds a try.
Fenugreek is an extremely aromatic spice, and adding it in whole or powdered form adds a lot of fragrance to curries and roasted veggies. They are also rich in nutritional value and reduce cholesterol and boost digestive health. It is also great for hair and scalp care!
These seeds are bright yellow and add a sweetish, slightly mustardy flavor to your dishes. For best results, add something like cayenne or paprika for some heat.
Start off by adding half the amount of fenugreek, compared to the amount of cumin as mentioned in the recipe. Taste for seasoning and add more when required. While it works best when added in whole, you can also dry roast and powder them for use in marinades and dressings.
Best for: Indian and some Middle-Eastern dishes
Not Recommended for: Tex-Mex, Latin American, and East-Asian recipes
Product Recommendations: Anthony's Organic Fenugreek Seeds and Rani Fenugreek (Methi) Seeds Whole
10. Indian Five-Spice Mix:
This miraculous spice blend is well-loved in Indian and Bengali cuisine and adds an instant kick of flavor to curries and lentils. While you won't get the same flavor as cumin, it will still give your dish rich flavor and depth, as well as a wonderful complexity.
Also known as panch phoron aka five spices, this blend contains fenugreek seeds, cumin, nigella or black cumin, fennel, and celery seeds. Although this is harder to find than cumin, buying some in bulk will make sure you always have a flavor booster at hand.
Adding a pinch of this will add incredible flavor to daals, curries, and even roasted vegetables. You can use this blend in whole or ground form and take your dish to the next level. 
It is earthy, but also contains sweet and aromatic notes, so you may need to add cayenne or red chili flakes for spice.
Best for: South Asian dishes
Not Recommended for: Latin American, Middle-Eastern, and African cuisine
Product Recommendations: TAJ Premium Panch Puran (5 Spice Blend) and Deep Spices Panch Puran
Health Benefits of Cumin
Cumin doesn't just add lots of flavor to your cooking, it also has lots of health benefits. Most of these advantages involve aiding in digestion, boosting immunity, and improving circulation. 
Let's take a closer look at the great things cumin does for the body.
Contains Antioxidants:
Cumin seeds contain substances known as apigenin and luteolin that function as antioxidants. These substances prevent free radicals from damaging healthy cells in the body. 
Antioxidants keep your body in good shape and allow you to feel energetic and healthy. They also keep your skin looking youthful and elastic.
Manages Blood Sugar:
Some research suggests cumin can help control blood sugar. Cumin oil is also accepted to be a hypoglycemic agent, so it can help people with high blood sugar. Consuming cumin will help bring blood sugar under control.
Fights Inflammation:
The active ingredients present in cumin seeds have an anti-inflammatory and antimicrobial effect. A regular diet of cumin can reduce inflammation and the issues that come along with it.
And it isn't just essential cumin oil that has these properties. Whole cumin seeds can also help manage pain, swelling, and inflammation.
Aids in Digestion:
Cumin helps soothe an upset stomach and manage the symptoms of IBS. Cumin extract is seen as a good herbal remedy for diarrhea and other stomach issues. Researchers have also found that cumin helps treat the cramps, nausea, and bloating that comes with irritable bowel syndrome (IBS).
Cumin vs. Coriander
There may be a chance that you've often confused ground coriander with ground cumin. The two look alike and can even smell similar as well. 
Besides, they are frequently used together in curries and marinades. So how do they differ?
They taste rather different. Both cumin and coriander have a fragrant earthy flavor. However, this is where the similarity ends. 
Coriander has a slightly sweet flavor with very little warmth. On the other hand, cumin has a bitter flavor and is much warmer and spicy.
Coriander is mellow and has a brighter flavor. Meanwhile, cumin is acrid and is much darker and deeper in flavor.
Cumin and coriander also have different nutritional values and health benefits. While coriander has some health benefits, cumin is far ahead in this aspect and is rich in antioxidants and minerals. Because of this ground cumin is used in many drinks and is even used to cool down on hot days!
The whole seeds also look pretty different from each other. Cumin seeds are elongated and flat, dark brown in color with ridges. On the other hand, coriander seeds are round and smooth with lines and are light greenish-brown.
The two spices are complementary and bring out the most of each other's flavors. They can also be substituted for each other. However, when substituting coriander for cumin, you may need to add a little cayenne or paprika to add warmth and a darker color.
Still Have Questions?
Below you'll find answers to questions we get asked the most about substitutes for cumin.
01. Can I Substitute Turmeric for Cumin?
Although turmeric has the same warmth and earthy flavor as cumin, it is much more bitter and has a bright yellow color. Instead, it is best to add a pinch of turmeric to other cumin substitutes like coriander or paprika.
02. Is Cumin the Same as Turmeric?
Turmeric comes from a different plant than cumin and is made from dried and powdered roots, so the two are pretty different.
03. Are Cumin and Coriander the Same?
Cumin and coriander are very similar, but they aren't the same. Cumin is darker and spicier than coriander, which has a pretty mellow flavor.
04. What Does Cumin Taste Like?
Cumin has a warm and earthy flavor, with a bitter aftertaste. There are notes of wood and citrus as well, all of which make it a great ingredient for meat and roasted vegetables.
05. Can I Substitute Ground Cumin for Cumin Seeds?
Ground cumin can be used as a substitute for whole cumin seeds, but you need to use half the amount mentioned in the recipe.
06. What is Turmeric and Cumin Good for?
Cumin and turmeric are used heavily in curries, marinades, stew, some soups, and even dressings and dips. Many beverages like golden milk and minted yogurt also contain these spices.
07. Which is Better for Me, Turmeric or Cumin?
Between the two, turmeric is a healthier option with antioxidants, anti-tumor, and anti-inflammatory effects. Turmeric also boosts the immune system and keeps the body in great shape. It is also used in many skincare products.
08. Is Cumin a Natural Anti-Inflammatory Agent? 
The active ingredients in cumin have anti-inflammatory effects and can treat main and swelling.
To End
Whether you are making Asian, Tex-Mex, Middle-Eastern, or African dishes, chances are your recipe calls for a little cumin. Knowing what you can substitute for cumin will help make sure your dish tastes the same, without needing you to make an impromptu trip to the grocery store. 
After looking at all these cumin alternatives, which one are you planning on using?