How long does steamed rice last in the fridge and freezer answered along with storage and reheating tips and how to tell when the rice has gone bad.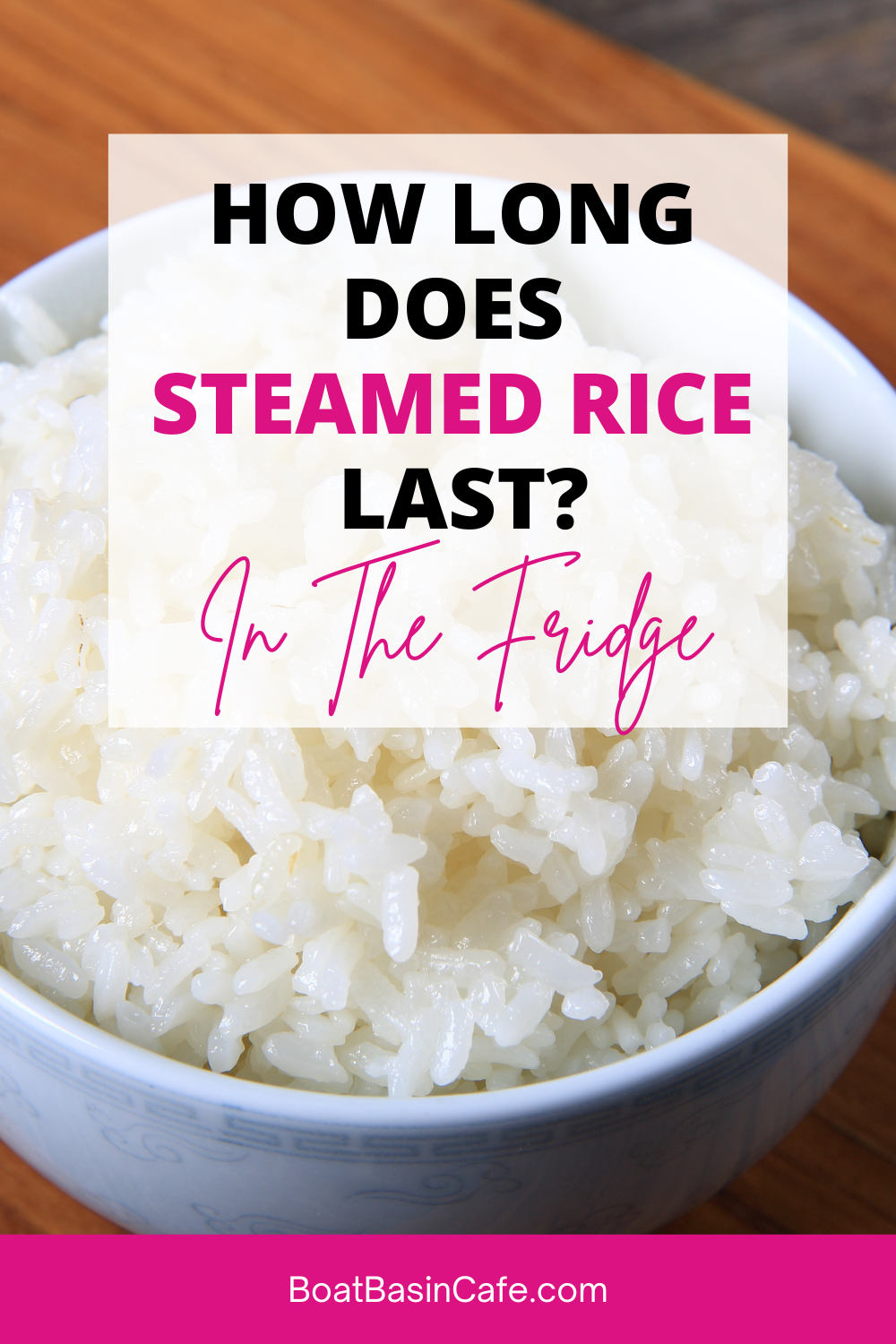 Rice is a pantry staple in many households all over the world.
In the USA, the popularity of rice can be seen in this statistic – in the 2021-2022 fiscal year, Americans consumed 4.6 million metric tons of rice.
In this post, we will look at how to store freshly cooked rice properly to avoid food waste.
You may also like: How Much Rice Per Person is Required? There's No Need for Guesswork Anymore!
How Long Will Cooked Rice Last In The Fridge?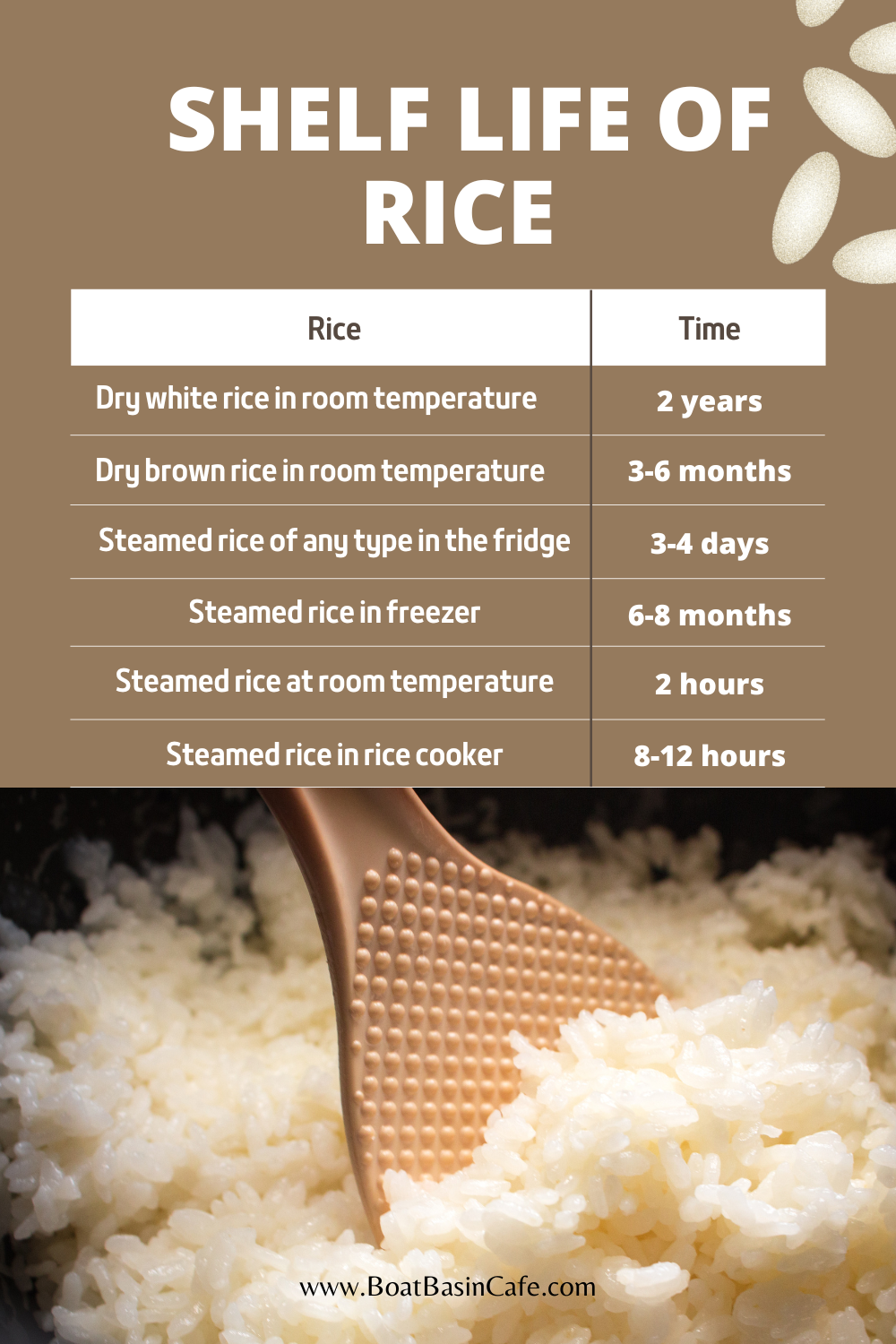 When you are planning to cook rice, you should know how much rice per person is required to avoid storing it.
However, many of us want to prep meals for the whole week. Or, we might have cooked too much rice. In such cases, there's no choice but to store cooked rice.
Any type of cooked rice can last three to four days in the fridge.
Whether it's wild rice or white or brown rice, it will last for the same number of days in the fridge.
Some claim that it can last for a week, but in my opinion, that's a bit of a stretch.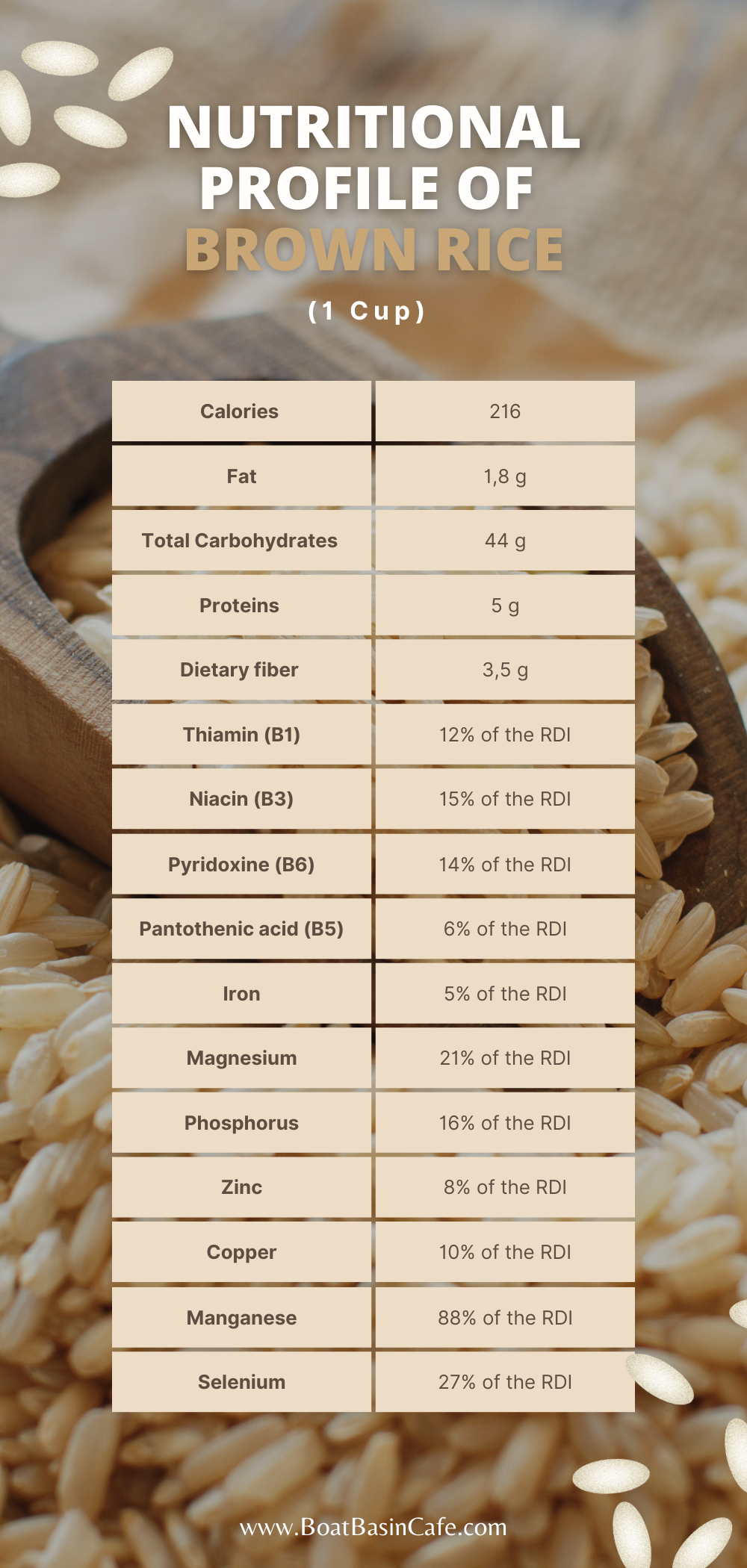 Can You Freeze Steamed Rice?
Yes, you can freeze cooked rice.
Put the leftover rice in an airtight container and make sure you close the lid tightly.
Frozen rice will stay in the freezer for six to eight months. Thaw in the fridge overnight. Leaving it in room temperature could accelerate bacteria growth.
Shelf Life Of Unrefrigerated Steamed Rice
Rice that isn't cooked may contain Bacillus cereus spores, which can make you sick. Even when rice is cooked, the spores can remain and cause food poisoning.
So, for how long cooked rice can be kept at room temperature?
It is recommended not to keep the leftover rice unrefrigerated beyond two hours.
The food temperature danger zone within which bacteria can multiply in the steamed rice is 39.2°F and 140°F (4°C – 60°C).
Therefore, it is safe to keep steamed rice in the fridge if you're not planning to eat it immediately after cooking.
Note: If you reheat leftover rice, it will not eliminate the bacteria already present in the rice.
How Long To Keep Steamed Rice In The Rice Cooker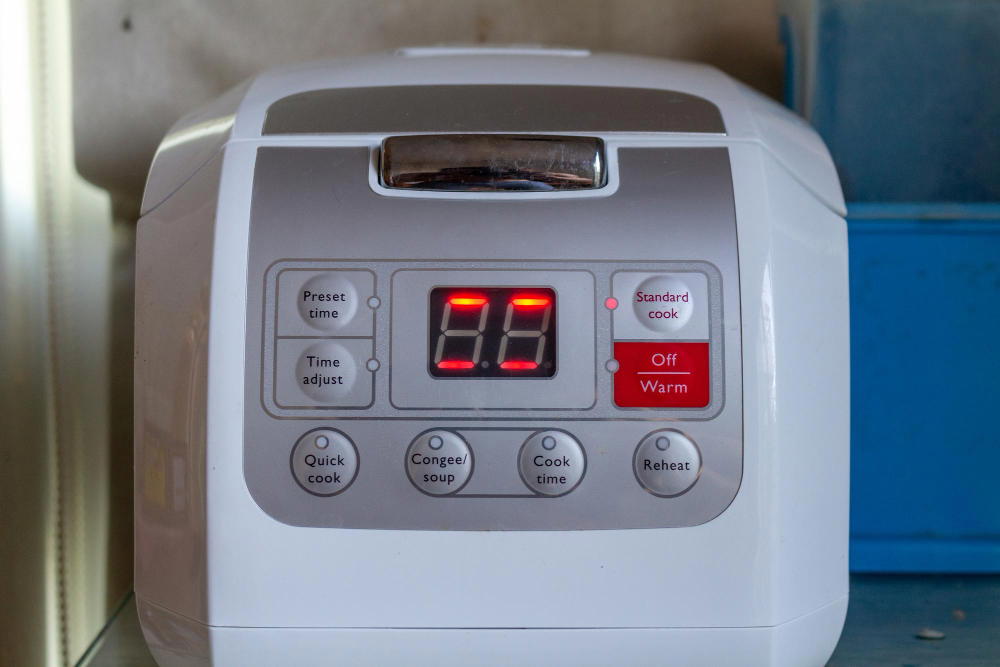 You can keep steamed rice in the rice cooker for a maximum of 12 hours, provided it's on the Keep Warm mode and at a temperature above 140°F (60°C).
If your rice cooker can't maintain this temperature, then don't leave the rice inside for more than eight hours.
How To Store Dry Rice
You should keep uncooked rice in its original packaging for as long as possible.
Bacillus cereus is frequently present in soil and sometimes in plant foods that are grown near the ground, such as spices, grains, and legumes.
So, chances are that dry spice and rice packets have bacteria traces on them.
Once you open the packaging, put away the dry rice in airtight containers so that it stays fresh. Otherwise, moisture will come in contact with the dry rice and become a hotbed for mold and bacteria. Moreover, bugs can get into the rice and cause it to spoil.
💡Pro Tip: If you put about 10 to 15 cloves in the dry rice grains, it will keep the bugs away.
There's a difference in the shelf life between dry white rice and brown rice. Dry white rice at room temperature can last for up to two years. Whereas dry brown rice at room temperature will not last as long – only three to six months.
Dry brown rice spoils faster because it is not polished or processed like white rice. As a result, it has oils on the surface that make it go rancid sooner.
However, you can extend the shelf life of brown and white rice by storing them in the fridge or freezer.
How To Store Steamed Rice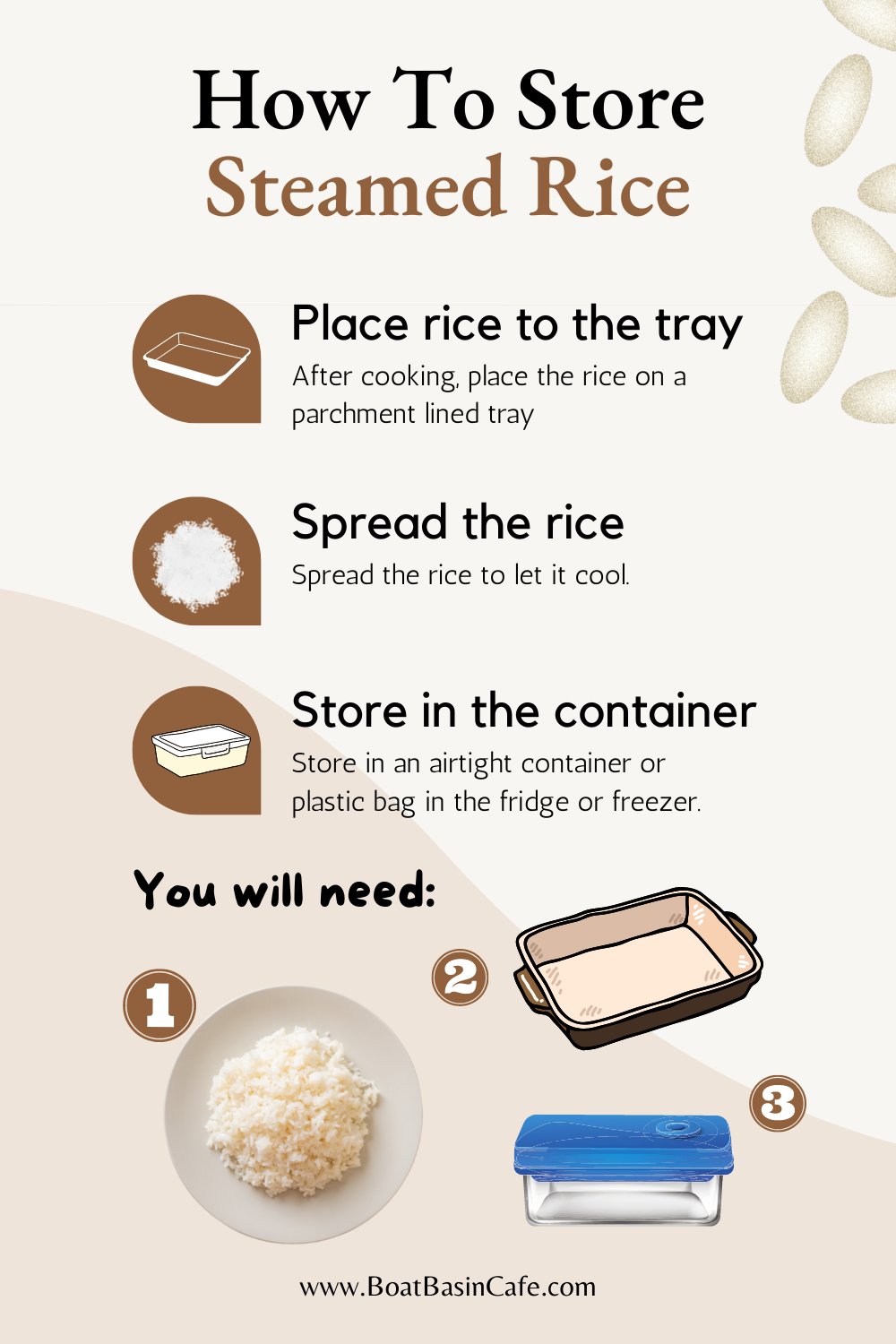 After you're done cooking the rice and the steam stops rising, take it out on a shallow tray lined with a baking sheet. Spread the rice there to let it air dry.
Pro Tip: You can also use a fan to speed up the cooling process.
After the rice has cooled completely, put it away in an airtight container or a plastic bag devoid of all air and store it in the fridge or freezer.
Don't put hot rice in the fridge as condensation will lead to the rice getting soggy. As a result, the bacteria will develop and grow fast in moist rice and spoil it sooner, leading to food poisoning.
How To Reheat Cooked Rice
Reheat only what you intend to consume.
Just get the portion of rice you wish to eat and reheat that; don't reheat and cool your rice several times since this provides opportunities for bacteria to thrive.
Note: Don't reheat rice more than once.
You can use the microwave oven or the stovetop to reheat rice.
Just add a few splashes of water to the rice and heat it to get the rice fluffy and soft but not soggy.
However, if you want to eat cold rice, go ahead!
Did you know that cold rice is perfect for making fried rice? Here's a recipe for making fried rice.
How To Know If Steamed Rice Has Gone Bad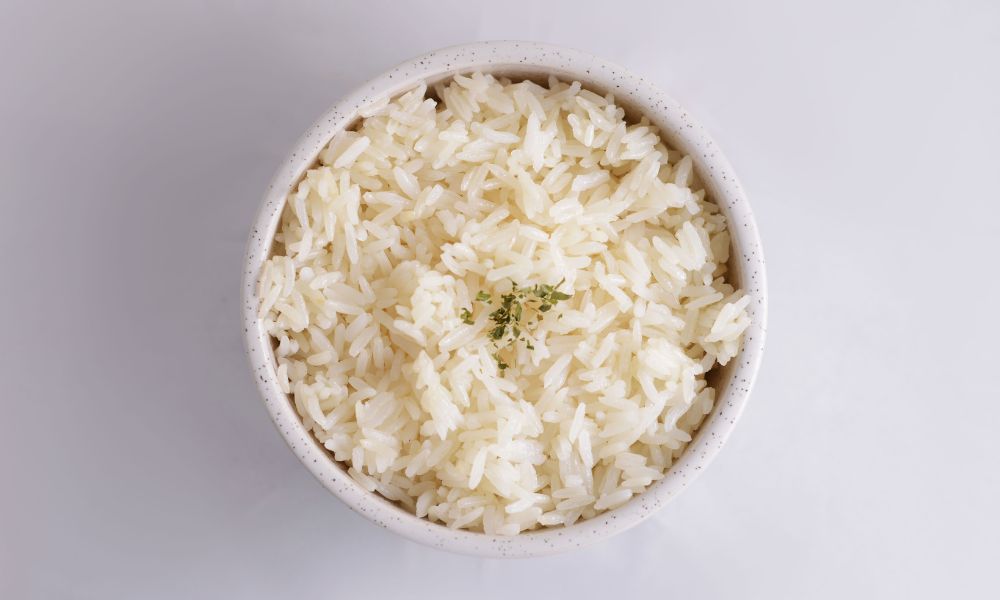 There are three ways to know if steamed rice has gone bad.
The Sniff Test
Smell the steamed rice. If there's a strange, rancid odor, your cooked rice has spoiled.
Touch
Feel the texture of the steamed rice. If it feels soggy and slimy, then it should be discarded.
Remember that moist rice means that the fermentation process has begun and as a result, there's a rise in bacteria.
Also, if you left your steamed rice in the fridge too long, it will turn downright hard and crunchy. This is also a sign of spoilage.
Appearance
Lastly, look for mold on the cooked rice. These will appear as blue, black, or green spots.
Signs That Dry Rice Has Gone Bad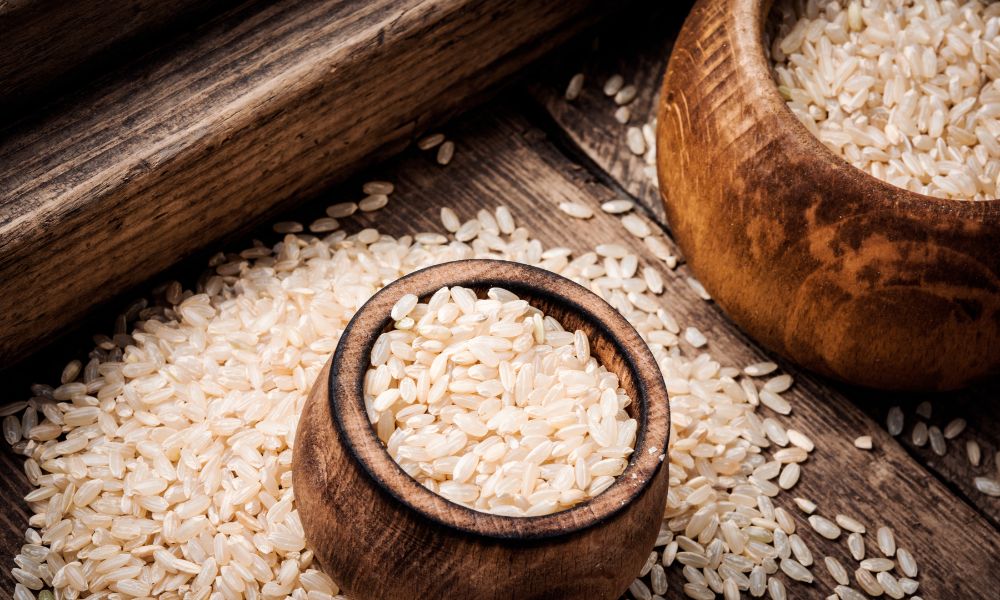 Check if the uncooked rice has gone bad by looking at these signs.
Moisture, holes, and insects in the packaging.
In the case of dry brown rice, see if the rice grains have discolored and have a rancid smell.
Final Thoughts
Leftover rice can last for three to four days in the fridge be it any kind of rice – white, jasmine, wild, or brown.
If stored in the freezer in an airtight container, steamed rice can last for up to eight months.
You should check the packaging of dry rice for moisture, holes, and bugs to determine if it has spoiled.
For cooked rice, an unpleasant smell, slimy or very hard texture, and black, blue, or green mold spots indicate that the rice has gone bad.
FAQs
Can You Eat Cooked Rice After 5 Days?
It's better not to eat cooked rice after 4 days.
Does Steamed Rice Go Bad?
Yes, steamed rice can go bad if left unrefrigerated for more than two hours after cooking. It can also go bad after four days in the fridge. 
How Long Is Steamed Rice Good For?
Steamed rice is good for two hours after cooking or for four days in the fridge or for eight months in the freezer. 
Can I Eat Rice After 2 Days In Fridge?
Yes, you can eat rice after two days in the fridge.