Learn which Starbucks gluten-free food and beverages are on the menu and how to order them to enjoy every sip and bite without worrying about the consequences.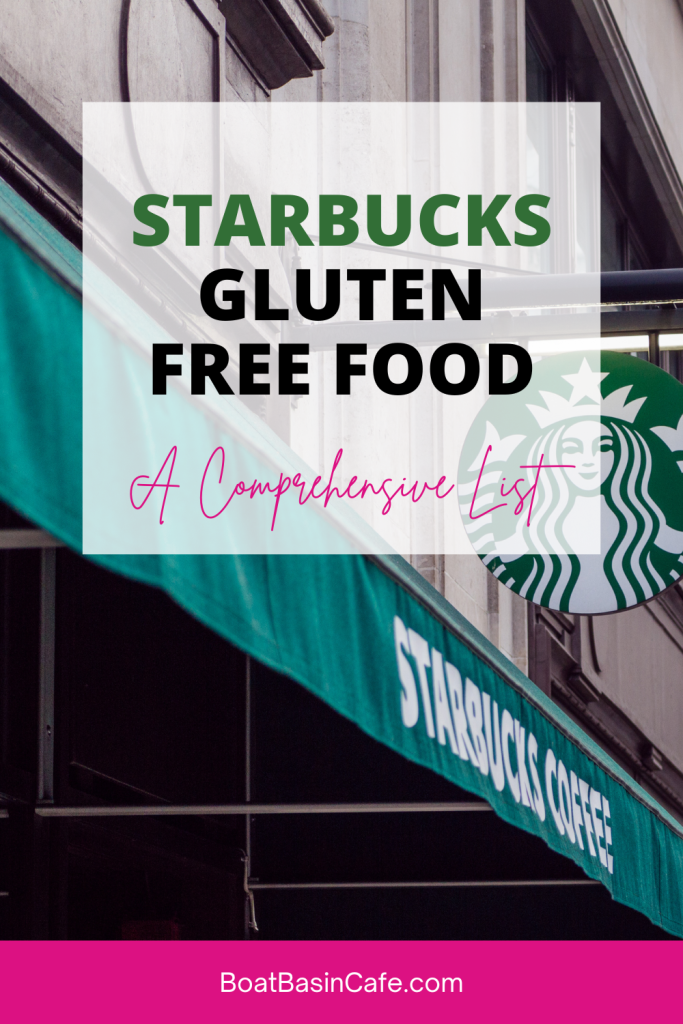 Gluten – a protein present in wheat, barley, rye, and occasionally oats – is incompatible with millions of people around the world who have celiac disease and gluten sensitivities.
In the USA alone, more than 1% of people suffer from celiac disease.
While Starbucks may not typically come to mind when considering locations to visit that are gluten-free, they are actually a rather secure option for a drink and a snack.
As there's no specific Starbucks gluten-free menu, in this post I will provide a list of options and how to order them.
Disclaimer From Starbucks On Allergens
The Starbucks website specifies whether there are allergens present in your favorite food or drinks.
If you look at the full nutrition and ingredients list for a plain bagel, you can see that beneath Allergens, it's written Wheat, followed by the disclaimer:
"We cannot guarantee that any unpackaged products served in our stores are allergen-free because we use shared equipment to store, prepare, and serve them. Customers with allergies can find ingredient information for products on the labels of our packaged products or online at Starbucks.com/menu."
The same applies to the drinks menu. When you look at the full nutrition and ingredients list for Iced Caffè Americano, you can see that beneath Allergens, it's written "Not available for this item" and underneath it, the same disclaimer as above.
However, be doubly sure by looking at the detailed ingredients list.
Tips On How To Order Starbucks Gluten Free Food And Drinks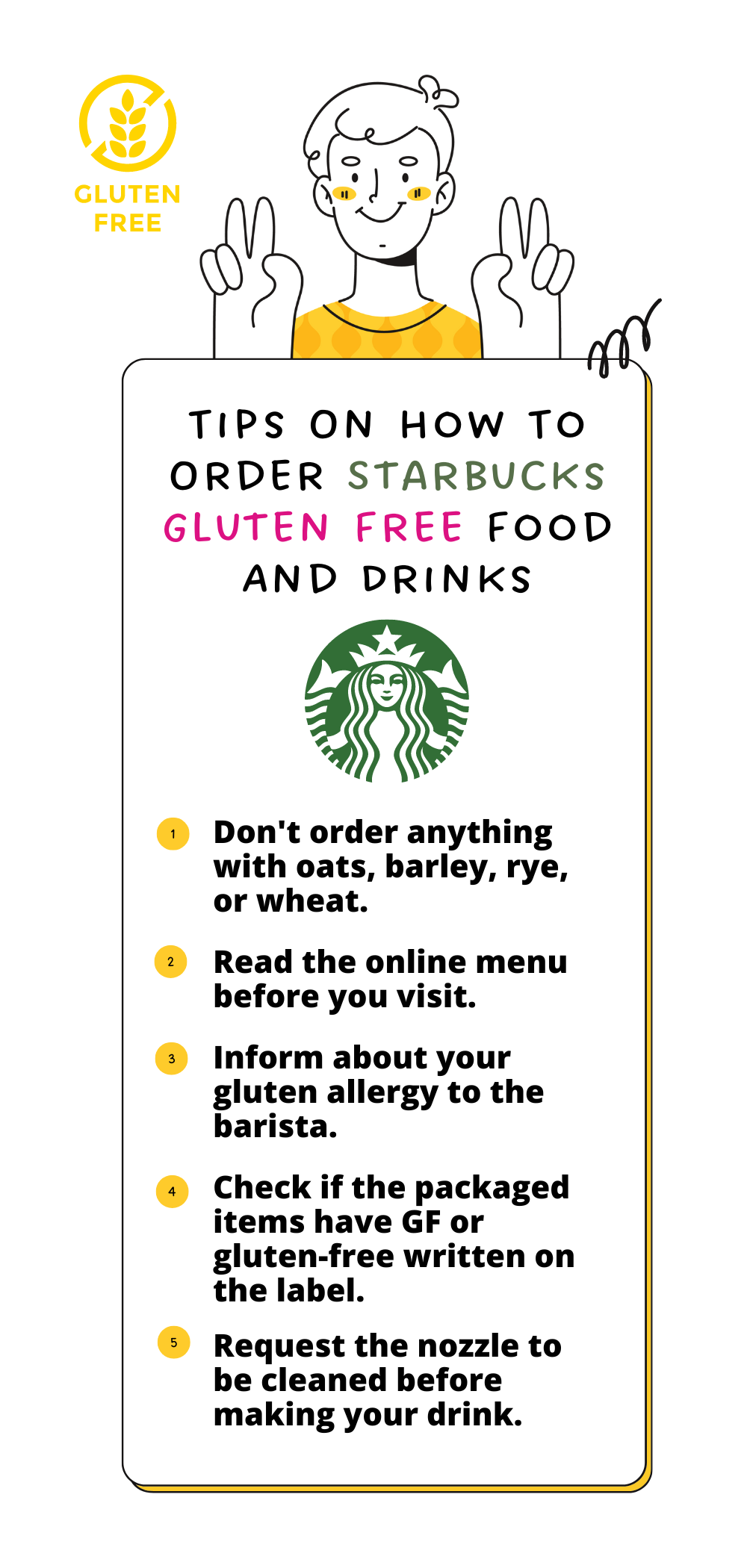 Follow the tips below to be sure that your food and beverages have no trace of gluten in them.
Steer clear from anything that mentions barley, oats, wheat, and rye.
Try to read the menu online before going to Starbucks. It will give you a better idea of what you can order.
Prior to placing your order, let the barista know that you cannot consume gluten and that you have an "allergy."
All packaged food labels should be carefully examined. Depend on packaged items that are labeled gluten free.Anyone following a rigorous gluten-free diet should avoid anything made at the Starbucks manufacturing plant or heated on the premises because you can't really guarantee no cross-contamination.
In case the barista made a previous drink with oat milk like this one, request that they clean the steam nozzle before making your drink.
Which Grains Are Gluten-Free?
Did you know that not all grains contain gluten?
Here's a list that should be useful if you have celiac disease.
Red, black, or brown rice
Teff
Quinoa
Millet
Buckwheat
Corn
Amaranth
Sorghum
Gluten-free oats
Starbucks Gluten-Free Beverages
Many of our favorite Starbucks drinks are made with milk. If you're wondering if dairy milk is gluten-free, yes it is!
Malt is derived from barley, so any beverage that contains malt – for example this one – has gluten in it.
☕️ Hot Coffees
Caffè Americano
Veranda Blend
Caffè Misto
Featured Starbucks® Dark Roast Coffee
Featured Medium Roast – Pike Place® Roast
Decaf Pike Place® Roast
Cappuccino
Espresso
Espresso Con Panna
Flat White
Honey Almondmilk Flat White
Caffè Latte
Cinnamon Dolce Latte
Starbucks® Blonde Vanilla Latte
Caramel Macchiato
Espresso Macchiato
Caffè Mocha
White Chocolate Mocha
For a gluten-free drink at Starbucks, you can choose any of these hot coffee beverages:
However, be careful about beverages containing syrups. Read the ingredients carefully to make sure the sauces and syrups do not contain gluten.
One source claimed that caramel macchiato at Starbucks contained gluten from the caramel drizzle. But if you look at the ingredients, it contains caramel sauce where one of the ingredients is corn syrup, and corn is naturally gluten-free.
🫖 Hot Teas
Among the Starbucks gluten free hot tea selection, you can choose from these options:
Chai Tea Latte
Chai Tea
Earl Grey Tea
Teavana® London Fog Tea Latte
Royal English Breakfast Tea
Royal English Breakfast Tea Latte
Emperor's Clouds & Mist
Matcha Tea Latte
Honey Citrus Mint Tea
Jade Citrus Mint® Brewed Tea
Mint Majesty
Peach Tranquility
The liquid cane sugar contained in the Royal English Breakfast Tea Latte doesn't have gluten as cane sugars do not have it.
Similarly, honey is also gluten-free. Honey is added to the honey citrus mint tea at Starbucks.
🍵 Hot Drinks
Looking for gluten-free chocolate and other non-coffee drinks? Here's what you can order from the hot drinks section.
Hot Chocolate
White Hot Chocolate
Caramel Apple Spice
Steamed Apple Juice
Cinnamon Dolce Crème
Steamed Milk
Vanilla Crème
The white hot chocolate contains white chocolate mocha sauce and one of the ingredients is coconut oil.
Rest assured that coconut oil does not have gluten and you can read more about it here.
Another ingredient in this sauce is cocoa butter and in its natural state, it is free from gluten.
However, beware of food products derived from cocoa butter as they may have come in contact with gluten-containing ingredients during the manufacturing process.
Frappuccino Blended Drinks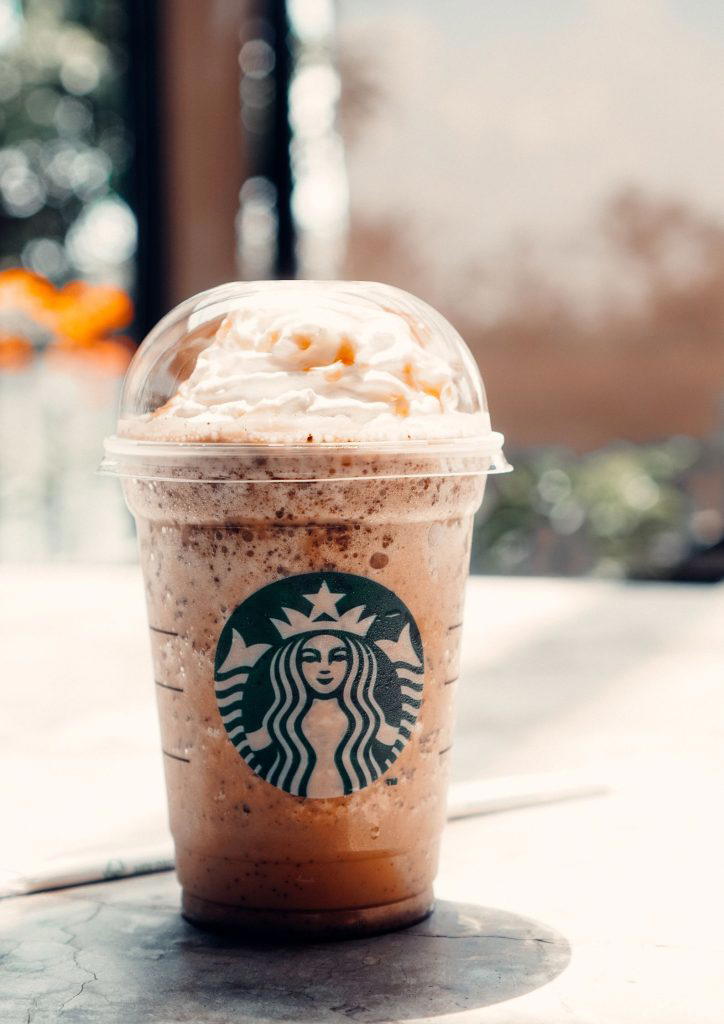 The Frappuccino blended beverages selection in Starbucks has some of the most delicious gluten-free beverages available. Check these out:
Caramel Ribbon Crunch Frappuccino
Espresso Frappuccino
Caffè Vanilla Frappuccino
Caramel Frappuccino
Coffee Frappuccino
Mocha Frappuccino
White Chocolate Mocha Frappuccino
Caramel Ribbon Crunch Crème Frappuccino
Chai Crème Frappuccino
Although Starbucks hasn't listed the Mocha Cookie Crumble Frappuccino as having any allergen, the list of ingredients does mention the presence of wheat flour in the chocolate cookie grind topping.
Another drink from this selection that is out of your bounds is the Java Chip Frappuccino.
Again, no allergens are listed on the Starbucks website for this drink but read through the list of ingredients and you'll see that the frappuccino java chips contain cookie crumbs made from wheat flour.
You should be able to tell right away from the name that the Chocolate Cookie Crumble Crème Frappuccino is not for celiacs.
Both the frappuccino chips and the cookie crumble contain wheat flour. A similar drink is the Double Chocolaty Chip Crème Frappuccino.
💡Pro Tip: Always read the ingredients list even if there are no allergens listed.
Don't be alarmed if any of the drinks like the caramel frappuccino have soy lecithin listed as it's a gluten-free ingredient.
As there is no separate blender for making these frappuccinos, there may be a cross-contamination risk. So, make your decision with caution.
Cold Coffees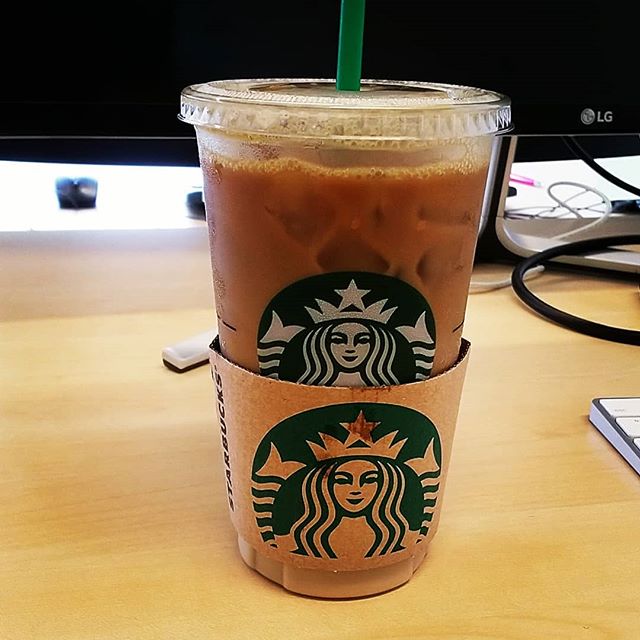 Summertime calls for cold coffees and what could be a better way to quench your longing than by enjoying a Starbucks cold brew?
For a gluten-free cold coffee, here are the ones you can order:
Salted Caramel Cream Cold Brew
Starbucks® Cold Brew Coffee
Vanilla Sweet Cream Cold Brew
Starbucks® Cold Brew Coffee with Milk
Vanilla Sweet Cream Nitro Cold Brew
Iced Caffè Americano
Iced Coffee
Iced Coffee with Milk
Iced Espresso
Iced Shaken Espresso
Iced Honey Almondmilk Flat White
Iced Caffè Latte
Iced Cinnamon Dolce Latte
Iced Starbucks® Blonde Vanilla Latte
Iced Caramel Macchiato
Iced White Chocolate Mocha
Iced Caffè Mocha
The Chocolate Cream Cold Brew is not for those with celiac disease as it contains chocolate malt powder, malt being a derived product of barley.
Iced Toasted Vanilla Oatmilk Shaken Espresso – another drink that you can tell by its name that it has gluten.
Oat milk is derived from oats and is, therefore, not a gluten-free option.
The same can be said for Iced Brown Sugar Oatmilk Shaken Espresso.
The chocolate malt powder in the Iced Chocolate Almondmilk Shaken Espresso makes it a drink not suitable if you have gluten allergies.
Iced Teas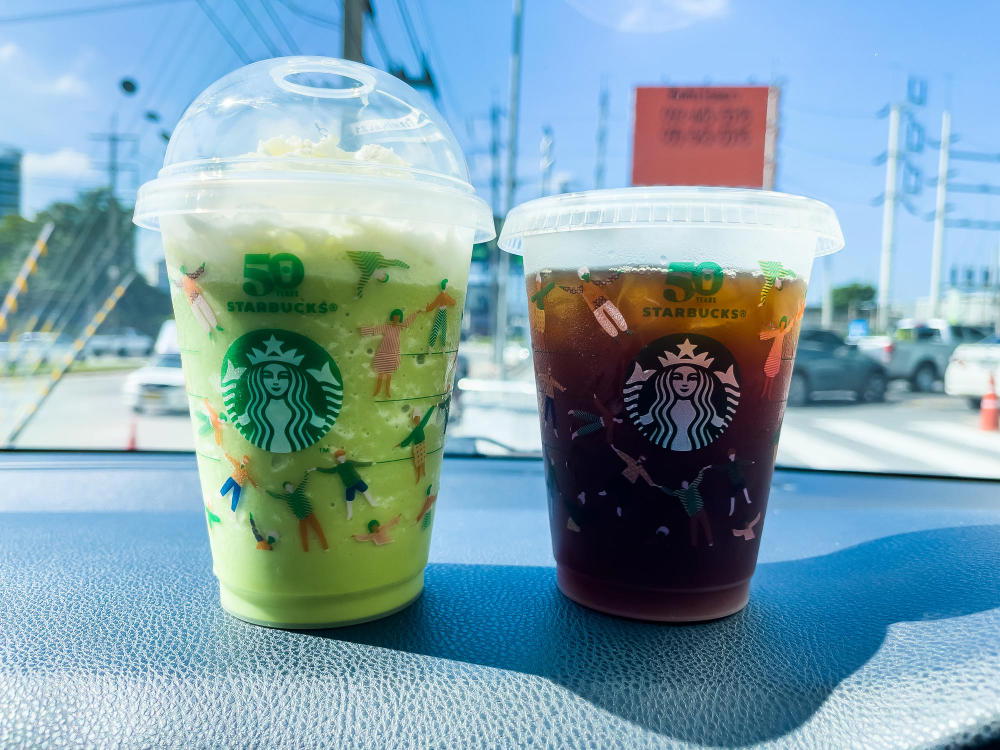 If you're looking for a cool and refreshing iced tea that's gluten-free, try these:
Teavana® Sparkling Unsweetened Peach Nectarine Green Tea
Iced Black Tea
Iced London Fog Tea Latte
Iced Chai Tea Latte
Iced Peach Green Tea
Iced Peach Green Tea Lemonade
Iced Matcha Tea Latte
Iced Green Tea
Iced Green Tea Lemonade
Iced Matcha Lemonade
Iced Passion Tango® Tea
Iced Passion Tango® Tea Lemonade
Cold Drinks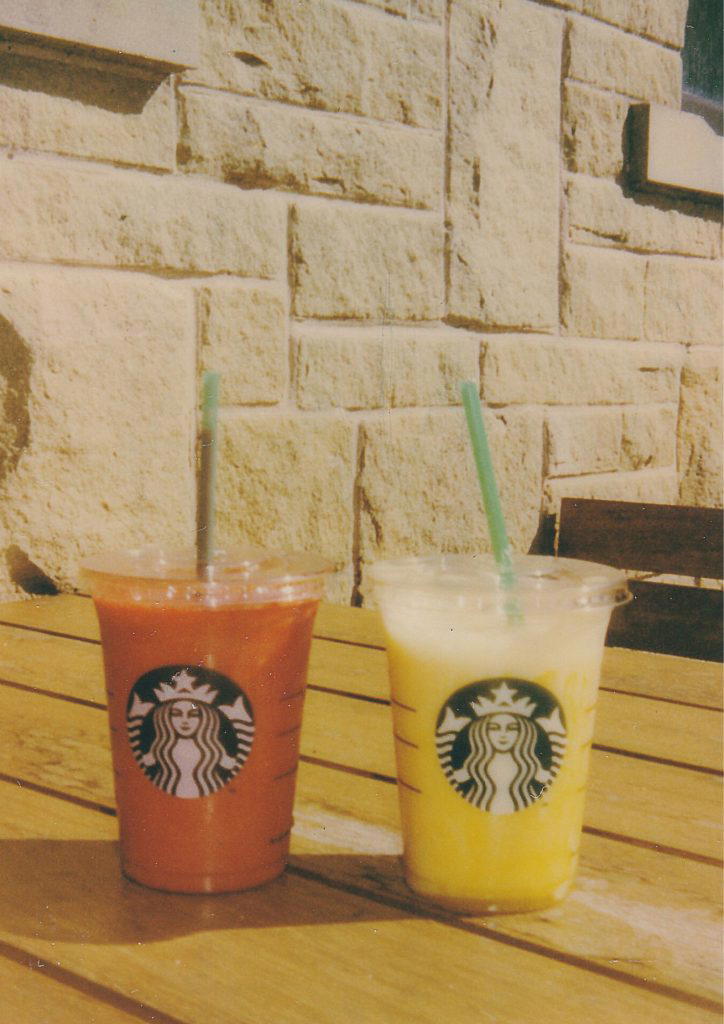 The cold drinks section at Starbucks offers a wide variety of gluten-free drinks.
Check out the Refreshers line below for a gluten free beverage:
Dragon Drink
Mango Dragonfruit
Mango Dragonfruit Lemonade
Paradise Drink
Strawberry Açaí Lemonade
Pineapple Passionfruit
Pineapple Passionfruit Lemonade
Pink Drink
Strawberry Açaí
Apart from the Refreshers line of drinks, you can also try:
Lemonade
Blended Strawberry Lemonade
SBC Milk
Bottled water
Starbucks BAYA™ Energy Mango Guava
Starbucks BAYA™ Energy Raspberry Lime
Evolution Fresh® Organic Vital Berry
Evolution Fresh® Organic Defense Up
Evolution Fresh® Orange
Evolution Fresh® Organic Super Fruit Greens
Evolution Fresh® Mighty Watermelon
One of the ingredients in Evolution Fresh® Organic Super Fruit Greens is spirulina which is completely free from gluten.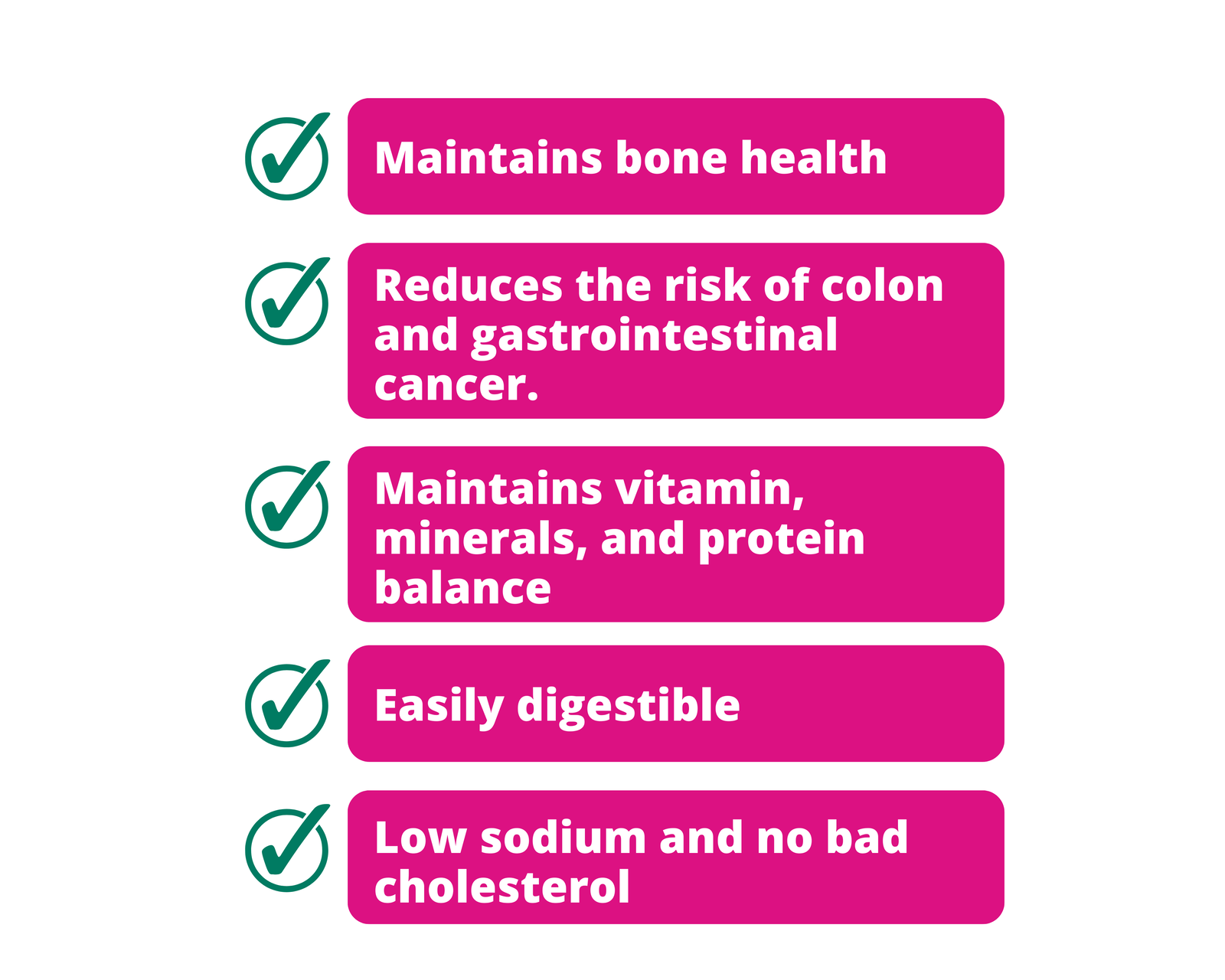 Starbucks Gluten-Free Food
It's not only that we visit Starbucks for its coffees and refreshing beverages but also to enjoy the sweet and savory bites.
🍳 Hot Breakfast
When you're grabbing a cup of coffee at Starbucks in the morning, you might feel a little hungry and we all know how breakfast is the most important meal of the day.
Although the gluten-free breakfast sandwich was discontinued in 2018 reportedly due to low sales, you can choose:
Kale & Mushroom Egg Bites
Bacon & Gruyère Egg Bites
Egg White & Roasted Red Pepper Egg Bites
The Sous Vide Egg Bites mentioned above contain whey which is gluten-free.
Rice starch is present in the first two options but worry not as rice starch doesn't contain gluten.
Please inform your waiter or waitress that you have a severe gluten allergy and request that they warm the sous vide egg bites using clean tongs and gloves on a piece of parchment paper.
The risk of cross-contamination is considerable because the gluten free sous vide egg bites are warmed in the same toaster oven as the breakfast sandwiches that contain gluten.
🥯 Bakery, Sweets, And Snacks
There is only one thing you can pick from the Starbucks bakery section that is certified gluten-free – the Marshmallow Dream Bar.
Milk is the only allergen warning mentioned on the company website.
Made from pillow-soft marshmallows and crispy rice, the marshmallow dream bar is one of the certified gluten-free options for celiacs.
Everything else on the Starbucks menu is made with wheat flour and enriched flour and therefore not made for celiacs.
Other than the Marshmallow Dream Bar, you can snack on the following gluten-free options:
Roasted & Salted Mixed Nuts
Almonds, Cashews, Cranberries & Raisins
Kettle Lightly Salted Crisps
Kettle Mature Cheddar and Red Onion Crisps
Kettle Sweet Chili and Sour Cream Crisps
Justin's Dark Chocolate Peanut Butter Cups
Goodie Girl Mint Cookies
HipPeas
Variety of potato chips and popcorn
Beef and turkey jerky
Kind bars
That's It fruit bars
Yogurt
🥙 Lunch
The lunch menu at Starbucks is also limited for celiacs as there are not many gluten-free options.
01. Starbucks Chicken & Quinoa Protein Bowl.
There are no allergens listed on the website for this meal.
It contains two types of quinoa, meat from chicken raised without antibiotics, a healthy serving of spring mix, black beans, tomatoes, smoked paprika, and cheese, tossed in a mild chile vinaigrette.
Although not expressly mentioned as one of the gluten-free options, the ingredients list does indicate the absence of grains.
02. Gluten Free Ham & Cheese Panini
Smoked ham with aged Cheddar cheese, mustard, and cheese sauce is inside a gluten-free ciabatta bun.
For lunch or a gluten-free breakfast sandwich, this will serve you quite well.
Gluten-Free Syrups And Seasonings In Starbucks
Here is a list of syrups and seasonings that are frequently used at Starbucks and are also thought to be gluten-free.
Classic Syrup
Mocha Drizzle
Caramel, Vanilla, Almond, Peach, Mango, Coconut, Peppermint, Cinnamon or Hazelnut Syrups
Caramel Drizzle
Sugar-Free Caramel, Vanilla, or Hazelnut Syrups
Strawberry Sauce
Vanilla Sugar
Nutmeg Powder
Chocolate Powder
Cinnamon Powder
Vanilla Bean Sugar Topping
Single Cream
Heavy Cream
Whipping Cream
Soya Dairy Alternative
Almond Dairy Alternative
Coconut Dairy Alternative
White Chocolate Sauce
Mocha Sauce
The Bottom Line
To be absolutely safe, always read the ingredients list on the menu before you order.
Additionally, have a word with the waiter or barista to let them know you have gluten sensitivity.
FAQs
Are Any Starbucks Sandwiches Gluten-Free?
No, none of the sandwiches at Starbucks are gluten-free. The only breakfast options that have no gluten are egg bites. 
Why Does Starbucks Not Have Gluten-Free Food?
Starbucks, for most people, is the preferred place to have coffee and coffee beverages.
It's not the first preference for full-fledged meals.
However, there are a few gluten-free food options on the menu.
Is Starbucks Oat Milk Gluten-Free USA?
According to a Starbucks press release, there's no mention of the oat milk used at their stores to be gluten-free.
However, another report claims that the oat milk used by Starbucks is gluten-free in USA only.
If you're in a Starbucks in the USA, it's best to ask the barista to check the label of the oat milk brand they use and confirm it's gluten-free.
Can Celiacs Have Starbucks?
Yes, there are many beverage options free from gluten at Starbucks, making them suitable for celiacs.
Even the canned and bottled beverages are gluten-free although it's not specifically mentioned on the label.
There are no gluten ingredients in these drinks and are safe for celiacs.
The food menu in Starbucks is limited for celiacs.