Need to know which smoker reigns supreme? Find out more about electric and propane smokers in our article today. Read on!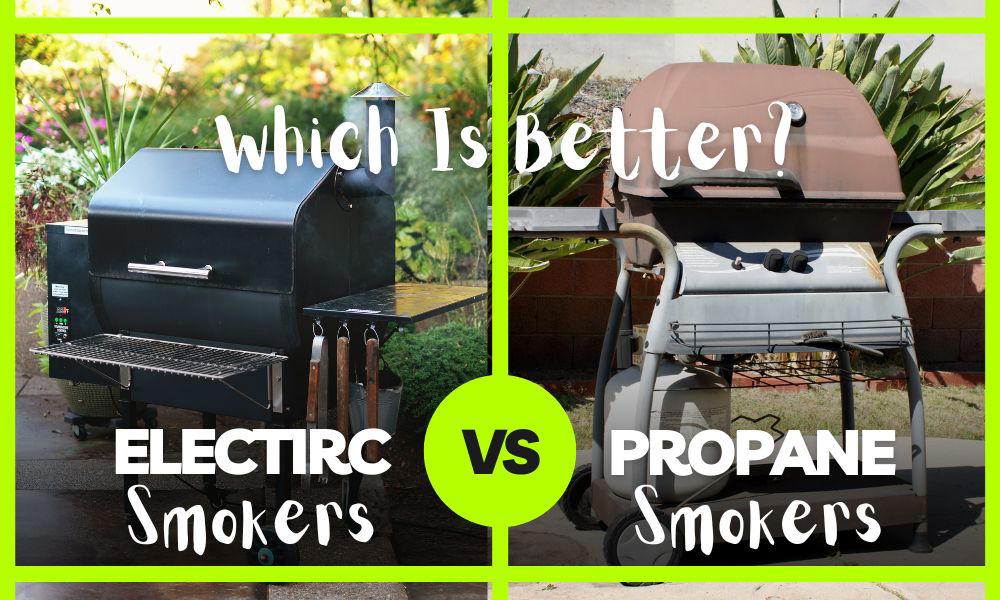 You've looked at all the options possible in the realm of smoking meat, but now you're at a crossroads: should you choose propane or an electric smoker?
We get it. There are multiple benefits and downfalls to each, so let's dissect each one by one to help you in your decision. In our article below, we guide you through every detail you need to know about propane smokers, electric smokers, their pros and cons, and more!
What is a Propane Smoker?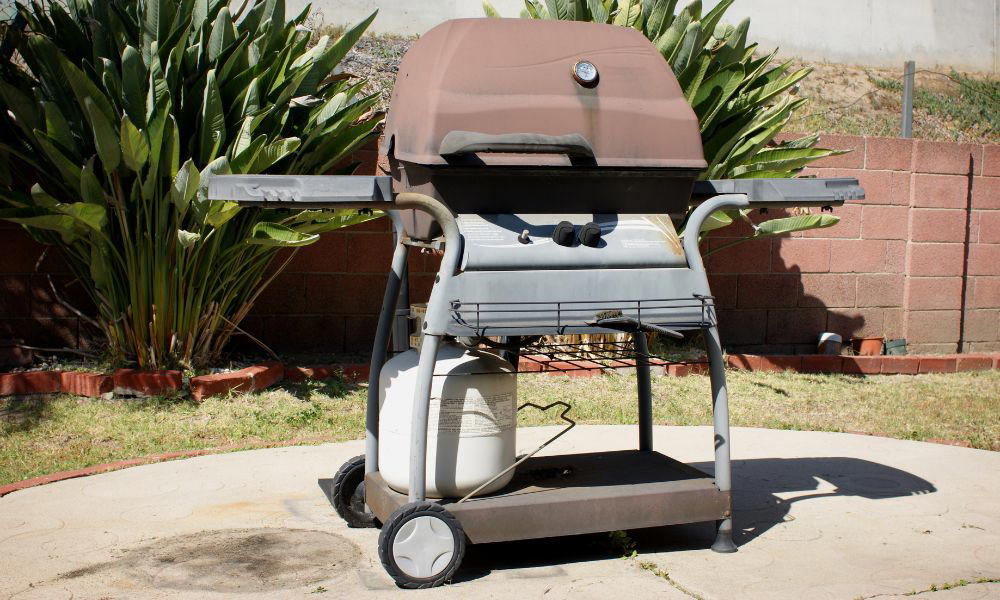 A propane smoker is an outdoor cooking device you can use to smoke food, also known as a gas smoker. Unlike a traditional charcoal smoker, propane smokers use propane or natural gas as a source of heat. Charcoal briquettes aren't to be found here!
Propane smokers tend to have a cast-iron or stainless steel construction, and come with a wide variety of features.
What is an Electric Smoker?
An electric smoker also smokes food and can be used outdoors, but instead of having either propane or charcoal as its heating source, the heat comes from hot electric rods. Just like propane smokers, electric smokers can have a cast-iron or stainless steel construction, and come with a variety of features.
Propane Smoker: The Pros and Cons
| | |
| --- | --- |
| Electric Smokers | Propane Smokers |
| Uses hot electric rods | Uses propane or natural gas |
| Needs a power outlet | Portable and can be used anywhere |
| Has a lower temperature range | Can sear in high heat |
| Has a variety of features | Has limited features |
| No smoke rings | Smoke rings are possible |
Okay, let's begin the propane smoker VS electric smoker debate by diving into each one's pros and cons. Are you ready? Let's start with the propane smoker:
Propane VS Electric Smoker: Propane Smoker Pros
Portability wins
No power outlet? No problem. You can place a propane smoker just about anywhere in your home, unlike electric smokers that need power to run. If you also invest in portable gas smokers, you can bring it along to road trips as well!
Simple to use
Propane smokers are quite straightforward with how they run. Unlike electric smokers, you don't have to scramble too much for parts or check manuals on how a digital electric smoker can be up and running again. Repairs aren't a hassle, and if you're the impatient type when it comes to your appliances, a propane smoker is the one for you.
Plus, being simple to use is much easier on anyone wanting to smoke meat! Whether you're a beginner or a pro at smoking, food shouldn't be too hard to come by with whatever unit you use. An electric unit can be more complicated in comparison to one with a propane tank.
achieve more with your smoked meat
You can definitely sear your meats and achieve a smoke ring easily with a propane smoker! Electric smokers tend to have a lower temperature range, so it's not as easy to be flexible. With a higher temperature range, however, you can achieve more with your smoked meat — and that's exactly what a gas smoker can achieve.
Propane VS Electric Smoker: Propane Smoker Cons
limited features
One thing about electric smokers is that they come with a lot of features, such as Bluetooth connectivity, LED displays, and food thermometers. You don't get the same treatment with gas smokers. They're straightforward, yes — and they come as they are.
requires a lot of maintenance
During the smoking process, any smoker will tell you that gas smokers tend to run hot. You have to be on the lookout for the temperature control and make sure it stays at a steady temperature. Due to the low heat that any electric smoker usually has, you don't have to baby-sit electric units as much!
Maintenance is a must to regulate temperature and have the best meat smoked for a gas smoker. If you're the type to want to "set and forget" like you would with an electric smoker, a propane smoker may not be for you.
not reliable
Bad weather conditions? That's usually a bad sign for a gas smoker. Gas smokers don't come well-insulated, so rain, wind, and cold will directly affect your cooking time. Unless you somehow have the space to take your quality smokers indoors, an electric model may be better off for you.
Electric Smoker: The Pros and Cons
Now, it's time to go through the same process: the propane vs electric smokers debate, now focusing on the electric smoker's pros and cons!
Propane VS Electric Smoker: Electric Smoker Pros
They're Beginner-Friendly
If you're only beginning to smoke your food, or if you really just want to smoke one time for delicious food, you want something that has ease of use.
With hot electric rods as the heat source for your smoking unit, between electric and propane smokers, the electric ones are a lot easier to handle.
You can automatically set everything to your desired temperature and how long you want everything to smoke for. While you're there, you can learn some basic techniques on the heating element of smoking and how the smoking process works.
You don't need to go through the entire process of lighting charcoal or controlling airflow. You can just customize your settings and let the electric smoker do the work!
They're Relatively Cheap
Who wouldn't say no to more affordability? The truth is, in comparison to any gas smoker or pellet grill, electric smokers are one of the most affordable units you can get out there. In the long run, for the quality that they give, electric smokers are cheap — and good for their value!
With the price and running cost, electric and gas smokers are around the same price, but there are more features and convenience that electric smokers offer.
They're Great for Cold-Smoking
Looking for versatility? Electric smokers are your best friend. Unlike gas smokers, which you have to modify for cold-smoking, all you have to do with an electric smoker is buy an attachment to do so. For this, we recommend something like the Smoke Daddy Hot or Cold Generator.
Now, you can cold-smoke everything from meats to cheese!
Propane VS Electric Smoker: Electric Smoker Cons
There's No Smoke Ring
There are lots of people out there in search of a good smoke ring. It's the pink coloration you usually find after smoking your meat. If you're looking for a smoke ring, cut it open just below the surface to find one!
However, using an electric smoker will not have the heat high enough to be able to make a smoke ring happen. The chemicals just won't burn at a high enough temperature range for it to appear!
A smoke ring doesn't affect the taste of the meat at all, so if you're good on letting a smoke ring go, then this isn't much of a con.
You Can't Bring It Around
Limited portability is one thing you must accept with electric smokers. They require power to work, so if you invest in an electric smoker, you won't be able to take it on a camping trip. The same goes for where you want to put it in your home. You have to have an electrical outlet nearby at the very least!
This can be turned into a pro, too, however — that as long as you have power, you can smoke your meat. Even if there's bad weather outside, there's no stopping you from smoking indoors!
No Searing
Apart from not having a much better smoke ring, you won't be able to sear your meats either. This can be an issue for those who want versatility and space for their smoked meat to sear properly, so think about it before you fully invest into an electric model!
Top 3 Best Propane Smokers
01 Camp Chef Smoke Vault Vertical Smoker
Features:
Comes with two cooking grids and a jerky rack
With three adjustable damper valves
Has a readable door thermometer
With a temperature range of 50 to 550 degrees Celsius
With a snap, match-less ignition
Why We Love It:
Simply arrange the meats you need to smoke – this Camp Chef unit has enough cooking capacity for everything you may need. This item was built to last with heavy-gauge stainless steel. It comes with a wood chip tray for your wood chips and a water pan to get that extra smoky flavor we all love.
Control the internal temperatures according to your liking with three damper valves, readable door thermometer, and heat-control dials! Everything is built for your convenience. Get one of the vertical models here today.
---
02 Masterbuilt Propane Smoker
Features:
With temperature sensor controls that maintains the desired temperature
With an auto shut-off feature
Has a tank level fuel gauge
With four chrome-coated smoking racks
Why We Love It:
Looking to enhance your experience in smoking? Look no further with the Masterbuilt Propane Smoker. You don't have to monitor or adjust the temperature as much — all you have to do is set the thermostat control to maintain your custom temperature! You have more than enough space for all your smoked food with 961 inches of cooking capacity, too.
Worried about your cooking chamber while you're gone? Cast it away. The Masterbuilt Propane Smoker was built with an auto shut-off feature if the flame gets extinguished in your cooking space.
---
03 Cuisinart Vertical Propane Smoker
Features:
Interior cooking space offers 5.45 square feet
With four steel shelves
Has a built-in thermometer, adjustable gas supply, and smoke control
With seal-tight twist lock technology for the door handles
With a porcelain-enameled steel tray for wood chips and water
Why We Love It:
Still not sold on using propane or natural gas as your heat source? The Cuisinart Vertical Propane Smoker will change your mind. It's easy to use, and can smoke everything from meat to vegetables! You have the utmost control over the temperature and smoke with an adjustable gas supply, easy-to-read thermometer, and rear vents.
Everything stays safe and tightly sealed with a twist of a handle. Plus, it's versatile and convenient — it can rival many electric smokers out there! The removable stainless steel racks can accommodate whole birds and large meat cuts. A porcelain enamel steel tray holds all the wood chips and water that you'll use, too.
Top 3 Best Electric Smokers
01 Masterbuilt Analog Electric Smoker
Features:
Comes with a built-in temperature gauge for better temperature control
Has an analog dial to make monitoring more convenient
With a wood chip tray for easy slide-out removal
Has three chrome-coated racks
Why We Love It:
This 30-inch analog electric smoker has the electric element down to a science. Everything you do with the Masterbuilt Analog Electric Smoker is easy and convenient, from controlling the temperature to cleaning up!
Smoke wood perfectly with your food with the built-in temperature gauge and analog dial, which makes monitoring the temperature a breeze to do. You can fit just about anything with this analog smoker with over 536 square inches of cooking space!
Plus, the front access grease tray catches all food drippings, along with the easy slide-out wood chip tray. Clean-up will be easy to do, too!
---
02 Pit Boss Grills Electric Smoker
Features:
With integrated analog controls
Comes with four porcelain-coated racks
With an external access front and tray
With an analog meat probe included
Why We Love It:
The Pit Boss Grills Electric Smoker doesn't skimp out on the accessories you need to make smoking a success! With four porcelain-coated racks, you have more than enough space to smoke your chosen meats and vegetables. An analog meat probe is included, too, so you can experience the best smoking possible.
Aside from these features, the Pit Boss Grills Electric Smoker also comes with an external access front and tray for wood chips to make everything easier.
---
03 Charbroil Electric Smoker
Features:
Comes with an insulated, double-walled construction
Has an advanced control panel with blue LED display
With a removable food thermometer
Comes with a glass door with a stainless steel finish
Why We Love It:
Looking for the ideal appliance to smoke your meats? For outdoor smoking, grilling, and cooking, go for the Charbroil Electric Smoker. The electric heating element and ample space allows you to cook and smoke as much meat and vegetables as you like! The insulated, double-walled construction keeps everything safe, too.
With an advanced control panel and blue LED display, you have everything you need at your fingertips to customize the smoking experience. Plus, the glass door is there to allow you to have a peek inside of your smoked meats! The stainless steel locking latch makes sure your fuel usage doesn't go to waste.
Sit back, relax, and let the smoking do its magic. Get the Charboil Smoker today!
Propane VS Electric Smoker: Which Is Better?
Our verdict? If you're looking to get the most out of the heating elements and prioritize portability and taste, we definitely recommend going for a gas model. A propane smoker does affect how your meat will taste in the long run, and if you want delicious food above anything else, a gas smoker is the one for you.
However, if you like convenience, more features, and cooking things low and slow, an electric smoker is best for you. You won't get a sear or smoke rings with an electric smoker, but if it grants you enough convenience and that's your priority, go for an electric smoker!
All in all, both propane and electric smokers are good investments. In the propane vs electric smoker debate, both of them have their own pros and cons. It's up to you if you want to invest in propane tanks or go the electric route!
What About Grilling?
Want to smoke and grill at the same time? Buy an offset gas smoker for the best results. We recommend the Heavy-Duty Dyna-Glo Signature Series for this! It's a gas grill and smoker all in one unit. It's durable, safe, and quite easy to use as well.
What About Charcoal Smokers?
Charcoal smokers are also good alternatives if you don't prefer gas and electric smokers. The heating element comes from charcoal this time instead of propane, natural gas, or electricity! We recommend going for the Weber Smokey Mountain Charcoal Smoker, which has all the features you need for the best smoked food.
Frequently Asked Questions
Do propane smokers work well?
Yes, propane smokers work well! In fact, between electric and gas smokers, they might work better for you in the long run.
What type of smoker is best for home use?
If you're only going to smoke at home, we recommend an electric smoker. Electric models are known for their convenience and features. However, if you'd like to learn more about smoking and are more hands-on, a gas smoker instead of an electric one may be right for you.
What is a better smoker: electric, propane, or charcoal?
The better smoker between electric, propane, and charcoal smokers depends on your priorities! Go for one with a propane tank if you need taste and portability to reign, and go for an electric smoker for convenience. A charcoal smoker is great if you're only starting out and need to smoke on indirect heat.
Do I have to invest in propane tanks?
Yes, you do! If you're going for a propane gas burner, the heating element will have to come from an external propane tank and its gas line.