It's very difficult to plan, shop, cook, and clean up after a long day at work. As a result, people are becoming more and more dependent on food delivery services. If you want to select different types of delicious meals from an expansive menu, Magic Kitchen is the perfect choice for you!
This Magic Kitchen review will show you how this service lives up to its name. The food delivery service delivers wholesome and delightful meals right to your door. All you need to do is reheat the meals before serving.
Menu of Diet Meals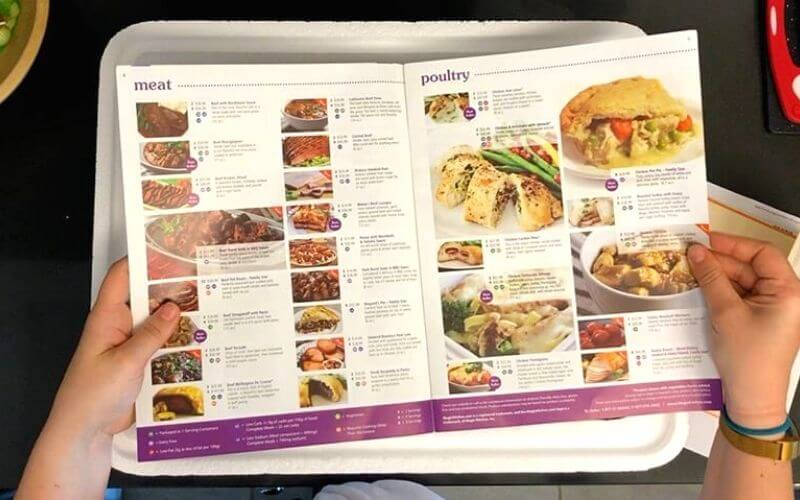 Magic Kitchen offers a wide range of healthy and diet-friendly dishes. But it has mainly two menus – namely the A La Carte and Complete Meals menus.
A La Carte:
The menu includes popular entrees, soups, sides, and desserts which are calorie-controlled as well as dietitian-approved. You can select your favorite A La Carte dishes each week. Stocking up with a one-time delivery is also available.
The menu includes Soup & Bread, main courses, special diet, and meal bundles.
Soup & Bread:
All the soups are made with fresh, high-quality ingredients. These are delivered in two servings and many of them are packed individually.
They are prepared and frozen before being delivered. Also, they each have different ingredients and are all labeled with nutrition facts.
Main Courses:
All the items are sold in pairs. They feature hearty dishes that fill you up, all made from the freshest ingredients. These meals are healthy so you get a balanced meal that gives your body what it needs.
Side Dishes:
The side dishes are made with low-fat ingredients. The handmade dishes are loaded with the best quality ingredients. They make the perfect pairing with the main courses.
The products are flash-frozen and delivered frozen. Each dish is sold in two servings.
Besides, there are also individual side dish items that are available in single-serving side options.
Desserts:
All the desserts are made in small batches with top quality ingredients. These dishes are sold in pairs in either 2 or 4 servings to lessen the production costs and to stay Eco-friendly.
Many items are also delivered in single servings. They are delectable and allow you to indulge without any of the unhealthy, empty calories.
Special Diets:
Special Diets include Dairy Free, Gluten Free, Low Carbohydrate, Low Fat, Low Sodium, and Vegetarian meals.
The dairy Free dishes do not contain any dairy products.
Although the gluten-free meals from Magic Kitchen are not individually lab-tested, the meal delivery service has been providing gluten-free dishes to customers for several years, but have not had any issue with any of these products.
The low carbohydrate meals contain less than 9-gram carbohydrates per 100 grams of the food.
Meanwhile, the low-fat items have 3 grams or less of fat per 100 grams of the food.
Low sodium meals are also a great option for people with diabetes or kidney issues. People with bloating also love giving them a try.
Vegetarian meals contain no meat, poultry, or fish. But the dishes may contain eggs or dairy products.
Meal Bundles:
Magic Kitchen meal bundles are just a group of individual meal sections. It also has bundles for families, elderly people, and children.
All meals in the bundles are provided for 2 or 4 servings. These are available with or without desserts.
Complete Meals:
These meals are perfect for those who want to control their diets. All the dishes are calorie-controlled and each meal includes an entree and 1 or 2 side dishes. You just need to sign up for a meal package and receive weekly or monthly deliveries. Complete meals are sold individually.
The complete meal list consists of the following:
Signature Meals
Senior Meals
Portion Controlled Meals
Diabetic-Friendly Meals
Dairy-Free Meals
Low Sodium Meals
Low Carbohydrate Meals
Low-Fat Meals
Renal Diet Meals
Dialysis-Friendly Meals
Gluten-Free Meals
Vegetarian Meals
Shelf-Stable Meals
Best Sellers and Discount Meals.
Magic Kitchen Signature Meals:
The Signature Meals are the Superior line of Complete Meal Delivery. These are nutritionally balanced and lower in Sodium. Each meal includes a main course and one or two side dishes.
Signature meals are portion controlled. If you are looking for comfort food, but watching out for portion sizes, then this meal option is perfect for you.
Senior Meals:
A dietitian designs the senior meals which are healthy and lower in sodium. Each meal contains a main course with one or two side dishes. These meals are great for older people and will give them all the nutrients they need.
Portion Controlled Meals:
A dietitian designs the nutrient meals which are lower in sodium and the experienced chefs turn them into delicious ones.
The smaller portions are perfect for an overall weight loss plan. They have fewer calories and aren't loaded with carbohydrates.
Diabetic-Friendly Meals:
Diabetic-friendly healthy meals are low in sodium. The food delivery service uses less than 500mg sodium in most of the dishes. Most of the meals contain 20-45g carbohydrates and no dish contains more than 65g of carbs.
Dairy-Free Meals:
The nutritious dairy-free foods exclude all types of dairy products including milk and cheese.
Low Sodium Meals:
The food delivery service uses less than 500mg sodium in most of the foods and less than 700mg in some others. These are generally meant for people with kidney problems.
Low Carbohydrate Meals:
The experienced chefs of Magic Kitchen use less than 25g of net carbohydrates for these meals. These meals are also low in Sodium, which is less than 700mg. They are a great choice for people following a Keto diet.
Low-Fat Meals:
These are low sodium and low cholesterol heart-healthy foods, which are also Diabetic-friendly. The meals have less than 700mg sodium and less than 10% of the daily value of saturated fats. The dishes are also low in cholesterol and are great if you want to lose weight.
Renal Diet Meals (CKD 3 & 4):
The healthy meals provide one-third of the daily requirement based on a regular 1800 calorie per day diet. The service limits the amount of sodium, potassium, phosphorus, and protein in these foods, which ensure a healthy lifestyle.
Each meal uses less than 700mg sodium, another 700mg of potassium and less than 350mg of phosphorus. The meals also contain 25g protein which is low to moderate in amount.
Dialysis-Friendly Meals:
The food delivery service limits the amount of sodium, potassium, and phosphorus in these meals. Besides, it also offers an option of low or high protein since a dialysis patient normally needs higher protein meals.
Gluten-Free Meals:
These meals are designed without gluten in the components. Although Magic Kitchen meals are not certified gluten-free, these meals do not contain any barley, rye, wheat, or soy. As a result, they are perfect for people with a gluten allergy or sensitivity.
Vegetarian Meals:
The dishes have no meat, poultry, or fish. It may have eggs or dairy products and are aimed towards those with a vegetarian lifestyle. While they contain no meat, they do contain animal by-products and are great if you don't want to commit to the more restrictive vegan diet.
Shelf Stable Meals:
Chefs use powdered milk and include supplements to prepare these dishes. These meals typically stay fresh for much longer.
A dietitian designs all the nutritionally balanced complete meals, which come with the main course and one or two side dishes. These are easy to reheat in the microwave or oven.
Besides these two main menus, Magic Kitchen also has other menus.
Diet Meals:
Everyone finds it hard to stick to healthy meals since it's difficult to find enough time to cook meals from scratch every day. But Magic Kitchen has a variety of diet meals delivered to your door which saves your precious time. Since the meals are flash-frozen after cooking, they are meant to be kept in the freezer or warmed in the oven or microwave once they arrive at your home.
You can select meals with fewer carbohydrates, sodium and fat, or free from gluten. Besides, MK has a lot of mouth-watering meal options including Italian, Spanish and Continental foods. You just need to warm breakfast, lunch, or dinner in minutes in your oven or microwave.
You can also select your preferable ones from hundreds of calorie-restricted dishes and hundreds of tasty A La Carte dishes.
Weight Loss Meals:
Magic Kitchen delivers fast and easy weight loss meals that support a healthy lifestyle. The delicious dishes have proper portion control with balanced carbohydrates, proteins, and lots of flavors.
The meals are tasty, dietitian-approved, and chef-made. The flash-frozen items are guaranteed to stay fresh for nearly a week in your freezer or fridge.
The food delivery service updates its meals quarterly, so you can always try out new dishes. Just select your favorite ones from more than 100 meals!
Gourmet Meals:
The chefs do not use any preservatives or processed ingredients while preparing gourmet meals. Once you receive the frozen meals, you can eat your decadent meals after reheating them for about 10 minutes.
After ordering the meals online, these are delivered within two working days. This means you can experience the taste of these luxurious meals without having to leave your home.
Home-Cooked Meals:
Magic Kitchen offers home-made food delivery service across the nation. This is a better way for busy folks and senior citizens to have tasty and healthy meals without planning, shopping, prepping, or cleaning up.
They deliver all types of meals that are free from any artificial ingredients, harmful chemicals, and they are affordable in all price ranges. And unlike frozen meals from a grocery store, these are lovingly made and taste just like homemade meals!
The experienced chefs are capable of providing all diets whether you are lactose-intolerant, vegetarian, or on a strict and healthy diet.
Who Needs Magic Kitchen Meals?
The meals serve different purposes to different people.
People who want to lose weight and stick to the weight loss diet.
Adults who need to follow a special diet like a diabetic or low-carbohydrate diet.
People who are looking for quick and healthy meals.
Those who want to follow a diet chart for a long time.
People who want to change their food habits.

The company ships meals throughout the US and flash-frozen, nutritious and delicious foods will be at your door in 2-3 business days after your order confirmation.
Why Choose Magic Kitchen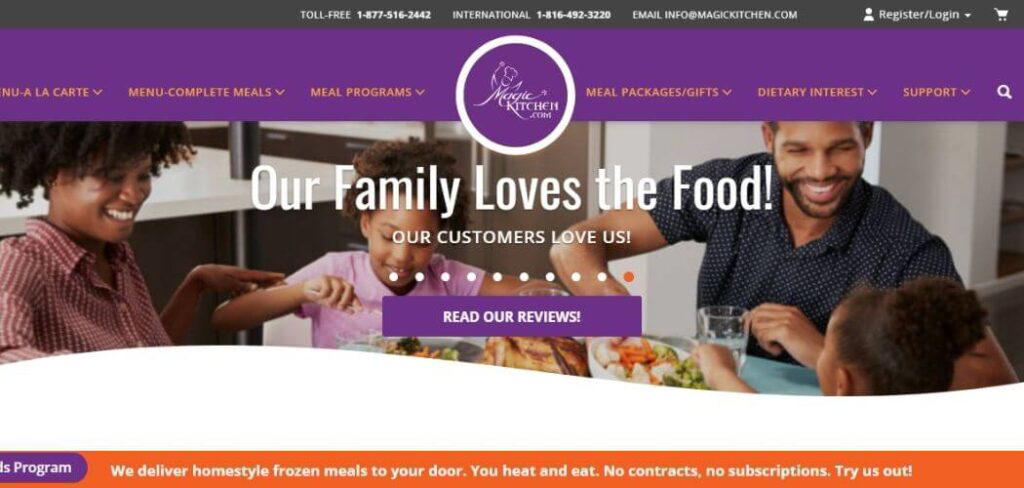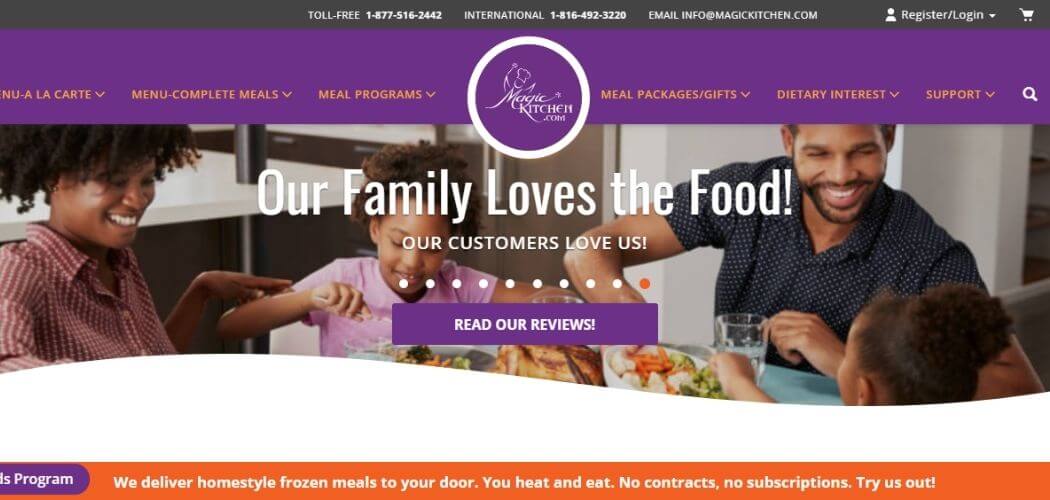 The hand-made meals are cooked in small batches without any preservatives. All of the ingredients are sourced locally from small businesses. The chef-prepared dishes are fully-cooked and flash-frozen to keep the flavors of all ingredients intact.
All the employees are available in service from Monday to Friday – from 9 am to 9 pm central time. They also try their level best to answer phone calls during weekends and holidays.
All meals are shipped from MK's centrally located warehouse in Kansas City. Shipping rates are determined on weight and distance the parcel is shipped. Also, they deliver the meals in reusable and recyclable Styrofoam containers with dry ice.
If you receive any spoiled or damaged products, Magic Kitchen will replace the products at its own expense. Similarly, if you do not enjoy your meals as expected, the service will compensate for your meal or replace it in your next order.
Wrapping Up
No matter what you prefer eating, we hope this Magic Kitchen review has helped you out. You just have to order your favorite meals from Magic Kitchen and wait for them to arrive. No more fussing around in the kitchen or panicking over groceries.
Magic Kitchen will make sure you have ready-to-eat meals in your fridge. So why not give them a chance?
More Related Meal Delivery Services: