While we all love grilled meaty dishes, there's no denying that too much can cause health issues. For a healthier option, and a change of scenery, try grilling fish instead.
But many people are scared of grilling fish because it ends up sticking to the grill, and people end up mutilating the pieces when removing it from the grill. But if you are still willing to experiment and want to grill seafood, we suggest a grilled rockfish as a good starting point.
Nervous? That's all right; we will show you how to grill rockfish for perfect results every time. Once you get started, you won't be able to stay away from a good rockfish seafood grill.
This article will look at two ways to grill rockfish, both with the skin and without the skin. We also give tips on how to grill fillets and the whole fish. Let's get started on this culinary adventure!
An Intro to Rockfish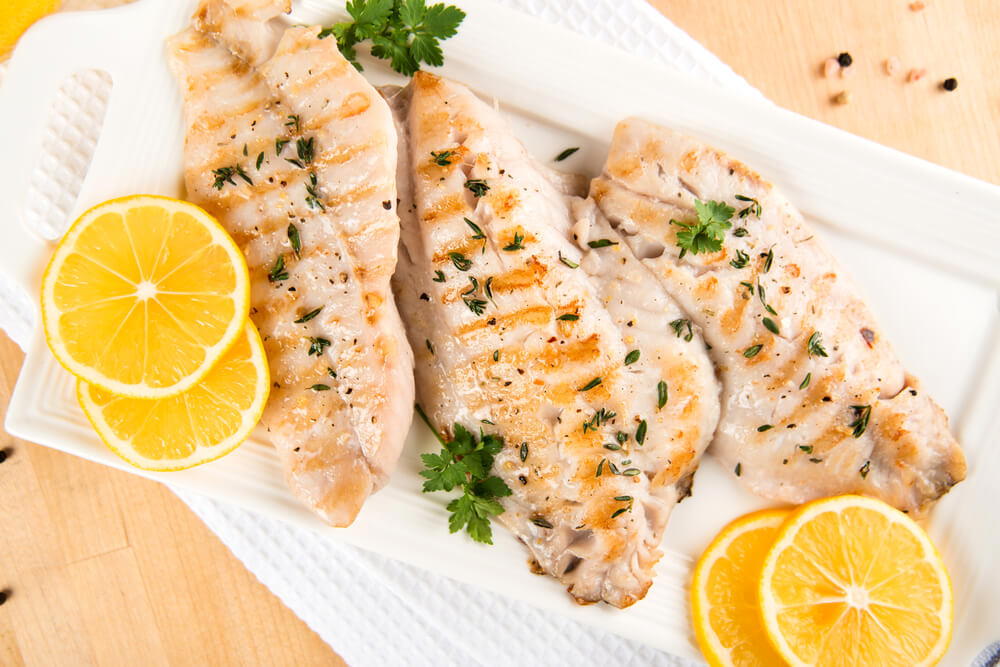 If you aren't used to fishing there's a good chance you haven't heard about rockfish all that much. People tend to be a lot more used to grilled snappers, mahi-mahi, salmon, and swordfish.
So, what is rockfish? Rockfish is a generic term that can be used to refer to lots of species (around 60!)  of fish. 
Any fish that darts around rocks in the water can be called a rockfish. These include striped bass, ocean perch, chilipepper, cod, grouper, and treefish.
Rockfish are good for you because they contain healthy fats, vitamins, and can boost brain power, and can reduce the likelihood of diseases. It is also a pretty healthy component as rockfish calories are pretty small in number per serving.
Rockfish taste best when grilled because the fish goes soft and flakey and absorbs the marinade or spices very well. 
When smoked, it adds dimension and the charred flavor goes very well with the fish. Pan-fried rockfish is also great, but grilling, whether on a gas grill or charcoal one, is a healthier alternative.
What You Will Need
Rockfish of your choice
Oil or cooking spray
Seasonings like pepper, paprika, or chili flakes
Herbs like thyme, basil, and parsley
Lemon or orange zest and slices
Aromatics like garlic and ginger
Spatula and tongs
How to Grill Rockfish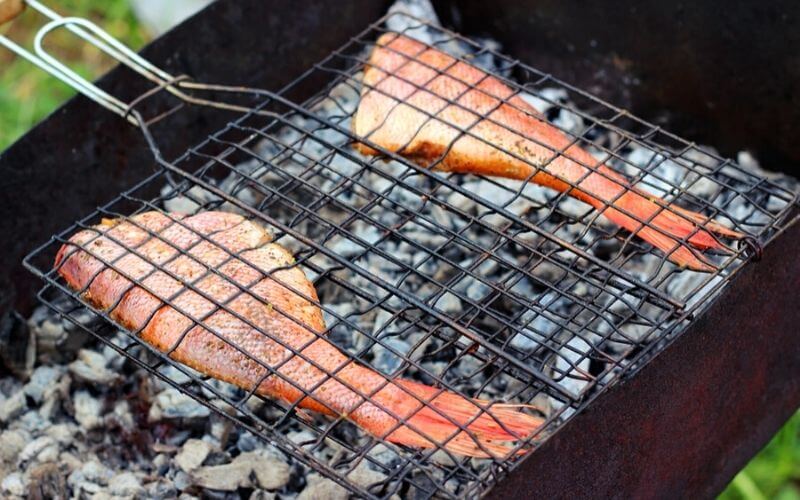 Now that we've got all the introductions out of the way, let's talk about the grilling process. If you follow the steps mentioned here, you are guaranteed to make scrumptious grilled rockfish every time you try.
Getting the Grill Ready:
01. Before you start, prep your grill. Preheat the grill on high at 400-450 degrees Fahrenheit.

Bringing the grill up to a high temperature helps caramelize the fish and give them the signature grill marks that add to an intense smokey flavor and appealing appearance.
02. Keeping the temperature on high will also reduce the amount of time needed to cook the rockfish grill. Best of all, it will prevent the fish from sticking to the grill.
03. The next thing to do is to clean the cooking grates with a stainless-steel brush to remove any kind of cooking debris that may still be left from previous grilling. This will also prevent the fish from getting stuck to the grill.
Grilling Your Fish with the Skin On:
Let your fish sit for 5-10 minutes to bring it down to room temperature. This will help to reduce the chances of sticking.

After that, coat the sides of the fish with the rockfish marinade. You can also use a little oil with herbs or seasoning, and a splash of lemon juice. This step applies to both fillet pieces and whole fish.

Grease the flesh side of the fish and place it flesh side down directly on the grate if you want to sear the surface and grill according to your recipe.

After it is finished being grilled on that side, the rockfish will release by itself from the cooking grate. If you don't want a sear, just place the fish skin side down directly on the grate.

The rule of thumb is to allow 8-10 minutes of grill time per inch of fish thickness. If your fish is two inches thick, grill each side for about six to eight minutes.

In other words, grill both sides until the fish is no longer translucent and the flesh is soft and flaky.

To remove your fish from the grill, slide your spatula into the space between the skin and flesh. Use a sliding motion and go through the two parts of the fish so that the layer of skin remains on the grate and only the fish is removed from the grill.

Let the fish rest for 3-5 minutes after grilling. This will allow the juices to circulate through the fish, making it much more tender.
Grilling Your Fish with the Skin Off:
To help prevent the fish from sticking to the grill, allow it to rest for 5-10 minutes to bring it down to room temperature.

Then, slather a generous amount of oil on both sides of the fish and add the seasoning and herbs of your choice to your fish before putting it on your cooking grates.

Make sure you grill the rockfish for 8-10 minutes for every inch of the fish. Therefore, if your fish is an inch in thickness, grill on each side for around three to four minutes. You can also grill your fish until the inside reaches a temperature.

Just flip or turn the piece of fish once while grilling. Do not keep turning and flipping it. This will increase the chances of them breaking apart on the grill.

When flipping the piece of fish, do not wrestle the piece of fish off the grill. Be gentle and patient and let the fish naturally release itself from the cooking grate on both sides. When the fish releases itself from the grill, you will know that it is done cooking.

Make sure you give your fish ample resting time to rest once it is off the grill. In most cases, 3-5 minutes is enough time to let the fish relax and allow for the juices to run through your cut of fish, making it softer and more flavorful, and tender.
Tips
Always remember to grill with your lid down. Each time you open the lid, you decrease the temperature and extra additional cooking time to your meal.

When grilling a whole red rockfish or something similar stuff the cavity of the fish with slices of lemon and fresh herbs to get rid of the fishy taste.

Don't touch or prod the fish when it is grilling, as this will cause it to fall apart.

For added flavor marinate the fish in soy sauce and ginger.

If you want a more charred flavor without the risk of burning, add a little smoke to your rockfish. When grilling on a charcoal grill, soak wood chips for at least 30 minutes and place them right on your charcoal to boost your fish's flavor.

If grilling on a gas or electric grill, soak the wood chips for around 30 minutes before placing them in a smoker box or pouch and onto the cooking grates.
Grilled Rockfish Recipes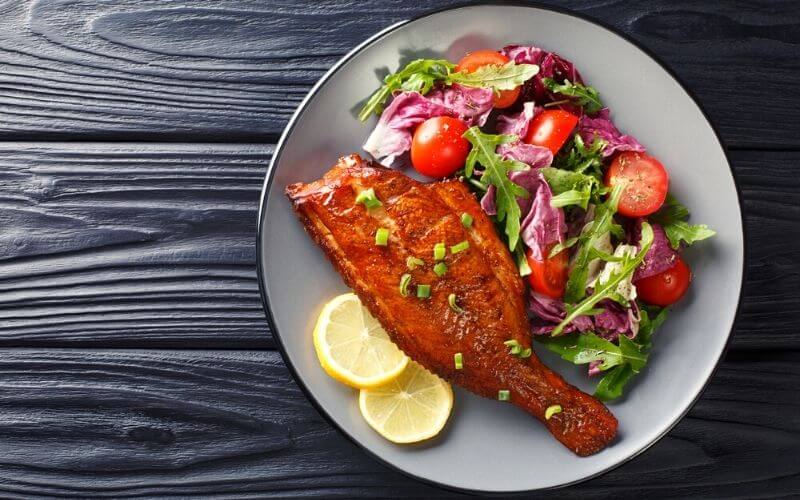 Rockfish tastes fine no matter how it is grilled. You can get away with seasoning your fish with a little salt and pepper before grilling and it will still taste great.
But for a more classic flavor, you can marinate the fish in some crushed garlic, lemon juice, and black pepper. Then brush some browned butter on the fish fillets and set them on the grill.
You can also marinate the whole rockfish in soy sauce, fish sauce, crushed ginger, and a dash of molasses or honey. This Asian take on rockfish is sure to dazzle the taste buds!
Marinating your rockfish in citrus will get rid of the fishy flavor. Paired with garlic and spices like cumin or paprika will make for a fresh and lively tasting grilled meal.
No matter how you marinate or season your fish, serve over slices of lemon and garnish with fresh herbs for the best possible flavor, seasoning with lots of salt and pepper.
FAQs
Here we answer any questions you might have about grilling rockfish.
01. Is Rockfish Healthy?
Rockfish can provide cell-building benefits, help increase brain power, and gives the body a healthy dose of selenium and vitamin D, making it reasonably healthy.
02. Is Rockfish Suitable for Diets?
Rockfish is pretty lean and low in fat, making it a good choice for people on low-fat diets. This also gives it a mild, crisp, and clean taste.
03. How Long Does Rockfish Have to be Grilled?
A rockfish fillet that is 2 inches thick needs to be grilled for 4 minutes on each side. The exact time depends on the temperature of your grill, how well you want your fish browned, and the thickness of the fish as a whole.
Final Verdict
If you want a break from grilled ribs and burger patties, turning to seafood is a great palate refresher. Rockfish is much lighter and less greasy, allowing the fish to soak in flavors from seasoned rubs and marinades. They brown beautifully and taste amazing.
When paired with bright salads and seasonal soups, you will enjoy the full flavor profile of these fish. Know that you know how to grill rockfish, what's stopping you from firing up your grill?