Are you someone who just cannot function without coffee?
Or are you the one who loves the taste of coffee?
Whichever category you fall in, you know that store-bought coffees are simply too expensive! 
And that is why you need a coffee machine right in your home! But, you cannot just go for any coffee machine; you need one that brews up coffee quickly and perfectly. To keep you from looking through reviews after reviews, we bring to you the best of the best Capresso EC100 Coffee Machine! 
It has a robust construction and can brew up coffee within minutes! The milk frothing wand gives it all the support it needs to make cappuccino or latte.
Our Capresso EC100 reviews talk about the pros and cons of the Capresso Espresso Maker. Not only that, but we also walk you through some general features you need to look out for before purchasing it. 
To know all about this amazing coffee maker, keep reading! 
Capresso EC100 Espresso Machine Review
Coffee machines are no longer just about Cuisinart and Breville, and this Capresso Coffee Maker is here to prove that. The Capresso EC100 Stainless Steel Espresso Maker has been on the buying list of many people because of its amazing performance. Today, you will learn all about it in our very own Capresso EC100 review. 
Let's get started! 
Accessories:
Pressurized water tank
Single-shot basket
Double shot basket
Scoop
Tamper
Two steam tips for frothing
Superior Brewing:
Made of stainless steel the unit ensures that all the heat is sealed in and is given out in maximum amount. There are fifteen pressure bars in the unit which means the coffee comes out with proper force. 
The brewing is not only efficient but fast as well. It only takes about a minute for the Capresso EC100 Coffee Machine to heat up and start brewing! 
Fantastic Filtration:
The EC100 Coffee Maker comes with two filters to guarantee that your coffee is of the finest quality. Both the basic filter and the portafilter are made of stainless steel. 
When your coffee grounds pass through these filters, you get nothing but a cup of smooth espresso. The only step left to do is sip on your delicious cup of coffee! 
Milk Frother:
One of the best parts of the Capresso EC100 pump espresso and cappuccino machine is that you get a milk frother! With this, you can turn your ordinary espresso into a cappuccino or latte. 
All you have to do is make your cup of espresso, froth some milk with the high steam, and pour it over the coffee. As simple as that!
Easy to Use:
At first glance, it might look like the Capresso EC100 is all complicated, but it is one of the easiest machines to use. 
There are only four options, two of which are on and off. There is one option for brewing and another one for steaming. How simple is that to operate?! 
With the drip tray on the front, you can effortlessly clean it up without any mess. It hardly drips anything, but the tray is handy for those once in a while moments. 
Moreover, the 46 ounces water reservoir sits nicely at the back and can be removed. Ergo, you do not have to carry the whole machine to sink to fill or empty it. All you have to do is release the water tank from the machine, open the top, and fill it up easily! 
Durable:
The stainless steel construction gives you that strong appliance that you look for in your kitchen. It will last with you throughout the greatest number of your coffee sessions, without complaints! 
In case there are any flaws with the machine itself, you can always claim the one year warranty with it. 
Inexpensive:
The Capresso EC100 Pump Espresso and Cappuccino Machine is not as expensive as the other machines you will find. There are coffee makers that will cost you more than $500 and some even more! 
While they must have their own set of fancy features, this one stays true to the roots. It does exactly what it is made for and costs less than $200. You can stay true to your budget and still sip on delicious coffee made by yourself! 
Product
Main Features
Rating
Capresso EC100 Espresso Machine 
Pressure Bar: 15
Water tank capacity: 46 ounces
Number of sieves: 2
Material: Plastic
Dimensions: 10.25 x 8.25 x 11.75 inches
Weight: 8.99 pounds
Color: Black
More features: Dual swivel frother; removable drip tray, warming tray; self-locking filter holder
9.6
What We Love About the Capresso EC100: 
Brews our delicious coffee.
Gives out the greatest amount of steam for perfectly steamed milk. 
Can brew two cups of coffee at one go. 
Perfectly filters your coffee grounds.
Has simple functionalities. 
Has an easy-to-fill water reservoir. 
Operates very quietly. 
Cleanup is a breeze. 
Feels strong and is durable. 
What We Do Not Love About the Capresso EC100:
Does not turn very hot: The Capresso Stainless Steel Espresso Machine does not make your coffee extremely hot. Ergo, if you are someone who likes to sip on steaming, hot coffee, this might not be the one for you. 
However, the coffee that this fantastic machine brews comes out at the optimal hot temperature. You can simply drink it without worrying about it burning your tongue, so you are good to go! 
Coffee grounds need to be pushed: Brewing coffee with the Capresso EC100 Espresso Maker can require a little more effort at times. When you want to get the most out of your coffee flavor, you need to give them an extra push with the tamper that comes with it. 
Nevertheless, this is only when you want a stronger coffee to brew out. Other times, it is super easy to brew a normal cup of coffee. 
Why We Recommend It:
Efficient, user-friendly, and inexpensive. The three words to perfectly describe the Capresso Espresso Machine EC100. 
Once you start tasting the coffee that comes out of this beauty, you will quickly realize that it is worth every penny! With its simple features and perfect capacity, it is one of the best investments you can make. 
Buying the Capresso Espresso Machine: What You Need to Know
Now that you know the specifics, here are some basic points you need to remember as well. Do not go off buying the machine before you read these! 
Brew Strength:
Coffee lovers know what they want in their coffee! Some people prefer going for a strong coffee while others like a milder flavor. 
The Capresso EC100 Espresso Maker falls in the latter category. Although, if you drink the coffee without the frothed milk, you might as well get a pretty strong coffee. 
Nevertheless, for the ultimate strong coffee flavor, we recommend the Keurig K-Select Coffee Maker, Single-Serve K-Cup Pod Coffee Brewer. It comes with a strong mode and it enhances your kitchen aesthetics with its looks! 
Size: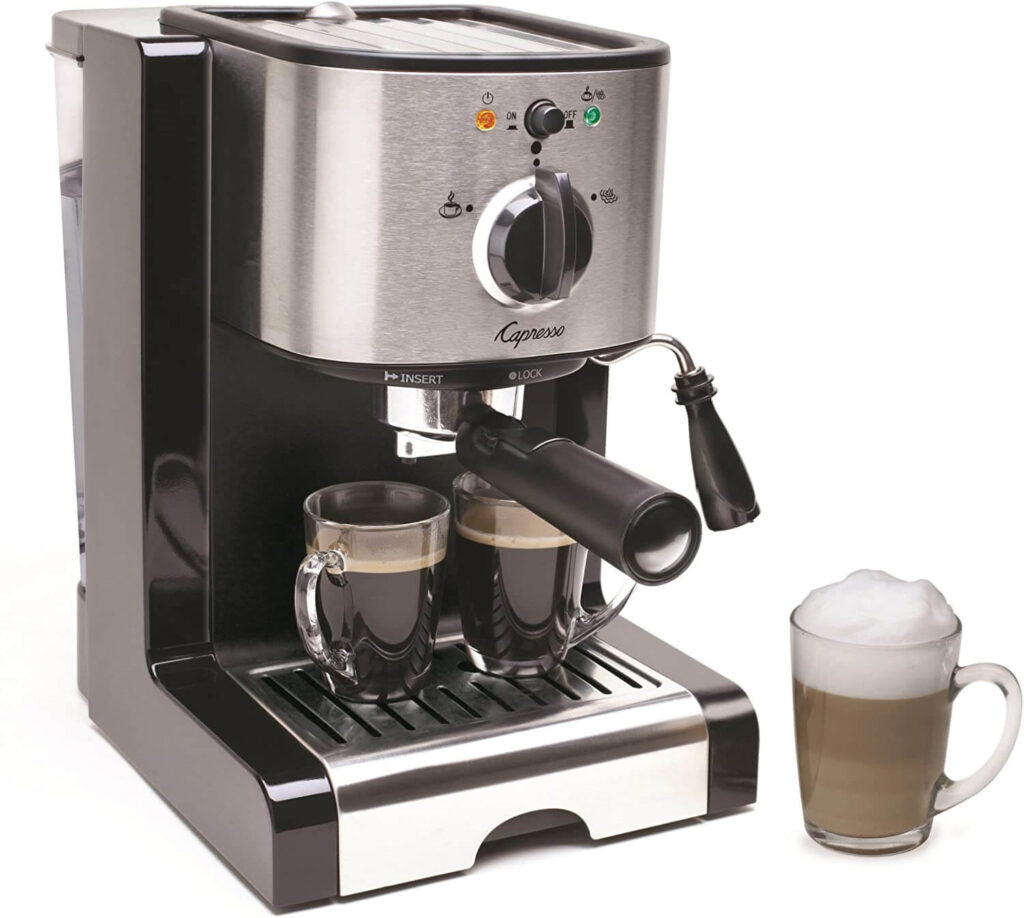 One of the more important factors to consider before buying any coffee machine is how big or small it is. The Capresso stainless steel Espresso Machine has dimensions of 10.25 x 8.25 x 11.75 inches, which makes it pretty big in size. 
Hence, if you have a smaller countertop, this might not fit very well. Similarly, if you are low on storage space, this might not be the one for you. 
Functionality: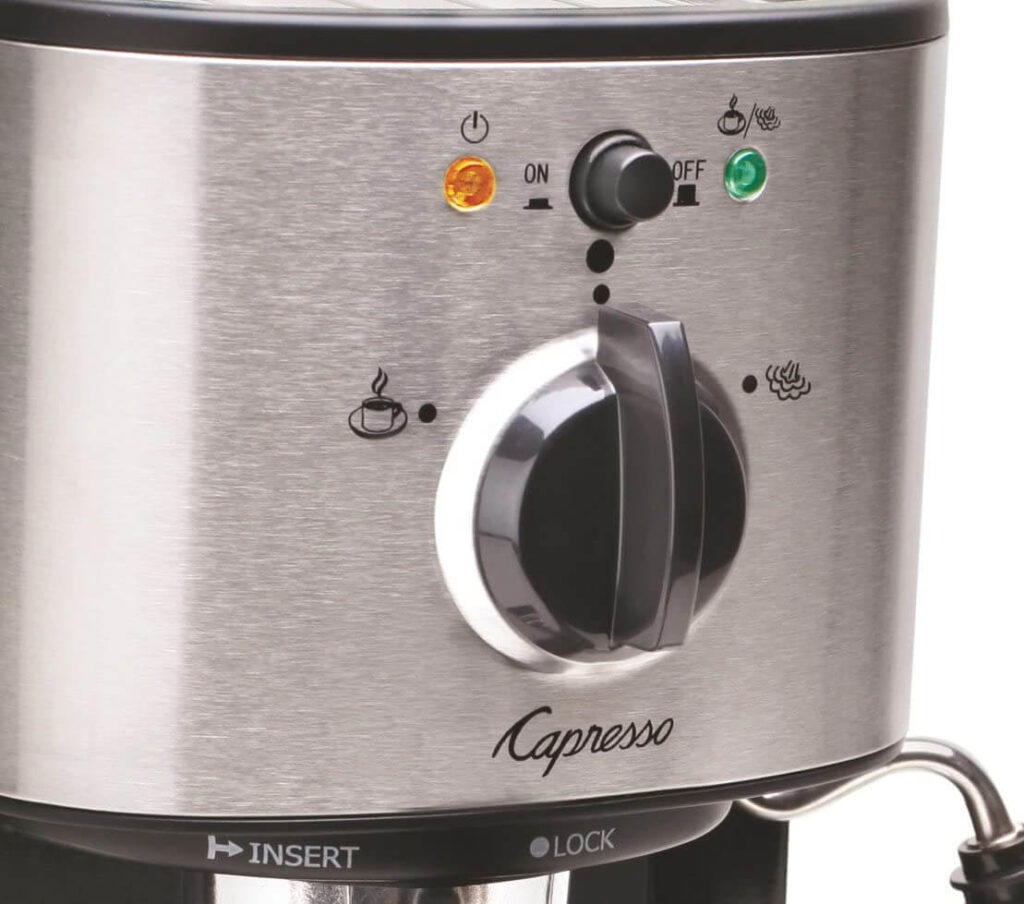 Today, coffee makers have evolved and are not only used for coffees anymore! If you are someone who wants to stick to the basics of a machine, like an espresso, cappuccino, and latte, then the Capresso Coffee Maker is one of the best. 
However, if you want more out of your appliance, perhaps making iced beverages or hot chocolate, then go for the Ninja Hot and Cold Brewed System, Auto-IQ Tea, and Coffee Maker. It comes with five brew styles for all your needs! 
Price:
The Capresso EC100 Espresso Pump Machine is not the most expensive appliance out there, but it is not too budget-friendly either. If you are looking for a coffee maker that is below $200, then there is nothing better than this one.
On the other hand, if this seems too far off your budget, then we suggest Mueller Espresso Machine. It comes in less than $100 and has amazing functionalities as well. It might be cheap, but it does not skimp on performance!  
For those who are looking for an expensive coffee maker, then you could go for the Rancilio Silvia Espresso Machine. It is made of robust stainless steel material and comes with a range of functions for your!  
How to Use the Capresso Espresso Machine
Most of the Capresso espresso machine reviews might have directed you to believe that it is hard to use. However, follow the instructions below to make your journey easy! 
For making coffee:
Choose the type of basket (single shot or double shot) 
Attach the basket to the holder and twist to secure it into place. 
Place your coffee grounds or pod into the basket. If you are using pods, you need to use the single shot basket. 
Lock the holder on the front of the Capresso EC100 espresso machine. 
When the green light is on, turn the dial to brew to let the delicious coffee drip down. 
For steaming milk: 
Place the steaming wand on the right into your steaming pitcher. 
Turn the dial to the steam option. 
Once the milk reaches the proper temperature, bring the dial back to its original position. 
Pour the milk into the coffee glass and you have your delicious frothy cappuccino ready! 
Capresso EC100: Maintaining & Cleaning Tips
Cleaning coffee machines can be a pain only when you do not know the proper way. Here are a few of our guides you can follow: 
Disconnect the machine from the outlet and let it cool down completely.
Wipe the exterior with slightly damp clothing. You can use a bit of detergent to give it an extra shine. 
Rinse the water container and tray under normal water. 
Empty the drip tray and clean it up. 
For cleaning the frothing mechanism:
Pull out the frothing stream and rinse underwater. 
Immerse the frother's steam wand into a cup of warm water. 
Note: It is important to clean the frother immediately after use. If done later, the milk bits can harden up and it becomes difficult to clean. 
Where to Buy Your New Capresso EC100 Espresso Machine
Overall, the Capresso Espresso Coffee Maker fits well within most of our budgets and is great at what it does. It might not come with a lot of functionality but it does an excellent job of making cappuccinos and lattes. 
If you are a coffee lover, then click here to grab your Capresso EC100 Coffee Pump. Get it delivered within a few days and start brewing your favorite cup of coffee!  
Frequently Asked Questions
Below you'll find answers to questions we get asked the most about Capresso EC100. 
01. Can I Make Regular Coffee with My Capresso Espresso Coffee Maker?
The Capresso Stainless Steel Espresso Machine is exclusively for making espressos, cappuccinos, and lattes. While you cannot get a regular coffee with this, you can make an Americano. 
Fill one shot of espresso in the cup and pour in hot water according to your preference. It is not the exact regular coffee, but it comes really close! 
02. What Kind of Coffee Pods Can I Use with My Capresso Coffee Machine? 
You can easily use ESE pods with the Capresso Pump Espresso. The Caffe Gioia Espresso Pods is our first choice of coffee pods to use with this machine and we are sure you will love it too! 
Nevertheless, for the best flavor of coffee, we recommend using the real deal…coffee grounds! We suggest espresso grounds or french roast coffee. 
Our favorite coffee grounds are listed below: 
03. How Long Does the Capresso Machine Take to Heat Up? 
The swiftness of the Capresso EC100 left us impressed. It only takes about a minute or so to get from cold to hot! 
Sometimes, depending on your preference, it can take two to three minutes. All in all, you do not have to wait for 15 minutes like it is with other coffee machines! 
Concluding Remarks
Your coffee machine is the road to making or breaking your day. A good cup of coffee can give you the boost of energy you need and also liven up your mood. The Capresso EC100 Pump Espresso and Cappuccino Machine will make your cup of cappuccino or latte seem like a celebratory drink! 
It is super easy to use and clean, has the basic functionalities needed for a coffee lover like you, and is affordable as well. Its good looks are all the more reason to get a hold of this beauty! 
Got questions from our Capresso EC100 review? Feel free to ask us below!