A true Starbucks fan will always crave more. Starbucks knows this as well. That is why they have a refill policy in place. But does this entitle you to a free drink? Time to find out.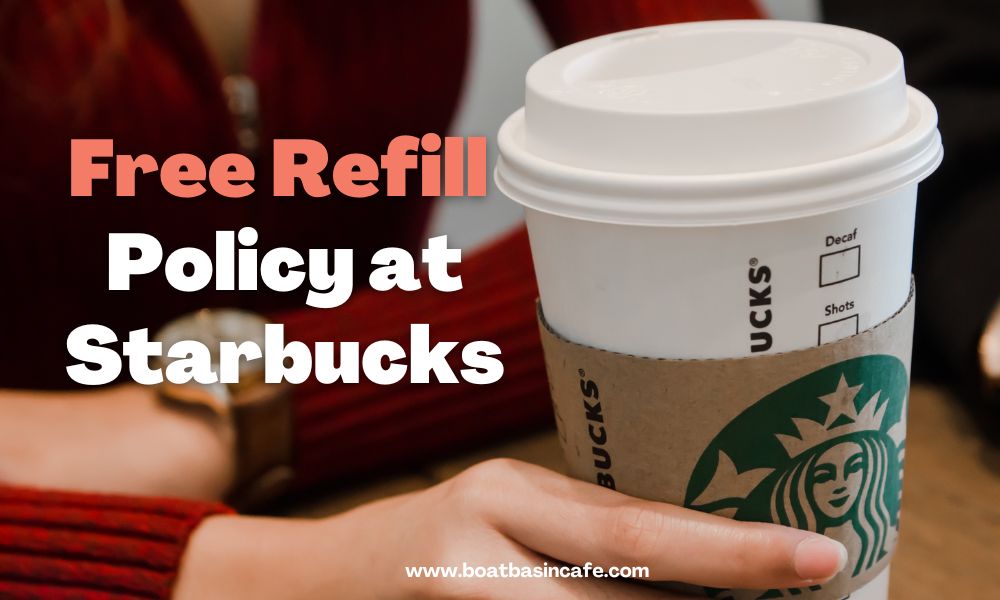 Does Starbucks have a free refill policy?
Starbucks has a free refill policy with a few caveats (covered below). Fortunately, most Starbucks customers would fulfill those conditions and be eligible for a refill.
You may also like: Starbucks Boba: A Closer Look at the Quality and Selection
Free refill policy at Starbucks:
According to Starbucks, a customer using Starbucks app or Starbucks card to purchase a beverage can get free tea/coffee refills during the same store visit. Some conditions to fulfill include:
1. Present the Starbucks card/account
The customer should present the Starbucks card or Starbucks app account to get a refill. Anyone who has ordered through a different card or someone else's account might not get a refill.
2. Participating stores
Starbuck's page states free refill policy is valid only at participating stores. The page doesn't highlight how to discover those stores. The only way is to ask the baristas when you reach the store.
3. Not for drive throughs
Free refill offer isn't available at the drive throughs.
4. Same-store visit
A customer is eligible for a free refill only when he/she consumes the drink in the store and opts for the refill on the same visit.
Wondering what qualifies as "same visit"?
If a customer steps out and comes back to the store, it is considered a new visit. Even if it is to meet someone or attend a call, technically, you aren't eligible for a free refill.
5. Only for brewed tea/coffee
Free refills are available for brewed coffee and tea. The same is not available for lemonade or any other bottled beverages. Add-ons will be charged extra.
6. Original drink doesn't matter
Let's say you purchase a latte. Still, the free refills you are entitled to would be brewed coffee (hot and cold) or tea (hot and cold).
So no, you cannot have unlimited refills of your favorite drink at Starbucks.
7. Store manager is the ultimate authority
The free refill policy of Starbucks is pretty comprehensive. If the store is busy or the store manager thinks you are abusing the policy, he/she can deny you free refills after the first one.
8. Doesn't work with gift cards
Free refills aren't available when using a Starbucks gift card.
How to Get a Free Refill at Starbucks?
Simple!
Step 1: Order the first (any) beverage and consume it in the store.
Step 2: Display your Starbucks card/app account while ordering and mention "free refill" along with the name of the drink to the barista. The barista needs to enter a separate code for such orders. Miss out saying "Free Refill" and you might not be able to get one.
Step 3: Pick your drink and enjoy it!
Exceptions to the Refill Policy
Apart from the fact that the manager can deny free refills, there are only a few simple exceptions to the refill policy.
1. No bottled drinks
If your original drink is bottled, you cannot get free brewed tea or coffee refills.
2. Add-ons charged extra
If you add any extras to brewed tea/coffee refills, you will have to pay for the same.
3. Not for unregistered customers
Unregistered customers can get free brewed tea/coffee refills at 50 cents.
4. Step out & lose
Starbucks policy states that any purchase you make after stepping out of the café door will be considered a new purchase. Even if you step out to meet a friend you won't be eligible for a free refill.
5. New cup
Refills won't be served in your older cup. Discard it and order the free refill (procedure highlighted above), and get it in a fresh cup.
Free Starbucks Refill Tips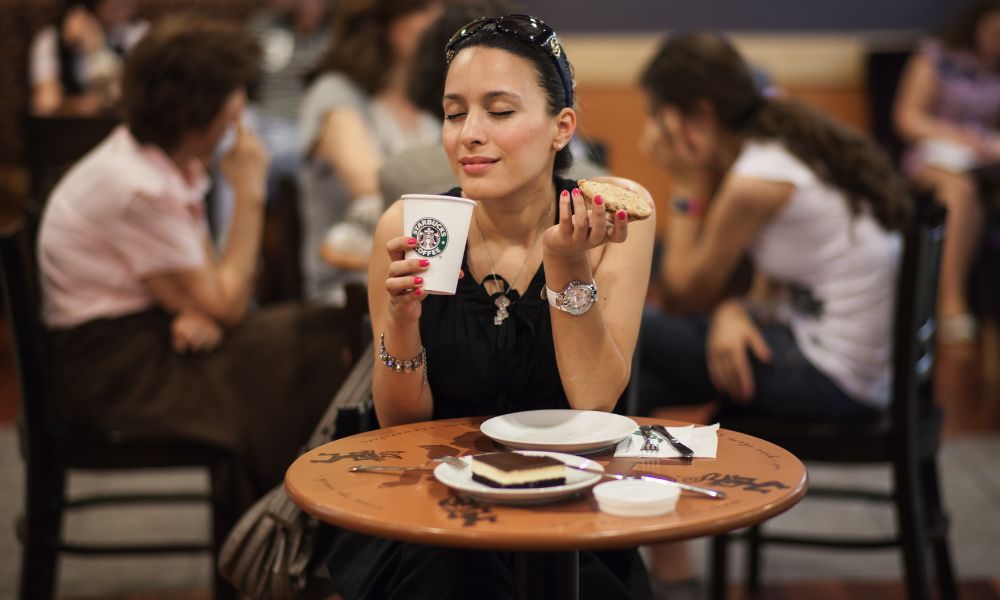 1. Do not abuse the policy
Technically, Starbucks provides free refills, but after the first refill, it is the manager's call. The manager can deny the refill if you abuse the policy or if the store is busy.
2. Same serving size
If the first drink (original drink) is of small size, the refill will also be of a small size. You cannot upgrade the size for the free refill.
3. Outside seating is a gray area
Many Starbucks outlets have outdoor seating. The policy states that you won't get a free refill if you step out of the store. In most cases, if Starbucks has an outdoor sitting area and you use that, you can still get a free refill. However, since there are no clear rules stated in the Starbucks policy(for this), it is the manager's call.
Why does Starbucks offer free refill?
Many customers might think, isn't offering free refills a losing proposition for Starbucks?
No, it is not because:
1. Justifies price:
Let's accept it! Starbucks does charge a premium compared to the local cafe. It has a loyal customer base, but the free refill policy justifies the price. A free refill once in a while helps you recoup the higher cost of Starbucks.
2. Improves customer experience:
Which cafe are you more likely to choose from the 2 below?
Option one: a cafe that offers free refills.
Option two: a cafe that doesn't.
Most customers will choose option one. Free refills improve the customer experience even if most customers do not opt for the same. In a nutshell, Starbucks improves its customer experience and loyalty by offering free refills.
3. Helps customers be in the store longer:
With free refills, customers will likely be in the store longer. The store will seem busier. In the hospitality industry, busier stores and premises are perceived to be better than vacant ones. Thus, free refills help Starbucks stores attract more patrons.
Changes to Starbucks free refill policy update
Over the years, Starbucks has tweaked its free refill policy. Changes include:
• Originally, the refill policy had the words "regardless of original beverage." Those were removed in 2016 and replaced with "purchase a beverage."
• Around 2016, Starbucks removed the words "some restrictions apply" from its refill policy page.
• Previously, Starbucks rewards program had different levels like green, gold, and so on. Only green and gold customers were eligible for free refills earlier. However, from 2016 any customer having a rewards card is eligible for free refills.
Frequently Asked Questions:
Can I get a free refill on any drink at Starbucks?
Free refills of hot or cold tea/coffee are available on any hand-brewed drink (not bottled) at Starbucks. 
Can I get a free refill if I take my drink to go?
You can't get a free refill if you consume your drink outside the Starbucks store or buy one through a drive-through. 
How many free refills can I get?
You can get as many free refills as you want at Starbucks if you meet the conditions. However, the store manager can deny you more refills after the first one.
Can I pay extra to get syrup added to my free refill?
You can pay extra to add syrup, lemonade, or any other add-on to your free refill.
Does Starbucks refill tumblers?
You can refill your tumblers with iced coffee, hot coffee, iced tea, and hot tea. However, when it comes to tumblers, there is only one refill per day.
Conclusion:
So yes, Starbucks does have a refill policy where you can get unlimited iced/hot tea/coffee. While most customers do not utilize this policy, you can if you want free refills(just make sure you meet their conditions).