This happened after the animals had eaten berries from a certain tree. The legend goes that Kaldi later reported this to the abbot of the local monastery. The priest then used these berries to brew a drink that helped him stay focused during his tedious evening prayers.
From that uncertain time in history, those "berries" started taking over the world and now, at the age of automatic espresso machines, we cannot imagine a day without them.
Whether the first thing we do before beginning a day is to stand in a long queue of a coffee shop or struggle in our kitchen with droopy eyes, the goal is universal- to get the perfect cup of coffee to kick start the day.
But it's just not the mornings, is it?  Anytime is coffee time for a soul that craves for a silky-smooth flavor-bursting drink.
If you happen to be such a soul, you are probably considering having a professional barista at your disposal 24/7.  You are here because you are looking for the best automatic espresso machines out there.
Here is a list of our top picks to decide which one is best suited to your taste and style. 
You may also like: What is nitro coffee.
What is an Espresso Machine?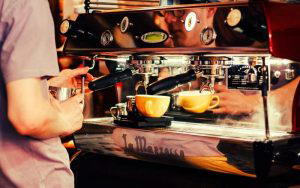 Simply put, an espresso machine is something that brews your coffee. It does it by running pressurized hot water through a cake of ground coffee and a filter. The result is a cup or a mug of a concentrated coffee- espresso.
Espresso machines first came into being in 19th century Italy and later was developed into a variety of different strains that we see today. Some are manual while the more modern forms are automatic.
You may have come across the labels- automatic, semi-automatic and super-automatic. Let's find out what they really mean.
Automatic Espresso Machines:
They can automate the volume brewed. Coffee grinding and tamping are still manual.
Semi-Automatic Espresso Machines:
These models let you control the grind settings, do the tamping and regulate the time. If you like to call the shots and fine-tune your drink every time, this is what you would prefer. Commercial machines are usually semi-automatic.
Super-Automatic Espresso Machines:
They are the most sophisticated of their kind. They tamp, grind, and come with built-in milk frothers. All you have to do is fill the bean hopper from time to time.
Some models need their water reservoir to be filled manually while others are directly connected to a water supply. While these are persistent in serving a quality drink, they leave little room for customization.
Why Do You Need an Automatic Espresso Machine?
Here are some of the reasons you may be considering having an automatic espresso machine at home.
You don't want to drive to the coffee shop every morning and stand on a tedious queue.
Your morning routine may involve driving to the nearest coffee shop and standing in a long queue of people suffering from early morning pre-caffeine anxiety just as you are.
The queue moves slowly and eventually, you get hold of your coffee in a disposable paper cup.
Would you rather stick to the routine or opt for a mug of espresso from freshly ground beans and a few extra minutes in bed?
I believe the latter.
You want to save money.
The drink that your automatic espresso machine will churn up costs only a fraction of the amount you pay in a coffee shop, and that without even compromising the quality.
A freshly ground whole bean coffee right out of your home or office automatic espresso machine may turn out to be more satisfying than your expensive pre-ground coffee.
How about that?
You want to save time and spare the hassle.
For busy people the best super-automatic espresso machines are lifesavers. You may not always have the time and motivation to grind and brew the beans, froth the milk and serve it in a cup.
Even after you manage to do the chore, there is always a chance the result in your cup may not taste to your liking. Save yourself some time and hassle and let a fully automatic espresso machine take over.
You don't want to buy a burr grinder.
Unlike semi-automatic espresso machines, many super-automatic espresso machines come with a built-in grinder. This saves money that the burr grinder would have cost you and space which the burr grinder would have occupied.
You want a consistent quality drink every time.
Be it Americano, cappuccino or latte, with automatic espresso machines, rest assured that you will get a consistent quality drink every time.
You want to be the star barista of your clan.
Admit it, you would definitely enjoy a compliment or two when entertaining guests. Your very own automatic espresso machine will make you a star barista from the moment you unpack and give it a go.
You want to take your coffee experience to the next great level.
The best automatic espresso machines for home and office come with an array of features. Features like pulse extraction process and Bluetooth connections and in-app operations are bound to take your coffee experience to the next level of convenience and comfort. 
You may also like: How to clean breville coffee machine.
Why Do You Need The Best Fully Automatic Espresso Machine?
Choosing an automatic espresso machine that best suits your needs and lifestyle is the most important part. You would not want to end up bringing something home that would churn out a brown liquid with strange taste instead of your desired freshly brewed espresso.
So, rather not settle for something other than that which is just right for you. The best fully automatic espresso machine, that is.