Find out which coffee machine in Starbucks is used to pull one after another perfect espresso shots to satisfy their customers and keep them coming back.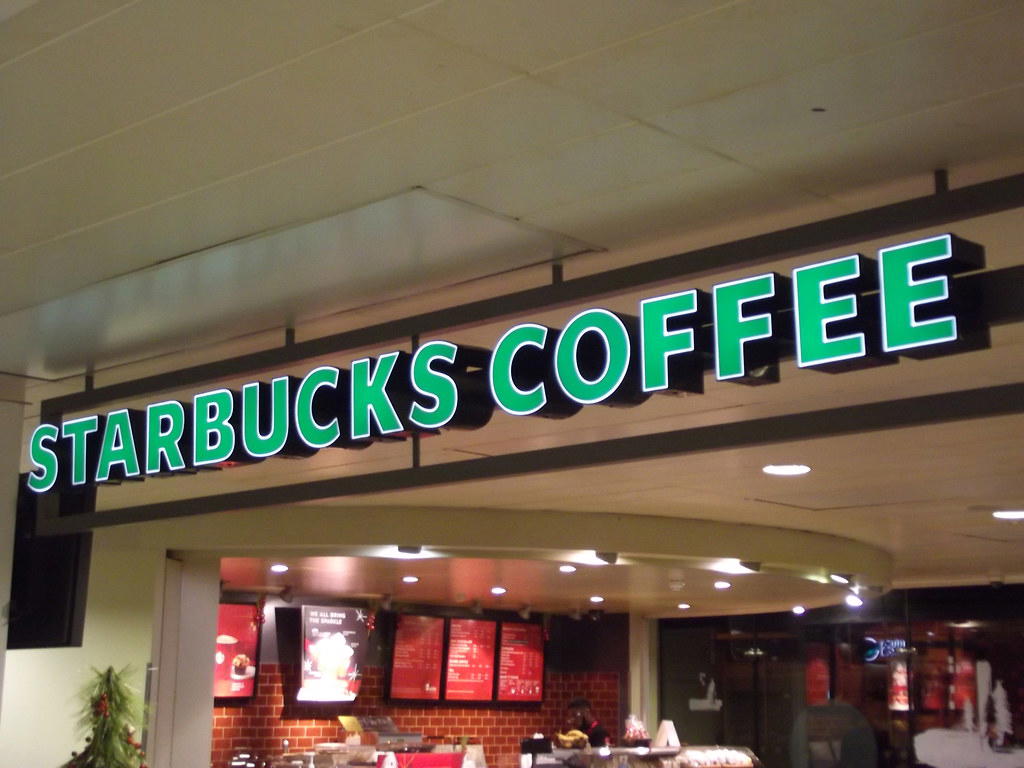 Whether I'm going to work or chilling on the weekend, there's rarely a single day that I don't stop at Starbucks for coffee. There's nothing not to love about Starbucks coffee as it's served quickly, fresh, and full of flavor and that oh-so-wonderful aroma. And countless times, I tried to emulate the Starbucks coffee taste at home even using their coffee beans but alas! Each time I tried, there was something not quite right. Then it finally occurred to me that the espresso machine used at Starbucks must be the trick to making the coffee taste so good.
So I tried to find out what espresso machine does Starbucks use and if I could get my hands on one. Here's what I found out.
History Of What Kind Of Espresso Machine Does Starbucks Use
Starbucks always didn't use the fully automatic espresso machine that they use today. In the beginning, they used standard espresso machines to cater to their customers' caffeine cravings. Here's a brief history of what kind of espresso machine they started with and why they have upgraded to the Mastrena II today.
Back in the 1990s, Starbucks used a different machine – the Linea by La Marzocco. If you want to use these machines to their full potential, you need to be an expert because they're just like regular espresso machines with regular portafilters. In other words, you need some skills to pull that perfect espresso shot.
When Starbucks became the powerful coffee company it is today, it switched to using super-automatic machines. The old espresso machines needed to be watched a bit, but super-automatics only need you to set the settings and push a button.
They got a Mastrena from Thermoplan AG, which was made for them in 2008. This Swiss coffee machine, the Mastrena CS2, was super-automatic. It had a huge hopper on top that could hold a lot of beans. The CS2 also had a built in burr grinder that could grind coffee beans faster than you would need for home use. The unit had a steam wand attached to it.
The Mastrena CS2 has been around for a while, but a new model called the Mastrena II is slowly taking its place.
What Coffee Maker Does Starbucks Use Now?
The Mastrena High Yield Espresso machine that Starbucks uses is made by a Swiss company, Thermoplan AG. Thermoplan actually created the espresso machine expressly for Starbucks. Because of this, it will be difficult to locate them elsewhere.
A fully automatic coffee maker with a high yield, the Mastrena High Yield Espresso Machine can quickly serve customers. There are other benefits of this beast of a machine that makes it an integral part of Starbucks.
Design
The Mastrena High Yield Espresso Machine has a unique design that makes it shorter than standard commercial coffee makers so baristas can make eye contact with clients and develop personal relationships with their clients as they prepare their drinks. In the service industry, it's very important to establish one-to-one relationships with customers; eye contact is one of the main ways of doing so.
Since the Mastrena espresso machine used at Starbucks was explicitly designed for the coffee chain, it has a built in coffee grinder that makes possible rapid production of coffee and also makes it hassle-free for the barista. The barista only needs to place the coffee beans in one end of the machine's bean to cup system and receive the drink in the other.
Efficiency
How Starbucks makes coffee directly relates to its efficiency and customer satisfaction. The Starbucks automatic coffee machine has contributed to the chain's high customer satisfaction rate as it can churn out espressos faster – 240 shots per hour – and maintain consistent quality. Not only has it sped up the process of making drinks but the automatic commercial coffee machines Starbucks also create the perfect water-to-coffee ratio to make the best espresso shots.
The computerized menu system of Starbucks espresso machines remembers the exact process of making espressos, cappuccinos, and lattes, making them an indispensable part of the coffee experience at America's favorite coffee shop.
Cost-Saving
With the latest model of the espresso machine used in Starbucks, overall operations costs are reduced as it requires very little training to get a new barista onboard. No hefty training expenses are involved when the machine can grind coffee beans and channel them to produce an excellent cup of espresso at the touch of a button.
Easy Maintenance
Another advantage is the ease with which the Mastrena espresso machine can be disassembled. This makes cleanup simple for whoever is in charge. Being able to easily disassemble this machine is useful for maintenance in addition to cleaning. It takes a huge load off the café manager's shoulders.
Future-Ready
The Mastrena II is equipped with artificial intelligence or AI and is fitted for the future. It's connected to the central office and collects information such as customer preferences, when the machine is supposed to get routine maintenance, the likelihood of the machine breaking down, and even updating recipes digitally.
In the Internet of Things age, Starbucks has been smart to upgrade its espresso machines and utilize them in more ways than just pulling espresso shots.
1: Benefits of The Coffee Machine In Starbucks
1. Barista-Friendly Design
2. Efficiency
3. Cost-Saving
4. Easy Maintenance
5. Fitted For The Future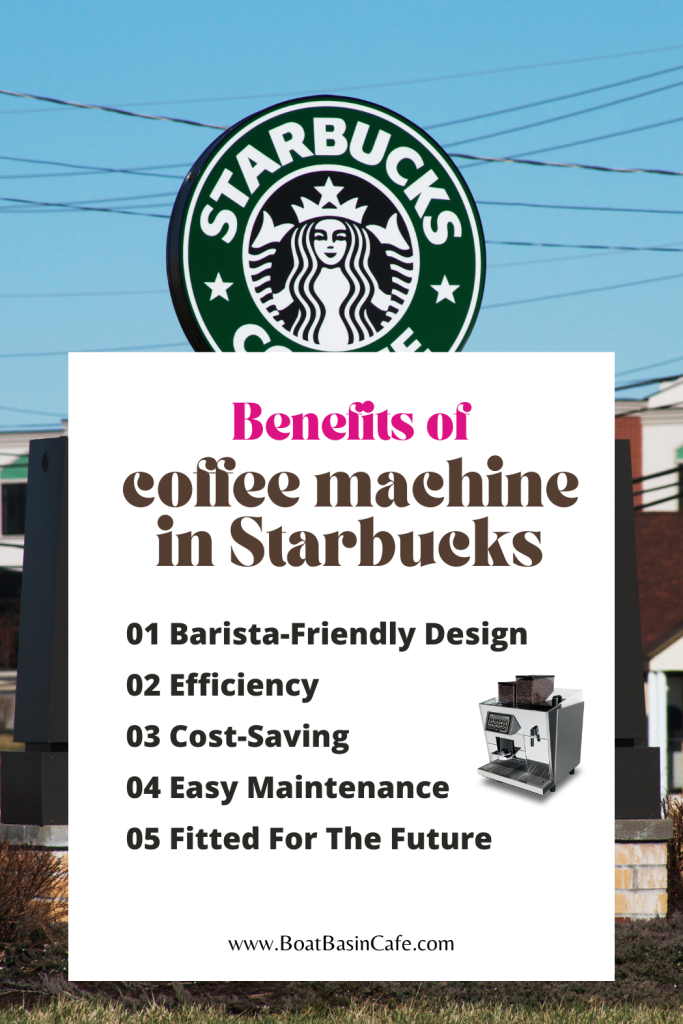 Can You Get A Starbucks Coffee Machine In Store?
Unfortunately, you can't get the latest Mastrena II coffee machine in Starbucks stores or anywhere as Starbucks inked an exclusive deal with Thermoplan. That means it's not open for public purchase. Also, it wouldn't make sense to use one of these machines at home when you can buy one after reading reviews of the top 10 best bean to cup coffee machines.
Moreover, there's nothing all that special about this espresso machine except that it's Swiss-made. Well, there is another thing special about it. Everything's computerized and calibrated so with just one push of a button, you can get a fresh cup without any fuss.
Another point that doesn't make it a sensible choice to own the same espresso machine that Starbucks uses (even if you could!) is its price. Do you know how much the Mastrena espresso machine cost? It costs between $15k to $28k. I think it's not worth it for home users to invest so much in an espresso machine. Even for small and medium businesses, it's not feasible as it would take a long time to get back the return on investment.
But if you're bent on getting one, try looking for an older espresso machine from Starbucks. It still costs a lot and you can do better by buying a new espresso machine for much less.
Other Coffee Machines Used In Starbucks
Apart from the Mastrena II, Starbucks uses other brewing equipment like the Clover brewing system. In this method, one cup is brewed at a time by using both the French press and the vacuum system to separate the coffee grounds from the liquid coffee. Starbucks acquired the manufacturing company of the Clover brewing system – Coffee Equipment Company – in 2008. That's why these brewing machines are not sold commercially.
Another espresso machine used is the Verismo Brewer. This light coffee machine uses espresso pods to brew espressos and lattes. In just 15 seconds, it can brew 10 ounces of coffee using high-pressure extraction for full flavor and aroma.
What Kind Of Espresso Does Starbucks Use?
| | |
| --- | --- |
| 1 | Starbucks Classic Dark Espresso Roast |
| 2 | Starbucks Decaf Espresso Blend |
| 3 | Starbucks Light Roast Blonde Espresso |
It's not only the espresso machine that Starbucks uses that makes a difference in their coffee beverages. What type of espresso does Starbucks use also has an impact on the outcome of the Starbucks drink.
Starbucks house blend coffee and other types of Starbucks coffee beans used for brewing coffee are what make them stand head and shoulders above any other coffee shop.
Starbucks Classic Dark Espresso Roast, Starbucks Decaf Espresso Blend, and Starbucks Light Roast Blonde Espresso are the three main types of espresso used in Starbucks. Starbucks Signature Espresso Roast is used for making most espresso shots that carry a robust flavor with caramel notes.
Unless you ask for the Starbucks Light Roast Blonde Espresso or a certain recipe calls for it, it's not usually used. It has a smooth texture and citrus notes with a sweet undertone and goes well with plant-based milk and honey, for example, ice blonde vanilla latte and other Starbucks keto drinks.
FAQs
What Espresso Does Starbucks Use?
To answer what kind of coffee does Starbucks use, we need to look at the coffee beans they use and the roast. A blend of coffee beans from Asia/Pacific and Latin America is used to make an espresso dark roast that's deep with rich notes of caramelized sugar and molasses.
Which Coffee Machines Use Starbucks Pods?
Creatista Uno Nespresso, Breville Nespresso Expert, Breville Vertuo Coffee And Espresso Machine, Breville Espresso Essenza Mini Original Espresso Machine, and Nespresso Lattissima Pro use Starbucks pods.