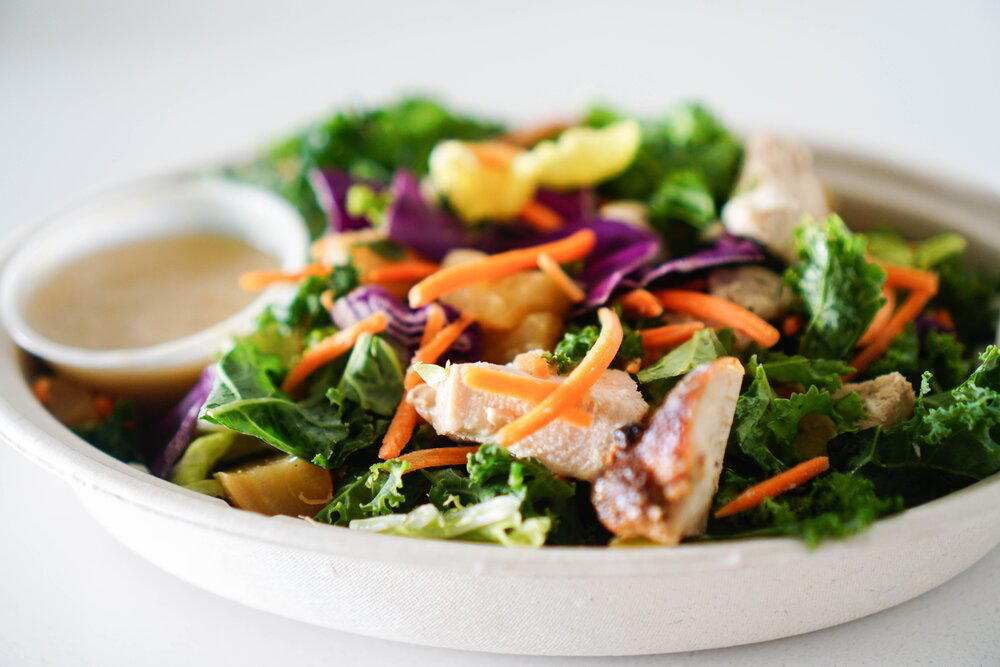 Introduction
If you have ever seen Botticelli's painting "The Birth Of Venus," you might have noticed that the goddess of love, Venus, is standing on top of a giant scallop shell.
According to ancient Romans, Venus was born in the sea. Botticelli depicted this mythological phenomenon in his painting during the Italian Renaissance.
Ancient Romans (and Greeks!) thought of scallops as the food of love due to Venus, which is why it has been treated as a special treat for centuries.
Scallops have tender flesh and a mild flavor. When cooked right, they become soft, with the juices oozing out with every bite. If you clean, prepare, and cook them properly, they can brighten up almost any plate.
If you are thinking of what to serve with scallops, opt for something that tastes mellow. Since it has a mild flavor, it is better to pair it with side dishes that compliment it without overpowering its flavor.
How to Clean and Prepare Scallops at Home
Frozen Packed Scallops
The scallops you often find in the freezer of a store are usually pre-cleaned. Seventy percent of the ones available are wet-frozen scallops. Avoid these unless you have no other options. They are often the least fresh option.
These are kept in a chemical salt and preservative solution. They also have a weaker flavor, and their texture becomes rough easily when cooked. Once under heat, it will release a lot of water and will ruin your dish if it's sensitive to water content.
An easy and safe option is dry frozen scallops. They taste better and have a softer texture when cooked. Just run them under cool water to clean. Look at the label of your scallop where it is written whether it's wet or dry frozen.
Fresh Scallops
The best scallops are diver-caught scallops. These are often fresh, so they come with the scallop shell. These are least processed and mostly go through outer shell cleaning to remove the algae and slime of the ocean.
Directions For Cleaning Scallops:
Once you bring them home, run them under water and rub clean if they have anything on them. Wipe them down with a paper towel.
Insert the thick end of a shucking knife near the hinge and carefully pry it open. Use the sharper edge to release the scallop flesh from the shell.
Once it has been separated from the shell, pull off anything attached to the white flesh except the coral (if it has any). The coral is the roe of the scallop and tastes even better than the main flesh! Remove the tough side muscle.
Rise the scallops thoroughly with water and pat dry with a paper towel.
How to Cook Scallops at Home
You can use many methods to cook your scallop. Be careful not to overcook it as it can get rubbery and unpleasant. Cook gently for a short time until it's slightly solid and opaque but still has a translucent center. Here are some methods of cooking scallops.
Pan-Searing/Frying/Barbecued
The most popular way to cook scallops is pan-searing/frying. It is easy to do as you simply have to sear it on a nonstick frying pan with a little butter or olive oil and herbs. Sear until each side is golden brown. You can also season your scallops and throw them on a grill for a few minutes.
Baking
Baking is another popular method of cooking scallops. For this method, the scallop is seasoned and often topped with bread crumbs and Parmesan cheese. Preheat your oven to 400˚F and bake for around 10-15 minutes based on their size.
Poaching
You can also try poaching your scallops; just be certain that the amount of water you use is equal to the amount of butter and shortening. Add enough water in the saucepan to just cover the scallops. Add the butter and prepare your scallops.
Season your scallops with salt and paper and pat them dry before seasoning. Put them in the pan and poach until the middle is barely done. Melt butter with some herbs (optional) and drizzle it over them. Give them a splash of freshly squeezed lemon juice and serve hot.
Steaming and Boiling
In Oriental cooking, Scallops are steamed and served with noodles or boiled in soup. These are usually seasoned with garlic or garlic oil, sugar, and soya sauce. The seasoning sauce is prepared, and the raw scallops are seasoned and put in their shells. These are steamed and served on the shells.
For soups, the scallops are boiled with the other ingredients in the broth. People also make scallop chowder or seafood soup/ramen with other items like crab, shrimp, clams, etc.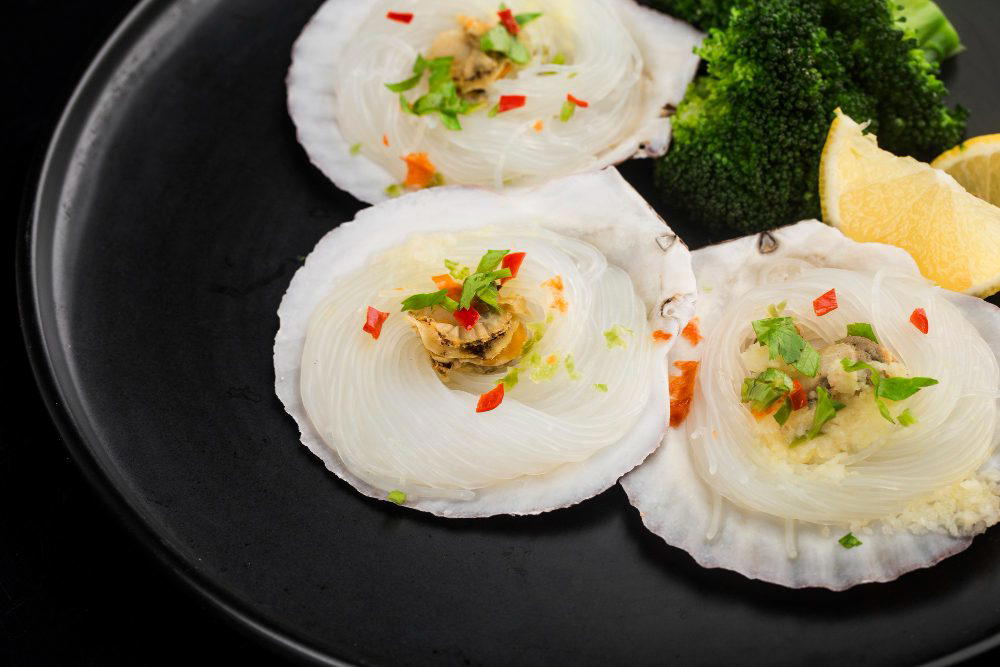 Best Side Dishes to Serve With Scallops
To enjoy your scallops to the fullest, you must eat them with food that enhances their flavor. Here are a few side dishes that go well with scallops.
Brown Butter Polenta
Brown butter polenta is an Italian dish made from coarsely ground corn. It looks like porridge but is flakier and chewy. It can easily be served as a side dish with meat dishes that have gravy or sauce.
Creamy polenta looks like porridge and works like buttery mashed potatoes. It is made by boiling the coarse cornmeal in water or milk. Creamy polenta is one of the best scallop sides. Make your lump-free polenta, top it with scallops, and give the dish a drizzle of brown butter.
Creamy Fettuccine
When you think about what goes with scallops, you must consider creamy pasta. Creamy sauces are excellent for seafood, especially shellfish. Fettuccine pasta is generally served with creamy sauces like carbonara or alfredo.
The mild flavor of your creamy fettuccine sauce will enable the scallops' light taste to flourish. Pan sear or grill your scallops. Boil the pasta and let it cool.
Make a simple Alfredo sauce by reducing cream, Parmesan cheese, minced garlic, and butter. Plate the pasta and dench it with a generous splash of the creamy sauce and top it with the seared scallops. Serve and enjoy hot.
Lemon Caper Pasta
Capers are flower buds that have a tangy taste similar to olives and work well in lemony dishes. Lemon caper sauces work well with different pasta, but it does hit differently when you use angel hair or linguine pasta. The recipe uses white wine, which gives it a light flavor.
Lemon caper pasta tastes great topped with scallops. The light flavors harmonize well together. It is easy to make and tastes effortlessly luxurious. This dish is perfect for special occasions and fancy dinner parties.
Asparagus and Lemon Risotto
Risotto and scallop are a big yes. Of all the scallop side dishes, the risotto will work the best. Any tangy flavor works well with seafood, which is why most cooked seafood has at least a splash of lemon juice. The white wine also brings a harmonizing flavor to the scallops.
Seafood risotto often uses a seafood stock, but chicken broth works better with this one. You get a creamy and cheesy risotto, flavored with lemon juice and zest. Asparagus adds another layer to the plate without disrupting the harmony. The risotto becomes light, yet creamy and flavorful.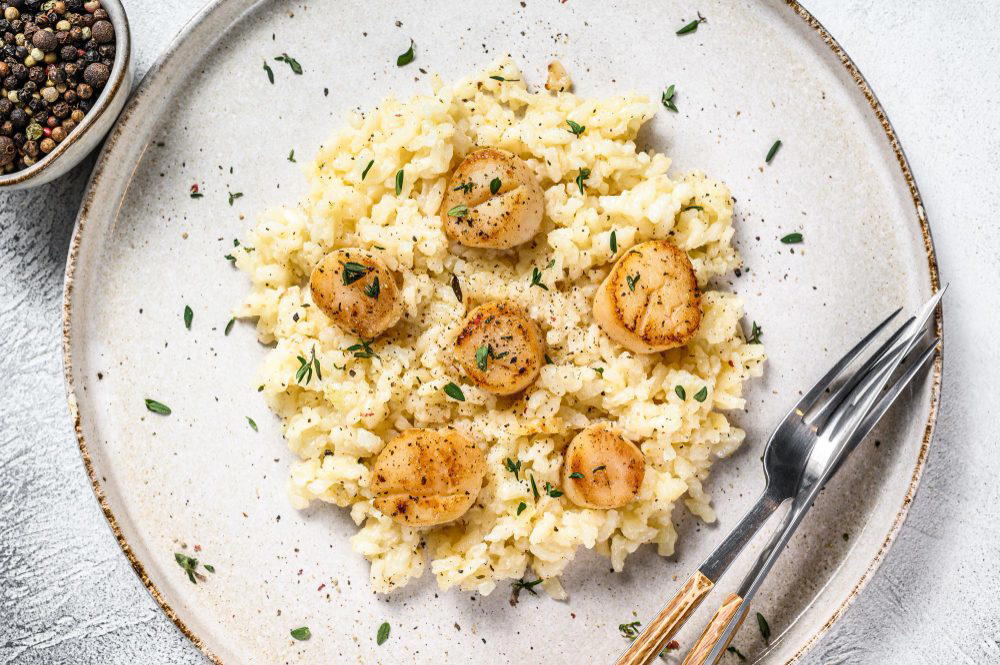 Spinach & Pomegranate Salad
If you are thinking of serving something that is Michelin star restaurant-worthy as a scallop side dish, try this salad. Seared scallops taste amazing with a pomegranate glaze. The tangy sweetness of pomegranate compliments the taste of seafood well, especially scallops.
Start by seasoning your scallops. Make the pomegranate glaze using honey, pomegranate seeds, and spices. Bring the concoction to a boil, then add lemon juice and cornstarch until reduced to a glaze.
Pan-sear your seasoned scallops and set them aside. Toss your spinach on the pan with a little oil until slightly wilted. Plate the spinach and put the scallops atop. Drizzle the glaze over it and enjoy it hot.
Succotash
If you are looking for vegetarian scallop sides, you must consider eating it with succotash. This native American side dish uses lima beans, bell peppers, onions, and corn.
If you don't want something fancy and wish to eat something simple with your scallop, this is the side dish you are looking for. This bean and corn stir fry is easy to make and has a light seasoning that lets the flavor of scallops shine.
Some people add chicken stock to make a succotash stew or soup. You can also try adding heavy cream to make a creamier side dish for your scallops.
Couscous, Rice, or Quinoa
Some basic sides can also work as your scallop side dishes. You can try serving your scallop with a simple couscous cooked with olive oil.
Quinoa and rice can simply be boiled and served with your scallop, but try to give your scallop a gravy or a sauce so that you can enjoy it with those bland carbs.
You can also try switching it up and adding more spices and ingredients to your rice or quinoa, and make a more flavorful side for your scallop.
Conclusion
Scallops are delicious and work well as both starters and mains. Knowing how to cook your scallop is a great way to ensure that they taste wonderful every time you make them. You can never go wrong with scallops as long as you cook them right and serve them with the best side dishes.