What happens when you run out of stock in your pantry? If you don't have time to go grocery shopping, or you simply want to save some cash, then these simple substitutes will save the day.
Chicken broth is a staple ingredient in many dishes. Unfortunately, it's also quite expensive. That's why many cooks turn to other alternatives such as vegetable broth, bouillon cubes, and even store-bought soup mixes.
Some recipes which tend to use chicken broth are soups, stews, gravies, sauces, and casseroles. Since a lot of these dishes are common staples, and you might not always have the time or money for classic chicken broth, knowing what you can substitute is a helpful skill.
So here are 14 easy ways to substitute for chicken broth.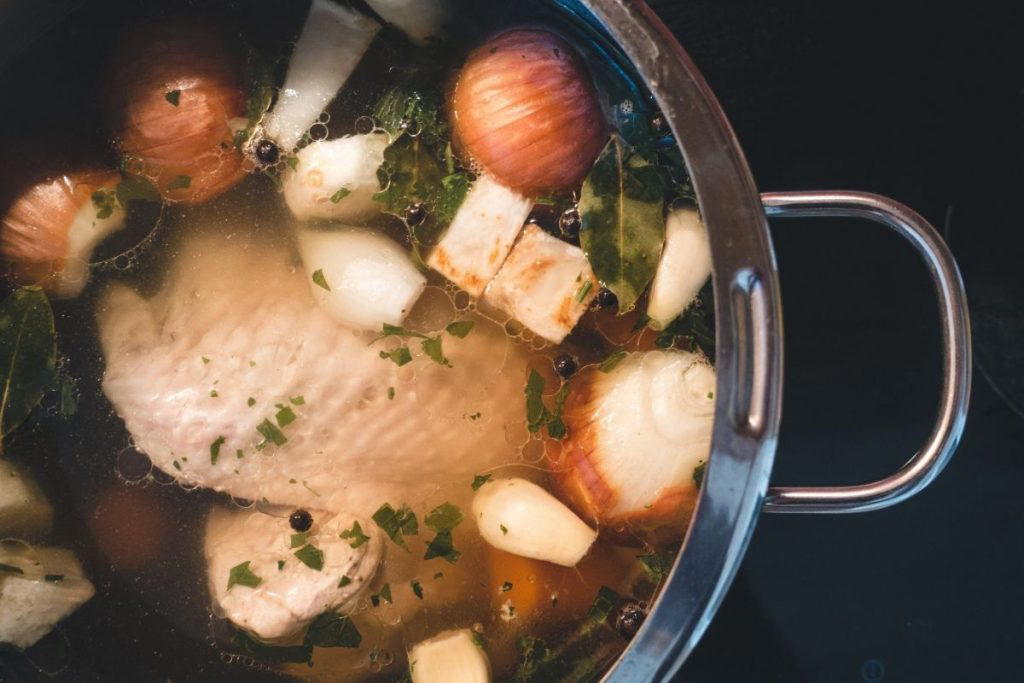 Chicken Stock
Chicken stock is incredibly similar to chicken broth and only has a slight difference in how it is made with bones and vegetables, while chicken broth is made with actual meat from the chicken.
While some recipes might end up with higher quality results if you use broth, the chicken stock will give you very similar results. The chicken stock also tends to be slightly thicker, so try to take this into account when using it in recipes. Because of how similar these two ingredients are, you can use them at a 1:1 ratio, which is very convenient.
Vegetable Broths
Vegetable broths are usually used in place of chicken broth in vegetarian cooking. They are often made by simmering various vegetables together until they become soft.
This means that they do not contain any meat products like chicken stock and broth do, making it a suitable option for vegetarians and vegans
Vegetable broths are great because they are generally cheaper than chicken broth, and they tend to be more flavorful. However, if you are looking for a specific flavor profile, you may need to make your own.
Making your own vegetable stock is not too hard, and you can customize it as much as you want, including vegetables you like and excluding those you do not. For extra flavor from a vegetable broth, roast the vegetables first.
Beef Broth
Beef broth is one of the most popular types of broth. It is typically made by simmering beef bones along with water until the liquid becomes rich and flavorful.
Some people prefer to use beef broth instead of chicken broth in their recipes since it tends to taste better. The reason behind this is that the fat content of the beef makes it richer and smoother tasting.
This is a good option if you have the resources to make beef stock readily available, but otherwise, it could be just as expensive as chicken broth.
Also, the flavor profile can be quite different, so if you are looking for something that will not overpower a chicken flavor, this will not be a good option.
Vegetable Stock
Vegetable stock is another type of broth that is made by simmering vegetables in water. This is a quick way to get a flavorful broth without having to go through all the trouble of roasting and simmering the vegetables yourself.
You can buy ready-made vegetable stocks, or you can make your own. If you are going to make your own, you should start with onions, celery, carrots, parsley, bay leaves, peppercorns, salt, and white wine vinegar. These five ingredients alone will make enough stock for about four servings of soup.
You can then add whatever other vegetables you would like to include such as garlic, mushrooms, tomatoes, thyme, or other complementary herbs.
Just remember to adjust the amount of each ingredient depending on what kind of flavor you are trying to achieve, and try to balance the sweetness and the saltiness of the dish you are trying to make.
Store-Bought Soup Mixes
You can easily make your own chicken broth using store-bought soup mixes. Just add hot water to the package, and let simmer until the liquid reduces by half.
Pour into jars and refrigerate. These store-bought soup mixes are very convenient and easy to use. They also come in a variety of flavors.
If you are looking for a particular flavor profile, you will likely find a mix works well for you. These store-bought mixes are often a more affordable option than regular chicken broth, but the results can be just as outstanding if you find a brand you like.
Bouillon Cubes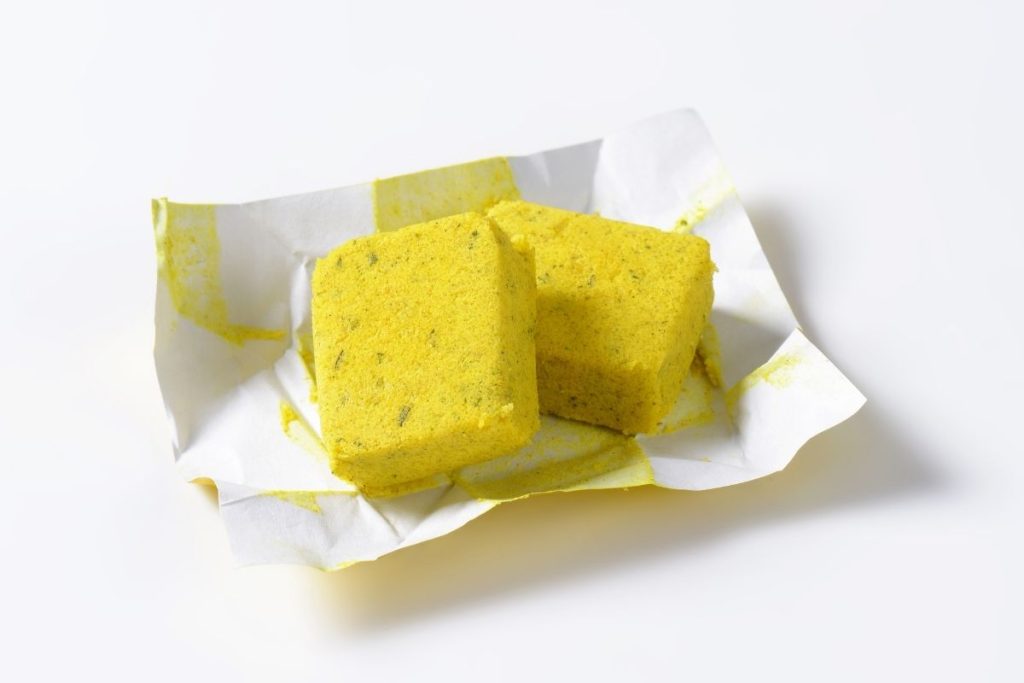 These cubes are made from dehydrated bouillon powder. Bouillon is used in many dishes around the world, and these cubes are an excellent alternative to homemade chicken broth.
There are several brands available and some of them are organic while others are not.
The best thing about these cubes is that they are pre-mixed, so there is no measuring needed. All you have to do is add boiling water and wait for it to reduce by half. Then pour it into containers and freeze.
When you are ready to use the cubes, simply defrost them and add them to soups, stews, sauces, or anything else where you need a flavorful base.
The best brands are usually sold in large boxes at health food stores. They are an excellent choice for making homemade chicken broth since they are already mixed and ready to use.
Low Sodium Chicken Broth
Low sodium chicken broth is a good alternative to regular versions. Look for brands that contain less than 300 mg of sodium per cup. The best ones I have found are Swanson Low Sodium Organic Chicken Broth and Trader Joe's Reduced Sodium Chicken Broth.
Both are organic and low sodium, and both are delicious. It is important to avoid too much sodium when cooking because high levels may cause heart problems.
A lot of the options mentioned here also feature quite high sodium, so make sure to take this into account when cooking your meals.
Coconut Milk
Surprisingly, coconut milk can be used as a substitute for chicken broth. Simply heat up 1/2 cup of coconut milk and let it simmer for 10 minutes. Strain out the solids and add to any recipe calling for chicken broth.
Coconut milk has a milder taste than chicken broth and works great in Asian recipes. If you want to go with a sweeter version, consider adding sugar or honey to your coconut milk before straining.
Coconut milk is a wonderful way to add extra creaminess to soups, curries, and desserts. Just make sure to use it within three days if you want to make this substitute in advance.
Wine
Wine isn't just for special occasions, so why should drinking it be? In fact, red wine is an excellent source of resveratrol, an antioxidant that may help reduce the risk of heart disease. And as well as all this, it can also be used as a broth alternative.
To make a simple wine-based broth, combine one bottle of white or red wine with two cups of water. Bring to a boil, then turn down the heat and let simmer for 20 minutes.
This will be a more unique option, and using a sweeter wine should be avoided, but if you want to try something new, this option could work.
Dashi
Dashi is a Japanese soup stock made from dried kelp. You can find it in most grocery stores and online retailers. It is typically used as a base for miso soup, but it can also be added to other foods like rice.
The flavor of Dashi is very similar to chicken broth but without as much salt. However, its flavor can be a bit stronger than chicken broth, so keep that in mind when preparing dishes.
Dashi is unique for its umami (savory) taste, which makes it perfect for savory dishes such as ramen noodles. It is also a great addition to vegetarian dishes since it adds a rich flavor that many people miss.
It is generally safe to use dashi in place of chicken broth, but some people are sensitive to shellfish which is present in many types of dashi. So check the label carefully before buying.
Aquafaba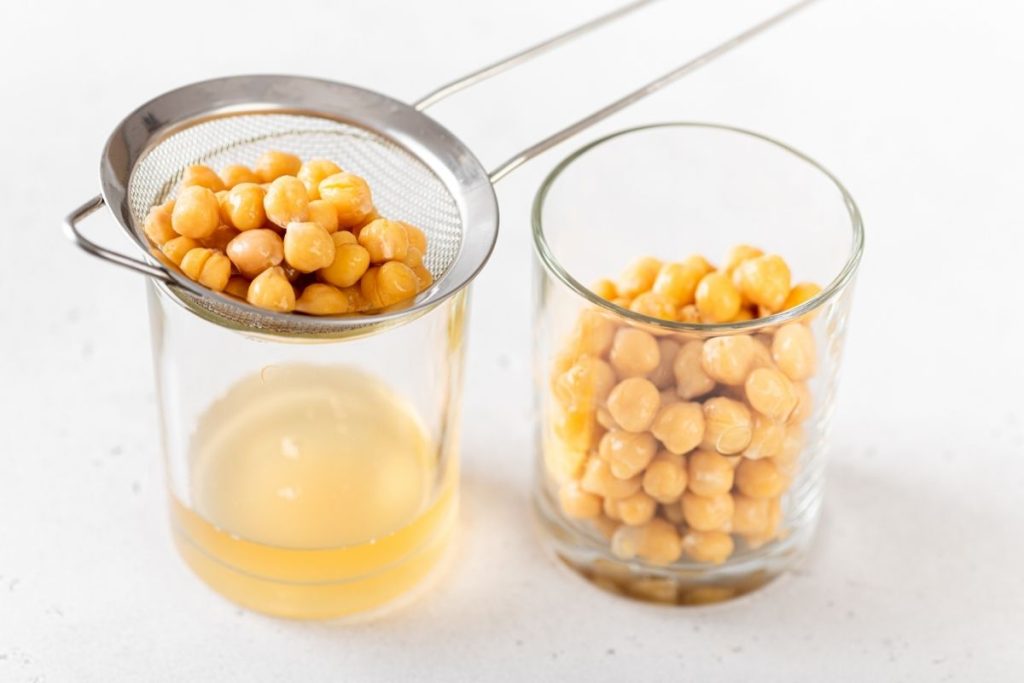 Aquafaba is basically chickpea brine. It is usually discarded after making hummus, but it can actually be used as a replacement for chicken broth.
To do this, simply drain the liquid from a chickpea can into a container, then use it where needed to replace chicken stock.
You can also blend the chickpeas together until smooth and add them to the aquafaba to create a more substantial substitute.
This means you won't have to waste the chickpeas just to get to their brine. Add this mixture to any dish calling for chicken broth. The result will be a thick and creamy sauce that tastes exactly like chicken broth.
This method is particularly useful when making vegan soups and stews. Since aquafaba doesn't contain any animal products, it won't affect anyone who follows a strict vegan diet.
Just Water
If you don't have access to any of these options, if you season water correctly, you can use it as a substitute, especially if the chicken flavor is not too important for the dish.
Simply mix 1/2 teaspoon each of salt and pepper into 1 gallon of water. Let sit for at least 30 minutes before using.
The flavors of the water will slowly seep into the food being prepared, so it is best to prepare ahead of time. If you need to use the water right away, you can strain it through cheesecloth or even a coffee filter.
The salt and pepper will give the water a slightly salty flavor while still maintaining the natural flavor of the food.
Water With Butter
Butter has been shown to add richness and moisture to foods. You can use this trick to create your own homemade chicken broth by adding 1 stick of melted butter to 1 quart of water. Let it sit for about 10 minutes, then strain out the fat and enjoy.
You may notice that the resulting broth does not have quite the same consistency as regular chicken broth. That is because the butter helps to emulsify the water and thicken the broth.
Quick Meal Flavor Packs
If you are really in a pinch, see if you have any meal kits which have a flavor sachet with a flavor similar to chicken. Just mix this with water and try it in your recipe. Of course, results can vary massively.
Conclusion
Chicken broth is an essential ingredient in many recipes. While there are plenty of ways to make it yourself, sometimes you just want something fast and easy. In those cases, I hope my list of alternatives helped!
What is your favorite way to replace chicken broth?
Pin Later