Craving a nice big slice of cheesecake? Philadelphia cream cheese is synonymous with a good cheesecake, but what does one do if they don't want the fuss of baking a whole cheesecake? Make a Philadelphia no-bake cheesecake, of course!
Baking a cheesecake is a lot harder than it seems-everything needs to be beaten to perfection, you need to bake the cake in a water bath, prevent the temp from going too high, and allow the cheesecake to cool down slowly.
Even after all that, you might end up with a cheesecake that won't hold its shape or one with a cracked top. This is why a Philadelphia cream cheese no-bake cheesecake is a fail proof way to get the perfect cheesecake every time.
Because you may have seen a different Philadelphia no bake cheesecake recipe on every corner of the internet, we've provided two easy recipes that will give you perfect results every time.
What is Cheesecake?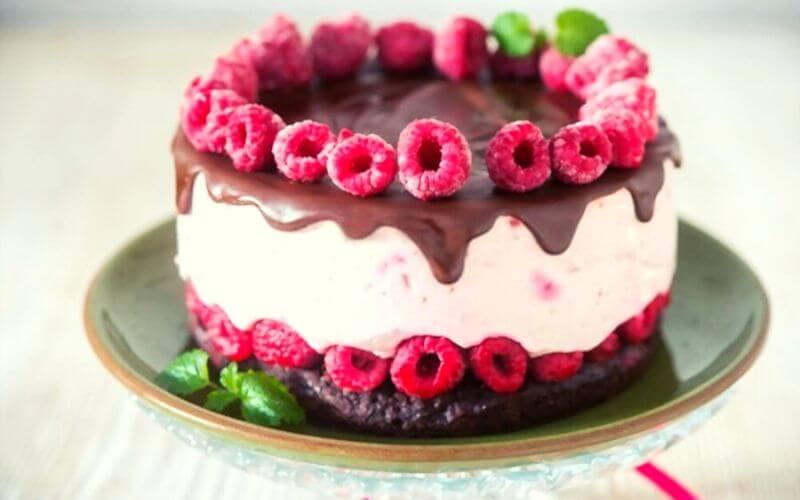 Put very simply, cheesecake is a dessert made from cream cheese, sugar, eggs, milk, and flavorings like vanilla or almond extract. There is also a crust made from crushed cookies or crackers like Digestive biscuits, Oreos, or graham crackers. The filling is poured onto the crust and then baked in a water bath.
Once your cheesecake comes down to room temperature, let it cool and set it in the fridge for a couple of hours. After cooling, your refrigerated cheesecake can be topped with things like fruit, crushed Oreos, chocolate shavings, or anything that goes well with your cheesecake flavors.
There are no strict rules on how to make the cheesecake filling. Some people add sour cream, others prefer Cool Whip. Many people add heavy cream to make an even richer filling. You can even add melted chocolate, cocoa powder, chunks of Oreos, Reese's Pieces, Snickers, and even matcha tea.
Philadelphia cheesecake filling tends to be a little simpler because it allows the flavors of the cheesecake to shine through. The tanginess of the Philadelphia cream cheese pairs very well with the sweetness of the sugar and milk, so most of the time, you don't even need heavy add-ons.
What about No-Bake Cheesecakes?
The best no-bake cheesecakes have the same richness and decadence without the ordeal of baking and water baths. The main difference between the fillings of baked and no-bake cheesecakes is that baked cheesecakes have eggs, while no-bake cheesecakes tend to use gelatin to hold their shape.
Besides this, there are plenty of similarities. You can make no-bake cheesecake with sour cream without Cool Whip. You can make chocolate no-bake cheesecakes, or ones flavored with strawberries, blueberries, or mangoes.
However, the best no-bake cheesecake recipe doesn't use gelatin at all. Instead, it uses something like Cool Whip or whipped cream to give the cake its structure.
Basque Cheesecakes:
One of the trendiest cheesecakes this year is burnt Basque cheesecakes. Fluffy Japanese cheesecakes are so last year. Instead, this baked cheesecake ditches the crust and water bath to get a dessert with a caramelized, burnt surface. Meanwhile, the inside is soft and melty.
If you want a baked Philadelphia cheesecake recipe with no crust included, the Basque cheesecake may be the perfect dish for you. But if you're after a Philadelphia cream cheese pie recipe no-bake version, we've got a fan-favorite classic for you.
No-Bake Cheesecake: How to Make Cheesecake without Baking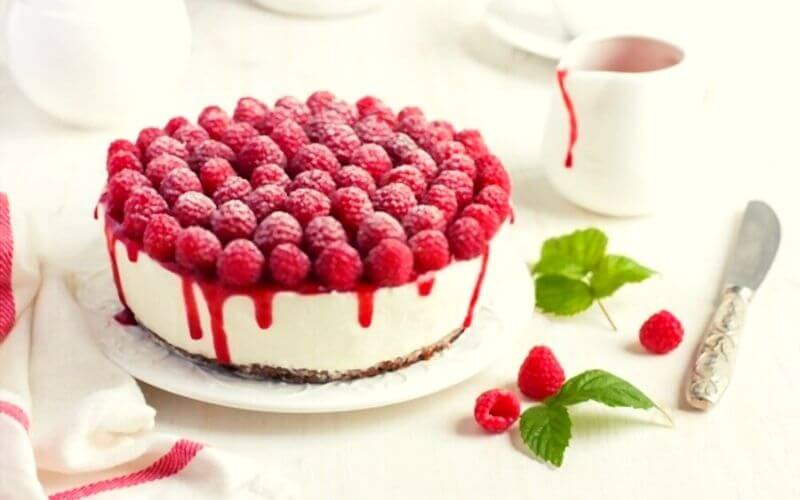 These Philadelphia cream cheese dessert recipes are fool-proof and will give you consistent results every time. They are even better than the Keebler no-bake cheesecake, and they're much easier to make.
What do you need to make a cheesecake? Besides cream cheese, just a few extra ingredients. And even if you don't have cream cheese, try experimenting with these awesome alternatives!
Classic No-Bake Cheesecake:
This cake features a simple homemade cheesecake filling, and you won't have to deal with blooming gelatin. Here's what you got to do:
What You Need:
Ready-made graham cracker crust
8 ounces of softened Philadelphia cream cheese
1 cup of sour cream
8 ounces of Cool Whip or regular whipped cream beaten to stiff peaks
½ cup white sugar
2 teaspoons of vanilla or almond extract
Topping of choice (Optional, but fresh fruit, crushed Oreos, and chocolate shavings are always a hit!)
What You Should Do:
In a large bowl, beat the cream cheese, sour cream, sugar, and flavoring extract together until it forms a smooth, shiny mixture.

Then, gently fold in the Cool Whip or whipped cream with a spatula.

Pour the cheesecake filling over your graham cracker crust, then smooth out the top with your spatula.

Cover with cling film or plastic wrap. Let it chill for at least 8 hours, or better yet overnight.

Once chilled, add your toppings and serve!
No-Bake Cheesecake Bites:
What to do with leftover cheesecake batter? Make mini cheesecake bites, of course!
Follow these steps for the cutest dish that lets you serve dessert as an appetizer.
What You Need
A muffin tin and cupcake liners
1 cup of crushed graham crackers
4 tablespoons of unsalted melted butter
3 tablespoons of brown sugar
No-bake cheesecake batter mentioned above
Toppings of your choice
What You Should Do:
Prep your muffin tin by lining it with your cupcake liners and set it aside.

Make your crust by tossing in your graham crackers, sugar, and melted butter into a food processor. You can also do this with a Ziploc bag and rolling pin. Crush and mix until the graham crackers resemble wet sand.

Drop 1-2 tablespoons of the crust into your cupcake liner and press it down with the back of a spoon to pack it down tightly.

Use a tablespoon or piping bag to pour your leftover cheesecake batter over the tiny crusts. You will need about 2 tablespoons of filling per cupcake liner.

Refrigerate the mini cheesecake bites for at least overnight.

Once set, add your toppings and serve. Ideal toppings include chocolate ganache, a sprinkle of cinnamon sugar, pie filling, fresh strawberries, and even a dollop of sour cream. 
Do you have to cook sour cream topping on cheesecake to let it set? Absolutely not, and the cold sour cream will balance the rich sweetness of these mini cheese bombs.
Want to modify your fun-sized cheesecake bites? Why not toss them in the oven for 15-20 mins? Why do you bake cheesecake bites? Besides giving them that baked cheesecake flavor, it also helps them set better.
You can add melted chocolate or Nutella to flavor these mini cheesecakes. For a healthier option, replace the sugar with stevia and use a sugar-free crust.
Frequently Asked Questions
Want to know more about no-bake cheesecakes? This section answers all the questions you may have about these super-easy, indulgent desserts.
01. How Long Do You Let Cheesecake Cool for the Best Results?
Whether you bake your cheesecake or prefer a no-bake one, it is important to let your cheesecake cool and set it in the fridge. Let your cheesecake rest for at least 6-8 hours, or optimally overnight.
02. Why is Cheesecake So Good and Irresistible?
The combination of cream cheese, sour cream, a soft and buttery crust, and decadent toppings make cheesecake a dessert you simply cannot say no to. Because of the endless combination of flavors and add-ons, most people resist the urge to scarf down 2 or more slices in one go.
03. How Long is Homemade Cheesecake Good for?
Homemade cheesecake will last up to 5 days in the fridge, baked or not. To make sure it stays fresh, wrap it in plastic wrap before storing it in an airtight box.
This article will tell you how long cream cheese stays fresh.
04. How to Make Vegan No-Bake Cheesecake at Home?
To make a vegan cheesecake crust, simply replace the butter with coconut oil. The creamy filling is made by combining soaked cashew nuts, coconut or any other plant-based milk, coconut oil, lemon juice, and maple syrup or agave nectar in a food processor.
Pour into the crust and refrigerate overnight, before topping with caramel, peanut butter, or fresh fruit.
To Sum Up
As you can see, making Philadelphia no-bake cheesecake is the easiest thing ever. The ingredients are ones you have in your pantry and the process is simple. 
There's no fuss with careful baking and you won't have to worry about cracked surfaces ruining your cake. The next time you throw a dinner party, make this simple, but delicious dessert to take your guests' breath away!