There's nothing better than the warmth of a propane fireplace to gear up your outdoor area. Setting up an outdoor propane fireplace to invite guests for a hang-out is now quite simple. Plus, it doesn't create the soot, smoke, or ashes made by typical fire pits, especially a wood burning fire pit. For that reason, a propane fireplace is the preferred option for restaurant owners, homeowners, and even apartment dwellers to add some extra ambiance and warmth to a backyard or outside space.
Why Choose Outdoor Propane Fireplace?
You get numerous advantages by choosing propane gas as a fuel source. First of all, it's easy to manage the amount of fuel your fire receives, and there is no need to worry about any clean-up duty. Lastly, it's also reasonably secure because the fire is contained.
Propane fire pitsare ideal for anyone who is always on the move. They are portable, thanks to their design, and many options are available.
Things to Look Out for When Buying a Propane Fireplace
Ponder the following before buying a fireplace:
Location
Determining what dimension and shape would be most effective is the first thing to consider for an outdoor tank. For example, you can find fire pits in all shapes, from round or square to rectangular. It would help if you always gave preference to safety over the shape and asthetics.
Depending on your requirements, you can find one in any size, from small tabletops to huge gathering spots. Since a larger outdoor fire pit generates more space for heat, you need to keep the heat outputin mind while assessing any unit.
Heat Output
With gas fire pits, you don't sacrifice any heat. Instead, you need to evaluate the amount of heat each produces, which is usually expressed in BTUs (British Thermal Units). The higher the BTU, the higher the heat your fire pit is likely to generate.
A typical gas fire pit will range between 30,000 and 60,000 BTUs, but they can reach 100,000.
Fuel Source
One of the prevalently used fuel sources is a propane tank that weighs 20 pounds. While gas fire pits are simple to light and put out with just a single turning of a knob, you need to set the propane tank in the fire pit or fire table or connect it to a separate line.
If you need to refill or change the propane tank, go to the local hardware store or supermarket. They have this area covered.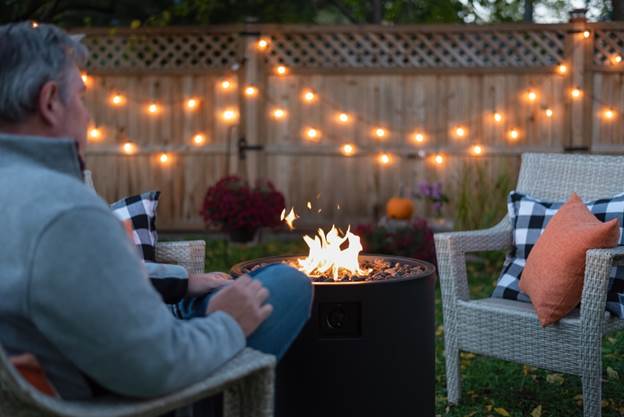 How Do You Set Up a Propane Fireplace?
When setting up your fireplace, consider factors like size, design, location, protection, and ease of setup. For the best place to put your fireplace outside, keep reading.
Outdoor location
If you're planning to set up a portable fire pit, consider placing it as the centerpiece of your gathering. Choose one that can be put in an open area so you can arrange chairs around it.
Many people choose to set their fire pits near the outdoor kitchen so it is easily accessible. If you're looking forward to using an open-air fire patio heater, ensure that it doesn't block your yard or garden views. Although you can move your propane tank anywhere, you must be close to your residence if you use a natural gas line.
Assembly
Some propane fireplaces might require no installation, but others have complex ones, and you would have to call an expert to help you out.
Consult the unit's instruction manual to determine if you can do it yourself. In general, portable fire pits are pre-assembled, so just unpack them, and you are good to go. On the other hand, a fire table with a propane gas fireplace could require installation, so select according to what you can put up. In the case of built-in fireplaces, you should seek out a professional installation instead of doing it yourself.
Safety
Whatever fireplace you pick, ensure that you've conducted your own research regarding safety and security and have checked whether pits and fire bowls are allowed under local regulations.
A propane fire pit for an outdoor living space can generally go within the yard or on the deck as long as it's not within 10 yards of any other structures, such as your home. In addition, there shouldn't be any hanging electric wires or branches that could get caught in the fire when it is on.
For a portable pit, you need to set it on a non-flammable top like a fire-resistant mat or heat shield. Under no circumstance should you leave your fire pit unattended.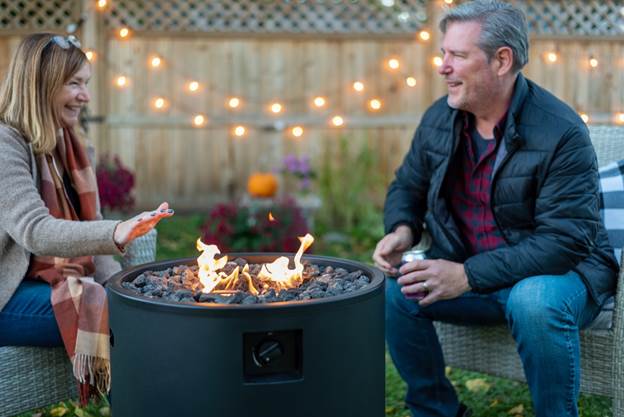 The Right Way to Light Your Fire Pit
There is no need to gather firewood or purchase a fire starter to help get the flames up and running. Gas fire pits that use propane operate through ignition systems.
Want to use hand-operated ignition? Start by opening the gas valve and then use matches or lighters to light the fire. The other alternative is spark ignition, which uses a push-button that produces a tiny spark to ignite the gas. Electronic ignition is the easiest to use and requires only the flick of a switch, the turn of a knob, or sometimes even an electronic remote.
Best Propane Fire Pit You Can Use
Following are some of the propane fire pits to buy:
With a power output of 4000 BTU, this natural-looking fire pit is an attractive and rustic design that adds warmth and ambiance to your backyard or outdoor space. Lava rocks surround this best gas fire pit to keep it safe and ensure a uniform flame. This fire pit has a stainless steel fire bowl and is easy to operate with one-step ignition buttons and a knob to adjust the flame's intensity. Moreover, it includes a waterproof cover to protect the fire pit while not in use.
This linear, all-weather resistant table has a central fireplace set upon a bed made of glass rock surrounded by a tempered black glass tabletop. The table's side is easy to remove to reach the propane tank when required and then close it for storage.
Conclusion
A fire pit is an integral and irreplaceable element to create an endless summer in your outdoor space. These units are available in various sizes and shapes, so you will find one to fit in your yard perfectly. Hopefully, after reading this article, you know how to choose and set up a propane fire pit. So, choose wisely. No one likes to pay a lot of money for mediocre equipment that won't even last a few months.
Best of luck shopping for an outdoor fire pit!
Frequently Asked Questions
Got more questions? These are some of the most common questions people have about propane fire places:
Are propane fire pits safe?
Propane fire pits are safe to use, but like anything that has to do with fire, they need to be handled with care.
Always ensure you are buying your propane fire pit and accessories from a reputable company to ensure safety. You would also do well to thoroughly review any associated safety guides that come with your fire pit, to operate it safely.
Can I put a propane fire pit on my deck?
If you have a deck made of non-combustible materials such as stone, then it is safe to install them for use! You just need to ensure the fire pit is clear of debris and is in a well-ventilated area.
Can I cook food on a propane fire pit?
It is not recommended to cook food on a propane fire pit. Grease and drippings from foods can cause a lot of damage to your fire pits interior, and cause a mess you'll have to clean.
Pin Later