Whether you are heading out on a road trip or planning a detailed adventure in river Kenai, having a good cooler will keep your food and drinks nice and chilled for days. Everyone knows YETI makes the best coolers in the industry in terms of quality and resistance. To some, buying a YETI Hopper is a dream.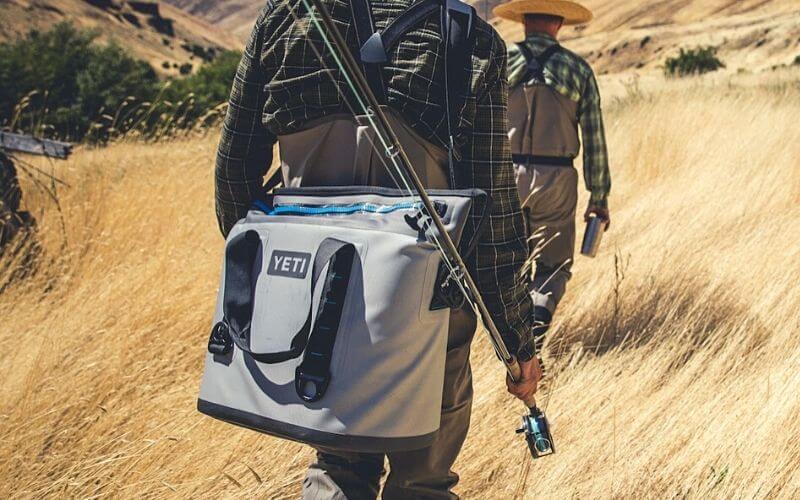 There are many different models and types of cooler to choose from YETi's vast range of products. In this review, however, I am going to talk about one of their best selling soft coolers called the YETI M30 Hopper Portable cooler.
Before I get into the review, let's talk about the difference between a YETI Hopper and YETI Tundra and which one is the best for your needs. 
YETI Tundra vs YETI Hopper
The main difference between YETI Tundra and YETI Hopper is their functionality. Tundra is a hard sided cooler whereas Hopper is a soft sided one. It all comes down to what you are looking to do with your brand new YETI. 
Before we get into the YETI M30 Hopper Portable cooler review, we will look at the differences between the hard and soft shell YETI so that you can decide which one is ideal as your travel companion. 
What they are best for : Tundra vs. Hopper
If you are planning to go for many deep sea fishing then chances are your cooler will stay on one spot without much movement. For these kinds of outdoor activities, a Tundra hard sided cooler is a better option. 
If you are planning to carry your cooler to the beach or for camping, you will end up walking and moving a lot. For those kinds of outdoor activities, a soft sided cooler is a better option. Soft coolers are easy to carry and transport. 
Ease of Use : Tundra vs. Hopper
Hard sided coolers are hard to carry when full. Tundra coolers can carry more cans and bottles than a portable hopper. This is very helpful if you need more space for your stuff.
The downside is, you can not just walk with a Tundra cooler attached to your shoulders. Most Tundra coolers come with a rotating metal handle or nylon and rubber rope handles on the side. This makes them difficult if you are travelling without a car. 
Ice Retention: Tundra vs. Hopper
Hard sided coolers might be heavier to travel with, however, they have a better insulation and space for all of your drinks and beverages. Tundra coolers have thick roto-molded plastic shells and 1.5- 2 inches of insulation in the walls with more than 2-3 inches of insulation in the lid. You can imagine this makes them extremely good at retaining the temperature of the interior shell. Your ice will stay intact longer and better in a Tundra cooler.
YETI Hopper uses cold-cell foam and 1 inches of insulation which makes them weaker than their counterparts. However, no one uses a Hopper for a long trip of seven days. Both are designed for different purposes. 
Both YETI Tundra and Hopper are great choices for any travel fans however, YETI M30 Hopper has a special place due to its great functionality and practicality. In the next part, I will review the new YETI M30 Portable Hooper cooler and why it's so popular and well known. 
You may also like: Best outdoor misting fans
Key Features of YETI Hopper 30 Portable Cooler
Each of the YETI models come with its unique set of features designed to fit your needs. YETI 30 is no different. In this part of the YETI 30 cooler review, I will talk about the key features that make it such a desirable product to so many:
DryHide Shell:
One of the key things about YETI coolers that attacks us is their soft DryHide fabric. Instead of using it only inside, they use it for both interior and exterior shells. This makes the cooler antimicrobial, mildew resistant and very strong. 
The material itself is similar to whitewater rafts. The seams are RF-wielded which makes them stitch free and waterproof. There is no way water can go inside this or get out of it.  
Food-Grade Liner:
As I just mentioned, YETI Hopper is made from FDA approved food-grade liner. Typical soft coolers tend to forget the liner part while waterproofing its interior. YETI Hopper 30 was designed with all those minor details in mind. 
The food-grade liner is absolutely air and waterproof which makes it ideal as a travel companion in humid climates. It prevents the inner and outer layer from growing mold or mildew as they resist any moisture from an outside source. 
Coldcell Insulation:
Everyone who tries YETI hopper for the first time gets surprised by its deep and lasting chilling compartment. The reason why YETI 30 can do it is because of its coldcell insulation. 
This premium technology uses closed-cell foam to hold the temperature within the interior of the cooler. It also prevents the outside temperature and heat from entering. 
HydroLok Zipper:
Maybe one of the most frustrating things about travel bags and coolers is their fragile, stiff zippers that do not want to open in one smooth motion. Luckily, YETI 30 Hopper has Hydrolock Zippers that are usually found in survival suits, HazMat protective gear or high-performance fishing waders. 
You can imagine how durable and indestructible they are. Made to be waterproof, airtight and heatproof, these zippers perform exactly how you imagine they would. 
Hitchpoint Grid:
Hopper 30 comes with multiple HitchPoint Grids that might not seem very important until you really need one. You can attach all of your necessary accessories like bottle openers, carabiner or YETI's own SideKick Dery Gear case and Mole Zinger. 
Their customised gear case is easy to strap onto your YETI Hopper. You can keep your phone, keys and wallets safely in there asit 100% waterproof and leakproof. This comes in handy if you are on the beach or going to a tropical area.
My Personal Ratings
From numerous youtube videos and customer reviews online, you can easily find out how much people love YETI Hopper 30 cooler. Some people swear by this product. However I thought I would share my two cents and give my personal ratings on some of the aspects of YETI 30 in this part of the review:
Design 4/5:
Hopper cooler is not only designed to be practical but also eye-appealing. It comes with a multi-color scheme that gives it an added dimension. The DryHide shell has a semi-glossy finish to it that protects the bag from pollutants and sun rays. 
It comes in limited colors which can be a downside for some. There are definitely ways YETI can improve their Hopper 30 with different color gradients and accessories, but for now they carry only two basic colours in beige and blue. 
Insulation Ability ⅘: 
Usually, soft coolers have less insolation than hard ones. This means ice lasts longer on a hard cooler. Despite having its soft shell, YETI 30 can keep ice for more than 2-3 days. It comes with closed-cell foam that can maintain 40°F for around 73 hours.
If you compare this to other similar products, you will find most of them can survive 48 hours on a good day. For much longer insulation, you always need to go up in price. 
YETI Hopper 30 was designed to be watertight and fully sealed. You won't get any accidental spilling due to its magnetic strips sealing. 
Functionality 5/5:
The Hopper 30 is made to be practical and functional for all of your travelling needs. You can hold upto 24 cans, six footing subs or four tubs of ice in it. It is 22 ½ inches long x 12 inches wide and x 16 ½ inches in high. This gives it plenty of storage to carry anything you might be craving during your trip.
Designed for the hardcore adventurers out there, YETI Hopper 30 is for those time when you jsut want to grab and go. It is reliable for any wild journey from your regular campsite to an afternoon at the Salt Lick. 
Portability 4.5/5:
YETI Hopper 30 is not necessarily a light product. It weighs around 6lbs on its own and with around 24 cans of beer you can guess it gets pretty heavy. People buy softshell coolers because they can pack more than their hard-shell counterparts. YETI 30 does exactly that. 
You can carry your YETI Hopper 30 in multiple different ways including throwing it over your shoulder for a comfortable walk. The MOLLE webbing makes it easy to carry and access different accessories without having to open the actual cooler. 
Durability 5/5:
When it comes down to durability, YETI Hopper 30 is hard to beat. The 840D double sided thermoplastic urethane used to make this bag gives it its signature practical flexibility while maintaining the strength of surviving in different environments.
Made to be abrasion resistant, this cooler lets you carry it anywhere you want to travel. The DryHide shell along with inner metal hardware makes it a powerful, tear-resistant travel companion. It comes with a three year warranty that provides a replacement if your YETI cooler gets any abnormal damages. 
Value for Money ⅘:
YETI Hopper in no way an affordable cooler for your next adventure. However, you can not find a better soft cooler in the industry with such superior build and features. The price is undoubtedly too high for some people but if you can afford it I would suggest you to give this a chance. 
This is an once in a lifetime kind of purchase. With its three year solid warranty and sturdy construction, you can use this cooler for decades. It is an investment that you'd wish you'd done sooner. 
Buying the YETI Hopper Portable Cooler: What You Need to Know
There are many great products out there but not all of them are designed for the same group of people. Before you decide to buy YETI 30 Hopper Cooler, it's important to understand whether it fits your needs or not. In this part of the review of YETI Hopper 30, I will share some of the key things you need to consider before buying a YETI cooler:
Breaking-in your Hopper:
Quite a few people have complaints regarding the cooler being stiff. This is because just like any good pair of shoes, a YETI soft cooler takes time to break in. As the material is extremely durable, it can feel a bit rigid at first. The more you use it, the more flexible it becomes. As time goes by and the material relaxes, it gets easier to pack and unpack.
Maintenance:  
There is not much you have to do in order to maintain and take care of your YETI Hopper 30 cooler. However, basic cleaning is a must if you want to use it for decades. One key thing to remember is to always keep your cooler free of moisture. 
The brand recommends you to leave the Hydro-lock Zipper in the closed position with the slider pulled fully to the U-dock. This protects your YETI M30 Hopper and keeps the waterproof seal and zipper damage-free. 
Sun Exposure:
Compared to other Soft-coolers, YETI Hopper is made to survive sun, heat and even hailstorms. Even though it's been made to be heat resistant, regular exposure to UV rays will slowly fade the colors. This is a given for any outdoor bags. The difference about YETI Hopper 30 is, the color loss is much subtler and slower compared to other soft coolers in the market.  
Where to Buy Your New YETI 30 Bag Cooler?
You can buy your new YETI Hopper 30 Portable cooler at any of your nearest shopping malls. If you don't want to travel and get the cooler delivered straight to your home, just order from amazon. 
You can get other YETI models if Hopper 30 is not the one you are looking for. If you are looking for a more portable one in backpack style, check out the YETI Hopper Backflip 24. For more affordable and stylish options you can check out YETI's official website to something you will enjoy and cherish. They have something for everybody!
The Pros:
Magnetic closure gives more insulation and protection.
Holds at least 20 lbs of ice and 25-30 cans of beer depending on their size.
Keeps your drinks chilled for up to 72 hours!
Heavy duty materials make it extremely reliable for longer trips in harsh environments.
Includes padded straps for ease of portability.
It comes with MOLLE straps that are great for accessories.
The Cons:
It is a bit difficult to load given that it's a soft-sided cooler. If you have always used a hard cooler, it will take a while to get used to. 
There are no side pockets to YETI Hopper 30.
Comes in limited colors.
Frequently Asked Questions about YETI Hopper Cooler (FAQs) 
Is the YETI M30 Hopper worth the price?
The YETI Hopper 30 is worth the price if you are looking for a premium quality soft sided cooler from a reliable brand. Ofcourse, you can find cheaper coolers at a fraction of the price. 
But once you try the M30 you will realise why there's this hype around YETI and their products. It's an experience to invest in a cooler like that as they literally last a lifetime. 
Why is YETI M30 so expensive?
YETI coolers are one of the most expensive coolers you can find. They are so expensive because they are designed using rotomolded construction which comparatively is much more expensive than normal. 
YETI hopper M30 uses high-density fabric and closed-cell foams to make the best coolers ever. Their zzipper design is borrowed from HazMat suits and survival gears. These kinds of additional details take a lot of manpower to build. That's why YETI comes with a hefty price tag.
How many beers will a YETI M30 hold?
A standard YETI M30 will hold up to 18 beer cans with enough ice to keep them cold for upto 72 hours. If you are carrying other drinks like coke or carbonated beverages, you can fit up to 24 bottles inside without any issues. 
The great thing about YETI Hopper 30 is , even after all these bottles and cans, its relatively easy to carry and travel with. 
YETI vs. RTIC, which one is better?
Both of these soft coolers are really popular among the travel fanatics. RTIC however, can hold more bbers than an YETI M30. It can  carry around 30 beers but the ice quantity remains the same. 
This means the beers do not stay cold as long as in a YETI cooler. After 2 days the temperature starts to increase while the YETI M30 can hold its temperature for upto 4 days. 
Is YETI really the best brand for soft coolers?
YETI has built their reputation in the cooler industry with high quality materials and durable structure. People who have bought an YETI soft cooler swears by its ability to keep your beers cold for hours. 
The ice remains unmelted for days and keeps the inside insulated. This makes them perfect for outdoor activities. The light soft shell is the ideal material for a portable and easy to carry companion for a sunny, adventurous journey. 
The Takeaway
The YETI Hopper M30 is a great option for anyone who's looking for a portable cooler for their next journey. There is some room for improvements in terms of accessories and color options. 
However, the build quality and ice retention of M30 is unbeatable compared to other soft coolers out there. 
The price might seem a bit too much at first but if you can stretch your budget a bit and buy this one, you are set for many many years ahead. YETI's M30 is probably one of their best creations for anyone who enjoys outdoor activities as part of their lifestyle.