Like most people, we can't function without our coffee. We need our coffee, whether it is to wake us up in the morning, or as an afternoon pick-me-up; either way, caffeine is a requirement.
As with most coffee lovers nowadays, this translates to a constant need to visit our local coffee shops. In cooler months, we crave steamy lattes and frothy cappuccinos; and in summer we select an assortment of iced coffees and frappuccinos.
Searching for the perfect iced coffee can lead to resources running low. Many people try to cut costs by making their coffee with a little effort. While this can be easy for hot drinks, knowing how to make iced drinks is a bit harder.
If you want to learn how to make iced coffee at home, keep reading, and learn more!
How to Make Iced Coffee with Keurig 2.0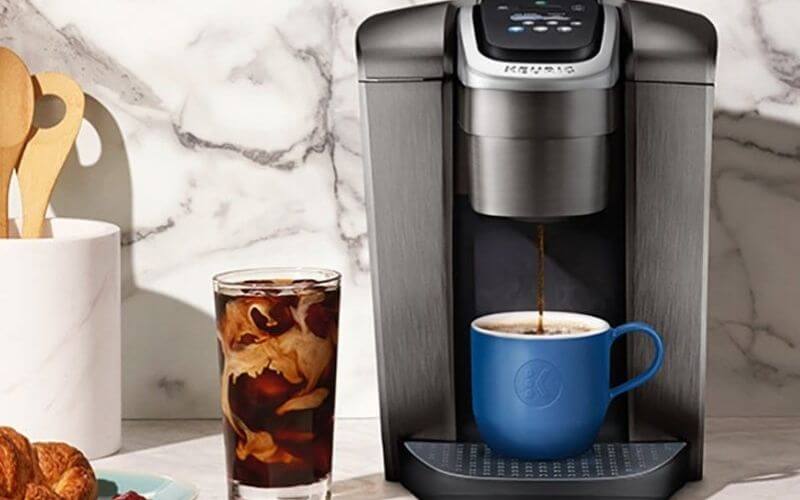 A Keurig iced coffee is pretty easy to make. This guide will show you how to make iced coffee with Keurig 2.0 coffee makers. This is the model that most people own and are used to making and can single serve soft coffee pods.
Keurig 2.0 Iced Coffee:
When making iced coffee from scratch we recommend using stronger flavored coffee cups of pods. This is because the ice will dilute the coffee as it melts, watering down the taste. As a result, your Keurig iced coffee recipe should use a potent, strong coffee.
Here's what you will need:
Preferred K-Cup flavor
Water for the coffee maker
Coffee mug
Extra plastic cup or glass
Milk or creamer (Optional)
Sweetener (Optional)
Ice
Keurig 2.0 iced coffee recipe:
Start the Machine:
For the best way to make iced coffee, you first have to turn on your Keurig. Add enough water to the coffee maker, and pop in your K-Cup or the coffee pods for Keurig.
Get Your Cup Ready:
There are two ways to get your coffee cup/mug ready for your coffee. You can either fill your cup with ice and brew the coffee directly over the glass. You can also brew the coffee into a separate cup and then pour the coffee over the ice afterward.
Brew Your Coffee:
Once you have decided which cup method you want to use, choose your cup size and begin to brew your coffee. The Keurig coffee sizes come in 6, 8, or 10 ounces. Let the coffee brew and get your sweetener and creamer while you wait.
Add the Finishing Touches:
After your coffee has been brewed and poured over the ice, it is almost ready. Add your sweetener of choice and a splash of cold milk or creamer. And just like that, your homemade iced coffee is ready!
Optional Tip: If you don't want your coffee watered down with ice, brew a lot of coffee in advance and freeze them in trays. Use these frozen coffee cubes instead of ice.
The secret of how to make good iced coffee lies in using quality coffee pods, sweetener, and creamer. For added depth of flavor, you can add things like cocoa powder, chocolate or caramel sauce, and things like hazelnut, raspberry, or butter toffee syrups.
Making Keurig Cold Brew Coffee:
Cold brew coffee pods are now a thing. This cold brew Keurig option has a smooth taste, without any of the bitterness of hot brewed coffee. Instead of ground coffee, these liquid pods are extremely quick and easy to use.
You just have to pour it into hot or iced water. Voila! Your coffee is ready to drink, just how you like it. There is no acidity and is instead full-bodied with notes of warm spice and cocoa.
The pods also work with a Keurig machine. After it has been mixed in water, you can add a splash of milk or creamer, sugar, and even flavored syrups. And just like that, Keurig Starbucks iced coffee knockoffs at home for a fraction of the price.
Best Keurig Coffee Flavors
Looking for some K-cup flavor inspiration? We'll let you in on the scoop on the best flavors for both Keurig hot and cold coffee choices.
Green Mountain Coffee Breakfast Blend: For crisp, clean coffee without any acrid or burnt notes. Whether you drink it hot or over ice, it's the perfect way to start your day.

Dunkin' Donuts Original Blend: Craving that Dunkin' Donuts coffee? The donut shop iced coffee K cups make for a sweet, mild, and comforting cup of joe.

Starbucks Medium Roast K-Cup Coffee Pods: Nothing helps us get over our Starbucks addiction better than these Starbucks sweetened iced coffee K cups. With notes of chocolate and toasted nuts, it's our favorite flavor.
Keurig Iced Coffee Machine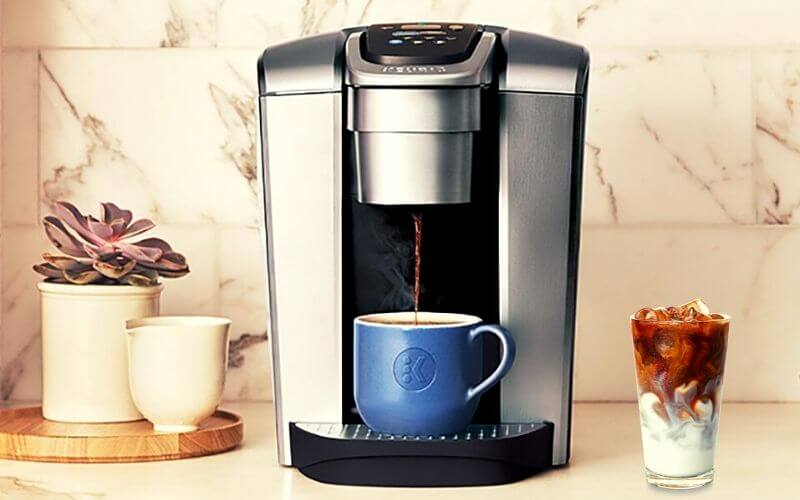 While the Keurig 2.0 is a great choice for brewing both hot coffee and making iced drinks. However, there is something better than that. It is the best option for brewing all sorts of coffee, including how to make iced coffee fast.
The Keurig K-Elite Coffee Maker Single Serve K-Cup Pod Coffee Brewer is also a solid ice coffee maker. You can brew regular hot coffee, with a strong option and 5 different sizes. 
At the same time, it has an iced setting that lets you brew hot coffee over ice. As a result, your coffee for Keurig will be smooth tasting, and refreshing.
Any Other Questions?
Below you'll find answers to questions we get asked the most about iced coffees and Keurig machines.
01. How Do You Turn on the Keurig Coffee Maker?
The Power Button icon of the Keurig 2.0 is situated in the bottom right corner of the brewer screen. It will show up after the brewer has been plugged in.
02. How Do You Make Coffee in a Keurig Machine?
To make coffee in a Keurig, plug in the coffee maker and turn it on. Add water to the machine and place the K-pod in its slot. Choose the size and other settings and then select the brew function.
03. Can I Add Milk in a Keurig?
Putting milk in your Keurig or any other coffee maker will ruin the machine. Do not use anything in your Keurig besides water.
04. Is Keurig Coffee Good?
Keurig coffee is a good option if you want an affordable machine that makes coffee quickly. The brew is reasonably strong and the coffee maker lasts for a long time.
05. Can I Use K-Cups for Whipped Coffee?
Yes? You can make whipped coffee using K-cups. Wait until the brewed coffee has cooled down a little. Then, take some heavy whipping cream in a large bowl. With an electric mixer on high, whip the cream and then gradually add the cup of coffee. This will take a few minutes, but soon enough, the mixture will form soft peaks.
06. Can I Make Espresso with a Keurig?
No, because Keurigs are designed to brew drip coffee. While you can make a concentrated cup of coffee with a Keurig, it will not be the same as espresso.
07. Is It Possible to Use Opened K-Cups in a Regular Coffee Maker?
This can be possible if you are in a pinch. Simply remove the foil from the pod or cup, and pour the coffee grounds into the filter of your coffee maker. Use the coffee maker as you normally would and your coffee will taste just fine.
To Wrap Up
Finding out a Keurig that makes iced coffee is a serious game-changer. You can easily make yourself an iced drink whenever the mood strikes and do so at home without spending a lot of money.
Now that you know how to make iced coffee with Keurig, you can indulge in your caffeine addiction without emptying out your coffers. There are countless flavors to taste, so go ahead and start exploring!
Related Topic: